Are you looking for the best memory foam mattress? If so, you've come to the right place. Our in-depth buyer's guide is designed to help you find the perfect memory foam mattress!
Memory foam mattresses have become incredibly popular in recent years. A material first developed by NASA, memory foam has found its way into the homes of millions of people, in products such as mattresses, pillows, cushions, and more. Today, it is considered one of the leading options when purchasing a mattress, thanks to the comfort and support that it offers. However, the material is not going to be the right choice for all buyers, which is why it is important to review all of your options before making a final selection.
In this buying guide, we are going to take a close look at the memory foam mattress market. First, we will walk through many of the common questions associated with this unique material. You don't need to be an expert to make a smart purchase, but it does help to have at least a basic understanding and why it is suitable for mattress construction.
From there, we will move into reviews which cover some of the best memory foam mattresses on the market today. In the end, it is our hope that you will have a great idea of which one you are going to make your own.
| IMAGE | NAME | FOAM TYPE | HEIGHT | WARRANTY | RATING |
| --- | --- | --- | --- | --- | --- |
| | Dreamfoam Bedding Arctic Dreams | Gel | 10" | 10 Years | |
| | The Eve California King | Visco | 10" | 10 Years | |
| | Lucid 14 Inch Plush | Plant | 14" | 25 Years | |
| | Zinus Sleep Master Ultima Comfort | Bio | 6" | 10 Years | |
| | Sleep Innovations Shiloh | Visco | 12" | 20 Years | |
| | Tuft & Needle Queen | Gel | 10" | 10 Years | |
| | DynastyMattress Cool Breeze | Gel | 15" | 30 Years | |
| | DreamFoam Bedding Ultimate Dreams | Gel | 13" | 10 Years | |
| | Brentwood Home Bamboo Gel | Gel | 13" | 25 Years | |
It is polyurethane which has been combined with other chemicals. Those additional chemicals add to the viscosity and density of the end product. You may see it referred to in some cases as viscoelastic polyurethane foam. The origins of this material can be traced back to 1966, when it was developed by NASA. The original intention was for this material to be used for aircraft cushions, but it was quickly discovered that it had potential far beyond that application. It was released to the public domain in the 1980s, and it has gradually gained in popularity since that time. It has been used in medical applications for some time, and has more recently – thanks to reductions in cost – become a material that is used in a range of home products like mattresses.
Read more about how memory foam works here.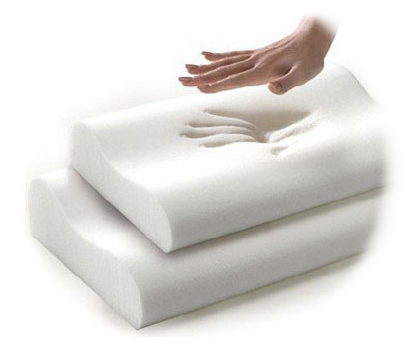 There are a couple of features which separate it from other materials used for mattresses. First, you will notice the ability of this material to conform to your body when you lay down on one. The material will gradually shape to match the outline of your body, meaning the mattress is essentially customized for your needs each time you lay down. When you get up, the material will regain its original shape quite quickly, readying itself for the next use.


The other feature which can be advantageous in the mattress application is the motion isolation that it offers. Basically, motion isolation means there is very little transfer of energy from one side of the mattress to the other. If your partner is tossing and turning in the night, for instance, you are unlikely to feel much of anything as you sleep. This is not a feature that can be claimed by a traditional spring mattress, and it is a big part of its popularity.
Why Choose a Memory Foam Mattress?
You should consider purchasing one if you are drawn to the benefits offered by these type of mattresses. Specifically, if the two points listed above – conformability and motion isolation – are interesting to you, it would make sense to look closer at the options. Many users claim to have had their sleep dramatically improved, so this is an option worth pursuing if you struggle to get a good night's sleep.
How to Choose The Right One
Choosing the right density is one of the key decisions you will need to make when purchasing this style of bed. Generally speaking, there are three densities to pick from. Those are as follows –

Low density – 3.5 pounds and below
Medium density – 3.5 pounds to 5.0 pounds
High density – 5.0 pounds and above
What do those numbers mean? They refer to the actual weight of the product, with a heavier weight representing a denser material. The weights are measured per cubic foot, so a mattress with a rating of four pounds indicates that one cubic foot of the material used would weight four pounds. As you would expect,
heavier
mattresses are going to be
more expensive
than lighter options. Those heavier mattresses will offer more support, however, and they will typically be more durable as well.
The firmness is going to be highly correlated to the weight that has been used. Heavier mattresses are going to be firmer and more supportive, while lighter versions will be softer. Of course, there will be some variation in firmness from model to model even when comparing weights, so check on the stated firmness of any mattress before making a purchase. To measure firmness specifically, a scale known as ILD (indentation load deflection) can be used. On this scale, a higher number like 12 or 13, is going to be firmer than an 8 or 9.
Different mattresses will have various thicknesses. Most likely, the mattress you purchase is not going to be entirely memory foam, but rather a combination of other foams below. As a basic rule of thumb, heavier people will need thicker mattresses than lighter people, because they need more support. A lightweight person may be able to get by with a 6'' mattress, while others will want one that is a foot or more thick.
Responsiveness & Viscosity
It conforms to your body when you lay down on it, and then it returns to its original shape after you stand up. The speed with which the mattress returns to its original shape is known as its responsiveness. Picking between a highly responsive and slower mattress is a matter of preference. A mattress that is slow to respond might feel comfortable when you are settled into bed, but it can be hard for some people to get up, and the mattress won't adjust to your new sleeping position quickly when you move around a bit in bed.
The lifespan that you should expect is going to have a lot to do with the quality of the product that you purchase. Naturally, spending more money on a high-end mattress is going to return you a better product, which can be expected to hold up for a longer period of time. In general terms, you should expect to get somewhere in the range of seven to ten years of quality performance from a memory foam mattress.
As was the case with lifespan, you are going to see that spending more money on a memory foam mattress is going to return you a longer warranty. Some of the high-end mattresses on the market will offer you 20 years of coverage, while less-expensive models may only come with 5 years of protection. Usually, the quality of a mattress will be directly related to the warranty which is offered, so you can expect a mattress with a long warranty to stand up to the test of time quite well.
Off gassing is one of the leading complaints. Basically, a new one is going to need to get rid of its chemical smell at first, which is a process known as off gassing. This usually only lasts for a short period of time, but it can put some people off when they are just getting started on their new mattress. If you do decide to buy one, it is important to understand that off gassing is likely to be part of the process.
Another one of the common complaint is the heat retention issue. Some people feel that they get too hot when sleeping on them, perhaps because of the way the mattress will conform to your body as you sleep. If you tend to become hot and sweaty in the night even on a traditional mattress, you may want to think twice about opting for memory foam. However, if you are still interested in this material, there are gel memory foam mattresses which claim to offer a cooler sleeping experience.
It is possible for mold and/or mildew to develop on with this kind of mattress. This is not a particularly common situation, but it can happen in some cases. Obviously, this is more likely in humid climates, as the moisture in the air can lead to growth on the foam. Most of the time, this issue will appear underneath the mattress, so make sure to place your mattress on a proper frame/platform that allows for air circulation.
You may be concerned about more than just sleeping when picking out a new mattress. When it comes to the suitability for a romantic evening, there are mixed reviews to be found. The difficulty of moving around on the mattress is often noted as a negative, while the quiet nature of memory foam can be a positive in some circumstances.
Sleep Positions & Body Type
You need to make sure you're going to match up with your preferred sleeping positions. For most people, side and back sleeping will be no problem at all, while stomach sleeping might be quite difficult or uncomfortable. Since your body is going to sink down, you may not feel like your head is in a comfortable position on the pillow after you have settled in. If you are going to use a memory foam mattress while sleeping on your stomach, be sure to pick a model on the firmer end of the scale.
Memory Foam Foundation Frames
You don't want to set it directly on the ground. Purchasing a foundation for your new mattress is going to make it easier to get in and out of, it will improve ventilation below the mattress, and it will also protect the floor in your room. There are a number of foundation frames available today, including slatted box and steel grid models, so take some time to pick out one which fits in with the rest of your home.
Electric Blanket w/ Memory Foam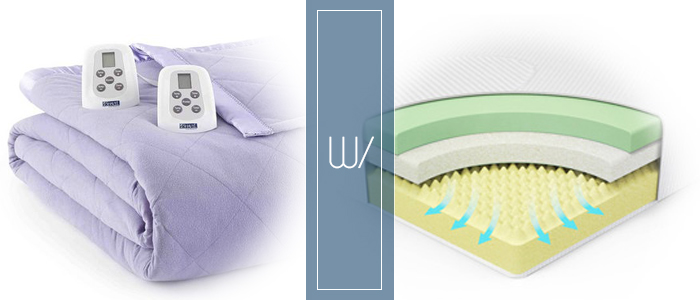 You should be aware that it is generally not a good idea to use an electric blanket when sleeping on a memory foam mattress. Electric blankets obviously will increase the temperature on top of your bed, and these mattresses are designed to be temperature sensitive.
To save money, you can opt to purchase a memory foam topper rather than an entire mattress. However, mattress toppers are rarely as effective as desired, especially when they are placed on an aging mattress. If the underlying mattress is starting to sag or otherwise fail, it is unlikely that the topper is going to do anything to improve performance. Most likely, you are going to want to opt for a memory foam mattress rather than a topper when a good night's sleep is your top priority.
Memory Foam vs. Spring Mattresses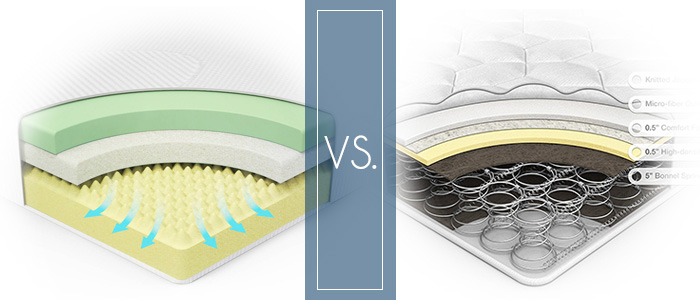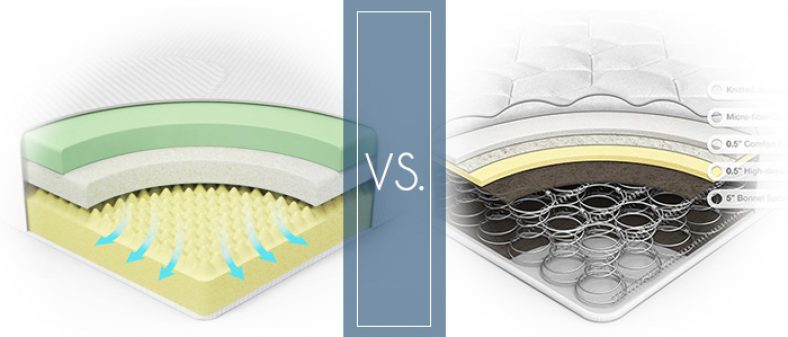 A spring mattress is what most people think of when they think about a 'traditional' mattress. This style of mattress uses a collection of springs to support users as they sleep. The positives associated with a spring mattress are often the reverse of those seen with memory foam. For instance, you should stay cooler on a spring mattress, and it is easy to move from position to position. On the downside, you will likely affect your partner when you move around, as motion is easily transferred across the mattress. Also, the mattress is not really going to conform to your body, so you may feel that a memory foam mattress is more comfortable.
Read more about the differences in this article.
Memory Foam vs. Latex Mattresses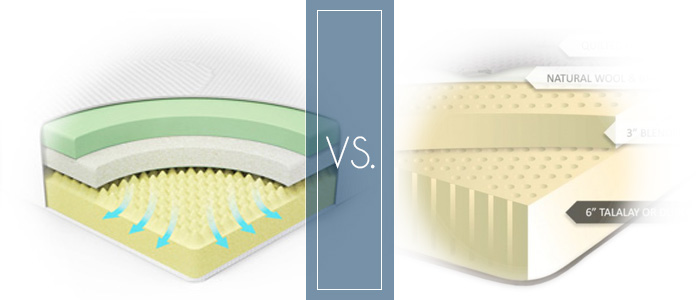 Latex is another material that has gained a following in the mattress world in recent years. It is often stated that they perform similarly when used as mattresses, which can make it hard to pick between the two. However, most will notice that memory foam is more conforming than latex, as it does a good job of responding to your body temperature. While both are viable options, it is not a coincidence that memory foam is by-far the more popular option in the market today.
Despite the popularity, many continue to ask if memory foam is a safe option. It's a legitimate question because the material is made artificially. Many of the cheaper models are made from polyurethane foam. The United States government banned this material in 2004 due to safety and health concerns.
Be sure to read this article to learn everything about its safety.
Memory Foam Mattress Reviews – Best By Type
Best Gel – Dreamfoam Bedding Arctic Dreams
For buyers who are concerned with overheating in the night, a gel style bed is a great option. This one, a product from Dreamfoam Bedding, is offered in a full-range of sizes to suit your needs. The mattress is also available in two thicknesses – 8'' and 10'' – so you can pick the model that perfectly matches your preferences. The product is backed by a 10-year warranty for your protection, and it is made in the USA. There are a total of three layers used to construct this mattress, including the quilting layer on top, the middle layer of Energex gel foam, and the bottom layer of high density polyurethane foam.
The overall tone of the reviews for this mattress is positive in nature. Some buyers feel that this mattress is quite firm, so keep that in mind as you shop. It is also noted that you may have to wait a while for the off gassing to be completed. In all, this seems to be a solid option that will allow them to stay cool all through the night.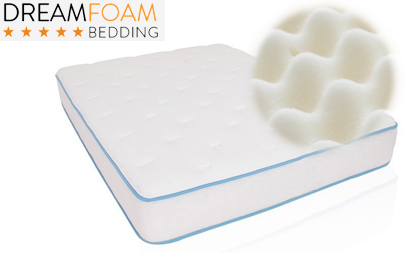 Best Traditional (Viscoelastic) – The Eve California King
Looking for what most people would consider to be a 'standard' memory foam mattress? Look no further – this mattress from Eve Sleep may be the answer. You can order this mattress in any size from Twin all the way up to California King, and it even includes a 30-day trial so you can be sure that you are happy with the purchase. Even at the California King size, this mattress usually sells for less than $1,000 – making it a pretty solid value in this market.
The limited reviews that have been left for this mattress are extremely positive overall. You will have trouble finding much in the way of a complaint when you research this product, which is always a good sign. Users feel that they are sleeping great since purchasing the product, and it is even said that the off gassing period does not last long. Overall, most buyers are very impressed with the Eve Mattress, meaning you should put it up near the top of your shopping list.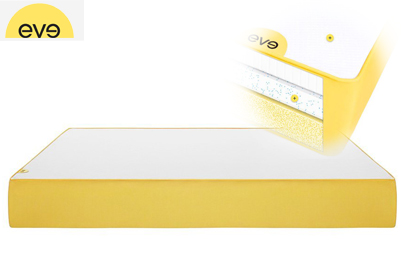 Best Plant Based – Lucid 14 Inch Plush
If you like to go in a natural direction with as many of your purchases as possible, the LUCID mattress option is one to keep in mind. Again here, we see a model that can be had in the full-range of mattress sizes. There is a one-inch bamboo charcoal memory foam layer on the top of the product, and the overall mattress is 14-inches thick. Impressively, this mattress comes with a 25-year warranty.
Past buyers of this mattress have been highly impressed with its performance. One of the common positives associated with this mattress is the lack of odor that comes along with most products. This can likely be attributed to the natural design of the product, and it is something to keep in mind if you would like to avoid the off gassing process. If there is a complaint to be found, it is the fact that this mattress has proven to be too firm for some buyers. This is a point of personal preference, so be sure you like a firm mattress if you go in this direction.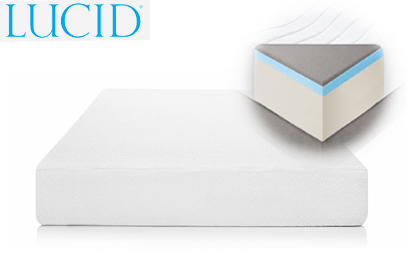 Best For Kids – Zinus Sleep Master Ultima
This pick for a kids' mattress is only available in Twin, Full, and Queen sizes, but that is not a problem when outfitting a kids room with a new mattress. Also, this is a rather thin mattress, again perfect for the lighter weight that kids are going to bring with them to bed. At 6 inches thick, this mattress will be lighter than other options, making it easier to move around the house when needed. For shipping, this product can be rolled, compressed, and shipped right to your home. Also, since it is thinner than most options, it carries a lower price tag that you will often see in this market.
The reviews of this mattress seem to match up with our judgment that this is a great option for kids. The reviews which have been left by adults are mixed, although there certainly are plenty of positive opinions included in the mix. However, this is seen as a better option for children, as the thin design is not going to be a problem when small people sleep on the mattress.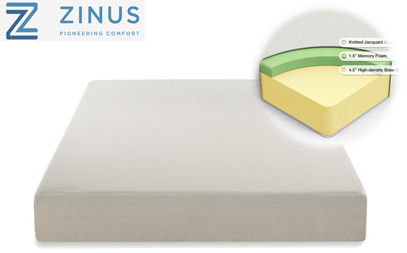 Sleep Innovations Shiloh
A moderately priced option, this mattress from Sleep Innovations comes in five size options and offers a medium feel. There are two layers used to construct this memory foam mattress – a 2.5'' thick top layer of SureTemp, and a 9.5'' layer of Support-Plus Foam. A 20-year warranty stands behind this item, which is produced in the United States. In addition to size options, you will also be able to pick from a smooth cover and a quilted cover when you buy this mattress.
Those who do like sleeping on this kind of bed seem to be largely impressed with the mattress. Buyers who have complaints are usually complaining about the experience that memory foam offers – which is pretty consistent across the category. Overall, this mattress has impressed most buyers, and it is a strong option.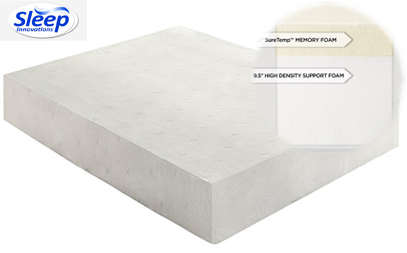 Tuft & Needle
Tuft & Needle present another all-around memory foam mattress with this offering that comes in a total of six sizes. One of the things that stands out about this option is the 100-night trial that comes with the mattress. That means you can try out the product for three months without being committed to the purchase.
This bed has earned some of the best reviews. Among the many compliments paid to this product include the ease of setup, the price, the support that it provides, and more. If anything, a minor complaint that is seen is that the mattress may be a little firm – however this is a common complaint from buyers of memory foam in general. Based on the overall tone of the reviews, the mattress from Tuft & Needle is one of the best available.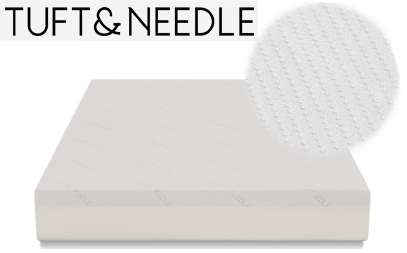 DynastyMattress Cool Breeze
This 12'' thick DynastyMattress product is available in a whopping eight sizes. There is the traditional assortment of sizes such as Queen, King, etc., along with two RV-specific sizes. If you are an RV owner looking for a comfortable mattress, you can pick from RV Queen and RV Short King. There are four layers overall in this mattress, including a 3'' layer of Gel Memory Foam. This mattress also has a zipper washable cover for convenience.
Checking on the reviews for this mattress, you will see the theme of comments continued here. Many buyers love the way this mattress feels, while some complain that it is too firm for their tastes. Again, that is a common thread throughout this market, so keep that in mind before you order. If you are needing or desiring a particularly soft and fluffy sleeping experience, a memory foam product may not be the right choice.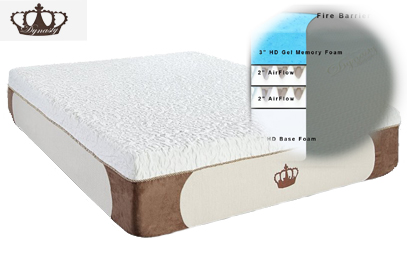 DreamFoam Bedding Ultimate Dreams
One of the thickest mattresses on the market, this offering from DreamFoam is 13'' thick, including a 3'' top layer of four-pound gel memory foam. Under the top layer is a 2'' layer of five-pound foam, followed by the base layer of 8'' premium base foam. The entire product is made in the USA, and it comes at a moderate price point. Six mattress sizes are offered, from Twin all the way up to California King.
Most of the buyers of this mattress are very pleased with their purchase. The comfort of the mattress is praised by many users, as is its ability to give comfort to those who have some physical ailment which makes it difficult to get good sleep. There is some minor concern over the long-term quality of the product as compared to other, more expensive brands. However, that should go without saying, as spending more money is almost sure to net you a longer-lasting mattress. If you would like to purchase a thick, supportive memory foam mattress without breaking the bank, you should at least consider the DreamFoam.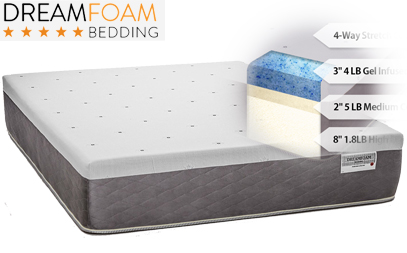 Brentwood Home Bamboo Gel
Another thick memory foam mattress, this one from Brentwood Home measures 13'' from top to bottom (there is also an 11'' thick version available). Six sizes are offered in this mattress, which uses a 3.5'' top layer of gel memory foam to offer cool support. There is a removable bamboo zipper cover included in the purchase, along with a 25-year limited warranty. The mattress claims to offer a medium feel, and it is made in the USA.
Great reviews are the order of the day for this mattress. By and large, those who have purchased the mattress are extremely pleased with their experience. The usual compliments apply here, such as the support that it offers and the overall comfort. Also, compliments have been paid to the zipper cover as well as the modest price point. If it is a medium feel memory foam mattress that you are looking for, Brentwood Home has created a product that is certainly worth your attention.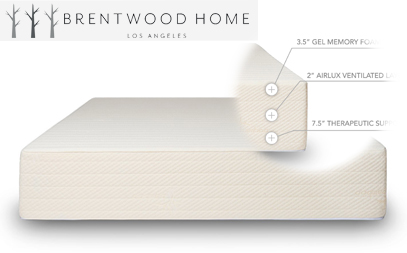 Conclusion
---
As you can plainly see, there are plenty of quality memory foam options on the market today. If you would like to purchase one for your own home, the mattresses listed above are a great place to start your search. In fact, there is a good change that you will find a winner within that list without having to go any further.
Between the mattress recommendations and the information about memory foam provided earlier in the guide, we hope you now have all the information you need to make an informed purchase. Thank you for taking the time to review our buying guide, and we wish you the best of luck with your selection. Here's to a great night's sleep!
Author:
Mark Reddick
When I'm not learning about sleep, you can find me watching "the big game" with my friends. I absolutely love sports and have grown to follow the rest aspect in athletes. Modern technology allows us to track athletes sleep and rest, which in turn helps predict their performance.
I hope that everyone that finds our site takes a new approach to sleep. The world needs to stop thinking about it as something "we just do", but rather something that allows us "to do everyday."
Cheers to having the best sleep of your life!