If you wake up every morning feeling refreshed and ready to go, consider yourself one of the lucky ones. It is easy to take great sleep for granted, but the reality is that many people struggle to get the rest they need each night. Should you find yourself having trouble getting the rest you need to be at your best, it is smart to look for products that can help you sleep comfortably.
In the case of this buying guide, we are looking at one specific sleep-related problem –neck pain and spine issues. Countless people wake up in the morning with a stiff or sore neck, even if they have slept relatively well the night before (this can cause a headache or migraine).
Top 10 Neck Support Pillows
IMAGE
NAME
FILLING
THICKNESS
COVER
MATERIAL
RATING
Shredded Memory Foam from Xtreme Comforts
Memory Foam
6.5"
Bamboo
Mediflow Waterbase
Water, Polyester
4.5"
Cotton
Shredded Memory Foam by Coop Home Goods
Memory Foam
3"
Bamboo, Polyester
MyPillow Premium Series
Open Cell Poly
5.1"
Cotton
Memory Foam by Smarter Rest
Memory Foam
3.5"
Cotton, Polyester
Tri-Core Cervical by Core Products
NIP
3"
Cotton
Contour Memory Foam from Sleep Innovations
Memory Foam
4.8"
Cotton
Arc4Life Cervical Linear Traction Neck
Polyester Fiber
3"
NIP
Classic Brands Conforma Memory Foam
Memory Foam
4.5"
Velour
Chiroflow Premium Water
Water, Hollofil Fiber
5"
Polyester, Polyester Blend
What Causes Neck Pain at Night?
Generally speaking, neck problems are caused by an awkward sleeping position. Of course, what is considered 'awkward' will vary greatly from person to person, as all of our bodies are unique. However, you probably already know what kind of head and neck position is comfortable for you at night, and what kind of position is going to lead to pain. You know your body better than anyone, so trust your instinct when trying to settle in to a comfortable position each night.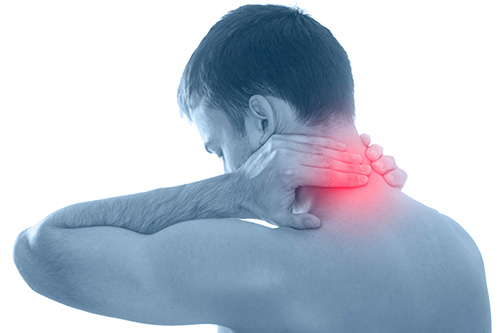 When shopping for a good neck pillow for sleeping, you should be looking for a product that is going to make it easy for you to find a comfortable position for your head and neck. If you like to have your head well up off of the mattress, that may mean choosing a firm option like memory foam. Or, if you prefer to lay mostly flat, you might like a softer choice. Whatever the case, always keep your personal needs and preferences in mind as you shop. The reviews of other buyers are helpful, but their opinions should never get in the way of making a choice that is right for you.
Cervical Pillow Buyer's Guide
If you decide to search for a cervical pillow to alleviate your neck pain simply by heading to Amazon or another site and searching 'neck pain pillow', you are going to receive an overwhelming number of results. It is incredible to see just how many different neck support pillows are on the market today. Going into this shopping process without a general idea of what you are looking for would be a big mistake – you would waste time, and you likely would not come away with something that suits your needs nicely.
MATERIAL OPTIONS
The first thing to understand is the different materials that are used for stuffing within pillows meant to help neck, shoulder, and back pain. By far, the most popular option is memory foam. As you know, memory foam is already a commonly used material in mattresses, and it is now one of the leaders in the pillow world as well. There are therapeutic neck traction pillows made from solid chunks of memory foam, and also some made from shredded memory foam. Even if you don't wind up purchasing a memory foam pillow, it would be wise to at least consider this category as you shop.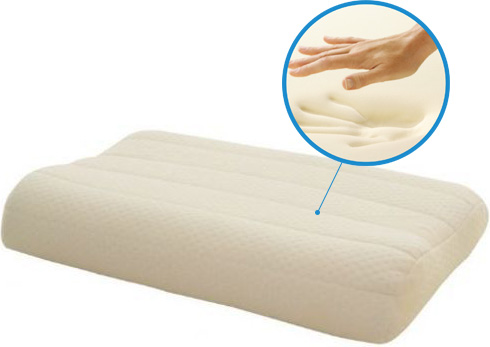 Surprisingly, water pillows are another option for those suffering from neck pain and headaches. You may not think about water as being a viable option for a pillow fill material, but it works quite well when used correctly. Water cannot be compressed, so it is almost always going to offer a firm feel when you lay your head down at night (depending on the specific design of the pillow you select). Using a water-based neck pillow may seem a little odd, but don't right this option off until you take a closer look at how it works.
SHAPE IS IMPORTANT
In addition to the material that a pillow uses as fill, another variable you will want to watch is the shape of the pillow itself. Curved pillows are commonly seen in this market as they can contour with the shape of your body.
Due to the shape of your head and neck area, it can be difficult to lie comfortably on a flat surface without developing a pain in your neck (or shoulders). Using a contour shaped pillow, such as a cervical pillow, can potentially solve this problem, however.
Cervical pillows do a nice job of filling the space between your neck and the mattress, providing the support you need throughout the night.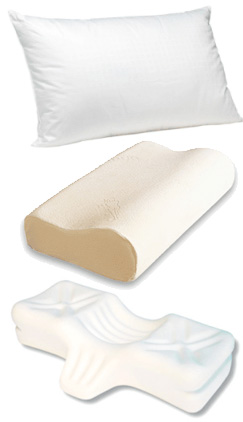 DON'T UNDERESTIMATE SLEEP
In the modern world, it has somehow become 'cool' to go without much sleep. Many adults see sleep as laziness, and they try to prove how hard-working they are by talking about how little they actually sleep. This is nonsense. Sleep is an essential human function, and it is essential to your overall health. If you would like to be at your best on a daily basis, you need to get your sleep – it is just that simple.
Finding a great ergonomic pillow that can help reduce your neck problems is an effective way to improve your sleep each night. Not only will you enjoy waking up without a stiff neck, but you will also be likely to sleep better during the night because you won't be awoken by pain or a throbbing migraine headache. People who sleep well tend to report lower levels of stress, greater happiness, and a generally improved quality of life. It might be hard to believe that something as a neck support pillow could have such a profound effect on your life, but it's true. Pick out a great pillow for neck pain and you may see your life improved in ways you would have never imagined.
Top 10 Neck & Shoulder Pain Pillows
To get your shopping process off to a flying start, we have compiled the following list of 10 of the best neck pain pillows on the market today. To learn more about any of these cervical style orthopedic pillows, please take a moment to follow the included link to visit the Amazon product page.
Shredded Memory Foam from Xtreme Comforts
This pillow from Xtreme Comforts has just about everything you could want in a pillow that is meant to combat neck and back pain. To start, it is filled with shredded memory foam, which is one of the best materials for getting your head and neck into a comfortable position.
Rather than a solid piece of memory foam, the shredded pieces can be shifted around in order to form a perfect landing place for your head at night. The ergonomic pillow machine washable, the cover is made with 43% bamboo and is designed to keep you cool, and there is a money back guarantee. When you combine all of these features with a very reasonable price point, it is easy to see why so many who suffer from neck pain and headaches have given this model a try.
The comfort of this neck support pillow is one of the top points praised by previous buyers. There are plenty of glowing reviews which have been left by users, and only a few negative comments are to be found. One possible concern is that the pillow may be a little firm, but this is not an opinion shared by a large number of users. Overall, the Shredded Memory Foam Pillow from Xtreme Comforts is a popular option, and one of our top picks.
Mediflow Waterbase
This next option on our list is one of the leaders in the neck pain pillow market. As you can see from the name of the item, this pillow uses water to provide support to your head as you sleep. In addition to the water, the pillow also includes a hypoallergenic fiber filling to complete the experience. There is a 30-day satisfaction guarantee which covers this pillow, and the price tag falls right in line with most other choices on the list.
Overall, there are plenty of compliments to be found for this neck pillow. Among the compliments that have been paid by past users include the pillow's ability to improve neck pain (including a stiff neck), along with the generally comfortable experience had when sleeping on the Mediflow Waterbase. Simply put, it's one of the most comfortable pillows available today.
A common complaint, which is see across the board when it comes to water pillows, is the weight of the product. Once you fill any good pillow with water, it is going to be quite heavy to move around. This is not necessarily a bad thing – the pillow will stay nicely in place – but it is something to be aware of as you shop. If you are interested in a water-based ergonomic pillow, and you have neck pain to deal with, this choice from Mediflow is one of the leaders.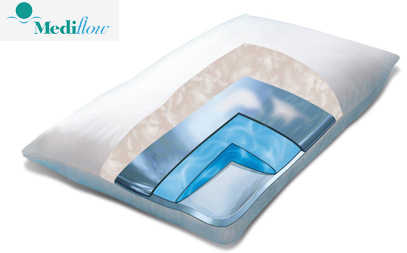 Shredded Memory Foam by Coop Home Goods
A model which uses shredded memory foam to create a comfortable platform for your head, this pillow from Coop Home Goods is available in Standard, Queen, and King sizes. The pillow is made in the USA, it has a cover which is 40% bamboo, the foam is CertiPUR-US Certified. Machine washable and sold with a five-year warranty, this is certainly a neck pain pillow to give a closer look.
You will struggle to find a pillow in this market – or any market, for that matter – which has reviews quite as strong as those left for this Coop Home Goods product. Simply put, past buyers love this neck pillow because it reduces neck stiffness.
Sure, there are a few detractors here and there, by they are dramatically outnumbered by those who are happy with the product. It is said to be soft and still supportive, good for neck pain, and more. It will likely have the same odor that is commonly associated with memory foam when first opened, but a short period of off gassing should solve this issue. If you like to buy your products on the recommendations of other buyers, this is a pillow that should be one of your leading candidates.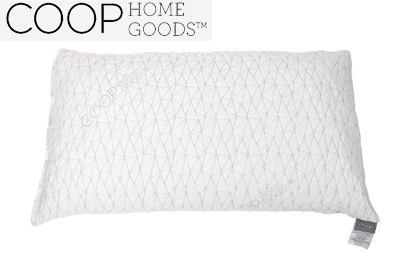 MyPillow Premium Series
If you watch any cable TV in your day to day life, you have probably seen commercials for the MyPillow brand. This is an actively marketed product, and that strategy has led to quite a bit of success. One of the most expensive neck pillows on our list, the MyPillow is made with 'interlocking fill' which is meant to adjust to your needs in any sleeping position. There are four unique loft levels available, so you can pick out a pillow which should be an appropriate size for your body. The product is made in the USA, and it is both machine washable and machine dryable.
Unfortunately, the reviews left by previous buyers don't quite match up with the popularity of this pillow. Of course, that is not to say that there are no satisfied users. Plenty of people feel that it is the best pillow they have ever used – and plenty of others have the opposite opinion. While ergonomic pillows are always going to be a personal preference type of product, there are enough negative reviews to dictate that you should at least consider some other options before you order.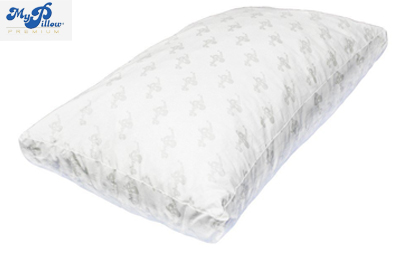 Memory Foam by Smarter Rest
At this point on the list, we find a contoured memory foam pillow from Smarter Rest. This pillow typically offers a modest price point, a money back guarantee, and a zippered cover. Contoured pillows tend to be a great pick for those who struggle with neck pain, as the shape of the pillow can fill in the space under your neck when you lay down to sleep. Memory foam tends to be one of the most supportive materials for use in a pillow, meaning you should feel the support of this product all throughout the night.
The reviews which have been left by previous buyers are mixed with regard to this product. Some of the compliments to be found include the ability to sleep in a variety of positions and the lightweight design. On the downside, many users feel that the pillow is too small for the typical adult. If you are looking specifically for a small neck pillow, this model may be one to consider. However, if you need a larger pillow to handle your overnight needs, one of the other choices on our list may be preferable.
Tri-Core Cervical by Core Products
It is the shape of this pillow that earns it a spot on our list of pillows that can help to alleviate neck pain, as well as back pain. This pillow comes in a total of three sizes, meaning you should be able to pick one that addresses your personal needs nicely. There are also a couple of colors available, and the cervical pillow is able to accommodate a number of sleeping positions. With a price point that comes in below many of the other options we have presented, you would be wise to give this uniquely shaped pillow a closer look.
So how do past users feel about the performance of this product? Many are impressed with what they have found. Some state that the pillow has indeed improved their neck pain, just as hoped. Of course, there are those who are less impressed, having issues with the amount of support that is provided by the item. There are enough positive reviews to keep this neck pillow near the top of your shopping list, so be sure to consider it carefully while making your final decision.
Contour Memory Foam from Sleep Innovations
This next neck pillow is one of the least expensive that we have included in the list. However, despite that modest price, there are still plenty of positive attributes to note with regard to this contour pillow from Sleep Innovations. It is 100% cotton, made in the USA, and uses memory foam to contour your head. There is a 5-year warranty which stands behind the pillow, and the contoured design will work to keep your head in an appropriate position as you sleep.
Strong reviews follow this contour pillow, as many buyers are happy with what they have received. Again here, we see comments from users that feel this pillow is responsible for eliminating their neck pain after sleeping. While memory foam is not for everyone, it does seem that this pillow has done a nice job of impressing the majority of its owners. As long as you are okay with the characteristics that memory foam brings to the table, you should be able to buy with confidence.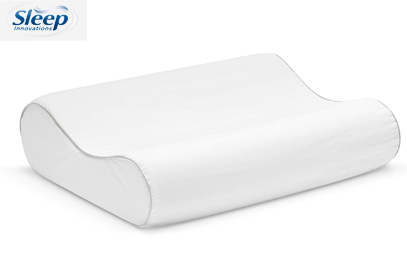 Arc4Life Cervical Linear Traction
For a pillow that is going to use its shape specifically to keep your head in a comfortable spot, you may want to check out the Arc4Life Cervical Linear Traction Neck Pillow. While this is among the most-expensive products on our list, it does have a number of design elements that warrant the price tag. There is a 'V' at the bottom of the pillow which cradles your neck, and there are thick side wings meant to work nicely for those who sleep on their side.
Considering the lofty price tag associated with this neck traction pillow, you would like to see a long list of strong reviews. Unfortunately, that really isn't the case with this traction style pillow. Yes, plenty of the past buyers are happy with what they received, but many are not. It is the lack of overall support that seems to be an issue for some users, along with longevity concerns. You should still consider this traction pillow due to its contouring shape, but check out others as well before you order.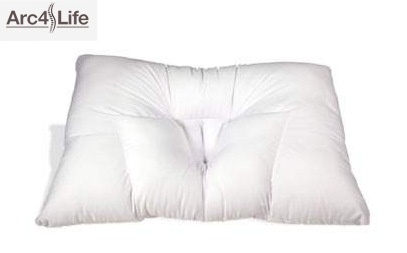 Classic Brands Conforma
One of the leading complaints that is seen with regard to memory foam pillows is the tendency of these pillows to get rather hot as you sleep. The Classic Brands pillow seen at this point on our list gets around that problem with the use of ventilated memory foam. Small holes in the foam allow for airflow without compromising the ability of the product to support your head. Also, this pillow includes a cover which is removable and washable, and the foam is hypoallergenic.
You will be happy to see that many of the past buyers of this pillow are happy with the way the product performs for them each night. Plenty of users feel that this is one of the best neck pillows they have had, although it may take a short period of time to get used to it (depending on what kind of pillow you have been using previously). Considering the positive overall reviews and the modest price point that comes with this item, you should keep this one up near the top of the list.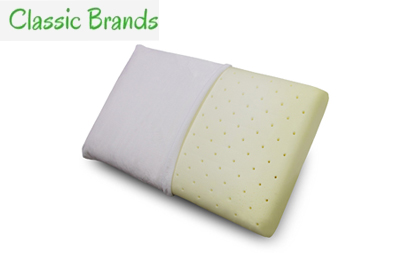 Chiroflow Premium Water
If you would like to use water to support your head without having to sacrifice on the quality of your pillow, check out this model from Chiroflow. With a reasonable price tag, this pillow will be ready to go once you add the appropriate amount of tap water. Since you can control how much water is put into the pillow, you will be able to adjust the firmness and thickness to suit your needs and preferences. The adjustability is one of the top reasons to consider using a water pillow.
Excellent reviews are the order of the day when taking a look at this neck pillow. Previous buyers are largely impressed with what they received for their money, with compliments ranging from reduction in neck pain to the simple comfort of the item. As long as you aren't put off by the heavy weight of the pillow when filled with water, this is a product that is likely to exceed your expectations.
Conclusion
---
With the assistance of the list above, you should be well on your way to finding the right cervical pillow for neck pain for your needs. When you do order a new orthopedic pillow, give yourself a bit of time to adjust to it before you expect great results. It can be hard to make the transition to a new neck traction pillow, even if that pillow is a quality product which fits your needs nicely. Give the new neck pillow some time to become comfortable and you will very likely be pleased in the long run.
Thank you for taking the time to stop by our 2017 neck pain pillow buying guide. We hope you found the information you needed to make a great buying decision. Happy shopping, and sleep well!
Sources
http://www.spine-health.com/conditions/spine-anatomy/cervical-spine-anatomy-and-neck-pain
http://www.health.harvard.edu/pain/say-good-night-to-neck-pain/
Author:
Mark Reddick
When I'm not learning about sleep, you can find me watching "the big game" with my friends. I absolutely love sports and have grown to follow the rest aspect in athletes. Modern technology allows us to track athletes sleep and rest, which in turn helps predict their performance.
I hope that everyone that finds our site takes a new approach to sleep. The world needs to stop thinking about it as something "we just do", but rather something that allows us "to do everyday."
Cheers to having the best sleep of your life!