Transparency Disclosure – We may receive a referral fee for products purchased through the links on our site...

Read More

.
Disclaimer - Nothing on this website is intended to be a substitute for professional medical advice, diagnosis, or treatment...

Read More Here

.
Neck pain can range from an occasional issue to a daily ailment. The pain might evolve from a mere annoyance to a problem that affects your sleep quality and ultimately daily life. The upside is that your frustrations with neck pain should improve with the addition of thoughtfully designed products. One method is to purchase a supportive neck pillow.
These products are intended to help curb neck pain, and in the process, should improve your quality of sleep and your life.
Just as you need the right type of pillow, it's also necessary to choose the appropriate brand that is aimed to cater to your needs most closely. In this guide, we have compiled a list of 9 best pillows for neck pain on today's market, including what materials they are made of and the unique features that help them stand above the competition.
10 Best Pillows for Neck Pain
Best Overall

The Saatva Memory Foam Pillow is a luxury product made from graphite-infused memory foam. The construction and materials allow maximum cooling, comfort, and support for the neck in all sleeping positions.
The construction starts with a cooling organic cotton cover designed to wick away moisture. The material is breathable and comfortable, helping hot sleepers cool even during the hottest nights. Next is the graphite-infused memory foam filling that contours to your neck and head, providing maximum support. The core is made of a memory foam blend and natural latex for increased durability, breathability, and neck support.
What makes it stand out?
Saatva offers a 45-day trial to test the pillow and decide whether it's the right match for you. You also get a 1-year limited warranty.
This memory foam pillow has a breathable organic cover you can wash in the machine. The cover is easy to take off and put back on once it's clean and dry.
Best Firm Pillow for Neck Pain
The TEMPUR-Neck is a firm pillow available in three sizes: small, medium, and large. The pillow is designed for side and back sleepers, offering maximum support and neck pain relief. The TEMPUR® Material adapts to your head and neck as it's ergonomically contoured to follow natural shapes.
The contoured design supports your neck and head when you sleep on your side or back. It follows the curve of your body, allowing proper spine alignment at all times. The cover is made of 100 percent polyester that's hypoallergenic to prevent bacteria build-up. You can remove it for easy washing and drying.
What makes it stand out:
This Tempur-Pedic pillow comes with an industry-leading 5-year warranty. However, the TEMPUR® material is long-lasting and durable, so the pillow should last longer, even with frequent use.
The cover is safe to wash in a washing machine, but make sure to use a gentle cycle only. It's best to avoid tumble-drying and instead let the cover air-dry.
Best Memory Foam Pillow for Neck Pain
Sleepers looking for a great memory foam pillow will want to consider The Eden from Coop Sleep Goods.  This pillow features cooling gel-infused memory foam that should minimize pressure on the neck by cradling the sleeper's head. 
Included with your purchase is an extra half-pound of fill, allowing you to adjust the loft and firmness to whatever feels best. Adding to the Eden's likeability is the machine-washable Lulltra™ cover, which should make maintaining your new pillow a breeze.
Why should you buy it?
The Eden comes with two impressive certifications: CertiPUR-US® and GREENGUARD Gold. This means that the pillow has met vigorous health and safety testing from third-party organizations. 

The pillow should feel soft but doesn't sacrifice support, which is helpful for side and back sleepers. 

The Eden's hypoallergenic design is ideal for people who struggle with allergies. You should expect more restful nights with this product.
Best Pillow for Side Sleepers with Neck Pain
Side sleepers with neck pain require versatility in a pillow, as they might need to adjust its height and plushness depending on their symptoms. The Nolah Squishy is up to the task: its dual-chamber design makes it simple to take out (or re-add) the shredded bits of foam inside.
The foam pieces have been cut into rough cube shapes to promote airflow and cooling without sacrificing support. Their breathability means that you shouldn't have to flip the pillow over and over to achieve a cozy temperature.
What do we love about it?
This pillow boasts OEKO-TEX® certification for being toxin-free.
The Squishy's cover is machine washable for quick and easy cleaning.
Want to see more? Check out our comprehensive Nolah pillow review for our take on other models.
Best Soft Pillow for Neck Pain
The stuffing inside the Lagoon Fox is 80% memory foam and 20% polyester microfibers, which mix to create a plush yet supportive feel for sleepers with neck pain. The fibers are an essential part of the fill's formula: They help to keep the foam pieces together and evenly distributed, preventing unevenness or lumpiness.
Because the fill amount is adjustable, sleepers with neck pain can remove or put in as much as they want to help with their nighttime aches. They even have 100 nights to decide if the Fox is the right pillow for them.
What stands out?
The Fox comes in a queen or king size to suit different beds and preferences.
Lagoon's pillow covers are hypoallergenic and washable for a reliably fresh surface.
Best Luxury Pillow for Neck Pain
Folks waking up with neck pain should look for a comfortable and pressure-relieving pillow that can alleviate the pain. One such model is the Cozy Earth Silk Pillow, made from luxury materials to help you get rid of neck pain produced by a poor-quality pillow.
The pillow has a premium bamboo viscose shell that's naturally breathable and has temperature-regulating properties. The filling is made from Mulberry silk, made exclusively for the company, adding even more luxury to this unique pillow. Another thing that stands out is that the filling doesn't shift, so you'll get the same comfort level throughout the night regardless of how much you toss and turn.
Why we like it:
This pillow is warrantied against lumping and piling, so sleepers can be sure they're getting their money's worth. The warranty lasts 10 years, and the company also offers a 100-night trial for you to test whether it helps with neck pain.
Best Customizable Pillow for Neck Pain

Persistent neck pain can make it difficult to fall and stay asleep for most folks, but having a good pillow can make a difference. This Luxome customizable pillow has two sides: one with ultra-soft down alternative and the other with gel-finished shredded memory foam. The LAYR is customizable, meaning that you can adjust the firmness and height by simply adding or removing the inserts and filling.
The customizability makes it a good choice for a range of sleepers, regardless of their preferred sleeping position. However, the LAYR also stands out with its naturally cooling bamboo cover that allows maximum breathability.
What you should know:
The Luxome LAYR pillow is easy to maintain as it comes with machine-washable covers. Simply remove the filling from the main shell and from the inner covers, set it aside, and return it once all covers are clean and dry.
This model has the CertiPUR-US® certification, meaning that it's free of chemicals, toxins, and other harmful substances.
Best Cooling Pillow for Neck Pain
The Marlow's versatility allows sleepers with neck pain to change the height and feel of their pillow just by unzipping (or zipping) a zipper. If your neck would benefit from a firmer foundation, simply leave both zippers on the Marlow zipped up. But if you're looking for a softer experience, you can unzip one or both zippers on the pillow's sides.
Doing so also exposes the pillow's mesh gussets, which work with its gel-infused memory foam filling to provide cooling benefits.
What else caught our eye?
The Marlow is 100% vegan, for shoppers who wish to prioritize animal-friendly products.
The mix of memory foam and microfibers inside the Marlow remains supportive night after night, and its loftiness can be perked up with regular fluffing.
Best King Size Pillow for Neck Pain
The Helix Adjustable Pillow is available in two sizes: standard and king. This makes it a perfect choice for single individuals and couples who like sharing a pillow. The adjustable design comes from the removable support insert layer, allowing you to customize the height.
This Helix pillow is meant for all sleeping positions and body types. It adapts to your head and neck shape to relieve pain and stiffness. The filling is made of cotton and gel microfiber to prevent overheating and stay cool throughout the night. You adjust the pillow by removing the support insert, which allows you to find the perfect loft option for your needs.
What makes it stand out:
The cover is washable and safe to tumble dry. You can wash it in a machine using a mild detergent and a cold and gentle cycle. The insert is meant to be spot cleaned only.
Best Adjustable Pillow for Neck Pain
This WinkBeds pillow is adjustable, allowing sleepers to customize the feel and firmness level. The filling is made of memory foam that adjusts to your head and neck, offering maximum support and pain relief. In addition, the foam cubes are durable, so the pillow should last years.
The construction starts with a durable circular-knit cover made of textured polyester. It's a smooth and cool-to-the-touch fabric you can wash in the machine. Next is the inner pillow shell that sits right behind the cover. This is where you'll find a tiny layer of memory foam as a barrier between you and the individual cubes. Finally, the inside is filled with gel-infused memory foam cubes you can remove to adjust the firmness and support level.
Why do we like it?
The WinkBeds Adjust-A-Cube Pillow has a zippered side gusset where you can remove or add the filling. The pillow comes with an extra bag for the cubes so you don't lose them.
What is Neck Pain?
Neck pain, also referred to as cervicalgia, is when you feel discomfort throughout your neck area.
What Causes Neck Pain?
According to a 2015 study1, neck pain is common and is the fourth leading cause of disability However, it's hard to pinpoint what causes neck pain since there are many reasons a person may experience it. In most cases, it's caused by strain, trauma, arthritis, disc degeneration, or muscle inflammation, among others. It can also happen due to meningitis or cancer, but these causes aren't as frequent. 
How is Sleep Linked to Neck Pain?
As said, many things can cause neck pain, but have you ever woken up with neck pain even though you didn't feel it the night before? This is because you may be sleeping on the wrong pillow2, which can put your head and neck at an awkward angle, resulting in pain the following morning.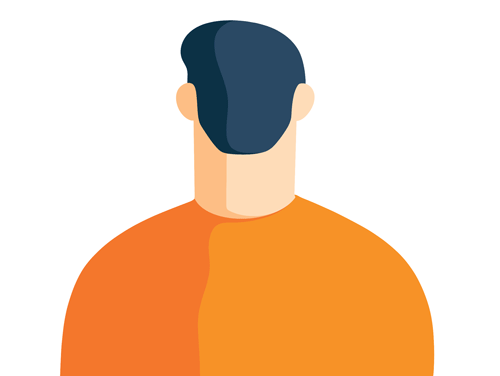 When shopping for a pillow for sleeping, you should be looking for something that will make it easier for you to find a comfortable position for your head and neck.
How to Choose the Right Pillow for Neck Pain
If you decide to search for a cervical pillow to alleviate your neck pain, you are going to receive an overwhelming number of results. As such, it's helpful to have a more thorough understanding of the different qualities in a good pillow for neck pain and how they factor into your specific preferences, such as the position you sleep in.
Materials
The fill used in pillows can vary. One the most popular options is memory foam pillows. Memory foam's popularity stems from the fact that it does an excellent job of conforming to the sleeper's shape to help alleviate tension while stilling providing good support.
There are therapeutic neck pillows made from solid pieces of memory foam, as well as some made from shredded memory foam. Even if you don't wind up purchasing a memory foam one, it would be wise to at least consider this category as you shop.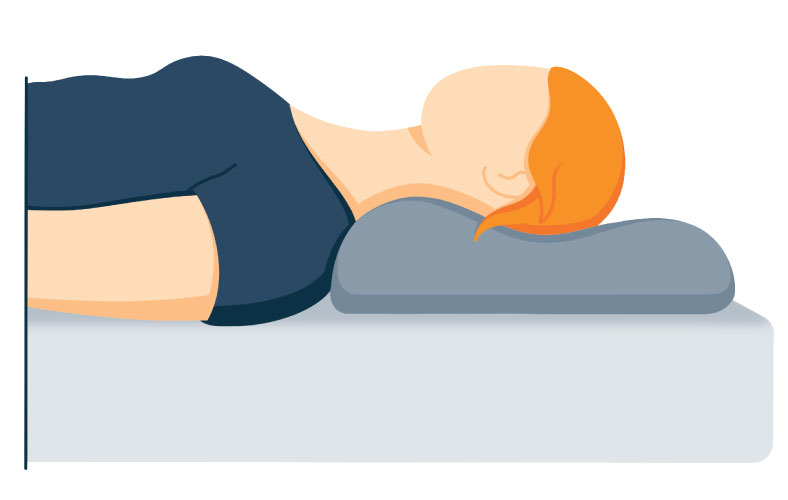 Another common material used in pillows is latex, which is well-liked because it's breathable, durable, and supportive. Down, down alternative, and feather pillows are also common, and these typically offer a more fluffy, softer feel.
View Our Full Guide: Best Latex Pillows
Shape
In addition to the material that a pillow uses as fill, another variable you will want to be mindful of is the shape of the pillow itself. Curved pillows are commonly seen in this market as they can contour the shape of your head and neck more closely.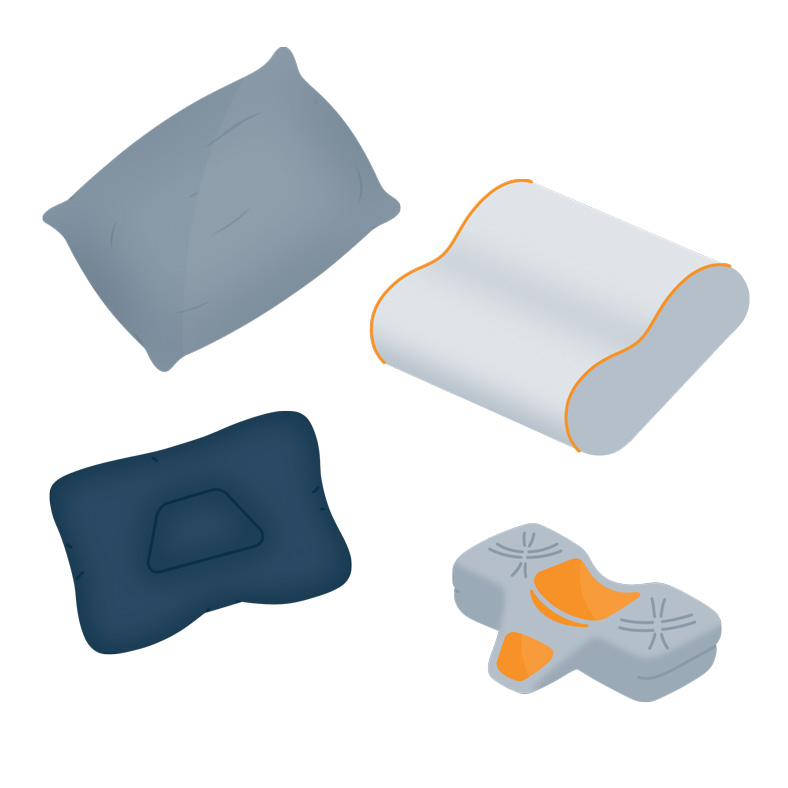 Due to the shape of your head and neck area, it can be difficult to lie comfortably on a flat surface without developing neck pain (or shoulder pain), so a thin pillow may not be in your best interest, especially if you plan on stomach sleeping. Using a contour-shaped pillow, such as a cervical support pillow, could solve this problem.
Cervical pillows do a nice job of filling the space between your neck and the mattress, providing the support you need throughout the night, reducing neck pain, and are considered to be among the best pillows for neck problems.
However, these types of pillows may not work as well for stomach sleepers and can often only be used while back or side sleeping. Additionally, if you're a warm sleeper, they are often not flippable.
Pillow Height
Pillow height can have a huge impact on your comfort, especially if you usually wake up with neck pain. A pillow that's too high can put you in an uncomfortable position, adding too much pressure and causing pain after only several hours. One that's too low will likely not provide enough support, causing you to wake up with a strained neck, especially if you're a side sleeper. Stomach sleepers need a low-profile pillow, or else they may experience spine misalignment since the pillow would lift their head too high above the shoulders. 
Support
Support is crucial regardless of your preferred sleeping position. How much support you'll get from a pillow depends on its firmness and materials. Thinner materials like feathers aren't supportive as memory foam, for example. Stomach sleepers don't need much support, so they can do with thinner materials, but side and back sleepers need something that offers more support, like memory foam. 
Firmness
Firmer pillows offer more support, but it's not always the best to go for the firmest option.
The firmness you'll choose depends on your preferred sleeping position. For example, if you're a side sleeper, sleeping on a firm pillow may result in pressure buildup. Instead, you may want to try medium or soft options that allow more cushioning. Stomach and back sleepers may benefit more from firmer pillows since these won't allow the head to sink too deeply, throwing the neck out of alignment. 
Pressure Relief
Have you ever woken up with a painful ear? Side sleepers experience this issue often when a pillow they sleep on is too firm for them. One way to avoid this is by going for a softer pillow that allows more sinkage and better pressure relief. However, this is equally important for back and stomach sleepers as well. A good portion of your neck is on the pillow, so you want it to contour the area and prevent pressure from building up regardless of your sleeping position.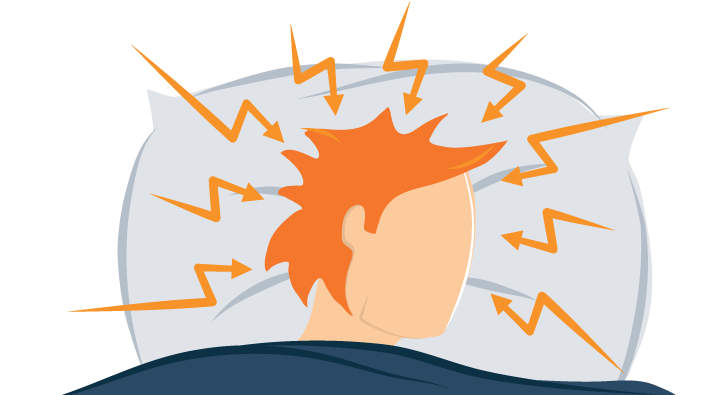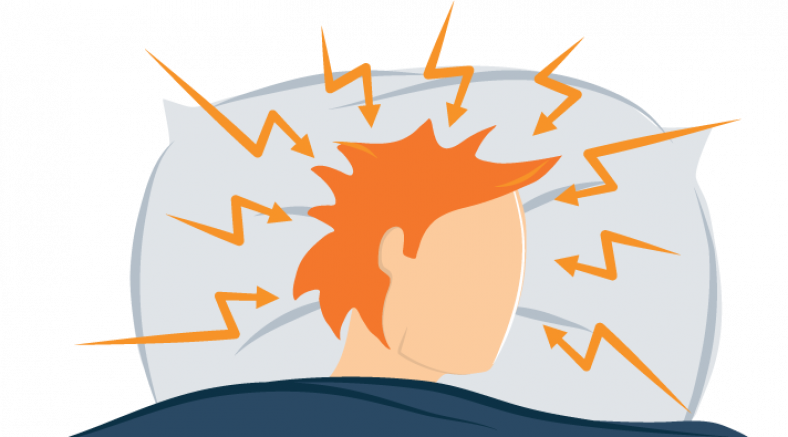 Finding a great ergonomic pillow that can help reduce your chronic neck pain is an efficient way to improve your sleep each night. Not only will you enjoy waking up without neck pain, but you will also be likely to sleep better during the night because you won't be awoken by pain or a throbbing migraine headache.
Frequently Asked Questions About Pillows for Neck Pain
What is an orthopedic pillow?
A lot of different pillows are stamped "orthopedic". but there is no one set definition of what that means. However, you can be safe assuming that some sort of thought process went into designing a construction that can help you maintain proper alignment while sleeping.
Some of these choices incorporated clinical data and input from spine specialists to create a pillow that can support your head, neck, and shoulders so that your sleeping posture3 remains straight, helping to keep your spine aligned and alleviate chronic neck pain.
It's likely a safe bet that the best pillows for neck pain will fall into this category.
Which shape is best for my sleeping position?
The right pillow shape for you will largely depend on personal preference, but you might consider paying attention to your doctor's medical advice based on your sleeping position. Alleviating neck pain often has much to do with maintaining proper spine alignment, which may be more difficult for stomach sleepers.
Many pillows are made to accommodate a variety of sleep positions, so whether you prefer sleeping on your back or are among the side sleepers, the needed support for your neck is similar. For stomach sleepers, there are still options that may help, though training yourself to sleep on your side may be more helpful for neck pain in the long run.
Learn More: How To Properly Sleep On Your Side
Keep in mind that while some options will include more mobility than others to combat neck stiffness, others will keep you more rigid. Your choice is up to preference and preferably advice from a medical professional.
What types of pillows are best for neck pain?
Ergonomic pillows are one of the best options for neck pain because they have a unique shape that contours the curves. Even if your neck pain isn't caused by an improper pillow, an ergonomic one could help alleviate some of that pain. 
What pillows do chiropractors recommend for neck pain?
A 2019 study4 showed that the use of memory foam or another open-cell foam pillow can help with chronic pain. Memory foam is known for offering good pressure relief, and if you find the right loft and firmness, you have a good chance of easing neck pain and tension. 
How should I sleep to avoid neck pain?
According to Harvard Medical School5, the best way to sleep to avoid neck pain is on the side and back. You can try different pillows that fit these sleeping positions, experimenting with materials, firmness, and height, until you find what fits you the best. However, it's best to avoid sleeping on your stomach because this puts a lot of pressure on the neck as you try to keep your face away from the pillow. 
Final Word of Advice
Along with doing your own research on products, we recommend consulting with your doctor to make sure your neck pain isn't a sign of a bigger issue. You may also find that using a new pillow, particular a contouring one, could take some time to get used to, which is why it's helpful to look at pillows that come with sleep trial periods if you're unsure. The trial period gives you the opportunity to test out the pillow at home, and if it's not to your liking, you can return it within that time window.
References:
Cohen, Steven P. "Epidemiology, diagnosis, and treatment of neck pain". National Library of Medicine. https://pubmed.ncbi.nlm.nih.gov/25659245/. 2015.

Gordon, Susan J., Grimmer-Somers, Karen. "Your Pillow May Not Guarantee a Good Night's Sleep or Symptom-Free Waking". National Library of Medicine. https://www.ncbi.nlm.nih.gov/pmc/articles/PMC3076923/. 2011.

"Good Sleeping Posture Helps Your Back". University of Rochester Medical Center. Webpage accessed April 27, 2023.

https://www.urmc.rochester.edu/encyclopedia/content.aspx?ContentTypeID=1&ContentID=4460.

Soal, Laura J., Bester, Charmaine M., Shaw, Brandon S., Yelverton, Chris. "Changes in chronic neck pain following the introduction of a visco-elastic polyurethane foam pillow and/or chiropractic treatment". National Library of Medicine. https://www.ncbi.nlm.nih.gov/pmc/articles/PMC6917418/. 2019.

"Say "good night" to neck pain". Harvard Medical School.

https://www.health.harvard.edu/pain/say-good-night-to-neck-pain. 2022.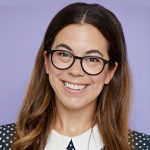 Jill Zwarensteyn is the editor for Sleep Advisor and a certified sleep science coach. She is enthusiastic about providing helpful and engaging information on all things sleep and wellness.
Based in Los Angeles, she is an experienced writer and journalist who enjoys spending her free time at the beach, hiking, reading, or exploring new places around town.
She's also an avid traveler who has a personal goal of being able to successfully sleep on an airplane someday.