Transparency Disclosure – We may receive a referral fee for products purchased through the links on our site... Read more here.
Disclaimer - Nothing on this website is intended to be a substitute for professional medical advice, diagnosis, or treatment... Read more here
As our age advances, we often learn how to put up with aches and pains that afflict us in mature age. Even if we've managed to avoid certain major chronic conditions, the chances are that many people can feel rather stiff as a result of getting older.
When this happens, many of us tend to tell ourselves that this is something normal, a natural consequence of the aging process.
The problem with this, however, is that it may prevent some from taking active measures against these aches. And this may result in the development or aggravation of certain health conditions.
Choosing a great mattress for seniors is something that should become a priority in the quest to prevent a lot of unpleasant conditions and, at the same time, to help handle those which may have already developed.
One of the most important things that you should consider, especially if you are feeling joint tension or back pain, shoulder, hips or neck, is your mattress. Our bodies change as we grow older, and so does their requirements for mattresses.
We've chosen eight beds from some of the best options on the market, and to provide you with a quick guide on how to pick a mattress that's geared towards your personal preferences and requirements.
The Casper –
Spine Alignment
CertiPUR-US® Certified
100-Night Sleep Trial
10-Year Warranty
Designed and Assembled in the USA
Casper's a well-known brand in the industry that is always thinking up ways to update and improve their all-foam bed, and their new support system provides a great balance of comfort and spinal alignment that works to combat back pain and pain in arthritic joints.
This mattress is also exceptionally versatile, and it works great for combination sleepers or couples who have different sleep needs. More active sleepers who need to change sleep position easily can do so in this bed because of three key features: The quick-responding top foam, the shallower cushioning depth, and bounce.
What stands out? Sometimes, beds that are supportive enough to keep your spine straight can feel uncomfortably firm, especially in more pointy areas of the body like shoulders and knees. Casper's new Zoned Support™ provides a little extra boost of firmness under your hips without sacrificing comfortable pressure relief at the top and bottom of the bed.
Casper is a bed-in-a-box brand, which means it is rolled up into a smaller box and requires some minimal installation, but the company can arrange for a professional delivery service to carry the mattress to your bedroom and install it on your frame. This brand is also a great match for adjustable frames.
Looking to learn more? Visit our full overview for Casper bed here.
Loom & Leaf –
Easy Repositioning
Certified Organic Cotton
CertiPUR-US® Certified
180-Night Trial
15-Year Warranty
Made in the USA
Loom & Leaf, a brand by Saatva, provides a luxury look and feel for a fraction of the price of many comparable high-end retail models.
Unlike more traditional memory foam mattress constructions, this one maintains a gentler cradle that is easier to navigate while the quality foams contour to the body's shape.
This brand features a  certified organic cotton cover that's also breathable. Underneath is 3 inches of memory foam infused with zoned gel for optimum cooling and spine support. Further down is a transitional foam layer followed by a highly dense foam base.
What makes this bed unique? Regardless of which firmness option you choose, you will not find that you sink into a deep hug, which is common with more traditional brands. The tightly stretched cover creates a hammocking effect that keeps you sleeping closer to the surface of the bed, a feature that helps prevent overheating and eases repositioning.
Unlike some online retailers, all of Saatva's brands are delivered at their full size by professionals that assist you with their installation free of charge. All are compatible with adjustable frames.
Want to read more? Check out our in-depth Loom and Leaf bed review.
Double-Sided (Soft and Firm)
CertiPUR-US® Certified
120-Night Sleep Trial
Lifetime Guarantee
Made in the USA
With the double-sided Layla, you are really getting two mattresses for the price of one, but those in search of a deeper hug inside pressure-relieving memory foam should find it on the bed's Soft side that offers up a truly classic experience.
What is the best feature? On its softer side, this brand offers up 3 inches of comfort foam and an another 2 of supportive convoluted foam, which has a similar structure to egg crate, which molds to the body.
Though these materials have a reputation for retaining heat, Layla has taken an innovative approach to cooling by incorporating copper, a highly conductive substance that also has antimicrobial properties. The cover also contains a gel that also works to control temperature.
Though the Soft size excels at removing stress from sore joints, some may find a deeper cradle slightly difficult to navigate. This effect can be mitigated with an adjustable base, or you may elect to use it Firm side up, which starts with a thinner layer of memory foam and has a shallower cradle.
Need more info? See our our full review for Layla bed here.
Bear Mattress –
Active Seniors
CertiPUR-US® Certified
100-Night Trial
10-Year Warranty
Children's Charity Initiative
Made in the USA
Your best night's sleep helps you recover from an active day and wake refreshed to hit the road again, and the makers of Bear want to boost your recovery by incorporating performance materials into their mattress that they say help your body boost oxygen levels and repair sore muscles.
What makes it unique? This mattress is built with high-quality performance foams that contour to the shape and relieve pressure, but the star of the construction is the cover's Celliant infrared technology, which is currently undergoing clinical testing to prove its long-term health benefits.
We are not Celliant experts and definitely encourage you to do your own research there, but Bear's bounce and quick responding materials cradle the body without making it difficult to reposition. Supportive base foams do a great job maintaining spine alignment while still being flexible enough to work with an adjustable frame.
Interested in exploring further? Find out more in our full Bear mattress review.
Dual-Sided (Luxury Plush and Gentle Firm)
Certified Organic Cotton
OEKO-TEX® Certified
180-Night Trial
20-Year Warranty
Made in the USA
If memory foam is too slow-responding for your taste or needs but you still want soft body conformance, you may look into latex mattress. The dual-sided Zenhaven uses Talalay latex in various firmnesses – Luxury Plush and Gentle Firm – and feels that you may flip between, depending on what works best for you.
The Talalay process of building latex from rubber tree sap results in a slightly airier and more consistent foam that offers improved breathability. It is also quicker-responding than other types of Latex, which helps to prevent a stuck feeling and vary your sleep positions throughout the night.
What stands out? The advanced support and comfort balance uses tiny pinholes strategically placed in the latex to zone firmness throughout the construction so each part of your body is getting the exact amount of comfort it needs to relieve pressure while receiving the support it requires to remain aligned.
The Firm configuration, in particular, works well for exclusive back and stomach sleepers who need extra support in their midsections but still want softer comfort for their arms and legs. If you require an adjustable base to keep your legs elevated, this mattress will work well.
Unlike some online brands, Zenhaven comes with free professional installation, also called White Glove Delivery.
Want to see more? Check out the full review for Zenhaven bed.
CertiPUR-US® Certified
100-Day Trial
10-Year Warranty
Made in the USA
Do you have what it takes to design your own mattress? At Helix, you do! All it takes is a few quick answers to an online quiz, and this brand begins selecting the perfect bed with the right combination of materials to cradle you comfortably to sleep.
Why did it make the list? Everybody ages differently and our needs can become very specific. Each hybrid mattress includes a mix of foam, cooling technology, and micro coils based on your unique specifications.
If you sleep with a partner, the company can either select one blend to suit you both.  Helix has removed compromise from the equation by offering highly individualized blends of densities, coil strengths, and cooling to address your pain points and repositioning needs. Each has its own color and name to help identify it.
The Helix system, which works well on an adjustable frame, is based on first-rate sleep research and expertise. We think the online quiz does a great job of analyzing sleep preferences to delivery a truly one-of-a-kind sleep experience – because it was selected just for you!
Looking for more info? Visit our complete guide for Helix mattress here.
Copper Dreams
CertiPUR-US® Certified
OEKO-TEX® Certified
120-Night Sleep Trial
10-Year Warranty
Made in the USA
Our pick for best budget choice rounds out this list comes from Dreamfoam, a memory bed that is built with high-quality memory foam materials that provide a classic slow sinking sensation that relieves pressure in sore joints.
This mattress is 12 inches high and includes a 2-inch transitional foam layer overtop a 6-inch dense foam base layer that provides a substantial-feeling foundation and great spine support.
Though the bed is softer than some others on this list, the thick base should feel firm enough to support your body in all three sleeping positions, though the deep hug may prove a touch difficult for you to navigate if you regularly struggle with movement. In this case, an adjustable base, which works well here, may resolve that issue for you.
Why does it stand out? This brand offers a significant amount of quality for the price, which is substantially lower than many of its online peers. All foams and materials have been rigorously tested to meet strict environmental safety standards from two independent organizations.
Dreamfoam, owned by Brooklyn Bedding, believes in providing high quality at a low price, and the four inches of memory foam atop this mattress will not put any pressure on your body or your wallet.
Need more details? Read our full Copper Dreams mattress review here.
Who Else Can Benefit From a Bed for Elderly People?
Arthritis or Osteoarthritis Sufferers
People with Fibromyalgia
Anyone with Chronic Back and Hip Pain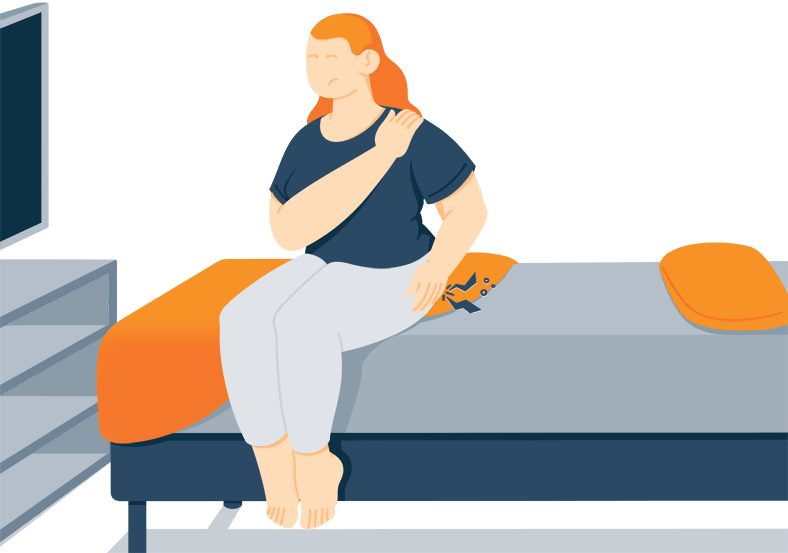 What to Consider When Buying a Mattress for Seniors
Adjustability
This is a great option that you might want to take into account. Adjustable mattresses like those we mentioned above could be very helpful for elderly adults, as they can adjust according to the issues that are being experienced.
Even though this is not a must, it could be useful in certain situations. For instance, if you need additional support towards the lower back, adjusting your back in a rather upright position could potentially alleviate a lot of pressure in this area. The same thing could be done for every separate area of your body.
Materials and Construction
One option to consider when choosing a best mattress for seniors is to opt for a memory foam mattress. This is mainly because of its prominent and pronounced contouring capabilities which are going to impact pressure relief seriously.
If you want to spend additional money, you could get a hybrid bed, between memory foam and innerspring. This is going to deliver a nice balance between ultimate support and enhanced comfort. In other words, you'd feel an expressive bounce and push-back while the memory foam comforting layer would works to reduce pressure points.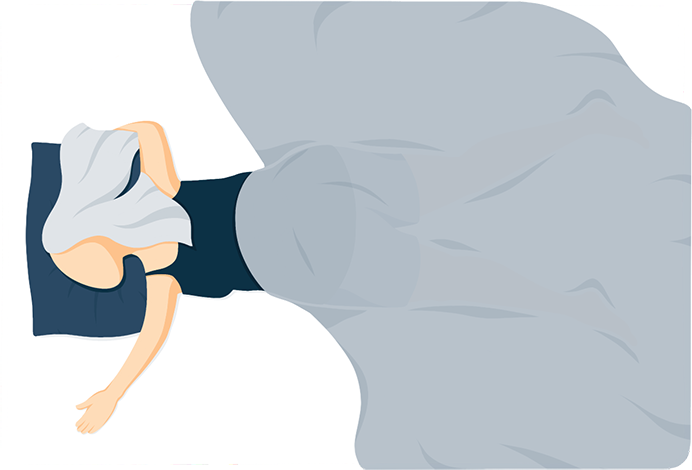 Firmness
Joint and back pain could be caused by inappropriate firmness levels. There is no golden middle ground here, even though the wide majority of us would prefer medium firm options. At the same time, it is quite important to make sure that you find that balance.
Different sleepers prefer different sleeping solutions, which is quite normal height and weight can be very different. This is why you should find the perfectly balanced solution which brings both supportive firmness and comfortable softness, especially if you're an elderly citizen.
For More Info: Mattress Firmness Guide

Price Range
It goes without saying that the price can determine the type of bed that you purchase, but we'd strongly recommend against compromising in this case. Spending less on low-quality mattresses for seniors could additionally aggravate certain conditions.
There are a lot of premium-quality beds available at very affordable prices thanks to the direct-to-consumer sales policy most companies are implementing. You can get your bed online without paying commissions and middlemen fees.
Conclusion
All in all, there are quite a few different things that you might want to keep in mind when it comes to purchasing a mattress for an elderly person. This is a very important thing that you have to go through, and it is capable of having a serious impact on an overall condition.
Make sure to take a look at all of the above as it is geared towards helping people in similar situations. Hopefully, we've managed to provide you with whatever is needed to get a good quality bed without spending a fortune for it.
Our team covers as many areas of expertise as we do time zones, but none of us started here as a so-called expert on sleep. What we do share is a willingness to ask questions (lots of them), seek experts, and dig deep into conventional wisdom to see if maybe there might be a better path towards healthy living. We apply what we learn not only to our company culture, but also how we deliver information to our over 12.7M readers.
Sleep research is changing all the time, and we are 100% dedicated to keeping up with breakthroughs and innovations. You live better if you sleep better. Whatever has brought you here, we wish you luck on your journey towards better rest.