Transparency Disclosure – We may receive a referral fee for products purchased through the links on our site...

Read More

.
Parents may feel like they're continually burning a hole in their wallets to keep up with kid's evolving sleep needs, however, purchasing a quality mattress could help. Investing in a capable product to grow with your little one throughout childhood could save you in the long run by anticipating their needs instead of reacting as necessary.
Finding a comfortable mattress suitable for your child's growing size that won't sag and break after a few years is critical for optimal investment.
Below we discuss what you should consider when purchasing as a guide to help you determine the right bed for your child. We've also incorporated a few best mattress for kids reviews to help you make the right call.
Shopping Recommendation:
Are you confident that a mattress for kids is the perfect option for you? If so, continue exploring this page!
If you're unsure or want to learn about more great mattress options available then we recommend you check out our highest rated mattress selections page. It is a great starting place for most mattress shoppers because it includes a diverse list of mattress picks based on various preferences, styles, and needs. It also includes links to an additional 60+ best mattress pages from Sleep Advisor (example: best innerspring mattress).
Best 10 Mattresses for Kids
Top 10 Kids Mattress Reviews
Helix Kids
Hybrid Mattress
Best for All Sleep Positions
Firmness Level: 4.5/10 (Soft Side), 6.5/10 (Firm Side)
100-Night Trial
10-Year Warranty
Understanding the need for kids to get quality rest, Helix set out to create a mattress specially designed for children. The result is the Helix Kids mattress, a flippable hybrid bed with a dual-sided firmness design that should work well for all sleep positions.
What makes the Helix Kids mattress so impressive is the thought process behind the design. The bed comes with two different firmness levels. One side of the mattress is a softer feel, and if you flip it over, there's a firmer side. Helix recommends the firmer side for younger kids ages 3-7 and the softer side for kids between 8 and 12 years old.
Why do we love it?
The dual-sided design is great for accommodating growing kids and their evolving sleep preferences. This means your child is more likely to use the bed for a longer period, adding to the value of your purchase.
Best Mattress for Back Sleepers
Saatva Youth
Innerspring Mattress
Best for Back Sleepers
Firmness Level: 6.5/10
365-Night Trial
Lifetime Warranty
Getting quality sleep is an important part of helping kids grow up to be strong and healthy. Saatva aims to help kids get their best sleep with their Saatva Youth model, a mattress specially designed for kids.
The Saatva Youth is a dual-sided mattress. One side's construction is catered to kids 3-7, while the opposite side is for kids 8-12. By creating these two sides, the mattress is able to adapt to your child's changing needs as they grow.
The bed's medium-firm feel should be ideal for kids who solely lie on their back, providing a balanced mix of pressure relief and support. However, the 365-night trial allows your child sufficient time to test out the bed for themselves.
What stands out?
The Saatva Youth's dual-sided design means your little one can use the mattress as they grow from toddler to pre-teen.
Best Mattress for Active Kids
Bear Star Hybrid
Hybrid Mattress

Best for Side, Back, and Stomach Sleepers

Firmness Level: 6/10

120-Night Trial

Lifetime Warranty
Bear designs their beds with active sleepers in mind, making this a perfect option for kids who are active. The Bear brand utilizes an innovative textile known as Celliant® in their covers. According to the makers behind Celliant®, it can improve recovery by converting kinetic energy into infrared light.
Though Celliant® could prove useful, it's not the only advantage the Bear Star Hybrid has for active kids. The bed's pillowtop and second foam layer should provide a gentle cushion to help ease muscle tension after a busy day of playing sports. 
The coil unit sits eight inches high and should give quality support to keep the body in good alignment, minimizing the risk of back pain. The coils are further supported by the dense foam at the base of the bed.
What makes it special?
Your little one can test out the mattress at home for up to 120 nights to ensure that it's the right fit and feel.
Best Mattress for Stomach Sleepers
Brooklyn Bowery
Hybrid Mattress
Best for Stomach Sleepers
Firmness Level: 6/10
120-Night Trial
10-Year Warranty
While many adult stomach sleepers may find the Bowery from Brooklyn Bedding too soft for their taste, this mattress should be a perfect match for kids. The Bowery is a hybrid model made with two foam layers and a third layer of coils.
The top of the Bowery consists of two inches of comfort foam, followed by a 6-inch thick unit of Ascension™ coils. The third and final layer is an inch of high-density polyfoam to give the bed stability and structure. The Bowery's total profile is nine inches, which should be good for kids since it's not as high.
What's worth mentioning?
Kids can be picky, so the good news is that your child can try out the mattress at home for up to 120 nights. Then, if they don't like it, you can return the bed for a refund.
Best Memory Foam Mattress for Kids
Nectar
Memory Foam Mattress
Best for Back and Side Sleepers
Firmness Level: 6.5/10
365-Night Trial
Forever Warranty
Nectar's flagship model is a 12-inch high memory foam mattress built with three foam layers that combine quality pressure relief with firm body support. Kids should experience a cozy cradle from Nectar's top memory foam layer. Additionally, the brand infuses gel in the memory foam to keep the material from overheating for cooler sleep.
The Nectar's middle layer is a transitional foam that doubles as extra support and eases the sleeper into the dense foam base. The base of the Nectar is a substantial 6-inch layer that should supply optimal spine alignment.
Why we chose it
Nectar comes with one of the best consumer deals in the bedding market. Kids can try this mattress out for 365 nights to see if they like it. The brand also offers a forever warranty to cover the bed for as long as you have it.
Best Eco-Friendly Mattress
Birch Natural
Hybrid Mattress

Best for Back Sleepers

Firmness Level: 6.5/10

100-Night Trial

25-Year Warranty
Many parents have valid concerns about the materials going into their child's mattress. Rather than purchasing a more traditional bed made from synthetic materials, they may want to invest in a more natural or organic mattress. 
The Birch Natural offers a fantastic eco-friendly find for children. Made from natural and organic materials, the Birch is constructed with latex, cotton, wool, and steel coils. Furthermore, the wool used in the Birch is ethically sourced, so you should feel at ease about the quality of this product. 
What's worth mentioning?
The Birch Natural boasts several environmental certifications, such as eco-INSTITUT, GREENGUARD Gold, and Global Organic Textile Standard (GOTS).

While this bed rates best for back sleepers, we think it's a viable fit for side and stomach sleepers as well.

Your child will have plenty of time to make sure the bed's a good fit thanks to the 100-night trial period.
Best Mattress for Stomach Sleepers
Plank Firm
Foam Mattress

Best for Stomach Sleepers

Firmness Level: 7.5-8/10 (Firm Side) 9/10 (Ultra-Firm Side)

120-Night Trial

10-Year Warranty
As kids grow, it's important to ensure their spine remains healthy as well. This is where getting the right mattress can make a big difference. 
Stomach sleepers often need firmer mattresses that are highly supportive to prevent their hips and midsection from dipping into the bed. This is because any significant dipping can create an unnatural curve in the lower back that could eventually result in back pain.
The Plank Firm comes with an extra-firm feel to it that should be ideal for kids who prefer to sleep on their stomachs. Furthermore, this is a dual-sided mattress, which means that it's flippable and comes with two firmness levels. On one side is the Firm option, and the other side has the Ultra-Firm feel. 
Why we love it
The flippable design is fantastic for customization, offering two firmness choices in one product.
Best Mattress for Combination-Sleeping Kids
Tuft & Needle
Foam Mattress
Best for Combination Sleepers
Firmness Level: 5/10
100-Night Trial
10-Year Warranty
If your kid tends to rotate between different sleeping positions, the Tuft & Needle could be a great fit as their new mattress. The Tuft & Needle is an all-foam mattress with a 10-inch profile, which shouldn't be too high for smaller kids.
The bed's construction includes a top layer of proprietary T&N Adaptive® Foam. This material is designed similarly to memory foam and latex, delivering pressure relief and support. The bed's ability to adapt to the sleeper should be good for changing positions. The primary support unit of this mattress is the bottom 7-inch polyfoam, which should help ensure healthy spinal alignment for your growing child.
What makes it special?
T&N Adaptive® Foam contains heat-conducting graphite and cooling gel to curb overheating during the night.
The medium firmness of this bed is great for combination sleepers since it's a more universal feel.
Best Cooling Mattress for Kids
Dreamfoam Hybrid
Foam & Hybrid Models
Best for Side Sleepers
Firmness Level: 5/10
120-Night Trial
10-Year Warranty
Dreamfoam Hybrid is the entry-level offering from Dreamfoam brand, owned by Brooklyn Bedding. Its sleek, streamlined multi-layer design offers a quality mattress for an exceptionally attractive price. The bed's gel infusion helps to keep hot sleepers cool through warm nights.
In both the hybrid and all-foam models, a 2.5" comfort layer lies under the plush top. This layer is created with a patented blend of gel memory foam and latex. The unique combination provides the comforting contouring properties of memory foam with the responsiveness of latex, providing pressure relief and proper support.
Why did it make the list? 
The bed's unique approach to cooling with its gel infusion helps with temperature control.
Dreamfoam Hybrid is an impressive budget pick with quality materials that cost under $400 for a Twin size mattress.
CertiPUR-US® Certified, this bed is made with safe materials and no toxic chemicals, flame retardants, or heavy metals, letting you sleep easily.
Nest Puffin
Foam Mattress
Great for All Types of Sleepers
Firmness Level:  Firm
30-Night Trial
Lifetime Warranty
Nest Bedding's Puffin mattress is designed specifically for kids, and each aspect has been tailored with their needs in mind. At 7 inches tall, it is thinner than typical adult mattresses, and fewer inches translate to additional savings.
The company is the first online brand to produce a bed-in-a-box model for children. It comes in Twin, Twin XL, and Full sizes and can be used on any base. It even works with bunk beds and trundle-style frames.
Why do we love it?
Along with a fantastic price point, the Puffin mattress is CertiPUR-US certified, meaning there are no toxic chemicals, flame retardants, or heavy metals included in the design, letting you sleep peacefully knowing your little one is safe.
The company recommends it for kids up to 120 pounds, making it a great option for younger children.
The lifetime guarantee helps buyers feel confident in their choice, to stand the test of time even under the stress of rambunctious children.
How To Choose Best Mattress for Kids
Age – Toddler or Kid?
As your young kid(s) start getting older, their bodies will grow accordingly. This has to be reflected when you purchase a mattress. Of course, it doesn't mean that you ought to buy a new one every year. You need to account for that growth, and if you make the right call, a good bed could easily last for 8 to 12 years.
Thanks to contemporary solutions and high-quality mattress materials, we have more freedom to choose what we like and what's good for our specific needs. Memory foam mattresses, for instance, conform according to the pressure our bodies apply to them. Latex and coils tend to have better cooling, etc.
High-quality sleep is undoubtedly one of the most important factors to consider for your kid's health. Investing in a premium mattress made out of quality materials is something that should be weighed carefully. It should eliminate the need to change it every few years, and it's much better for health and posture.
Age - Growing Teenager(s)
Kids grow really fast, and if you are going to invest in a mattress, you'll want to be sure it's one that is versatile enough to adapt to your child's growing body. During the teenage years, especially your kid could grow to be the same size as many adults. Think about expected growth in both height and weight and how that may affect the suitability of a mattress over time.
Depending on the space, you may consider a Twin XL instead of a standard Twin size mattress for your teen, especially if you and the rest of your family tend to be taller than average. This is also a popular size for many dorm room bed frames, so the investment in a Twin XL mattresses could potentially follow your kid to college and enable you to save on the expense of a new bed.
Learn More: Top Rated Beds For Teens
Which Bed Size?
The size of the bed and the mattress, respectively, would usually pose a significant difference in the price. The larger the mattress is, the more it's going to cost you. There are traditionally four kids bed sizes to choose from.
View Our Complete Guide: The Ultimate Mattress Size Chart
The single bed is one of the most frequently purchased bed sizes for a child. There are a lot of great benefits for this size mattress: It's cheaper than all other dimensions, fits in the smallest of rooms or sleep areas, and fits most young children without any issues.
The major downside with this is some kids, especially when they become teenagers, will not fit in the bed properly. However, this can be an exceptional buy for younger kids that have outgrown their cribs and you can buy a new size as they grow out of it.
See Our Comparison Here: Twin vs. Single Bed Size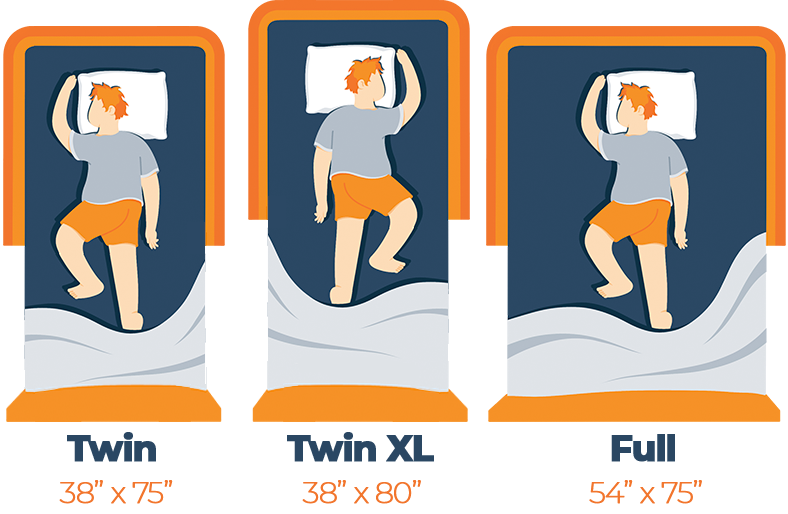 This is a common choice for a lot of people due to limited availability concerning bedroom space. The dimensions are usually around 38 x 75 inches. This is typically the least expensive option, and it's perfect for a kid up until the age of 12.
Check Out Our Full Guide: Best Twin Mattress
The XL option adds five more inches in length, providing additional growing room for the children. It measures 38 x 80 inches. This isn't a lot more expensive compared to a twin-sized bed (and sometimes there is not a difference in price), but it could potentially be used for a while longer, depending on how fast your kid grows. Some people sleep on this type of bed for most of their college years without any issues.
Get More Info: Best Twin-XL Beds
Should you be able to afford the additional amount of money, this may be the best fit for your needs. It's 54 x 75 inches, leaving enough room for growth, and it's likely for your children to use it well into their 20s.
Read Our Full Comparison: Full vs. Twin
Using Bunk Beds?
Bunk beds can be a fantastic solution if two or more of your kids are sharing a room with limited space as it gives both child room to spread out without sacrificing potential play areas on the floor. If you choose to go this route, know that there is more to the process than selecting a bunk frame and placing a standard single bed on it. There are mattresses specifically sized for bunk beds, and the size of your room and frame will help decide which works best.
Read Our Complete Guides:
---
---
Check the dimensions required, and consider the weight of the mattress combined with the weight of your kid to make sure the frame is robust enough to remain safe and secure. You may consider the space between the top bunk and the ceiling as a thicker mattress may reduce available space to sit up.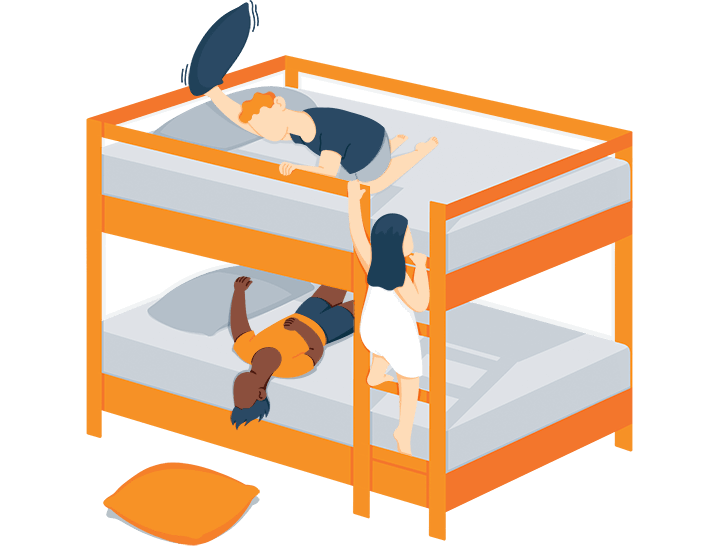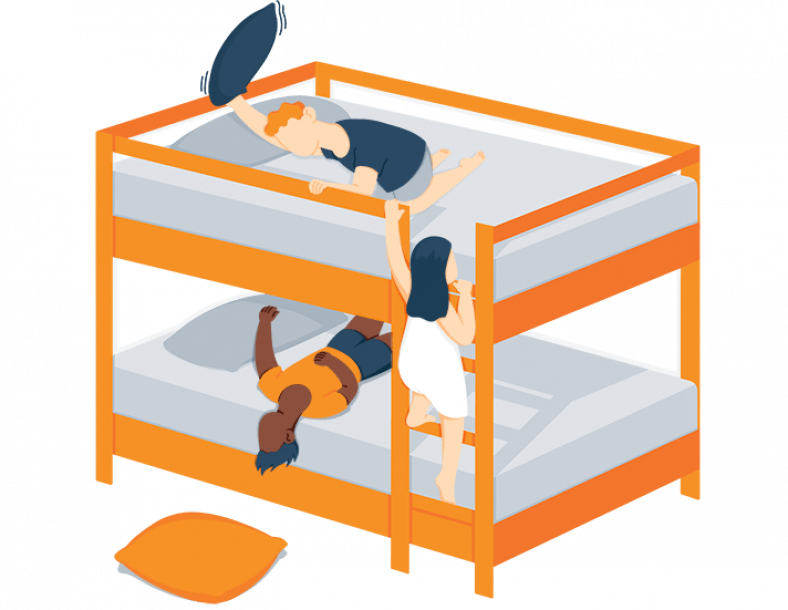 Firm or Soft?
Getting the comfort right on the first try can be vital. Even adults can get cranky when they don't sleep well, so imagine what could happen with your kids.
One of the most important things to consider when it comes to the comfort is the firmness of the mattress. Should it be firm or should it be soft?
When looking for the optimal firmness, you ought to consider the weight of your kid. This is a parameter which is referred to as ILD or Indentation Load Deflection. It's complicated, so here are the general standards that you should consider:
Soft beds – these are appropriate for ILD of less than 25 lbs.


---

Firm – these are appropriate for ILD of more than 31 lbs.


---

Medium – consider these for ILD between 25 to 31 lbs.


---
Of all these, the golden middle ground tends to be the medium firmness as this can accommodate the vast majority of children throughout most of their junior years.
For More Info: Mattress Firmness Scale
Go For a Supportive Mattress
The support of the mattress relates to the capability to correctly align the spine. It is quite important that your kid can grow up sleeping with the perfect support as this can help ensure normal health and growth.
The thing that you ought to consider is the proper spinal alignment. Of course, apart from the bed and its structure, you also have to take into account the pillow being used. You can instruct your kid to avoid using more than one pillow to prevent malformations. Additionally, sleeping on your side with your knees bent towards your chest can often reduce pressure.
Involve your kid in the buying process and let him or her tell you what feels best.
Off-Gassing
Off-gassing is the process which follows immediately after unpacking the new mattress. It carries a characteristic and robust smell which differs in its essence, depending on the type of material you've decided to go for. It's highly advisable that you allow airflow to do its thing for a few days to prevent any potential headaches, as this could potentially happen in the first few weeks.
While it's not viewed as harmful, it's easily something you could avoid. Just keep the windows open in the room and allow your kid to sleep with you for the next few days – it should pass quite quickly. Off-gassing is commonly found in memory foam mattresses, so be sure to research if this style is right for you and your child.
Also, you can go for GREENGUARD certified products that focus on lower emissions and safer mattress materials. CertiPUR-US® is another certification.
Budget & Value
Many people place too much emphasis on the price tag of a mattress they are shopping for, wrongly believing that a affordable price represents a better deal. This is not always the case, and when you're shopping for one for your child, you want to be sure the quality of materials does not compromise their health and is durable and flexible enough to grow with them.
A cheaper product may look like it is going to save you money, but that's not always the case. Beds that wear out quicker will need to be replaced sooner, especially as your child continues to grow. If you have to replace the product often, you will probably end up spending more money than if you had invested in a better value from the start.
When evaluating a brand's price tag, also look for things that can increase long-term value. The durability of better quality building materials, fabrics, and better stitching will help it hold up over time, which will often save you money. You may want to look at safety certifications as well, as developing lungs often need additional consideration around manufactured materials.
View Our Full Guide: Top Rated Budget Beds
Add a Mattress Topper?
A bed topper is a great way to adjust the solution to the needs of your growing kid. Keep in mind that every young child grows at the individual pace and it's quite reasonable for them to outgrow the mattress you've purchased. With this said, if your kid starts to gain weight faster than expected, this should to be reflected in the firmness of the mattress.
Instead of spending another small fortune on a brand new bed, you could easily add a topper to your current one and adjust the firmness accordingly. This will save you time, effort and money. However, it isn't an alternative to a mattress with great support, so if you have a product that is sagging quite a bit, you may need to buy a new one.
Best Bed Type for Kids
Memory Foam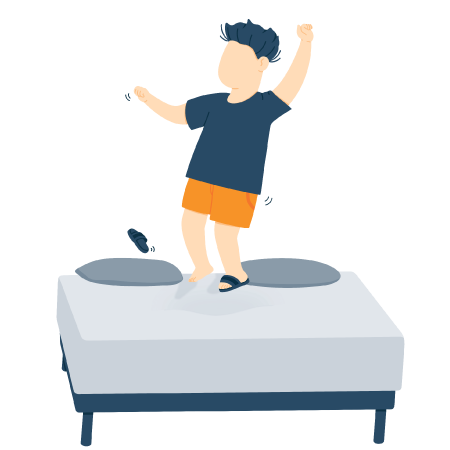 Innerspring
Latex
Bed in a Box
Air Mattress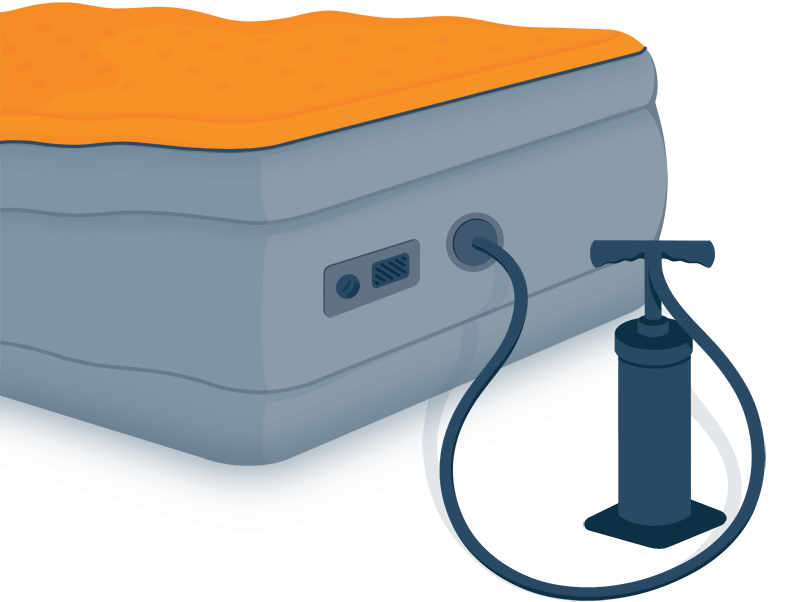 FAQ For Toddler Beds
1. Is a Twin Size the Best Size For a Kid?
2. What Should I Look If My Child Has Allergies?
3. How Firm Should It Be?
4. What About Cribs for Younger Siblings?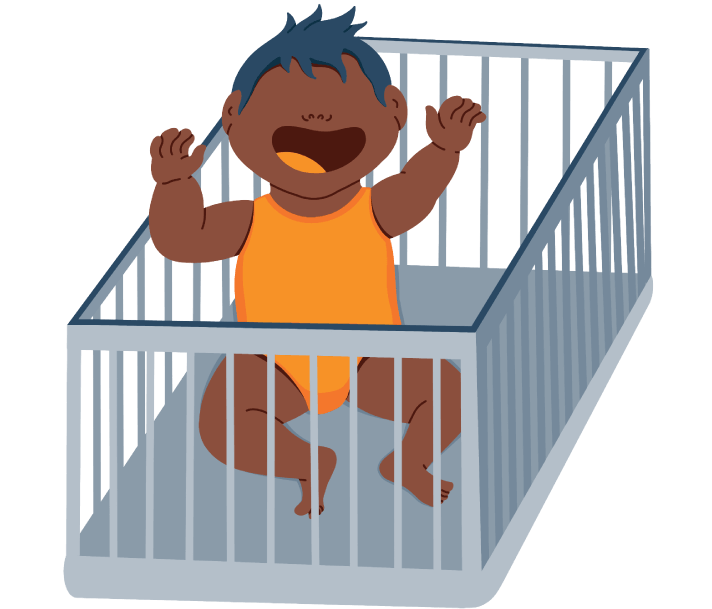 Our Final Thoughts
Obviously, selecting the best mattress for kids is a challenge that you have to deal with. We hope that you now have a few different top-rated mattress options so that you can better navigate according to the individual needs of your kid and the purpose you've intended for the mattress. Your kid deserves the best, right?
Two of the most important things to account for is the sleeping habits and preferences of your kids. As they grow older, make sure to involve them in the buying process so that they can give their own first-hand input, hence making your choice a lot easier.
Until then, though, those mentioned above should be enough to help you make an appropriate choice for your kid.
Rachael is a content writer for Sleep Advisor who loves combining her enthusiasm for writing and wellness. She's had a passion for writing since she was a kid when she wrote awful poetry. She's honed her craft quite a bit since then and considers herself a lucky duck to get paid to do what she loves.
Embracing the remote work life, she occasionally takes her work on the road and lives out her travel writer pipe dream.
In her free time, she attempts to meditate regularly, rides her bike to Trader Joe's, and enjoys trying every type of food that she can get her hands on.