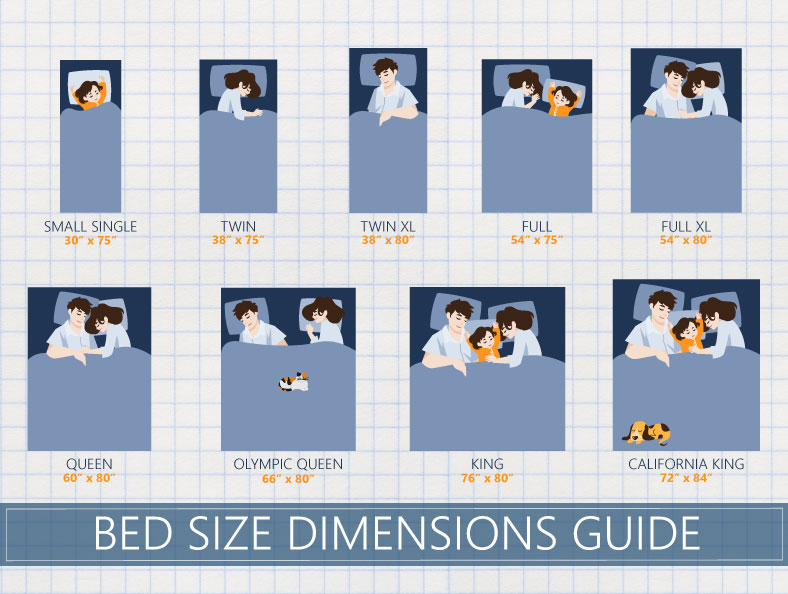 Intuitively, the different sizes of beds seem easy enough to understand, right? The truth is, choosing the right size of your mattress can be more complicated than you may think. Does it fit nicely in my bedroom? Is there enough leg room? And many other.
To help you make the best decisions when selecting a mattress, we've put together a summary of the most common measurements you will see online and in a store so you can have an idea if it's a perfect bed for you and your bedroom.
Before you proceed...
Do you want to know our top rated mattresses?
Our team researched many different mattresses to help you confidently choose the right one for you.
Read the Article
Common Bed Size Dimensions Comparison
| Type | Size (Inches) | Suitable For |
| --- | --- | --- |
| Small Single or Cot | 30 x 75 | Babies and toddlers |
| Twin | 38 x 75 | Kids that have outgrown their cribs and single adults living in smaller apartments. It's also great for daybed or bunk bed. |
| Twin XL | 38 x 80 | Kids and taller adults and those who want to use an adjustable bed frame |
| Full | 54 x 75 | Good for a single sleeper or someone with children or pets and couples that do not require a lot of leg room. |
| Full XL | 54 x 80 | More than enough for single sleeper and for couples that need more leg room but can not accommodate queen size due to bedroom limitations. |
| Queen | 60 x 80 | Frequent choice and a perfect size for most couples that do not need a lot of sleeping space. If you plan to sleep alone this is more than enough. |
| Olympic Queen | 66 x 80 | Six Inches wider than a standard queen, it makes it nice for someone who doesn't want to upgrade all the way to king. |
| King | 76 x 80 | Great choice for couples who want maximum personal sleeping space. Check our room dimensions scale guide to ensure it will fit in your bedroom. |
| California King | 72 x 84 | 4 inches longer but 4 inches narrower than a standard king type. Good for taller individuals. |
Small Single Bed (Cot) Dimensions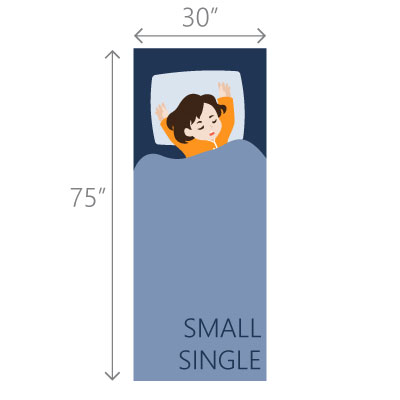 Twin Bed Dimensions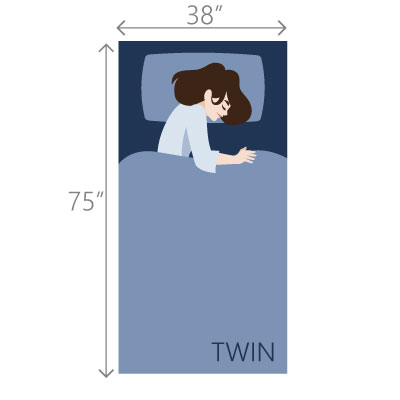 A typical single, twin or bunk mattresses are 38" width x 75" length. You'd be hard-pressed to find a bed that is any smaller than this one, other than that of a toddler bed or crib.
Typically this is ideal for children who have outgrown cribs and toddler beds, and who are now ready to graduate to a larger mattress.
Additionally, for those who sleep in cramped quarters, who have small rooms or who share a room with a sibling or roommate, Twin beds are an ideal choice. Day beds, bunk beds, dorm room beds or those found in the guest room often use this type.
Recommended reading:
What is important to note about a Twin bed versus a larger toddler bed, is that comfort is taken more into account. It's common that, once you reach the Twin size, more quality materials are used, and more engineering centered on comfort takes place. This is because, the older we get, the more we consider comfortable sleeping to be a necessity.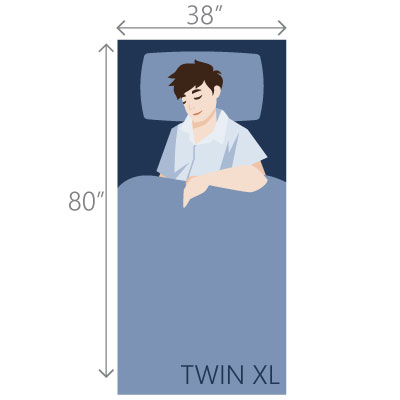 Twin XL
There are subcategories of double beds to consider as well. The Twin XL is typically 80" L while still maintaining the 38" W. If you're an adult looking for a bed that saves space and still is a comfortable choice, an XL Twin may be perfect for you.
Can I use Twin XL mattress on a King Size Bed Frame?
Yes, you can use two double/twin XL beds in a king frame. If you are in a relationship where one partner requires a different firmness than the other, usually end up being big fans of this setup. This is because Two XL beds can fit snugly alongside each other within a King sized bed frame.
This is good to know for partners who are tired of the fluffiness or firmness of their spouse's mattress.
Recommended Read: Our Top 5 Mattresses For Couples
Full Bed Dimensions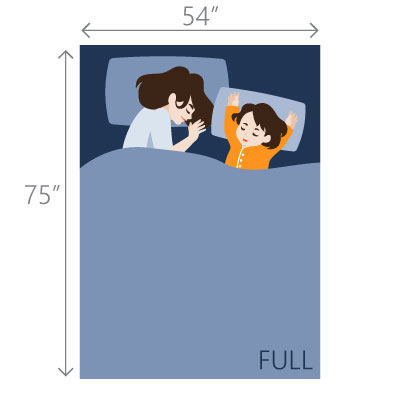 Full-size mattress measures 54' width x 75" in length, and these are also commonly referred to as "standard double." Sufficient for adults that need more room than what a Twin can offer.
If you are in a relationship, this may not be the best choice for you, as the fit will be exceedingly tight. Likewise, if you have a dog, cat, or you have a child that sleeps next to you, you may want to consider a wider option.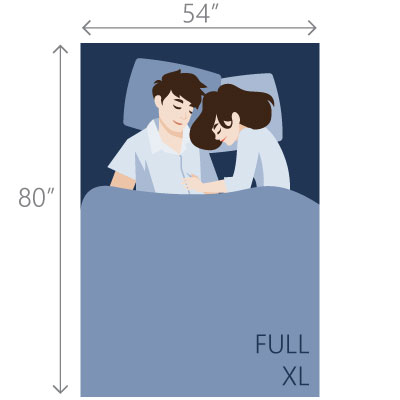 Full (Double) XL
A XL option is 54" x 80" giving you an extra 6 inches of leg space. If you do not require extra width but want some more room for your legs this is a perfect option.
For more information, read our comparison between Full and Queen Bed.
Queen Bed Dimensions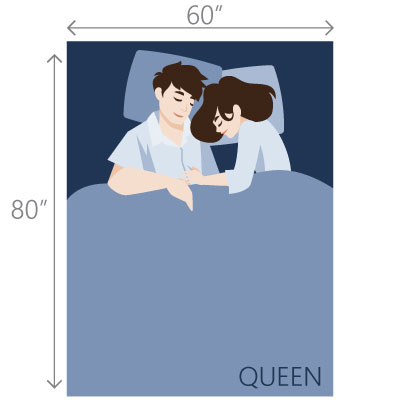 Queen size mattresses are 60" width x 80" length. Ideal for almost anyone, in that it's long enough and wide enough to suit most any sleeper. For those who sleep with their spouse, child or pet, it might be perfect for you.
When thinking about these larger types, it becomes necessary to consider the living space. These take up much more room than the Twin or the Full, and thus, the ability to freely move around the bedroom may become restricted.
If you have a larger bedroom, then this won't be a factor for you.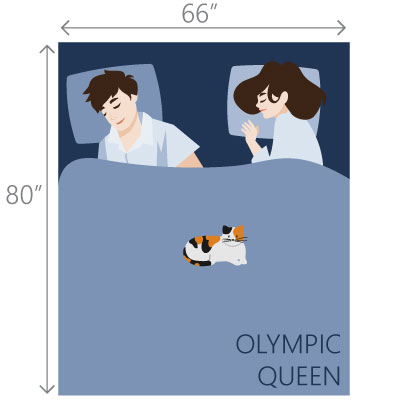 Olympic Queen
These are slightly wider and measure at 66"W x 80" L.  Olympic queen is perfect for taller individuals, but you don't want to upgrade all the way to King, but you could use some more width.
King Bed Dimensions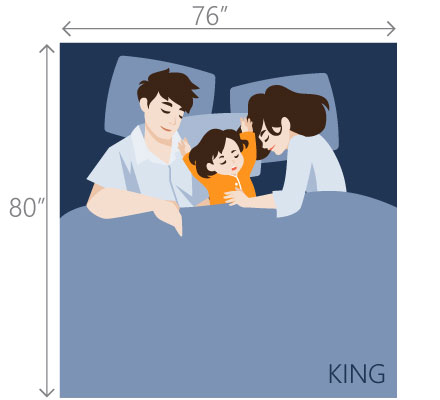 A standard King size mattress is 76" in width and 80" in length. It's recommended that you do not opt for this option unless your room is at least 12×12. This is a perfect option for couples who sleep with their kids or pets and want more sleeping room for themselves.
If you want to compare this to other options, King is same as 2x Twin XL.
A nice fact is that box springs are split for this type, and it makes it easier to carry around and maneuver.
California King Bed Dimensions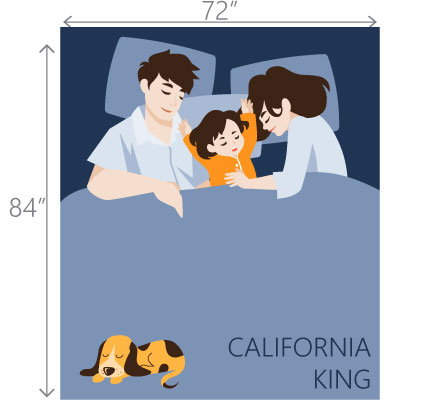 The California King mattress is 72" W x 84" L making it one of the biggest options on the market. It's perfect for active sleepers, tall people and couples with kids or pets. Cal King is 4" longer but 4" narrower when compared to a standard King.
It is recommended that you have a large room of at least 12'x12'.
Read the full King vs. Cali King mattress size comparison article.
Bedroom Size Requirements
Ok, so you have decided that you need a new bed. But, can you actually put it in your room and still be able to open the door and walk around it?
Let's take a look at the following illustrations showing how certain mattress sizes will fit in your room.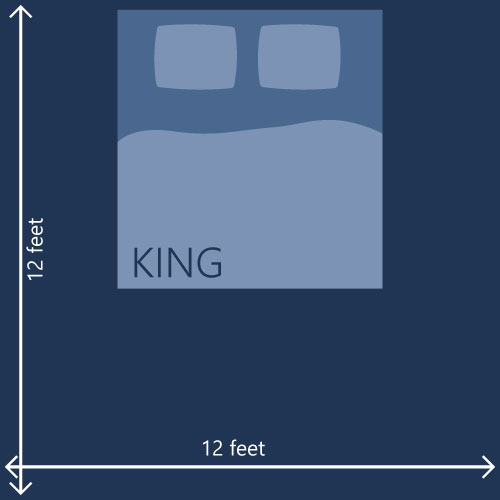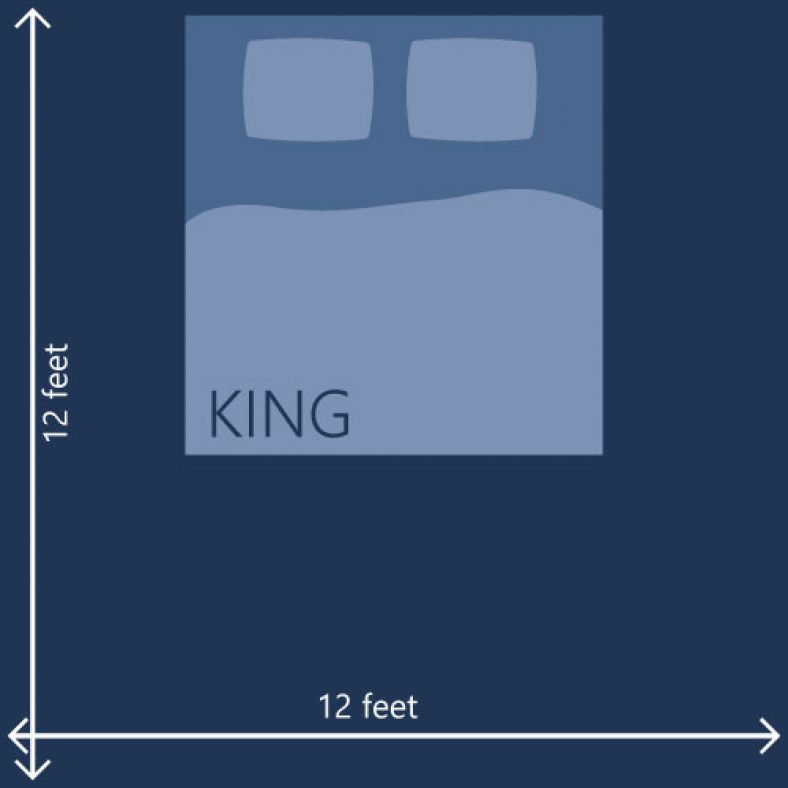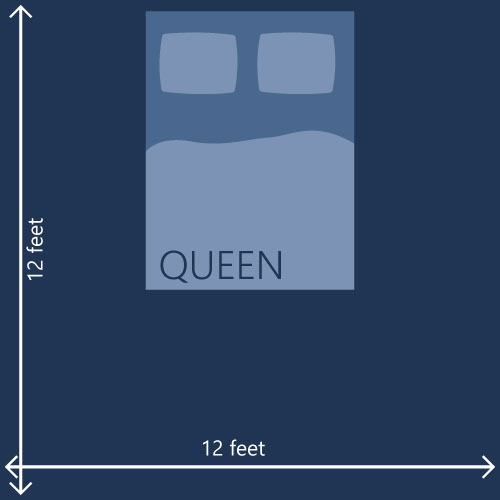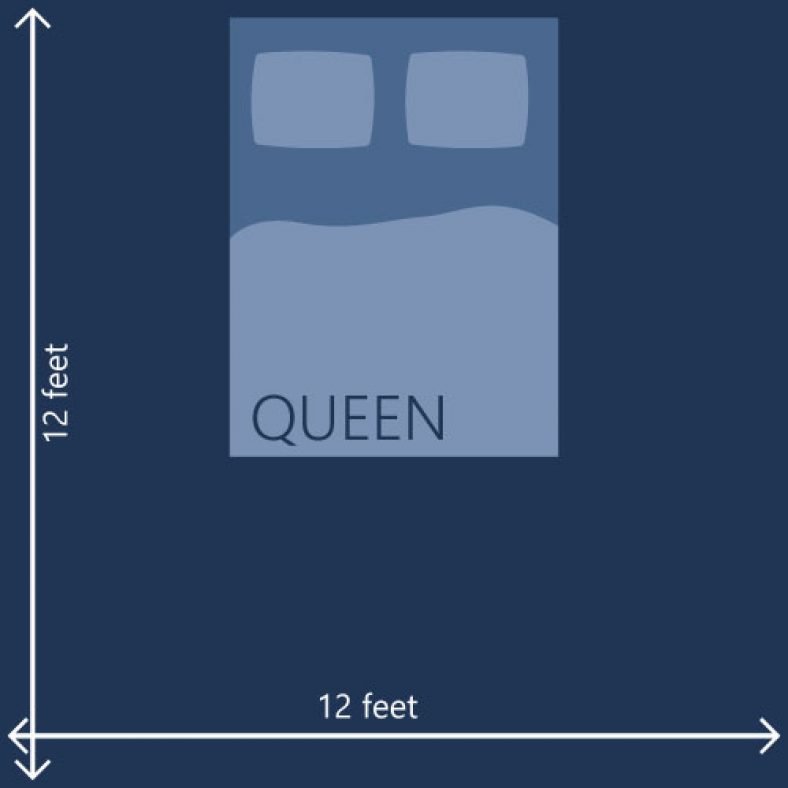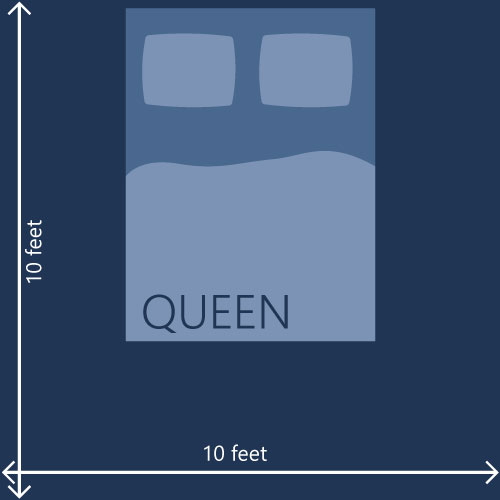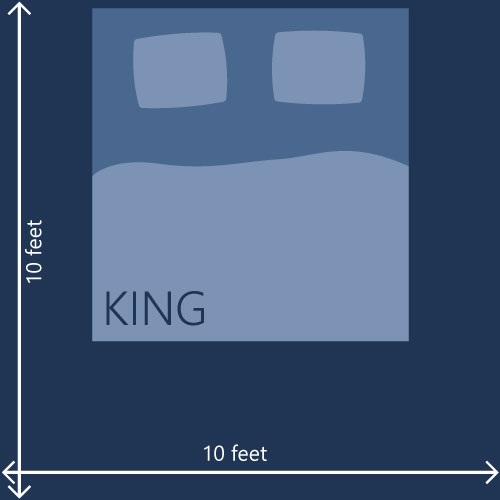 Conclusion
---
When trying to find the right mattress size to fit the needs of you or your family, these are a few things to have in mind.
First, if you're planning on upgrading, make sure you know the dimensions of your current bed. You wouldn't want to shop for a larger option and accidentally choose the same type.
Second, if you're moving, don't forget to measure the room that you'll be sleeping in. It is awful to have a mattress that is too big for space. You'll have issues getting around the room, and your space won't be as aesthetically pleasing.
Third, who will be sleeping in it? If it's just you, you are good to go with a Double. But, if you have a spouse, kids or pets you might want to opt for a larger option such as Queen. King is the ultimate comfort size if your room can accommodate it.
Now that you know more about the sizes you can check out our other guides, researched for specific needs and types.
Hope this guide was helpful and that it cleared any doubts.
Please let us know if you have any questions in the comment section. 
---
More from The Sleep Advisor:
More Reading:
Author:
Mark Reddick
When I'm not learning about sleep, you can find me hanging out with my wife and close friends.
I absolutely love entrepreneurship and learning how to improve yourself daily. We only get one life, and I want to make it the best one possible.
I hope that everyone that finds our site takes a new approach to sleep. The world needs to stop thinking about it as something "we just do," but rather something that allows us "to do every day."