Transparency Disclosure – We may receive a referral fee for products purchased through the links on our site...

Read More

.
The different sizes of beds seem easy enough to understand, right? The truth is, choosing the right size for your mattress can be more complicated than you may think. Does it fit comfortably in my bedroom? Is there enough leg room? The list goes on.
To help you make a decision when selecting the best mattress for you, we've put together a summary of the most common measurements you will see online and in a store so you can have an idea if it's a perfect bed for you and your bedroom.
Common Bed Size Dimensions Comparison
| Type | Size (Inches) | Suitable For |
| --- | --- | --- |
| Small Single or Cot | 30 x 75 | Babies and toddlers |
| Twin | 38 x 75 | Kids that have outgrown their cribs and single adults living in smaller apartments. It's also great for a daybed or bunk bed. |
| Twin XL | 38 x 80 | Kids, taller adults, and those who want to use an adjustable bed frame |
| Full | 54 x 75 | Good for a single sleeper, someone with children or pets, and couples that do not require a lot of leg room. |
| Full XL | 54 x 80 | More than enough for a single sleeper. Also good for couples that need more leg room but can not accommodate queen size due to bedroom limitations. |
| Queen | 60 x 80 | Frequent choice and a perfect size for most couples that do not need a lot of sleeping space. If you plan to sleep alone this is more than enough. |
| Olympic Queen | 66 x 80 | Six Inches wider than a standard queen, it makes it nice for someone who doesn't want to upgrade all the way to a King. |
| King | 76 x 80 | Great choice for couples who want maximum personal sleeping space. Check our room dimensions scale guide to ensure it will fit in your bedroom. |
| California King | 72 x 84 | 4 inches longer but 4 inches narrower than a standard king type. Good for taller individuals. |
Small Single Bed (Cot) Dimensions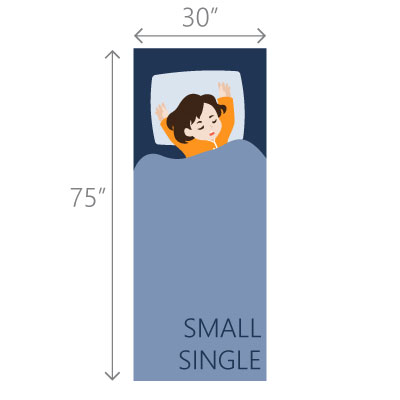 This is the size of crib mattresses. They can also serve as toddler beds in most cases once your baby outgrows the cot. Typical measurements are 30" wide and 75" long.
If this is what you're looking for, check out our Best Crib Mattresses here.
Twin Bed Dimensions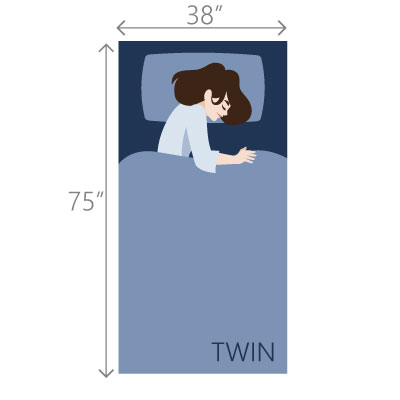 A typical single, twin, or bunk mattress is 38" wide x 75" long. You'd be hard-pressed to find a bed that is any smaller than this one, other than a toddler bed or crib.
Typically, a twin mattress is ideal for children who have outgrown cribs and toddler beds, and who are now ready to graduate to a larger mattress.
Additionally, it works well for those who sleep in tight quarters, have small rooms, or share a room with a sibling or roommate, Twin beds are an ideal choice. Twin beds are often used as day beds, bunk beds, dorm room beds, and in guest rooms.
Check Out Our Comparison: Twin vs. Single Bed Size
What is important to note about a Twin bed versus a larger toddler bed, is that comfort is taken more into account. It's common that, once you reach the Twin size, more quality materials are used, and there's a great priority for comfort. This is because, the older we get, the more we consider comfortable sleeping to be a necessity.
We suggest the Signature Hybrid for a great Twin size mattress. The Signature Hybrid from Brooklyn Bedding comes in three firmness levels, so you can select something that more closely meets the needs of the individual sleeper. We also suggest the Leesa Original for a great Twin size mattress. The Leesa has a great medium comfort feel that should work well for most young people or beds specifically for guest rooms.
Twin XL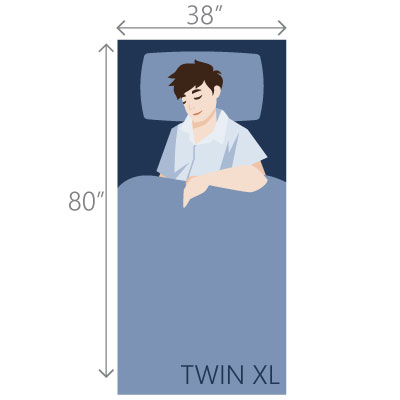 There are subcategories of double beds to consider as well. The Twin XL is typically 80" L while still maintaining the 38" W. If you're an adult looking for a bed that saves space and still is a comfortable choice, a Twin XL mattress may be perfect for you.
Find Out More: Twin XL vs. Twin
---
Can I use a Twin XL mattress on a King Size Bed Frame?
Yes, you can use two double/twin XL beds in a king frame. If you are in a relationship where one partner requires a different firmness than the other, two separate mattresses could be a helpful solution.
Full Bed Dimensions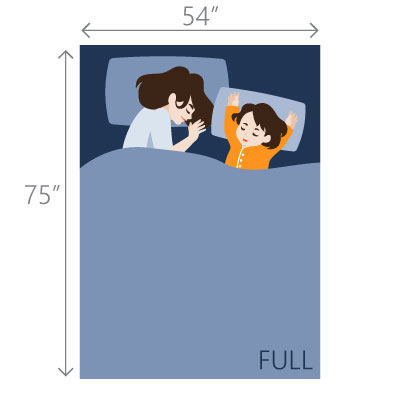 Full-size mattresses measure 54" wide x 75" long, and these are also commonly referred to as "Standard Double." The Full size is sufficient for adults that need more room than what a Twin can offer.
If you are in a relationship, this may not be the best choice for you, as the fit will be more snug. However, some couples that need to save money may prefer the price tag of a Full bed compared to the King and Queen models. Additionally, if you have a pet or child that sleeps next to you, you may want to consider a wider option.
We suggest the Helix Kids for a great Full size mattress. The Helix Kids is specifically designed for children, and getting a Full size in this bed allows the parent to lie next to the child in the event of nightmares or difficulty sleeping. We also suggest the WinkBeds Original for a great Full size mattress. Some couples may opt for a Full size mattress, and the WinkBed's versatility for multiple sleep positions combined with solid edge support is ideal for partners.
Full (Double) XL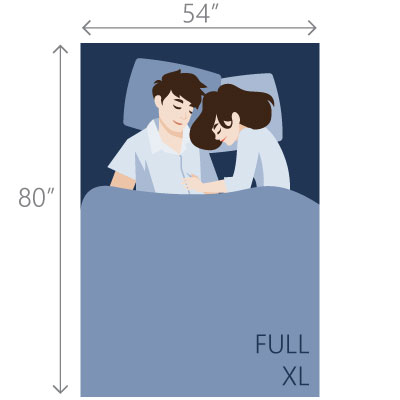 A Full XL option is 54" x 80" giving you an extra 6 inches of leg space. If you do not require extra width but want some more room for your legs, this is a perfect option.
Want to read more? Check out our Double vs. Full mattress comparison.
Queen Bed Dimensions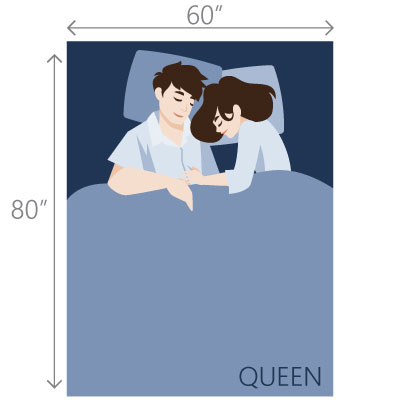 Queen size mattresses are 60" wide x 80" long. They are typically long and wide enough to suit most sleepers. For those who sleep with their spouse, child, or pet, a Queen bed might be perfect. Check out some Queen Mattress Options here.
When looking at these larger sizes, it becomes necessary to consider the living space. Queen sizes and higher take up more room than the Twin or the Full, and your ability to freely move around the bedroom may become restricted.
If you have a larger bedroom, then this won't be a factor.
We suggest the DreamCloud Original for a great Queen size mattress. Most shoppers who get a Queen bed are adults, and the DreamCloud offers a luxurious design that includes a cashmere blend cover, pillowtop surface, gel memory foam, and pocketed coils. We also suggest the Nectar Original for a great Queen size mattress. The Nectar excels at categories like pressure relief, support, and motion isolation for more comfortable rest.
Looking for more info? View our in-depth Queen and Full bed comparison.
Olympic Queen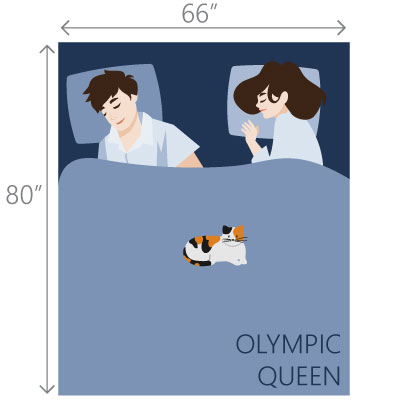 Olympic Queen mattresses are slightly wider and measure 66" wide x 80" long. An Olympic Queen is perfect for those who don't want to upgrade all the way to a King but could use more width.
King Bed Dimensions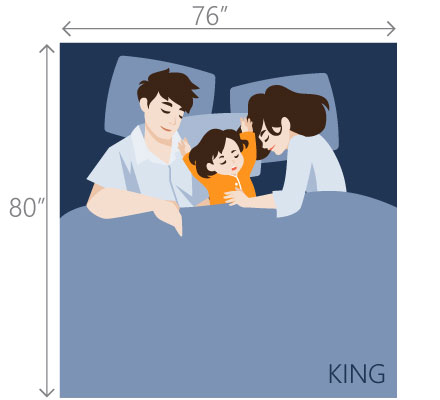 A standard King size mattress is 76" wide and 80" long. We recommend avoiding this size unless your room is at least 12×12 square feet. This is a perfect mattress for couples who sleep with their kids or pets and want more room for themselves.
If you want to compare this to other options, a King is the same as 2 Twin XL beds.
We suggest the Saatva Classic for a great King size bed. The Saatva's construction includes premium support thanks to the dual coil unit, so those sharing a bed or who carry more weight shouldn't experience much sagging. We also suggest the Nolah Evolution for a great King size mattress. The Evolution is equipped with multiple advanced cooling features, so couples are less likely to overheat during the night. For more options, check out our Best King Size Mattresses here.
Looking for more details? Read our full King vs. Queen bed comparison.
California King Bed Dimensions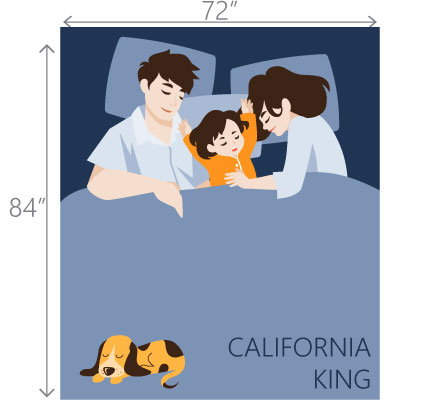 The California King mattress is 72" wide x 84" long making it one of the biggest options on the market. This size is perfect for active sleepers, tall people, and couples with kids or pets. A California King is 4" longer but 4" narrower when compared to a standard King.
We recommend you have a large room of at least 12×12 square feet for a California King mattress.
View Our Full Comparison: California King vs. King mattress size
What to Have in Mind When Choosing the Right Mattress Size
Bedroom Size
You have decided that you need a new bed, but can you actually put it in your room and still be able to open the door and walk around it?
Let's take a look at the following illustrations showing how certain mattress sizes will fit in your room.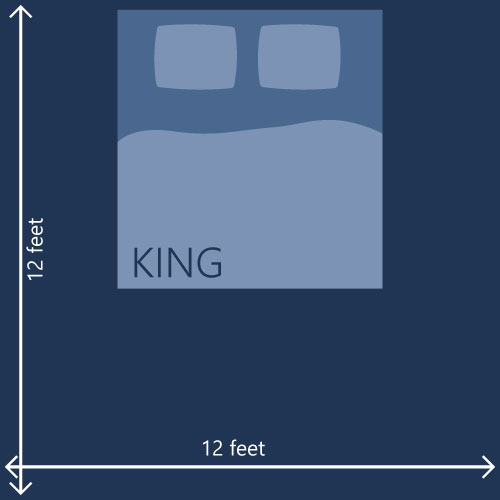 King type bed inside a 12×12 square foot bedroom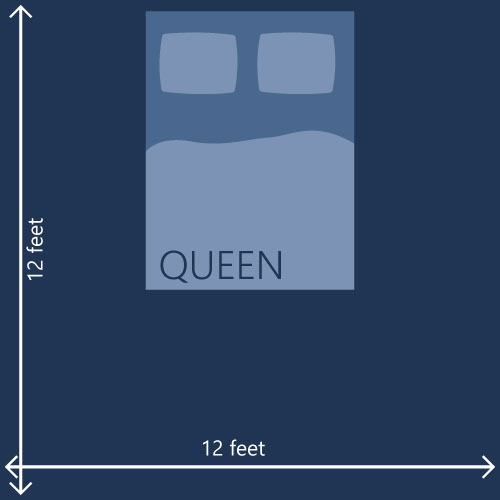 How a Queen bed looks in a 12×12 square foot room.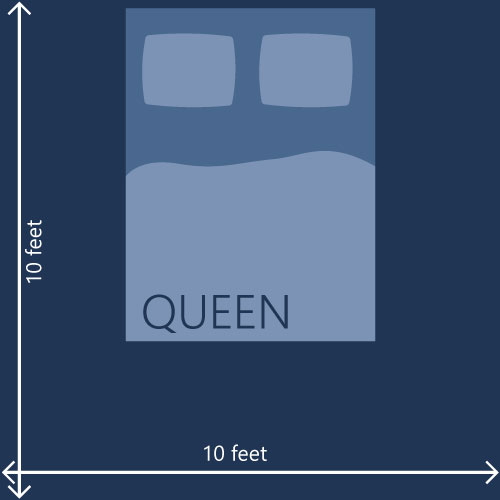 How a queen bed fits in a 10×10 foot bedroom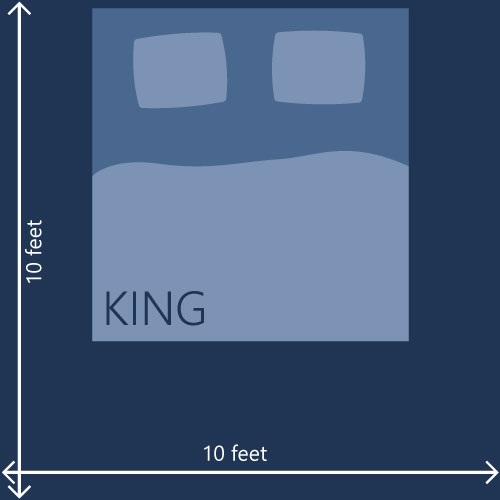 How a King size bed fits in a 10×10 square foot bedroom
Room Location
Where your bedroom is located and how easy it is to get to may influence whether you want to invest in a bigger mattress or not. For example, if you live in a 4-floor walk-up, a larger mattress may be harder to carry upstairs. The upside to online shopping, though, is that many brands compress their beds into boxes for delivery, which should be easier to transport.
Who Is Going to Use the Mattress
Who will use the mattress is important for deciding the right size. If the mattress is for a child, teen, or solo sleeper, you will likely focus on Twin, Twin XL, or Full sizes. However, if the bed is for a couple, a Queen size or larger would be best.
Weight and Height of a Person
A person's weight and height are also going to impact what size will be the best match. For example, some people are taller, and therefore, would need longer sizes to accommodate their frame. This is the same for the weight of a person; those who are larger in size may prefer wider beds that are easier for them to spread out on.
Related: Best Mattresses for Heavy People
Sleeping Position
Your sleep position could impact how much space you need. Some people lie in positions that take up more space, and in this case, a larger mattress size would complement their sleep style. Conversely, if you're not someone who spreads out much, a smaller bed would suffice.
Check out our sleeping position guide to see what might work best for you.
Budget
Your budget will influence the size you decide on because the bigger the size, the higher the price. So, even though you might want a larger mattress, you may need to go slightly smaller if your budget is limited.
In fact, you can find a great mattress on a budget. Explore our picks for the best budget mattresses.
Mattress Size FAQs
Which size is best for me?
Bigger isn't always better, but in most cases, it can't hurt. More space could mean fewer sleep interruptions, but if you always prefer to cuddle up rather than spread out, that extra space might not be worth it, especially if you're on a tight budget.
In many cases, couples will opt for a bigger version of a cheap bed, but if you don't need the extra space, that money could be better spent on features like cooling or motion isolation.
What is the difference between a King and California King?
The difference between a King and a California King is that the California King is slightly longer but thinner than a King-size bed. The standard dimensions for a King mattress are 76 inches wide by 80 inches long, and the dimensions for a California King are 72 inches wide by 84 inches long.
What is the difference between a Full bed and a Double bed?
The only difference between a Full bed and a Double bed is the name; these are two names for the same size mattress. A Full and Double mattress both measure 54 inches wide by 75 inches long.
What is the most popular mattress size?
The most popular mattress size is Queen. A Queen size bed measures 60 inches wide by 80 inches long.
Is a Full-size mattress big enough for two people?
A Full-size mattress can fit two people, but it will likely not be big enough for them to sleep as comfortably as they would with a bigger size. Typically, Queen, King, and California King are the best sizes for couples.
What is the difference between a Twin and a Single mattress?
There is no difference between a Twin and a Single mattress because they both represent the same size. A Twin mattress and a Single mattress both measure 38 inches wide by 75 inches long.
Are Full-size mattresses the same as Double beds?
Yes, Full-size mattresses are the same as Double beds. They share the same dimensions, measuring 54 inches wide by 75 inches long.
What's the largest mattress size?
The largest mattress size is Alaskan King, which measures 108 inches by 108 inches. Alaskan King beds are not a standard size and therefore, harder to find. However, these could be a great option if you co-sleep with a partner and kids or pets.
Conclusion
When trying to find the right mattress size to fit the needs of you or your family, these are a few things to keep in mind.
First, if you're planning on upgrading, make sure you know the dimensions of your current bed. You wouldn't want to shop for a larger option and accidentally choose the same type.


---

Second, if you're moving, don't forget to measure the room that you'll be sleeping in. It is awful to have a mattress that is too big for space. You'll have issues getting around the room, and your space won't be as aesthetically pleasing.


---

Third, who will be sleeping in it? If it's just you, you are good to go with a Double. However, if you have a spouse, kids, or pets, you might want to opt for a larger option such as Queen. King is the ultimate comfort size if your room can accommodate it.
Now that you know more about the sizes you can check out our other guides on different mattress styles and brands.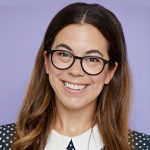 Jill Zwarensteyn is the editor for Sleep Advisor and a certified sleep science coach. She is enthusiastic about providing helpful and engaging information on all things sleep and wellness.
Based in Los Angeles, she is an experienced writer and journalist who enjoys spending her free time at the beach, hiking, reading, or exploring new places around town.
She's also an avid traveler who has a personal goal of being able to successfully sleep on an airplane someday.