Are you at the point in your relationship where both of you, as a couple, are pondering over the question, "What mattress are we?"
Finding the perfect bed is a tough enough task on its own, but it gets even more complicated when you are on the hunt for something that provides optimum comfort for two different sleepers.
What if you and your partner prefer a mattress with two different firmness?
Would someone have to compromise if you and your partner have a different taste in that department?
In the fast-paced modern-day life, there is nothing more important than a peaceful night's sleep. But everyone knows from experience that finding the perfect combination of mattress and pillow is an arduous journey that takes a lot of time and sheer commitment. And once you reach the promised land of a decent night's sleep without any backaches in the morning, you would rather die than change that perfect combination.
| IMAGE | NAME | TYPE | THICKNESS | WARRANTY | RATING |
| --- | --- | --- | --- | --- | --- |
| | Nectar | Memory Foam | 11" | FOREVER WARRANTY™ | 9.2/10 |
| | Leesa | Memory Foam | 10" | 10 Years | 8.9/10 |
| | Helix Sleep Custom | Hybrid | 10" | 10 Years | 8/10 |
| | Sleep Number Bed c2 | Adjustable | 8" | 25 Years | 7/10 |
All we are trying to say is that you do not want to have a big argument just because you did not put in enough research into buying a decent bed. No single product would be ideal for every type of sleeper in the world, and it is your job to find a product that works for both of you.
For example, couples with different sleeping preferences or a significant difference in weights should look for customizable mattresses that adjust to their sleeping style. It is also important to get a product with the right bounce and firmness to thoroughly enjoy your playtime (wink!). We have read a lot of reviews and highlighted all the important information to consider before deciding.
These are the mattresses for minimal partner disturbance, regardless of the personal choices of each partner. They tick all the right boxes for important features such as size, firmness, material, and bounce-ability.
Avoid Kingsdown Passions for Now
But before we check out the best of the lot, we would advise you to steer away from one particular brand, the Kingsdown Passions.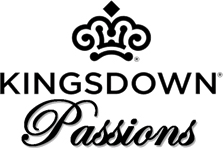 Latest products by the company got below average ratings from the customers.
There are various cheaper options available in the market that provide the same or better comfortability levels.
Reviews for this product are highly inconsistent. Some people tend to love it while other ate it enough to get it replaced.
People complained of having more backaches.
So, we would suggest you make the smart choice and look away when faced with a Kingsdown Passions. I really hope the quality control department of the company pays extra attention to the changing preferences of the people today and create a bed worth buying in the near future.
What makes the Nectar mattress our top choice for couples? It's quite simple; this mattress excels in four critical rating categories that partners must account for.
First, the firmness level comes in at 6.5 out of 10 (10 being the firmest), which makes it versatile for any sleeping position. For example, if one partner sleeps on their stomach and the other one on their back, they will both enjoy the support and feel (same goes for side sleepers). Any combination will love it!
Second, the Nectar is an all foam mattress, which means it does a great job reducing motion. There's nothing worse than having your partner wake you up in the middle of the night. You won't feel anything, even if your partner "jumps" back into bed.
Next, this bed performs great for different weight levels. Currently, the Nectar ranks #2 in our "Best Mattress for Heavy People" category. A lot of beds cater to one weight class, but rest assured this product will perform well for any distribution.
Lastly, the Nectar is hands down the best value on the market. It's our #1 overall mattress pick for 2018.
It retails for $795 (queen-size) but feels like a $1,000+ priced mattress! Also, don't forget to use the Sleep Advisor discount code (SLEEPADVISOR125). It will knock off $125 off your bed and you'll receive two free pillows!
Want to learn more about the Nectar? Be sure to read our Full Review.
Ideal for: The average couple, back sleepers
Leesa Mattress was designed to offer a universal feel and firmness that adapts to the body weight, shape and sleeping style of each person. This medium-firm bed is one of the top-rated bed-in-a-box available online, and it feels like a breath of fresh air every time you sleep on it.
It is neither too soft nor too hard, and offers a moderate sinkage, a quality most shoppers look for. The construction features three different layers of foam with a comfortable cover.
There aren't many beds that will top the overall feel and comfort offered by Leesa. It seems to hug you gently the instant you sleep on it and later adjusts to the contours of your body for optimum comfortability.
The unique combination of Avena foam softness with the memory foam reduces the motion transfer to a bare minimum, which makes it perfect for couples. It is also ideal for people who prefer to sleep on their back or sides.
PROS
Good value for money
Optimum balance between softness and support
Free shipping & 100-day trial period
Moderate sinkage & reduced motion transfer
One of the top-rated products in this category
CONS
Temperature control could be better
Might be too firm for some people
Some complaints with the odor
Helix Sleep Custom – 10 Inch, Queen Size
Ideal for: All couples
This bed-in-a-box company follows an online-only sales business model which allows them to provide an excellent value.
The first step of ordering a bed from Helix Sleep is to take a personal quiz about your sleeping preferences that help them determine what product is ideal for you. Another fantastic incentive of purchasing from Helix is the option to personalize each side of the bed. This means you and your partner can customize your side of the bed exactly according to your preferences.
Their online-only sales model is the reason why no other brand offers anything close at the same price tag. The short list of questions that you answer in the quiz allows them to figure out what kind of a sleeper are you, and that helps them to cater to all your sleeping needs.
Helix Sleep also offers free shipping on all their products and a 100-night risk-free trial. I know what you are thinking, there is no way this could go wrong.
PROS
Excellent value for money
100% customizable experience
Personalized design with 4 different configuration options
Superior material quality
Free shipping & 100-night risk-free period
CONS
Online-only option means no physical testing
Temperature control could be better
Sleep Number Bed c2 – Queen
Ideal for: Couples who like air beds
Sleep Number is famous for their adjustable air beds that allow couples to customize the firmness, comfort, and support on each side of the bed. This kind of dual chamber bed is ideal for a couple with different sleeping preferences. You can change the bed to your preferred setting at the touch of a button.
If your partner's late night tossing and turning are coming between you and a good night's sleep, maybe it is time to switch to Sleep number. Not only does this mattress reduces head, neck and back discomfort, it also guarantees there's enough space for both of you.
Sleep Number In Balance™ bedding is designed to absorb the additional heat from the environment and still feel cool on the surface. It allows for couples to browse and find the ideal sleep setting that works for both the partners and often leads to a deep, relaxing sleep.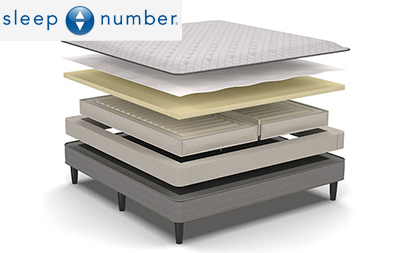 Material
Lifespan
Price
Warranty
OVERALL RATING: 7 out of 10
PROS
Excellent value for money
Ideal for side or back sleeper
Extremely comfortable and customizable air support
Free shipping & 100-night In-Home trial period
A massive 25-year limited warranty
CONS
Only for Air mattress lovers
Based on an electronic air support system that does not operate without the remote
Less than impressive motion transfer reduction
How to Choose The Ideal Couple Mattress?
The most important thing is to have a clear idea of what you expect from your purchase and try and find the optimal solution that suits sleeping needs of both the partners. Your individual preferences concerning size, comfort, brand reputation, and warranty matter the most when it comes to choosing the perfect bed.
First things first, the bed must have enough room and space for both of you. If your partner's late night tossing and turning is a problem for you, maybe it is time to look for a bigger bed. The ideal size for an average couple is queen, but you can opt for a king-sized bed if both of you need your own space while sleeping. Be sure to check out the mattress size charts before you make a purchase.
Having a good motion isolation is probably the most important thing for couples. For example, if one partner is a back sleeper and much heavier than the other partner who is a side sleeper. Without low motion transfer, the lighter partner will have trouble sleeping. You have couple options here.
Compromise – This is always the best and cheapest option. With the four choices, we listed here, 90% of you will be able to find a good bed that suits both partners.
Find an adjustable firmness mattress – Sleep number is famous for providing adjustable beds where both sides can have different firmness level.
Memory foam options are great for minimizing motion transfer but you might lack that bouncy feel of custom foam or hybrids.
The next step is to decide whether you prefer a hard, medium or soft feel. This decision depends on your body type and favorite sleeping position.
Most of the cheaper brands offer a medium to firm feel which might lead to some serious back-related issues over time. If you prefer a softer feel, you can either invest some money in a great mattress topper or can opt for a slightly more expensive mattress that features a softer feel, to begin with.
Although the price of a mattress does not always reflect on its quality, it is possible that the cheaper brands might lack appropriate pressure point relief and durability when compared to the slightly higher priced options.
Since the invention of bed in a box – a regular mattress that is compressed and vacuum-sealed in a box, there has been an increase in the number of online orders. Although it is possible that even if you made a fairly calculated purchase, you might not be entirely satisfied with your bed.
One of the top reasons to purchase a boxed bed online is the amazing return and refund policies offered by most of the famous brands. It generally requires little to no hassle on the part of the buyer. So, you can literally sleep on it before you make your decision.
Investing In A New Mattress for you and your partner?
Whether you are looking at purchase a new bed altogether or looking to exchange an old mattress for a new, comfortable option, investing some money in a decent bed in a box might have a lot more advantages than you might expect.
Sleep like a king, feel like a king – A good night's sleep is vital in the modern-day hustle and bustle. People who fail to get a deep, relaxing sleep on a regular basis face a lot of physical and mental issues in the later stage of life.It is our job to ensure we get rid of anything that comes in between us and a comfortable nap. These mattresses are designed to help you sleep more comfortably and always adapt to your preferred sleeping position to provide a softer feel.
Online shopping – Shopping online for a bed is way more convenient than traveling to the store and physically checking out each option. Also, the only way you can test a bed is by sleeping on it, and doing that as a couple might raise a lot of eyebrows with so many people around you. The next step after choosing a bed will be driving the damn thing to your house.Why go through all that hassle when you choose and order a decent bed in a box online? You can take your time and browse through a plethora of options with actual customer satisfaction and review scores. There is a lot of information available online to help customers make a well-informed purchase.
Price & Return Policy – The fact that bed in a box does not take extra efforts on the seller's part for storage and transportation makes them a lot cheaper than the beds on display in showrooms and stores. The generous return and refund policies offered by most brands is also another incentive for buying a mattress online.
The Final Verdict
---
All in all, investing some money in a great bedding system might be one of the best decisions you make as a couple. Also, buying a bed in a box is an excellent alternative to purchasing a one from the store. It saves you a ton of time and money, and you can select from a wider range of options and sizes.
You can also try out various products and choose your favorite without spending extra money. You can take advantage of a ton of information available online on each of the product before deciding. Take your time to research fellow customer reviews and satisfaction scores for further analysis before you pick one.
If you are not comfortable with your current bed setting and are looking to invest some money, the Nectar Queen is the mattress most couples will love. If you are looking for half firm half soft bed, Sleep Number has a lot to offer in that field.
Hope this post helped you find what you are looking for. Let us know if you have any questions.
Author:
Jill Thompson
I've been married for 8 years to my loving husband Mike. We have two boys that keep us busy with sports. Having kids has definitely made sleep an even more important element in our lives. Now, our sleep quality not only affects me and my husband, but our two boys. Poor sleeping habits might lead us to poor parenting decisions.
When I'm not obsessing about sleep you can find me playing tennis or golf.
I love talking about sleep and hope your sleep quality improves after stopping by our site.