Transparency Disclosure – We may receive a referral fee for products purchased through the links on our site...

Read More

.
While most of us are aware of the importance of a good mattress, how often do we think about what our sheets are doing for us? From cheap synthetic to luxury high thread counts, the world of linen is almost as varied as our beds themselves. That's why we put together a list of our nine top-rated sheet set reviews to help you navigate the ins and outs of bed linens and make the most of your mattress.
Did you know sheets have the ability to regulate temperature, minimize allergies, and end the dreaded middle of the night fitted sheet nightmare? Our list should help you learn how to make the best choice for your needs.
Our Nine Top Rated Sheet Set Reviews
Mellani –
Best Stain Resistant
Material: Brushed Microfiber
Thread count: 1800
7 size options
4 piece set
Multiple color options
Deep pockets
Easy care
Made from brushed microfiber material, this four-piece bedding set was made to reduce wrinkles and resist stains. Whether you like to have dinner while wrapped up in your comforter, or your sheets just get a lot of mileage from active use, this material should have your back. Pun intended.
Their secret is polyester microfiber which tends to respond to stain remover better than untreated materials like cotton. It should also return to its normal shape and texture after cleaning for the same reason, which is great because these sheets were made to be super soft and silky.
Reviewers especially love that this product doesn't seem to fade in the wash. While fading may not be noticeable with white sheets, this Mellani product is available in a wide assortment of colors and patterns to match virtually any bedroom or duvet.
CGK Unlimited –
Best Wrinkle Free
Material: Brushed Microfiber
7 size options
6 piece set
Multiple color options
Deep pockets
Easy care
This six-piece set is a favorite for its impressive wrinkle eliminating design. After spending weeks designing your perfect bedroom set, there's nothing more frustrating than having a wrinkled sheet throw off the whole aesthetic. Because of the brushed microfiber material, these sheets should not require ironing to achieve that catalog look.
This package consists of four pillow shams along with a fitted and flat sheet at an extremely affordable price. The material should be slightly stretchy so you probably will not need to wrestle the fitted sheet, but not so stretchy that the fabric will gather on the mattress.
Many reviewers love this product because of the light and airy feel of the sheets. Though they are exceptionally soft, reviewers say this material should be a good option year-round as the fabric is not as thick as flannel, but should still keep customers warm and comfortable in the cooler months.
Material: Brushed Microfiber
5 size options
3 piece set
Multiple color options
Deep pockets
Easy care
This four-piece double-brushed microfiber linen set excels in a variety of measures, but it would be exceptionally difficult to beat the price. With elastic over the entire edge of the fitted sheet, not just the corners, the soft material shouldn't slip off even the taller mattresses.
As they are hypo-allergenic, those with sensitive noses shouldn't have trouble snuggling deep into this soft product, but it was designed to still be fade resistant and machine washable for easy regular cleaning.
Reviewers love the variety of color choices and compare the quality of the material to more expensive luxury brands. Many even chose to purchase these sheets for every room in their home because they are so affordable. While this product is a favorite for its low price, it seems to perform exceptionally well across a variety of measures, which is why it made the list.
Sweet Home Collection –
Ideal Features
Material: Brushed Microfiber
Thread count: 1500
7 size options
4 piece set
Multiple color options and patterns
Deep pockets
Easy care
Made with brushed microfiber that was intended to mimic the feel of 1500 thread count, these sheets are certainly in the luxury range but that's not where the features stop. With embroidered pillowcases and a deep pocket fit, this product would likely fool anyone into thinking it is worth more than the affordable price.
Reviewers love that this product is hypoallergenic and wrinkle-free, saying this product reduces the number of bedding-related concerns customers experience daily. With less risk of ironing, sneezing, and waking up from your sheets getting tangled up, these are a winner among sheet shoppers.
According to reviewers, these linens offer a more "broken-in" feel than a stiff starchy one, as well as providing a little stretch. The benefit should be less scratchy sheets and a comforting soft texture that belies its durability.
Cozy House Collection –
Best Hypoallergenic
Material: Brushed Microfiber
Thread count: 1500
6 size options
4 piece set
Multiple color options
Deep pockets
Easy care
For families that deal with dust mites and indoor allergies, this material should be a fantastic choice. As they are designed to avoid shedding in the dryer, most reviewers with allergies were more than satisfied with their purchase.
Additionally, these soft brushed microfiber sheets are wrinkle-free, so if you plan on washing them frequently to prevent allergies, they shouldn't require much maintenance before they're ready to go back on the bed. One reviewer loves them so much that she bought four sets, one for every room in the house.
For another win in the family department, these sheets are stain-resistant and should offer a snug fit on a mattress, but not so tight that young ones can't do it themselves. For parents who want to teach their kids how to make the beds themselves, these sheets shouldn't hinder the process.
Chateau Home Collection –
Best Breathable
Material:

100% Egyptian Cotton – Sateen Weave

Thread count: 800
4 size options
4 piece set
Multiple color options
Deep pockets
Easy care
Certified Standard 100 by OEKO-TEX
For warmer climates or those who tend to sleep hot, it's hard to find better linen than these 100 percent Egyptian Cotton sheets. This silky sateen-weave fabric tends to breathe better than most and should become softer with each wash. In fact, customers shouldn't be afraid to wash this product as it was also created to resist fading.
This linen was made to keep you cool but also has a high 800 thread count, placing it in the luxury range. You get the experience of nice crisp hotel sheets–except you're the only one who gets to use these–no blacklight necessary. Reviewers love that this product is Oeko-Tex certified, meaning Chateau Home Collection's cotton has been tested and found within an acceptably low range for harsh chemicals often found in other textiles.
eLuxury Supply –
Best Quality
Material:

100% Egyptian Cotton – Sateen Weave

Thread count: 1000
4 size options
4 piece set
Multiple color options
Deep pockets
Easy care
This extremely high-end linen is known for delivering a luxurious sleeping experience, partially due to the 1000 thread count 100 percent Egyptian Cotton. This soft linen is hard to match when it comes to craftsmanship, but also offers a variety of convenient features like a cooling effect and durability, meaning your investment should continue to pay off in the long haul.
Reviewers continually asserted that these deep-pocket sheets are worth every penny, especially because they live up to their high thread count claim. As the Egyptian Cotton gets softer with every wash, the product should become more comfortable as time passes rather than fading or piling.
The sateen weave is a large part of why this product is so popular, as the material is both thick and breathable, some reviewers find themselves pleasantly surprised at the level of comfort they provide in the heat.
Nestl Bedding –
Best Pet Friendly
Material:

Microfiber

Thread count: 1800
9 size options
4 piece set
Multiple color options
Deep pockets
Easy care
While most of us know our pets probably do not belong on our beds, sometimes their sweet little faces make us cave and we end up conveniently forgetting our furry friends are nestled up at the end of the bed. Others simply embrace the snuggles and ignore the shedding. Whichever camp you may find yourself in, we feel Nestl is likely the right choice for you.
This linen performs spectacularly in the realms of pet hair and fading. As the material is hypoallergenic, hair and dust shouldn't cling to the material. Additionally, the fabric should wash well and prevent fading even in the brighter color options.
Some reviewers bought this fabric specifically as it attracts pet hair less than cotton or other materials. While it doesn't repel pet hair, it shouldn't gather it as other materials may.
Material:

Microfiber

Thread count: 1800
6 size options
3, 4 or 6 piece set (Varies)
Multiple color options
Deep pockets
Easy care
This product should be ideal for those who can't bear the thought of another battle with a fitted sheet when it's time for them to go to bed. While some cheaper brands may skimp on this important detail, Veeyoo's thicker quality elastic is extra strong to both prevent ripping and provide a snug fit on a mattress without creating a trampoline effect for sleepers.
Reviewers were impressed with the way the materials help up in the wash. After a few uses, most noticed the stitching, embroidery, and elastic all appeared to be in good condition as a testament to Veeyoo's quality craftsmanship. Additionally, these linens should be a bit stretchier than other fabrics as the microfiber both breathes well and provides an incredibly soft surface for sleeping.
Made to be comparable to 1800 thread count materials, these sheets are luxury on a budget without sacrificing quality.
How to Choose Good Sheets for Your Mattress
Know the Right Size and Depth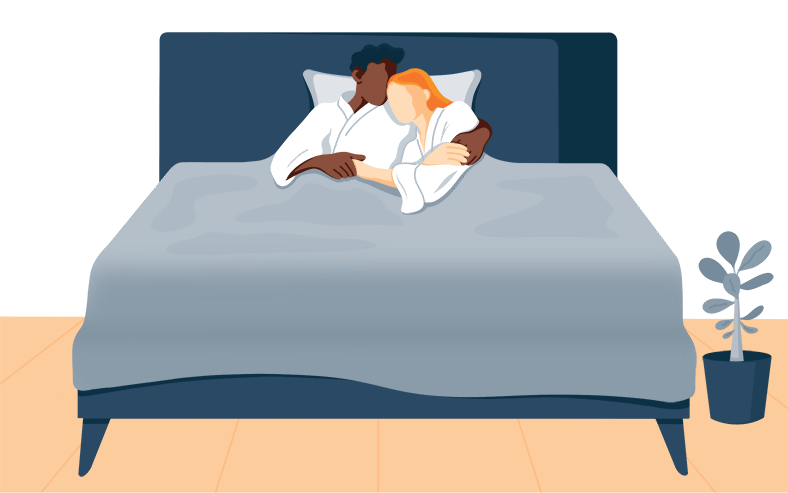 While it may seem that the size of a mattress is self-explanatory or standard, mattresses sizes come in a range of dimensions rather than specific measurements. Beds can range from the thinner four inches, up to 18 inches in some cases. Before you decide to purchase the right pair of sheets from our list, be sure to check if they will fit properly.
The best way to determine correct dimensions is by either measuring the height of your mattress or looking it up online, and don't forget to factor in the height of an additional mattress topper or thick cover you have added. If you are in college, you are likely sleeping on a Twin XL mattress, and twin sizes can be up to six inches too short. While many companies have reasonable return policies, it's usually better to get it right the first time.
View Our Full Guide: Best Deep Pocket Sheets
Choose the Right Color and Design
While it may be tempting to choose your favorite color for your new linen set, remember to make sure you find a color that will help you feel relaxed and calm. While baby blue may seem like a good choice, the wrong shade could remind you more of a hospital bed than floating among the clouds.
Sheets come in a variety of interesting patterns and designs, but you may consider choosing a design that will last as long as you want your sheets to last and consider the possibility that darker colors could contain dyes that could affect those with skin or sinus sensitivities.
Decide on Individual or Multi-sets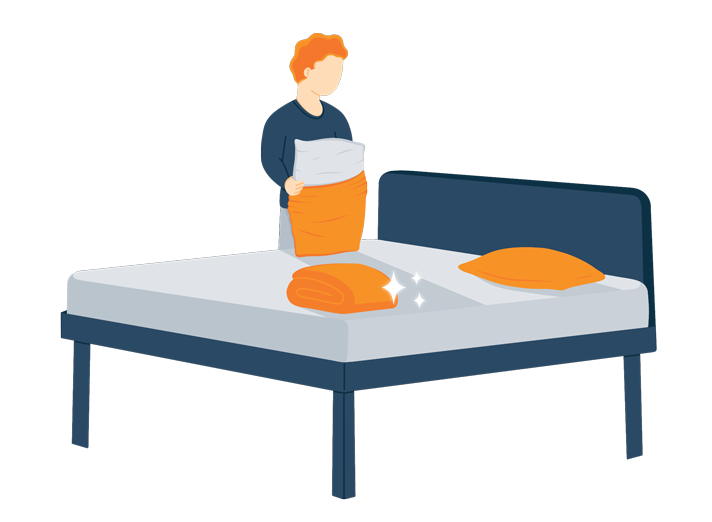 While many sets include a fitted sheet, flat sheet, and two pillowcases, some may offer more or less than what you actually need. Make sure you double-check what you're purchasing before you check out to avoid second trips or a closet full of lonely extra pillowcases.
Check the Thread Count and Quality
Thread count means more than a general indicator of how much a linen set will cost, it often correlates with quality, texture, and breathability of sheets. While this isn't news to most people, many of us wonder what it actually means.
Thread count refers to the number of horizontal and vertical threads per square inch of material. The higher the thread count, you would think the heavier and more luxurious the material, but that isn't always the case. Many brands will boost thread count artificially by adding filler fibers that aren't woven in.
While a filler-boosted thread count doesn't necessarily mean the material isn't high quality, it does suggest the fabric may not always stand up to the level customers expect after paying full price. Additional considerations are that a tighter woven fabric will boost the thread count naturally, but it may not offer the same weight or thickness customers expect.
Some fabrics even tend to perform better at a lower thread count. Instead, a better indicator of quality is to feel the weight and texture of fabric where possible and to read online reviews before making an expensive purchase.
Pick the Fabric Weave (They Can Affect Sleep)
Twill: Twill weaves are diagonally stitched, which contributes to a more textured feel and visible design. This pattern tends to be durable and offers a nice smooth drape.


---

Flannel: Often confused with a separate material, flannel weaves are brushed thread, which tufts up the fibers for a soft texture and heat-trapping ability.


---

Percale: This weave is tighter than most and should facilitate an overall light and airy sensation. While it may feel luxurious, Percale tends to wrinkle faster than other weaves.


---

Sateen: This pattern leads to a silkier texture with a smooth feel and sometimes shiny appearance. This is a common choice for luxury materials.
Select a Type of Fabric Used for Sheets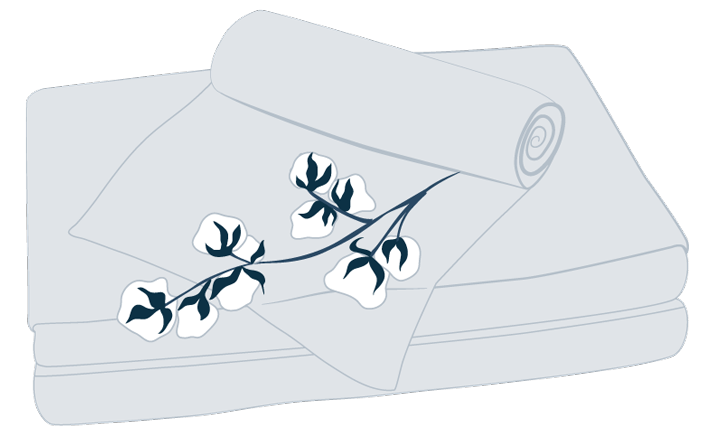 The most common fabric used for sheets, cotton is popular for its breathability and durability, though many are not aware of the many varieties. Spun into thread from plant fibers, this material is usually soft, durable, and relatively easy to source and produce around the world.
Pima Cotton: The longer fibers of this cotton make for a soft and strong weave, ideal for being woven into bedsheets. As it is typically grown in the southern United States, this material is common among American manufacturers.


---

Supima®: This new strand of cotton is made from altered Pima cotton. This is more popular among higher-end brands as it should be even more durable and softer than Pima.


---

Upland Cotton: This cotton variety is the most largely produced cotton in the world with the majority being produced in the United States. This material has a shorter fiber, making it less soft and durable, and it is the most common material used in bedsheets and is often found in budget brands.


---

MicroCotton®: Made from fine and exceptionally long cotton fibers grown in India, this material is one of the softest and most luxurious forms of cotton. This material is soft and silky but is also extremely absorbent. While this might be good news in a dish towel, in sheets it may not be an ideal situation if you tend to sweat.


---

Egyptian Cotton: Often known as the most expensive variety of cotton, Egyptian Cotton is also the most luxurious. This is because its long fibers are conducive to breathable, silky fabric that feels as good as it holds up over time.
This commonly used man-made material is popular both due to its low price and its versatility. Polyester can be used is a variety of weaves and textures, though presently the most common is in microfiber. This material tends to be less breathable than cotton, but generally easier to clean, making it ideal for cooler climates or children's rooms.
The most common fabric blend is cotton and polyester, allowing some manufacturers to create a less expensive alternative for luxury sheets with higher thread counts. Other blends include cotton with rayon, bamboo, or nylon, each providing a different effect, from resisting wrinkles to increasing stretch and elasticity.
This unique fabric is made from eucalyptus tree pulp – not the first ingredient you might expect in your new sheet set. This material is surprisingly cool as it evenly distributes heat and moisture across the fabric, keeping it dry. Additionally, the smooth surface is naturally antimicrobial meaning you should feel nice and clean in these sheets.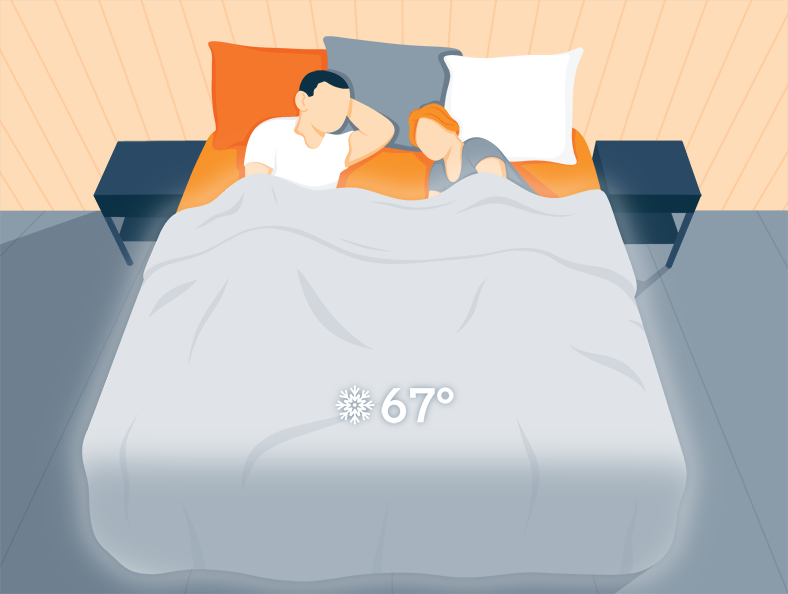 This brushed cotton weave is intended to create an ultra-soft and warm fabric that is perfect for those winter nights. As it is cotton, this fabric generally breathes well, but it is also mainly intended to trap heat. So while you shouldn't get too sweaty, you will likely sleep warm in these sheets.
Though it was originally made from pure wool, today this fabric is often a mixture of wool, cotton, or polyester fibers. If you love the feel of soft t-shirts and tend to sleep hot, you may enjoy the stretchy breathable feel of this fabric.
While this is a standard term for sheets, it also refers to the lightweight material made from the fibers of the flax plant. This material was used by the Ancient Egyptians and has lasted as flax fibers are durable, ultra-breathable, and hypoallergenic. However, as it is difficult to source and weave, Linen is generally branded as a luxury material.
This soft and absorbent fabric is an often lower-priced alternative for high thread count cotton fabrics as it offers a soft texture for a lower price. Microfiber is usually made from polyester and its flexible structure makes it a comfortable choice for many customers.
Potentially one of the most luxurious fabrics on this list, silk offers customers a cool, smooth hypoallergenic sleeping experience, but it will come at a price. This linen is sourced from silkworms, making it rare and more difficult to source than other materials, as well as more delicate and difficult to clean.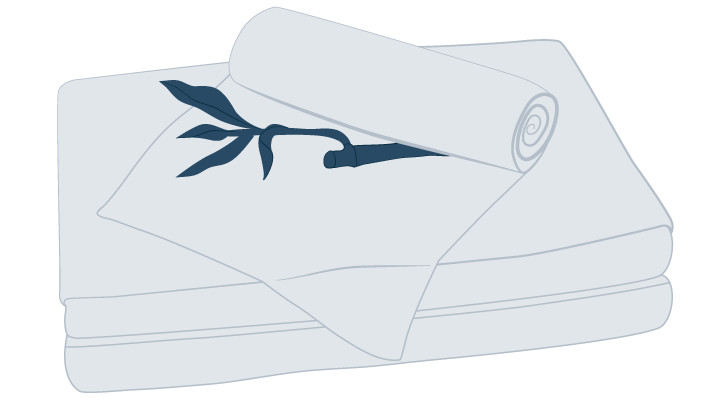 Bamboo material has recently made waves in the linen community as an easy to clean, breathable, and stretchy material that should be great for every member of the family. However, some products marketed as bamboo are actually rayon, so it may be a good idea to check before purchasing.
Bed Sheets Buying Considerations
Warranty
Some companies will offer a warranty on their products should the linens not meet your expectations. Some even offer up to a 100-day warranty to make sure customers like the way they sleep or your their back. Be sure to read through the policy information to understand when the product can be returned.
Raw Materials and Fibers vs Synthetic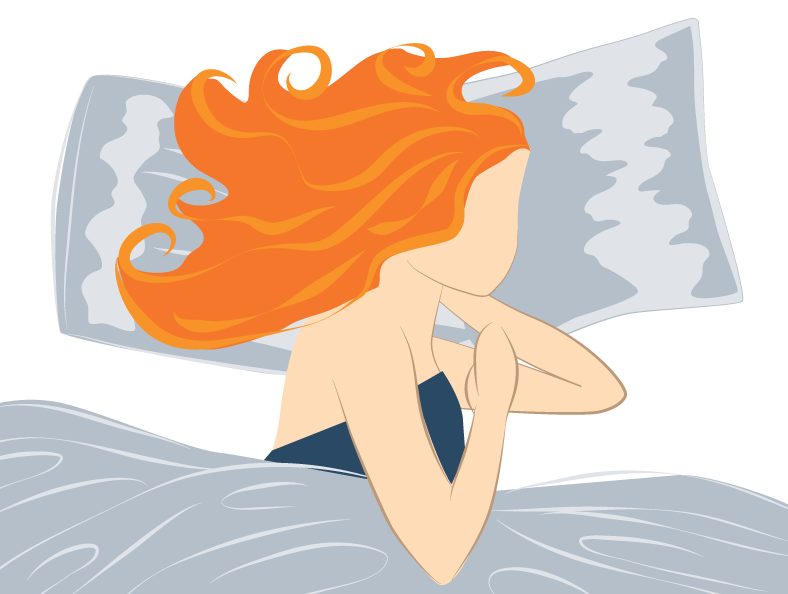 Polyester is becoming one of the more popular synthetic fibers in sheets because of the low price and versatility. However, the material is man-made, causing some to worry about its carbon footprint and what these fibers are doing to our planet. As synthetic materials are created in a chemical process, there are some concerns about their contribution to water pollution when washed, but this material is not necessarily much worse than other natural fibers.
Naturally occurring materials such as cotton, wool, or linen are not considered man-made like polyester, but they are not necessarily environmentally friendly. Some natural materials such as cotton or bamboo are processed with harmful chemicals that carry over into the finished product. To avoid this, we recommend choosing cotton that is Oeko-Tex certified, meaning it meets certain requirements for safe levels of chemicals.
Conversely, organic or raw materials are grown without the use of pesticides or other harmful chemicals. This may grant peace of mind to environmentally conscious shoppers, but keep in mind this does not necessarily ensure a better functioning product or responsibility toward farmers or factory workers. In the end, it's best to do your research before purchasing.
Find Out More: How To Buy Bed Sheets
Frequently Asked Questions about Bed Sheets
What's the most affordable bed sheet?
For the best material on a budget, we would suggest going with brushed or double-brushed microfiber. This soft fabric is exceptionally low-priced and naturally hypoallergenic. Many reviewers even noted that it mimics high-quality cotton.
Each of our options is priced considerably lower than average for their materials, but we know everyone has a different budget, which is why we put together a variety of sheets from different price ranges. While it may be easy to find cheap linen, we are all about affordable quality options that will both last and provide an enjoyable experience for customers.
What's the softest sheet?
While most of our options are intended to be exceptionally soft, our favorite material is a high thread count Egyptian Cotton. This luxurious material should feel exceptionally soft and comfortable to sleep on, however, it should also breathe well, keeping you cool on warm nights.
We love this material because it can be found at a lower price than other luxury materials but should still hold up with plenty of mileage. We recommend choosing a brand that is not a blend of synthetic material and cotton, as blends tend to be less soft and durable Though we love pure Egyptian Cotton, each of our options was selected to be as soft as possible for a good price and quality.
Conclusion
Whether you need relief from allergies or the blazing heat, there should be a viable sheet option on our list for most climates and stages of life. While some factors such as weave or texture are a matter of preference, others such as wrinkle-resistance or breathability tend to be convenient no matter what you're looking for in linens.
From material type to the weave, there is a lot more to sheets than meets the eye. If you still aren't sure, the reviews on these products speak for themselves. Happy shopping and sleep tight.
Our team covers as many areas of expertise as we do time zones, but none of us started here as a so-called expert on sleep. What we do share is a willingness to ask questions (lots of them), seek experts, and dig deep into conventional wisdom to see if maybe there might be a better path towards healthy living. We apply what we learn not only to our company culture, but also how we deliver information to our over 12.7M readers.
Sleep research is changing all the time, and we are 100% dedicated to keeping up with breakthroughs and innovations. You live better if you sleep better. Whatever has brought you here, we wish you luck on your journey towards better rest.