Transparency Disclosure – We may receive a referral fee (at no additional cost to the buyer) for products purchased through the links on our site or other applicable pages. To learn more, please read our full disclosure page here. We also encourage you to read about how we may research and/or test Products here.
Is back pain preventing you from getting the sleep you need? Could changing your pillow help?
Frequent back pain is a problem that can rob people of the high-quality sleep they need. This type of discomfort can be temporary without a known cause or could be ongoing and a result of various medical conditions.
Believe it or not, your sleeping position, the type of mattress you have, and even your pillow may all be contributing to the problem. In this guide, you will learn some of the top strategies for alleviating back pain and find our choices for the top-rated pillows for back pain.
5 Top Rated Back Pain Pillows Reviewed
ComfiLife –
Best Knee Pillow for Side Sleepers
Memory Foam
Ergonomic Design
Breathable Cover with Zipper
The ComfiLife knee pillow was designed to help alleviate discomfort related to sciatica, back and joint pain, post-injury, and pregnancy. Certain sleeping positions can result in spinal misalignment and place pressure on the shoulders, hips, and knees.
ComfiLife is ergonomically shaped to fit between the knees and should provide support and spinal alignment while improving circulation. The durable construction features 100 percent high-density memory foam designed to be heat and weight responsive. In warmer temperatures, this cushion should feel softer and more pliable, and in cooler temperatures, it should feel firm.
What stands out about it?
This pillow can be placed between the knees, calves, or under a single leg while sleeping on the back or side.
The breathable, zippered cover should help to regulate heat from the memory foam and is machine washable.
ComfiLife was designed to provide long-lasting comfort and relief from the discomfort that may be hindering sleep.
BeautifulLife –
Best Half Pillow
Memory Foam
Hypoallergenic
Breathable Organic Cotton Cover
For sleepers looking for effective orthopedic pain relief, this bedroll from BeautifulLife may be an option worth considering. This multi-position bolster features a half-moon design that should provide optimal cushioning and lumbar support while sitting or sleeping. You can use this cushion under the knees, between the legs, to elevate the ankles, or even for lumbar support while driving in the car.
Individuals with sciatica, scoliosis, lower back pain, or nerve pain may find relief from the extra comfort and support this pillow offers. Regardless of sleeping position, this bedroll should help to maintain hip and spinal alignment and alleviate pressure from key areas.
Why we chose it
This product features 100 percent premium quality visco-elastic memory foam designed to be hypoallergenic.
This cushion measures 20.5 by 8 by 4.5 inches and features a breathable, machine-washable organic cotton cover.
This half-moon bolster was designed to hold its shape throughout the night and for long-term use.
UTTU –
Best Adjustable Orthopedic
Adjustable Loft
Made with UTTU DYNAMIC FOAM
60% Polyester and 40% Bamboo Cover
CertiPUR-US Certified
UTTU (abbreviated from cUT ouT for yoU) is a unique cut-and-layer pillow that offers an adjustable fit for any sleeping position. This sandwich design features three separate layers that fit together like a puzzle, offering four different lofts (heights).
UTTU features a therapeutic ergonomic shape that is designed to conform to the natural cervical curve of the head and neck, promoting proper spinal alignment. This cushion is constructed with 3 pounds of high-density Dynamic® Foam that boasts a slow, 5-second rebound. Unlike traditional foam, this special formula is designed to remain consistently firm and comfortable all year long despite temperature changes.
What's worth mentioning?
The multi-layer bamboo fabric cover features mesh on both sides and is designed for breathability and proper air circulation for a cool night's rest.
UTTU is certified by CertiPUR-US, ISPA (International Sleep Products Association), and OEKO-TEX for performance, durability, and quality.
ComfiLife –
Best Lumbar Chair Support
Contoured High-Density Memory Foam
Adjustable Straps
The ComfiLife lumbar support back pillow is an orthopedic cushion designed for use at the office, in the car, or any time you are in a sitting position. This small but supportive design comes highly recommended by chiropractors for lower back pain relief and posture support.
The contoured shape and high-density memory foam should provide spinal relief and support for the lumbar vertebrae disks. The adjustable elastic strap is designed to fit most chairs and to work with a car seat, office chair, airplane seat, or wheelchair (although it may not fit some contoured seats).
What should you know?
The 3D ventilative mesh cover should be breathable, allowing for adequate airflow and temperature regulation. When needed, this cover can be removed for easy cleaning.
This small, lightweight design measures 15 x 12.5 x 4.7 inches and is designed for portability and long-term use.
Ziraki –
Best Seat Cushion
U-shape­d Cut
Memory Foam
Velvet Cover
The Ziraki memory foam seat cushion was designed to support the back, tailbone, and coccyx for comfortable seating anywhere. This could be a great option for individuals who experience discomfort while sitting due to herniated discs, sciatica, tailbone injuries, hemorrhoids, spinal or hip pain, and during pregnancy.
This U-shaped pillow should support the natural arch of the lower back, promote spinal alignment, and offer comfort for prolonged sitting. The anatomic shape fits your body's contours, curving to support the legs and tailbone. You could use this cushion on long car rides, while traveling, at home, or anywhere else life may find you.
Why we think you'll like it
The premium, high-quality memory foam should gently mold to support your body's curves for extended support without flattening.
The plush velvet cover features a breathable design with a convenient zipper for easy washing.
This compact cushion should be easily transportable for support and relief everywhere you go.
How to Find the Right Pillow for Back Pain
When it comes to shopping for a pillow for back pain, there are several factors to keep in mind. Some pillows are designed for traditional use under the head, some are meant for use between the knees or ankles, and some feature a multi-use design.
Why to Consider Pillow Support When Sleeping in Bed
Ideally, lower-end pillows should be changed every 6 months and high-quality memory foam or specialty pillows should be replaced after 1-2 years. The reality is that many people hold on to the familiarity of these items for much longer, sleeping on surfaces that are flat and lumpy.
Discomfort that is worse in the morning but gradually dissipates and even disappears throughout the day may be a sign that the spine is being inadequately supported during the night. Sleeping in any position that places the spine in an unnatural position will eventually lead to aches and pains.
Pillow Shape
Depending on the type and location of back pain, the pillow shape could make a difference. While there are many pillow shapes, they can be generalized into two major categories:
Curved:


---

Also known as cervical or orthopedic pillows, these cushions have a contoured surface that is designed to support the head and neck. Most are made from memory foam.

Even:


---

These traditional pillows feature a flat, even surface but vary widely in the type of material they contain, loft, and size. While a standard polyester fill may be inadequate for supporting individuals with back pain, materials that offer more conformity for relieving pressure on the neck and spine are ideal.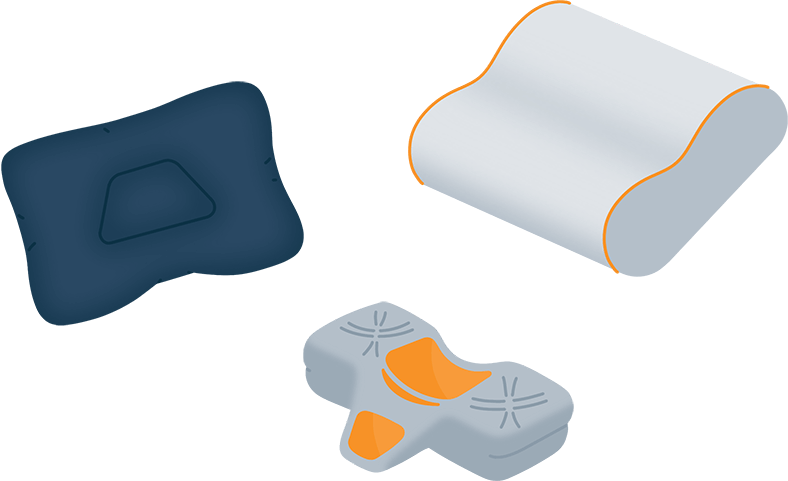 Loft
Pillow loft is a term for the thickness or height of a pillow before any weight is placed on it. While individual manufacturers often have their own definition of loft, most fall into the following categories:
Low: < 3 inches thick


---

Medium: 3-5 inches thick


---

High: > 5 inches thick
Sleeping Position
Your sleeping position is a big factor in determining the best pillow choice. The ideal loft depends on whether you sleep on your back, stomach, or side, or find yourself changing positions frequently throughout the night.
Sleeping on the back can promote a straight spine, so a low or medium loft pillow should help keep the head in a neutral position with the spine. Side sleeping often creates space between the head and mattress, requiring a medium to high loft to fill this gap. Stomach sleepers often prefer a lower loft or no pillow at all since even mild elevation of the head may cause strain on the neck and spine.
Read More:

Pillow Strategies for Sleeping Positions
If a pillow is too high or too low, the head will not be in alignment with the spine. Individuals with certain medical conditions may also benefit from additional support between the knees, under the legs, or to elevate a single limb.
Side Sleepers
Knees Tucked to Chest (Fetal Position):
---
The fetal position can be helpful for those suffering from lower back or disc pain. Tucking the knees into the chest while lying on one side should help to open up the spine and alleviate unnecessary pressure. In this position, a medium-high loft pillow would be ideal.
---
Placing a pillow between the knees may help to promote proper alignment of the hips and pelvis with the spine. Ideally, the area between the shoulders and the hips should make contact with the mattress; otherwise, a small pillow can be placed in this area too.
Find Out More: How To Properly Sleep On Your Side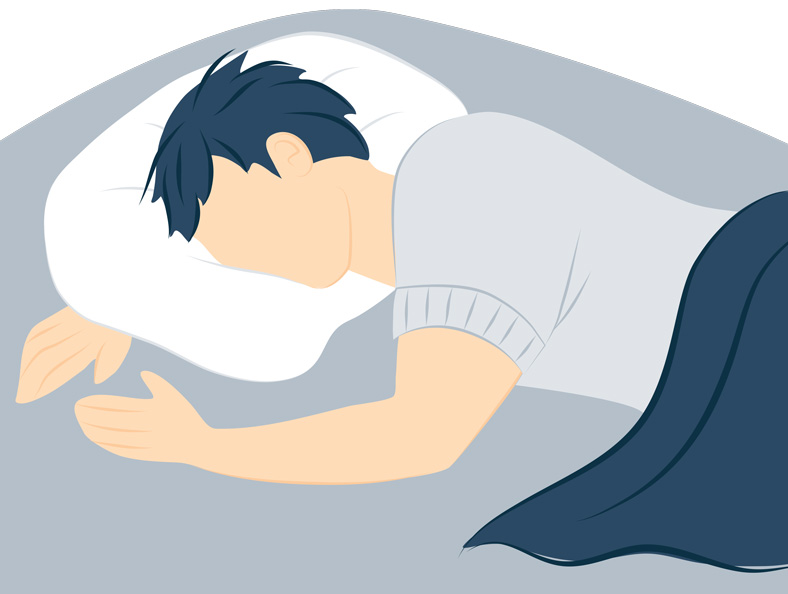 Stomach Sleepers
Pillow Under Pelvis: Placing a pillow under the pelvis and lower abdomen should help to reduce strain on the spine and prevent the back from sinking into the mattress. Sleeping without a pillow under the head is ideal for stomach sleepers, but if necessary, a small pillow can be used.
Back Sleepers
Pillow Under Knees: Back sleepers should consider placing a pillow under the knees. By doing so, the pillow supports the natural lower back curve, helping the spine to remain neutral. The pillow doesn't have to be high, but you can try several loft options to figure out which is the most comfortable. You may also want to add a low pillow under your lower back for some added support in this position.
Fill Materials
There are many options when it comes to fill materials, each with pros and cons. Keep in mind things like allergies, temperature regulation, and whether you prefer sinkage or greater support. Some models also allow you to adjust the loft by adding or removing some of the fill materials.
---
Memory foam may be solid or shredded and is designed to soften upon contact with body heat, contouring to the shape of the head and neck. While this material is popular in orthopedic designs and may offer exceptional pressure relief, traditional and non-treated materials tend to absorb heat and sleep "hot", which may not be ideal for many sleepers.
Check Out Our Guide: Best Memory Foam Pillow
---
Latex is a material extracted from the sap of rubber trees. This material usually maintains its shape for a long lifespan and provides even support. Unfortunately, latex tends to be dense and heavy and could be an allergen for some individuals.
---
Polyester may refer to interlocking fibers or shredded polyfoam, similar to memory foam but at a lower cost. This material offers an affordable option that could provide support and relief from back pain, but these pillows often flatten easily and may sleep hot.
---
Buckwheat is a grain-like seed that is a natural and hypoallergenic material. They may offer an adjustable loft and good temperature regulation but are often quite heavy and firm. Buckwheat does offer good support, but most individuals with back pain prefer something softer.
---
Pillows containing the outer feathers from geese or ducks are usually firmer than "down" pillows, offering greater support for those suffering from back pain. Many have an adjustable loft and a long lifespan. Unfortunately, most feather pillows are very expensive and tend to flatten easily.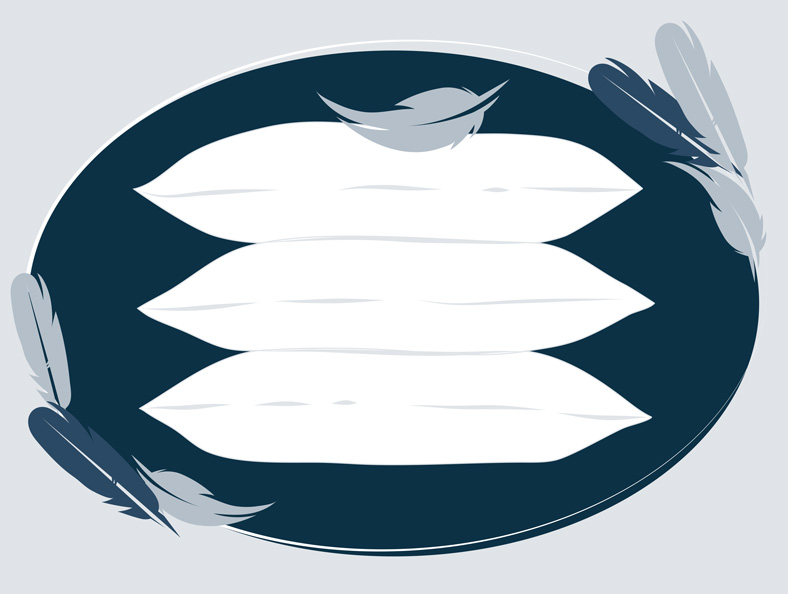 ---
Down fill refers to the soft, inner feathers from ducks or geese, possibly with outer plumage for extra padding. These soft pillows may feature an adjustable loft and are known to sleep cool. Down feathers often flatten quickly and are not as supportive for individuals with back issues.
View Our Guide: Top Rated Down Pillows
---
Down alternatives are designed to mimic the softness of real feathers but are actually made from polyester fibers. Down alternatives can be a good option for those with an allergy to feathers and are often more affordable. These pillows are very soft and tend to flatten over time, making them less suitable for back support.
---
Water pillows feature chambers that can be filled with water to adjust the loft. These designs usually have foam padding to increase comfort and are known for offering exceptional relief from pain and pressure. These pillows tend to retain their shape and adjust to the alignment of the body.
Head Size, Shoulder Width, and Weight Factors
The size and shape of your body are important considerations when it comes to choosing the right pillow. People with small to average sized heads may prefer medium height pillows to feel the most comfortable. Individuals with larger noggins may find that they sink too deeply into average pillows and often prefer higher lofts that can adequately support their heads.
Similar to head size, people with narrow shoulders often prefer lower or medium height pillows that keep the head and neck in a neutral position with the spine. Having broader shoulders may create unnecessary gaps between the head and the pillow, but a higher loft could help to support the head and provide the extra space they need.
Body weight is also a factor when it comes to shopping for the right pillow. Lighter individuals are less prone to sink into the mattress and tend to prefer medium-loft pillows that will help to promote optimal spinal alignment. Those with heavier weight considerations are more likely to experience sinkage and may find a lower-loft pillow helps to keep the head even with the spine.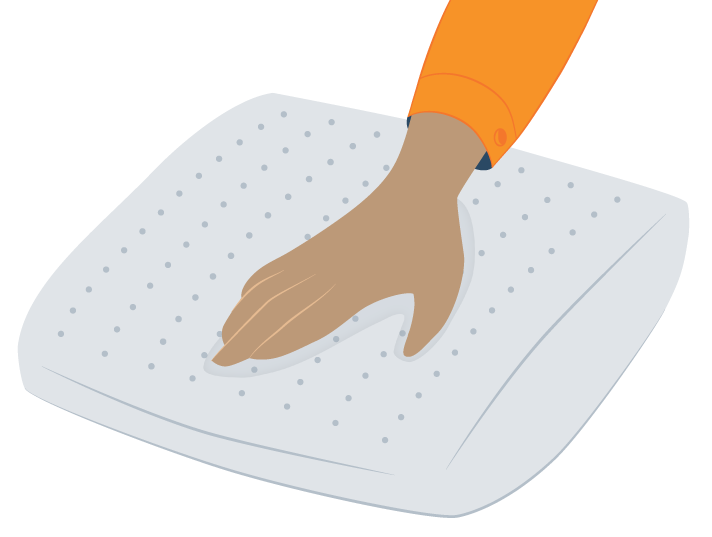 Why is Pillow Support Important for Sleeping?
Pillow support is important for sleeping because it fosters good spine alignment, which is essential for preventing back and neck pain. Discomfort that is worse in the morning but gradually dissipates and even disappears throughout the day may be a sign that the spine is inadequately supported during the night. Sleeping in any position that places the spine in an unnatural position will eventually lead to aches and pains.
Ideally, lower-end pillows should be changed every 6 months and high-quality memory foam or specialty pillows should be replaced after 1-2 years. The reality is that many people hold on to the familiarity of these items for much longer, sleeping on surfaces that are flat and lumpy.
Additional Considerations for Relief
Potential Coping Strategies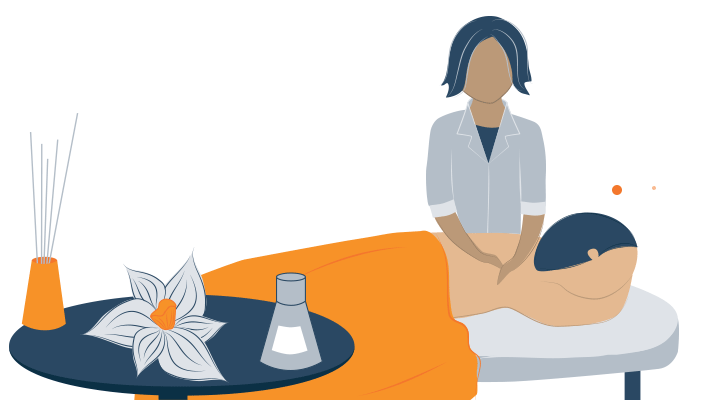 Pain-Reducing Mattress Toppers
Making Sure You Have the Right Mattress

Frequently Asked Questions
Can pillows make your back hurt?
A pillow could make your back hurt if it doesn't fit your preferred sleeping position. In other words, stomach sleepers may wake up with back pain if their pillow is too high. Although they'd primarily feel discomfort in the neck area, the pain can go down to their back, especially after a while. Additionally, side sleepers may feel the same way if their pillow is too thin.
Which pillow is best for back pain?
The best pillow for back pain is the one that fits your needs in terms of support, height, and preferred sleeping position. You want a pillow that supports your neck and helps with proper posture so that your spine is always in alignment. This way, you're less likely to wake up with back pain.
What type of pillow is best for side sleepers with back pain?
Side sleepers need a pillow that supports the head and prevents it from collapsing down to the mattress. This is usually a medium to high loft pillow that is also medium-firm or firm. When it comes to materials, side sleepers with back pain may want to focus on memory foam.
Is a soft or hard pillow better for your back?
Harder pillows are better when it comes to supporting your head and spine for proper posture. This usually applies to all sleep positions, although some stomach sleepers may get away with a softer and thinner pillow than back and side sleepers.
How can I sleep to prevent back pain?
Research2 suggests that sleep and pain are related, so preventing back pain may improve your sleep quality. You can prevent back pain by placing pillows under your knees or in between them. If you're a stomach sleeper, try adding a pillow under your pelvis. On the other hand, you can also try tucking your knees to the chest if you prefer sleeping on your side. Having the right type of mattress is also crucial, so make sure yours is supportive enough.
What's the worst pillow to use if you have back pain?
Soft pillows are typically not recommended for those with back pain because they don't provide enough support. Most sleepers, especially those sleeping on their side and back, need a medium to firm pillow to keep the head and neck aligned with the rest of the spine. A pillow with a too-low loft may also be a bad choice for back and side sleepers.
Conclusion
Sources:
Cherkin PhD, Daniel C., Sherman PhD MPH, Karen J., et. al. "A Comparison of the Effects of 2 Types of Massage and Usual Care on Chronic Low Back Pain". Annals of Internal Medicine. https://www.acpjournals.org/doi/10.7326/0003-4819-155-1-201107050-00002. 2011.
Finan Ph.D., Patrick H., Goodin Ph.D., Burel R., Smith Ph.D., Michael T. "The association of sleep and pain: An update and a path forward". The Journal of Pain. https://www.ncbi.nlm.nih.gov/pmc/articles/PMC4046588/. 2013.
Our team covers as many areas of expertise as we do time zones, but none of us started here as a so-called expert on sleep. What we do share is a willingness to ask questions (lots of them), seek experts, and dig deep into conventional wisdom to see if maybe there might be a better path towards healthy living. We apply what we learn not only to our company culture, but also how we deliver information to our over 12.7M readers.
Sleep research is changing all the time, and we are 100% dedicated to keeping up with breakthroughs and innovations. You live better if you sleep better. Whatever has brought you here, we wish you luck on your journey towards better rest.