When it comes to choosing a suitable mattress for heavier people, we have to consider a few different factors than with thin people. We all want to have a good night and to wake up rested and refreshed. But if our bed sags and sinks after a few months it's not going to work, right?
It's relative what's considered overweight or heavy these days. Some people can be regarded as heavy at 150 pounds while some are not even at 200. Even though these mattresses can support up to 300 lbs, we are going to say that 200+ pounds are considered heavy / larger or overweight.
To provide the best possible sleep experience for heavier or larger than average people we have selected our top three picks this year and tested it over 90 days by 200+ pound person.
Here's what you need to consider:
Our Top Rated Picks Compared
WinkBeds Plus – Designed for Heavier People
WinkBeds claims to have designed the first mattress for sleepers over 300 pounds with their Plus option. The Plus is a hybrid model, with foam and latex over coils that provide comfort and support. It has a medium-firm feel that is supportive in all the right places.
Its Tencel cover is soft and helps wick away moisture at night. It also features enhanced edge support around the perimeter made from dense foam that increases the usable surface space of the bed.
What makes it special? Winkbeds Plus was designed for individuals over 300 pounds. It is a durable luxury model with enhancements, such as zoning in the coil layer with tempered springs, that work very well at providing support and comfort to its target market.
The Plus also works with the brand's coolControl™ base that provides the ability to set a temperature that the base and bed will maintain throughout the night. Not compressed during shipping like many other brands, shipping is free, or you can select optional White Glove Delivery at an additional cost.
You can use our coupon code "SLEEPADVISOR50" to get $50 off your purchase!
Want to learn more about this model? Check our in-depth review of the Plus.
DreamCloud – Exceptional Value Hybrid
At 15 inches tall, DreamCloud is a very thick mattress, which is great for accommodating a higher weight range. Its hybrid design blends a variety of materials for a remarkably comfortable experience, such as memory, poly, and latex foams, as well as innersprings. Sleepers will feel more on than in this mattress, and it is relatively quick-responding.
A plush Euro-style pillow top, cashmere cover, tufting, and handles on the side are some of the premium features available on this bed. It even has extra foam around the edges for better edge support.
What stands out? DreamCloud is an exceptional value hybrid that incorporates eight layers, a 365-night trial, and an Everlong Warranty. The brand states that their product is priced at 30% of in-store models.
In addition, DreamCloud has a special five-zoned coil layer for optimal support. The coils are individually wrapped and do a good job of minimizing motion transfer on this bed, in combination with the top comfort layers.
If you want to see more, visit our in-depth analysis with pros and cons.
Saatva – Innerspring
Highlights:
CertiPUR-US® Certified
120-Day Trial
15-Year Warranty
Charity Initiatives
Made in the USA
Made in three firmnesses, including Plush Soft, Luxury Firm, and Firm, Saatva is an excellent choice for heavier people who like a more traditional innerspring feel. It has airflow through two layers of springs, and the bed has a good bounce.
Saatva has included several premium-level features in their bed, such as a special lumbar support enhancement layer, coil on coil construction, and a reinforced foam perimeter for even greater edge support. It even has a durable Euro pillow top and organic cotton cover.
What makes it unique? Saatva is an affordable luxury innerspring brand. Its construction and stitching are high-quality and it is far less expensive than comparable in-store models.
The purchase of each Saatva comes with free White Glove Delivery and the removal of your old mattress. There are two thickness options for your order, a 14.5-inch Premiere Luxury, and an 11.5-inch Custom Slim. Especially with the thicker model, there is a decreased risk of bottoming out.
If you're not sure, and you want to see more before you purchase the bed, check out our full Saatva review.
Layla – Great Pressure Relief
Highlights:
Double-Sided (Medium-Soft and Firm)
CertiPUR-US® Certified
120-Night Trial
Lifetime Guarantee
Homeless Shelter Partnership
Made in the USA
Layla has two sides – Medium-Soft and Firm – to help you find your most seamless fit. The Medium-Soft side excels in pressure relief and the brand's 120-night trial provides time to adjust to the side that works best for you.
Not only does it supply superior pressure relief, it also has a cover made with ThermoGel® that is cool to the touch. Unlike traditional foams that can feel suffocating or overheat, Layla yields deep contour and comfort without the risk of increased temperature levels.
What are its best features? Layla is a memory foam option that works well at relieving the pressure points of heavier individuals with decreased risk of bottoming out. It has copper infused in its memory layers that conducts heat away from the sleeper and enhances deep compression support.
Layla's overall cooling and pressure relieving capabilities make it a very good value. Their businesses' partnership with a local homeless shelter means that every purchase also works towards the greater good.
Need to learn more? Check out our Layla analysis here.
Avocado – Eco-Friendly
Highlights:
OEKO-TEX Certified
GREENGUARD Gold Certified
100-Night Trial
25-Year Warranty
Environmental Charity Initiative
Made in the USA
Avocado creates a luxurious eco-friendly experience for sleepers that is backed by many certifications geared towards low emissions, natural materials, and lack of harmful chemicals. The brand features an optional pillow top for additional comfort, which contains two inches of Dunlop latex. Back or stomach sleepers who prefer a firmer feel may benefit from their standard version without the pillow top the most, while side sleepers will enjoy thicker pressure relief with it.
What makes it special? Avocado's commitment to being green is seen directly through their mattress' construction. An organic cotton cover, New Zealand wool, and natural latex work together with upcycled steel springs to provide a durable, comfortable bed night after night.
In addition, it has a zoned construction in the coil layer for even more support and relief where it is needed most. The edge shares the same coils as the middle third of the bed, where springs with lower diameters and more support capabilities are utilized.
Loom & Leaf – Firm Memory Foam
Highlights:
Organic Cotton Covering
CertiPUR-US® Certified
120-Day Trial
15-Year Warranty
Made in the USA
Loom & Leaf is a premium brand that ships in two firmnesses, Relaxed Firm and Firm, and the latter is our preference for a firm memory foam feel. This option will be especially good for stomach and back sleepers, who may prefer the additional support it brings.
What stands out? A layer of Spinal Zone Gel can be found in the lumbar area of the mattress. It creates additional support for the spine and the gel adds cooling for those who are prone to overheating.
Loom & Leaf uses eco-friendly materials, such as its organic cotton cover and flame retardant made out of natural woven thistle, in addition to certified foams that meet low emission and rigorous chemical standards. The design of its egg crate shaped memory layer increases airflow and includes gel swirled in for extra cooling.
Loom & Leaf is not compressed like some online brands. Instead, the company supplies free White Glove Delivery and mattress removal. The bed even comes with sturdy handles on the side to help with repositioning as needed.
Is it good for You? Read our complete teardown to see the pros and the cons.
Zenhaven – Latex
Highlights:
Organic Cotton Cover
Dual-Sided
OEKO-TEX® Certified
120-Day Trial
20-Year Warranty
Made in the USA
Zenhaven is our latex pick. It uses American-made Talalay latex, which has two more steps in its creation than Dunlop latex, including creating a vacuum and flash freezing, which makes it an extremely consistent material. This specific Talalay material has larger cells and greater airflow, which helps with cooling.
Talalay resists microbes, mold, and dust mites, and the brand uses organic materials such as New Zealand wool and a cotton covering. Luxury Plush and Gentle Firm options are on either side of the bed, so you can purchase one mattress that has two firmnesses to test out.
What makes it unique? Zenhaven's Talalay latex has five zones that are tailored to every part of the body to help with alignment of the spine and additional comfort. This is through the creation and spacing of pinholes with varying densities.
The company provides free White Glove Delivery to your home and their professional service will even take your existing mattress away for free.
Want to know more about this latex bed? See our pros and cons in our complete overview of the Zenhaven.
Ultimate Dreams Latex – Budget Choice
Highlights:
CertiPUR-US® Certified
OEKO-TEX® Certified
120-Night Trial
10-Year Warranty
Made in the USA
Created by Dreamfoam, Ultimate Dreams Latex is our budget choice. Even at a lower price point, it does a good job of catering to heavier weights. The latex in the bed is hypoallergenic, making it a particularly good option for those who have allergies.
It has a cover with bamboo fibers (that are completely biodegradable) that is quilted with soft reflex foam. The reflex foam and latex layers sit on top of a dense foam base. The bed is soft to the touch and has wicking abilities that help reduce excess moisture.
What stands out? Even though Dreamfoam uses a more expensive Talalay process on their latex, the company has managed to keep their bed extremely affordable. The price and quality make it a great budget choice.
After purchasing, the company will make contact to determine the firmness level that you need for optimal comfort. Then, you will have a generous 120 nights to try it out.
How To Choose a Mattress for Overweight People
Although there are general standards that can help anyone choose a new bed, people with over 200+ pounds have special needs that should not be ignored.
1. Quality Materials
This is critical in most cases. Using lower quality materials will most likely result in sagging and worse sleep experience after some time. Even though most beds last for well over six years nowadays, if you opt for cheap products with low-quality materials you will most likely have to change it after 2-3 years. And that's not something we want to do often.
2. Thickness
If you have less than 200lbs a 10" bed is more than enough in most cases. If you are heavier than this, you will want to go for 12" or thicker with good deep compression support.
Have in mind that some products offer extra thick layers that provide enough support even at 10-11".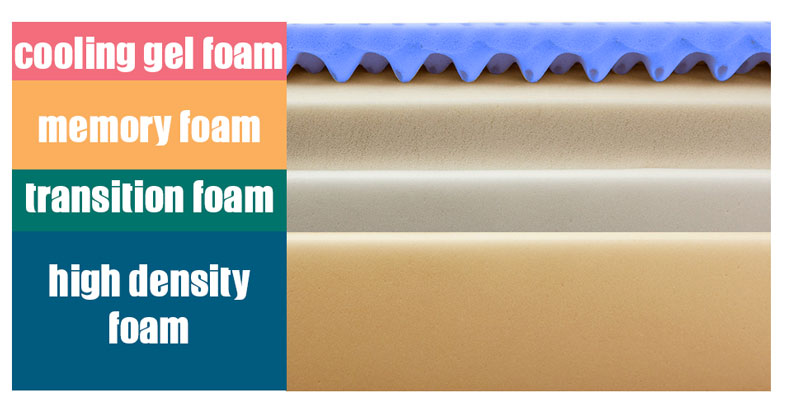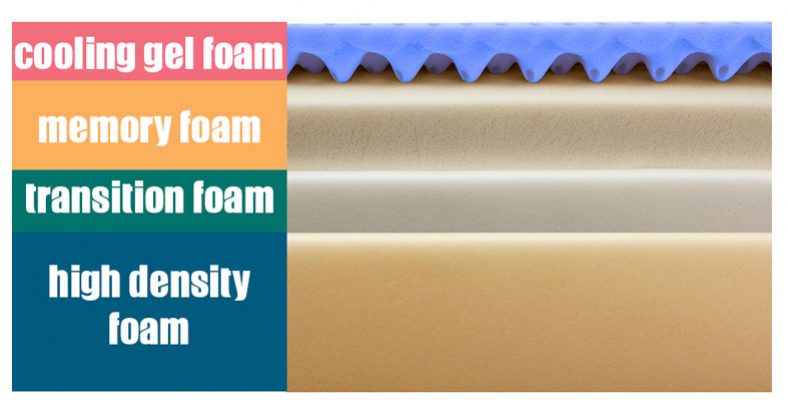 3. Firmness
You can decide your ideal firmness level by first determining your ideal sleeping position. Heavier people will require a medium to medium-firm. Your weight will create more sinkage and hug, and you might experience back pain. Expect additional 1-2" of sinkage if you are over 230-250lbs. Make sure to compensate that on a firmness scale by choosing 7-8 out of 10.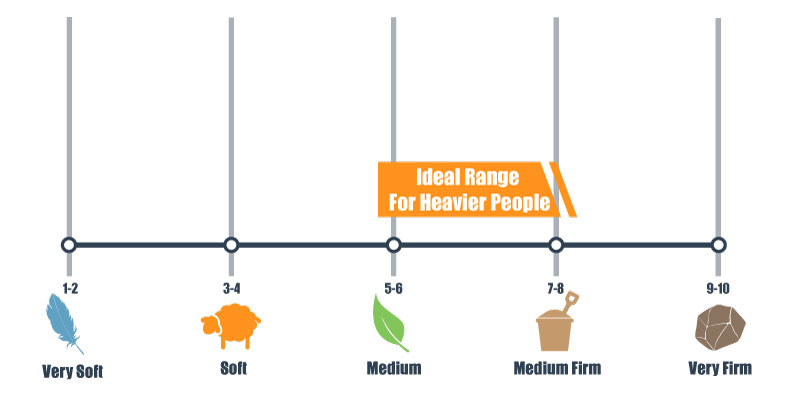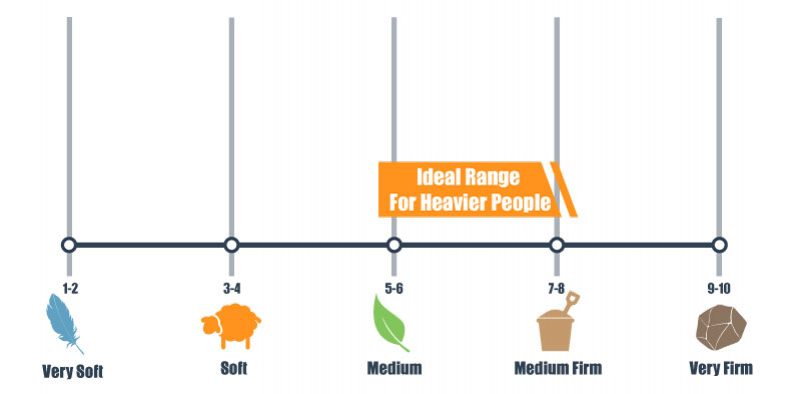 4. Cooling and Temperature Regulation
The most common complaint from overweight and larger people is that they get too hot during sleep. It usually happens when your mattress doesn't have enough room to breathe and to provide enough air circulation.
In most cases, foam material "sleeps hot" when compared to latex, innerspring and hybrids. These days this problem is solved if you don't buy cheaper options and opt for more premium products. Most of these also have gel layer which serves as additional cooling material on top of your bed.
Considering how widespread this issue is even for light sleepers, manufacturers created specialized "cooling" beds to improve airflow properties and heat distribution.
5. Edge Support
This isn't mandatory, but it's great to have if you use your bed during the day. If you frequently sit on the edge, this will play a significant role. It also means that your bed will be more durable and will last longer and is usually an indication of premium products.
Hybrid and coil-on-coil construction provide the best edge support.
There are many types and materials on the market today. Each style has their strengths and weaknesses when it comes to overweight people. In this section, we'll break down the major bed types (memory foam, latex, innerspring, and hybrid) and how they affect heavy sleepers.
Memory Foam
According to many large and more cumbersome sleepers, memory foam is one of the best bed types out there. Why?
Foam mattresses, whether they are on the hard or soft side, do a great job at evening out pressure points. One of the biggest complaints that obese sleepers have is that certain areas of their body end up hurting (i.e., their back or hips). Memory foam does a fantastic job of providing evening support that contours to the body.
Despite the numerous benefits, this mattress style can cause people to feel hot due to the lack of breathability in the material. Worry not, there are some great cooling memory foam options on the market today.
Read our memory foam article to learn more.
Latex
For overweight people, latex mattresses are a solid option as well. Latex is much better at keeping you cool, unlike most memory foam bed options out there. That said, you're not going to get the same level of comfort that we discussed above.
If you're on the heavy side and already experience pain while you sleep, latex isn't your best option.
Recommended read: Our Recommended Latex Mattress Picks
Innerspring
In most cases, we do not recommend an innerspring style mattress for big guys and girls. That's because most of the beds will create pressure points, which often leads to pain. As discussed above, memory foam is your top choice if you're most concerned with keeping your weight even (avoid pressure points).
If you do decide to purchase an innerspring, make sure to go with a high-quality option that uses a coil-on-coil build. This technology uses two springs which make the support better, especially for big people.
Besides, your bed will last longer with coil-on-coil vs. a cheaper alternative — one of the biggest complaints of innerspring is that the support and comfort don't last long.
If you want to learn more about this category you can check our innerspring bed recommendations.
Hybrid
As the name suggests, a hybrid mattress is simply the combination of two or more types. Unless we know the exact bed you've chosen, we can't say whether it's a perfect match for you or not.
A great hybrid option would be a memory foam and latex or foam/coil combo. Foam offers the most pain relief which is something heavy people deal with while sleeping. And the latex or coils can help keep your body cool at night while adding more bounce.
Benefits Of Owning a Bed For Heavy People
The worst part about owning a product that is not good for you is that you might not realize it until you get one that makes the difference.
If you are a heavy person, it can get even worse with a bad mattress: backaches, inadequate support and high temperatures during sleep can make your nights everything but enjoyable.
On the other hand, if you happen to take the time to know what to search for when buying a new bed, you can end up with something that will change your life. Not only can neck and lumbar pains disappear, but you could even get one that will help regulate the heat at night, making your sleep a much cooler one.
Moreover, your body will be supported, and you won't feel like you are sleeping on a water bag. All of these things together can improve your body's posture, muscular health, and even your mood! Because who does not wake up bad-tempered the morning after a bad night?
Having these aspects in mind, we have compiled the top mattresses for overweight people that we found in our research.
We Excluded: Classic Brands Gramercy Hybrid Mattress – Here's Why
While some of you may be wondering why the Gramercy Euro-Top Hybrid by Classic Brands isn't on our list, we have taken our decision based on the following facts: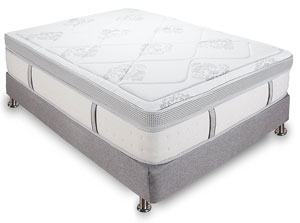 It is too firm, even for bigger folks
It gets very hot in terms of temperature, a definite no-no for a larger person
Users have experienced the sinking of certain parts of the mattress over time, making it lose the support of the human body.
This does not mean that the Gramercy Hybrid Mattress is useless.
However, while the heat it produces can be helpful for those who live in cold locations, the average heavy person will find it unbearably hot.
The same goes for it firmness: most will believe it to be too hard, but for a few of you, it can be perfect.
Conclusion
---
When you already know what to look for, picking the Best Mattresses for Heavy People can become an easier task, especially after you find out how much of your life can improve by only having a deep and sound sleep at night.
A large person needs a firm bed that can support their body and regulates the temperature during sleep, and this is why we picked these beds and categorized them so you can know what to expect from each model.
Author:
Mark Reddick
When I'm not learning about sleep, you can find me hanging out with my wife and close friends.
I absolutely love entrepreneurship and learning how to improve yourself daily. We only get one life, and I want to make it the best one possible.
I hope that everyone that finds our site takes a new approach to sleep. The world needs to stop thinking about it as something "we just do," but rather something that allows us "to do every day."