It goes without saying that restful sleep is undoubtedly the best medicine for an overly healthy lifestyle and good looks. However, your mattress could easily prevent you from getting it. An uncomfortable solution of the kind could do much more than just wake you up at night – it could potentially cause serious spinal malformations. A top rated mattress topper could easily fix this.
You might be worried that you don't have the financial means to invest in a new mattress, yet your lower back pain is getting worse by the day. Worry not as the solution is already here. You don't need to put up a small fortune for a brand new mattress because a comprehensive and well-fit mattress topper could easily get you through the hassle.
Of course, picking one up is never easy. Just as you'd have to consider a whole lot of things when you buy your mattress, you'd also have to account for a myriad of factors when purchasing your topper. This is why we've decided to synthesize the relevant information and present it in a way which you'd easily understand. The hope is that this would enable you to make a quick call without going through all the hassle.
Additionally, we've also taken a look at some of the best rated bed toppers on the market for 2017 in an attempt to simplify things even more.
Benefits of Using a Bed Topper
A simple and affordable yet appropriate and carefully hand-picked mattress topper could easily provide a range of benefits and spare you a serious amount of cash. Here are some of the benefits associated with a great bed pad, as they are also called.
It's a Cost-Efficient Alternative
As you may be aware of, a brand new and great mattress could easily cost you a small fortune. And, as you already know, failing to pick one which is capable of bringing the necessary support and comfort could result in unpleasant aching throughout your entire body. A bed pad, on the other hand, is cheap and it's going to provide you with everything you may need.
Extends the life of your mattress
The topper is definitely going to extend the life of your mattress (find out how long they typically last). So even if it's brand new, you might want to consider supplementing it with a comprehensive topper. This is due to the fact that it would add more height to it and you wouldn't be sleeping on the mattress so much as on the topper. This would reduce the wear and tear of the former.
Not only is a topper comfortable, it's also customizable. You can pick the mattress pad you need based on the specifications of your current bed. For example, if you have a firmer mattress, you might want to adjust that by adding a softer topper to increase the comfort and vice versa.
The majority of the mattress toppers, such as the ones we'll be reviewing down below, are perfectly well ventilated. This is going to ensure that the airflow is consistent and that the sleeping temperature is kept fairly regular throughout the entire night.
There are quite a lot of different materials that you can pick for but the truth is that the most of them are eco-friendly. Examples include bamboo toppers as well as natural latex ones which are free of any toxic chemicals.
Fibromyalgia is a disorder that can cause fatigue, muscle pain, and a lot of tender points on the body. The New Life Outlook recommends a mattress topper for anyone that suffers from fibromyalgia (memory foam is preferred).
In addition to fibromyalgia, a bed pad is a great choice for anyone that suffers from chronic back pain or hip pain (see our hip pain relief mattress pads).
As you can see, there are quite a lot of different perks of using a topper and this is undoubtedly something that you might want to take into proper consideration.
Our 10 Mattress Pads Reviews
DreamFoam Bedding Gel Swirl
Bringing the convenient combination of viscoelastic memory foam with a comprehensive gel swirl, this is a topper which would accommodate the wide majority of mattresses on the market.
The entire thing is only 2-inches thick, which will the overall bulky appeal of your bed while, at the same time, adding the comfort to your current mattress in a manner which is going to increase the quality of your sleep in an instant. This is definitely something that you ought to take into account.
Additionally, you should also account for the fact that the foam which is used is CertiPUR-certified, which means that it is created to mean the highest industry standards governing the quality of the same. The pattern of the swirl might vary slightly.
The entire thing comes with a 3-year warranty and it is made in the USA. This means that the materials are true to the highest standards.
PROS
High-end gel swirl and memory foam
CertiPUR certification
2-inches of thickness bringing additional comfort
CONS
The foam might begin to tear after some time
Durability is somewhat questionable
LUCID 3-inch Gel Memory Foam
This particular solution brings 3 inches of ventilated gel memory foam which is specifically designated to deliver softness as well as the convenient comfort which relieves the stress off your pressure points. It would significantly enhance the quality of sleep that you get from your mattress.
The memory foam follows a special formula which is designed to be responsive and airy. The ventilated design, on the other hand, is specifically intended to improve the overall airflow which would accommodate comfortable sleeping climate.
Additionally, the quality of the memory foam is overly infused with a plush gel material which is intended to capture the heat and to control the overall temperature.
PROS
High-end ventilated design
Special memory foam formula to enhance the softness
Improved airflow and temperature control
CONS
Off-gassing smell tends to persist
Shape might deform after a few months
Hypoallergenic Down Alternative by Home Sweet Home Dreams
Made out entirely out of microfiber, the product is hypoallergenic and geared towards people who have allergies. This is a pillow-top topper which is 2-inches thick and it is designed to provide you with an extra layer of support for a good night's sleep.
The anchor bands are conveniently attached on each one of the corners in an attempt to ensure that shifting is not possible and that your bed topper is conveniently affixed to the bed.
The fill is made out of hypoallergenic down which is an alternative fiber filling. The best thing about it is the fact that it's breathable and well-ventilated, promoting proper temperature retention that won't make you sweat through the night.
PROS
100% Microfiber material for enhanced breath-ability
Secure fix to the bed preventing shifting
Added comfort and support
CONS
It is a bit too puffy
Might be a bit bulkier
SleepJoy 2″ ViscO2
If your mattress has already gone out of shape, this is one of the toppers that you can take advantage of. Made out of a breathable material, the pad intends to enhance the airflow and create a hygienic and far healthier sleeping environment.
The product is designed to provide you with cradling comfort as well as substantial stress relief on your pressure points. It would provide perfectly good night's sleep.
The product is neutralized to remove any chemical odors of foam and it's enhanced with ingredients which are naturally sourced to lower the overall environmental impact. The entire thing is conveniently made in the USA, attesting to its high quality.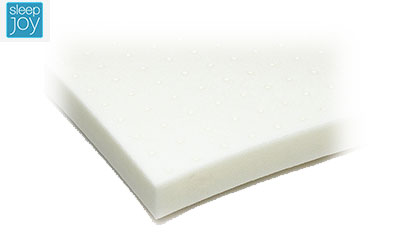 Material
Lifespan
Price
Warranty
OVERALL RATING: 8 out of 10
PROS
Naturally sourced materials included
Enhanced ventilation and breathability
Provides the necessary cradling comfort
CONS
The density of the mattress is slightly awkward
Noise transmission is questionable
Sleep Innovations 4-Inch Dual Layer
This pillow-top mattress pad would enable you to feel as if you are truly sleeping on a cloud. It's a two-layer construction with the first one being comprised of cooling gel memory foam which is amongst the high-end materials.
It's 2-inches thick. The second layer is also 2-inches thick and it is made out of fluffy fiber-fill which enhances your sleeping sensation and allows a deeper sleep altogether.
The topper offers a nice and snug-fit cover which is actually removable. You can also wash it in the washing machine and dry it in the dryer. The product is perfect for stomach, back or side sleepers. It also has 10 years of limited warranty.
PROS
Comprehensive two-layer construction
Snug-fit and cradling sensation
Intended for different sleeping positions
CONS
It's more expensive
Quality decreases over time
Best Price Mattress 4-Inch
This is a product which is geared towards providing you with a splendid price to quality ratio. It offers perfect body-conforming capabilities thanks to the memory foam and great comfort as well.
There is an active suspension which is going to isolate the motion making it less likely for your partner to disrupt your sleep. Additionally, there is a mesh cover which is zippered and it's made out of polyester to provide you with a deeper sleeping capabilities.
There are two layers, the first one of which is 2.5 inches worth of high-density foam while the other 1.5 inches are made out of memory foam. There is a 5-year warranty on the product.
PROS
The brings great noise transmission, allowing for more comfortable sleep
Memory foam conforms to your body's contours conveniently
Active suspension
CONS
The topper flattens over time
It's firmer than some people would prefer
ExceptionalSheets Bamboo Hypoallergenic Mattress Pad
This particular unit is made out of plush rayon from the bamboo cover which is filled with an alternative down that's hypoallergenic. Therefore, if you're worried about any allergies, you can rest assured that this is the bed pad for you.
The pillow-top surface allows multiple pads, each one of which comes with comprehensive fiberfill with authentic duck and goose down without the feathers to be poking or provoking any allergic reactions. The result is a flawless and luxurious sleeping sensation which would certainly alleviate stress and enhance your current mattress.
The product is 100% hypoallergenic and is covered with a 100% customer satisfaction guarantee.
PROS
High-end fiberfill
Goose and down filling
100% Hypoallergenic
CONS
Doesn't bring enough support
Durability is slightly less reliable
Pinzon Hypoallergenic Overfilled Microplush
Offering a medium comfort level, this bed pad is intended to conveniently enhance the quality of your mattress and bring it back to life. It's 4-inches thick and designed for enhanced support to your lower back, hips, and shoulders.
The one-layer construction is made out of dense, 100% polyurethane foam which is intended for durability and reliability. It eases back pain and it helps you handle fatigue in your muscles.
The egg-crate shape of the mattress pad is going to mold to the contours of your body to seriously relief stress off your pressure points.
PROS
Comprehensive polyurethane foam
Active and working egg-crate design
Relieves stress and muscle fatigue
CONS
Might be slightly less comfortable
A bit firmer
Luxuryrest Memory Foam
This pad is specially designed to relieve you from pressure in your lower back, joints, muscles, and hips. It is also designated to relieve the symptoms of arthritis and chronic pain.
It's worth noting that this is a high-end solution made out of 4 inches of cooling gel which is infused within the dense memory foam. The result is a seamless sleeping surface, capable of enhancing the comfort brought by every mattress.
You also get a free cover which saves you some cash on top of it, bringing more value to the deal.
PROS
High-end cooling gel blend
Increased comfort and support
Substantial pain and stress relief
CONS
More expensive than others
Coolness could be better
Quilted Fitted Mattress Pad by Utopia Bedding
This product comes with a super soft quilt with fiberfill which provides substantial loft for additional comfort during the night and back protection for side and stomach sleepers. The entire pad is brought to you with a cover which is free and it's machine washable and tumbles dry for convenience and easy maintenance.
The pad is also resistant to dust mites and other serious allergens. It is durable and it's intended to last you for a significant period.
PROS
This is an entry-level solution and you get what you pay for
Doesn't bring a lot of additional comforts
CONS
More expensive than others
Coolness could be better
Topper vs. Pad vs. Protector vs. Encasement
Now, the truth is that there is an ongoing confusion amongst customers as to the actual difference between toppers, pads, encasements, and protectors. That's why we've decided to have a quick look at all of them and help you understand how they compare.

This is usually a more expensive and thicker version of the regular mattress pad. It's also generally more comfortable. It's likely that you might have tried those before and disliked them. However, contemporary technology allowed manufacturers to enhance their overall quality significantly and you would be sorry not to take a second look.
The mattress pad is usually more affordable and it's a thinner version of the topper. While they don't bring the same amount of comfort, they do bring a lot of additional features that many of the toppers don't, including precise heating and cooling features. Some people are going to prefer a pad while others – a topper and it's true that there are quite a lot of different ones designed to fit the myriad of personal preferences.
The protector is something entirely different. They are usually used to protect the sleeping items from issues such as allergic reactions or bedwetting, for example. These features, however, could easily be added in a topper or a pad so you wouldn't need an additional purchase.
This, on the other hand, is usually designed to provide you with the ultimate protection against bed bugs and are quite commonly used in hotels – as you might actually suggest. With this in mind, if you've had issues with bedbugs, for instance, you might truly take a look at these solutions for further information and also for added protection. They are quite different and distinct from the regular pad or topper.
Memory Foam
According to the buying behavior of customers, these toppers are undoubtedly amongst the most popular ones on the market. Memory foam is a conveniently crafted material which is designed to contour your body shape carefully and to memorize it conveniently.
The best thing about it is that it reduces the noise transmission from your partner and that it's particularly durable. The product also allows the creation of pads in a range of different densities which is something quite convenient.
On the offside, we have the poor and questionable temperature control (here are some cooling tips) as well as the strong off-gassing smell when it's new.
Cooling Gel
Cooling gel pads are particularly convenient, especially for those that sleep hot or suffer from night sweats. However, they are also rather expensive. Some are using an actual liquid system while others use existing fans to blow cold air up through your actual bed. As you may suggest, this brings an incredibly comfortable sleeping sensation and it allows you the ultimate temperature control.
PROS
---
The mattress's temperature is flawlessly controlled
The sensation is amazing
Pillow Top
When it comes to pillow top mattress toppers, you ought to know that the kind is a bit less firm and thicker in comparison to other counterparts. This is also why they are a lot less expensive in comparison. With this in mind, it's also true that they deliver an enhanced sleeping sensation due to the ergonomic design. With this in mind, it might be a good idea for you to take a look at those and try one for yourself before going any further.
PROS
---
They are very comfortable
They are perfect for hip pain treatment
They offer a range of different patterns
CONS
---
They are not as thick
They are usually a lot less firm
Latex
Toppers of the kind are most commonly made out of natural latex. This is an eco-friendly and naturally sourced material which is definitely designed to be the best when it comes to support, durability and comfort. They are free of any synthetic materials as well.
PROS
---
It provides splendid support and it helps you ease the pain
It is incredibly durable
It's free of toxins and it's eco-friendly
CONS
---
It's more expensive
It's not suited for people with latex allergies
Other Materials
It's also important to note that there are quite a lot of additional materials that you can easily take advantage of if you are looking for something far more specific. Feather and fiber are common choices but the most common one out of the big four is the topper made out of bamboo. They are known to be very gentle and particularly comfortable, giving you the sensation that you're sleeping on a cloud.
On the other hand, if you prefer something a bit harder regarding sleeping feeling, you can also check out those which are made out of fiber or wool. The latter are characterized with their overall breathability which is going to help you sleep well through the night without waking up sweating in the middle of the night.
Buying Considerations For A Topper
Size
Obviously, the size of your mattress topper is another crucial consideration that you'd have to account for. Of course, the size of your bed should consistently linger through your mind when you are considering purchasing a bed pad.
There are a few different sizes that you would be able to find toppers in – these include king, full, queen, and twin sizes.
For this exact reason, you will need to know the exact size of your own bed as well as the size of your mattress if you are going to be securing the perfect fit. If you purchase a smaller or a larger bed topper, this is going to make your entire bed feel a bit uneven.
Pay attention to this as it is something quite important and you'd certainly have to account for it.
Thickness
The thickness of your mattress is another important and quite paramount characteristic that you would have to account for. This is undoubtedly something very important. Your mattress topper should be thick enough – that's just it. You should pay special attention to this particular consideration if you are to make a good call.
According to some experts, memory foam, as well as latex mattress pads, usually provide the best range when it comes to thickness. It's also worth noting, however, that every single thickness is best for a certain issue, so that's something you ought to account for.
The thickness will usually range between 1 and 5 inches. Your current condition of the mattress is likely to be a decisive factor when you choose the thickness of the pad. The general rule of thumb is that mattress pads which are thicker are appropriate for softer beds and the other way around. Basically, your topper should compensate the attributes that your mattress is lacking in.
Therefore, if you need a firmer appeal and your mattress can't provide it, go for a firmer topper. The opposite is also true. Studies conducted in Spain revealed that usually, a 2-inch thickness is perfect if your mattress is in a proper condition.
Firm or Soft
This is a debate which is definitely going to be raging on and on for an entire eternity. However, there is one simple truth here – it all depends on what you want and what works best for you.
Firmness is the characteristic which is going to be supporting your back. On the other hand, softness is what's going to determine the contouring of your body. Each one of those is important for addressing back pain and other conditions. Of course, there are quite a few things that you might want to take into consideration when it comes to it.
It is usually considered that back sleepers can benefit more from a firmer mattress while side sleepers would need something softer. Stomach sleepers, on the other hand, would need something which is a comfortable blend and meets them in the middle. Of course, a lot of us combine all of the above and prefer different sleeping positions through the night. Therefore, your individuality is likely to determine this particular consideration.
However, if you have a certain medical condition related to your spinal alignment such as a slipped disc, for instance, you should definitely consider something which is rather firmer and has a density rating which is higher. A baby mattress topper, for example, should be a bit firmer, in order to prevent any spinal malformations early on. On the other hand, if you have a college kid, you can easily use a mid-range firmness to promote different sleeping positions.
Are Tempurpedic models Worth it?
There are a few key considerations which are worth taking into account when determining whether a Tempurpedic mattress topper is a worthy investment. Right off the bat, you ought to know that they take advantage of firm foam which is going to bring a serious support for your back. You wouldn't have to worry about replacing the unit for a few years because they are rather reliable. They will also enhance and prolong the overall lifespan of your mattress.
At the same time, they are known to relieve the stress on different pressure points conveniently and without any hassle. This is going to quickly get rid of different sleeping related issues and ailments. You can rest assured that the Tempurpedic mattress toppers are perfect for back sleepers and they are also fairly appropriate for side and belly sleepers as well.
All in all, it is safe to determine that the products are truly worth the asking price and you are unlikely to go wrong with a mattress of the kind.
Conclusion
---
To conclude, the choice of a mattress topper is obviously going to be predicated on a myriad of different factors, each one of which is quite substantial.
Ultimately, though, you would have the last word. It is up to your personal preferences to make sure that you get a solution which is appropriate and which is going to accommodate your sleeping habits.
We've walked you through a few different products and we've tried to keep things versatile to encompass the differentiated demand. Hopefully, you will find value in the above and it would help you make the right call without wasting a tremendous amount of time in the process.
Author:
Jill Thompson
I've been married for 8 years to my loving husband Mike. We have two boys that keep us busy with sports. Having kids has definitely made sleep an even more important element in our lives. Now, our sleep quality not only affects me and my husband, but our two boys. Poor sleeping habits might lead us to poor parenting decisions.
When I'm not obsessing about sleep you can find me playing tennis or golf.
I love talking about sleep and hope your sleep quality improves after stopping by our site.