One of the best ways to update your bed without spending a lot of money is by adding a mattress topper. The purpose of a mattress pad is to provide that extra level of comfort and support to help you blissfully sleep the night away. With so many options, it can be hard to know which toppers are right for you, and an often-overlooked topic when searching for a pad is thickness.
So, just how thick should a mattress topper be then? In this guide, we'll take a look at the different options available so that you can make the best decision and choose the right thickness for you.
Mattress Topper Thickness Options
If this is your first time shopping for a bed topper – or it's been a while since you bought one – you may be surprised to discover that mattress toppers aren't a one-size-fits-all situation.
2 inches
Everyone's sleep preferences vary. If you like the firm feel of your bed but want to add a little more body support, go with a mattress topper thickness of 2 inches. Most mattress toppers range from 2 inches to 4 inches. It's important to note that while a 2-inch pad may improve support, it won't necessarily do wonders. In this case, the thicker your topper is, the more you'll feel a difference.
3 inches
We all know the story of Goldilocks and the Three Bears. In this children's story, it was the middle type that was always just right, and when shopping for a mattress topper, you may find yourself in the same scenario. Three inches is an excellent option if you aren't sure yet what pad thickness you prefer. The 3-inch mattress topper also tends to be a popular size among consumers.
4 inches
Of course, on the latter end of the mattress pads width spectrum is 4 inches. A 4-inch bed topper will be the best choice for those who crave a noticeably higher level of support while they sleep. Mattress toppers that are 4 inches thick are also great for side sleepers and people who tend to weigh more since they provide more comfort for your pressure points to help get that good night's sleep.
Want to know more? See our mattress topper for side sleepers guide here.
What to Consider When Looking for a Thick Bed Topper
You now have your heart set on getting a new mattress topper. However, there are also other factors in addition to the thickness you'll need to take into consideration.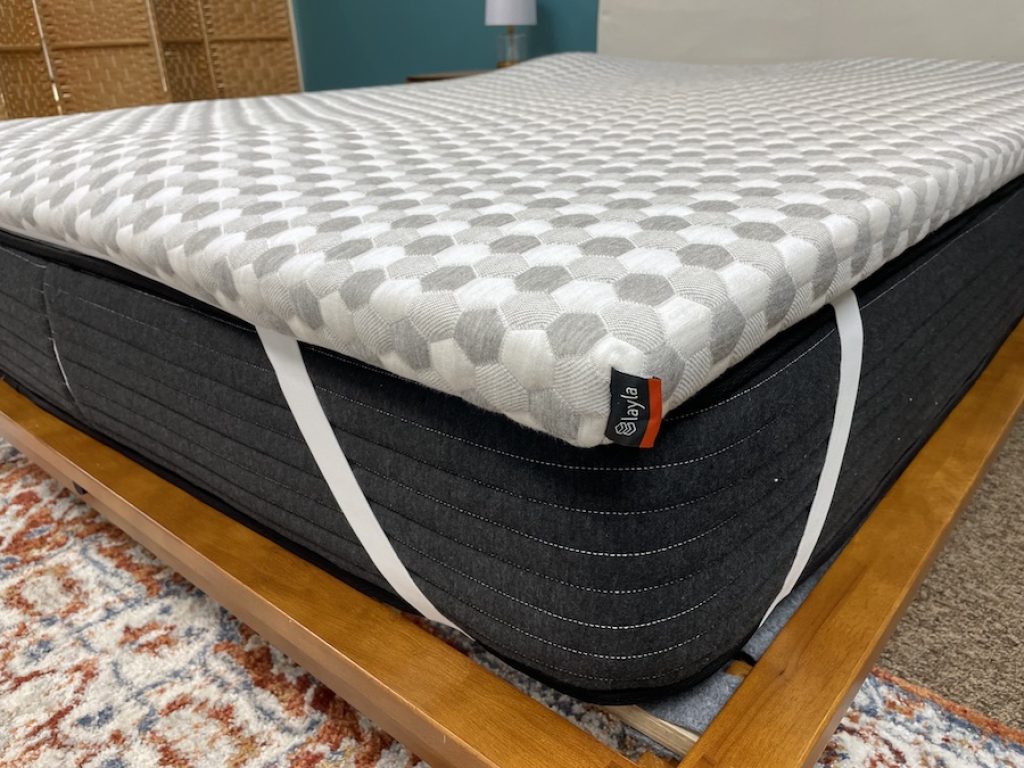 Size of the Mattress
Because toppers are essentially an extra layer to your mattress, the two should perfectly line up. For example, those with queen size beds need a topper to match a queen mattress. The good news here is that toppers come in various proportions to match your particular mattress size, making choosing the right one much easier.
Need help? Check out our full mattress size chart here.
The Condition of the Mattress
When deciding on the thickness of a topper, you should also consider the condition of your mattress. If you have a newer mattress, you will be fine purchasing a 2-inch topper. However, if your existing mattress is older, you should look at toppers between 3-4 inches to provide you extra cushioning.
If you're looking for great mattress toppers but on a budget, check out our Best Affordable Mattress Toppers.
The Foam Density
Density is the measurement of an object's mass divided by its volume. For example, a box with more objects in it has a higher density than the same box with fewer objects. When it comes to bedding, manufacturers determine foam density by measuring the weight per cubic foot. So, say you're getting a memory foam topper, knowing the density tells you how durable the product is and how it may change the feel of your bed.
Who Would Benefit the Most?
As it turns out, choosing the right mattress topper can benefit many people – not just the side sleeper crowd.
People with Health Conditions
As much as diet and exercise are crucial for living a healthy life, so is getting adequate sleep on a regular basis. For those with certain health conditions, creating the best sleep environment possible can't be emphasized enough, and this is where a topper for your mattress can really make a positive impact. Overweight sleepers and those who need back pain relief or hip pain relief should consider investing in a good, thick mattress topper.
Get More Info: Best Mattress Topper for Back Pain
People with Allergies
Dust mites can cause allergic reactions, and unfortunately, one of their favorite hangouts is mattresses. Adding a mattress topper, though, can help protect you from those pesky dust mites and alleviate symptoms. You should also consider allergies when choosing between memory foam or latex. There are natural latex options, but it's best to consult with your doctor first.
Check out our Best Mattresses for Allergies for more mattress options.
Hot Sleepers
If you run hot at night, a mattress topper can be an energy-efficient way to help you stay cool while you sleep, and luckily, there are plenty of options specifically designed just for that. Give your energy bill some relief by not running to turn on the fan or air conditioning every time you wake up hot.
If you are currently pregnant make sure to check out mattress toppers that have extra support, and can adapt to your changing body. Our experts have compiled a great list for you on our Best Mattress Toppers for Pregnancy.
View Our Full Guide: Best Cooling Mattress Toppers
People Who Share the Bed With an Active Sleeper
Perhaps you sleep just fine, but the person next to you is an active sleeper, and it's keeping the both of you up all night. If your partner suffers from insomnia, a thick bed topper can help provide that extra layer of comfort and a better chance of falling asleep.
Conclusion
When you choose a mattress topper thickness, it can be as easy as A-B-C – or in this case, 2-3-4 (inches). Deciding on a mattress topper depends on a multitude of factors. Everything from mattress size to your health and body comes into play.
You also need to consider the topper materials. Is a latex topper the right fit? Or are you the type that would prefer a memory foam?
And then there are the financial benefits. Not only are mattress toppers energy efficient, but they can also prolong the life of your mattress.
Rest assured, getting the best one is just one of the ways to sleep better.
Jill Zwarensteyn
Editor
About Author
Jill Zwarensteyn is the Editor for Sleep Advisor and a Certified Sleep Science Coach. She is enthusiastic about providing helpful and engaging information on all things sleep and wellness.