Transparency Disclosure – We may receive a referral fee for products purchased through the links on our site... Read more here.
Disclaimer - Nothing on this website is intended to be a substitute for professional medical advice, diagnosis, or treatment... Read more here
While grass, dust, and pollen are common offenders for sneezing and wheezing, your mattress could cause you allergies as well. Mattresses can be surprising culprits of nasal issues, as they can trap a host of allergens, irritating air pathways, and potentially affecting your health long term.
Which Feature is Most Important?
We want to help you find the best product for your needs.
Click on your preferred option below and it'll lead you to our picks for a selected category.
Four main mattress culprits often cause allergies:
Fecal matter from dust mites – This is incredibly gross, but a reality in many innerspring mattresses.
Chemical components – Regulations encompassing the required use of a fire retardant combined with the tendency of some companies to cut corners by using cheap, synthetic materials mean you've got to be on the lookout for a mattress that's made with the right stuff.
Mold and mildew – If you live in a moisture-rich environment or you're a sweaty sleeper, it could lead to the growth of copious amounts of mold and mildew, both of which cause allergies and asthma.
Pet dander – We love our pets, but if you're remotely allergic, letting them sleep in bed with you could be exacerbating the problem. If your pets spend time outdoors and pick up all the other environmental allergens, the issue could intensify. You may need to leave pets out of the bedroom.
If you'd rather not go to this extreme, consider training your pet to sleep on its own bed inside the room. Or if you think that it's time for an upgrade, you can get a new mattress that may just be perfect for people who have allergies and asthma.
Our Best Mattress for Allergies Picks
Top 5 Beds for Allergies & Asthma Reviews
Nectar
CertiPUR-US® Certified
365-Night Trial
Forever Warranty
Nectar's affordable memory foam bed with high-quality textiles and extended sleep trial and warranty make it an exceptional value, but the bed's hypoallergenic touches are what can make it a great choice for allergy and asthma sufferers.
Its breathable cover is made with a poly-blend material that also features special cooling technology.
What makes it unique? The brand's online sales model and shipping approach lets them offer a lot of quality for a much lower price than you'd find walking into a store. Nectar is so confident that you'll love their bed, that they're giving you 365 risk-free nights to sleep on it and if you aren't 100% happy, they'll take the mattress back and refund your money.
While traditional memory foams can sleep hot, this mattress has developed some counter-measures to keep heat at bay. More breathable materials in the Tencel cover and gels within the foams can assist with temperature regulation. If you are exceptionally sensitive to smells, the "new car smell" of this mattress may require additional time to air out before you will be comfortable sleeping on it.
Want to read more? See our complete Nectar mattress overview.
Certified Organic Materials
Zenhaven
Dual-Sided
Certified Organic Cotton
OEKO-TEX® Certified
180-Night Trial
20-Year Warranty
Made in the USA
Maximizing your comfort and easing your breathing may come down to adjusting your sleep position, but it can be hard to know what position works best before you buy a mattress.
A dual-sided choice like Saatva's all-natural latex Zenhaven gives you two options so you're free to experiment and see what works best to keep you breathing easy.
What is its best feature? Dual-sided firmness expands your sleeping options and your comfort should be even more accommodated by the zoning in the bed's top layer of Talalay latex. This mattress promotes good spine alignment, which can also assist with easy breathing, by varying the firmness in the comfort layer across five different zones.
In addition to dual-comfort, Zenhaven's all-approach and construction should help keep unwanted allergens and chemicals away from your sleep space. The latex's natural breathability is enhanced by its aeration, which should also keep the surface temperature neutral. The certified organic cotton cover is also naturally resistant to molds and other potential triggers.
Interested in more details? Check out our review for Zenhaven bed.
PlushBeds Botanical Bliss
Certified Organic Cotton, Latex, and Wool
OEKO-TEX® Certified
GREENGUARD Gold Certified
100-Night Trial
25-Year Warranty
For those with respiratory sensitivities, an all-natural sleep experience may be best, and PlushBeds has made strides with their highly customizable Botanical Bliss model to provide one of the most organic sleep experiences available in the eco-friendly space. Its certified organic and natural materials should provide good resistance to bugs and dust mites mold, and a more natural approach to construction eliminates many unnecessary chemicals.
The Botanical Bliss offers a sleep experience that begins with circular knit organic cotton that is followed by several layers of Dunlop latex that provide both comfort and support. Each layer varies in density to foster a feeling that both cushions the sleeper while keeping them stable.
What's special about it? This model is available in a few different thickness options and firmness choices, depending on your own personal preference. Sizes Queen and larger can be split in half so that you and your partner may select the feel that works the best for your individual body types, which makes this an attractive all-natural choice for couples with different preferences.
Looking to learn more? See our full Plushbeds Botanical Bliss review.
Elements Latex
CertiPUR-US® Certified
OEKO-TEX® Certified
120-Day Trial
10-Year Warranty
Made in the USA
Latex is highly popular among hypo-allergenic choices because of its natural breathability and resistance to common allergens, but the material can fetch a significantly higher price than alternative bed building materials.
If you're on a tighter budget but still want a mattress that will help you breathe easier, Dreamfoam's Elements Latex may be worth looking into.
What makes it special? Dreamfoam is proudly committed to keeping their prices low and are able to offer excellent quality for the price by streamlining their designs, manufacturing at their own facility, and selling online. Similar mattresses in the retail space may cost you significantly more.
The cotton-blend cover is breathable and gives the bed an attractive finish. The all-foam design provides optimal spine support blended with pressure relief of Talalay latex in the middle. When ordering the bed, you can customize the firmness you prefer by selecting soft, medium, or firm, and if you're unsure, the company is happy to help with your selection.
Interested in learning more? Check out our Elements Latex bed overview.
Environmental Initiatives
Nature's Novel
OEKO-TEX® Certified
100-Day Trial
Lifetime Warranty
Charity Initiatives
Made in the USA
Sweet ZZZ's approach to mattresses is that everyone has different preferences and bodies and they didn't want to create one mattress, but a line of mattresses that were committed to healthier and better sleep.
Their approach with Nature's Novel is to provide all-natural Talalay latex, a high-end processing technique that produces a buoyantly comfortable material. The entire mattress is wrapped in a 1-inch cover made from natural wool and cotton, and this all adds up to optimum breathability that will discourage the growth of allergens that might trigger your sinus or respiratory system.
If you are concerned about temperature, you can rest easier knowing that latex is naturally temperature neutral and this material is manufactured with open cells that help heat escape the mattress. Cotton and wool are also naturally moisture resistant and inhospitable to dust mites.
What stands out? Nature's Novel is notable not only for its all-natural materials and high-quality latex but also for its higher-density 7-inch support foam that should provide ample spinal alignment while you lie cushioned by the pressure-relieving Talalay latex in the top.
Need more info? Read our full Nature's Novel mattress review.
How Allergies Affect Sleep
Insomnia
Being congested, sneezing, and having itchy, watery eyes or a constantly running nose are all bound to keep you up at night. People who are congested find it nearly impossible to find a comfortable sleeping position as their sinuses drain from one side to the other.
Feeling itchy, whether it's the eyes or the roof of the mouth, can also cause enough discomfort to prevent restful sleep. For some, these allergy symptoms are seasonal and temporary, but for those sleeping on a mattress that's triggering the allergies, the problem can last year-round and lead to chronic sleep deprivation.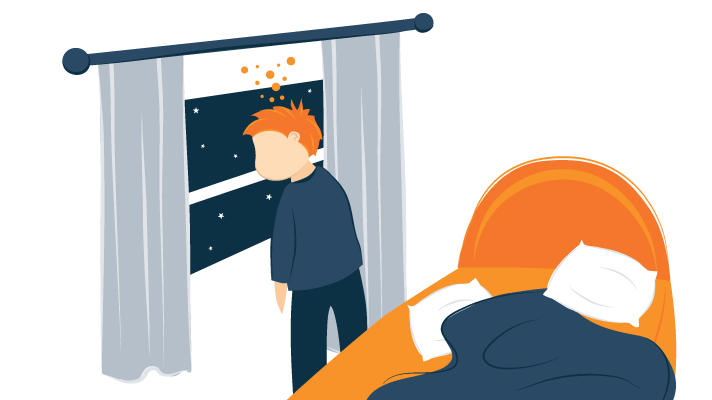 Daytime Drowsiness
Being up at night with allergies naturally leads to feeling fatigued during the day. To make matters worse, many people take allergy medication. Unless you get a non-drowsy formula, these over-the-counter solutions can cause even further sleepiness.
Sleep Apnea
Allergies, also referred to as allergic rhinitis, are linked to sleep apnea. Specifically, the type that patients tend to experience is OSA, or Obstructive Sleep Apnea. This condition occurs when the muscles in your throat relax to the point where it closes off or obstructs your breathing airway.
The result is being jerked awake to trigger or remind your body to resume breathing. Some patients report being conscious of waking up while others don't realize they've been roused out of sleep. People with sleep apnea can be woken up anywhere from half a dozen times per night to hundreds.
Allergy sufferers are prone to sleep apnea because the congestion narrows the airways, making it more likely to wake up due to the inability to breathe.
Looking for more info? Check out the most common sleep apnea signs here.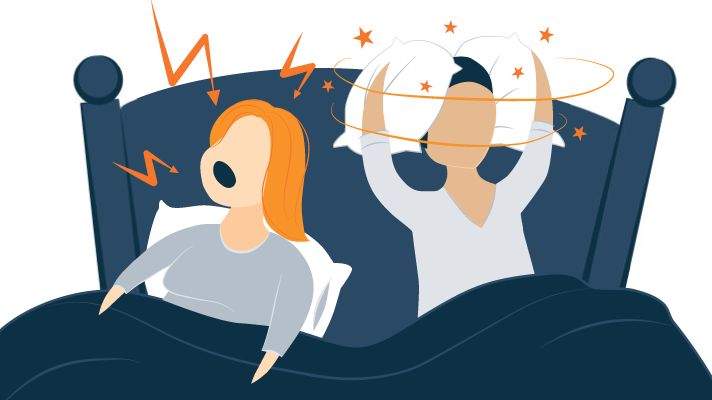 How to Choose Best Mattress for Allergies
Materials
Sleeping Position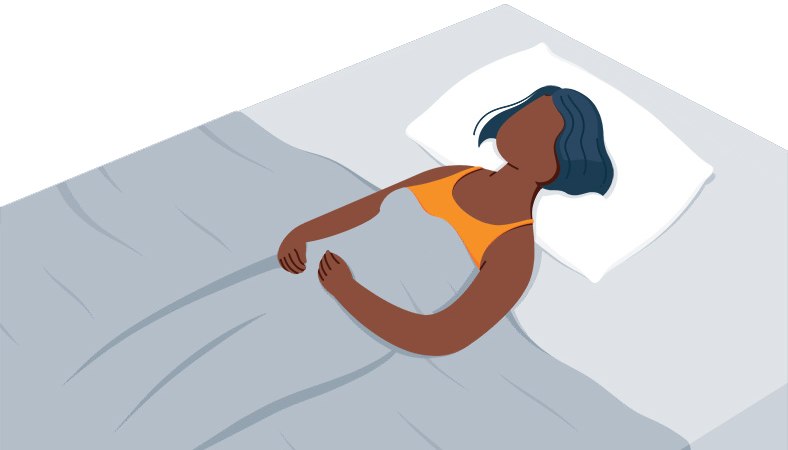 Bed Sheets
Pillows
How to Sleep Better with Allergies
Get a HEPA Filter
Monitor Humidity
No Pets in the Bedroom
Clean your Bed Often
Aromatherapy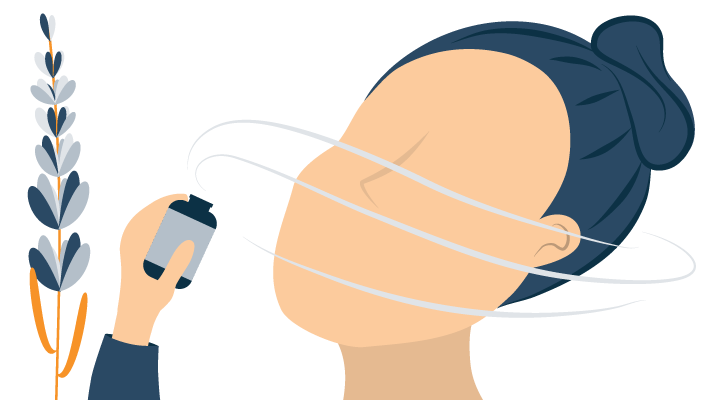 Frequently Asked Questions
What bedding materials are the most asthma friendly?
Natural materials are best for asthma. Chemicals and dyes can trigger an attack, while also making every day breathing more difficult. Materials that work well are:
Bamboo: it naturally resists dust mites, mold, and mildew
Silk: it has the same properties as bamboo, but it's softer
Cotton: the breathable fabric resists moisture buildup
Wool: wicks away moisture and resists dust mites
Can Latex Beds Trigger a Reaction?
Latex can have significant advantages for allergy sufferers because it is naturally resistant to dust mites, bacteria, and mold—all things that can stir up a reaction. But what does this mean for folks that are allergic to latex mattress?
According to research, most folks with latex allergies suffer from minor skin irritations from direct contact, so you should be fine with a bed that's wrapped in flame retardant "sock" and an outer cover. If your reaction to this material is severe, synthetic latex may be a safer bet, but you should definitely seek the opinion of your doctor before purchasing a latex mattress.
Is a memory foam mattress okay for allergy sufferers?
Yes, but with one caution. Cheaper memory foam mattresses have a habit of off-gassing. This is when the chemical compounds that make up the mattress break down and create an odor. While this odor hasn't been linked to any long-term health risks (yet), it has been known to cause allergies.
Therefore, if you're buying a memory foam bed, make sure you choose one with certifications like CertiPUR-US and OEKO-TEX. The recommendations we've provided in this guide have qualities that should be beneficial for allergy sufferers.
Need more info? Find out more about toxic materials in foam beds here.
Do latex mattresses get dust mites?
Even though latex mattresses are more resistant to dust mites, they're not completely immune. If there's a food source to be found on the surface (i.e. your dead skin cells or pet dander), dust mites will still feast away. However, latex is less likely to attract them in the first place.
The best insurance against dust mites in mattress is to keep it clean by vacuuming it regularly and washing your sheets weekly in hot water.
Read More: How To Remove Dust Mites from your Mattress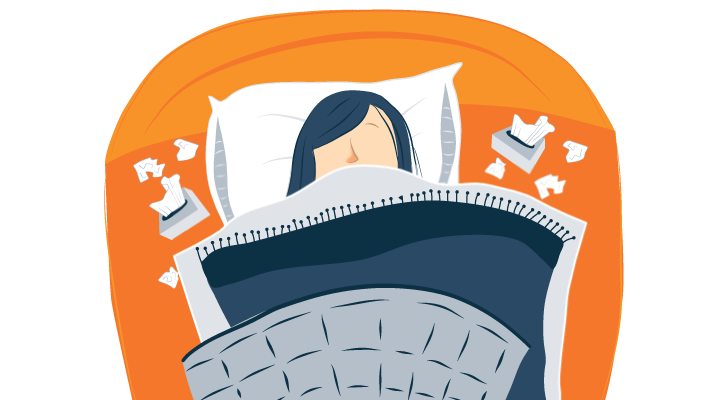 Do you recommend a hypoallergenic mattress cover?
Yes, 100%. This could be the most beneficial way to stop dust mites, and therefore allergies, in their tracks. A mattress cover creates a barrier between you and the mites in the mattress. Without access to their food source, they'll die.
Another benefit of a hypoallergenic mattress cover is that it if you're allergic to any part of your mattress (latex for example), the cover shields you from the material that could cause a reaction.
Conclusion
We tend to consider our homes a sanctuary from the outside elements, but sometimes a bedroom is a more of a breeding ground for allergens than a safe haven. Fortunately, having the right kind of mattress and keeping your bedroom clean both go a long way in decreasing and preventing allergies and asthma.
Our team covers as many areas of expertise as we do time zones, but none of us started here as a so-called expert on sleep. What we do share is a willingness to ask questions (lots of them), seek experts, and dig deep into conventional wisdom to see if maybe there might be a better path towards healthy living. We apply what we learn not only to our company culture, but also how we deliver information to our over 12.7M readers.
Sleep research is changing all the time, and we are 100% dedicated to keeping up with breakthroughs and innovations. You live better if you sleep better. Whatever has brought you here, we wish you luck on your journey towards better rest.