Asthma can be a severe health condition if not treated with care, but there are steps you can take to alleviate symptoms. By integrating simple practices like regular exercise and using a humidifier in your home, you can control your symptoms and keep this health-threatening and uncomfortable condition at bay.
Some children who suffer from asthma can grow out of the disease as adults, yet some battle it throughout their lives, and some individuals go years without any attacks at all. Asthma affects everyone differently and there are ways to help. This article will discuss the best rated humidifiers for asthma, the various types available, and how they can help.
6 Top-Rated Humidifiers for Asthma Review
Pure Enrichment MistAire Humidifier – Best Automatic Shut-Off Humidifier for Asthma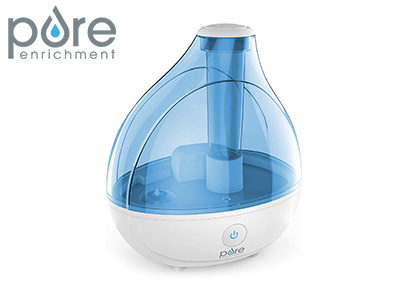 This device by Pure Enrichment has a clever automatic shut-off control that allows you to switch it on, and not stress if you forget to turn it off before you leave. Electronic devices can offer remarkable support; however, sometimes, technological complications can make life more confusing. This humidifier is simple to use, and you can leave it be, worry-free.
Additionally, it has an easy to fill water tank that you can fill up right from your kitchen or bathroom sink. One tank will keep your air moisturized for up to 16 hours on the high setting, possibly longer when on a lower output, which makes this device an excellent choice to use overnight.
The Pure Enrichment humidifier includes a cool ultrasonic mist and further enhances the air you breathe, so your lungs don't quickly dry out. You can adjust the mist speed settings allowing for personalized comfort levels and fully customizable airflow.
Honeywell Humidifier – Best Germ-Free Humidifier for Asthma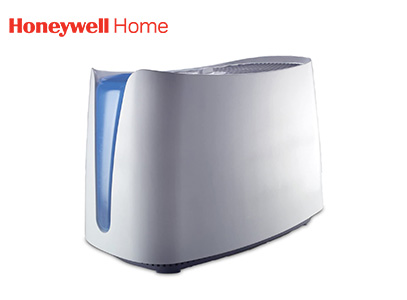 The Honeywell humidifier is a great choice when looking to heighten your health or eliminate potential household germs. Utilizing this device can kill off bacteria and viruses that lurk in your water by using ultraviolet light, providing peace of mind that your air is healthy to breathe.
The device works by pulling tap water into the UV path and exposing it to ultraviolet light, eliminating undesired, dangerous fungi. The clean water then enters the base of the device where it is pulled up into a wicking filter, dry air is drawn through the filter and absorbs the moisture, where a fine mist is then emitted into the air for quality inhalation.
Low humidity can dry out your skin and irritate nasal passages, and high humidity can create a sensation of stuffy air. According to the Mayo Clinic, keeping a humidity level between around 30-50% is ideal, this can make your air feel warmer, increasing breathability and letting you inhale comfortably.
Everlasting Comfort Cool Mist – Best Filterless Humidifier for Asthma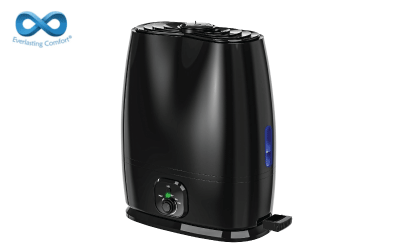 A common complaint from humidifier users is the frequent need to change out filters. However, the device from Everlasting Comfort eliminates this inconvenience, offering a more economical and sustainable design, saving you money, and helping the environment at the same time.
With the recent rise in essential oils' popularity, this humidifier incorporates the beneficial combination of scent and humidity. Essential oils have been shown in some cases to alleviate headaches, kill bacteria, treat acne, and promote good sleep.
If you appreciate the advantage of fragrances and don't want to fuss with filters, this device is a great option. With a built-in tray for essential oils, this humidifier releases a fine humidifying mist with a refreshing aromatic scent.
Choosing a machine that works without creating bothersome noises will be critical when looking for a device to help with more sound rest. The Everlasting Comfort uses ultrasonic technology, producing a remarkably quiet frequency, allowing you to rest comfortably.
Homech Humidifier – Best Cool Mist Humidifier for Asthma
The Homech humidifier releases a refreshing cooling mist to transform even the driest of environments to alleviate asthmatic symptoms. It uses a 360 degree nozzle to accommodate a variety of preferences making it remarkably customizable for any user, and a top choice for relieving nasal conditions.
This device has an auto shut-off feature as well, making it stress free to use if you accidentally forget to switch it off and leave your home. Convenient to transport around the house with a built in carrying handle, it's a perfect option for a variety of rooms making it ideal for offices, bedrooms, or nurseries.
Humidifying a dry environment with the Homech can help with chronic issues like asthma, improve dry skin, acne, wrinkles, nose bleeds, and even insomnia. Correcting poor sleep habits and an environment with comfortable airflow and humidity can alleviate even the most challenging of nasal symptoms, improving comfort and health.
Geniani Smart Humifidier – Best Aromatherapy Humidifier for Asthma
The Geniani aromatherapy humidifier combines two products into one smart device. Relaxing you with soothing scents while treating dry air, this clever product could significantly improve your air quality and mood at the same time.
According to the Mayo Clinic, while the evidence is inconclusive, some studies show correlations between aromatherapy and mental health issues like depression and anxiety. Scent can even help you sleep more soundly to wake up earlier, feeling more refreshed.
The smartmode sensor can help you maintain an ideal humidity level without constant monitoring with it's built-in intelligent sensor. Additionally, it lets you customize the moisturizing speed via three settings.
Ideal for sleeping, it emits sounds at a 38 decibel level, making it perfect for sensitive sleepers. With the soothing nightlight, it can comfort small children in the dark as well, and will automatically shut off if there's no water in the tank.
Asthmatics Humidifier Buyer's Guide
Below we'll detail the various features that can be found in humidifiers and how they can provide benefits like waking up earlier and easier breathing.
Related: Best Mattress for Allergies
How Does a Humidifier Help with Asthma?
Asthma symptoms can be alleviated by better quality air which is why humidifiers can make a remarkable difference in the management of this chronic disease. Asthma can cause nasal passages to become dry and a humidifier can moisten these airways, allowing for stronger breathing.
Symptoms of asthma can be maintained by the use of humidifiers and may even limit the number of asthma attacks an individual experiences. The devices can ease dry throat and mouth discomfort through humidity, as well as lessen the stress of an individual who suffers from asthmatic symptoms, lessening worries of a flare up.
Maintaining a comfortable nasal cavity can keep stress at bay and minimize symptoms, as your mind isn't constantly triggering your muscles to contract in response to stress.
Types of Humidifiers for Asthmatics
There are a number of different types of devices to relieve asthmatic symptoms, below we'll break down how the functions work and how they can help.
Cool Mist (Evaporative)
Evaporative humidifiers are excellent choices if you have small children or pets since they don't use heat to operate, making them a bit safer than the alternatives.
They work by using a fan to shoot air over a wet wick, releasing moisture heavy air into your home, thus alleviating dry airways and easing chapped skin. Thes devices often cost less than ultrasonic models and usually don't use filters, making them more convenient than other options.
Warm Mist
While the end result will typically be about the same, there are a few aspects to consider before purchasing a warm mist humidifier. Cool-mist options are usually equally effective because by the time the mist hits the airways it's often the same temperature as the warm mist output.
For safety reasons, it's wise to pick a cool-mist device if you have pets or small children. A steam vaporizer or hot water can cause significant burns if someone gets too close or in the event of a spill.
Ultrasonic
Ultrasonic humidifiers are unique in that they use a metal or ceramic diaphragm which floats on the water tank supply's surface, and vibrates at high-frequencies to expel a fine mist from a fan. They can be a bit quieter than other models, making them a good choice for sensitive sleepers.
Ultrasonic devices can have warm or cool mist, or a combination of both, offering users a variety of options.
Impeller
An impeller is a function in a humidifier that expels a cool mist using a spinning disk to flick water onto a diffuser, which then breaks down the water into little droplets, emitting a soft mist into your home.
Keep in mind these tend to not be as quiet as other types, so if you're looking for a humidifier for a child or restless sleeper, this may not be the right choice. However, they're often less expensive as they use rotating parts.
What to Consider When Buying an Asthma Humidifier
Before purchasing a humidifier, consider the various features you might want included in your device to get the optimal effects for your needs.
Type of Mist
Evaporative cool mist humidifiers can be a bit noisier than other types due to their fan noise, however they can be less expensive. The ultrasonic warm and cool mist humidifiers are typically able to expel mist in a quieter fashion than their alternatives, making them great choices for sensitive sleepers.
If you opt for a warm mist humidifier, spills can happen, causing burns, so if you have pets or small children, keep this fact in mind.
Size
If you plan to sleep or live in a stationary environment, a large humidifier will likely work just fine as you won't be needing to tote it around. However, if you have a small apartment or plan on traveling frequently, moving around a larger device won't be ideal.
If you believe you may want something smaller, simply due to lack of space, or frequent travel, a travel size humidifiers offer similar benefits in a smaller device.
Coverage
When selecting your device, be sure to check the square footage it's able to cover. Personal humidifiers can typically cover about 25 square feet, and large devices can cover up to 1,000.
However, too much humidity can be just as bothersome as too little, so going overboard and choosing one that's too big won't be helpful either. Check the details on the product before purchasing and just make sure it will suit your requirements.
Tank Capacity
The larger the device, the larger your water tank will be, so if it's important to you to not have to refill your humidifier often, or sleep through multiple nights without filling it each evening, consider how long the tank can run before filling up again.
If you don't mind refilling it and don't have a large space to humidify, a smaller device should work just fine.
Mist Runtime
Mist runtime will relate to the tank capacity in how long you can expect to receive a cooling or warm mist. The amount of water the device holds is the amount of mist it can release, and you can usually find this out by checking out the stats before you make a purchase. Some devices can go for days, having a long mist time with a large tank, and some mini travel humidifiers can only run as long as they're connected to a small water supply bottle.
Filtration
If you're concerned about cleanliness and bacteria, it's critical to search for a humidifier that includes a filter. Sifting out little unwanted intruders like mold, bacteria, fungi, and bugs is crucial if you don't want to be spreading these throughout your home.
Many humidifiers come with a filter, however, ultrasonic types often do not use filters as they use sound vibrations without heat to create their mist.
Nozzle
The nozzle is where your mist will be released so when purchasing your humidifier think about how you want to use your device. If you're going to use it in a small room for personal use, having a nozzle that will spray in multiple directions might not be of importance. However, if you plan to use it in a large area, having a dual-outlet nozzle releasing in two directions might be useful.
Aromatherapy
If you enjoy scents, are interested in aromatherapy, or simply think you might want to try it to relax, investing in a humidifier that doubles as an aromatherapy device is a great idea. While the evidence isn't yet proven by the scientific community, according to the John Hopkins study mentioned above, aromatherapy was shown to help the human body in numerous ways, aiding in moods and even mental health.
If you're interested in aromatherapy, be sure to check the device has the capacity to incorporate essential oils.
Sound
Keep in mind how well you sleep with noise factors when selecting a humidifier so you're not disturbed while you're snoozing, working, or studying. Some models will certainly be quieter than others and noise will depend on which type you choose. Warm mist models are often a bit quieter, however, it's a good idea to check the reviews ahead of time or save your receipt in case the one you purchase is too loud.
Allergy and Asthma Certification Program
The Allergy and Asthma Certification Program certifies products that meet the high standards of the Asthma and Allergy Foundation of America. This organization is a non-profit committed to finding a cure for asthma and controlling it's symptoms for those afflicted. When looking for a humidifier, keep an eye out for this certification, and it will let you know when a device is a quality product.
Bonus Features
Many humidifiers have bonus features that can come in handy like auto-timers, special controls, nightlights, and UV-C lights. Additional features like UV-C lights can provide additional benefits like germ control and bacteria elimination while filtering the tap water through your humidifier.
Additionally, if you have a child, a nightlight might be a nice addition if they're afraid of the dark, offering two products in one.
How to Maintain a Humidifier for Asthma Sufferers
If you suffer from asthma, buying a humidifier is only the first step, maintaining your product will further help keep your air clean and healthy.
Change Old Water
Changing out the water often will help to keep bacteria, mold, and viruses from multiplying in your home. Reusing old water will simply keep recycling dirty air and water through your home, and eventually your water will run out without refilling you tank, defeating the purpose of having a humidifier to help with asthma.
Use Distilled or Purified Water
The less mineral build-up you have in your humidifier, the cleaner your air will be, and breathing purified, clean air can help tremendously for asthma and allergy sufferers. If you can afford it or have access to distilled or purified water, this will help keep undesired additives out of your air.
Maintain the Filter
Maintaining your filter is imperative to keeping the air in your home healthy and clean to control asthma and allergies, so it's wise keep an eye on it and change it regularly. Have a look through the instructions and see how often the company recommends to change the filter so that it doesn't become overly dirty with build-up.
Clean the Tank
Cleaning your tank regularly can make a significant difference in the air you breath, and therefore your asthma. Before cleaning your device, check the instructions to see if it requires any specific procedure. Otherwise, you can often run water and vinegar through it to remove dirt, grime, germs and bacteria.
FAQ About Humidifiers for Asthma
Is it safe to use a humidifier around kids?
This depends on your perspective and to some, how old (and careful) your kids are. Keeping a humidifier around the house with kids who suffer from asthma and allergies can be enormously helpful for their physical wellbeing and even their mental health. It's easy to become run-down in mood when your physical health is low.
However, if you have a warm-mist humidifier, keeping hot water around or a humidifier that lets off a hot steam could be dangerous as they can cause burns if spilled. If your children are rambunctious, clumsy, or simply small, it might be wise to use one that doesn't heat the water too much before release.
In case you're looking for baby-friendly humidifiers here's our list with top-rated picks.
How does the air become dry?
You've probably noticed during cold months the frigid air dries out your skin and nasal cavities, this is because the humidity in wintertime is low. As you crank up the heat in your home, it increases the temperature but not the humidity, causing the air to become painfully dry in some cases, even causing skin around knuckles and joints to crack.
Additionally, if your home isn't properly insulated, it can wind up pulling outdoor air in, causing it to become even more dry and uncomfortable and losing more humidity in the process.
Is it safe to use a vaporizer?
We recommend using vaporizers with caution due to the fact that they heat water to a high degree before releasing a hot steam into the air. While these devices can indeed help tremendously in improving air quality and alleviating asthmatic symptoms, they can also present a danger in the home.
If these devices are spilled or hands are placed directly over the output nozzle, an individual could severely burn themselves, causing intense pain and even scarring. If you do decide to use a vaporizer, be sure to do so with caution.
What is the ideal air moisture level?
According to the Mayo Clinic, you'll want to maintain a moisture level of about 30-50% when looking to alleviate asthma or allergies. However, according to some sources, 40-60% is ideal, and you may have a personal preference as well depending on your individual needs.
Every person is different, and some individuals may suffer more from dry skin or nasal passages, and some may suffer more from other afflictions due to asthma symptoms. If you keep a humidifier around, be certain to maintain the device to ultimate optimization to keep your air at a healthy humidity level.
Conclusion
Frigid, dry air can turn small issues for most people into larger, debilitating issues for others, like those who suffer from chronic health afflictions like asthma and extreme allergies. However, luckily they can be treated with humidifiers, offering a wide variety of products to ease your pain and discomfort.
Suffering from these issues can feel frustrating and upsetting at times, however we hope that by the end of this article you're feeling hopeful. Asthma may be a lifelong condition, but your symptoms don't have to be, with a few simple changes, improvement could be just around the corner.
More Reading: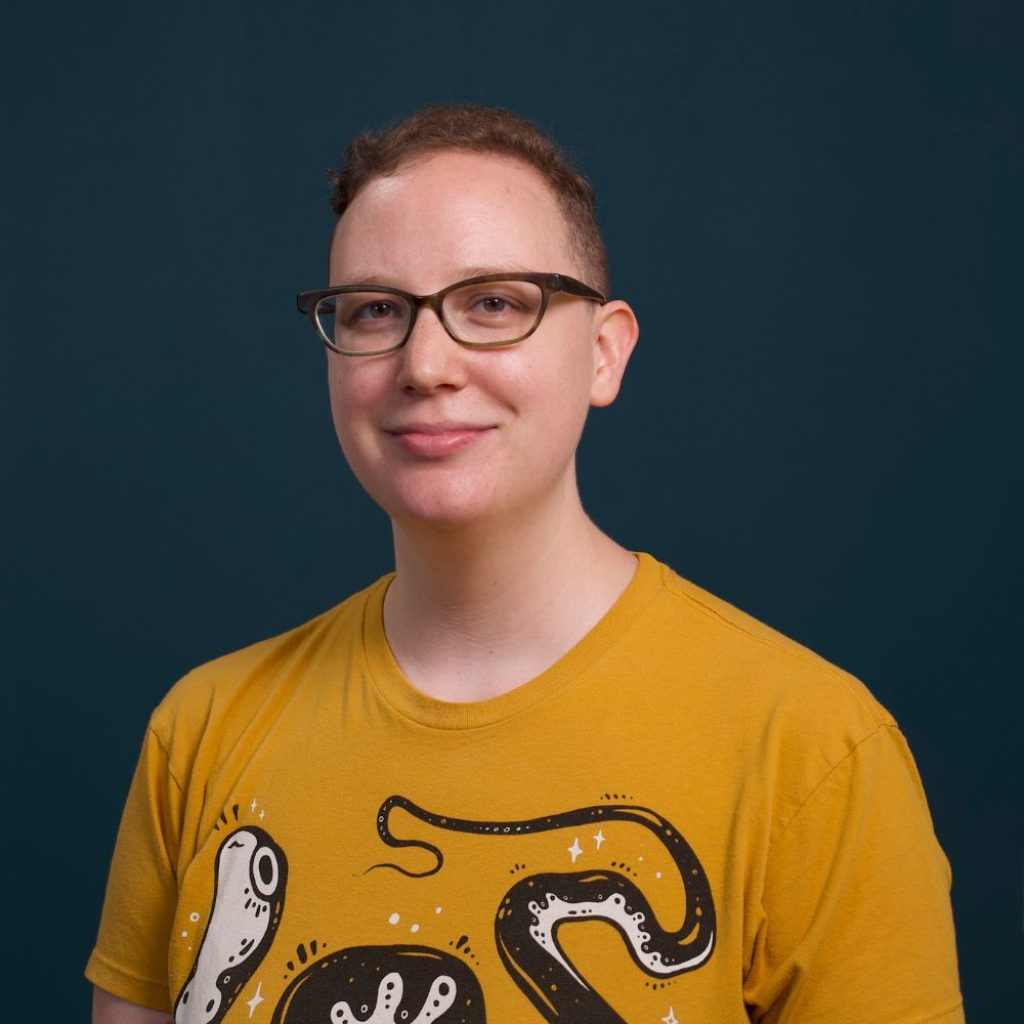 Melanie Kassel
Performance Editor
About Author
As Sleep Advisor's Performance Editor, Melanie writes and edits content throughout the site to ensure it's accurate, engaging, and up-to-date.