Transparency Disclosure – We may receive a referral fee for products purchased through the links on our site...

Read More

.
Does your entire mood brighten when you walk through an aromatic garden or smell the intoxicating aroma of freshly baked cinnamon rolls? Scents have the ability to evoke powerful emotions and memories, but that's not all they can do.
Aromatherapy is a centuries-old practice dating back to early Roman, Chinese, and Egyptian cultures and is even referenced in the Bible. Essential oils have grown in popularity over the last few years as scientists have been studying their many health-promoting benefits, including relieving stress, balancing moods, reducing pain, and improving sleep.
Keep reading to see our top picks of essential oils for sleep.
10 Top Rated Essential Oils for Sleep Reviewed
Healing Solutions –
Editor's Choice
6 pack and 28 pack of different blends
0.33 Fl Oz (10ml) glass bottles with built-in eyedropper
100% pure – GC-MS tested for purity & dilution
Bottled in the USA
This Best Blends Top 6 Set by Healing Solutions is the perfect starter kit for anyone looking to test out some aromatherapy blends. This kit has massive value with a variety of blends in 10 mL sizes. The blends include Breathe, Deep Muscle, Good Sleep, Head Relief, Health Shield, and Stress Relief.
The Good Sleep Blend contains a mix of calming Clary Sage, Copaiba, and Lavender. The Stress Relief Blend is also a great choice for promoting relaxation with scents like Cananga, Geranium, Lemongrass, and Sweet Orange. Each of these premium blends contains 100% pure, therapeutic-grade essential oils that have undergone rigorous quality testing and are FDA registered.
Healing Solutions is a company that was founded with the goal of providing high-quality aromatherapy options without the high prices that larger companies charge. It offers a wide range of single oils, blends, and kits at affordable prices.
Radha Beauty –
Best for Stress Relief
4 Fl oz (120ml) glass bottle with built-in eyedropper
100% natural lavender oil sourced in France
Packaged in the USA
Cruelty free and Vegan
If stress is causing you to toss and turn all night, aromatherapy can help. A lot of research has been done on the use of essential oils for stress relief. You can add a few drops to a bath, make a spray to spritz on your pillow before bed or have your partner give you a relaxing massage with a couple of drops mixed in a carrier oil.
This 4 oz. bottle of 100% natural and therapeutic grade lavender by Rhada Beauty has a smooth and warm fragrance. This oil contains a blend of natural isolates from Lavender sourced in France, where this beautiful purple flower grows. With 120 mL in each bottle providing thousands of drops, you should never have to worry about running out.
Radha Beauty packages its oils in the US using cobalt blue bottles to provide ultraviolet light protection. Each bottle comes with a premium quality glass dropper so you can conveniently access your oils.
Healing Solutions –
Best Blend
Sizes: 0.33 Fl oz, 1 Fl oz, 2 Fl oz, and 4 Fl oz
100% pure – GC-MS tested for purity & dilution
Glass bottle with built-in eyedropper
Mix of clary sage, copaiba and lavender
Bottled in the USA
Aromatherapy blends have the benefit of combining the amazing properties of multiple oils into one powerful blend. When oils are paired together, many of their benefits are enhanced. Most blends are created to focus on a specific benefit, such as stress relief or relaxation.
This Good Sleep Blend by Healing Solutions is designed to enhance rest with calming aromas like Copaiba, Lavender, and Clary Sage. This blend is packaged in an amber bottle for light protection with a European dropper cap and comes in multiple size options from 10 mL up to 120 mL.
Healing Solutions sources plants and flora that are grown in their natural environments to ensure the highest therapeutic content possible. They use a superior distillation and bottling process to ensure none of the delicate oils are damaged. Rigorous quality testing and control are performed for purity so you know exactly what you're getting in each bottle.
Lagunamoon –
Best Gift Set
6 pack
0.33 Fl oz (10ml) bottle with pressurized dropper hole
Includes lemongrass, peppermint, orange, lavender, eucalyptus and tea tree oil
Gift set packaging
This high-value gift set by Langunamoon contains six 10 mL single essential oils including Tea Tree, Eucalyptus, Lemongrass, Peppermint, Orange, and Lavender. This provides endless blending options or the ability to use a single aroma. There are so many ways to experience the benefits of aromatherapy including diffusing, in the bath, topically, for toxic-free cleaning and more.
Eucalyptus, lavender, tea tree, and sweet orange can be used to promote calmness and peace of mind. For a natural energy boost after a poor night's sleep, Lemongrass and Peppermint can be used to promote clarity and relieve fatigue. Many people use these oils to enhance spa treatments, for balancing chakras, in yoga and meditation, or for a quick pick-me-up at the office.
This set comes in a beautiful case with a usage guide, making it a great gift for a friend or loved one. Save money with this gift set that gives you six bottles for the price of what many companies charge for one.
Handcraft Blends –
Best Lavender
4 Fl oz glass bottle with glass dropper
100% pure lavender oil
Tested for quality by an independent lab
Not tested on animals
Bottled in the USA
Lavender is one of the most well-known and widely used oils in aromatherapy thanks to its calming and relaxing properties. Lavender's scent is fresh, floral, and clean, evoking feelings of peace and tranquility. Many sleep-related products are scented with lavender because of its rich terpene profile including phytochemicals like linalool and myrcene.
This premium therapeutic grade lavender by Handcraft Blends arrives in a generously sized 120 mL amber glass bottle for protection against sunlight and UV rays. A premium glass dropper is included to make it easier to get the exact dose you desire without wasting any of those precious drops.
Handcraft Blends sources its oils internationally and bottles them in the USA. Its products go through independent lab testing to ensure their purity and the absence of fillers, additives, or dilution. This extra testing is done so that you know exactly what is in each bottle before you purchase.
Artizen –
Best Aromatherapy Set
14 pack of different scents and blends
.17 Fl oz (5ml) glass bottles
100% pure and natural – tested for purity
Gift set packaging
This therapeutic grade aromatherapy set by Artizen contains 14 different scents, including Lavender, Sweet Orange, Rosemary, Cedarwood, Frankincense, Eucalyptus, Lemon, Peppermint, Tea Tree, Muscle Relief, Breathe, Good Sleep, Stress Relief, and Robbers. This set of single scents and blends has a wonderful selection to help you experience the many benefits of aromatherapy for sleep and health.
Artizen's good sleep blend is designed to promote a full night of calm and restful sleep and contains Chamomile, Clary Sage, Copaiba, French Lavender, Peru Balsam, Sandalwood, Sweet Marjoram, and Ylang Ylang.
Each 5 mL amber glass bottle contains 100% pure oil that has not been diluted or adultered. The robbers blend is routinely tested for purity and other qualities so you know you're getting the highest quality available. This set is perfect for anyone just getting started with aromatherapy or as a gift for a friend or loved one.
Natrogix –
Best 9 Oil Set
9 pack of different scents sourced from all over the world
0.33 Fl Oz (10ml) bottles with pressurized dropper hole
100 Pure and Natural – GC/MS tested for purity and dilution
Bottled in the USA
Gift set packaging
This complete set by Natrogix Bliss contains 9 of the top therapeutic grade 100% pure scents in 10 mL sizes, including Tea Tree, Eucalyptus, Lemongrass, Rosemary, Lavender, Frankincense, Lemon, Orange, and Peppermint. Each set includes a beautiful box for storage or gifting and a recipe book with over 200 ways to use this Natrogix Bliss set.
These are some of the most popular oils on the planet that have been studied for their health-promoting benefits. Natrogix Bliss sources its products from all over the world where the plants naturally grow for the greatest therapeutic value.
Each amber glass bottle comes with an easy-use dropper and is packaged in an FDA certified facility in the USA. Every scent is free from pesticides, herbicides, GMOs, and other additives. Natrogix Bliss also provides a GC/MS report on every batch of oil so you can verify purity and potency.
URPOWER –
Best Diffuser Set
Set of 6 bottles and a diffuser
Includes 100% pure lavender, peppermint, sweet orange, eucalyptus, tea tree, lemongrass oils
Auto shut-off feature
Runs up to 6 hours
2 mist settings
7 color night light
No aromatherapy set would be complete without a diffuser, which distributes the oil into the air so you can benefit from the soothing fragrant mist. This can be especially beneficial for sleep, because you can be breathing in the calming aromas all night long.
This URPOWER ultrasonic diffuser uses a quiet technology to release a fragrant mist for up to 6 hours with an automatic shut of safety system. This diffuser also functions as a humidifier, adding moisture to the air that may also help you to sleep better. The diffuser has many bonus features, including 7 color changing lamps and a nightlight.
Included with this diffuser are six 10mL bottles 100% pure essential oils such as Lavender, Peppermint, Sweet Orange, Lemongrass, Tea Tree, and Eucalyptus. This would make the perfect gift for a birthday, Christmas, or just to pass on the health-promoting benefits to a friend or loved one.
Sky Organics –
Best for Massage
1 FL oz (30ml) bottle with pressurized dropper hole
100% Pure – Steam-Distilled Lavender essential oil
Cruelty free and Vegan
USDA certified organic
If you love how you feel after a stress-relieving aromatherapy massage at the spa, why not experience the same benefits in the comfort of your home? Now you can with this organic French Lavender oil by Sky Organics. This 100% pure, natural oil is steam distilled in the South of France by artisanal farmers.
The organic certification guarantees this oil is free from chemicals, pesticides, or other harmful additives. Being organic makes this a great option for use on the skin like for massage or other topical uses. This eco-friendly product has never been tested on animals and is undiluted.
Lavender has multiple health benefits such as mood-boosting, calming, aches and pains, and sleep. There are limitless uses for this Lavender by Sky Organics including DIY recipes, diffusing, hair serums, and more. Aromatherapy is a natural mind-body approach for easing physical, mental, and emotional ailments.
Edens Garden –
Best for Pain
0.33 FL oz (10ml) bottle
Blend of  peppermint, clove bud, wintergreen and helichrysum
100% Vegan
Not tested on animals
100% Pure
GC/MS tested by third-party experts
If aches and pains have been keeping you tossing and turning all night, then essential oils may be able to help. When applied to the skin using a carrier oil, they can be very soothing and reduce pain and inflammation.
This Muscle Relief Blend by Eden's Garden has a minty fresh aroma thanks to Wintergreen, Peppermint, Clove Bud, and Helichrysum. This synergistic blend has soothing properties that encourage healing at the root of the pain. Used aromatically, this blend can also be used to promote focus and concentration.
Eden's Garden is a female-owned and family-operated company that has been in business since 2009. It has been voted the number one non-MLM essential oil company since 2016 thanks to its dedication to expertly formulated products. This company has over 200 single and synergy blends and offers only pure, safe, and effective products.
Best Essential Oil for Sleep Buyer's Guide
How This Product for Relaxation Relieves Stress?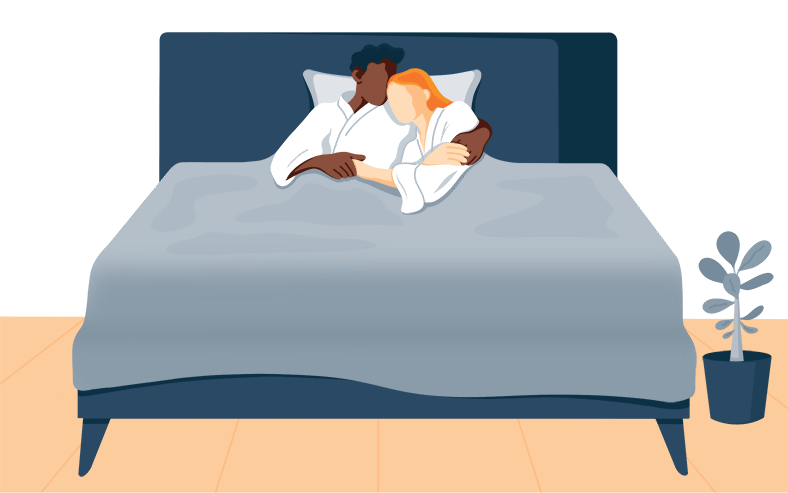 Stress can leave your mind and heart racing, unable to relax when it's time for sleep. One of the amazing properties of essential oils is their ability to promote relaxation. A huge body of research is pointing to the many benefits of aromatherapy in reducing anxious thoughts and relieving the symptoms of stress.
You've likely experienced the power of aromatherapy without even realizing it. When you peel an orange and smell that fruity aroma or pick fresh herbs from your garden, you're breathing in the aromatic essence of plant-based essential oils.
The power of aromatherapy is in its ability to influence the brain and nervous system. Your sense of smell is connected to the areas of the brain that control mood and emotions via the olfactory nerve. Smell is the only sensory input that goes directly to the amygdala or the area that controls emotional reactions and memory.
Disorders Relaxing Essential Oils Help You With
Snoring and sleep apnea can negatively impact breathing and interrupt sleep. Many people use aromatherapy to promote clear and open airways, which in turn can help them to sleep better.
Another disorder that is associated with insomnia and other sleeping difficulties is depression. Aromatherapy has been studied for its ability to boost mood and relieve many of the symptoms of depression. Inhaling the aromatic scents allows them to cross the blood-brain barrier where they can have a direct effect on mood.
Aromatherapy Oils for Deep Sleep
Aromatherapy is a safe and natural solution for difficulties with falling and staying asleep, promoting deeper and higher quality sleep. There are many options, but a few are best known for their calming properties.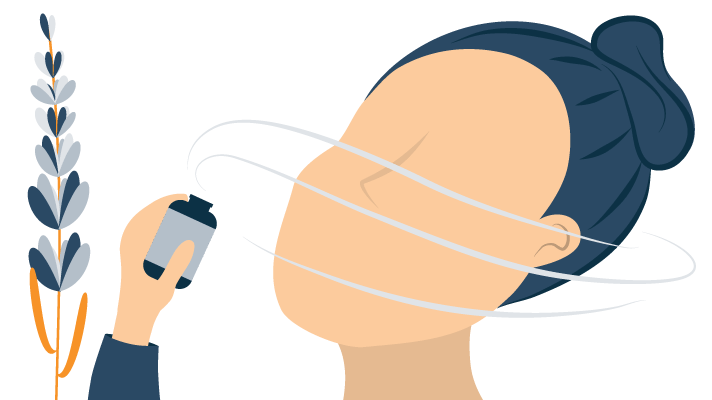 Lavender is one of the most well-known and widely used essential oils. It has an excellent track record when it comes to improving the quality of sleep and reducing symptoms associated with restlessness and insomnia.
Lavender is a purple flower that is native to Southern France and has a fresh, floral aroma that many people love. It has been well-studied in research for its ability to improve depression, anxiety, pain, and more.
Bergamot, Lemon and Other Citruses
Essential oils are adaptogens, meaning they can have different responses depending on who is using them. Citrus scents can be very uplifting in some individuals, helping them to feel energized and focus on important tasks at hand. In other people, they are very calming, promoting rest and relaxation.
Once you know how these aromas affect you individually, you can tailor the scents you use at different times of the day. For sleep, citrus pairs nicely with woodsy Frankincense or Vetiver.
Sandalwood has an earthy scent and has been used historically for promoting relaxation and calming. In research, Sandalwood was shown to increase non-rapid eye-movement sleep and reduce wakefulness in animals. There are many varieties of this oil depending on where it is sourced from, each with a slightly different woodsy aroma.
Jasmine is a white flowering plant with a sweet aroma. Its fragrant smell has been used extensively throughout history for aromatherapy, in perfumes, and in many other products. Jasmine has calming properties that may help promote restful sleep and minimize anxious thoughts.
Vanilla is a staple when it comes to baking, but you may be surprised to know that it has many beneficial properties when it comes to relaxation and rest. Vanilla has been used to calm the nervous system and to help relieve depression and anxiety.
Geranium and Rose are flowers that are grown for their beauty and fragrant floral aromas. These oils are very similar in scent and can be used alone or in combination to reduce stress and anxiety. They may also be beneficial for those struggling with sleep.
Essential Oils for Calming Use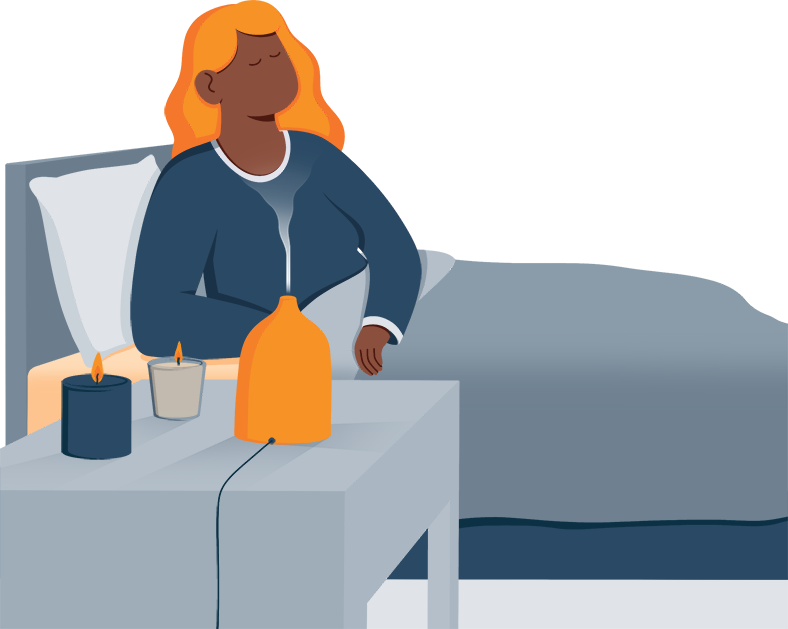 There are so many ways to enjoy the benefits of aromatherapy. If you're just getting started, here are a few ideas for you to try:
Add a few drops to a diffuser to disperse into the air


---

Open a bottle and inhale the aroma


---

Dilute a few drops with a plain, unscented lotion or carrier oil and massage onto the body


---

Place a few drops in a spray bottle along with water and mist onto your billow before bed


---

Add several drops to your washer or dryer for a fresh and clean smell


---

Make your own homemade cleaning products using essential oils, baking soda, and vinegar


---

Add a few drops to your bath along with Epsom salts and baking soda for a calming detox bath


---

Add a few drops to your shower floor to create your own personal steam room


---

Place a few drops in a bowl of boiling water and use a towel over the bowl and your head to create a tent effect to clear the airways


---

Create your own personal roller bottle blend and rub on your wrists, feet, or behind the neck as needed
Individuals with allergies or sensitive skin should use caution when first using essential oils. Always dilute oils before using topically with a carrier oil such as organic coconut oil.
How to Apply Safely With Children?
It's advised to wait until babies are 6 months of age before using aromatherapy. As always, check with your child's pediatrician before beginning any natural remedy. Children are more sensitive to additives and synthetic ingredients, so only choose pure essential oils, preferably with organic certifications.
Just like with adults, the safest ways to use aromatherapy with kids are topically and in a diffuser. Children are smaller than adults and require fewer drops to have the same effect.
The bottom of the feet is one of the best places to use oils topically with kids because the skin is less sensitive and there are nerve endings that correspond to areas throughout the body. When you apply them to the bottoms of the feet, they are absorbed into the bloodstream and can travel all over the body.
Most companies offer a dilution ratio based on your child's age, so be sure to follow the recommended guidelines.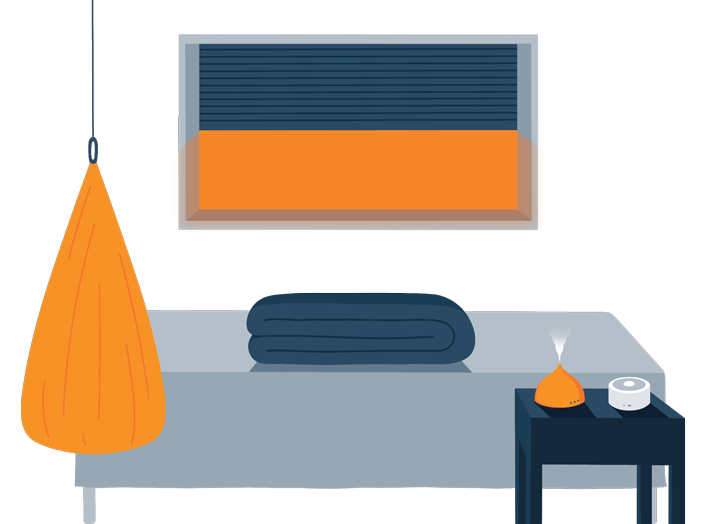 Frequently Asked Questions
Where can you buy essential oils?
Aromatherapy has become increasingly popular, so it's much easier to find products in local health food stores, pharmacies, retail stores, and online.
Regardless of where you buy your oils, it's important to look for oils that are certified and pure. Only buy 100% pure oils and look for those that are organic, non-GMO, and therapeutic grade.
Conclusion
Aromatherapy has been used extensively throughout history for its many benefits for the body, mind, and soul. Essential oils have recently made a comeback and many people are using them to promote rest and combat stress that can disrupt sleep.
Their growing trend means there are plenty of options on the market to choose from, so knowing what to look for in terms of quality and purity is important. Shopping online is a great way to compare brands and find the best options for your budget. Hopefully, this guide has given you all the info you need to know to get started with essential oils for sleep.