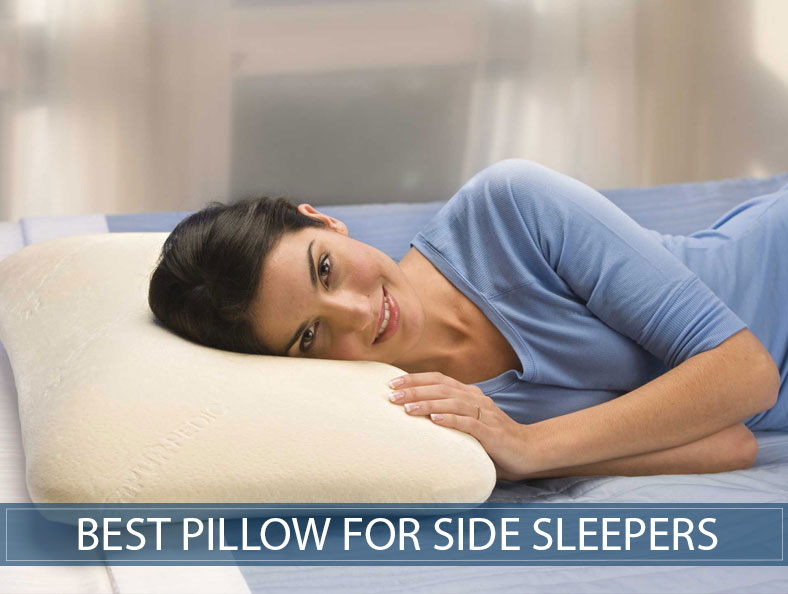 Most people are going to fall into one of three categories when it comes to sleep. Most people sleep on their stomach, side, and back. There isn't a 'right or wrong' when it comes to sleeping positions. Almost everyone seems to have their own personal preference. Some people even use all three positions during sleeping. However, you probably use the one that is the most comfortable for you.
We are going to be looking at some of the best pillows for side sleepers. Thankfully there is plenty of good products to choose from. There are plenty of options for pillows that complement the side-sleeping style. In fact, there are so many options that you may struggle to narrow the list down at first. That's where we come in.
Top 10 Pillows for Side Sleepers – Reviews for 2017
| IMAGE | NAME | FILLING | THICKNESS | MATERIAL | RATING |
| --- | --- | --- | --- | --- | --- |
| | Snuggle-Pedic Bamboo Shredded Memory Foam Pillow | Memory foam | 5.7" | Bamboo Derived rayon | |
| | Coop Home Goods Shredded Memory Foam Pillow | Memory foam | 3" | Bamboo Derived Rayon | |
| | Down Alternative Pillow from Five Star | Down alternative | 3.5" | Cotton | |
| | Good Life Essentials Shredded Memory Foam | Memory foam | 5" | Memory foam | |
| | Malouf Zoned Talalay Latex Pillow | Latex | 2.8" | Latex | |
| | Iso-Cool Memory Foam Pillow | Memory foam | 4" | Cotton Blend | |
| | Beyond Down Gel Fiber Side Sleeper Pillow | Gel, Fiber | 5" | Down | |
| | Classic Brands Conforma Memory Foam Pillow | Memory foam | 4.5" | Velour | |
| | Buckwheat Pillow by ComfyComfy | 100% Organic Cotton Twill | 3" | Buckwheat Hulls | |
| | Mediflow Original Waterbase Pillow | Polyester | 4.5" | Cotton | |
3 Major Buying Considerations
So what exactly should you be looking for in a pillow? Especially if you are someone who likes to sleep on your side? First and foremost, you want to find a product that is going to be supportive enough. It has to keep your head in the comfortable position. Your shoulders should need to be resting on the mattress. This means that your neck will be several inches up off the bed.
If you were to lay this way with a very soft pillow, or with no pillow at all, your head would hang down at an awkward angle. Naturally, this would lead to a bad night with little sleep. Of course, you could sleep through the night with your head hanging down this way. However, you would likely wake up with a pretty nasty neck ache.
Instead, you want to have a supportive pillow under your head. This will allow your neck to maintain a straight line between your spine and your head. When you can keep everything in alignment from your head on down into your spine, you will sleep better. Not to mention how you will also avoid dreaded neck aches in the morning.
Cost is a Factor, As Always
Does the price matter when making a buying decision? Well, yes – of course, it does. You always have to check the price of any product before you buy it. This is understandable since everyone lives on some kind of budget. But, you might not have to worry about cost as much as with other products. Especially since most of them are relatively affordable. Where you could spend thousands on a quality mattress, you shouldn't have to go too deep into your bank account to find the money for a good pillow. You don't need as much money for a good pillow. Not even close. Be sure to think about cost while you shop, but it should not be the only criteria on your list.
We will get further into this topic later in the article, but you do want to be sure to check on the material. Different materials are going to offer different sleeping experiences. This means that you should pick one that lines up with what you prefer from your bedding. There is not one material that is 'best', so the key here is to review all options before making a final decision.
Most likely, you don't want to be back out looking for a replacement in a few months' time. Finding a model with a reputation for durability is a nice bonus. Everyone wants to feel like they have gotten a good deal when they spend their hard-earned money. Putting your money towards a quality product that will hold up over time is a good feeling. The reviews from previous buyers are a great way to gain an insight into a product. Those reviews will tell you about if a given product is good quality and if it is prone to some malfunctions.
Types of Side Sleeper Pillows
We mentioned fill materials briefly above, and we are going to go into further detail on that topic. You can find the detailed information in this section. There are many potential materials that you can find. The goal here is that materials need to offer a quality sleeping experience. For instance, down is a popular pillow fill material. Yet, you will not see it on this list because it is not particularly supportive. It can be extremely comfortable for those who sleep on their back.  On the other hand, side sleepers usually find that down loses loft through the night. It also fails to support their head with sufficient support.
So, if a traditional material like down is out, what are the best options? This discussion usually begins with memory foam. A memory foam pillow is a natural choice for a side sleeper because of the support that these models offer. The foam will not lose its loft during the night. So you can expect the same support in the morning as you had when you first went to sleep. Also, memory foam is rather dense and firm, so it should be easy to get into a comfortable position on it.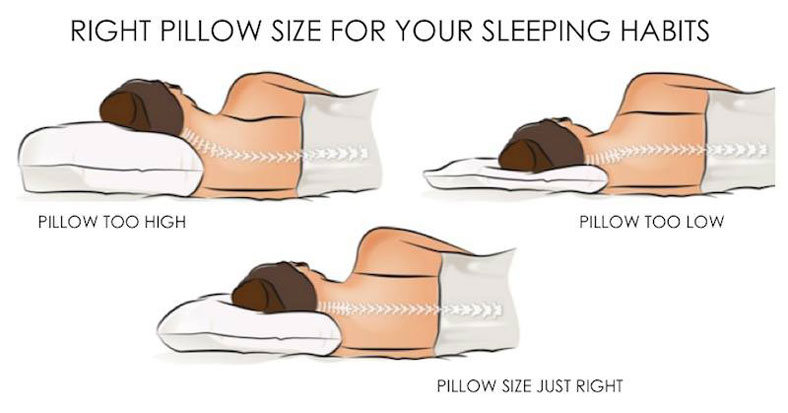 Benefits of Owning a Pillow for Side Sleepers
The obvious benefit of owning a pillow designed for side sleeping is the ability to get a great night of sleep. This is, of course, only if you prefer this sleep style. Most people underestimate the importance of sleep in their overall health. But that is a mistake you don't want to make. Make sure you have all of the products you need for a quality rest. Give yourself a chance to sleep well every time your head hits the pillow.Waking up refreshed is a great feeling, and it will help you to be at your best as often as possible.
Also, it is usually said that sleeping on the side is the best position of all for the health of your body. If you pick the right product, you may be able to find yourself in that position more often. Sort through your options, pick out a side sleeping pillow, for many restful nights that await you.
Individual Side Sleeper Pillow Reviews
The list below includes ten of the best pillows you can find for sleeping on your side.
Snuggle-Pedic Ultra-Luxury Bamboo Shredded Memory Foam Pillow
Shredded memory foam is a very sought after and a popular fill. So that is exactly what you will find inside this model from Snuggle-Pedic. This product has shredded memory foam on the inside. It also includes a micro-vented cover which is made in the USA.
It is machine washable, it has a 90-night sleep trial and a 20-year warranty. It is one of the more expensive options on the market, but that doesn't mean that you should cross it off your list. Most of the buyers seem to feel that they have gotten their money's worth. This is because it has earned excellent reviews across the board.
You will struggle to find many negative comments with regard to this product. Most love the way it performs night after night. The comfort is commonly praised, as is its ability to take away neck pain. As one of the top performers in this market, you would be wise to consider what the Snuggle-Pedic shredded memory foam option has to offer.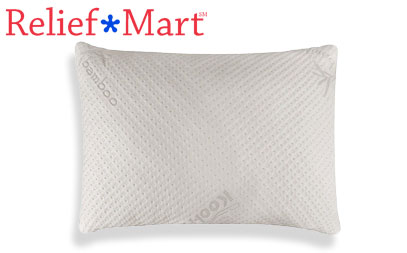 Coop Home Goods Shredded Memory Foam Pillow
This is another highly-rated product which includes shredded memory foam. This one comes from Coop Home Goods. With three sizes available – Standard, Queen, and King – you will be able to select the size that is right for your bed.
The cover is made from 40% bamboo, and you will be able to remove that cover easily in order to wash it. This is one of the leading sellers that you are going to find in this market. It is a sure sign that it offers significant quality and performance advantages.
The reviews that have been left for this pillow strongly reflect the benefits that it offers. There is a long list of past buyers, and the vast majority are greatly impressed with the product. This item has received praise for its immense comfort. It has a great ability to accommodate those with neck pain and more. Also, despite the popularity of this item, it is not sold at a premium. Compared with the rest of the market it seems to represent a great value.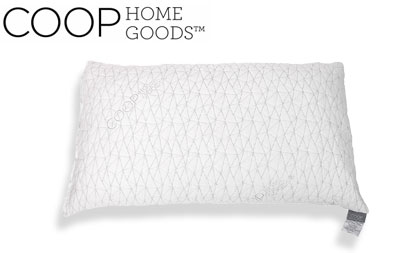 Down Alternative Pillow from Five Star
Moving away from shredded memory foam, we find one that uses a down alternative fibre. Since memory foam is not included, you will find that this is one of the most affordable options.
You will love the cost savings available for this product. The cover is made from 100% cotton and is machine washable. You will receive slightly mixed messages when checking out the reviews. While some buyers feel that the product is too firm, others state that it is not firm enough. What does this tell us? Mostly, it speaks to the individual nature of this kind of purchase.
There are plenty of happy buyers as well, so obviously, this pillow is doing something right. Fortunately, with a low price tag, you can invest in this product without taking a big financial leap. There is a good chance you will like this option from Five Star. Especially if you are someone looking for a solid all-around purchase.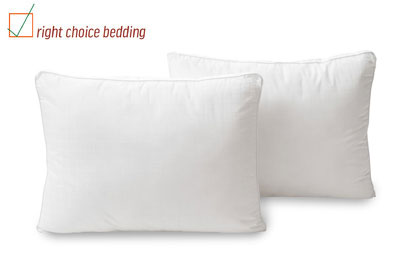 Good Life Essentials Shredded Memory Foam
There are plenty of shredded memory foam models to pick from on the market. But this one does stand out based on the strength of its price.
Usually priced quite a bit lower than the rest of the competition, this is a good value. Buy it if you would like to save money while still acquiring a memory foam product. It comes with a lifetime warranty and a 50% bamboo cover. So it's not like you have to go without other benefits in order to get a good deal.
For a pillow that comes in at a lower price point than most of the others on our list, the reviews for this product are impressively positive. They may not be as glowing as those for some of the more expensive choices, but that is to be expected. It is pointed out by owners that this is a rather firm – which is a point that you can see as either a positive or a negative. Generally speaking, however, a firm pillow is going to be a good fit for a side sleeper, so this is one to keep in mind.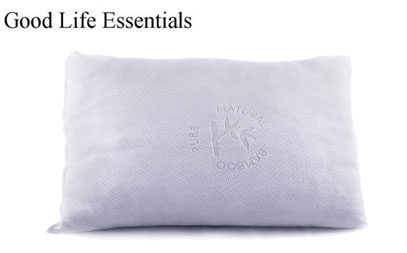 Malouf Zoned Talalay Latex Pillow
Latex is a material that has become more and more popular in the world. It is often used for bedding accessories in recent years. This specific model includes a firm density. There are no synthetic additives at all. This is a differentiating factor from other latex models.
The cover is made from a bamboo blend, and it can be removed when necessary. You can purchase it in both Queen and King sizes. You can also pick from various loft and firmness combinations. It should be noted that this product does not come cheap – it is one of the most expensive options on the market today.
Considering the high price tag, many buyers are still quite happy with their purchase. It has a lot to live up to when you think about how much money buyers have invested in this product. This makes it impressive seeing how so many are happy with their item. This Malouf product is one to carefully consider if you are interested in opting for latex. Especially as opposed to memory foam or another type of fill.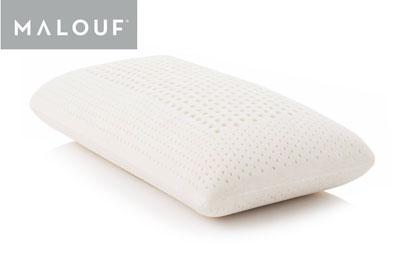 Iso-Cool Memory Foam Pillow
Getting back into the memory foam game, this is one which takes aim at the issue of overheating.
The cover is 100% cotton and the memory foam used inside is specifically meant to cater to side sleepers. This product is entirely made in the USA. There are microscopic beads included in the cover material which is meant to help you stay cool. The reviews are relatively strong, although perhaps not quite as impressive. Perhaps since this is such a competitive market category.
Some of the buyers of this item are happy with their purchase. However, plenty of others are rather disappointed with its performance. If cool temperatures are important to you, it is still worth your time to keep this on the list. However, other products that we have reviewed are thought of in higher regard by their buyers.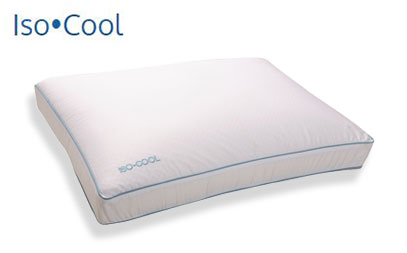 Beyond Down Gel Fiber Side Sleeper Pillow
This is another model from SleepBetter, but this one goes in a different direction from many on our list. A 300-thread count cover is used to contain a pillow which is made of micro denier gel fiber. This fiber is said to mimic the performance of goose down, but it comes at a fraction of the cost.
Some highlights are that it's machine washable and hypoallergenic, and it has a 4.5'' gusset. The price is right in line with what you would expect to pay for most of the memory foam options on the list.
Overall, users seem to think that this is a good choice with a lot to offer.
However, there is concern that this model is not firm enough to stand up to the needs of the typical side sleeper. This makes sense, of course, as most people are going to need a relatively firm support. It is considered healthy to keep their head, neck, and spine aligned properly. So, while this is a quality option, you need to be sure that you like a soft pillow.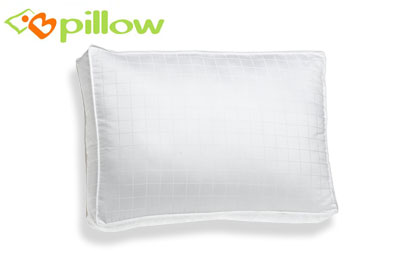 Classic Brands Conforma Memory Foam Pillow
This product is offered in both Queen and King sizes. The Conforma from Classic Brands is an affordable version of a popular design. It is made from memory foam, and it uses a contoured shape to set your head in a comfortable position as you sleep. There is a removable and washable cover, which is made from a cotton blend. To protect your small investment in this product, the pillow is backed by a 3-year warranty.
Where some of the other advertised products come up short in the way of firmness, that doesn't seem to be an issue here. Most past buyers feel that this is, in fact, a firm pillow – which should be a good thing.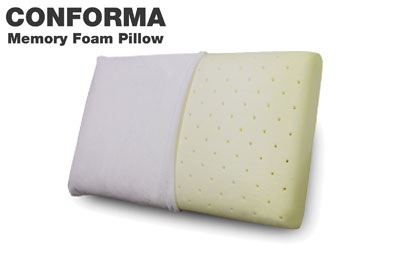 Buckwheat Pillow by ComfyComfy
This option uses buckwheat as its fill material of choice. As you might expect, buckwheat is going to offer a relatively firm experience. You can pick from four different sizes when you opt for this product.
It comes filled with a set amount of buckwheat based on its size. You will also receive some additional buckwheat to add as necessary. This will make it easier to find just the right amount of firmness. The cover is woven in the USA, and it has an invisible zipper design.
It is impressive to see just how many people have been happy with their purchase of a buckwheat pillow. Especially when considering how different this product is. Completely different from the rest of the market. Most users are very happy with the performance of this model. There are few complaints that mostly have to do with personal preference. Rather than any kind of product defect.
If you are open to trying new materials and you want a firm pillow for your side sleeping, this buckwheat option is a contender.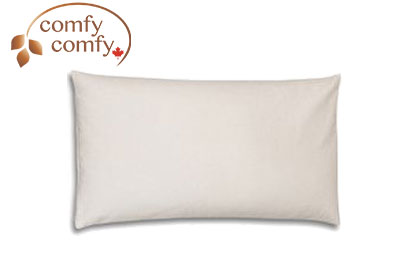 Mediflow Original Waterbase Pillow
Using water as a fill material is an interesting concept which has caught on with a segment of the market. While it is quite heavy to move a pillow, which is filled with water, many love the way it feels.
Mediflow water base pillow has a soft, hypoallergenic fibre filling supported by an easy-to-fill water pouch. This water base pillow will provide you with the most rejuvenating sleep of your life.
This pillow comes with a cotton cover included. Another nice feature is that it has the ability to adjust firmness as desired. These adjustments work by simply adding or removing water. A rare function to see for this type of product but a useful one nevertheless.
While it is a little more expensive than many of our other options, it may be a good choice when you consider its benefits. This model comes with a one year warranty.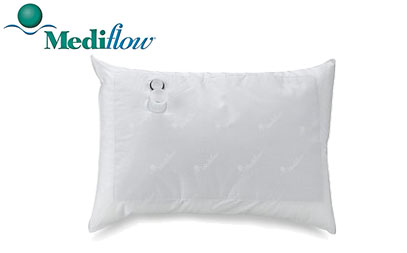 Conclusion
---
Finding a good side sleeping pillow really isn't too much of a challenge. There are plenty of them on the market today. Finding one that is right for you? That can be a little bit more difficult. Fortunately, we believe the content above has taken much of the challenge out of the process. We did our best to gather all of the information we have provided here.
If you are looking for the best pillow in the 5" thickness range then you should consider the Snuggle-Pedic Bamboo Shredded Memory Foam Pillow. In the 3" thickness range we can safely recommend the Buckwheat Pillow by ComfyComfy. No matter which one you opt for, in the end, consider going for the models using the natural materials.
We hope that this article will assist you in your pillow shopping process in no time at all. Here's to many nights of great rest on your new pillow!
Sources
https://sleep.org/articles/best-sleep-position/
Author:
Mark Reddick
When I'm not learning about sleep, you can find me watching "the big game" with my friends. I absolutely love sports and have grown to follow the rest aspect in athletes. Modern technology allows us to track athletes sleep and rest, which in turn helps predict their performance.
I hope that everyone that finds our site takes a new approach to sleep. The world needs to stop thinking about it as something "we just do", but rather something that allows us "to do everyday."
Cheers to having the best sleep of your life!