Transparency Disclosure – We may receive a referral fee for products purchased through the links on our site...

Read More

.
Did you know that side sleeping is the most common position? Despite its popularity and health benefits, side sleeping can become problematic without the right bedding materials for optimal comfort.
In addition to having the right mattress, you should pay attention to the type of pillow you use. If you're a dedicated side sleeper, you need a pillow with firmer support and a high loft to keep a healthy posture and prevent back and neck pain.
Choosing a good pillow for your bed is not an easy task. You have a choice of multiple types and materials, ergonomic vs regular, firm or soft, other accessories to consider, size, and so on. Plus, how can you be sure what you're getting is a quality product?
10 Best Pillows for Side Sleepers
Sleep Advisor took the stress out of shopping by putting together this list of our top picks for side sleeper pillows. For each product, we share unique highlights as well as a deeper review of what you can expect from this product. We also break down the pillows according to specific needs, such as cooling or hypoallergenic.
Let's start with a quick, side-by-side online comparison of the best pillow for side sleepers below.
Our Top 10 Pillows for Side Sleepers Reviewed
Nectar Cooling Graphite Pillow
Cool-to-the-touch Design
Carbon-Infused Foam
Organic Cotton Cover
The Nectar Graphite Pillow is an excellent choice for side sleepers. This top-quality pillow contains cooling graphite memory foam inside. While the memory foam keeps you in a comfortable position for side sleeping, the graphite works to keep heat away, allowing you a more peaceful slumber overall. 
Nectar's pillow also features carbon infusion, an innovative way to transfer heat away from your body. This allows the pillow to absorb moisture, neutralize odors, and dissipate heat. The Nectar Graphite Pillow also features anti-microbial technology in the cover.
Why should you get it?
The cover of the Nectar Graphite Pillow is made of 100 percent organic cotton that's anti-microbial and skin-safe. This cover enhances the cooling technologies used in the foam to provide additional comfort.

Nectar offers a 5-year warranty and

a 50

-night trial for you to test the pillow before committing.
Best Latex Pillow for Side Sleepers
Saatva Latex Pillow
Shredded Natural Latex Core
Breathable Organic Cotton Cover
45-Day Free Returns
This Saatva pillow has an organic cotton sateen cover that's gentle on the skin. The cover is breathable and moisture-wicking, making it easier for hot sleepers to fall and stay asleep. Next comes the plush fill made of down-like microdenier fiber that's hypoallergenic and breathable.
What stands out the most with this Saatva pillow is the hypoallergenic shredded natural latex core. The core responds to your body, adapting to the shape of your neck and head as you move. This provides the pressure relief and support that side sleepers should benefit from the most.
What makes it special?
Natural latex is buoyant and pressure-free, offering maximum support and pressure relief for side sleepers. Plus, Saatva puts its latex through a thorough washing process to eliminate allergy-causing proteins.
This Saatva pillow has an organic cotton cover you can wash in the machine. The cover is breathable, comfortable, and easy to maintain, which are the three most important things to look for in a pillow cover.
Best Hybrid Pillow for Side Sleepers
Leesa Hybrid Pillow
Reversible Desing
Removable Insert
Cool-to-the-touch Cooling Side
This Leesa pillow features a hybrid design, making it adjustable, reversible, and more versatile. What stands out the most is the removable insert that sits between a cooling gel layer and a quilted layer. This Leesa pillow has a reversible design, featuring a down-like fiber side and a cooling gel side.
Side sleepers should like either side since the entire design provides sufficient pressure relief and support in this position. Plus, you won't have to fluff the pillow since it has quilted pockets to stay fluffy all night. The gel side is cool to the touch, constantly pulling heat away from your body for a more comfortable sleeping experience.
What's worth mentioning?
Leesa offers up to 30 nights for you to test the pillow, which should be enough time to decide whether you like it or not. Shipping and returns are free.
Best Hypoallergenic Pillow for Side Sleepers
Brooklyn Bedding Talalay Latex Pillow
Hypoallergenic Cover and Inserts
30-Night Trial
Available in High or Low Loft
Talalay latex is sustainably sourced and produced using eco-friendly methods. The material is gentle on the skin and hypoallergenic, so it's safe to use even for those who are allergic to latex. In addition, Talalay latex is breathable, providing more airflow than standard foam, which should benefit hot sleepers.
This hyper-responsive latex foam follows the shape of your head and neck. On top of that, the pillow is available in a low or high loft, although side sleepers should prefer a higher loft to keep the spine aligned. The pillow has a breathable organic cotton cover that enhances the luxurious feel and cooling properties.
What stands out about it?
The pillow cover is machine-washable, making it easy to maintain in good shape. Use a gentle setting and tumble dry on low.
The pillow itself is unlikely to get dirty. If it does, use spot-cleaning only.
This Brooklyn Bedding pillow comes with a 3-year warranty.
Best Adjustable Pillow for Side Sleepers
WinkBeds Adjust-a-Cube
Gel-Infused Foam Cubes
Inner Memory Foam Liner
Made in the USA
The WinkBeds Adjust-A-Cube pillow is one of the best options for side sleepers who occasionally change positions or share their pillow. The inside has gel-infused memory foam cubes you can remove to adjust the loft and firmness.
The pillow offers a personalized feel, so sleepers can adjust it based on their sleeping position. In addition, this WinkBeds pillow has a Cool-Knit™ circular-knit cover made of luxury-textured polyester. This adds softness and smoothness as it's gentle on your face and neck since this is where the skin is most sensitive.
What should you know?
The foam cubes and inner layer in the WinkBeds Adjust-A-Cube pillow are CertiPUR-US® certified. This means they're free of toxins, chemicals, heavy metals, and other harmful substances.
This is an adjustable pillow, providing maximum comfort in all sleeping positions. Use the most cubes to bring it to a high loft, which should be better for side sleeping.
Best Memory Foam Pillow for Side Sleepers
Brooklinen Marlow Pillow
Adjustable Firmness
365-Day Trial
Cooling Infused Foam
Side sleepers who toss and turn should like this memory foam and polyester fiber combination. The design adapts to the shape of your head and neck regardless of how much you move. Plus, the Brooklinen Marlow Pillow has an adjustable firmness, allowing you to customize it via zipper.
The cooling foam allows hot sleepers to stay cool without flipping the pillow. In addition, the Marlow features breathable mesh to provide more breathability and cooling for those who sleep hot. This product is available in two sizes: Standard and King.
Why we love it
All materials are vegan and allergy-friendly. However, they're not safe to wash in the machine. Instead, the manufacturer recommends spot-cleaning to avoid damage.
This pillow has an adjustable loft and firmness, so it's a good option for those who share their pillow. The product is also comfortable for combination sleepers as it changes shape and adapts to movement.
Best Pillow for Side Sleepers with Neck Pain
Tempur-Pedic TEMPUR-Neck Pillow
5-Year Warranty
Extra-Firm Feel
Available in Three Sizes
Neck pain is a serious issue that can keep a person up for hours. Even if you manage to fall asleep, you're likely to wake up with the same pain unless you find the right pillow to alleviate the discomfort. This TEMPUR-Neck Pillow is designed to provide alignment, comfort, and support by following the body's natural curve.
The pillow is available in three sizes and is ergonomically contoured for maximum comfort. The TEMPUR® Material adapts to the shape of your body, providing relief regardless of your preferred sleeping position. In addition, the pillow has a polyester knit hypoallergenic cover.
What makes it valuable?
The TEMPUR-Neck Pillow has a machine-washable cover, so it's easy to keep it clean. Simply throw it in the machine with like colors, using the cold setting only.
The TEMPUR® material is extra-firm, so it provides sufficient support to prevent your head from sinking in.
Best Pillow for Side and Stomach Sleepers
Coop Home Goods The Eden Pillow
Memory Foam and Microfiber Fill
Hypoallergenic
Plush and Luxurious Feel
Side sleepers who sometimes sleep on their stomach need a more versatile pillow that adapts to the change of position. The Eden features a blend of cooling gel-infused memory foam that's medium-soft, which should fit side sleepers the best. The pillow comes with an additional half-pound of fill, so you can adjust the loft and firmness if you want to. The mesh tape gusset allows easy and even fill distribution so that the pillow is always comfortable.
The Eden has an interlocking dual-case system that makes adjustment easy. Plus, the Lulltra™ cover is machine-washable, so it's easy to keep it clean.
What stands out?
The Eden pillow features CertiPUR-US® and GREENGUARD Gold certifications, meaning that the foams are free of chemicals, toxins, and harmful substances.
The pillow is soft but doesn't lack the support that side sleepers need. Plus, you can add the extra fill if you feel you need more loft.
Best Plush Pillow for Side Sleepers
Layla Kapok
Adjustable Height
CertiPUR-US® Certification
Washable Cover
Side sleepers should benefit from this copper-infused pillow, thanks to its plush design. The plushness cradles your head and neck, preventing any pressure build-up regardless of whether you change sides.
The Layla Kapok pillow features a mix of Kapok fibers and memory foam to adapt to your neck and head curves. The pillow responds to movement, so it's also good for those who toss and turn. In addition, the copper infusion helps the foam to stay cool by pulling the heat away from your body. The pillow also has hexagon stitching that allows extra airflow and breathability.
Why should you consider it?
Kapok fibers come from the seeds of the Kapok tree. These are naturally and responsibly harvested, so this Layla pillow is a good choice for eco-conscious shoppers.
Layla offers a 5-year warranty on this Kapok pillow. On top of that, the company gives a 100 percent refund, but you're supposed to keep the pillow for at least four weeks.
Best Contouring Pillow for Side Sleepers
Eli and Elm Side Sleeper Pillow
Removable Cover

Polyester Fibers and Natural Latex Fill

Medium-Firm Feel

45-Day Trial Period
If you're looking for a great pillow that's able to comfortably contour your head and relieve pressure on your neck, then we think you'll like the Eli and Elm Side Sleeper Pillow. Because this pillow is specifically designed with side sleepers in mind, it should accommodate this sleep style well.
The fill of the Eli and Elm pillow contains polyester fibers and natural latex. Not only is natural latex a more temperature-neutral and sustainable material, but it does a good job at contouring to help deliver optimal comfort.
Why we picked it
The pillow's medium-firm feel should provide enough give to contour without sacrificing support to obtain proper spinal alignment during sleep. 

Cleaning the pillow should be easy thanks to the removable cover.

The company offers a helpful 45-day trial period so you can see for yourself how this bed performs and whether it meets your needs.
Choosing the Best Pillow for Side Sleepers
In order to pick the right pillow, you'll need to know what to look for and how these features can impact your overall comfort.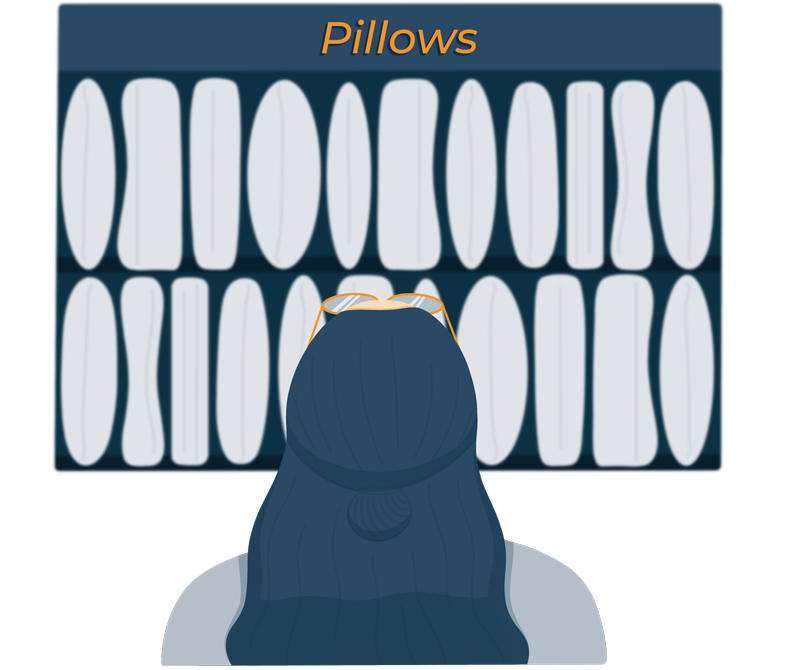 Loft
A pillow with a high loft should prop your head up, allowing a neutral spine alignment. This should also help relieve pressure on the shoulders, so you're unlikely to wake up with pain in this area. The feeling of your shoulders digging into the mattress is a good sign that you may need a taller pillow.
Firmness
Side sleepers should benefit from a medium-firm or firm pillow. Slightly firmer pillows are best for supporting your head and neck, keeping them in line with your spine. A pillow that's too soft would allow your head to sink too much, throwing your spine out of alignment.
Support
A supportive pillow prevents the head from sinking in too deep. The pillow holds your head, preventing you from waking up with a stiff neck. However, support often depends on the firmness of your pillow. The softest pillows aren't the most supportive, whereas medium-firm and firm will foster better head and neck support.
Pressure Relief
Pressure build-up can cause discomfort for side sleepers. Pressure can accumulate on the shoulders and neck, leading you to wake up with stiffness and pain. For this reason, side sleepers often seek a medium-range firmness, providing an excellent balance of support and pressure relief. Side sleepers usually prefer memory foam pillows because the material is known for its pressure-relieving properties.
Pillow Shape
The size and shape of your pillow don't matter as much as loft and firmness. Side sleepers should benefit from taller pillows with medium-range firmness. However, the shape and size can go from small to king size, depending on your preference and mattress size.
Price
Pillows for side sleepers can range from affordable to expensive. However, it's important to remember that the price doesn't always indicate top quality. For this reason, you should focus on the loft, firmness, support, and other critical factors. The online, direct-to-consumer sales model also helps bring down costs on name-brand products.
Cooling
Pillows that include cooling materials are excellent for hot sleepers. Examples of cooling or breathable materials are gel or shredded memory foam, latex, and cotton. While memory foam is popular, it's also known to overheat. Adding gel or using shredded foam helps keep the material cool. Purchasing cool, breathable pillowcases can also help foster a more comfortable sleep environment.
Cleaning
How easy it is to wash your pillows will also be a priority since periodic cleanings are important to preventing bacteria build-up and prolonging their lifespan. Many pillows feature removable covers that are machine washable, making it easier to keep them clean. Every pillow has a label where you can find cleaning and maintenance symbols. Before purchasing though, you'll want to double-check the recommended cleaning process.
Fill
A major component of pillow shopping is what's inside it, which is known as the fill. There are many different types of materials used for pillow stuffing, and they are all quite specific. Examples of pillow fill materials are feather and down, memory foam, cotton, polyester, and latex.
Quality
The quality of your pillow depends on many things like the materials and overall manufacturing quality. For this reason, it's best to research the brand to learn about its manufacturing process and materials, as these things can indicate how long the pillow will last. Additionally, some brands prioritize eco-friendly materials and manufacturing processes, adding to the quality and value of their products.
Interested in exploring further? Check out our full best pillows buying guide here.
Best Material & Type of a Pillow For Side Sleepers
Memory Foam
Memory foam pillows come in two primary forms: shredded and molded.
Shredded Foam – The filling consists of small pieces of foam, all stacked up nicely to form an excellent pillow shape designed for side sleepers. The idea is to deliver memory foam's enhanced contouring and support without heat retention.
---
Molded Foam – Molded foam is when you get one single, solid piece of foam. These can usually sleep a bit hotter but provide better contouring. If molded memory foam sounds more appealing but you're concerned about overheating, look for pillows that infuse gel into their memory foam to help combat this.
Latex
Latex pillows are great because they are more responsive, but they lack the contouring of memory foam. Side sleepers who move around a lot tend to prefer this style. Latex pillows are also characterized by their superior cooling capabilities since the material is temperature-neutral.
Buckwheat
Buckwheat is a type of material that's popular throughout Asia. The material has been known to help with back and neck pain as well as headaches associated with improper spinal alignment throughout the night. The hulls are firm, but they are also somewhat malleable and particularly breathable, making this a good pillow fill for spinal alignment and cooling.
Get More Info: Best Buckwheat Pillows
Feather/Down
You could also choose feather or down pillows. These are commonly recommended by a lot of experts to deliver a great night's rest. That being said, a side sleeper would typically search for support, and one of the things about down pillows is that you'd be able to move the stuffing a lot. When you do it intentionally it's okay, but when the down pillow material moves during your sleep it could be an issue.
View Our Guide: Top Rated Down Pillows
Cotton
Cotton pillows are usually the least supportive option because the material is unable to maintain its proper shape. This is primarily why they are most commonly used in combination with other types of materials. The upside to cotton is that it's more breathable, though, so in conjunction with other materials, it could still be useful to side sleepers.
Pillow Size Guide
Standard
20″ x 26″
A standard pillow is best for Twin and Full-size beds. People who sleep on a full-size mattress can fit two standard pillows, while those sleeping on a twin mattress will only fit one.
---
Super Standard
20″ x 28″
A super-standard pillow is two inches longer than a standard pillow. This is an excellent choice for an XL mattress, but you can also use it on a Queen, Twin, or Full-size bed.
---
Queen
20″ x 30″
A Queen pillow is the best option for Queen mattresses. Some people use it on twin beds as well, but this is only if you like a fuller look. These pillows fit well in a standard-size pillowcase, so you don't have to buy a different size.
---
King
20″ x 36″
King-size pillows are meant for a king or California king bed, although you can use them on a twin mattress if you prefer a fuller look. However, keep in mind that a king-size pillow won't fit in a standard pillowcase.
---
Euro
26″ x 26″
24″ x 24″
22″ x 22″
20″ x 20″
18″ x 18″
16″ x 16″
Euro pillows are otherwise known as throw pillows. Most people use them for decoration beside more traditional-size pillows on their beds.
---
Body
54″ x 20″
48″ x 20″
Body pillows are popular among side sleepers due to the support they provide. They're also excellent for pregnancy but usually only fit Queen and King-size mattresses.
---
Toddler
14″ x 20″
Toddler pillows are much smaller than those meant for adults. The average size of a toddler pillow is 13 by 18 inches. These pillows are specifically designed for young children.
Who Will Use the Side Sleeper Pillow?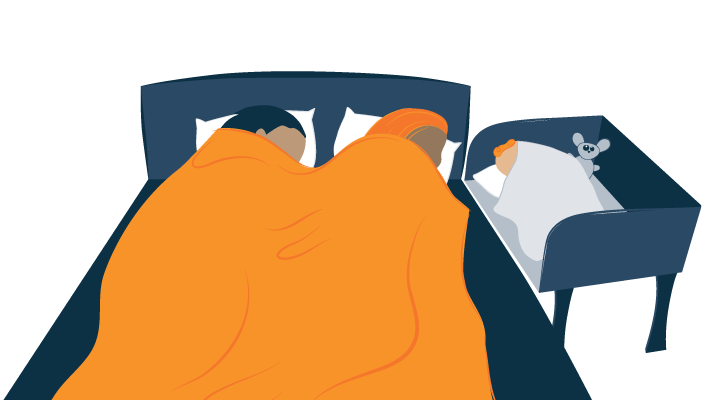 Before you buy, you also need to consider who will be using the pillow and their unique needs. For instance, a pregnant woman is almost always going to prefer sleeping on her side. She would likely require a pregnancy pillow that's slightly different than a regular side sleeper.
Pregnant women could take advantage of full-body pillows as they are capable of providing them with good support. Not every regular person would need one of these, though.
At the same time, the pillow should complement the user's preferences. For example, fans of pillows with a luxurious feel would be better off with a latex pillow, or if contouring is the top priority, a regular memory foam pillow would be ideal.
Medical Conditions
There are different medical conditions that you might be targeting with improved bedding and mattress systems. We've identified some of the most common types of pillows to address various health conditions.
Water Based: Water-based pillows are commonly recommended by therapists and chiropractors as they use water to create a customized level of support, comfort, and density.
---
Cervical Pillows: Cervical pillows are usually available in a range of different shapes, materials, and sizes. They deliver advanced cushioning to the lower portion of your body.
---
Cooling Pillows: Cooling pillows are designed for someone experiencing uncomfortable overheating issues, such as menopausal women with hot flashes or night sweats.
---
Oxygen-Promoting Pillows: If you have a shorter neck, an improper pillow might obstruct the airflow. Pillows that promote the flow of oxygen can help you breathe easier at night.
---
Pillows for Sleep Apnea: Certain pillows can help you manage sleep apnea symptoms by helping the head stay slightly elevated in order to open up the airways for better breathing.
Pregnancy & Side Sleepers
Side sleeping is considered the best position for pregnant women. If you or your partner is pregnant, consider buying a C-shape body-length pillow as it has been determined to deliver enhanced support for the mother and her baby. That being said, regular-shaped pillows can also lend support to expectant mothers sleeping on their side, while also being useful post-pregnancy if the mother then wants to sleep in a different position.
The Benefits of Owning a Pillow For Side Sleepers
Many people prefer relaxing on their sides, and a pillow that complements this specific position delivers specific benefits.
Neck and Shoulder Pain Relief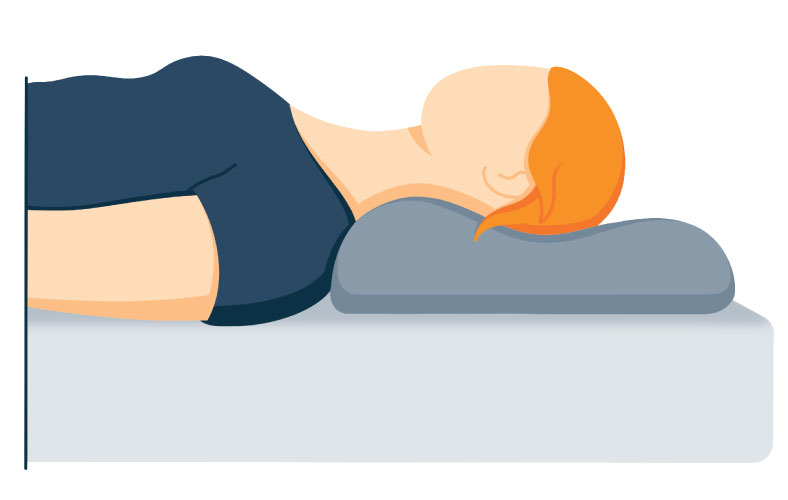 Shoulder and neck pain are two particularly common issues that affect a wide range of different sleepers. It could be attributed to any sleeping position, and it's not necessarily tied to a particular one.
In a lot of the cases, though, sleeping on your side, regardless of whether it's left or right, could seriously alleviate back, shoulder and neck pain. This is mainly due to the extended support and relief of pressure points which pillows of the kind are delivering.
Pillows for side sleepers are designed to enhance your spinal alignment in a manner which would alleviate all tension and pressure between your body and the mattress. This is quite important. Consequentially, it would conveniently lessen the pain or stiffness that you might be feeling in the areas of your shoulders and neck.
Interested in exploring further? View our full best pillows for neck pain guide.
A Good Size Sleeping Pillow Helps with Snoring
Snoring is a common problem that can occur for a myriad of reasons. Back sleeping, for instance, is associated with snoring mainly because your tongue moves back into your throat while you are sleeping.
However, if you sleep on your side, you wouldn't have to worry about this particular cause of snoring. The same goes for sleeping on your stomach. That's not to say side sleepers don't snore – it is just less likely because the posture addresses a common cause of snoring.
At the same time, you should find a side sleeper pillow that provides you with the proper neck alignment. As soon as there is an unnatural or unaligned curvature in your throat, the airflow will be blocked or impaired. Both cases could lead to snoring.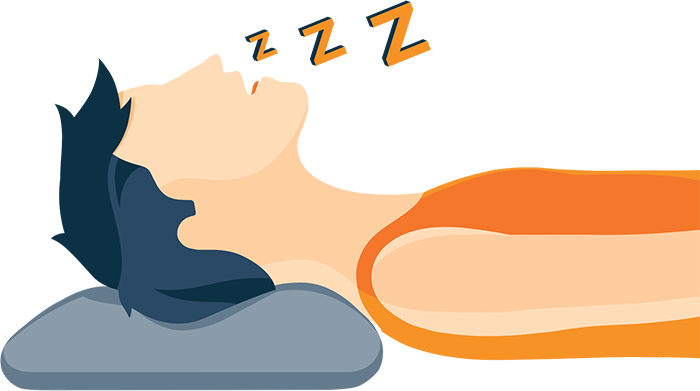 Healthy Spine Alignment (Beyond The Mattress)
Keep in mind that spinal and neck alignment is probably the most important factor when choosing a side sleeper pillow.
This is one of the most significant advantages of side sleeping because it supports a more natural alignment.
However, if your spine is not aligned correctly, this could translate to a range of conditions. You can start feeling pain in your back, neck, lower back, hips, and on your shoulders. Morning headaches are also a symptom of poor alignment.
Therefore, sleeping in a healthy posture is vital for your well-being, preventing discomfort from becoming a chronic issue.
Learn More: How to Properly Sleep On Your Side
Knee Support
Did you know that knee support plays a significant role if you are a side sleeper? Many side sleepers can utilize more than one pillow to provide comfort and support, including for the knees.
Knee support is helpful for spinal alignment. The position of the legs for people who sleep on their side is critical. This posture has a direct impact on the way their spinal area would align and, as such, improper posture could lead to stiffness, chronic pain, and other issues. This is also why side sleepers could use a full-body pillow on their mattress, which also aids in alignment.
How Can Side Sleepers Rest More Comfortably?
Side sleeping is comfortable for most people, so it's no wonder this is among the most popular sleeping positions. However, sleeping on one side for too long can result in pressure build-up and soreness. Here's what you can do to prevent these issues from happening.
Find a Good Mattress
Side sleepers typically need a mattress with a medium-range firmness. A bed that's too soft would let the body sink in too deeply, whereas a bed that's too firm would cause pressure build-up on the shoulders, hips, and knees. A good mattress makes all the difference in your sleep quality, especially if you rarely switch sides. The right mattress includes quality materials that will help deliver critical pressure relief and support. Weight is also an important consideration when mattress shopping. While most average-size sleepers would do best with medium-firm beds, lightweight side sleepers can utilize softer beds.
Use a Topper
If you already have a mattress you're unwilling to replace, you can add a topper to modify how it feels. If your bed is too firm or no longer as supportive, adding a foam topper could make a significant difference. Mattress toppers are available in many sizes and firmness levels to fit all sleeping positions, including side sleeping.
Place a Pillow Between the Knees
Placing a pillow between your knees can help you find pain relief when sleeping on your side. Utilizing a pillow between the knees helps keep the pelvis neutral, preventing the spine from rotating as you sleep and supporting proper alignment. The only caveat is to make sure the pillow is not too big.
Frequently Asked Questions
What Type of Pillow is Best for Side Sleepers?
The best pillows for side sleepers have a medium-firm feel with a decent loft that's not too low or high. These pillows help your head and neck stay in the right position for good alignment, preventing you from sinking while you sleep.
How High Should a Pillow Be for Side Sleepers?
Adult side sleepers should stick to pillows between five and seven inches tall. This height and medium-range firmness should provide sufficient support for proper spine alignment and pressure relief.
What Pillow is Best for Side Sleepers with Neck Pain?
Neck pain is usually the result of your pillow being too soft, so make sure to stick to medium to medium-firm models. Those that are too soft would let your head sink, throwing the spine out of alignment and causing you to wake up with a stiff neck. You should also make sure your pillow isn't too thin or too tall.
What's the Right Firmness for Side Sleeper Pillows?
Medium-firm pillows are often the best for side sleeping. These support the head and neck, keeping the spine in alignment. In addition, they're often good for combination sleepers because a medium firmness fits most sleeping positions.
How Many Pillows Do I Need?
Cotton pillows are usually the least supportive option because the material is unable to maintain its proper shape. This is primarily why they are most commonly used in combination with other types of materials. The upside to cotton is that it's more breathable, though, so in conjunction with other materials, it could still be useful to side sleepers.
Pillow Size Guide
Side sleepers usually just need one or two pillows. If you plan to use two pillows, one should be under your head while the other is meant to be between your knees. This way, you get the best support, pressure relief, and comfort when sleeping on your side.
To Conclude
Finding a perfect pillow online as a side sleeper may seem daunting, especially with all the available accessories, but we hope this guide helped you to narrow down your choices. Furthermore, understanding how to utilize pillows for healthier side sleeping can empower you to not only rest better but to wake up feeling refreshed.
Our team covers as many areas of expertise as we do time zones, but none of us started here as a so-called expert on sleep. What we do share is a willingness to ask questions (lots of them), seek experts, and dig deep into conventional wisdom to see if maybe there might be a better path towards healthy living. We apply what we learn not only to our company culture, but also how we deliver information to our over 12.7M readers.
Sleep research is changing all the time, and we are 100% dedicated to keeping up with breakthroughs and innovations. You live better if you sleep better. Whatever has brought you here, we wish you luck on your journey towards better rest.