Transparency Disclosure – We may receive a referral fee for products purchased through the links on our site...

Read More

.
Did you know that over half the population says they prefer to sleep on their side over any other sleeping position? 39% prefer to curl up with their legs bent, and 28% keep their arms down to their sides.
Choosing a good pillow for your mattress & bed is not an easy task. You have a choice of multiple types and materials, ergonomic vs regular, firm or soft, other accessories to consider, size, and so on. On top of that, many manufacturers market their products as such when in reality it's just ordinary (at best).
The Sleep Advisor decided to make this shop buyer's guide and review the 8 best pillow options for side sleepers.
Let's start with a quick, side by side online comparison of the best pillow for side sleepers below.
8 Best Pillows for Side Sleepers
Our Top 8 Pillows for Side Sleepers Reviewed
Nest Bedding Easy Breather Pillow (Best Overall)
Choose between Latex or Foam
Exceptional Cooling
Great breathability
Fully Adjustable
Good for all sleepers
Made in the USA
You must be asking yourself, why is Easy Breather our #1 recommendation even though it says that it doesn't have an ergonomic design? I've been impressed with the quality of this pillow and as a side sleeper myself I can say that it's just perfect size for my mattress. The choice of two materials is a huge plus. Some people prefer the hug of memory foam while some would love to have the extra cooling of latex.
Since it's filled with shredded materials, you can easily take some of the material out to adjust the loft & size to your preferred height. There is no smell or off-gassing like with cheaper models.
Also, you should keep in mind that the shredded memory foam sleeps significantly cooler than molded. You can rest assured that the Easy Breather lives up to its name and delivers substantial thermal regulation. You don't have to be worried about waking up in the middle of the night to flip the pillow over.
Considering the overall value and quality you get, not only for side sleepers but for majority of mattress & beds, we've decided to make it our Editor's pick for this category.
Want to know more? Read our full Nest Easy Breather pillow review.
Coop Home Goods Pillow –
Great Value
Washable Covers (Bamboo)
Hypoallergenic
Affordable Pricing
Nice, Soft feel
Adjustable
Made in the USA
Similar to Easy breather, this pillow is fully adjustable, and you can take out some of the stuffing to adjust size. It has a softer feel, but it's still supportive enough, so you don't have to worry about that. Maintenance is easy. Just throw the covers in the machine washer, and you can use your dryer for 10 minutes to fluff the pillow back again. This way it will last for years.
This model comes with 30-day trial and amazing 5-year warranty. The side sleeper pillow is hypoallergenic, and you wouldn't have to worry about bacteria growth and any potential causes of allergies and skin inflammation. This is why it's appropriate for people with respiratory issues as well.
Overall, considering the number of positive reviews on Amazon and other retailers and our fantastic experience with it, we decided to include it as a highly recommended pillow for mattress alike (and different positions of course) in this price range.
Looking to learn more? Check out our Coop Home Goods Pillow review here.
Drift: The Scrumptious Pillow
Enhanced support
Adjustable height
Can maintain the neck alignment
Alleviates pressure and stiffness
Helps with snoring
This is an excellent choice for those of you who prefer a rather plush, softer feeling while you sleep on your comfy mattress. The pillow is made out of high-end materials, and it is designed to deliver splendid neck alignment. This, in turn, could improve the breathing and it could substantially reduce your snoring if that's an issue you are dealing with.
There is no better feeling than sleeping on a pillow for side sleeper that's breathable as it would remain cool throughout the entire night.
The pillow size fits excellent to deliver superior alignment and support for your head and neck, conveniently taking care of morning headaches and stiffness.
The exciting thing about it is that you would be able to adjust the height & size as well. There is a hidden zipper which is going to allow you to customize the loft according to your preferences conveniently. This is something quite remarkable. Additionally, the pillow is known for being durable in its supportive capabilities, maintaining great neck alignment throughout the entire time.
Cradle Me Pillow
Comfortable memory foam
Promotes spinal alignment
Relieves pressure and pain
Interesting and unique shape
Orthopedic value
This is a great option for side sleepers. Right off the bat, this is a high-end quality cervical pillow that would allow you to sleep comfortably in your mattress without having to worry about waking up stiff.
Even though the pillow is perfect for side sleepers, it is also appropriate for back- and stomach-sleepers as well. This is mainly thanks to the somewhat unique, butterfly-like shape, size, and memory foam material. The foam is designed to comprehensively relieve shoulder, back and neck pain by allowing your muscles to relax entirely.
The pillow also brings tremendous orthopedic value mainly because it would deliver proper spinal alignment. It is specifically designed to assist side sleepers who are experiencing pain in the areas of their neck, back, and shoulders. It is also a great idea for a gift. The product comes with a satisfaction guarantee. It's also one of the best pillows for neck pain.
Malouf Zoned Latex Pillow (Amazing Cooling)
Washable cover
High-end materials
Enhanced cooling capabilities
Innovative technology
Zoned design for air flow
Naturally resistant to mites and mildew
Even though the price tag on this one is relatively higher, it's worth every cent. It's intended for anyone, but its main characteristic is the superior cooling.
100% natural Talalay latex delivers enhanced support and perfect sleeping sensation.
Now, zoned technology allows proper and enhanced airflow, and it feels very different from memory foam pillows.
It comes with natural protection against mildew and mites. The cover is removable and machine washable, and it is very soft. It is made out of 25% rayon from bamboo and 75% polyester. You won't wake up flipping the pillow from one side to another because it got hot that's for sure.
Need more details? Read our full Malouf pillow review.
Snuggle-Pedic Ultra-Luxury Bamboo Pillow

Good Budget Choice
Substantially more affordable
Great value for the money
Enhanced support and alignment
Removable cover
CertiPUR-US Certified
Very comfortable
This is one of better budget solutions on the market for your mattress. The company is reliable, and you can rest assured that it would be a choice that you wouldn't regret.
A combination of shredded memory is specially designed so its size will never go flat. It is made in the USA, and CertiPUR-US Certified for the quality and purity of the materials.
It comes with a zipper for the removable outer cover which is also easily washed in the washing machine and tumble-dried afterward. The company guarantees for the eco-friendly materials used in the pillow and its enhanced capabilities. It is comfortable, comfortable and brings serious orthopedic value thanks to the improved spinal alignment and neck support.
Interested in exploring further? Read our full Snuggle-Pedic review.
Sleep Yoga Arm Posture Pillow
Machine washable
Biodegradable materials
Hypoallergenic
Specifically for side sleepers
High-end quality
Improves sleep quality, flexibility and posture
Made from a convenient cotton blend, this is a pillow specifically crafted for side sleepers. It will enable you to relax your entire arm and to deliver enhance pressure relief.
It is also intended to improve your overall posture naturally and to keep your shoulders joint aligned. This is one of the leading challenges of the majority of us.
The cushion is designed in a chiropractor fashion, aligning the angles correctly, contouring your body to deliver pressure relief and increased overall support. The entire thing is made from machine washable, biodegradable and hypoallergenic materials for your ultimate convenience.
MedCline Advanced Positioning Pillow
Washable Covers (Bamboo)
Hypoallergenic
Affordable Pricing
Nice, Soft feel
Adjustable
Made in the USA
Now, this is the most expensive option on our list but, if we have to be completely honest, the price is well worth it. It has a unique design & size featuring an unconventional armrest.
It is made from 20% polyester CBC velour and 80% cotton for increased comfort and temperature regulation. You wouldn't be able to slide down through the night, which guarantees the overall support and consistency of the product.
The pillow has been designed to enhance clinically proven mattress sleeping positions which deliver splendid and superior relief. At the same time, it's not something that you can use for back- or stomach-sleeping positions, which is ultimately something that you'd also want to account for.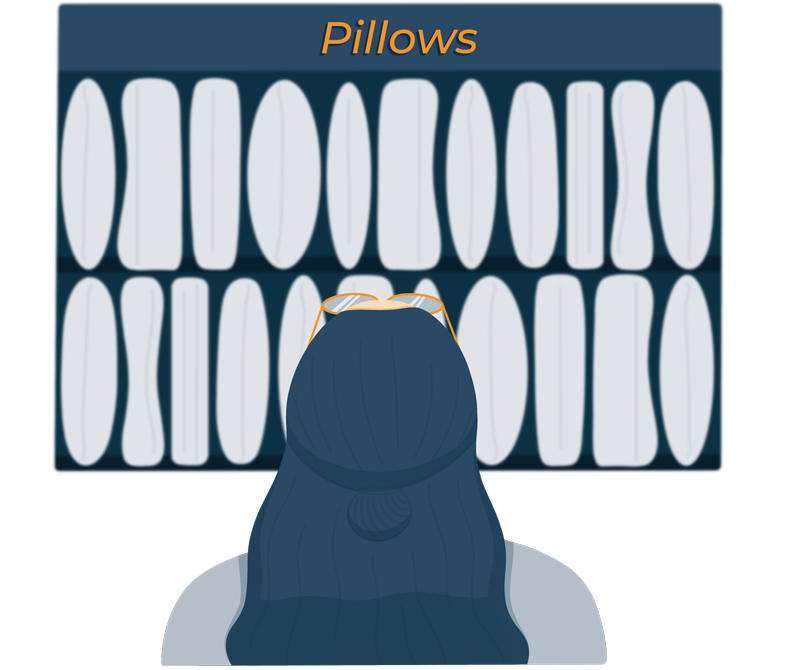 Things to Consider Before Buying A Side Sleeper Pillow
Now, it's also important to be aware of a few different things before you shop online for these specialized pillows & cover for your mattress. Let's have a look.
Interested in exploring further? Check out our full best pillows buying guide here.
Material
One of the things that you should really care about is the material. As you can see, we've outlined them as a significant concern and factor in the side by side comparison.
There are quite a few different types of materials which are used for pillow-stuffing, and they are all quite specific. Some are better for support, others for comfort – it is up to you and your personal preference or requirements which would determine the material & cover you'd go for.
Knee Support
Did you know that knee support plays a significant role if you are a side sleeper? This is the only sleeping position which would tolerate the usage of two different pillows. Of course, one of them would go under your head, and the other would go in between your legs.
Knee support is vital for one primary reason – spinal alignment. See, the position of the legs for people who sleep on their side is critical. It has a direct impact on the way their spinal area would align and, as such, improper posture could lead to stiffness, chronic pain and other issues of the kind.
This is also the main reason for which side sleepers could use a full-body pillow on their mattress. This is not something that regular stomach- or back-sleepers could take advantage of.
Who Will Be Using the Side Sleeper Pillow?
Before you buy, you'd also want to keep in mind that the user and his personal preferences, as well as requirements & size, need to be taken into earnest consideration. With this said, a pregnant lady is almost always going to prefer sleeping on her side. She would require a pregnancy pillow that's slightly different than a regular side sleeper.
Pregnant women, for instance, could take advantage of full-body pillows as they are capable of providing them with splendid support. Not every regular person would need one of these, though.
At the same time, it should address the specific issues that you are having and the personal preferences of yours. For instance, if you are a fan of luxurious, plush sleeping sensation, you'd be better off with some latex pillow & cover.
On the other hand, if contouring is what you're looking for and you are usually sleeping without moving a lot during the night, you might consider a regular memory-foam pillow for side sleepers. This is something particularly important.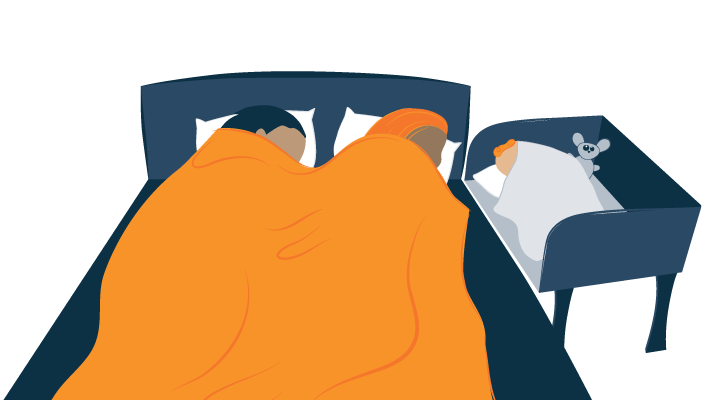 Medical Conditions
Now, there are a few different conditions that you might be targeting and attempting to fix with improved bedding mattress systems. We've identified some of the most common types of pillows to address various health conditions.
Water Based: these are commonly recommended by therapists and chiropractors as they use water to create a customized level of support, comfort, and density.


---

Cervical Pillows: these are usually available in a range of different shapes, materials, and sizes and they deliver advanced and enhanced cushioning to the lower portion of your body.


---

Cool Pillows & Cover: these are designed for a woman experiencing hot flashes as well as night sweats. They are great for women who says they through menopause, and this is something that they have to go through on a regular basis.


---

Oxygen-promoting pillows: If you have a shorter neck, an improper pillow might obstruct the air flow. Pillows which promote the flow of oxygen are known to enhance the overall content of your body and your blood vessels by as much as 29%.


---

Pillows for Sleep Apnea: serious pressure relief in your neck is capable of helping you get through this unpleasant condition.
Pregnancy & Side Sleepers
Pregnancy is one of the more specific conditions that you'd have to consider. The best thing to do here is to go for a c-shape body-length pillow as it has been determined to deliver enhanced support for the mother and her baby.
Pregnant women should only sleep on their sides. That's something to consider.
With this said, it is also important to understand that regular-shaped pillows would work as well for side sleepers.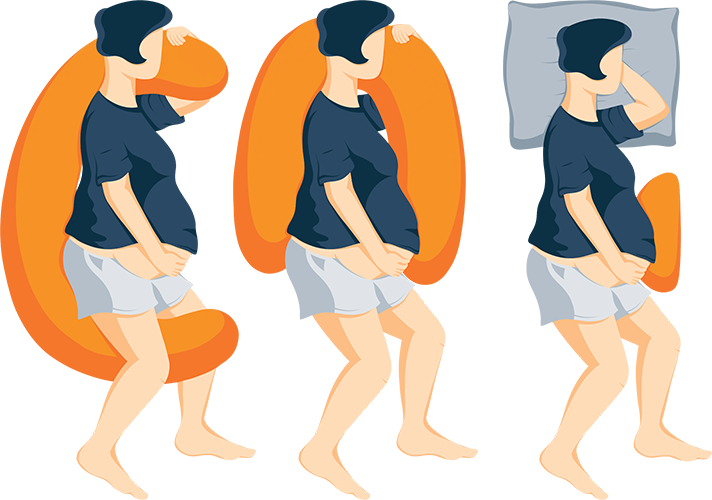 Best Material & Type of a Pillow For Side Sleepers
Memory Foam
Memory foam pillows come in two primary forms:
Shredded Foam – The filling consists of small pieces of foam, all stacked up nicely to form an excellent pillow shape designed for side sleepers. The idea here is to deliver the enhanced capabilities of this unique material with its contouring and support without the major drawback – heat retention.
---
Molded Foam – In this case you get one single molded piece of foam. These can usually sleep a bit hotter but provide better contouring.
Latex
Latex pillows are great because they are more responsive and lack the same contouring as memory foam. Side sleepers who move around a lot tend to prefer this style. They are also characterized by their truly enhanced and highly superior cooling capabilities.
In other words, if heat retention is something that bothers you and you don't want to wake up, flipping the pillow to its cooler side, this is a great option.
Buckwheat
Buckwheat is a type of material which is quite popular throughout Asia. It has helped quite a lot of people handle back and neck pain as well as headaches associated with improper spinal alignment throughout the night.
The hulls are firm, but they are also somewhat malleable and particularly breathable. This is what makes for the perfect pillow fill. They will conform to your particular body, and it will provide comfortable, cool and all-natural sleeping. These are pillows which wouldn't collapse under your head and would deliver sensational and very restful sleep.
Get More Info: Best Buckwheat Pillows
Feather/Down
You could also choose feather or down pillows. These are commonly recommended by a lot of experts to deliver great night's rest. This is something quite questionable, though. A side sleeper would typically search for support, and one of the things about down pillows is that you'd be able to move the stuffing a lot. When you do it intentionally it's okay, but when the down pillow material moves during your sleep it can be annoying.
View Our Guide: Top Rated Down Pillows
Cotton
The last type is made out of cotton. These are usually the least supportive options as cotton is unable to maintain proper shape. This is the main reason for which they are most commonly used in combination with other types of materials.
The Benefits of Owning a Pillow For Side Sleepers
Apparently, there are undeniable benefits for you to take advantage of when it comes to using a specific pillow & cover which is tailored to your sleeping position. A wide range of sleepers says they prefer relaxing on their sides, and a unique pillow delivers a lot of benefits aside from a great mattress. Let's have a look at some of them.
Neck and Shoulder Pain Relief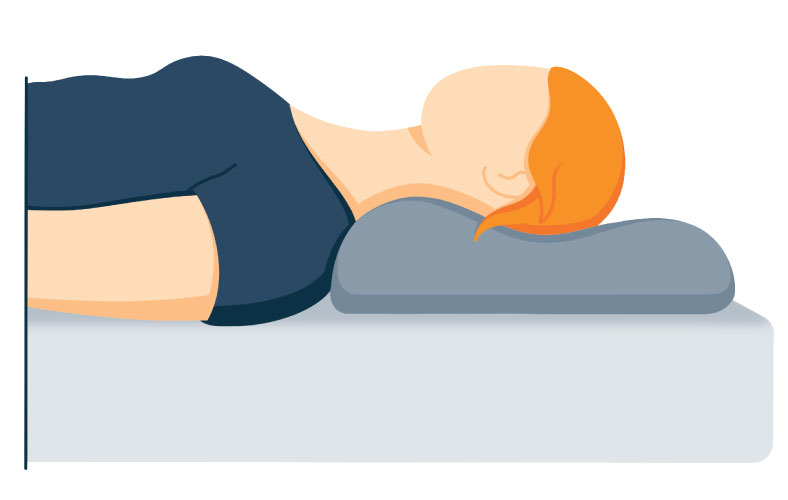 Shoulder and neck pain are two particularly common issues that affect a wide range of different sleepers. It could be attributed to any sleeping position, and it's not necessarily tied to a particular one.
In a lot of the cases, though, sleeping on your side, regardless of whether it's left or right, could seriously alleviate back, shoulder and neck pain. This is mainly due to the extended support and relief of pressure points which pillows of the kind are delivering.
Pillows for side sleepers are designed to enhance your spinal alignment in a manner which would alleviate all tension and pressure between your body and the mattress. This is quite important. Consequentially, it would conveniently lessen the pain or stiffness that you might be feeling in the areas of your shoulders and neck.
Interested in exploring further? View our full best pillows for neck pain guide.
A Good Size Sleeping Pillow Helps with Snoring
Snoring is a common problem that is capable of occurring for a myriad of different reasons. Back sleeping, for instance, is associated with snoring mainly because your tongue moves right back into your throat while you are sleeping.
If you sleep on your side, however, you wouldn't have to worry about this particular cause of snoring. The same goes about sleeping on your stomach as well. Of course, we are far from stating that side sleepers don't snore – it is just less likely because they've dealt with one of the most common causes.
At the same time, it is essential that you find a side sleeper pillow that will provide you with the proper neck alignment. As soon as there is an unnatural or unaligned curvature in your throat, the airflow will be blocked or impaired. Both cases will potentially lead to snoring.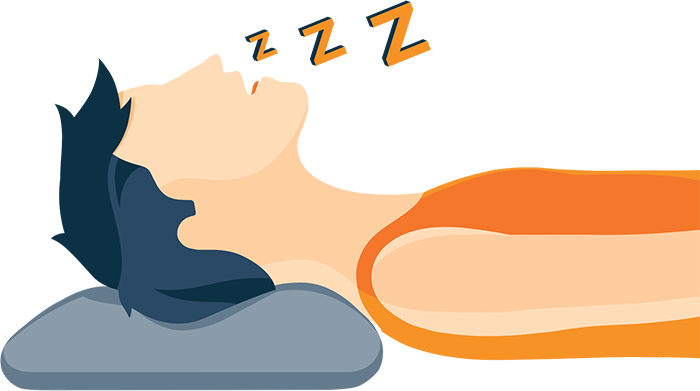 Healthy Spine Alignment (Beyond The Mattress)
Keep in mind that spinal and neck alignment is probably the most important factor when choosing a side sleeper pillow.
This is one of the most significant advantages of side sleeping as it provides natural alignment which is not affected by the type of mattress (ie, pillow top) as much. In other words, it allows proper flexibility. Even though you are better off with a bed that's going to deliver excellent support and comfort at the same time, for side sleepers the tolerance is rather significant.
At the same time, spine alignment is associated with a tremendous amount of different consequences. If your spine is not aligned correctly, this could translate to a range of conditions. You can start feeling pain in your back, neck, lower back, hips, and on your shoulders.
Morning headaches are a common consequence as well, and these can very quickly turn to chronic conditions that become particularly challenging to handle. Ultimately, a permanent misalignment as a result of extended improper sleeping position is one of the things that could seriously harm your overall lifestyle.
A single sleeping position, a nice bed, and a good pillow could make the world regarding your overall health. These are not things that you could afford to underestimate.
Learn More: How to Properly Sleep On Your Side
Prevent Wrinkles
Have you ever thought that your sleeping position could be giving you wrinkles? Some researchers have already determined that the way we sleep can dictate the way we age. In other words, if your quality of sleep is insufficient, you could be experiencing premature signs of aging.
Early morning puffiness is something that could accelerate the appearance of fine lines and wrinkles. There are quite a lot of reasons for that, amongst which improper sleeping positions occupy one of the top spots. Other causes include alcohol consumption and hormonal changes.
Even though this swelling is temporary and it's likely to vanish in an hour or so, the lines which are left from your pillows have already etched across the face, and they are far from being as flattering as you'd want them to. The more they occur, the more your wrinkles will settle in. The older we get – the longer these lines take to disappear.
But it's not just these lines that are capable of causing premature aging symptoms. Heating can quickly dry out your skin and trigger a range of different conditions. Eczema, for once, is an issue that you'd have to be aware of.
Remember how we mentioned that memory foam isn't the most critical solution as it can't prevent heat retention and it sleeps rather hot? Well, here is one of the consequences that this could potentially lead to. Therefore, coolness should also be a substantial factor that you ought to take into account.
To Conclude
Finding a perfect pillow online as a side sleeper can be very subjective, especially with all the available accessories. But we hope that this guide helped you to narrow down your choice, whether for yourself or a gift. If you tend to switch positions a bit during the night grab our Editor's choice, Active X or Coop Home Goods. If you care for more ergonomic construction for neck pain, you can go with #3 or #4 or more specialized ones that allow your arm and shoulder to rest.
I'm sure that any of the pillows mentioned above will be viable when you shop for your side sleeping needs.
Our team covers as many areas of expertise as we do time zones, but none of us started here as a so-called expert on sleep. What we do share is a willingness to ask questions (lots of them), seek experts, and dig deep into conventional wisdom to see if maybe there might be a better path towards healthy living. We apply what we learn not only to our company culture, but also how we deliver information to our over 12.7M readers.
Sleep research is changing all the time, and we are 100% dedicated to keeping up with breakthroughs and innovations. You live better if you sleep better. Whatever has brought you here, we wish you luck on your journey towards better rest.