Transparency Disclosure – We may receive a referral fee for products purchased through the links on our site...

Read More

.
Have you ever dreamed of slipping your hotel pillow into your suitcase? If so, the Saatva Latex pillow may provide you with the luxurious feel of those hotel pillows, and you won't have to lead a life of crime. Saatva, the company behind this pillow, has been on a mission since 2010 to provide everyone with healthy and restorative sleep by crafting products made from high-quality, eco-friendly materials.
In this review, we will take a deep dive into Saatva's latex pillow offering. Having a pillow that compliments our preferred sleep position is an important component of our sleep health. By providing you with the ins and outs, along with the good and maybe not-so-good aspects of this pillow, we are striving to give you a comprehensive overview of this pillow, which can, in turn, help you decide if it is right for you.
Saatva Latex Pillow
A pressure-relieving pillow made with natural latex.
Sleep Advisor Score
4.80 / 5
Read Full Review
Who Is the Saatva Latex Pillow Best for?
Who Might Like the Saatva Latex Pillow:
Hot sleepers – Latex is a cooling material, and this pillow uses shredded Talalay latex for its core. It also has a breathable cotton cover, and the combination of the core and the cover should help keep you cool throughout the night.


---

Fans of luxurious hotel-type pillows – The Saatva Latex pillow has the fluffy feel of a high-end hotel pillow, but the latex offers more support.


---

Back sleepers – These people should receive ample support to help keep their spines properly aligned when sleeping on their backs.
Who Might Not Like the Saatva Latex Pillow:
Budget shoppers – The Saatva Latex pillow uses premium materials, and that makes its price tag higher than some other more affordable pillows on the market.


---

People who want a pillow that keeps a consistent shape – If you're not a fan of frequently fluffing your pillow, this may not be the best choice for you.


---

Stomach sleepers – Given its pillow-within-a-pillow design, this product may be too high for most stomach sleepers. Although you can take the inner pillow out to make it lower, that probably won't be the best pillow option for stomach sleepers.
Sleep Advisor's Testing Methodology
To help you build a relaxing and restorative sleep environment, Sleep Advisor puts bedroom accessories such as mattresses, bases, bedding, and pillows through a host of tests to bring you a comprehensive overview of the product. To help you decide if the Saatva Latex pillow is the best choice for you, we evaluated specific areas of the construction, such as the cover and core, as well as the firmness, feel, loft, and weight. Although the type of pillow you prefer is subjective, these evaluations can help you decide if this particular model is a good fit for you.
What is the Saatva Latex Pillow Made of?
Cover
The cover of the Saatva Latex pillow is made with a breathable organic cotton in a sateen weave. There is stylish brown piping around the edges that provides a luxurious touch. This pillow has a pillow-within-a-pillow design, and the outer cover can be unzipped so that you can remove the inner pillow and wash the cover.
Core
This pillow is essentially made up of two pillows —the outer pillow and the core or the inner pillow. The fluffy outer pillow is made with a hypoallergenic down alternative called microdenier fiber.
As for the inner pillow, it is made up of shredded Talalay latex, which is made from rubber trees and is an eco-friendly substitute for memory foam. Additionally, this material is generally cooler, more responsive, and more durable than many other fillings.
Saatva Latex Pillow Firmness & Feel
Firmness
Initially the Saata Latex pillow feels incredibly soft thanks to the outer pillow's plushness that is provided by the down alternative material. However, as you settle into this pillow, it has a firmer feel. Although the outer layer is pretty soft, once your head sinks through that layer, the inner latex core provides more firmness.
Feel
The sateen weave of the breathable organic cotton provides a soft, luxurious feel to this pillow. The amount of airflow that can be passed through the cover, combined with the Talalay latex core, may also make the cover feel cool to the touch.
Loft
A pillow's loft or height is an important factor when it comes to preferred sleeping positions because it can influence spinal alignment and help prevent neck pain. When fully fluffed, the Saatva Latex pillow is around 8 inches tall. This is taller than a standard pillow, but once you put your head on it, it will begin to sink down a little. Once you're settled in, the pillow will be around 5 or 6 inches high, which is closer to a standard pillow.
Weight (Density of the Pillow)
The Saatva Latex pillow is fairly dense. The Queen-sized pillow weighs 5 pounds, and the King-size comes in a pound heavier.
Sleeping on the Saatva Latex Pillow
If you sleep well on hotel pillows, you're likely to appreciate the Saatva Latex pillow. We like how its pillow-within-a-pillow design provided both a soft, fluffy feeling, as well as a supportive core that helped with spinal alignment.
Although this pillow was a bit on the high side for side sleepers, we liked how you could take the inside core out to lower the height but still have a more side sleeper-friendly pillow. Additionally, the latex and organic cotton materials deliver a great cooling effect that is beneficial for those who sleep hot.
| Side Sleepers | Back Sleepers | Stomach Sleepers |
| --- | --- | --- |
| ★★☆ | ★★★ | ★☆☆ |
Side Sleepers
The cloud-like feeling of the outer layer of this pillow is likely to be appealing to side sleepers as it will feel soft against their cheeks. The height from the inner core may make this pillow too tall for some side sleepers, while others could find that it keeps their neck and spine aligned well. Read more about best pillows for side sleepers here.
Back Sleepers
Those who prefer to sleep on their back should enjoy this pillow quite a bit. Your head will first sink into the fluffy, down-alternative before compressing into the inner layer of shredded Talalay latex. Once your head snuggles into this layer, you are likely to experience a loft that will keep your neck elevated and supported without making it feel as if it is being pushed upwards or forward. Read more about pillows for back sleepers here.
Stomach Sleepers
Most stomach sleepers will likely want to avoid this pillow as it is probably too tall for their preferred sleep position. Stomach sleepers could remove the inner pillow, and this would probably make it a more suitable height for how they like to sleep. However, if you're buying this as a nightly pillow, you would probably be more satisfied buying a lower pillow.
Saatva Latex Pillow Sizing Options & Pricing
| Size | Dimensions | Price w/o Discount |
| --- | --- | --- |
| Queen | 18" x 28" | $165 |
| King | 18" x 34" | $185 |
Saatva Latex Pillow
A pressure-relieving pillow made with natural latex.
Sleep Advisor Score
4.80 / 5
Read Full Review
Sleep Advisor's Performance Ratings for the Saatva Latex Pillow
Those who sleep hot should enjoy this pillow. The Talalay latex is a naturally cooling material, and the cover is made from breathable organic cotton. Additionally, Saatva shreds the latex fill, which promotes air circulation within the pillow. When touching this pillow, it may not feel cool on your hand, but it does appear to keep a temperature-neutral feel throughout the night.
For More Information: Best Cooling Pillows
The outer layer of this pillow is fluffy and soft, but the inner core is made up of supportive, shredded latex. Therefore, even though it is likely to have an initial down-alternative feel, the latex core should provide more support than down-alternative pillows.
However, to keep the combination of the plush outer layer working with the firmer core layer, this pillow will need to be fluffed fairly frequently. Without this fluffing, the outer layer may get compressed, and this could make the inner core too firm and uncomfortable.
The Saatva Latex pillow is made with high-quality materials including Talalay latex, and it appears to be constructed with durability in mind. After fluffing up the outer, down-alternative layer, it seems to easily regain its shape. Granted, how long a pillow will last depends on several factors such as how frequently it is used and how often the cover is washed, but this pillow gives many indications that it will easily last for the three years that it is recommended to use it.
The pillow-within-a-pillow design provides a great balance of comfort and support. The outer layer is made from a fluffy, down-alternative material that should provide you with a softness that envelops your head in a gentle hug, while the firmer inner layer should provide support that keeps you from sinking completely through the pillow. It should also be comfortable for those seeking extra pressure relief.
Bedding products, including pillows, can sometimes have a slight chemical smell upon arrival. This is known as off-gassing, and although it may be unpleasant, it isn't harmful. However, you don't have much to worry about with the Saatva Latex pillow as there is little to no off-gassing.
Those who are particularly sensitive to scents may notice a slight chemical smell from the latex core, but it shouldn't be overpowering. If you do notice a smell, you can place the pillow in a well-ventilated area for 24-48 hours to dissipate the off-gassing smell.
This pillow is considered hypoallergenic. Therefore, those who experience symptoms caused from most allergens or asthma shouldn't have problems when sleeping with the Saatva Latex pillow as latex is dust mite and mildew resistant. However, those who are allergic to latex specifically may prefer a different product.
The removable cover and outer layer pillow are machine washable. However, the shredded latex core should not be washed. Saatva recommends that you wash your pillow twice a year and replace it every three years.
Saatva provides a 45-night sleep trial so that you can be certain that this is the right pillow for you. If you don't love the pillow, you can return it for a full refund. There are no restocking fees, but Saatva does ask that you wash your used pillow before returning it. You will receive a 1-year limited warranty on this pillow.
Saatva Latex Pillow
A pressure-relieving pillow made with natural latex.
Sleep Advisor Score
4.80 / 5
Read Full Review
Saatva Latex Pillow Frequently Asked Questions
How long does a Saatva Latex pillow last?
Saatva Latex pillows are made from durable, high-quality materials that should last a long time. However, the company recommends for optimal use, these pillows should be replaced every three years.
Is shipping free on the Saatva Latex pillow?
Yes, the Saatva Latex pillow ships for free within the contiguous United States. Shipping can be arranged through a freight forwarding company for those living in Alaska or Hawaii.
Is the Saatva Latex Pillow good?
Yes, the Saatva Latex pillow is a high-quality product with durable materials. It provides a great combination of soft down alternative and a supportive latex core. Additionally, this pillow should help most sleepers remain cool.
How Does the Saatva Latex Pillow Compare to Other Pillows?
Saatva Latex Pillow vs Nectar Resident Pillow
Saatva Latex Pillow vs TEMPUR-Neck Pillow
Our Final Thoughts on the Saatva Latex Pillow
After being put through multiple tests, the Saatva Latex pillow proves to be a durable product that is suitable for many sleepers, particularly those who prefer to sleep on their backs. Its pillow-within-a-pillow design makes it both soft and luxurious thanks to the outer layer, while the inner latex core gives it a supportive base.
Although this pillow is not necessarily cool to the touch, it is made with breathable organic cotton and naturally cooling latex that is shredded to promote further air circulation. While dedicated side sleepers will probably want to find a more suitable pillow for their needs, the inner core can be removed if they need a short-term pillow solution. This pillow comes with a fairly hefty price tag, but if it is within your budget, this could make a great addition to your bed. Our overall score for this product is 4.2 out of 5.
Saatva Latex Pillow
A pressure-relieving pillow made with natural latex.
Sleep Advisor Score
4.80 / 5
Read Full Review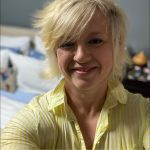 Sosha Lewis is a staff writer for Sleep Advisor.  Lewis is happy that she is able to combine her love of sleep with her love of writing. Lewis also has had articles featured in The Washington Post, Huffington Post, MUTHA Magazine, Charlotte Magazine, and The Charlotte Observer. Her weekly column, Soshally Awkward, is featured on the nationally-syndicated radio show, Bob & Sheri.
She lives in Charlotte, NC with her husband, daughter, and lovable trash-panda of a dog, Olive.