Nectar Sleep is relatively new in the whole bed in a box industry, but it's taking giant leaps toward becoming one of the leaders.
We based our review of the Nectar mattress on several factors such as overall comfort, cooling, quality, cooling. We also had to take into account different subjective feels, so we had five of our team members sleep on it to get a clear picture.
Do we love it or hate it? Let's take a look. If you are short on time see the summary here.
You will love the Nectar if you:
Are a side sleeper – if you prefer sleeping on your sides, the use of memory foam in the comforting top layer is going to deliver the sleeping sensation that you look forward to. It's essential for side sleepers because of the severe weight concentration that usually causes pressure points.
Like the memory foam beds – The top layer is composed of memory foam, and that's what brings a very nice and somewhat classic feel that's associated with this material. Sleepers could also expect to feel proper sinking, contouring and pressure relief.
Are a hot sleeper – With a combination of breathable TENCEL covers and gel-foam, Nectar sleeps much cooler than most products in this category. If you tend to sleep hot, a cool bed like this will be great for you.
You might not like the Nectar if you:
Want fast "response" time – Memory foam has much slower "response" time than coils or latex which means you will get less bounce (an important feature for sexually active couples). It still has much better bounce than 90% of other foam beds out there.
Want a more traditional feel – Many people still love that traditional innerspring feel with very strong edge support, bounce and cooling.
Let's take a closer look.
Construction (Materials & Quality)
Nectar is an all memory foam bed. Like many similar products (see our full list of mattress reviews), it uses multiple layers with different firmness and properties to deliver the best possible support and comfort.
Cover – A very soft and breathable cover made from Tencel and cotton blend.
The top layer also includes an inch of gel-foam for better heat distribution and cooling. It's designed to relieve pressure and, as such, the sinking is slightly more pronounced. Side sleepers will love it!
The 2nd layer consists of 3 inches of traditional memory foam located just below the top cover layer. This layer has slow response and much better contouring, which allows proper distribution of your weight and enhanced pressure relief.
The 3rd layer is designed to serve as the transition between the firmer base layer and the softer upper ones. Now, it's still composed of memory foam, but it does bring a little resemblance to the spring mattress as it is quite quicker regarding pressure response. That's compared to the upper layers.
The 4th one acts as a bed base. It is the thickest one, and it is composed of poly foam. It delivers a proper deep compression support, ensuring that you receive an excellent foundation, should your weight pressures through the comforting upper layers. Furthermore, this is the layer that's going to keep the entire integrity of the bed and hold it together.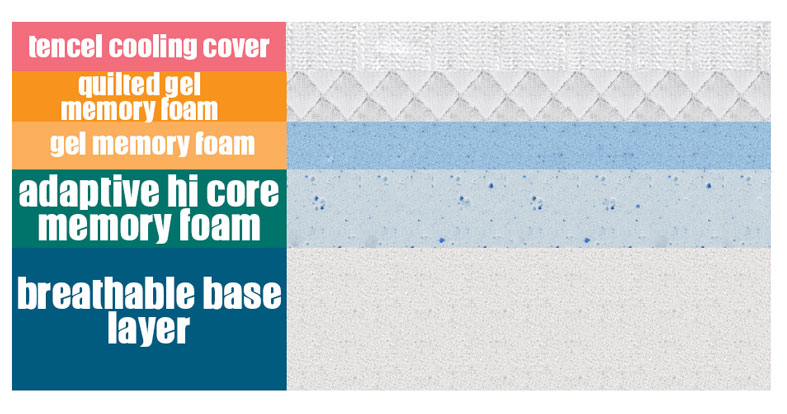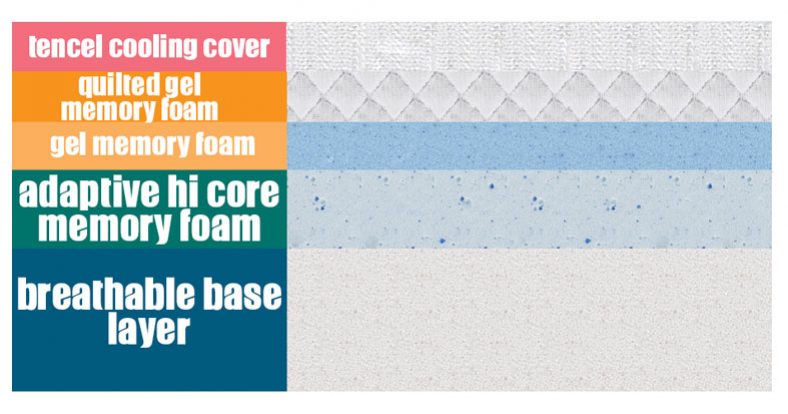 Firmness (Support & Feel)
Now, it's important to note that different people feel firmness in various ways. Considering height, weight and also the overall sleeping preference you end up with completely different subjective feel. However, out of 5 sleepers that tested Nectar mattress we all agreed it's 6 to 6.5 out of 10 on the firmness scale where ten is the firmest.
It's estimated that this is around medium to slightly firm and that's what the wide majority of people would prefer. About 80% of sleepers lean towards this particular feel.
When you press the top part of the bed, you will experience an initial softness of Tencel covers. The initial response is also somewhat slow, but that's expected. However, it's worth noting that the mattress, regardless of not being as responsive, is far from making you feel "trapped."
If you are slightly heavier and you sleep on your sides, though, you will push through the upper softer layers, and you'd engage the transitional one. That's why the bed might feel a bit firmer in that case. I've never felt uncomfortable, in any sleep position I tested.
Motion Transfer
Obviously, if you're sleeping with a partner and you are sharing the bed each night, you would want to know whether or not his or her movements will impact your sleep and vice versa. It's called motion transfer.
So, our tests showed that the disturbance of one side of the Nectar bed when moving on the other one is pretty minimal.
The bed is going to do a great job of maintaining its integrity and isolating the motion of your movements, limiting them to your side only. You won't wake up in the middle of the night if your spouse wakes up and starts moving.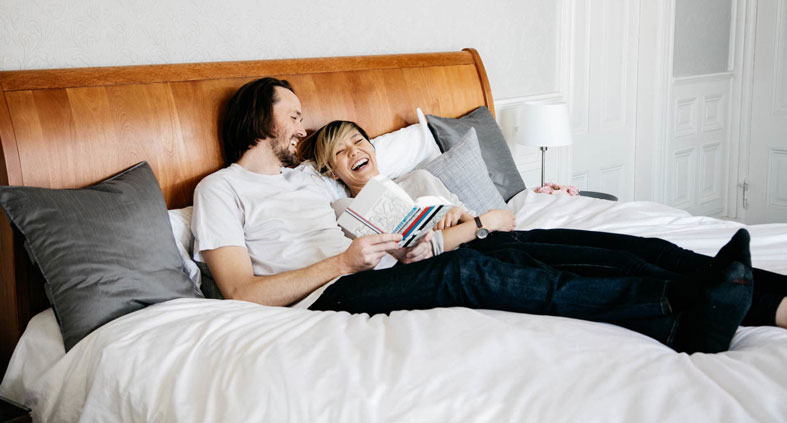 Sinkage
When you're buying a memory foam mattress, one of your natural expectations would be for it to be able to sink and contour your body. That's one of the strongest selling points of the Nectar bed. Some people prefer slight push-back, which is mildly achieved by the third transitional layer that's slightly firmer but the overall sensation is similar to classic foam-based beds.
Depending on the overall sleeper's weight as well as the sleeping position, you can expect it to sink from 1.5 inches to a total of about 3.5 inches if you are heavier and prefer to sleep on your sides.
But how much sinking is too much? You ought to make sure that you receive a substantial pressure relief through body contouring but, at the same time, you need to make sure that you don't sink too much to feel trapped. Nectar delivers a perfect balance, and it never sank too much, nor I felt excessive "hug."
Edge Support
Edge support is something that a lot of buyers tend to overlook.
When you lie near the side of the Nectar bed, you can feel proper support even when you are close to the edge. You would be able to roll around and sleep at both ends the mattress getting overly compressed.
Some people love to sit on their beds during the day or in the evening. You will notice slight compression, but you can expect that from any memory foam based bed. After all, you are not buying a bench.
Other Considerations
While we managed to cover the most important specifics, it is also necessary to take a look at a few additional ones.
Trial Period – Nectar offers an incredible 365 nights trial during which you can test it as much as you like and if you dislike it, you can return it.
Warranty – Industry leading lifetime warranty is something that most buyers will love here.
Shipping – Free shipping is included in the continental US. You can also get "white glove" service, and that means they will take the old bed out and unpack your new one. It usually takes 1-5 days to get it shipped to your home address.
Coupons – You can get $125 off during checkout with "SLEEPADVISOR125" coupon.
| Size | Dimensions | Price (without discount) |
| --- | --- | --- |
| TWIN | 39in x 75in x 11in | $500 |
| TWIN XL | 39in x 80in x 11in | $550 |
| FULL | 54in x 75in x 11in | $700 |
| QUEEN | 60in x 80in x 11in | $795 |
| KING | 76in x 80in x 11in | $900 |
| CAL KING | 72in x 84in x 11in | $900 |
Final Thoughts
---
Amazing!
Nectar rightfully earned the award of our #1 pick for the best value mattress under $1000 and you can't really beat their 365 days trial and lifetime warranty!
Add your review
|
Read reviews and comments
It's hard to say what's
an ideal bed
, but during our analysis of Nectar Sleep mattress, we realized that you could 
hardly find a better one at that price
. If you apply our coupon that's
$670 for a queen-sized
bed.
You can easily save more than $3000 by ordering Nectar online vs. buying a similar quality product in a store.
The company has gone above and beyond to refine their product and to make sure that everything that you might expect. It's a relatively new company, but they are on the right track to becoming leaders in this competitive and growing industry.
Author:
Jill Thompson
I've been married for 8 years to my loving husband Mike. We have two boys that keep us busy with sports. Having kids has definitely made sleep an even more important element in our lives. Now, our sleep quality not only affects me and my husband, but our two boys. Poor sleeping habits might lead us to poor parenting decisions.
When I'm not obsessing about sleep you can find me playing tennis or golf.
I love talking about sleep and hope your sleep quality improves after stopping by our site.