Transparency Disclosure – We may receive a referral fee for products purchased through the links on our site...

Read More

.
Nectar is a popular bed-in-a-box mattress brand specializing in high-quality memory foam models. Though memory foam has a reputation for overheating, Nectar helps solve this by infusing cooling gel into their memory foam. They believe in what they've made so much that this bed comes with a 365-night sleep trial period and a Forever warranty.
In this Nectar mattress review, we'll take a look at their flagship model and walk you through everything from the cooling to the look to how well it isolates motion.
Watch Our Nectar Video Review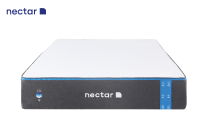 Get the Nectar Mattress
Deeper hug like traditional memory bed but with updated cooling and Forever warranty.
Click the button below to get the Nectar Mattress at an affordable price.
Who We Recommend The Nectar For:
Memory foam lovers – You love that feeling of a mattress slowly responding to your weight and wrapping around your body, and this brand should deliver that classic feel with some great modern touches.


---

Pressure relief hunters – The last thing you need in your bed at night is pressure if you have achy joints and stiff muscles. The CertiPUR-US® memory foams should cradle and balance most folks so that pressure doesn't build up.


---

Value seekers – Nectar commits to delivering risk-free value for your dollar. They do this by keeping their prices affordable for the quality of materials and extending the sleep trial, so you have plenty of time to try it and make sure it's for you.
Who We Don't Recommend The Nectar For:
Heavy sleepers – Nectar mattresses may be too soft for heavier sleepers. Heavy people usually need firmer support to keep the hips from sinking in and ensure proper spine alignment.


---

Fans of the innerspring design – This is an all-foam bed, and you may not like it if you're a fan of the traditional innerspring design. The Nectar isn't as bouncy as innerspring mattresses, which could be a drawback for combination sleepers and people with mobility issues.
First Impressions: Firmness & Feel
Firmness Scale: 6.5/10
Please remember that firmness is a subjective characteristic and your shape will dictate how you experience a bed. A heavier person whose weight can more easily push through softer comfort and support layers may experience a bed as softer than a lightweight person. The way you are shaped could also play a role here. Consider your weight, shape, and size when evaluating firmness scores.

This Nectar is rated 6.5 out of 10 on our firmness scale, which is considered a mid-range firmness that should fit most people who sleep on their side and back. Stomach sleepers, especially heavy ones, may find it too soft.
The construction starts with gel memory foam underneath the cover. This is the softest foam layer and is designed to contour the body, adapting to your curves as you reposition throughout the night. The rest of the foam design is slightly firmer so that the bed can support your weight and keep your body aligned.
How Does It Feel?
From the box, the mattress takes 24-72 hours to expand and reach its full size. Open the box in a well-ventilated room to help with any initial smells. The mattress is heavy, so you should have at least two people place it onto the bed frame.
As you lie down, the mattress may feel firm at first. After a night or two of use, though, you should notice the foams responding as they begin to cradle your curves more.
What We Like About Nectar
Motion isolation – This Nectar is an all-foam mattress known for its excellent motion isolation. The foam design and its mid-range firmness help to isolate motion so that movements aren't transferred from one side to the other when you (or your partner) toss and turn.


---

Pressure relief – The softer foam on top of the bed allows for just enough contouring to cradle the curves and sensitive points. As a result, the bed helps relieve the pressure that would otherwise build up in the shoulders, knees, and hips.


---

Affordable price – While there are cheaper all-foam mattresses, the Nectar is considered an affordable option within beds of the same quality.
Our Nectar Complaints
Off-gassing – You may smell some off-gassing associated with this product. However, the smell is not harmful and should dissipate after about 24 hours with proper ventilation. However, individuals sensitive to smells should wait at least a day before sleeping on this bed.


---

It may be too hot for some – Although the first foam layer has gel infusions to help cool the mattress, extra-hot sleepers may still find it too warm. For this reason, we wouldn't recommend this all-foam bed to those who frequently overheat at night or live in warmer climates.


---

Too soft for stomach sleepers – Stomach sleepers need all the support they can get, especially for the hip area. Without it, the hips sink in too deeply, which throws the spine out of alignment and can result in pain upon waking up. Though lightweight stomach sleepers may do okay, this bed is likely too soft for most people sleeping on their stomachs.
Testing the Nectar : How it Performed
We tested the Nectar in various sleeping positions to evaluate how it performs for different sleep styles. We also tested for edge support, motion isolation, cooling, support, bounce, and pressure relief by performing various tests that helped us rate the bed accordingly.
Sleeping Positions for Different Body Types
Nectar's memory foam model can hold up to 650 pounds total – or 325 per person for those who sleep with a partner. The mattress provides a substantial amount of support, which should work for the majority of shoppers.
Despite its considerable weight allowance, the Nectar is a medium-firm mattress, and therefore, individuals weighing 300 pounds or more may find that they sink too deep into the layers.
| Weight | Side Sleepers | Back Sleepers | Stomach Sleepers |
| --- | --- | --- | --- |
| Lightweight Sleepers (-130 lbs) | ★★★ | ★★★ | ★☆☆ |
| Average-Weight Sleepers (130-230 lbs) | ★★★ | ★★★ | ★☆☆ |
| Heavy Weight Sleepers (+230 lbs) | ★★☆ | ☆☆☆ | ☆☆☆ |
Side Sleepers
Lightweight Sleepers – Lightweight sleepers should get sufficient pressure relief and support from the mid-range firmness and contouring foam.
Average-Weight Sleepers – Average-weight side sleepers could benefit from the sturdy construction holding the body in alignment, all without creating pressure on the hips and shoulders.
Heavyweight Sleepers – Heavy sleepers may find this Nectar too soft, but those who prefer softer beds and usually sleep on their side may like it.
Back Sleepers
Lightweight Sleepers – Lightweight back sleepers should like how the Nectar supports the body, offering just enough contouring to prevent pressure build-up and lower back pain.
Average-Weight Sleepers – Average-weight back sleepers would likely feel the same level of support with a bit more cradling, especially in the hip area, as this is where most pressure tends to build up when sleeping on the back.
Heavyweight Sleepers – Heavy sleepers would probably find this mattress too soft. The construction is unlikely to support the hips well enough to keep the spine aligned for those who sleep on their back.
Stomach Sleepers
Lightweight Sleepers – Although the bed is generally not recommended to stomach sleepers, those weighing less than 130 pounds may get enough support from this all-foam mattress.
Average-Weight Sleepers – Stomach sleepers weighing more than 130 pounds would probably find this bed softer than lightweight people. For some, the mattress may be too soft to support the hips from sinking in too much in this position.
Heavyweight Sleepers – People weighing more than 230 pounds are likely to sink too deeply into the mattress, which can result in poor sleep posture and lower back problems when sleeping on their back.
Pressure Relief & Pain
For those who experience pain building up in their pressure points, the right bed should provide the necessary relief to help alleviate any discomfort. Memory foam, in particular, is a material touted for its success when it comes to pressure relief.
The 6.5 firmness score of the Nectar places it within the medium-firm range for the right amount of pressure-relieving comfort for most individuals. Sleepers should feel the memory foam gently cradle their body for all-over relief and uniform sinkage.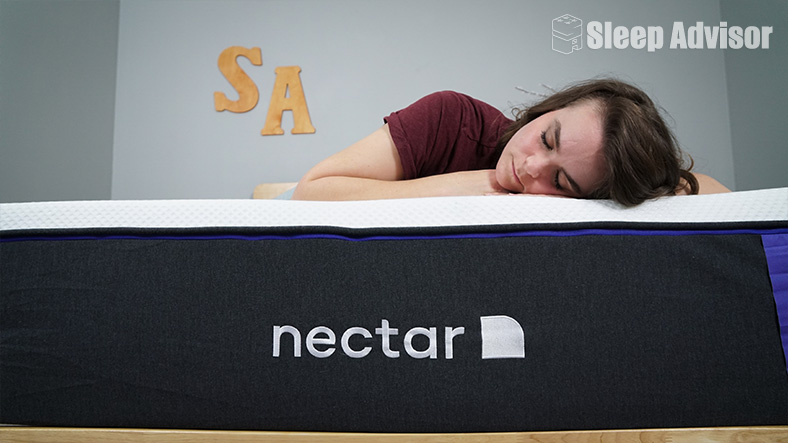 Back Pain – The mid-range firmness of this mattress provides a balance of support and cushioning to prevent pain in the lower and upper back. This allows a healthy sleep posture for most people sleeping on their side and back.
Hip Pain – People struggling with hip pain need a mattress that supports this area without creating any pressure. The Nectar allows some contouring without taking away from the support level you need to prevent the hips from sinking in.
Shoulder Pain – Shoulder pain can come from a mattress that's too firm, especially for side sleepers. The Nectar's mid-range firmness should allow plenty of pain relief by allowing just enough sinkage and support.
Support
A robust support system is essential for maintaining a healthy spine alignment. The bottom two layers are noticeably firmer than the first two, and these form the support system which balances your weight and aligns your spine. When lying on your bed, your spine position should feel neutral or just as it does when you're standing up.
The uniform feel of the comfort layer, balanced with this support system, should do a great job of keeping your weight balanced evenly. The firmer foams should be enough to support most body weights, though folks with significant weight concerns (over 230 pounds) may prefer a bed with extra reinforcement.
Motion Transfer
A mattress with excellent motion isolation is beneficial for couples who don't want to disturb their parents if they move or get up at night. The Nectar does well at preventing movement transfer from one side of the bed to the other. This means partners with different sleeping habits won't disturb one another when tossing and turning. Motion isolation is also beneficial to those who sleep with a child or pets who get in and out of bed often.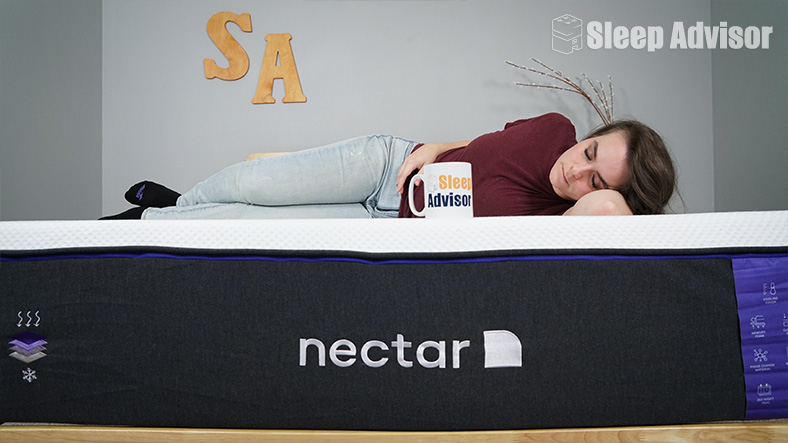 Temperature Regulation / Cooling
Memory mattresses are known to overheat at times because this foam doesn't provide much airflow. This Nectar infuses gel into its memory foam to help keep the material cool, though. In addition, the cover is designed with heat-wicking technology that makes it even more appealing to hot sleepers. However, it's important to note that this bed still runs hotter than most hybrid and innerspring models and may be too hot for those living in a warmer climate.
Performance for Couples
Foam beds are usually good at isolating motion, so this Nectar is no exception. In addition, its mid-range firmness prevents the movement from going from one side of the bed to the other, which should benefit partners with different sleep habits.
Some couples may prefer a bouncier bed, but the Nectar is unlikely to make you feel stuck, so mobility shouldn't be too much of an issue. Couples that like sleeping near the edge of the bed will notice more sinkage in this area, but the bed still holds up well without collapsing under the weight.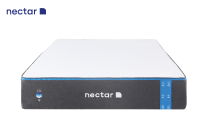 Get the Nectar Mattress
Deeper hug like traditional memory bed but with updated cooling and Forever warranty.
Click the button below to get the Nectar Mattress at an affordable price.
Preference-based Features
Hybrid Version Available
The Nectar is an all-foam mattress, but there's also a hybrid version of this bed: the Nectar Hybrid. The hybrid is slightly more breathable and bouncier but also more expensive than its all-foam counterpart.
Motion Isolation
This bed excels when it comes to motion isolation, so it should be a good match for couples and people who share their beds with kids and pets. The foams absorb motion so that you don't feel so much of the other person's tossing and turning.
Exceptional Edge Support
While you may feel extra sinkage along the perimeter, overall, the Nectar should leave you supported along the edges. Edge support is important for singles who want to spread out across their mattress or couples who need additional room.
Pressure Relief
Nectar does a good job of providing pressure relief by including memory foam in all their beds. Memory foam is one of the best materials for pressure relief because of its ability to conform to the sleeper's body for a highly comfortable feel. Nectar's memory foam mattresses should alleviate problematic pressure points.
White Glove Delivery
Shoppers can opt for White Glove Delivery, which means Nectar will help set up your new mattress and remove your old one. White Glove Delivery costs an additional 149 dollars. Furthermore, this delivery option is at the provider's discretion and may not be available in certain areas due to safety concerns.
Adjustable Base Compatible
If you have your eye on a frame that adjusts, the Nectar mattress should work well with a moveable frame. The company even offers frames designed specifically for their mattress.
Construction: What's Inside Nectar?
Nectar's memory foam mattresses are delivered to your home in a box and wrapped in a bag. The cover is made with polyethylene and a polyester/nylon blend, and it features a circular knit pattern. Additionally, the cover is designed with heat-wicking technology.
The top of the mattress is white, with a dark gray color around the bottom half. Included is the company's signature logo.
Overall, the bed stands 12 inches tall and is built with the following all-foam layers:
Below the cover is a 2-inch layer of gel-infused memory foam quilted to the cover to provide a plush feel while contouring your body's curves. The addition of gel is designed to keep the bed's temperature regulated, so you avoid overheating during the night.
Going deeper into the mattress, you'll find 3 inches of soft, premium foam. This layer should support the body's weight, provide some bounce, and ease the transition from comfort to a supportive base.
The base layer of the bed is made of 7 inches of standard conventional foam that's higher in density. This bottom layer of the mattress supports the body and creates a sturdy and durable foundation for the bed.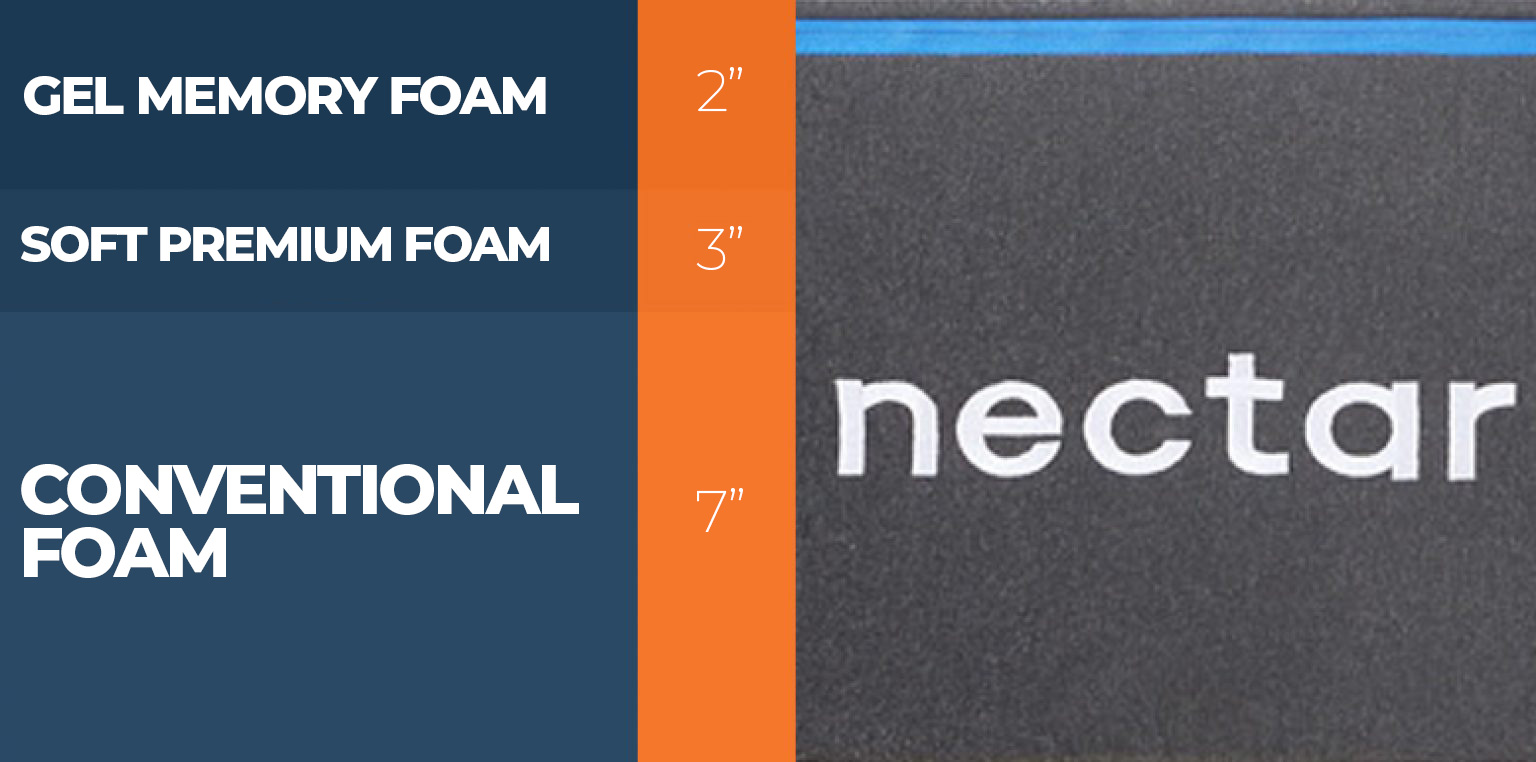 This Nectar bed has a shift-resistant bottom cover to prevent sagging, slipping, and sliding. The mattress should stay in place even if you jump on it.
Unboxing & Off-Gassing
The Nectar comes in a box, which means it's compressed and rolled into a smaller size to fit a small package. Once it arrives, you should carry the box to where you want to place the mattress before opening it. When you open and unroll the bed, you'll notice that it's much thinner. This is because of the compression and it'll usually take about 24-72 hours for it to decompress.
The Nectar is also heavy, so you may need an extra pair of hands to help you. If not, you can choose White Glove Delivery at check out. This is a service that delivers and sets up your new mattress for you.
You may notice an odor after unboxing your new Nectar mattress. This is called off-gassing and is pretty common for bed-in-a-box mattresses. Allow the Nectar to rest in a well-ventilated room for the time it takes to reach its full size. By the time it decompresses, the smell should be gone too.
Certifications
Eco-Friendly Certifications – The foams in this bed are CertiPUR-US® certified. CertiPUR-US® is a third-party program that ensures the foams meet rigorous health and safety standards. This means they don't contain harmful substances like ozone depleters, PBDEs, heavy metals, formaldehyde, and phthalates. They should also have low Volatile Organic Compound (VOC) emissions.
Noteworthy Updates:
The cover material changed from Tencel™ to polyethylene, which is heat-resistant, odorless, and non-toxic.
Nectar has modified the weight of each memory foam bed size. They now start at 40 pounds for a Twin up to 84 for a King. The Cali-King is slightly lighter at 83 pounds.
Nectar also bumped the bed's height from 11 inches to 12. The height change is reflected in the third and bottom layer, which was six inches and is now seven.
Lastly, the size of the Nectar Twin and Twin XL models is slightly smaller. These beds had an earlier width of 39 inches and are now 38 inches wide.
Coupons, Trials, Warranties, and Shipping
Shipping – Delivery is free within the contiguous United States, or it can be shipped to Hawaii and Alaska for an additional fee.
White-Glove Delivery – Optional white-glove delivery and mattress removal are available for an additional charge. The removal of your previous mattress is at the discretion of the provider, though, and may not be available in some areas for safety reasons.
Trial – Keep this bed for 365 nights risk-free. If you are unsatisfied in any way, you can return it and claim a full refund.
Warranty – Those who order a Nectar mattress receive a Forever warranty. However, the deal is only effective for the original purchaser.
Return Policy – Returns are free for the contiguous U.S. states. People in Hawaii and Alaska can return the mattress, but there's a delivery fee.
Sizes & Prices
| Size | Dimensions (inches) | Price (w/o discount) |
| --- | --- | --- |
| Twin | 38" x 75" x 12" | $599 |
| Twin XL | 38" x 80" x 12" | $769 |
| Full | 54" x 75" x 12" | $899 |
| Queen | 60" x 80" x 12" | $999 |
| King | 76" x 80" x 12" | $1,299 |
| Cali King | 72" x 84" x 12" | $1,299 |
| Split King | 76" x 80" x 12" | $1,538 |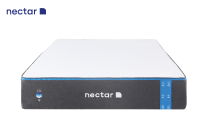 Get the Nectar Mattress
Deeper hug like traditional memory bed but with updated cooling and Forever warranty.
Click the button below to get the Nectar Mattress at an affordable price.
Frequently Asked Questions
What are the pros and cons of a Nectar mattress?
Some of the most significant benefits of a Nectar mattress are breathability, motion isolation, and consistent support throughout its entire construction. When it comes to cons, the most notable thing a Nectar mattress misses is bounce, which could make getting in and out of bed a little difficult.
Are Nectar mattresses really worth it?
Nectar packs a lot of value in this mattress, offering a high-quality bed made from premium materials. The mid-range price, White Glove Delivery, lifetime warranty, and 365-night trial make it that much more worth your attention.
Is the Nectar a good mattress?
The Nectar is a good mattress that fits a range of sleepers and should last a long time. The bed offers comfort, pressure relief, and support where you need it the most, which makes it a versatile option for nearly everyone.
How thick is the Nectar mattress?
The Nectar mattress is 12 inches thick. It's made up of three foam layers: a 7-inch base layer of high-density foam, a 3-inch middle layer of soft premium foam, and a 2-inch top layer of gel-infused memory foam.
How long should a Nectar mattress last?
Nectar should last 7 to 10 years, but it may last longer, depending on how you use it. In other words, keeping your mattress clean and avoiding activities like jumping on it or eating and drinking in bed should extend its lifespan.
Do I need a box spring with my Nectar mattress?
You don't need a box spring with your Nectar mattress, but you can use one if you want. The Nectar is compatible with multiple foundation types, including an adjustable base for those who like to customize their beds a bit more.
Is the Nectar mattress flippable?
The Nectar mattress isn't flippable. Flipping this bed would make bottom layers come first, changing how the Nectar performs regardless of your preferred sleeping position. Instead, you can rotate the mattress to reduce potential wear and tear.
Nectar vs Other Brands
Nectar vs Saatva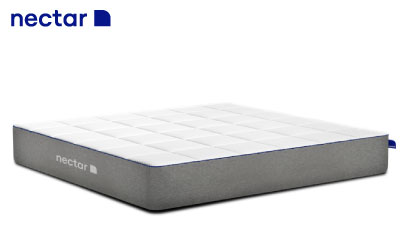 Check pricing and availability by clicking the button below
Mid-range firmness
Traditional memory foam feel
Forever warranty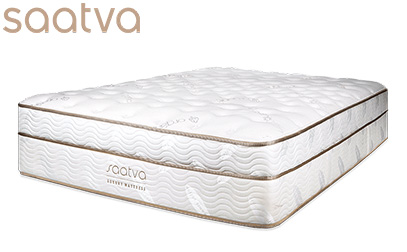 Check pricing and availability by clicking the button below
Classic innerspring design
Luxury materials
Multiple heights and firmness
Who We Recommend Nectar For
Lightweight sleepers
Memory foam lovers
Couples
Who We Recommend Saatva For
Hot sleepers
Heavier people
Luxury shoppers
Nectar vs Puffy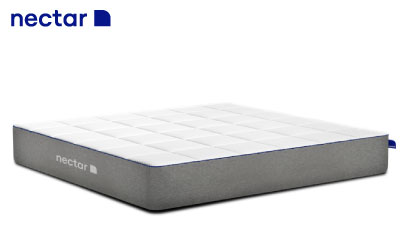 Check pricing and availability by clicking the button below
Cooling gel infusions
Pressure-relieving foam design
Free shipping and returns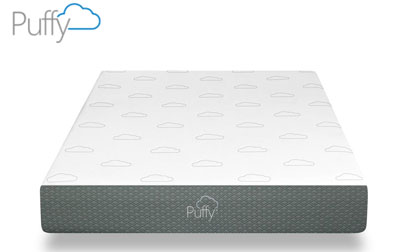 Check pricing and availability by clicking the button below
CoolingCloud foam
Washable cover
5.5/10 firmness level
Who We Recommend the Nectar For
Budget shoppers
Side sleepers
Lightweight and average-weight people
Who We Recommend the Puffy For
Hot sleepers
Restless sleepers
Lightweight people
Nectar vs Other Nectar Models
Nectar Memory Foam vs Nectar Hybrid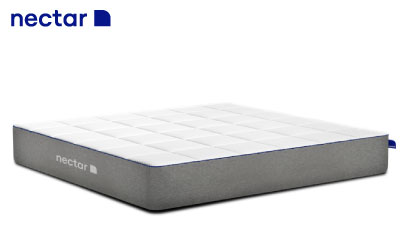 Check pricing and availability by clicking the button below
Best for pressure relief
Gentle cradling
Classic Memory Foam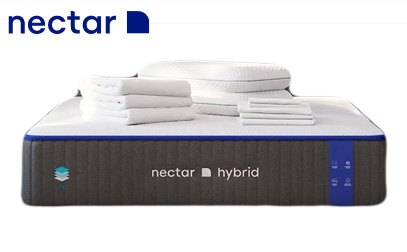 Check pricing and availability by clicking the button below
Excellent support
Reinforced edges
Antimicrobial finish
Who We Recommend Nectar Memory Foam
Lightweight sleepers
Couples
Side sleepers
Who We Recommend Nectar Hybrid
Heavier people
Hot sleepers
Back sleepers
Nectar vs Nectar Premier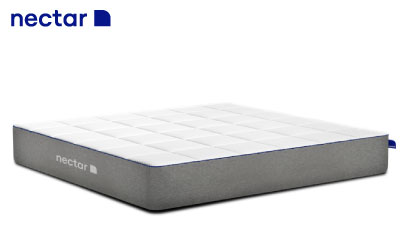 Check pricing and availability by clicking the button below
12-inch profile
Good edge support
No pressure build-up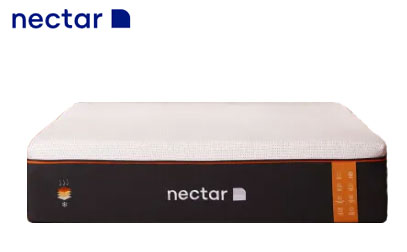 Check pricing and availability by clicking the button below
13-inch profile
Dual-action cooling
Promotes spine alignment
Who We Recommend Nectar
Couples
Combination sleepers
Lightweight and average-weight people
Who We Recommend Nectar Premier
Side sleepers
Hot sleepers
People sensitive to smells
Overall Summary
Sleepers with a yen for that classic, slow-sink into pressure-relieving foams should be delighted with this product from Nectar, which provides a lot of quality for your dollar and includes updates to keep you cool and comfortable.


We gave this bed a score of 5 for side sleepers because the memory foam does an excellent job of contouring so that even when the weight is concentrated in smaller areas, such as the hips and shoulders, the sleeper shouldn't feel any discomfort.


The Nectar also excels at providing comfort and support for back sleeping, which is why it earned a 5/5. The body conformance from the Nectar mattress should feel great for most back sleepers, while the firm support foams keep the spine in a good neutral position.


While this Nectar is likely too soft for stomach sleepers, lightweight people may still get sufficient support in this position. Individuals who carry significantly more weight may require a model that's even more firm. Stomach sleepers who find it not firm enough might consider adding a firm topper or seeking out a brand that specifically caters to sleepers with higher weight considerations.


This bed earns a top score for folks who move between different sleep positions, as it should feel equally comfortable and supportive whether you're on your side, back, or stomach. Additionally, most combination sleepers should find it easy to reposition on this bed due to the firm support foams.


This bed earned a four for couples, as it does not provide significant bounce, which some sexually active partners may prefer. Further, some couples who sleep hot may also need a cooler model. However, the Nectar earned positive points thanks to its excellent motion isolation and edge support, both of which are ideal for those who share a bed.


This bed received a three because folks with significantly larger frames may prefer a mattress that's firmer or specially built for heavier sleepers. However, the Nectar did receive positive marks because although it's a mid-range firmness, it should provide enough support for heavy people sleeping on their side.


The Nectar scored a 5 for light-weight sleepers, thanks to the impressively comfortable foams that should leave lighter individuals nicely hugged by this bed all over. While the support layers provide this bed with slightly more firmness, the contouring memory foam should prevent lightweight folks from feeling like they're resting on a rock.


Average-weight people should find sufficient support and pressure relief when sleeping on their back and side. People who prefer sleeping on their stomach may like a firmer mattress, depending on their preferred firmness level. Nonetheless, the bed is a good match for those weighing between 130 and 230 pounds.
For the overall value, the Nectar earned a score of four. We gave this score because hot sleepers and those who prefer more bounce may prefer a hybrid instead of this all-foam bed. However, the Nectar did score well thanks to its ability to perform well for multiple sleep positions and those of different weights.
Our Verdict
We recommend the Nectar bed for combination sleepers, but only if they don't stay on their stomach too long. Not only is it easy to reposition on this bed, but most sleepers should rest comfortably on their back and side.
We also feel this mattress is an excellent match for lightweight individuals. While the denser foams give this bed a slightly firmer feel, the contouring memory materials provide enough softness to still allow the individual to feel gently cradled on the bed.
We would not recommend the Nectar for exceptionally hot sleepers. While the company incorporates gel designed to keep the bed cool, if your primary concern is overheating at night, you'll probably prefer another brand.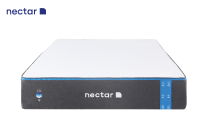 Get the Nectar Mattress
Deeper hug like traditional memory bed but with updated cooling and Forever warranty.
Click the button below to get the Nectar Mattress at an affordable price.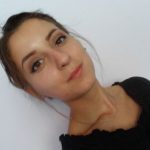 Olivera is a content writer for Sleep Advisor and is enthusiastic about sleep. She firmly believes in the benefits of daytime naps on top of getting a full 8-hour sleep at night.
She started writing in 2016 and never looked back. What she appreciates the most is her flexible working hours and the ability to work with people worldwide.
In her free time, Olivera enjoys reading Spanish literature, taking pilates classes, and trying out new cocktails with friends.