Choosing the best bed for chronic lower back pain is critical. But with so many different options out there – how do you determine which one would truly help you out?
The mattress industry has been disrupted throughout the last few years with companies selling directly through the Internet without any middlemen premiums. This has made mattress a lot more accessible.
While it's true that having an abundance of options to choose from could be beneficial, it could also be quite a hassle. The regular customer wouldn't make the difference between a 3-layer mattress and one which has an additional inch of gel on top of it. This is where we come into the picture.
We've taken the liberty of breaking down the process of buying a great mattress for back pain into understandable chunks and bits. We are also going to take a look at some of the best options which are readily available out there. We hope that once you are through reading, you'd be fully capable of making a properly informed decision which would truly alleviate your back issues.
IMAGE
NAME
MATERIALS
PRICE RANGE
RATING
Leesa
Cooling Avena and Contouring Memory Foam
$$$
9.7/10
Amerisleep AS2
Bio-Pur™ Memory Foam Cooling Layer,
Bio-Core™ Sag-free Support Layer
$$$$
9.5/10
Loom & Leaf
Cooling Spinal Gel, Eco-Friendly Premium
Foam and Dual Layer Breathable Support
$$$$
9.6/10
Purple
Hyper-Elastic Polimer and Pressure-Releasing
Comfort & Support
$$$
9.4/10
Saatva
Individually Wrapped Comfort Coils, Dual Perimeter
Edge Support System, Lumbar Support Enhancement
and Steel Coil Base Support System
$$$
9.3/10
Buyer's Guide for Beds with Back Support
Lower Back Support
Pain radiating from your lower back is a common part of the regular nightly routine for an array of sleepers. However, going to sleep shouldn't be associated with added pressure on your waist. It is obviously critical to find a bed which offers flawless support.
Now, keep in mind that firmness and support are not the same characteristics, even though quite a lot of people commonly get them confused. You can easily have a soft mattress which still offers awesome support. At the same time, if your mattress is firm, it doesn't mean that it wouldn't be supportive or comfortable.
The adequate support would genuinely result from a mattress which manages to align your spine properly. At the same time, the bed should also remain perfectly comfortable. The latter is just as important. If you experience pressure, it could be because the mattress is not comfortable and you can't seem to find the position that would help you relax.
Firmness
This is a rather specific characteristic that you'd have to account for. It relates to the initial sensation that you get when you lay down on the mattress. Now, when it comes to back sleepers, there truly is an ideal firmness, and it is medium. This means that you should aim for a mattress which scores between 5 and 7 on the firmness scale. In this scenario, 10 is the firmest.
This is the perfect firmness level because it brings the necessary balance between the push-back support and the necessary softness for achievable comfort. This is definitely going to remove the pressure from your lower back and stimulate a good night's sleep.
With that said, some people tend to feel that a softer mattress is better for their back. Of course, this would be rather individual, and it would be based on your sleeping style.
Another consideration to account for when determining the ideal firmness for your back pain would be your weight. For instance, the heavier you are, the more pressure your body would exert on the mattress and the more it would impact it. Therefore, you might be looking at something firmer to compensate for this sinking.
On the other hand, lighter weight people tend to stay away from those as it might get them feeling as if they are floating on top of the mattress. This would exacerbate their back issues.
Want to explore the best firm models out there? We created a firm mattress buyer's guide just for you.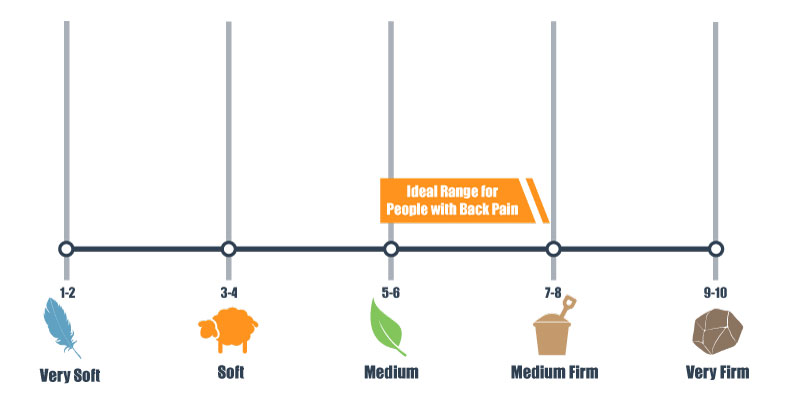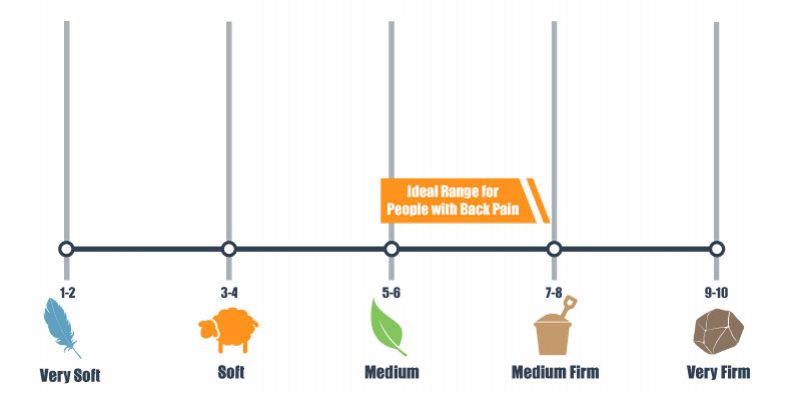 Back Pain Pressure Points
If there is an overly important area to be attentive to when suffering from back pain, it's the pressure points which are created between the mattress and your body. Put simply, pressure points mean that there is extra push back around a specific area. This is what causes certain misalignment throughout your body and your spine.
Once it has moved out of alignment, there is an increased amount of pressure which is placed on your spine. That's one of the common causes of back pain.
With this said, it's obviously quite important to ensure that you aren't sleeping on a bed which places serious pressure on your spine. This is also true for any major joints. That's what's going to allow your body to rest in a state which is relaxed. The chance of pressure points forming along the spine as well as the lower back are actually diminished dramatically.
This is a serious concern, and it needs to be very carefully tended to. Pressure points are capable of causing long-term deformations and issues with your spine. This isn't something that you can afford as it would quickly turn into a chronic condition.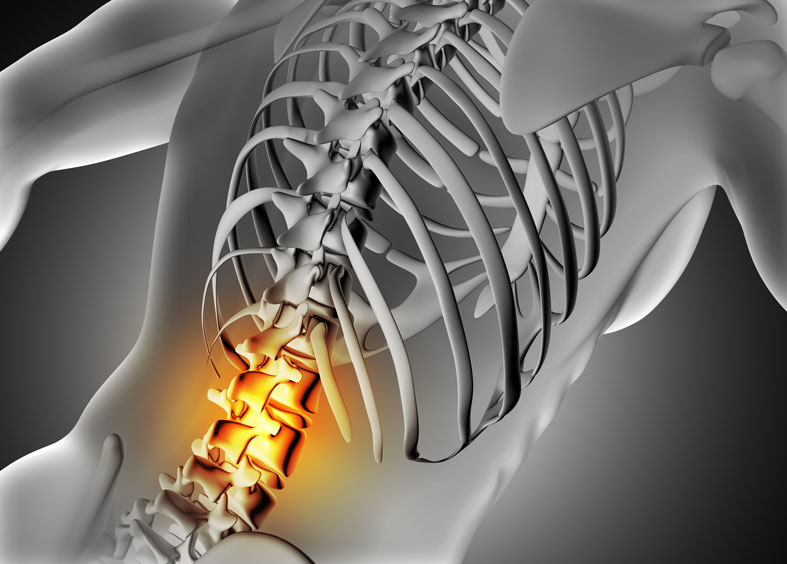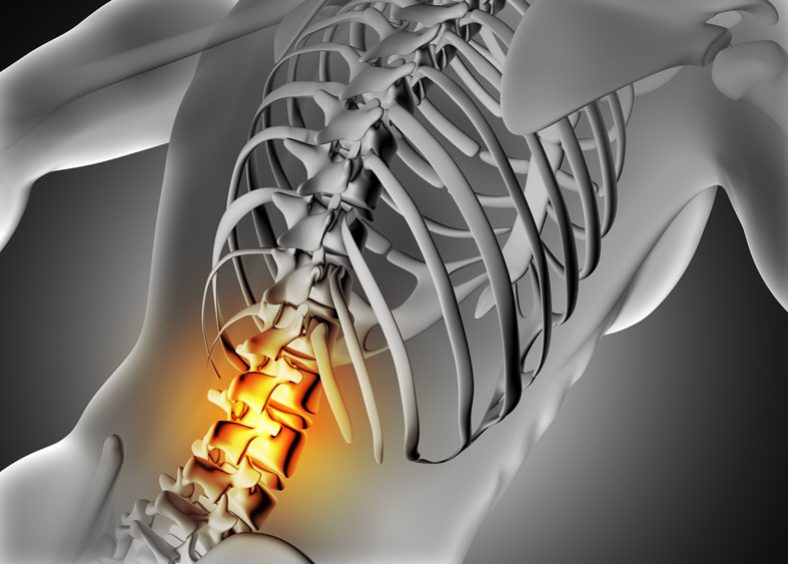 What Type of Mattress Material is best for Bad Back?
Before we get into the different types of materials suited for soothing back pain, you need to understand that different sleeping positions go along better with various materials. The type of material that you chose would be determined by your current condition as well as the different requirements of people who prefer to sleep on their back, side or stomach.
Before you dive into each material, we recommend checking out our comprehensive mattress buyer's guide.
Memory Foam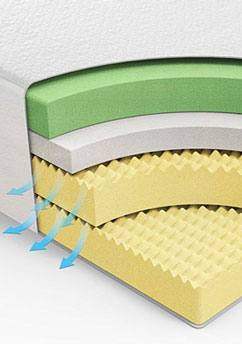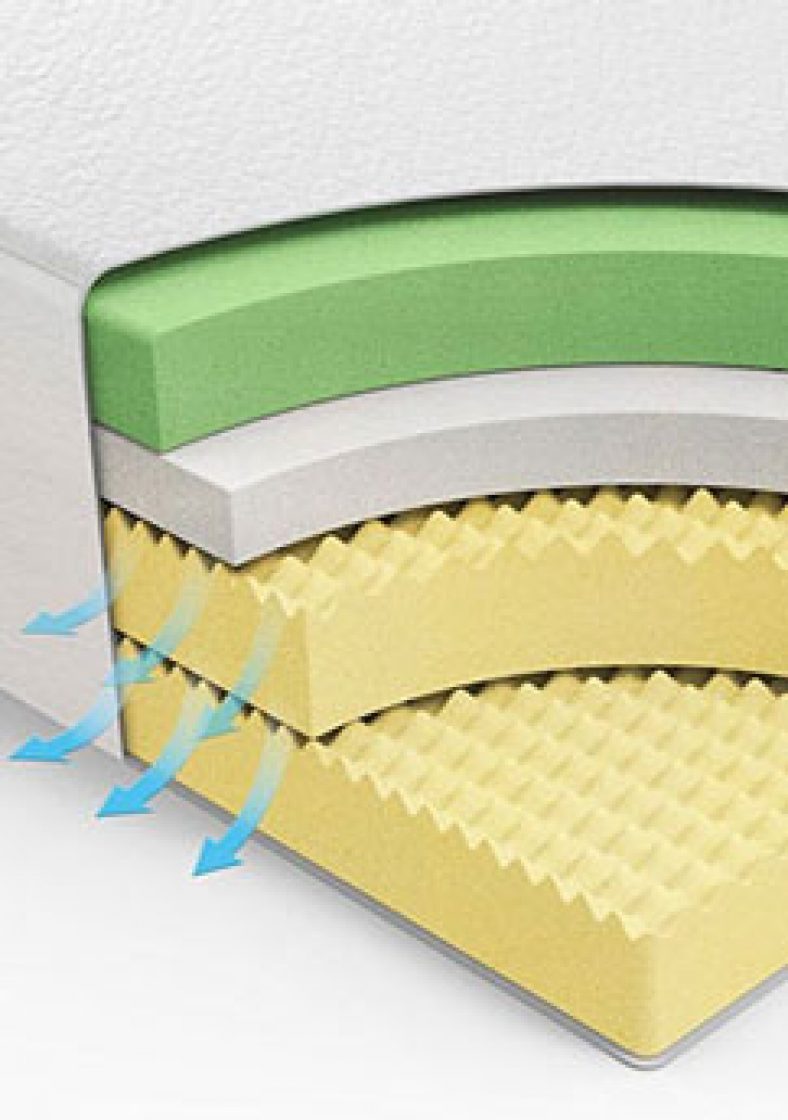 Memory foam is your best option. There is no doubt about it. What is more, research has been done, and it reveals that people with back problems usually prefer addressing them through memory foam solutions.
Studies reveal that the majority of people who have gone through a painful experience of the kind own a memory foam mattress. This is what brings them satisfaction and pain relief. It is all due to unique properties as well as the behavior of this foam. Returning to the initial point of firm vs. soft, an important feature to consider is the density of the foam.
This is where things get a bit more complicated as physics is involved. To keep it simple – make sure to go for 5 PCF memory foams which would provide you with optimal spinal alignment and support. On the other hand, medium density foams of 4 PCF offer a little less contouring while the low-density ones between 2 and 3 PCF are not likely to be as effective as the previous ones.
Keep in mind, though, that a lot of the modern mattresses come with various infusions to enhance the coolness as well as the responsiveness of the mattress.
Latex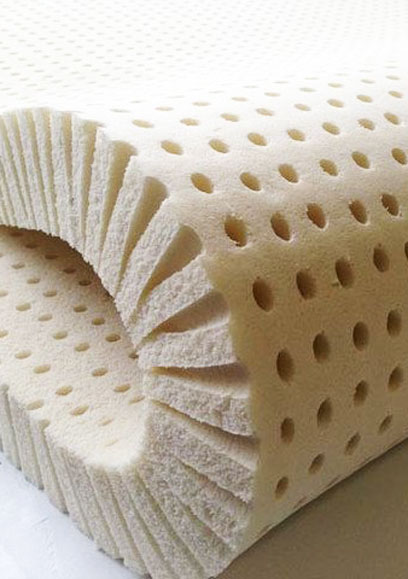 Latex is another highly convenient material which is also regarded as one of the best options for chronic back pain issues. The most appealing thing about it is the fact that it's more responsive than memory foam and it's cooler. However, it's also not as contouring.
Mattresses made of latex rate quite well amongst people who have back issues and about 33% of people who own a bed of the kind tend to claim that the unit has definitively provided them with pressure relief.
This is a premium material which is rather spongy. It is going to push into your body instantly which attempts to maximize its contouring capabilities. This is a highly recommended option for people who suffer from serious back pain. It is a premium option, and it is usually a bit more expensive in comparison.
Innerspring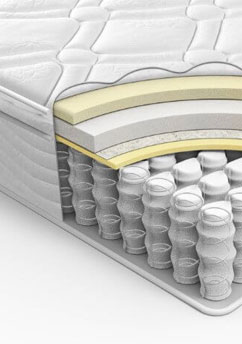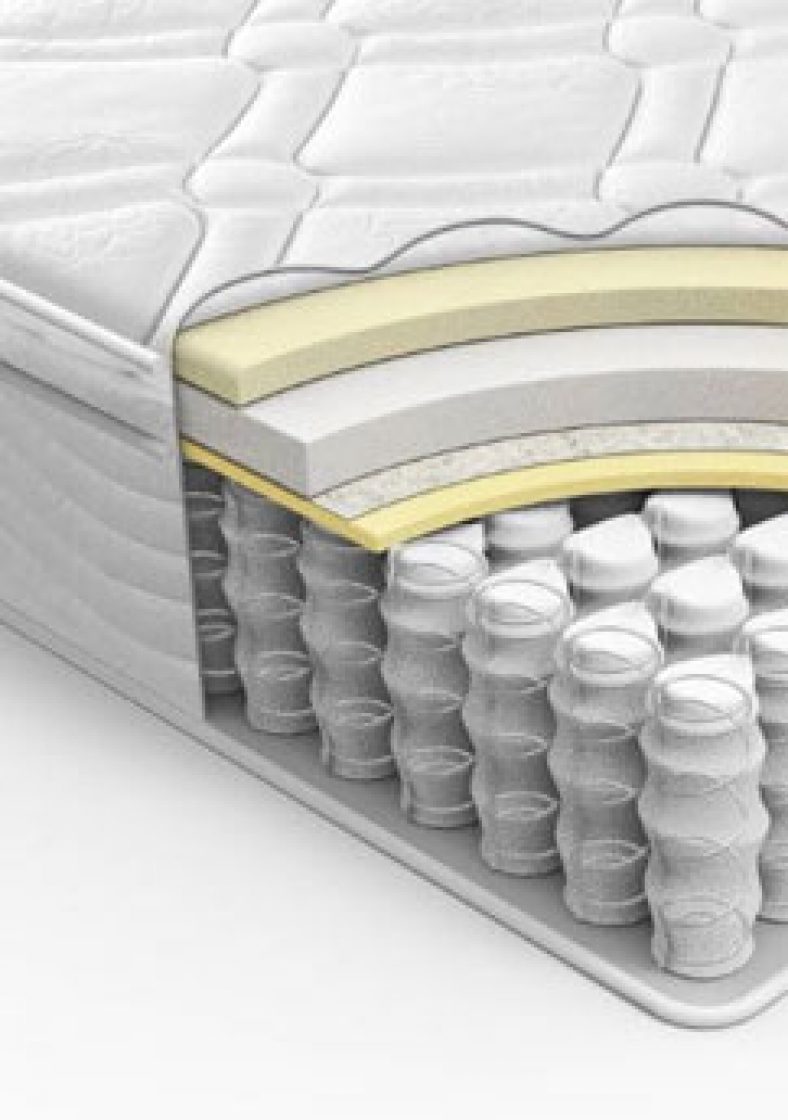 Now, when it comes to innerspring options, what you need to consider is that there are orthopedic solutions which are known to offer full-body support. These solutions take advantage of the pocket spring/coil system which is quite popular.
These are mattresses which contain thousands of unique coils, each one of which is individually wrapped in memory foam. They act independently and on their own to enhance the contouring capabilities of the mattress. However, they are a bit lacking in this regard when stacked against regular memory foam options.
The general rule to consider if you decide to buy a mattress of the kind is to aim for at least 1,000-2,000 springs. This is in case you are under 420 pounds of weight. If you weigh more than that, you should consider a mattress with more than 2000 springs. This could be a great option for pain treatment, but it's not capable of holding up to memory foam and latex.
About 80% of sleepers are likely to come across some type of lower back pain throughout their lifetime. Of course, it goes without saying that not everyone is actually affected in the same way by these pains. However, this doesn't mean that you should stay uninformed about them. They are only going to get worse over time, and that's something you ought to account for.
There are two types of back pain which are commonly observed: acute pain which lasts for less than about six weeks and chronic pain which is less common but longer lasting. This is according to the reputable Mayo Clinic. The breakdown is followed by serious research and studies carried over serious periods of time and a lot of back pain sufferers.
With this in mind, there are also different causes for that pain. Here are a few common ones of them and some actionable advice on how to prevent them.
Pulled Back Muscle and Lower back Strain
Lower back pain in particularly could actually derive from a range of different causes. However, these are actually causes which are associated with the lumbar disc directly or with muscle strains. This could actually result from sudden movements, lifting heavy objects or any other twists as well as movements.
In any case, the thing that you need to do here is to get a proper and professional consultation with your doctor. This should happen before you make a decision on your mattress.
This is based on the predication that you might have fallen into a specific situation with particular medical requirements. These might determine the firmness as well as the material type of your bed. It's important to account for this. The only person who could provide you with thorough and actionable advice on the mattress that you would have to get here is your doctor.
And, keep in mind that this should happen only after careful and thorough examination. The source of the pain needs to be isolated and targeted properly.
Stress and Anxiety
Believe it or not, stress is likely to be the most common cause for issues with your back. It might be hard to measure the exact amount of pressure that you might be feeling, and there are quite a few studies on that matter which show that stress could cause a lack of sleep.
This immediately means that you'd be turning and tossing quite a lot through the night. The more you do so, the more susceptible you are to straining and pulling a muscle. But that's not the worst part – you are more susceptible to falling asleep in a wrong position which you are not used to. This is what could make matters worse.
There are a few things that you could do here to rectify the situation, apart from getting a proper and comfortable mattress. First, you could get a massage – this is going to alleviate a lot of the stress which has been built up. You should also eat more nourishing foods and exercise properly.
Spine Curvature Disorders
If your spine is not aligned properly because of your improper posture, nothing else would matter much. You are most likely to start experiencing lower back soreness. There are three different regions throughout the length of your spine. Each one of them requires support. This would enable you to avoid issues with your back in general.
The regions are as follows:
Cervical region – this is the one which is located on the top, and it takes a third of your spine. This is what supports your head – the pillow has a critical importance here.
Thoracic – this is the middle region of your spine, and it also takes a third of the entire thing. The center of the spine would actually work to support your entire upper body.
Lumbar – if you are wonder about the phrase "lumbar support" – here's where it comes from: the bottom third of your spine. This is what supports your lower back, and it is usually considered to be the very foundation of it all.
Now, it's important to understand that proper and maintained posture could easily help you improve the wide majority of your back problems. The thing that you should remember is that all three sections actually attempt to work together. If you place pressure on each one of them regardless, the other two would have to work harder to make up for it. It is as simple as that.
Keep in mind that there are quite a lot of curvature disorders that you might have to be dealing with. Scoliosis, Lordosis, and Kyphosis are some of the most serious but are far from the only ones.
Sleep Disorders
Sleep disorders usually entail breathing related problems, snoring or sleep apnea. And, as unfortunate as it may sound, a lot of back sufferers can easily relate. When your back is supported firmly and properly, the air can easily and freely flow to your lungs. This is going to minimize the effects of sleep conditions of any kind, and it is also going to reduce snoring.
There are also a few different sleeping disorders which are also going to have an impact on your back pain.
It's important to understand that sleeping disorders also translate to a lack of sleep. This means that just as it is with stress – you may fall asleep in a wrong position, translating to far more complicated issues.
Top 5 Beds For Back Soreness Reviewed
Now, before we get down to the details, there are a few things that you might want to look for in a mattress for back pain. These are our ranking criteria – the things that we observe to determine whether or not the bed is up to par. They include:
Coolness of the mattress
Superior support
Medium fee between 5 and 7 out of 10 on the firmness scale
Offer the necessary body hug and contouring as well as comfort
Works with a foundation which is adjustable
Has proper deep compression support
Leesa (Editor's Choice)
This is one of the best options on the market, and there's no other way around it. Leesa comes with a firmness score of 6 out of 10.
The thing about it, however, is that it has a special top layer made out of Avena foam which is proprietary to the company. It resembles latex in a way, but it is far more sustainable and durable.
The response of the top layer is also flawless.
The mattress offers a great combination of responsiveness, pressure relief and support without sacrificing the comfort. This is pretty much everything you'd be looking forward to when it comes to your mattress for a bad back.
This is a rather affordable option which brings superior quality and, hence, splendid value for your money.
PROS
Superior quality at a fraction of the price
Serious lumbar support
Perfect body contouring
Enhanced coolness thanks to the Avena Foam
CONS
Might not be as supportive for overweight people
Amerisleep AS2
The Amerisleep Company was undoubtedly amongst the first ones to pioneer the concept of online mattress selling.
It manages to sell its products directly which allows them to lower their prices substantially.
However, the AS2 mattress also has a cause to it as it uses plant-based memory foam to decrease the environmental footprint.
The thing about this particular bed is that it comes with a very thick foundation of memory foam for enhanced support and a top memory foam layer which offers splendid contouring.
The intention behind this particular model is to bring flawless spinal alignment. The foam is breathable and particularly responsive which also means that it would quickly adjust to any alteration in your sleeping position.
PROS
It's eco-friendly and of plant-derived materials
It is capable of bringing serious pain relief
Delivers proper alignment
Loom & Leaf
The thing that you need to know about Loom & Leaf is that they are the exclusive, high-end brand of Saatva which is one of the most popular online mattress companies.
This mattress is slightly softer when you compare it to the Leesa one, but it is definitely within the medium firm range which is ideal.
It would hit 5.5 out of 10 on the firmness scale. The mattress is pretty formidable, and it is an excellent choice for sleepers tormented by back problems.
There is a quilted top layer which is conveniently backed by memory foam which is dense and offers great deep compression support.
The mattress also offers awesome contouring and a great balance between support and comfort.
PROS
Superior appeal and luxury firmness
Slightly plush cover for greater comfort
Responsive top layer and great support
CONS
It's particularly expensive
Purple
This has managed to become a very popular and preferred option for people who experience issues with their lower back.
This is mainly due to the comfort and coolness that the product manages to bring without sacrificing any of the support.
The secret sauce is a layer of hyper-elastic polymer. This is going to provide the sleeper with the fastest response time in the industry.
However, if you are a bit lighter, you might want to be a bit more careful as it could make you feel as if you are floating.
You would definitely want to determine whether or not you feel alright on the mattress. If you are of average weight, however, this is a great option.
PROS
It is particularly cool and breathable
It brings splendid overall support
It is very responsive
CONS
It might not be suited for lighter sleepers
Saatva
Saatva is another one of the major online companies who take advantage of the fact that they don't have to pay middleman premiums.
Hence, their mattresses are sold online, directly to the consumer, at a severely discounted price.
They are representing the innerspring construction mattress type as all of their units feature individually wrapped coils.
This brings the proper distribution of weight throughout the entire mattress surface, ensuring serious support and fast response time.
They also bring the unique bouncy feel of innerspring options. This is definitely something to account for.
PROS
High-end innerspring system
Multiple layers for additional support and comfort
High-end luxury firmness feel
CONS
If you don't like the bouncy feel, it might not be suited for you
Conclusion
---
It's obvious that there are quite a lot of options on the market. These are all convenient and are definitely suited for relieving back soreness.
As you've seen, we've chosen the Leesa mattress as our most preferred ones, and that's because it brings the best price to quality ratio. If you are looking for the most value for your money, that's the mattress to go for.
It combines flawless support, enticing comfort, and splendid responsiveness. This is all thanks to the proprietary Avena foam used in the top comforter layer.The mattress brings everything you might actually ask for, and it is definitely perfectly geared towards relieving pain radiating from your back. On top of that, it's also suited for all types of sleeping positions.
Author:
Mark Reddick
When I'm not learning about sleep, you can find me watching "the big game" with my friends. I absolutely love sports and have grown to follow the rest aspect in athletes. Modern technology allows us to track athletes sleep and rest, which in turn helps predict their performance.
I hope that everyone that finds our site takes a new approach to sleep. The world needs to stop thinking about it as something "we just do", but rather something that allows us "to do everyday."
Cheers to having the best sleep of your life!