Transparency Disclosure – We may receive a referral fee for products purchased through the links on our site...

Read More

.
There's a good chance you've probably seen an ad for a Purple Mattress. Their eye-catching commercials have helped Purple gain popularity in the world of sleep.
Purple has evolved since the inception of their exclusive Purple Grid comfort layer, creating hybrid mattresses to target various kinds of sleepers. The acclaim for Purple is truly impressive, but you may wonder if the Purple Hybrid is worth it.  In this review, we'll break down everything there is to know about the Purple Hybrid and help you decide if it's the right bed for you.
We cover everything, but if you just want to know our ultimate conclusion on the Purple Hybrid, you can jump to our verdict here.
Noteworthy Updates
The Purple Hybrid's interior coils allow better air circulation, working with the Purple Grid's air channels and temperature-neutral gel material.
Premium StretchMax Cover – This cover promises more stretch, with a deluxe soft upper layer and ultra-breathable side panels to keep you cool and comfortable all night long.
Excellent Matches For Purple Hybrid
Couples – The Purple Hybrid boasts minimal motion transfer. The isolation of movement makes this mattress ideal for couples looking to sleep comfortably without waking one another if they change positions or get up to use the bathroom.


---

Folks who toss and turn – The Purple Hybrid is highly adaptive to changes in sleep positions, providing even support and pressure relief to all sleepers.


---

Hot sleepers – If you're someone who runs hot at night, the Purple Hybrid's ventilated grid system and interior coil layer neutralize your body temperature to help maintain a light and comfortable sleeping environment.
Possible Purple Hybrid Considerations:
Heavier Sleepers – According to Purple, there is no weight limit for their mattresses. However, those weighing over 300 pounds may find more comfort and support from the Purple Hybrid Premier, which offers an extra 1-2 inches in the proprietary Purple GelFlex Grid layer.


---

Non-traditional Bed – The Purple brand is notable for its one-of-a-kind grid system; Purple is the only brand to make this mattress design, so it feels different from most traditional innerspring or foam mattresses. If you are looking for a traditional feel with your bed, Purple may not suit you.
Weight Considerations
While Purple mattresses have no official weight limit, the company does recommend no more than 300 pounds per sleeper or 600 pounds on any of their beds. The Purple Hybrid offers a 2-inch layer of their unique Purple GelFlex Grid. The GelFlex Grid, combined with the consistent reinforcement of the inner coil layer, should provide a supportive sleep experience for many sleepers.
However, sleepers over 300 pounds will likely feel that they require more than these two inches of support. If you happen to be a bigger person, you may find that you typically sink into the layers of your mattress more. If you are falling too deep, the unevenness created on your sleep surface can misalign your spine during the night, which will inevitably lead to pain and discomfort.
Additionally, sleepers weighing more than 200 pounds who prefer sleeping on their stomach or near the edge of the mattress may find themselves sinking into the layers more deeply.
Awards for Product Name Mattress
Construction: What's In Product Name?
The Purple Hybrid combines Purple's proprietary grid layer with a more traditional innerspring layer to create a supportive and comfortable mattress. The make-up of the Purple Hybrid takes the best of modern mattress technology and marries it with the best of classic mattress construction, providing a unique updated twist. The combination of these layers comes out to a total depth of 11 inches.
The Purple Hybrid features the brand's Premium StretchMax Cover, made of viscose, polyester, and lycra. The adaptive outer layer works in conjunction with the bed's inner materials, creating a closer feel for the Purple Grid. The cover's flexible consistency blends into light, woven side panels that encourage airflow in and out of the mattress's core.
The top layer consists of two inches of Purple's temperature-neutral, hyper-elastic GelFlex grid support. This unique grid layer allows for more ventilation than a typical memory foam mattress while also promoting flexible pressure point support and a higher response rate.
Further down, you'll find a .75-inch layer of transition foam to help you ease into the support layer below.
The supportive core features a 7.5-inch thick layer of coils. Each stainless steel coil is individually wrapped in premium noise-reducing fabric, so aside from the support they provide, you shouldn't even notice they're there.
At the bottom, you will find an extra .75-inch thick transitional foam for added support.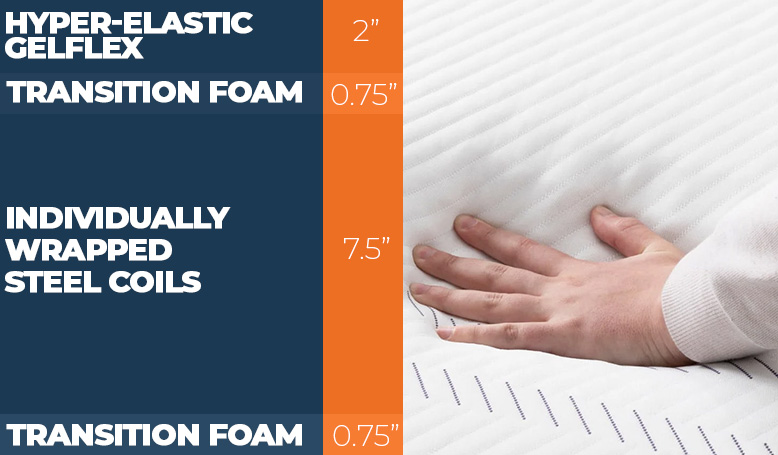 First Impression: How Does It Feel?
All Purple mattresses are delivered in a bag with handles on either end to aid in setup. Upon opening, the Purple Hybrid expands almost immediately with sturdy interior construction.
At a glance, the Purple Hybrid is highly responsive, bouncing back almost immediately. When lying on the bed, users should notice a floating sensation and instant pressure relief. The quick response rate of the GelFlex grid provides a decent bounce to the mattress, making moving around and changing positions easier than a standard foam mattress.
Firmness Scale: 7/10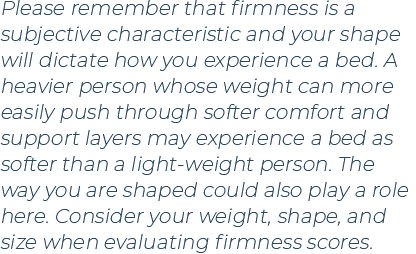 Pressure Relief
If frequent aches and pains in your heavier areas are leaving you with noticeable discomfort while you lie in bed, the value of a good pressure-relieving mattress is worth the investment. The pressure relief needs of every person are different based on the shape and size of their body, but the Purple Hybrid should provide a decent amount to every sleeper.
Purple's Hybrid mattress gives above-average pressure relief when compared to other hybrid beds. The impressive Purple support grid collapses instantly under your body's heaviest pressure points and then re-forms around your body shape in every position. Additionally, the layer of support coils should keep sleepers balanced and supported for optimal spinal alignment, which can help prevent back pain.
The Purple Hybrid creates firm, even support that cradles the body's pressure points, alleviating the areas that carry the most weight, like your hips and shoulders.
Support
A quality support system is a vital feature of a good mattress, allowing the sleeper to not feel trapped in the bed while lying down. The best support systems efficiently handle the weight of the core while giving back even and consistent support across the whole body.
The Purple Hybrid also offers comparable or greater edge support than other hybrid mattresses. As a result, average sleepers should have no issues when lying or sitting at the edge of the bed. This firm yet flexible support should make you feel comfortable using the entire surface of the mattress and ease the process of getting into and out of bed.
Preference-based Features
Bed-in-a-box
While not technically in a box, the Purple Hybrid arrives shrink-wrapped inside a branded bag with easy-to-use handles.
Cooling
The airy hyper-elastic support grid consists of temperature-neutral materials. Combined with the open style of the grid and the ultra-breathable cover, these elements of the Purple Hybrid encourage airflow through the whole mattress, preventing you from overheating at night.
Exceptional Edge Support
The layer of coils provides reliable edge support to most sleepers, above and beyond many memory foam mattresses.  Sleepers weighing below 200 pounds should have no problem lying by the edge of the bed, and those above this weight may experience some loss of support in these areas but not to a detrimental degree.
Great Motion Isolation
The Purple Hybrid's 2-inch-thick grid layer is specially designed to only collapse directly beneath the user's weight, which keeps movement from reverberating through the whole mattress.  Motion isolation is ideal for couples and those who tend to multi-task from bed; sleepers can confidently move around without disturbing the entire mattress.
Adjustable Base Compatible
This mattress is compatible with adjustable bases, and you can even purchase an adjustable base from Purple when you buy your bed. Purple's adjustable bases come with various presets, customizable head and foot sections, and two USB ports on each side of the bed.
Handcrafted in the USA
All Purple mattresses are made in the United States with American-made materials and machinery.
Certifications
CertiPUR-US® Certified
The Purple bed is CertiPUR-US® Certified, meaning that the materials used have been third-party tested and meet the minimum threshold for harmful chemicals and off-gassing. Purple also makes their mattresses without ozone depleters.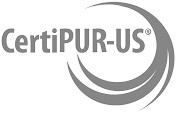 Coupons, Trials, Warranties, and Shipping
Shipping – Shipping for this bed is free within the contiguous United States and available for a small fee to Hawaii and Alaska. Purple also partners with Sleep Country Canada to make shipping available to all of Canada.
White-Glove Service – White Glove Delivery Service is available for an additional fee, and this service comes free when you purchase the Purple Hybrid Premier.
Trial – The Purple Hybrid comes with a 100-night trial period. If you decide it isn't the right fit within the first 100 nights, you can send it back for a full refund. Purple will also pick up your mattress return at no additional charge.
Warranty – All Purple mattresses come with a 10-year limited warranty that begins on the day of purchase.
| Size | Dimensions (inches) | Price (w/o discount) |
| --- | --- | --- |
| Twin XL | 38" x 80" x 11" | $1,899 |
| Full | 54" x 76" x 11" | $2,149 |
| Queen | 60" x 80" x 11" | $2,399 |
| King | 76" x 80" x 11" | $2,899 |
| Cali King | 72" x 84" x 11" | $2,899 |
| Split King | 76" x 80" x 11" | $3,798 |
Purple VS WinkBed
If you are still debating whether or not to purchase a Purple Hybrid mattress, it might help to know how it holds up next to a similar bed by a competitor. WinkBed also makes a hybrid mattress, and both designs meet a lot of the same needs regarding pressure relief, firmness, and support.
The Wink Bed has multiple firmness levels, so it is more customizable. The closest comparisons to the Purple Hybrid would be the WinkBed Luxury Firm or WinkBed Firm. The Luxury Firm is rated slightly softer than the Purple Hybrid, whereas the WinkBed Firm is rated slightly firmer.
The WinkBed is a few inches thicker than the Purple Hybrid, standing at 13.5 inches high compared to the Purple Hybrid at 11 inches.
The WinkBed has a high bounce, and while this is helpful for repositioning, the low motion isolation means your partner is more likely to notice if you move around during the night. This is where Purple may be the better option for couples.
Overall Summary
Ultimately, the Purple Hybrid is an excellent mattress, and it stands out from other hybrid mattresses with Purple's exclusive hyper-elastic GelFlex grid layer. This specially designed layer provides cooling features, pressure relief, and minimal motion transfer, making it an excellent choice for couples and combination sleepers.


The Purple received a 4 here since the 2-inch grid may not be thick enough for side sleepers over 300 pounds. However, the bed received positive marks for providing exceptional pressure relief, a primary issue for side sleepers because they tend to feel the most pressure around their hips and shoulders.


Though most back sleepers should feel entirely supported by this model, the Purple Hybrid scored a 4 because it may not be sufficient for heavier individuals. However, the Purple Hybrid's combined layers of hyper-elastic gel and responsive coils create ideal sleeping conditions for most back sleepers, earning this model high marks.


Stomach sleepers typically require extra support to ensure their core doesn't sink too deeply. The bed scored a 4 because those weighing over 300 pounds may find better support from the Purple Hybrid Premier, which offers 3-inch and 4-inch GelFlex grids. However, the bed earned points thanks to the 2-inch gel layer in this model, which should support most people.


The Purple Hybrid's low motion transfer and general high score for each sleeping position make it an ideal mattress for combination sleepers, so we're giving it a 5 rating. The bed's highly adaptive construction also allows you to move seamlessly into different positions, providing a good amount of support with each posture.


Motion isolation, temperature control, and edge support are just a few reasons this mattress is an excellent fit for couples. Motion isolation allows you to change positions or get up without waking your partner comfortably. At the same time, the temperature control technology keeps the bed cool and comfortable regardless of your combined body temperatures.


Purple mattresses have no official weight limit, but heavy sleepers may find themselves sinking too much into this particular model, which is why it scored a 3 in this category. Instead, heavy sleepers are likely to be more comfortable with the Purple Hybrid Premier, which offers a few extra inches of GelFlex support.


The Purple Hybrid scores a 4 out of 5 for lightweight sleepers. Individuals who weigh under 130 pounds, particularly side sleepers, may find that this hybrid mattress is too firm and might be more comfortable on the Purple Hybrid Premier 4 for top-notch pressure relief.
Ultimately, the Purple Hybrid earns a 4 out of 5 rating as there could be issues for sleepers under 130 pounds and over 300. Despite this, it is an excellent mattress for the average person with high marks for combination sleepers, couples, and hot sleepers.
Our Verdict
We confidently recommend the Purple Hybrid mattress for couples since they should benefit from the bed's motion isolation features, making it easy to move about without disturbing your partner. The edge support on the Purple Hybrid also lets most couples use the entire surface of the bed comfortably.
The Purple should work great for combination sleepers because of the high adaptability of its upper layers, allowing users to move comfortably into different positions and find the appropriate support in each one. We also recommend this mattress for anyone seeking pressure relief, thanks to Purple's exclusive GelFlex grid, which sets it apart from its competitors.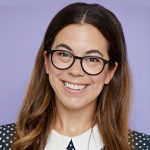 Jill Zwarensteyn is the editor for Sleep Advisor and a certified sleep science coach. She is enthusiastic about providing helpful and engaging information on all things sleep and wellness.
Based in Los Angeles, she is an experienced writer and journalist who enjoys spending her free time at the beach, hiking, reading, or exploring new places around town.
She's also an avid traveler who has a personal goal of being able to successfully sleep on an airplane someday.