Transparency Disclosure – We may receive a referral fee for products purchased through the links on our site...

Read More

.
Navigating multiple mattress choices can be a chore, but Helix wants to take some of that burden away using a quiz they say will deliver you directly to the mattress of your dreams. How does it work? Their colorful customization process offers multiple mattress choices that are given names and colored covers so you can tell them apart.
Choose from Standard or Luxe, a Plus option, and even two different split comfort choices for couples who require different firmnesses. Our in-depth Helix Mattress review will discuss all the different features to see how the different models perform and which one might be right for you.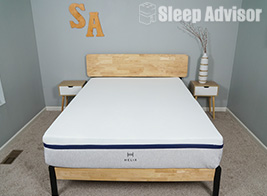 Get the Helix Mattress
Helix really has thought of everything with their customized line of mattresses, delivering your best sleep using a proprietary sleep quiz.
Click the button below to get Helix Mattress.
Watch Our Helix Video Review
*We are currently working on updating our video review. For the latest information please refer to our written review.
Who We Recommend Helix For:
Customization minded shoppers – A quiz can take a lot of the guesswork out of mattress buying, especially for folks new to the process and unsure what they need. Their patented algorithm analyzes your sleep profile to make an educated suggestion for your purchase.


---

Classic innerspring sleepers – Hybrids are often best-sellers because of their versatility and durability, not to mention their enhanced bounce for folks wanting to reposition throughout the night.


---

Heavier people – This company has a Plus model that can comfortably support two sleepers who weigh up to 1,000 pounds together (or 500 pounds per side).
Who We Don't Recommend Helix For:
Indecisive shoppers – Although the sleep quiz can help you find the bed that fits your needs, having too many options may make it difficult to choose. Helix sells nine hybrid mattresses. All of these mattresses have upgraded Luxe versions available except the Helix Plus and Helix Kids.


---

Fans of the all-foam design – This company delivers a ton of variety, but as of yet, they have no all-foam models in their line-up. That said, Helix hybrid beds offer edge support and zoned lumbar support to optimize the sleep experience for back sleepers or those experiencing back discomfort.
First Impressions: Firmness & Feel
Firmness Scale: 5.5-7.5 (Medium - Medium-Firm)
Please remember that firmness is a subjective characteristic and your shape will dictate how you experience a bed. A heavier person whose weight can more easily push through softer comfort and support layers may experience a bed as softer than a lightweight person. The way you are shaped could also play a role here. Consider your weight, shape, and size when evaluating firmness scores.


Firmness is subjective, but we usually rate mattresses on a scale from one to ten, helping customers choose a firmness that would suit their needs and preferences the best.
Helix's inventory runs in the medium to medium-firm range depending on the specific model you select. For example, we rated the Helix Plus at a 7 for firmness, while the Midnight and Midnight Luxe models scored a 6-7 out of 10 rating. In general, lightweight and average-weight sleepers should focus on the medium models, whereas heavy people may prefer the Helix Plus.
How Does It Feel?
Your first impression may differ depending on which model you ordered. This is because the firmness isn't the same and you may even get different impressions in various positions.
Standard
When sitting on the sides, there should be only a slight compression, and as sleepers lie back, this should quickly dissipate. The fabric is soft to the touch, and you may even notice that you can feel your weight sinking through the comfort materials and find support in the spring base.
Luxe
As the name suggests, your first interaction with this bed should give off a luxury feel, especially with its 14-inch profile. Having reinforced edges, sitting or lying on the side should feel perfectly secure, benefiting couples and single individuals who love to spread out across the entire bed. As sleepers lie back, they may feel the plush pillow top conforming to the small of their back and can experience their first taste of the phase-change cooling tech.
Plus
This should feel very sturdy when you take a seat along the edge. As you settle in, you may notice that the materials gently conform to your curves, providing gentle pressure relief and reinforced support. Plus models are designed to carry more weight, so they're excellent for couples and heavier individuals.
What We Like About Helix
Versatility – Helix sells six main mattresses, all of which have upgraded Luxe versions, giving you plenty of options to choose from. This kind of versatility makes it easy to find a Helix mattress for everyone. Additionally, they offer the Helix Plus for larger sleepers and the Helix Kids for children.


---

Support level – Hybrid mattresses are among the best when it comes to support, especially for those weighing more than average. The most support comes from the coil unit with individually-wrapped coils.


---

High-quality materials – Some of Helix's models feature phase-change material, memory foam, and other luxurious materials that give it an outstanding feel and performance.
Our Helix Complaints
Not eco-friendly – Helix is a high-quality brand, but it doesn't incorporate as many eco-friendly materials. Although it does have eco-conscious certifications, the materials are synthetic, which can be a turn-off for eco-friendly shoppers. Those who prefer green choices may want to consider the Helix Birch mattress.


---

No all-foam design – Helix sells hybrid mattresses, so this may not be the best choice for those who prefer all-foam beds. Although there are plenty of options, and there are also the Luxe upgrades, none of those are all-foam, which may be a setback for some people.
Testing Helix Mattresses: How it Performed
All Helix mattresses scored well in different areas we tested, so it's no wonder there's a Helix for everyone. We tested these beds for support, cooling, pressure relief, motion isolation, and edge support to get the best insight into how they perform. Our team tested the mattresses in different sleeping positions to help you figure out which model would fit you the best.
Sleeping Positions for Different Body Types
Helix mattresses can hold up to 1,000 pounds of combined weight or 500 pounds per sleeper. The company tested each mattress to ensure every model could hold this weight without showing any early signs of wear and tear.
| Weight | Side Sleepers | Back Sleepers | Stomach Sleepers |
| --- | --- | --- | --- |
| Lightweight Sleepers (-130 lbs) | ★★★ | ★★★ | ★★★ |
| Average-Weight Sleepers (130-230 lbs) | ★★★ | ★★★ | ★★★ |
| Heavyweight Sleepers (+230 lbs) | ★★☆ | ★★☆ | ★★☆ |
Side Sleepers
Lightweight Sleepers – Lightweight side sleepers should be happy with the Helix Moonlight and Helix Sunset as these two have a softer feel that should provide sufficient pressure relief in this position.
Average-Weight Sleepers – The Helix Midnight and Helix Dusk may be the best options for average-weight sleepers since these have a medium feel that offers both support and pressure relief for side sleepers.
Heavyweight Sleepers – Side sleepers weighing more than 230 pounds should focus on the firmer Helix models, such as Twilight, Dawn, and their Luxe versions, to prevent the hips and shoulders from sinking too deeply into the mattress construction.
Back Sleepers
Lightweight Sleepers – Lightweight back sleepers can do with Standard Helix models, or they can look into Helix Sunset Luxe and Helix Moonlight Luxe. The two luxe models offer pressure relief and a bit more support than the Standard models.
Average-Weight Sleepers – Average-weight back sleepers need more support than those sleeping on their side, so it's best to focus on firmer options like the Helix Midnight Luxe and Helix Dusk Luxe.
Heavy Weight Sleepers – Heavyweight back sleepers need a sturdy mattress that supports the hips and helps achieve a healthy sleep posture. The Helix Twilight Luxe and Helix Dawn Luxe should be a good match. However, for extra back support, the Plus could also be helpful.
Stomach Sleepers
Lightweight Sleepers – Stomach sleepers need the most support, but those weighing less than 130 pounds can easily find a Helix that fits their needs. Medium models such as the Midnight and Dusk should provide sufficient support to keep the spine aligned in this position.
Average-Weight Sleepers – Average-weight stomach sleepers need a firmer mattress than those sleeping in other positions. Medium mattresses such as the Midnight and Dusk may be a good option, although some may prefer even firmer beds like the Twilight and Dawn.
Heavy Weight Sleepers – Heavy people sleeping on their stomach should look into the Helix Plus, which is the most suitable for heavyweight sleepers.
Pressure Relief & Pain
Many of the features between the Luxe and the Standard models will be the same, but the Luxe has the benefit of offering additional pressure relief with the pillow top option.
Heavier, tall, and bigger sleepers, in general, tend to feel more pressure because of their extra weight. Standard versions may sink in due to the lack of support, whereas the Plus has advanced support to reduce this burden by allowing sleepers to sink gently into the materials that contour to their curves and weight.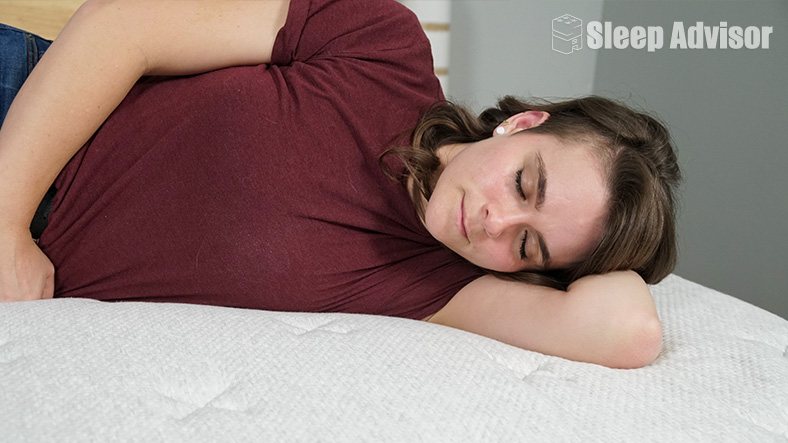 Back Pain – Back pain is a common result of not having a proper mattress that supports your body. Helix models are hybrids and the coil unit in each bed should sufficiently support so that the spine remains neutral. As a result, you're less likely to wake up in pain.
Hip Pain – Hip pain can happen if your mattress is too soft or too firm for the sleep position you sleep in. If you're a side sleeper, try the Helix Dusk and Midnight. These two have a medium feel that should provide a balance of pressure relief and support in the hip area.
Shoulder Pain – Shoulder pain is common among side sleepers, in which case it's best to go for a softer bed that cradles the curves to prevent the pressure from building up. This is something the Sunset and Moonlight should help with.
Support
Each Helix model varies slightly in how they support sleepers.
A coil base with reinforced edges is the main source of support. These coils were made to be strong, and the thought-out design should provide sleepers with extra bounce that can help with repositioning and spinal alignment.
The Luxe models come with zoned coil systems with varying reinforcement in the areas beneath the shoulders, hips, and legs.
Lastly, the Plus bed has hundreds of taller coils that were designed to provide the necessary reinforcement for plus-sized sleepers. In addition, the Plus has an extra layer of high-density 4-pound foam, acting as a sturdy support system regardless of your preferred sleeping position.
Motion Transfer
Motion isolation is crucial for couples and everyone else sharing their bed. The best way to fight motion transfer is to include foam layers, which is exactly what Helix does in its mattresses. Although all Helix beds have foam that helps isolate motion, the Luxe models are slightly better at this, thanks to their thicker foam layers sitting above the coil unit.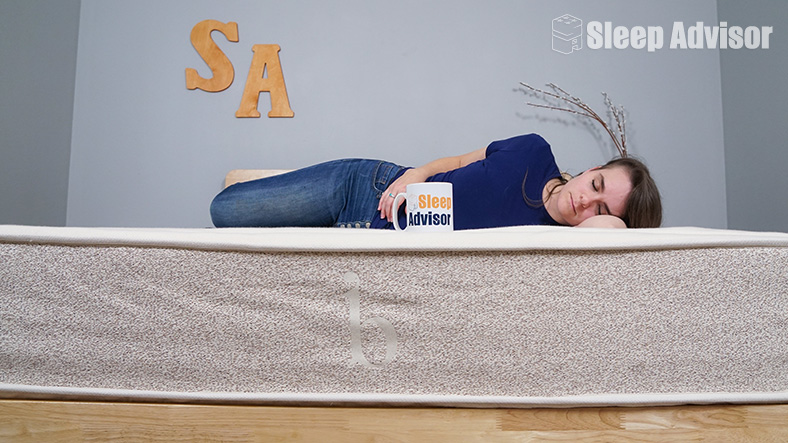 Temperature Regulation / Cooling
Helix excels when it comes to cooling as it has multiple features that help keep the beds cool. The Luxe models feature a pillow top along with a cooling TENCEL™cover that maintains the surface of the bed cool to the touch. In addition, hybrids are naturally cooler than all-foam beds thanks to the coil construction that allows consistent airflow to prevent the foams from overheating.
Performance for Couples
Although all-foam mattresses are better at isolating motion than hybrids, Helix incorporated a few features to help make these beds more suitable for couples. The coils in these mattresses are individually-wrapped, so movement shouldn't transfer from one side to the other. In addition, each bed has layers of foam on top of the coil unit to further absorb movement when your partner tosses and turns. Another excellent feature couples care for is edge support, especially for those who like to use the entire surface of the bed. Helix beds have a reinforced perimeter with stronger coils around the edges to prevent them from collapsing.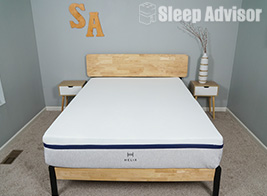 Get the Helix Mattress
Helix really has thought of everything with their customized line of mattresses, delivering your best sleep using a proprietary sleep quiz.
Click the button below to get Helix Mattress.
Preference-based Features
Multiple Firmness Options
For those in the market for choice, this brand offers different models to help you find the perfect fit. Plus, the Helix quiz can help you decide which model and firmness fit you the best based on your sleeping position, weight, and habits.
Optional Luxury
The Helix Luxe comes with an upgrade that includes their plush pillow top and a cooling TENCEL™cover and an extra layer of foam for enhanced pressure relief. The Luxe versions are thicker.
Bed-in-a-box
These products arrive compressed in a box for easy shipping and installation. This makes them easier to carry from your doorstep to the bedroom, although you may still need an extra pair of hands to help you.
Plus-Sized Option
The Helix Plus was designed to support weights up to 1,000 pounds or 500 pounds per side. The Plus is a 12.5-inch hybrid mattress with a medium-firm feel that should benefit couples and heavier individuals.
Cooling
Innerspring mattresses like Helix have been designed to allow air to pass through, keeping sleepers cool on top. Additionally, customers who order one of the Luxe models benefit from the phase-change materials in the cover that promote temperature regulation. The brand also uses TENCEL™covers in their Luxe, Plus, and Kids models, while the Birch Luxe features organic cashmere and wool, all of which should help with cooling.
Excellent Edge Support
All Helix models have reinforced coils along the perimeter to provide extra edge support. These thicker coils should ensure the bed doesn't sink too much along the edges, benefiting couples and individuals who prefer more space to spread out.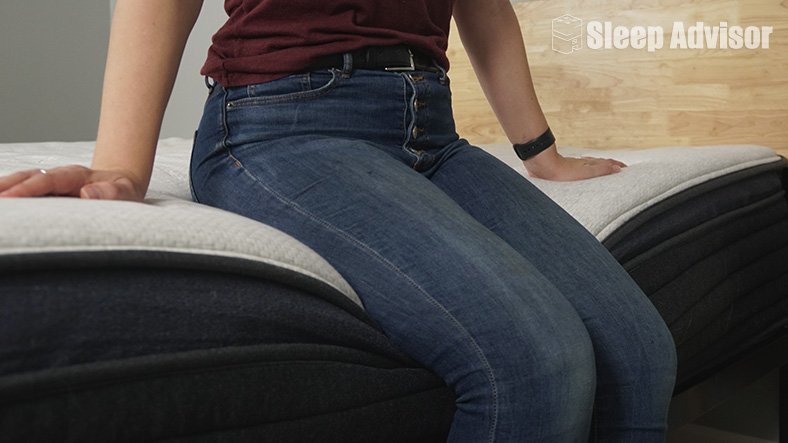 Great Motion Isolation
Because of the pocket coil matrix in each bed, all of these beds should enable motion isolation. Those with memory foam, and the Luxe editions, may perform just a tad bit better than the others.
High Bounce
While this may vary from model to model, most Helix beds have exceptional bounce because of the pocketed coil systems. These features facilitate repositioning and getting out of bed.
Adjustable Base Compatible
All Helix beds are a hybrid mix of coils and foam. These are compatible with most bed frames and platforms, including adjustable bases.
Construction: What's Inside Helix?
All models are a hybrid mix of coils and foam. The basic cover on Standard models is the Soft Touch design cover. The Luxe models, however, feature a TENCEL™ cover. For either, you can upgrade to a GlacioTex Cooling Cover for added cooling.
Standard Helix mattresses are 11.5 inches tall, Luxe models are 13.5 inches tall, and the Helix Plus is 12.5 inches tall. Construction of each of the 4 to 5 layers and foam densities will vary depending on the specific model.
The comfort layer of most of the models devoted to side sleepers contains Memory Plus foam, which was made to slowly contour to your curves and melt pressure in this position. In the majority of models built for back and stomach sleepers, this layer is made from a bouncier latex alternative called Helix Dynamic foam. Every Plus model contains a layer of each foam.
The transition layer of each model varies, containing either a layer of Helix Dynamic foam, memory foam, or a high-grade polyfoam. For each feel, these materials are designed as transition layers, offering soft cushioning and ergonomic support.
The innerspring layer in each model contains individually wrapped coils that help isolate movements and provide tailored spine support with extra reinforcement around the edges. These coils are further enhanced in the Luxe models, with zoning that provides more give at the top and bottom for added pressure relief and added support around the hips. In the Plus model, the coils are taller to accommodate heavier weights. Most models have additional coils along the perimeter to provide added edge support.
The base layer in all models contains DuraDense Foam, a high-density foam that cushions the coils, giving structure and support to the upper layers.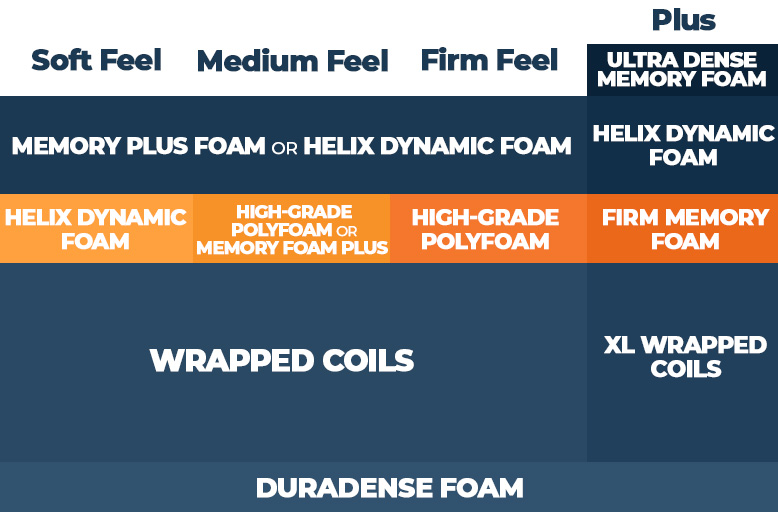 Unboxing & Off-Gassing
Helix ships all mattresses compressed in a box. After receiving your new bed, you can place it on your bedframe of choice while it's still in plastic. Remove the plastic to allow the bed to decompress on the frame, which should take around two hours, according to Helix. Your first impression may differ depending on which model you ordered.
Certifications
Eco-Friendly Certifications – All of the foams contained in this mattress have been tested for harmful chemicals and have passed a third-party standard that checks for potentially dangerous emissions. A CertiPUR-US® certification means that the foams in the mattresses are not made with ozone depleters, harmful flame retardants, or formaldehyde and have low VOC emissions.
Coupons, Trials, Warranties, and Shipping
Shipping – This company ships within the U.S. and Canada. For an additional fee, the company can arrange to have your old mattress removed.
White Glove Delivery – The company doesn't currently offer White Glove Delivery.
Trial – You can keep the bed in your home for 100 nights to decide if you want to keep it. If you change your mind or feel it's not the right fit, you can return it for a full refund.
Warranty – Standard mattress comes with a 10-year warranty, while Luxe and Plus mattresses are covered by a 15-year limited warranty.
Return Policy – The company offers free returns as long as you decide to return your mattress before the trial period is up. Also, the company requires you to keep the bed for at least 30 days before returning it.
Sizes & Prices
| Size | Dimensions (inches) | Price (w/o discount) | Price (w/o discount) Luxe | Price (w/o discount) Plus |
| --- | --- | --- | --- | --- |
| Twin | 39" x 75" x 12-14" | $699 | $1,099 | $849 |
| Twin XL | 39" x 80" x 12-14" | $799 | $1,349 | $949 |
| Full | 54" x 75" x 12-14" | $949 | $1,649 | $1,149 |
| Queen | 60" x 80" x 12-14" | $1,099 | $1,949 | $1,649 |
| King | 76" x 80" x 12-14" | $1,449 | $2,349 | $2,049 |
| Cali King | 72" x 82" x 12-14" | $1,449 | $2,349 | $2,049 |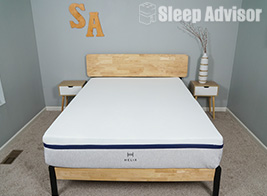 Get the Helix Mattress
Helix really has thought of everything with their customized line of mattresses, delivering your best sleep using a proprietary sleep quiz.
Click the button below to get Helix Mattress.
Frequently Asked Questions
How long do Helix mattresses last?
Helix mattresses should last 7 to 10 years with proper use and care. The company offers a 10-15-year warranty, so you can get your mattress replaced should any damage occur due to faulty materials and manufacturing.
Are Helix mattresses good for back pain?
Helix mattresses are good for back pain because they have a solid support system in the coil unit. The Luxe models should be slightly better for back pain due to enhanced lumbar support in the coils.
Is Helix a reputable company?
Helix is a reputable company, which is evident in the durability and quality of its materials. The company offers a 10-15-year warranty deal, standing behind its quality of manufacturing.
Where can I buy Helix mattresses?
Helix sells their mattresses online directly to consumers. They're also available in person at partner showrooms.
Do you need a box spring with a Helix mattress?
Helix mattresses work with all foundations, including a box spring and an adjustable base. However, you don't necessarily need a box spring if you'd like to use another type of foundation.
How long will my Helix mattress take to expand to its full size?
Much like most bed-in-a-box mattresses, Helix takes about two hours to expand to its full size before you can use it, although you may have to wait a few hours longer, depending on the model you choose. Nonetheless, you can place it on a bed foundation right after unpacking it.
Helix vs Other Brands
Helix vs Nectar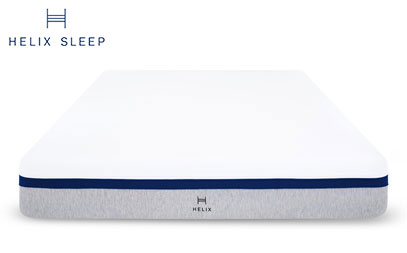 Check pricing and availability by clicking the button below
100-night trial
Hybrid models only
10-15-year warranty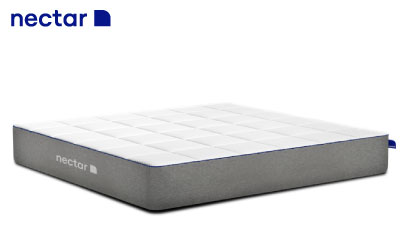 Check pricing and availability by clicking the button below
365-night trial
All-foam and hybrid models
Lifetime warranty
Who We Recommend Helix
People looking for options
Heavyweight people
All sleeping positions
Who We Recommend Nectar
Memory foam lovers
Hot sleepers
People struggling with pressure build-up
Helix vs DreamCloud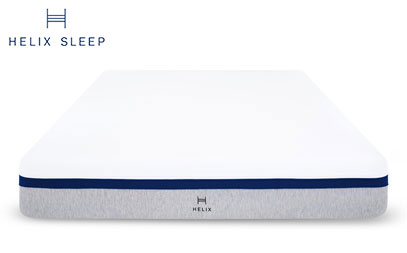 Check pricing and availability by clicking the button below
Mid-range firmness
100-night trial
Hybrid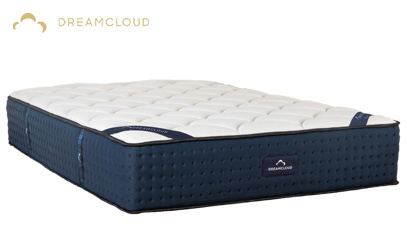 Check pricing and availability by clicking the button below
Mid-range firmness
365-night trial
Hybrid and memory foam
Who We Recommend Helix
Side, back, and stomach sleepers
Couples
People looking for a plus-sized option
Who We Recommend DreamCloud
Those looking for a lifetime warranty
Hot sleepers
Budget shoppers
Comparing Helix Mattresses
Helix Midnight vs Helix Midnight Luxe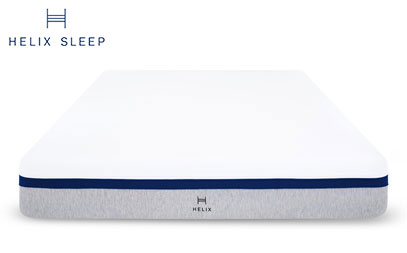 Check pricing and availability by clicking the button below
Relieves pressure
Medium feel
Optional GlacioTex cover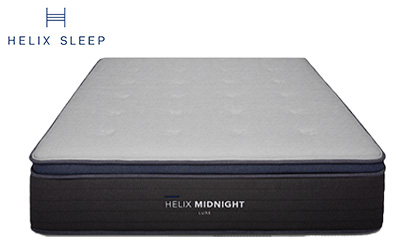 Check pricing and availability by clicking the button below
Enhanced lumbar support
Hypoallergenic cooling cover
Ergonomic contouring
Who We Recommend Helix Midnight
Budget shoppers
Side sleepers
Lightweight and average-size people
Who We Recommend Helix Midnight Luxe
People with allergies
Hot sleepers
People with back pain
Helix Dusk vs Helix Twilight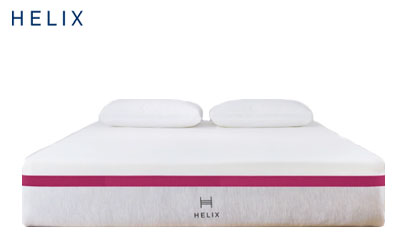 Check pricing and availability by clicking the button below
Medium feel
Body contouring foam
11.5-inch profile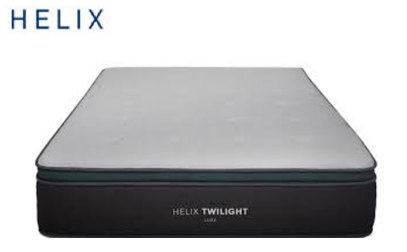 Check pricing and availability by clicking the button below
Firm feel
Cooling top cover
Up to 950 coils
Who We Recommend Helix Dusk
Couples
Lightweight people
Side sleepers
Who We Recommend Helix Twilight
Stomach sleepers
Heavier people
Restless sleepers
Overall Summary
Helix really has thought of everything with their customized line of mattresses and has built a business to deliver you your best sleep using a proprietary sleep quiz.


With varying models made specifically for side sleepers, shoppers have quite a few options to choose from. For an enhanced feel, side sleepers can check out the Luxe editions, which should provide extra pressure relief in the shoulders and hips. That being said, there is some variance in firmness, so you'll also need to consider your bodyweight to find the right one.


Back sleepers can choose between the Helix Moonlight, Dusk, and Dawn, providing quality body contouring. These sleepers tend to do well on varying firmnesses and material types, so when it comes to back sleeping, these folks could potentially be happy on the majority of Helix models.


Stomach sleepers will want to stick with beds that have a firmer feel, especially if they carry more weight. Beds like the Dusk, Dawn, and Plus should be best for people who lie in this posture to ensure their hips stay lifted.


The Helix Dynamic foam mixed with coils works well for many combination sleepers. This responsive design creates an easy surface for sleepers to change sleeping positions. Shoppers looking for a good medium feel might want to look into the Dusk option.


Helix no longer offers a split firmness, but what they do have is plenty of options that can fit varying body types and preferences. The brand recommends shoppers look at the Midnight, Dusk, or go ahead and take the company's sleep quiz. Most models should work well for couples thanks to the enhanced edge support, bounce, and motion isolation coming from the memory foam layers.


Heavy sleepers should like the Plus model as it has taller coils designed to support additional weight for optimal spine alignment all night long. The bed can support up to 1,000 pounds and is perfect for partners with different sleeping habits.


As we said, what makes this brand so beneficial is the sheer amount of options. Lighter folks could do well on any of this company's beds, but they may prefer the Sunset or Moonlight models to find the most pressure relief. Firmer beds may not be so comfortable for lightweight sleepers because it usually takes more weight to activate the upper layers.


Average-weight sleepers have the most options from Helix since most models are rated medium or medium-firm on our firmness scale. Although the brand offers softer models and the Helix Plus for heavy people, average-weight sleepers should like all the medium beds and their Luxe upgrades.
The features of this mattress were thoughtfully constructed to deliver options whether you're looking for a mattress that stays cool all night or if you need one to cradle your curves with a thick comfort system or both. The reinforced coil unit should provide good edge support, allowing you to sit and sleep near the edge of the bed. In addition, the coils are individually pocketed to reduce motion transfer.
Our Verdict
Helix thought of everything in making these hybrids, so it should be fairly easy to find one that suits your needs regardless of your preferred sleeping position. The mattresses feature premium materials and are made with a great eye for detail, which is shown in how durable and long-lasting each model is.
After testing Helix, we concluded that the brand is worth your consideration. Both Standard and Luxe models offer a good balance of support and pressure relief to fit a range of people. On top of that, the company offers a Plus model and a Helix Kids mattress for the youngest ones.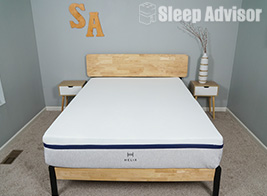 Get the Helix Mattress
Helix really has thought of everything with their customized line of mattresses, delivering your best sleep using a proprietary sleep quiz.
Click the button below to get Helix Mattress.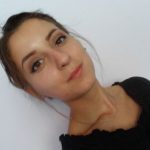 Olivera is a content writer for Sleep Advisor and is enthusiastic about sleep. She firmly believes in the benefits of daytime naps on top of getting a full 8-hour sleep at night.
She started writing in 2016 and never looked back. What she appreciates the most is her flexible working hours and the ability to work with people worldwide.
In her free time, Olivera enjoys reading Spanish literature, taking pilates classes, and trying out new cocktails with friends.