Do you work out? Are you a runner? And have you been looking for the best possible way for your muscles to relax at the end of the day?
If you've been following this thought pattern lately – you've probably tried to find the best mattress for athletes.
Regularly working out, lifting weights, swimming or even just jogging will make your muscles sore. This is perfectly reasonable, but you do have to take extra good care of those muscles now.
One obvious thing you need to do is to let your muscles recover properly after every workout. What better way to do this than while asleep anyway? Owning a mattress that's suitable for athletes will let you rest both physically and physiologically.
That said, a simple Google search isn't going to cut the cake this time. This will only result in you going through countless ads masked as informational and useful content.
Sure, some websites might give you some actionable info, but let's be honest – most of them are just businesses trying to sell you something. This means finding what you're after might not be as easy as you thought.
There are hundreds of brands out there which will say anything just to get your attention, and then try and push irrelevant products down your throat.
| IMAGE | NAME | FOAM TYPE | THICKNESS | WARRANTY | RATING |
| --- | --- | --- | --- | --- | --- |
| | Bear Bed | Gel-infused, thick response and support foam | 10" | 10 Years | 9.4/10 |
| | The PerformaSleep Bed | Gel, Enersorb™ and support foam | 11" | 10 Years | 9.1/10 |
| | LULL Bed | Gel infused, therapeutic and polyurethane foam | 10" | 10 Years | 8.8/10 |
Three Mattresses We Recommend for Athletes
These recommendations are based on the fact that people who work out regularly need uninterrupted, deep sleep. I've also included beds that offer exceptional pressure relief, as well as a good support base.
Bear Mattress
If you can afford it – this mattress might be the best option here. It's got all the same features the other beds here have, with an addition of a Celliant-infused cover.
Various research studies claim the Celliant material to have actual health-promoting properties. The material is supposed to absorb the heat from your body, and transform it into infrared light.
The IR light will then provide the health benefits, as it supposedly oxygenates your body and improves regeneration and metabolism.
This mattress is made out of three layers. The top layer is a 1″ thick gel-infused memory foam layer, followed by a 2.5″ thick response foam layer. And at the bottom, we find a 6.5″ thick support foam layer.
You should also note that the foam within this mattress is CertiPUR-US Certified, and the bed itself is made in the USA, comes with a 10-year warranty policy.
Being CertiPUR-US certified, the foam cannot contain any hazardous materials, toxic chemicals, mercury, or other heavy metals.
The PerfomaSleep Mattress
I didn't expect much from PerfomaSleep, but I have to say – I was quite surprised. This brand offers a mattress that provides more value than its price tag warrants, so it's a best-buy.
They also offer a 100-day trial period within which you can return the mattress and receive a full refund. This is an excellent opportunity to try out a new bed and virtually makes the purchase risk-free.
This bed is made out of three layers. The top layer is a 2″ thick CopperCool Gel-Foam layer, with a 4lb density. This is considered high-density and is usually found only in luxury foam mattresses.
The second, or middle layer, is a layer they call Enersorb™ layer. It's also a 2″ thick layer of high-density foam. The brand says this layer is specifically designed to push-back the top tier.
This will help you avoid the sinking-in feeling that's usually a notorious foam feature. Finally, we see 7″ thick base support layer at the bottom. This is a 1.8lb dense foam layer which should be perfectly able to provide a great night's sleep.
Lull Gel Memory Foam Mattress
This brand offers one of the friendliest return-policies I've ever witnessed. Not only do they give you 100 days to try out their mattress, but they also pick it up themselves if you want to return it.
Most brands offer a trial period, but they'll let you pay for the return shipping, which sometimes spans into hundreds of dollars. This brand, however, offers an entirely free return. They'll send someone to pick it up from your home, and you'll get your full refund as well.
Besides the trail period, there's also an excellent 10-year warranty program that's got you covered if you decide to keep the bed.
This bed is also made out of three layers. The top layer is a 1.5″ thick cooling-comfort layer. It's a high-density gel-infused foam layer. This will provide real pressure relief, and the gel will help pull the heat away from your body.
The middle layer is a 1.5″ thick therapeutic layer – as Lull calls it – and it serves to provide proper spinal alignment making sure you can rest easily and wake up with no pain or aches.
Finally, the support layer is 7″ thick and is made out of polyurethane foam. This is quite good, but it's not anything luxurious. Still, if you like other features of this mattress – I'd gladly suggest you go along with this one as well and try it out.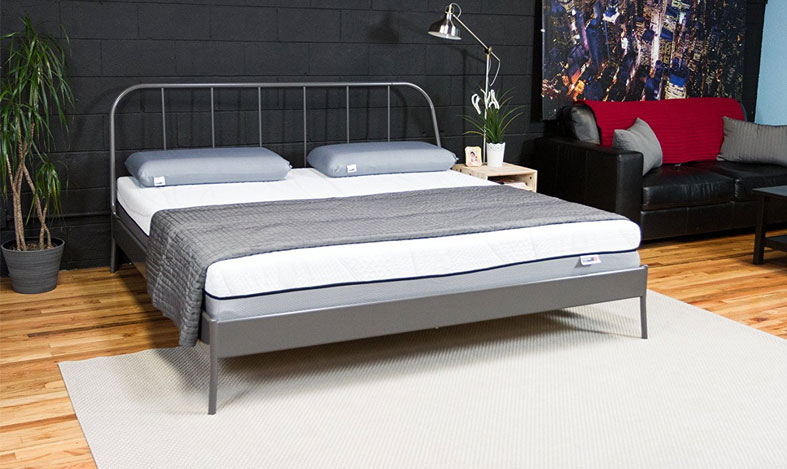 So, How to Find a Good Bed if You are an Athlete?
Here are a few things you should take into account when trying to find the outstanding mattress for athletes. You can use these steps as a buying guideline regardless of what type of mattress you're looking to buy.
There's No Such Thing
I don't know whether this surprises you or not – but there's no such thing as a mattress specially made for athletes. You know why? It's pointless. It's ridiculous. If you ever had someone pitch you a mattress for sportspeople – you can be sure there's nothing to it.
As an athlete, your number one concern should be muscle recovery. That's it. And how do you get your muscles to recover? Uninterrupted, deep sleep. There's nothing more to it.
This means that you should look for a bed that's going to make you feel the most comfortable to sleep on. Find a bed which lets you relax deeply and one that's not going to make you wake up and toss and turn during sleep.
That will be the perfect bed for you. For your muscles to recover as fast as possible, your body requires deep, uninterrupted sleep. You need to sleep for multiple hours in one session.
That's the best way for your muscles to recover from work outs because this is exactly when and where the body releases the growth hormone. You know what else is naturally released when you sleep? Protein synthesis.
Deep sleep is going to not only help your muscles recover but build them as well. To summarize: Please don't look for an athletic mattress. Instead, pick out a construction you know you're going to enjoy, e.g. memory foam.
Additionally, see that the mattress you're picking out has real pressure relief – especially if you're a side-sleeper. This will help your hips and shoulders sink into the mattress and stay relaxed throughout the night.
Firmer Isn't Always Better
If you've done any research at all – you've probably heard a lot of people saying that firmer mattresses offer more support and are therefore your best option in any situation.
This is not necessarily true. If you like sleeping on your side, you're not going to want an extra firm bed. Your shoulders and hips need to have proper pressure relief beneath them, and this is just not possible with extra thick mattresses.
Firmer mattresses are a better option for back and stomach sleepers. That said, you should also consider your weight. Your weight plays a huge role here.
If you're even slightly overweight, it means your body will sink more, and this warrants a firmer mattress. If you're particularly light-weight, you should try a bed that's labeled soft.
Do You Really need Celliant Technology?
Celliant fiber technology is a controversial subject mainly because there are not enough studies to confirm its effectiveness. The idea behind it is that the material uses the energy your body emits during sleep and transforms it back into a source of energy for your body and muscles. You should benefit from improved circulation, increased oxygenation to your muscle cells and better temperature regulation while you sleep.
Can Celliant improve sleep?
It's hard to say until you try it. Everyone is different, and while most people confirmed that they feel much better, some say it didn't make a huge difference.
Conclusion
---
Once you decide it's time to get a new bed, remember to pick out the right size you need. Take precise measurements of your bedroom, and then see where it would fit. Also, take into account any furniture you plan on adding after the mattress is in place.
Furthermore, get something with good pressure relief if you're an athlete, and make sure the brand offers a trial period of any kind. This will enable you to buy the bed virtually risk-free.
I don't have a favorite; I love each of the three mattresses I mentioned today. However, if I had to pick one out – I'd go with the Bear Mattress, in its King variant.
It's got all the necessary benefits, high-quality foam, good support, and to top it all off – Celliant-based covers. Read more about the Bear mattress and the Celliant effect here.
Author:
Sarah Cummings
I think we're all nerds, but I'm probably the biggest nerd in the group. When we were in college, Mike and Jill would always be the first to fall asleep during our study nights.
As you can tell by my picture, I have a book in my hand almost around the clock. So yes, I'm a nerd just like Sheldon Cooper!
My hope is that everyone who visits our site will walk away with a fresh perspective. I think too many people in society downplay the importance of sleep. In my opinion, it's the difference between an average life and an amazing one.