Transparency Disclosure – We may receive a referral fee (at no additional cost to the buyer) for products purchased through the links on our site or other applicable pages. To learn more, please read our full disclosure page here. We also encourage you to read about how we may research and/or test Products here.
Do you work out? Are you a runner? And have you been looking for the best possible way for your muscles to relax at the end of the day?
If you've been following this thought pattern lately – you've probably tried to find the best mattress for athletes.
Regularly working out, lifting weights, swimming, or even just jogging will make your muscles sore. This is perfectly reasonable, but you do have to take extra good care of those muscles now.
One obvious thing you need to do is to let your muscles recover properly after every workout. What better way to do this than while asleep anyway? Owning a mattress that's suitable for athletes will let you rest both physically and physiologically.
There are hundreds of brands out there trying to get your attention. We hope this guide will make the process of buying one much easier.
Top 5 Mattresses We Recommend for Athletes
These recommendations are based on the fact that people who work out regularly need uninterrupted, deep sleep. We've also included beds that offer exceptional pressure relief, as well as a good support base.
Bear Mattress – Active Lifestyle (Foam)
Highlights:
CertiPUR-US® Certified
100-Day Trial
10-Year Warranty
Children's Charity Initiative
Made in the USA
Bear Mattress targets their mattresses specifically at individuals who lead a healthy and active lifestyle to deliver a restorative night's sleep that can improve athletic performance during the day.
To do this, they've blended together quality foams with cutting-edge technology to both keep the mattress cool and, they claim, actively help muscles recover.
What stands out? Bear is packed with high-performance materials, but perhaps the most unique is their cover's use of Celliant®, a textile that is currently undergoing clinical trials to prove its long-term health benefits. According to Bear, Celliant® to can convert the body's kinetic energy into infrared energy, which improves blood circulation and increases muscle restoration while you sleep.
The bed is also outfitted with cooling technology in the top layer of memory materials that is made from graphite gel, which helps wicks heat away. The bed's support and base foams provide responsive spine aligning support that aids repositioning for active sleepers.
Learn more: Our in-depth Bear analysis
Bear Mattress Hybrid – Active Lifestyle (Hybrid)
Highlights:
CertiPUR-US® Certified
100-Day Trial
10-Year Warranty
Children's Charity Initiative
Made in the USA
If you are intrigued by the performance materials on offer from Bear Mattress but prefer a little more bounce in your sleeping space, the company also offers the same high-tech approach to mattress design in a hybrid, which combines foam with coils.
The hybrid is also 4.5 inches taller than the company's flagship model.
What is unique? As a mattress with a coil unit, the Bear hybrid will encourage more temperature-regulating airflow than its all-foam counterpart and potentially a bit more bounce. We encourage those interested in the possible health benefits of Celliant to do their own research, but the company claims early clinical studies indicate that the cover may help improve oxygen flow and reduce inflammation that results from active lifestyles.
The comfort layers of the hybrid mattress are also slightly different than the all-foam version. The top layer is a quick-responding latex alternative, followed by gel-infused memory foam and a 2.5-inch pocketed micro-coil unit. The base of the bed is a 5-inch slab of high-density support foam that assists the coils with spinal alignment.
See more details in our complete Bear Hybrid overview.
Purple – Innovative Materials
Highlights:
CertiPUR-US® Certified
100-Day Trial
10-Year Warranty
Made in the USA
In a world of classic foam and traditional innersprings, Purple is seeking to break new ground in the mattress industry by inventing a new approach to pressure relief and supportive comfort.
It's what happens when rocket scientists decide to invent a mattress, and the company has taken the internet by storm with its quirky ad campaign using raw eggs to test their bed.
What makes it special? Purple's Hyper-Elastic Polymer™ surface layer has a gel-like consistency in a grid that stays supportive under concentrations of weight and bends to accommodate your curves, helping to provide comfort regardless of what position you choose. This combination was designed to give every sleeper a personalized blend of pressure relief and support that is backed up by a dense foam support system.
Unlike traditional foams that may have a tendency to retain heat, Purple is completely temperature neutral, which may be beneficial for athletes, who, research suggests, can sometimes sleep hot. Also, the material is quick to respond to changes in pressure so active sleepers should have no trouble repositioning.
Check out all the details of Purple in our In-Depth analysis.
Luxi 3-in-1 – Triple Firmness Settings
Highlights:
CertiPUR-US® Certified
100-Night Trial
1000-Night Pledge
10-Year Warranty
Charity Initiatives
Made in the USA
Luxi believes the secret to great sleep is personalization, and they want to keep mattresses out of landfills by developing an all-foam mattress you can customize at home.
Not sure what feel is best for you? Luxi can be tested out and reconfigured three different ways until you find what feel delivers your best sleep.
The mattress is delivered in the medium configuration, which should be the most versatile of the three. If that feel is too soft or too firm, you can unzip the cover and change the order of the layers for a different feel. One of the layers includes the company's Shape Match Technology, which features foam pillars that should collapse to relieve pressure on your heavier parts while remaining upright to conform to your body's natural curves.
What is its best feature? For athletes, major changes to your body and your sleep can happen overnight or even in an instant. For the first 1000 nights that you own the bed, the company will work with you to add in, subtract, or change out layers to achieve a better fit. If changes happen down the road, the company will continue to work with you to adjust your bed for a nominal fee.
Want to know more? Read our full review here.
Layla – Pressure Relief
Highlights:
Dual-sided Firmness
CertiPUR-US® Certified
120-Day Trial
Lifetime Warranty
Made in the USA
Sleepers on the firmness fence may appreciate the versatility of Layla, a dual-sided mattress that delivers two very different feels within the same bed.
If you prefer something softer or firmer, a better fit may just be a turn of the mattress away. An infusion of ThermoGel® in the cover and copper in the top comfort layer aim to keep you cool and dry while you sleep.
What stands out? Regardless of which side you choose, Layla really shines in the pressure relief category, which can be imperative for an athlete's sore muscles and tired joints. If you sleep on your side, pressure can build up within your shoulders or hips under the concentration of your weight, but Layla's deeper hug should help melt this away.
Either side of Layla can accommodate a variety of body types and sleep positions, but the firmer of the two sides may be slightly more ideal for sleepers who are more active and require changes in position.
Interested in learning more? See our Layla analysis here.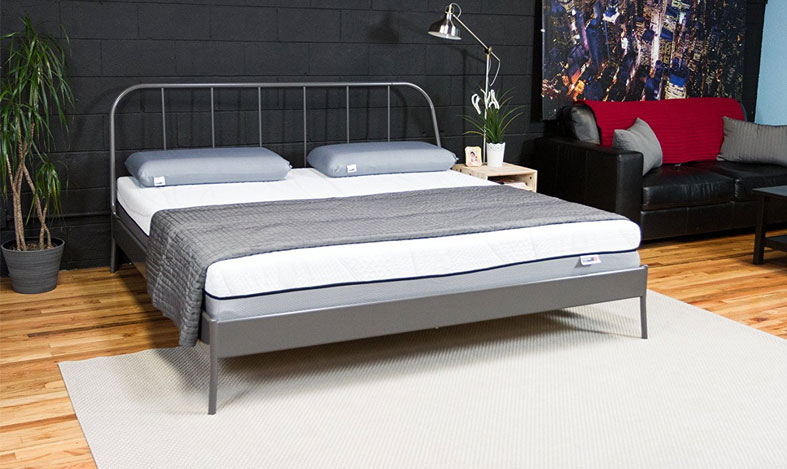 So, How to Find a Good Bed if You are an Athlete?
Here are a few things you should take into account when trying to find the outstanding mattress for athletes. You can use these steps as a buying guideline regardless of what type of mattress you're looking to buy.
Muscle Recovery And Sleep
As an athlete, your number one concern should be muscle recovery. And how do you get your muscles to recover? Uninterrupted, deep sleep.
This means that you should look for a bed that's going to make you feel the most comfortable to sleep on. Find a bed that lets you relax deeply and one that's not going to make you wake up and toss and turn during sleep.
That will probably be the perfect bed for you. For your muscles to recover as fast as possible, your body requires deep, uninterrupted sleep. You need to sleep for multiple hours in one session.
That tends to be the best way for your muscles to recover from workouts because this is exactly when and where the body releases the growth hormone. You know what else is naturally released when you sleep? Protein synthesis.
Deep sleep is going to not only help your muscles recover, but build them as well. You need to be sure to pick out a construction you know you're going to enjoy, e.g. memory foam (you can check out our top rated picks here).
Additionally, see that the mattress you're picking out has real pressure relief – especially if you're a side-sleeper. This will help your hips and shoulders sink into the mattress and stay relaxed throughout the night.
Firmer Isn't Always Better
If you've done any research at all – you've probably heard a lot of people saying that firmer mattresses offer more support and are therefore your best option in any situation.
This is not necessarily true. If you like sleeping on your side, you're probably not going to want an extra firm bed. Your shoulders and hips need to have proper pressure relief beneath them, and this is just not possible with extra firm mattresses in many cases.
Firmer mattresses are generally a better option for stomach and back sleepers (you can read more and find our top picks for back sleepers here). That said, you should also consider your weight. Your weight is known to play a huge role here.
If you're even slightly overweight, it means your body will likely sink more, and this warrants a firmer mattress. If you're particularly lightweight, you should consider trying a bed that's labeled "soft."
Furthermore, if you suffer from a spinal injury or condition such as scoliosis, you need to pay even more attention to the level of support you need. (Read more about considerations and top choices for scoliosis here.)
Do You Really Need Celliant Technology?
Celliant fiber technology is a controversial subject mainly because there may not be enough studies to confirm its effectiveness. The idea behind it is that the material uses the energy your body emits during sleep and transforms it back into a source of energy for your body and muscles. You should benefit from improved circulation, increased oxygenation to your muscle cells, and better temperature regulation while you sleep.
Can Celliant improve sleep?
It's hard to say until you try it. Everyone is different, and while most people confirm that they feel much better, some say it doesn't make a huge difference. Luckily, a lot of brands have trial periods that can encourage you to try it out without risk.
Conclusion
---
Once you decide it's time to get a new bed, remember to pick out the right size you need. Take precise measurements of your bedroom, and then see where it would fit. Also, take into account any furniture you plan on adding after the mattress is in place.
Furthermore, get something with good pressure relief if you're an athlete, and make sure the brand offers a trial period of any kind. This will enable you to buy the bed virtually risk-free.
Want to see more options? Check out our best overall picks here.
Author:
Sarah Cummings
I think we're all nerds, but I'm probably the biggest nerd in the group. Put me nose deep in a spreadsheet and I'll start smiling.
I love to travel, hang out with positive people, and love cycling when I find the time!
My hope is that everyone who visits our site will walk away with a fresh perspective. I think too many people in society downplay the importance of sleep. In my opinion, it's the difference between an average life and an amazing one.