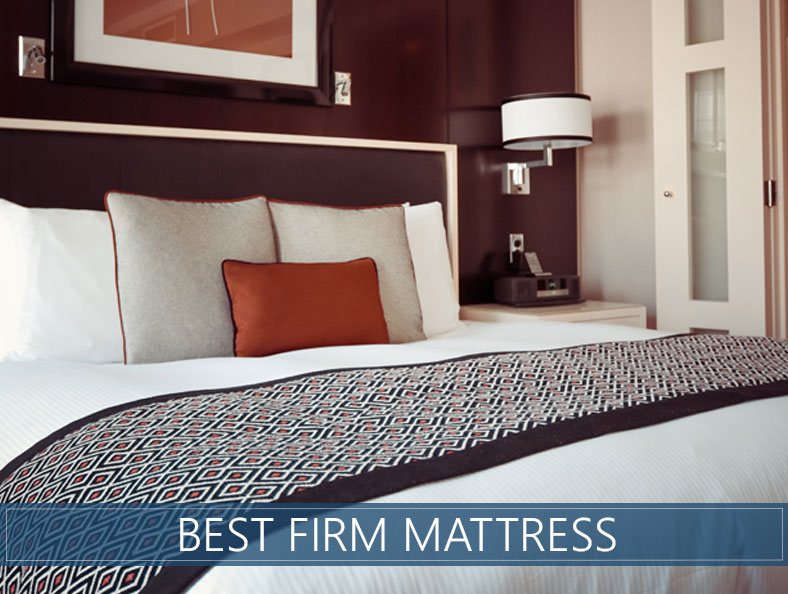 One of the first things you ought to do when you go ahead and start looking for a bed is to identify the type of sleeper that you are. Do you prefer to sleep on your sides, back or stomach? As long as you get that sorted out correctly, you are good to go.
The next thing to consider, and probably the one that would ultimately determine your choice, is the firmness of the mattress. We are going to take a closer look at some top rated firm mattresses on the market. They are usually preferred by people who like to sleep on their backs or stomach.
For more options, we recommend that you read our highlights of best-rated mattress brands and see the winners for each category.
Of course, that's far from being enough when it comes to determining the firmness level of your bed. There are quite a few things that you would have to account for to understand what makes a great firm (or extra-firm) mattress.. That's why we've taken the liberty of providing you with everything you need to know in a structured and comprehensive manner. Hopefully, after you are done the reading, you'll be confident choosing your ideal "hard" mattress.
| IMAGE | NAME | MATERIALS | PRICE RANGE | RATING |
| --- | --- | --- | --- | --- |
| | Loom & Leaf | Cooling Spinal Gel, Eco-friendly Premium Foam and Dual Layer Breathable Support | $$$$ | 9.7/10 |
| | Saatva | Eco-friendly Memory Foam Layer, Inner Springs from Steel | $$$$ | 9.3/10 |
| | Casper | Memory Foam and a Springy Top Layer | $$$ | 9.1/10 |
| | Beautyrest Silver | Aircool Memory Foam, Aircool Foam, Backcare Support and Dualcool Memory Foam Technology | $$$ | 8.9/10 |
| | Tuft & Needle | T&N Adaptive Foam | $$ | 8.6/10 |
Top 5 Firmest Bed Reviews
Loom & Leaf (8/10 Firmness)
Being a sister-brand to one of the pioneers in the online mattress world, Saatva, Loom and Leaf offer luxury beds (see our full list) at a reasonable price. The one that we are taking a look at is their firmest unit.
It scores 8 out of 10 on the unified firmness scale, making it an example of the firmest mattress on the market today. It comes with a multi-layered design, separated by four different layers.
The first one is designed to cool and comfort; the second one compliments the overall comfort, the third one offers seamless transition while the last one is the foundation of the bed.
Loom & Leaf's firmest mattress brings a classic memory foam sensation, ensuring just the right amount of contouring and sinkage.
It is responsive enough, and even though it is very firm, it's also very comfortable.
PROS
It brings luxury feel for a fraction of the cost
High-end materials
Reliable manufacturer with extensive experience
CONS
Could be too firm for most people
Saatva Firm (8/10)
Saatva has been one of the most influential online mattress companies for the last few years, and it's safe to say that has become a dominating influence and authority.
It sells directly to the consumer which allows it to cut a serious amount of the middle-man cost, bringing beautiful high-end quality at affordable rates.
The firmest model of the brand scores 8 out of 10 on the firmness scale. It is a hybrid mattress with two different layers of coils.
The first one of them is made of smaller, and individually foam wrapped coil while the second one represents the traditional steel hourglass spring system.
This brings a distinct bounce and pronounced responsiveness of the bed. It is appropriate for those of you who are heavier and are fans of the specific feel of the innerspring mattress.
PROS
Contemporary reproduction of an old-school model
Splendid support and excellent responsive
Great bounce
CONS
Won't appeal to fans of memory foam
It's a bit firmer than most people would prefer
Casper (6/10)
This is an award-winning mattress which brings universal comfort. The reason for that is because it's designed to score 6 out of 10, making it medium firm.
With this in mind, it is made of 4 different layers of memory foam and open-cell latex which is specifically designed to keep you cool at night.
The product is designed to fit a 10 x 10 sq. feet master bedroom, and it is amongst the most popular ones regarding sizes.
The most impressive feature that it comes with is the open-cell springy layer which brings comfort, responsiveness, and particular coolness.
It ships in a box, and it has a 10-year warranty. It is tested and approved, and it is rather affordable for the quality that it brings.
PROS
Very comfortable
Made of high-end materials
Comprehensive structure and enhanced air flow
CONS
Serious off-gassing
Might not be as supportive
Beautyrest Silver Extra Firm 800
This is a truly extra-firm mattress which would appeal only to those of you who like the additional lumbar support and sturdiness of their beds.
It is a queen-sized model, and it measures 79.5 x 60 x 13 inches.
Obviously, the bed is quite thick. 13 inches is quite unorthodox when it comes to extra-firm units such as this one which only means that it would offer enhanced support.
Interestingly enough, the bed delivers a rather plush sensation upon first lying down on it. Of course, as soon as you start to relax you feel the firmness which doesn't allow you to sink a lot.
However, the unit is well-built, and it doesn't make you feel floating on top of it.
PROS
Splendid support
Great initial sensation
Very reliable
CONS
Might be a bit too firm if you are lighter in terms of weight
Tuft & Needle (Medium-Firm)
It goes without saying that this particular mattress is one of the most renowned consumer products in the industry.
It comes with proprietary Tuft & Needle memory foam which is adaptive, and it delivers a slightly bouncy appeal. Of course, this is thanks to the toughness.
At the same time, the bed isn't as firm as you'd expect it to, ranking a bit above average on the firmness scale.
This is what allows it to deliver a universal support and comfort which would appeal to about 80% of the sleepers.
This is one of the reasons for its massive success. The product is reliable, made in the USA and it brings a lot of value for your money as it is rather inexpensive in comparison.
PROS
Incredibly well-established product
Awesome contouring and support
Truly balanced sleeping sensation
CONS
Off-gassing might last a little longer
Who Should Sleep on a Firmer Bed?
Apparently, the first thing that you would want to consider is what kinds of sleepers would benefit the most from the firm mattress. If you usually to sleep on your back or your stomach – you fall into that category. At the same time, if you are a heavier regarding weight, you'd also benefit a lot from a hard mattress.
For those of you who like to sleep on their backs – the harder bed will keep your spine in proper alignment, and it will prevent excessive sagging and contouring.
Stomach sleepers, on the other hand, also benefit from a hard mattress for reasons, which are quite similar. They tend to keep a particularly flat profile which is going to result in fewer gaps between your body and the bed. With this said, if you prefer belly sleeping you should consider a unit which will prevent your back from arching. At the same time, the bed would prevent your pelvis from sinking right into it.
Who Shouldn't Get a Hard Bed?
Naturally, some people wouldn't prefer a particularly hard bed. Those of you who like sleeping on their sides wouldn't appreciate the extra firmness. The reasons are numerous.
Right off the bat, the very first thing that you should consider is that while sleeping on your side, you exert a lot more pressure on a concentrated surface on the mattress. That's why the sinkage is a lot more. If the bed doesn't contour your body and sinks appropriately, you will start experiencing pain in your shoulders and lower back.
People who are light regarding weight should also stay away from hard beds. The reason is quite simple – they wouldn't be able to exert enough pressure on the bed to sink and would float on top of it. This is a rather unpleasant sensation which could also cause a lot of issues.
Obviously, firm mattresses are suitable for a particular type of sleepers. There are numerous benefits brought by a firmer bed, so let's have a look.
They are more comfortable
The truth is that you can never have too much support. However, the opposite is true. Firmer mattresses offer an expressed amount of support, and they are a lot more comfortable if used by the right person. Those of you who experience lower back pain, neck or joint issues would benefit.
You would never be able to get a proper rest if your mattress is overly soft or if it's sagging. With this in mind, a proper bed with the necessary amount of firmness will comprehensively align your spine, inducing a state of great relaxation.
If there is one thing that you should consider when picking a mattress that's the spine alignment. There is no better option in this regard than a firm bed.
Proper distribution of weight
A firm model offers splendid overall weight distribution which alleviates a lot of pressure points between the body and the bed.
How Firm?
Obviously, there are different types of firmness levels when it comes to it. We've decided to focus on those who score up the higher end of the scale. Typically, for a mattress to be above than average, it has to be medium firm, firm, and extra firm. These all have different purposes.
For instance, medium-firm beds are preferred by the vast majority of sleepers. It's estimated that about 80% of people prefer this particular firmness level. Firm ones would feel slightly less tough in comparison, and the firmest ones are very sturdy.
Hard mattresses are great for back and stomach sleepers while extra-firm ones should be used by people who are substantially overweight or are just very heavy. This would guarantee the necessary support.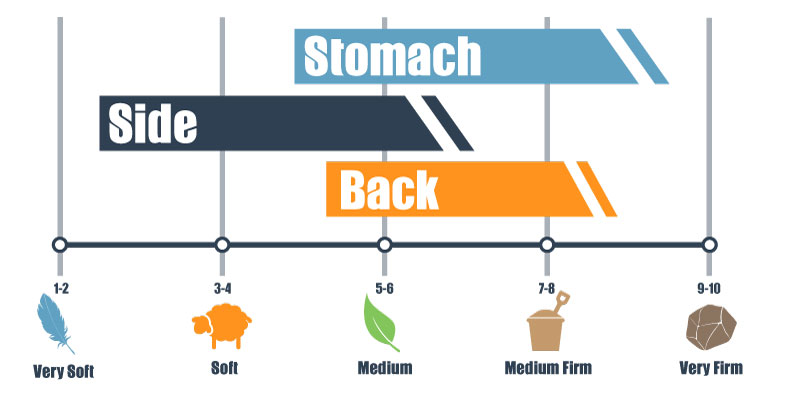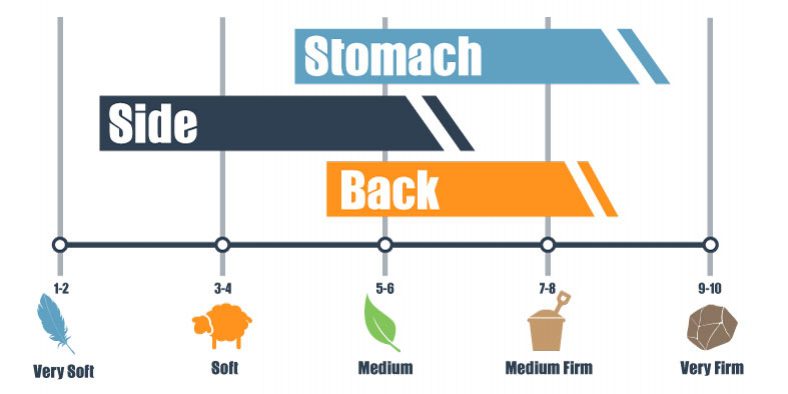 What Material?
There are different types of materials that you can go for. The most preferred ones on the market when it comes to beds are memory foam, innerspring and latex.
Now, if you are a fan of memory foam mattresses, you will have harder times finding a firm, let alone extra firm bed. This is due to the natural properties of the material.
On the other hand, innerspring and latex are materials which are more responsive, and they would make it easier for the mattress to be a firm one. They are the predominant materials for extra-firm solutions just for that reason.
Beware of Sagging
Sagging in mattresses which are firmer could be a serious issue for sleepers. In certain situations, the excessive sag is caused by the low quality of the material. That's why we recommend making no compromises if you're to buy a firm bed.
Mattresses which are old, however, may no longer have the material or structural integrity to deliver the necessary amount of support. Keep in mind that the average useful lifespan for the majority of beds will range between 8 and ten years. Of course, there are a lot of factors which might affect and alter this such as usage, body type, weight, and others of the kind.
Edge Support
The edge support is quite important, and it's amongst the factors that you should undoubtedly account for. Poor edge support could lead to quicker sagging of your mattress as you sleep regularly on it.
For those sleepers who share it with someone else, you are likely to find yourself on edge a lot more common than you'd like to. This is when you will definitely appreciate proper edge support.
Amorous activities are also an important consideration. Interestingly enough, quite a lot of couples enjoy taking advantage of the edge of the bed for sexual activities. Most of these options outlined above do not suffer from this problem.
Temperature (Air Flow)
This is one of the most commonly underestimated characteristics and also one of the most important ones. The air flow that your mattresses allow would determine the overall temperature of the unit.
The last thing you'd want is to wake up sweating through the night, just because you've picked a unit which retains a substantial amount of heat.
It's obvious that you should aim for something cooler and innerspring and latex are the leaders in this segment. Cooler bed attributes to better sleep and proper rest.
Conclusion
---
As you can see for yourself, there are quite a lot of factors that you'd have to account for when purchasing a firm mattress. More often than not people would fail to consider something important, and that would result in regret later on.
Your mattress is one of the most critical requirements for a good night's sleep. Make sure that you're well-aware of the specifications so that you can conveniently take an informed and adequate decision based on your sleeping patterns, preferences, and requirements.
Author:
Sarah Cummings
I think we're all nerds, but I'm probably the biggest nerd in the group. When we were in college, Mike and Jill would always be the first to fall asleep during our study nights.
As you can tell by my picture, I have a book in my hand almost around the clock. So yes, I'm a nerd just like Sheldon Cooper!
My hope is that everyone who visits our site will walk away with a fresh perspective. I think too many people in society downplay the importance of sleep. In my opinion, it's the difference between an average life and an amazing one.