Are you sick and tired of your current mattress? If so, it might be time for you to upgrade your bed to latest technology. Today, we're going to be reviewing the Aurora Mattress by Brooklyn Bedding.
The Aurora launched in November 2017, making it one of the newest models on the market. But don't be fooled into thinking the company is new to the game: Brooklyn Bedding has been one of the most reputable bed-in-the-box companies the last few years. Their first bed was the Signature, also know as #bestmattressever (you can learn more about it here).
Consumers love Brooklyn's first bed, so will their second line perform as well? Let's waste no time and jump straight into our Aurora mattress review and see why it scored so well on our leaderboard.
Video Review
You will like the Aurora if:
You are a warm sleeper: Most modern mattresses use a layer of gel-infused cooling foam or a single layer of cooling material to prevent you sleeping too hot. This product goes beyond this approach to deliver one of the coolest beds available (yes, it's that cool). The cover is loosely knitted to allow maximum breathability; it also has phase change material in it. The 8-inch spring layer allows air to flow freely, creating the perfect heat reducing environment.
You're predominately a side sleeper: The two top layers uses the company's proprietary blend of foam known as TitanFlex. The medium firm model ran a little towards the soft side (5 out of 10 in firmness), which makes it a dream come true for side sleepers. If you sleep on your side, you'll feel your shoulders and hips supported with absolutely no added pressure.
You prefer a more responsive bed: The TitanFlex foam, combined with the coil base layer, create a bed that acts nothing like a traditional memory foam model. This bed has excellent bounce and you'll have no issue moving around, or switching sleeping positions throughout the night.
You might not like the Aurora if:
You're on a budget: This is a higher-end mattress and the price reflects that. Right now, the Queen retails for $1,399, but be sure to use our coupon code for a discount. Despite the price tag, we love and recommend this mattress if your sleeping needs align with the areas this product excels at.
You have a partner that is very active in their sleep: If you check out our video review, you'll notice the motion transfer performed quite well. However, it's still won't deliver the same level of isolation as, say, as a memory foam bed. If your partner moves around frequently, it's possible you'll wake up if you're a light sleeper (this wasn't an issue for us).
Construction
Without a doubt, the Aurora is one of the thickest mattresses we've reviewed (see our entire list); it comes in at 13.5 inches. Part of the premium price tag comes from this thickness and the high-quality materials they put into it. Let's break down each layer and it's role:


The Base Layer: It's 1-inch thick and provides support for the next layer of springs.
The Second Layer: The next layer is 8-inches of pocketed coils. The coils help in two main areas: Cooling (allows natural air-flow) and motion transfer.
The Third Layer: It's a 1-inch thick memory foam layer that's great for deep compression support.
The Fourth Layer: This layer is 2-inches thick and uses their proprietary TitanFlex foam. It's a hyper-elastic foam that responds immediately to your body. The fast-acting feel makes it great for those that switch positions often.
The Top Layer: This 1.5-inch layer is made using their proprietary Energex foam with TitanCool. It's a phase-changing material that draws excess heat away from the body.
When it comes to firmness, you have three options: Soft, medium, and luxury firm. We reviewed the medium model, which is their most popular. The overall construction for each is quite similar, however, the top layers will use either slightly softer or firmer blends.
Firmness
When you climb on the Aurora you will sink and feel well supported. For a medium-firm bed, we rate the Aurora around 5 of out of 10 with regards to firmness, which is slightly on the softer side. A medium option is a fantastic option for side and back sleepers, however, some heavier stomach sleepers might struggle with this firmness level. If you're nervous, we strongly recommend you go with the luxury firm.
In terms of comfort, this bed knocks it out of the park. The 13.5-inch thickness shines through as you feel like you're floating on air. But don't let the soft comfort fool you, this mattress has excellent support. For avid back sleepers, you'll feel the lumbar support that contours nicely to your body. And side sleepers will enjoy pressure relief in their hip and shoulder areas, which can be problematic on firmer beds.
One final point about the construction: This mattress is a great choice for heavier sleepers. The 8-inch coils will support heavier folks without that feeling of "hitting the bottom".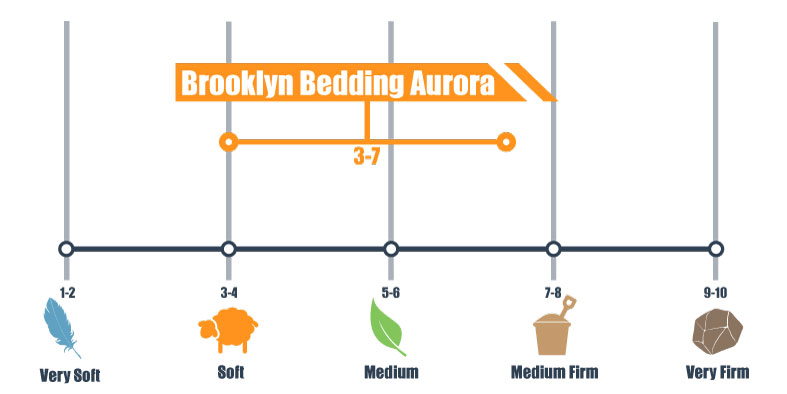 Cooling
If you've read the review up until this point, you're probably well aware of how we feel about the Aurora. It's hands-down one of the best cooling options out there.
The moment you climb into the bed you will notice how cool the top layer is to the touch. The pocketed coils encourage the air to flow freely, making it nearly impossible over-heat. This is a hot sleeper's dream come true!
Motion Transfer
We'll get straight to the point here: There are better options out there that will outperform the Aurora in this category. That said, the motion transfer is still minimal (watch our video above) and will not be an issue unless you're a light sleeper (you wake up to any type of movement).
If this is a deal breaker for you, then we recommend you go with a top rated memory foam mattress because they excel with regards to motion transfer.
Edge Support
Edge support is another area where the Aurora mattress shines. If you like to sit on the edge of the bed to put your socks on in the morning you'll notice minimal sagging. The Aurora scores almost as high as you can for this category considering it arrives in a box. Most bed-in-a-box mattresses will sink more when you sit on the edge compared to the Aurora, especially all-foam beds.
When sleeping near the edge, there is absolutely no feeling of falling off. That's thanks to the 8-inch coil support and high-quality materials found throughout the bed.
Other Considerations
Warranty: 10-year warranty
Trial period: 120 nights – the industry standard is 100 nights, so the company is clearly confident about their product.
Dimensions: Aurora mattress comes in different sizes and three different firmness levels.
Shipping: Free
Weight: You will need help getting the Aurora mattress into the house. It is pretty heavy to carry.
Made in: The United States.
Coupon: You can get 10% off with our code "sleepadvisor10"
Conclusion
---
Amazing!
The Brooklyn Aurora is one of the coolest sleeping beds we've tested and is the perfect choice for a side sleeper looking for excellent pressure relief!
Add your review
Overall, we loved testing out this mattress; it's unelievably comfortable. Back and side sleepers are going enjoy the medium-firm option. Without a doubt, it's one of the best options for a side sleeper due to the pressure relief it offers.
Also, you're going to need a bigger budget for this bed as it is priced higher than many of the popular competitors. But don't let the price scare you as you will be sleeping on some of the best materials in the industry. Lastly, it's the right choice for heavier sleepers, and people that want a little more bounce in their bed.
Author:
Sarah Cummings
I think we're all nerds, but I'm probably the biggest nerd in the group. When we were in college, Mike and Jill would always be the first to fall asleep during our study nights.
As you can tell by my picture, I have a book in my hand almost around the clock. So yes, I'm a nerd just like Sheldon Cooper!
My hope is that everyone who visits our site will walk away with a fresh perspective. I think too many people in society downplay the importance of sleep. In my opinion, it's the difference between an average life and an amazing one.