Transparency Disclosure – We may receive a referral fee for products purchased through the links on our site...

Read More

.
Choosing a new bed frame is an important step on the road to better sleep, but with almost every mattress company offering a matching set and everything from headboards to slats to consider, you may find yourself wondering which best-rated bed frame is for you.
That's why we've looked into the market to tell you what you need to know so you can decide for yourself which brand or model will meet your needs because as most sleep products go, we think there probably isn't a one size fits all option.
5 Top Rated Bed Frame Reviews
Zinus Shawn –
Editor's Choice
Noise-free metal design
No tool assembly
No boxspring required
Versatile style
Available in seven sizes
This product is great for those who want to make the most of their under the bed storage without taking up too much room. Available in seven sizes, this product should have an option for any sized mattress at a reasonable price. Though this product is made from metal, it was designed to minimize squeaking while supporting most mattress types.
Whether your mattress requires a foundation or slats, this option should provide adequate support for most materials. For those who struggle with home assembly, the product requires no tools and with a few quick snaps, you should be ready to go. You shouldn't need a boxspring with this base, which could be good news for those who require a bed low enough for easy access.
Reviewers love that the base is compatible with a variety of headboards, making it a versatile option and reducing the need to replace a whole frame when they want to change the style. Some of the sizes can even disconnect to become two beds if living arrangements change.
Olee Sleep –
Best Heavy Duty
Generous 1200 pound weight limit
Durable steel
14 inch clearance
Under the bed storage space
Heavy duty design
If you've ever had a bed give out on you while you were sleeping, it can be difficult to regain trust in your sleeping situation. With this product, that should no longer be a concern, as it is the best heavy-duty option we could find. With a 1200 pound weight limit, most sleepers won't come close to compromising the integrity of the steel even with a substantial mattress and box spring.
For significantly heavier sleepers, this is the reasonably priced option you've likely been searching for. The product leaves 14 inches of clearance, so taller sleepers shouldn't have to feel like they're sleeping on the ground, and anyone should be able to make the most of under the bed storage. According to reviewers, the product should hold up throughout significant force or impact, accidental or otherwise.
This option could also be great for those who need to house a significantly heavy mattress such as memory foam or gel material without overloading their frame.
AmazonBasics –
Easiest Assembly
No tool assembly
Sturdy support
Under the bed storage space
Multiple size options
Noise-free design
Budget-friendly
This easily collapsible option is great for those who need to make room for overnight guests and tidy up easily in the morning. This metal base requires no tools for assembly or takedown and should stow easily under most armchairs. For those who just need sturdy support, this should be a viable option.
One of the most reasonably priced products we have seen, this base leaves space for under the bed storage, is compatible with headboards, and comes in a variety of sizes. According to the manufacturer, it was designed to safely support sleepers of up to 250 pounds.
According to the reviewers, this frame is quiet and discreet and doesn't seem to move or wobble when sleepers toss and turn. As it doesn't require a box spring, the height of this product with a mattress should work well for people of varying heights, and provide for easy setup. Though this product should work well with most mattresses, it's always a good idea to check with your manufacturer to ensure this option will offer enough support.
Zinus Michelle Compack –
Best Basic Design
Traditional steel base
Budget-friendly
Rubber feet to protect flooring
Customizable by adding headboard
Noise-free design
If you're looking for a traditional steel base to add to your mattress and box spring, this is a great reasonably priced option. A traditional frame and box spring combination is great for memory foam which requires a solid base for proper support. At such a good price, this base shouldn't make the box spring too much of an additional burden.
This product takes up minimal space under the bed and even includes rubber feet to avoid scuffing up a sensitive wood floor or ripping up your carpet. If you want to dress up this product, consider adding a headboard or a skirt. Though this is a simple option, sometimes less is more as it allows you to customize your space.
According to reviewers, this product shouldn't squeak or shake when it's put together correctly, even for heavier folks. If you want to make sure your box spring will fit most securely, Zinus sells their own for a reasonable price to match.
Zinus Joseph –
Best Low Profile Platform
Sleep steel look
No boxspring required
Four sizes to choose from
Metal and wooden base
Noise-free design
Easy assembly
While some enjoy having plenty of under the bed space, others prefer to sleep lower to the ground. For a modern touch, this Zinus Joseph model features a sleek steel look that allows you to sleep just six inches above the floor plus your mattress height without looking like you're in a frat house. The slatted frame requires no box spring but can support one if you prefer.
Available in four sizes, this metal and wooden base should support most mattresses well, and according to reviewers it shouldn't creak or shake during use. Reviewers say assembly is simple and quick for this frame, especially as it won't require you to buy extra tools to put it together.
Though it keeps a low profile, there should be enough room for minimal storage beneath the bed for those who are looking to save even more space. For such a reasonable price, this model is a great option for those looking to add a modern flair to their sleep space.
Bed Frames Buyers Guide
We want you to pick the option that will work for your mattress, your budget, and fit the style you're looking for. While we picked our favorites, which you choose depends on a few key factors. From box springs to slats, there is a lot to consider, but don't let that scare you away.
Most of the factors in your purchase should revolve around user preference, but for the elements that do matter, we have you covered. We'll tell you what you need to know in the next few sections.
Are Frames Always Necessary?
In some cases, mattresses require frames to supply proper support. Even when your mattress would do fine on the floor, elevating it has some benefits, like improved airflow, more storage space, and preserving carpet life. Plus you'll be able to tuck in your sheets.
Do You Need a Boxspring?
Types of Bed Frames
While in some cases, you can find a steel base for free on the side of a road, others could cost you thousands of dollars online or in a department store. If you've ever wondered why, just keep reading.
Standard
This is the model you probably constantly hit your shin on when you were a child. They are generally made from steel and when you get the wrong size, sharp pieces of metal can stick out just a little beyond the mattress. When they function correctly, however, these can be a great low-price option, especially if you plan to use a box spring.
Platform
These generally fall into the minimalist category when it comes to frames, usually featuring a sleek design that leaves room for storage. These are great for when you don't want to use a box spring and you want a piece that will add to your room decor.
They come in a variety of materials, including wood, steel, and sometimes a combination. While these often offer slatted support, they can have a solid base as well depending on the brand you choose.
Adjustable
These models are a great option for those who need to sleep on an incline for health reasons. These frames can be remote-controlled, manually operated, and even include options for each side of the mattress for a split king. Adjustable bases are available from a variety of retailers, and they are usually more expensive than the average base.
If you are worried about style, they also come in a variety of forms, from fabric-covered wood to metal, and often a combination of the two.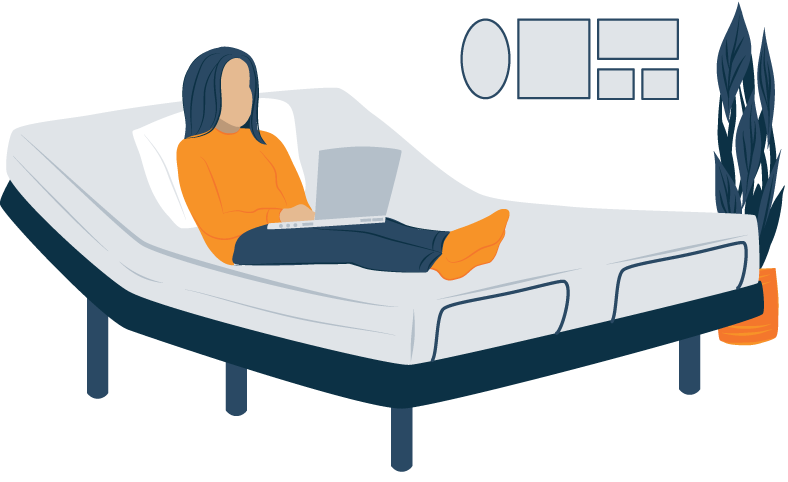 Canopy
You may recognize this as the dream bedroom set up of your inner thirteen-year-old. These frames come with rods for curtains to add to the privacy of your sleep space. While some gossamer white fabric may make you feel like royalty, more often than not these models are used without additional fabric for a fun and modern design.
Four Poster
Think Harry Potter on this one. These models feature four identical pillars extending upward from each corner of the bed. While in some cases this is accompanied by a little roof or canopy, these posts usually stand alone.
Sleigh
This popular model looks just as it sounds. With a head and footboard, these usually resemble sleighs, though we wouldn't recommend taking one out into the snow. Usually made from wood, these frames can be expensive but can add to your room decor.
Built-in Storage
This option usually features built-in drawers to go on the sides or under the mattress, so you shouldn't need a skirt to hide all of your storage bins or loose odds and ends. In some cases, these models can replace a dresser or accommodate for limited closet space.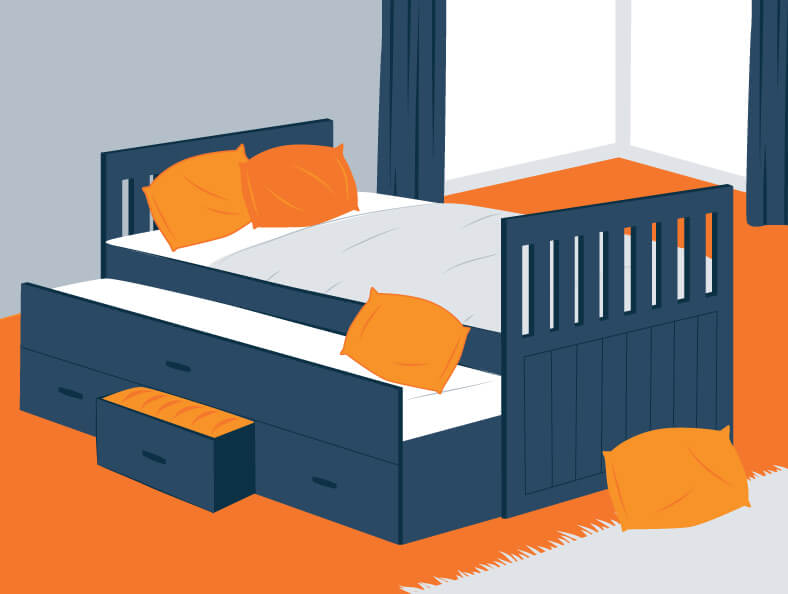 Other
Other less traditional options include the trundle bed, which is a frame that can store an additional mattress beneath it to save space or make room for guests. For dramatic space-saving, you could even consider a murphy bed that pulls down from the wall to make the most of the bedroom during the day or even a pull-out sofa for family gatherings or friends staying over.
Average Prices by Type of Bed Frames
While a queen-size Murphy setup will normally cost well over a thousand, you can normally find a metal base for less than one hundred dollars, depending on where you buy. Mattress companies will usually sell an accompanying foundation with their beds, but in some cases, there are heavily marked up. As a reference point, we feel that spending over a thousand dollars on a frame shouldn't be the norm unless it includes special abilities, like remote-controlled temperature control, incline adjustments, or perhaps a time machine.
Important Features to Consider When Buying Bed Frames
Before you buy, make sure you aren't accidentally forgetting about an important element of your purchase. We'll give you a list of qualities to consider including everything from durability to noise control. Unless you want to wake up your kids or roommates to bed creaking… that's something you'll want to consider.
Height
While this may seem straightforward enough, the height of your bed can affect a variety of factors, including everything from storage space to safety concerns. While a high bed may mean you have more room to store your stuff, a lower bed could be easier to get on and contribute to your modern aesthetic.
Before you get ahead of yourself, however, those with kids should decide how accessible they want their bed to be. Keep in mind that a low bed is easier to climb into.
Weight Limit
Remember that the weight limits for a frame are usually in terms of people plus mattress, so if you have an ultra-dense memory foam mattress and you sleep with a partner, be sure to factor that in so your dreams don't come crashing down. Literally.
Here's our list of top bed frames for heavier individuals.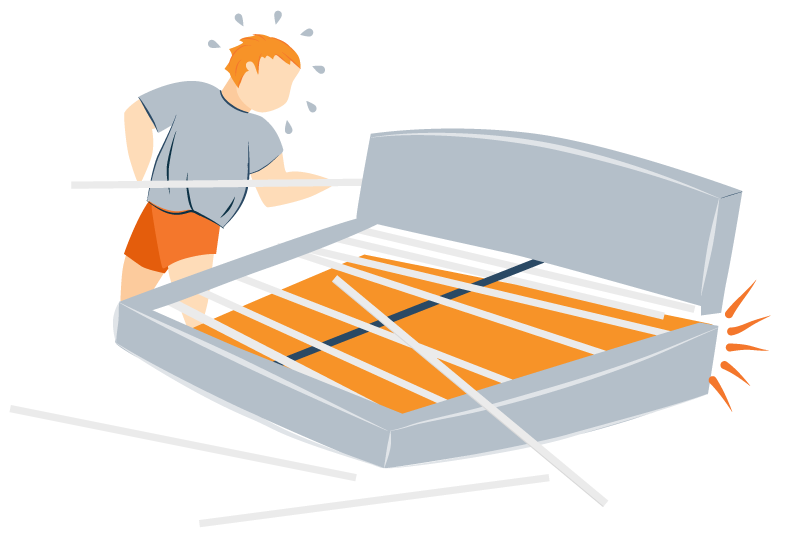 Style and Aesthetics
Keep in mind that some of these cheaper streamlined frames are compatible with a headboard so you may not have to sacrifice your style for your budget, or the other way around. Before buying, make sure you know your options.
Materials
Metal bases tend to be easy to set up, inexpensive, and sturdy, but wood options can also fit these criteria. While wood may be more aesthetically pleasing in some cases, some options are customizable.
Some models even include fabrics. Before buying make sure you understand the cleaning, maintenance and set up of your product.
Storage
If you're looking to hide unsightly boxes, some options even include storage in the design. Others will leave space under the bed for your things, but keep in mind that with the simple frames, your stuff may still be visible.
Slats
Slatted support usually includes wooden or metal slats across a rectangular base to support your mattress without needing a box spring. These are convenient in that they help your mattress keep a low profile and leave plenty of space for storage. Most mattresses will get enough support from slatted frames, however, some will require a solid foundation.
We recommend checking with your manufacturer to ensure your foundation has enough support for your bed.
Lifespan
Most of us want our beds to last, so especially if you're going to spend a lot of money on a frame, you'll want to know it will last at least as long as your mattress. Some options will even have warranties to ensure the quality of a product. Though styles change, classic designs should last at least a decade.
Budget and Affordability
No matter how much you like a product, you don't want to blow your whole budget on the frame. Make sure you know the exact price for your needed size, as they tend to vary.
Box Spring Compatibility
If you prefer to use a box spring, make sure your base has a ledge or cross board to hold it in place. The last thing you want is your box spring to slip and have you rolling off the edge.
Read More: How To Stop Your Mattress From Sliding
Warranty
If you have the option for a warranty, we recommend looking at the fine print so you know under what conditions you can return the product if it doesn't function the way you expect it to. In some cases, you'll have years while in other cases the warranty is limited.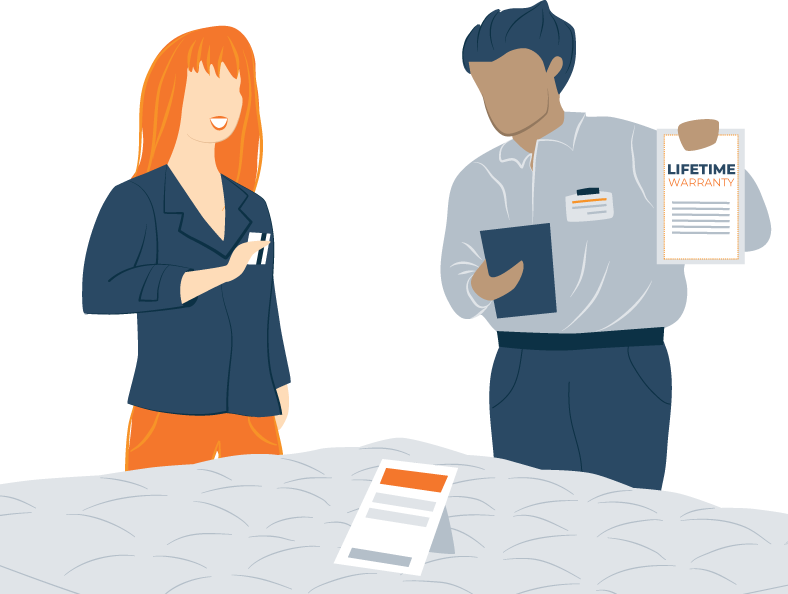 Noise
Squeaking springs are one thing, but the slam of a headboard on a wall is unmistakable. When you're buying a bed, you'll want to make sure it's sturdy enough to withstand any activity.
Ease of Setup
Many modern frames don't require any additional tools for setup, but before you order, it's probably a good idea to make sure.
Overall Quality and Durability
When you're buying online, it can be difficult to know what kind of quality you're getting, and sadly it's not always evident from the price. Reading reviews should be helpful, but if there's any doubt, choose another option or check out that return policy.
Frequently Asked Questions About Bed Frames
Are there good cheap options available?
As evidenced by our list, we think there are some great affordable options for most budgets out there, but if you feel like something is too good to be true, sometimes it is. However, we feel you can't go wrong with most of the options we recommended.
What sizes do frames come in?
Frames come in all sorts of sizes: twin, twin XL, full, queen, or king, or California king. The size will vary depending on number of sleepers and whether it's for an adult or child.
Conclusion
Whether you're looking to add some storage space to your children's room or to add a modern flair to your first apartment, there is a bed frame option out there for you, and we hope our list and buyers guide will lead you in the right direction to find it. As a bonus, with the options on our list, frames shouldn't have to rival the cost of your mattress. From the traditional box spring combo to the new slatted style, just be sure your foundation can support you, your mattress, and your lifestyle.
Our team covers as many areas of expertise as we do time zones, but none of us started here as a so-called expert on sleep. What we do share is a willingness to ask questions (lots of them), seek experts, and dig deep into conventional wisdom to see if maybe there might be a better path towards healthy living. We apply what we learn not only to our company culture, but also how we deliver information to our over 12.7M readers.
Sleep research is changing all the time, and we are 100% dedicated to keeping up with breakthroughs and innovations. You live better if you sleep better. Whatever has brought you here, we wish you luck on your journey towards better rest.