Have you ever seen those "Nailed It" images on Pinterest?
You know the ones we're talking about. Someone crafty with too much time on their hands made a beautiful stack of rainbow pancakes, and then a normal person tries to recreate the effect with disastrous results. There are thousands of examples of these fails. And they're all hilarious.
But when it comes to decorating your master bedroom, there's nothing funny about it. You deserve a sanctuary in your home that is calm, peaceful and relaxing. Something that suits your style 100%.
You've probably looked at inspirational photos already, but how do you know what's going to look good in your space? And who knew that there were so many interior options for mason jars and wooden pallets?
Browse our gallery of beautiful master bedrooms for design and decorating ideas, and then take a look at our helpful tips to make the most out of your home, whether you've got a small room, a cavernously large master bedroom, or something that's average-sized.
The first step is deciding your overall style, and then we'll get to work on the finer details like plants and lighting. We'll even share our insider tips on furniture selection and wall design.
Master Bedroom Ideas
Elegant
Even a small master bedroom can look every bit as elegant as a five-star, luxury hotel suite. It's all about choosing the right colors for your space. We recommend a sophisticated color palette of gray and ivory with navy blue accent pieces. A rug with either a classic or trendy presence adds personality without breaking the bank.
Neutral
If you're sharing a bedroom, it's sometimes difficult to compromise on colors and style. A room with neutral tones is a great way to meet in the middle. You won't go wrong with hues like beige, white and gray. Add an accent piece that has some contrast, and you'll avoid the neutrals looking boring. A unique-looking lamp, for example, makes a bold statement in your home.
Vintage
The first step is determining the era you'd like to emulate. A 70s disco funk is a lot different than a mid-century modern color vibe. When decorating a room that's going for a vintage feel, we tend to choose one focus piece and plan around it. For example, we may find a collection of silk scarves that are begging to adorn the walls. That element becomes the focal point, and once you have that, everything else falls into place.
Soothing
For many, the master bedroom is a retreat. The right color choice can transform your room from bland to blissful. Think about the colors that make you feel the most relaxed. Is it a sky blue hue, or do you find yourself at peace with green tones or bright whites?
Or perhaps, there's a type of print or pattern you love to surround yourself with. Some find ocean or botanical themes to be the most soothing. Once you pick a color palette and pattern, you'll be filled with home design inspiration.
Romantic
You don't need a bucket of champagne chilling on the nightstand to create a romantic space. Although, that certainly helps!
The classic go-to for a romantic master bedroom is a large bed with a canopy. We also love velvet accents, whether it's a lounge chair, a settee, pillows or even wallpaper with velvet contrast.
Dark
Our ancestors slept in caves, so a dark room makes sense as an oasis. Darker walls also create the illusion of space, so if you're looking for small master bedroom home ideas, consider painting one or more walls a dark color to provide the illusion of square footage. We think that dark colors also add an element of sophistication.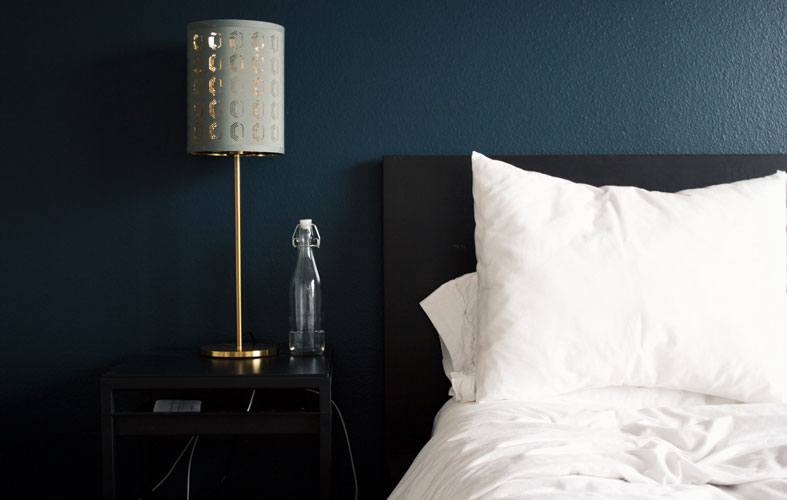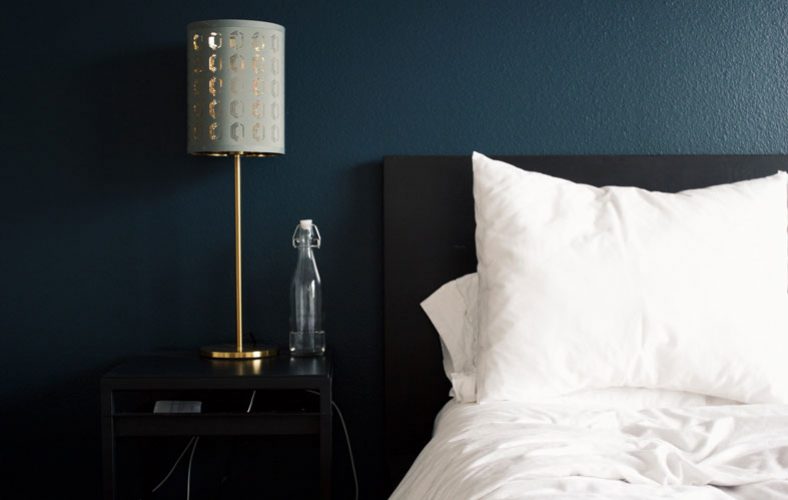 Beach Cottage
Who doesn't love the beach? With this type of bedroom, you recreate the beach, but without the pesky sand. This theme is one of the easiest to recreate, and you can do something subtle like blue and white nautical stripes on the walls or bedding. Or, go all out with shells, and ocean-themed paintings.
Rustic
This type of design is ideal whether you need large bedroom ideas or small. Rustic rooms are typically associated with lots of texture and the use of wood. If you've got tall ceilings, try adding in a hanging light fixture to create more interest and make use of the height. On the other hand, if you're working with a smaller area, experiment with recycled or weathered wood as a wall accent or ceiling covering.
Bohemian
This style is so freeing! Think low-profile furniture, patchwork designs and lots of plants. With a boho style room, you don't need to follow any strict color rules. We love to mix in textures and include lots of macramé, whether it's a cute tote bag hanging from a desk chair, a piece of wall art or one of those classic plant hangers that were infamous in the 1970s.
Eclectic
Eclectic is even more freeing than bohemian because anything goes. You can pick a theme and then just add whatever feels right. Combine hand-me-downs, garage sale finds, and a couple of gems you dig up on clearance, and you might surprise yourself with how well things turn out!
Contemporary
This look is easy to recreate. Go to any furniture store showroom and pick out everything from the display. You'll usually get a bundled price discount as well. Contemporary is safe and will almost always look well put together. If you want a beautiful master bedroom that reflects your personality, consider adding a piece of art to the wall that fits your style.
Cabin
If you're one of the lucky ones with a fireplace in your bedroom, you might want to consider recreating a log cabin. It's like rustic, but instead of weathered wood panels, you'll have genuine logs instead.
Traditional
Everyone's got a different interpretation of what traditional means. In this case, we view it as a classic style. Think gingham prints, large headboards and elegant floor to ceiling curtains. No vertical blinds here! We think of traditional as understated elegance. Kind of like what fancy hotel rooms looked like a hundred years ago, but with a modern twist.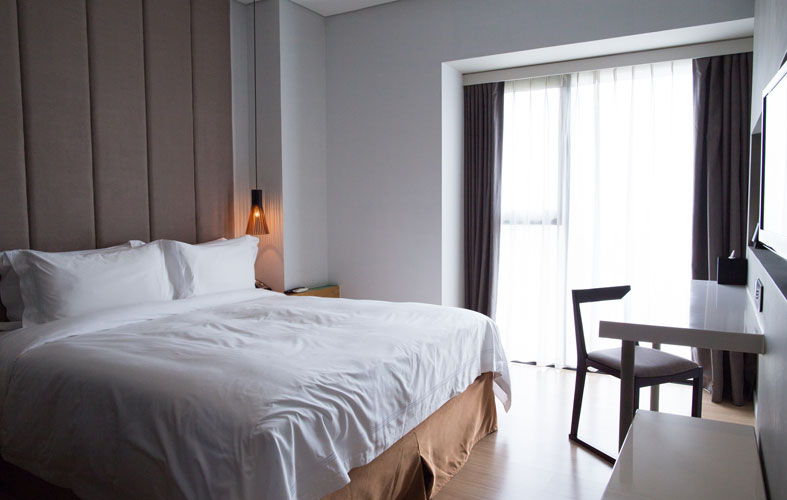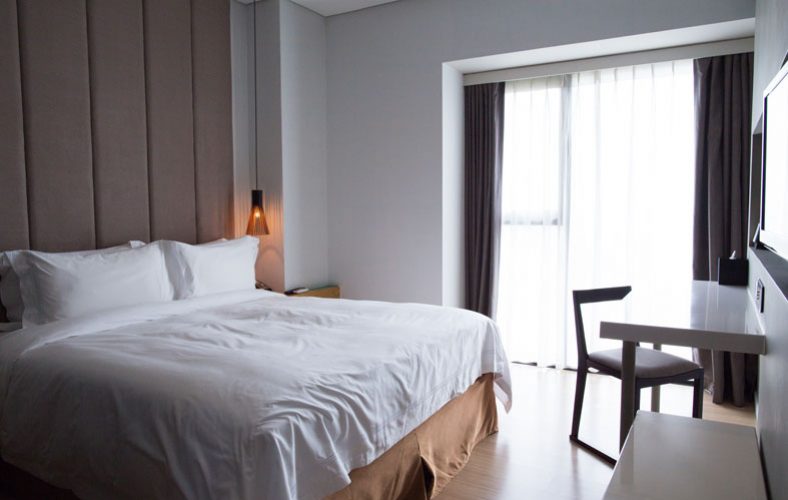 Glamorous
When we think of glamorous, we think of old Hollywood. It could be either grays and whites with luxurious textures like velvet, leather and virgin wood. Or it might be bold reds and pinks. It doesn't have to cost a lot to recreate a glamorous vibe, though. A silk bedding, a unique light fixture, and a visually stimulating wall decal are all you need to pull this off.
Mediterranean
Bring old-world Europe to you. No airline ticket required! Add in ornate styling, a classic rug, a high-profile bed & bedding with lots of candles, and you'll have this look mastered.
Natural
Simulate the outdoors with a natural-themed design. We like to include lots of botanical-themed elements, including both live plants and artwork. Add in a wooden light fixture, twig art, and faux fur furniture, and you've brought the best of the outdoors into your bedroom without the spiders.
French Country
Recreate the bed and breakfast experience with a French Country-inspired bedroom. Muted colors, subtle floral prints, and ornate fabric headboards complete this look. We also like to blend patterns that you don't see together every day. For example, a floral print curtain with a checked bed skirt looks surprisingly chic together.
Modern
The idea of a "modern bedroom" changes over the years. Today, it means an industrial theme with a hint of mid-century. Think exposed brick, which is surprisingly easy to simulate. We also like bold prints and classic white furniture with wood accents.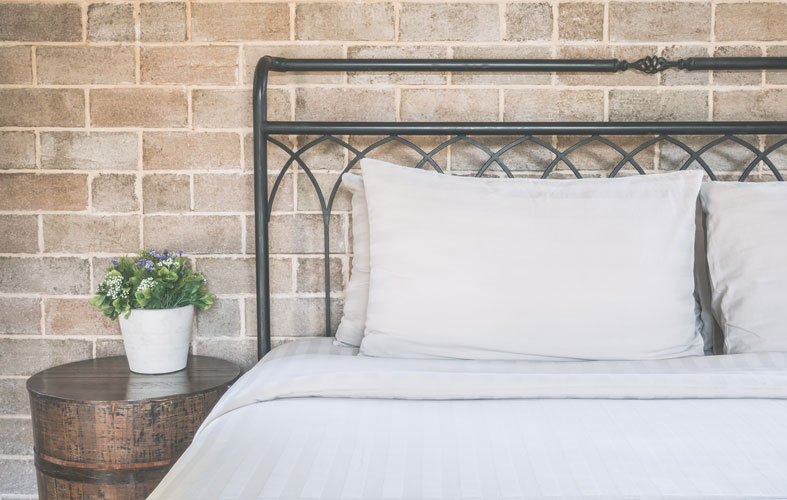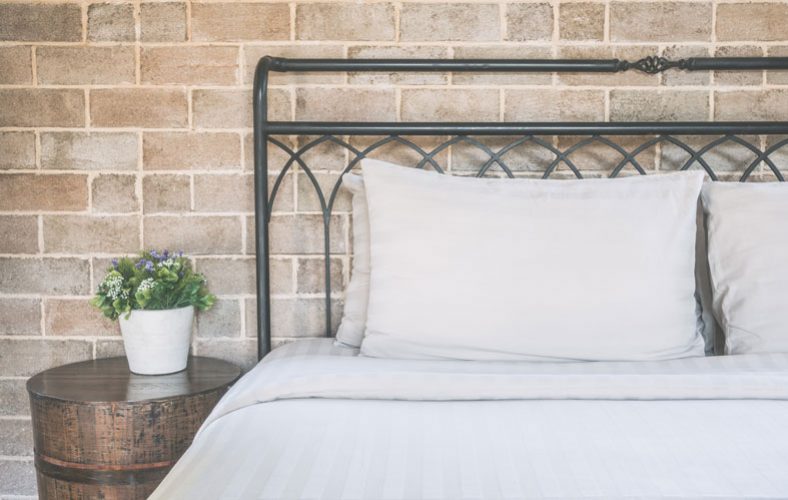 Country
We think of this as a classic American design. Think reds and blues with plenty of white. Put an acoustic guitar on display, and the look is complete. Our favorite go-to for this design is either a stonewash comforter or curtains to add authenticity.
Airy
The key to achieving an airy bedroom is to include as much white as possible. White walls are a must, for sure. We also recommend white furniture and light-color curtains. This look is ideal for smaller bedrooms because it gives the illusion of space, especially if you fill the room with as much white as possible.
Luxurious
We've found that even the smallest bedrooms can look luxurious with the right accent pieces. We like to add reflective elements like mirrors, metallic, and chrome to recreate this look. Add a few pillows to the bed and cover the headboard with a velvety material and your bedroom will look like you spent on a fortune on it, even though you didn't!
Minimalist
Both small and large bedrooms benefit from a minimalist design. Keeping clutter out of the bedroom makes smaller spaces look big and avoids the look of chaos in a larger area. We recommend streamlined furniture pieces and shelving to keep everything looking clean and organized.
Stripes
It's easy to go overboard with stripes, so be careful with this one. We like the idea of limiting them to one accent piece, whether it's a single wall, a bedspread, curtains or a chair. The advantages of stripes are that they can elongate the look of a room or tie in a color scheme you're working with.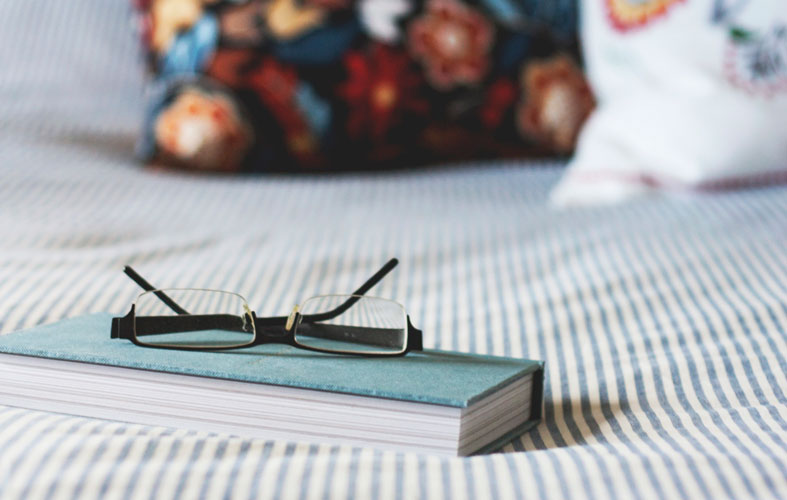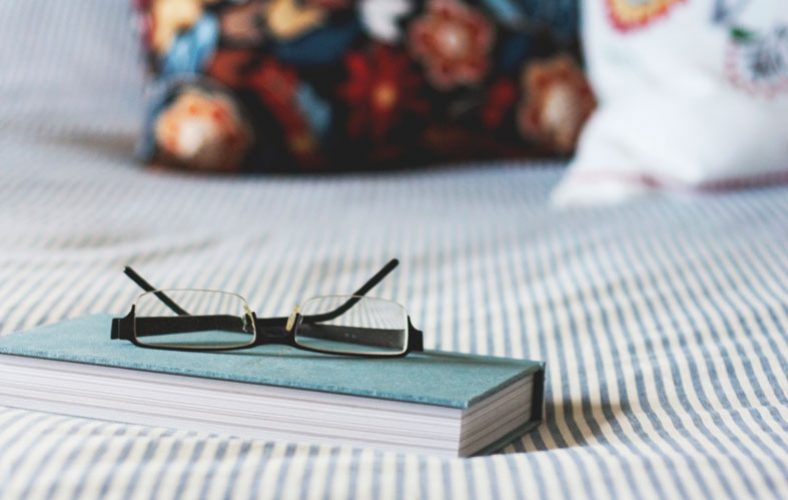 Master Bedroom Decorations
House Plants
Plants can liven up a bedroom, literally. Not only do they add an interesting visual element, but they also have a calming effect, which helps induce sleep.
Canopy
If you're on a budget, there are tons of ways to create a flowing canopy over your bed, DIY style. Use curtain rods or hula hoops for the structure and low-cost sheer fabric. No spare curtain rods? Try copper pipes, branches (for a rustic look) or even thumbtacks!
Mirrors
A mirror creates the illusion of space, which is a perfect hack for smaller bedrooms. Tilted the right way, a mirror adds depth and makes a room appear much larger than it is. Another benefit of having a reflective element is that it can add extra light and brighten up an otherwise dark area.
Rugs
A rug will tie the whole room together. Rugs can work to either unite different pieces of a room or act as a statement piece in their own right. If you've got a lot of bold designs that borderline clash, a neutral rug helps them all blend. However, if you've decorated in neutrals, add a bright or patterned floor covering to add pop.
Artwork
The key to creating a beautiful master bedroom is in the art you choose to display on your walls. Whether it's a framed inspirational message or a landscape that inspires you, having art that you love in your bedroom is a must-have for creating a bedroom oasis.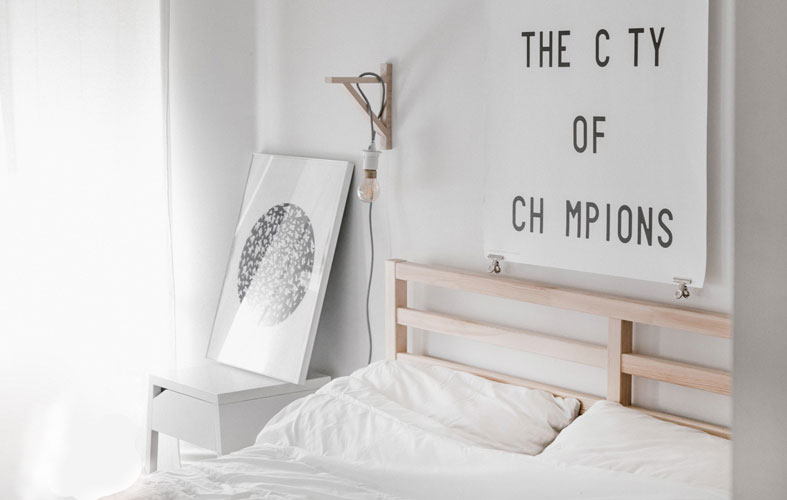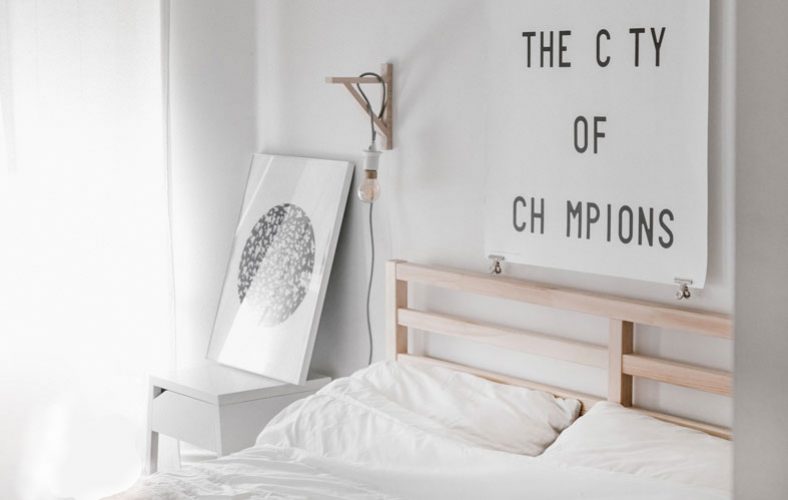 Accents
Whether it's an entire wall or just an accent piece, having items stand out will reflect your taste and personality. Maybe it's a bright pop of color in your bedding or a boldly designed nightstand. Having something that's unique and special to you is one of our top master bedroom interior design principles. Because as long as you like it, you'll know your room looks great!
Wall Art
Whether it's framed artwork, wallpaper, a painted accent wall or a mural, decorating the walls transforms a room instantly.
Textiles
Fabrics with different patterns and textures reflect your personality and create a space that shines. Experiment with velvet, faux fur, and linens. Or, if you prefer a more uniform look but still want something that's visually interesting, add a rug to pull it all together.
Tips for Designing Your Master Bedroom
Assess Your Needs
Before we get ahead of ourselves and go on a shopping spree, the first thing to do is to assess your needs. What do you use your bedroom for other than sleeping? Or maybe sleeping is the only thing. The reason to plan for this is because you'll want to make your bedroom conducive to those other activities. If you watch television or do a lot of reading in the room, you'll have different requirements for seating and lighting.
Add Furniture
No matter the size of your bedroom, resist the temptation to stuff it full of furniture. It will clutter up the space and make it feel claustrophobic. We tend to follow the "less is more" principle. Pieces to consider adding (other than the bed, of course) include dressers, nightstands, a desk, seating, and shelving units. Again, assess your needs and add only the items that either serve a function or you like to look at.
Illuminate
The way you light your room immediately sets a tone. Do you want a bevy of bright lights, or do prefer a single light fixture hanging from the ceiling? Or, you may decide you'd like to be able to dim the lights for ultimate control. In that case, look into a dimmer switch or adjustable lamps.
Let Natural Light In
The healthiest way to wake up in the morning is with the sunrise, so make a concerted effort to allow natural light to come into your bedroom, at least in the early hours.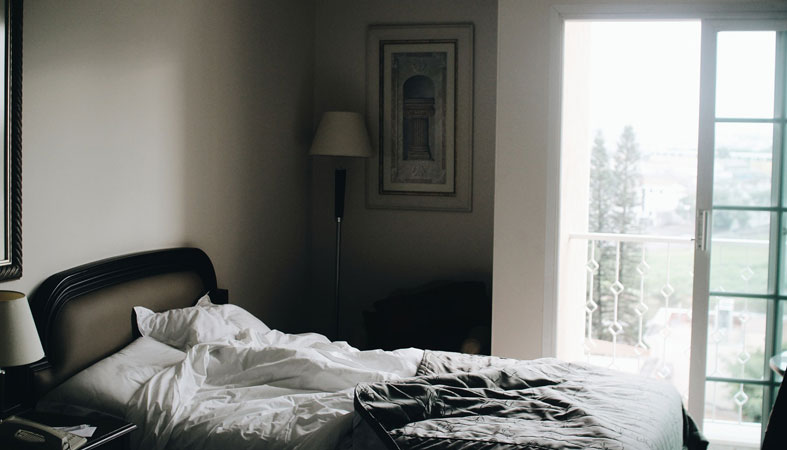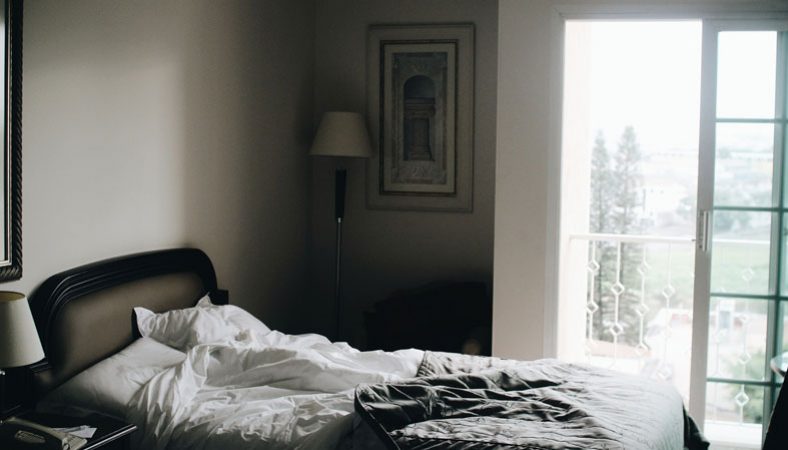 Separate Spaces
Even small bedrooms can make use of designated areas. You may want to include a reading nook or workspace. A corner of the room with a rug, chair and reading lamp accomplishes that.
Or, if you share the room with a partner, you'll want to ensure that there's plenty of room for all of your stuff. Closet space might be at a premium so if your stuff feels cramped, consider separate dressers or built-in units that can store more of your shoe collection.
Style
We outlined just about every style imaginable in the section above. Did any of those resonate with you? Decide in advance what type of look you're going for before the shopping trip or painting party begins.
Color Motif
Decide if you want a neutral color palette or something bold. But before you go too far down that path, figure out if you prefer brown or black. They don't tend to play well together, so pick one and stick with it. There's nothing worse than picking out a beautiful dark brown dresser only to fall in love later with a black bed frame. Believe us when we say that unless you keep your room dark, those two items are going to clash.
Design the Walls
Thoughtfully designed walls make a small bedroom seem larger, and a big room appear cozier. If you're nervous about having the same design or color on all four walls, try decorating an accent wall first. Or make the headboard the focal point of the room and get (or create) something elaborate.
Decorate
There are no hard and fast rules to decorating. Basically, just do you. Feel free to express yourself and know that your style and tastes may change over time. If you're on a budget or the idea of redecorating every couple of years sounds daunting, we recommend sticking with neutral pieces and adding bold accents. Even a few candles or a throw at the end of your bed are enough to allow your personality to shine through.
Conclusion
---
We hope you found plenty of inspiration with our design outline and styling tips! Even though most of us are asleep in our bedroom the majority of the time, this is still the place we end up each night and where we start our day each morning. Make it a space that enhances your enjoyment. When you open your eyes each morning, you should be happy with your surroundings!
Sources:
76 Bedroom Ideas, Decorating Tips and Decor Inspiration – Good Housekeeping
Restful Master Bedrooms – Southern Living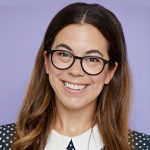 Jill Zwarensteyn is the editor for Sleep Advisor and a certified sleep science coach. She is enthusiastic about providing helpful and engaging information on all things sleep and wellness.
Based in Los Angeles, she is an experienced writer and journalist who enjoys spending her free time at the beach, hiking, reading, or exploring new places around town.
She's also an avid traveler who has a personal goal of being able to successfully sleep on an airplane someday.