Transparency Disclosure – We may receive a referral fee for products purchased through the links on our site...

Read More

.
Testing out beds can have you feeling like Goldilocks, hopping from one bed to the next searching for the perfect firmness.
Your mattress might feel too soft or too hard, which could prevent you from getting the sleep you need and deserve.
If you're a side sleeper, then this situation is even more urgent, because your weight is concentrated in the shoulder and hip areas.
If the surface of your bed isn't comfortable, not only can sleep evade you, you could be harming your back and joints. This guide will help you find the best mattress topper for side sleepers.

In this article, we'll share our side sleepers mattress topper picks. There are a ton of options out there, but we've narrowed it down to just a handful to help make your decision easier.
5 Best Mattress Toppers for Side Sleepers
Top 5 Bed Toppers for Side Sleepers
Saatva Mattress Topper
Three Material Options

Elastic Anchor Bands

Seven Sizes Available
The Saatva Mattress Topper is designed to prolong the life of your mattress and enhance comfort. Customers can choose between latex, graphite, and foam, available in seven standard sizes, making it a good option for all beds. 
The toppers have a seamless look, so they're barely visible on your mattress regardless of whether they're new. Additionally, the four elastic anchor bands allow a secure fit so that the topper doesn't move. The Saatva mattress topper with a graphite layer is the most popular of the three, thanks to its cooling properties. All three options have a breathable cotton cover. 
Why we picked it
Saatva offers a 180-day trial for consumers to test

the topper

before purchasing. You can get a full refund if you return it within 180 days of delivery.

This Saatva topper is easy to spot-

clean,

using only warm water and a mild cleaning solution. 
Best Latex Mattress Topper for Side Sleepers
Mattress Topper 3'' Talalay Mattress Topper
OEKO-TEX Class 1 Certification

High-End Organic Cotton Cover

3 Inches Tall

Three Firmness Options
Talalay latex is an excellent choice for pressure relief and muscle relaxation, all of which are crucial for dedicated side sleepers. If your mattress is too firm, you can quickly change the feel by adding a soft or medium mattress topper.
The topper has a breathable cotton cover that protects the foam while promoting a hypoallergenic environment. The cover features a circular knit for a silky smooth feel and additional breathability. This one is three inches tall, so it'll add a bit of height to your existing mattress. The topper is delivered in a box for easy transportation and handling. 
Why should you get it?
The topper is OEKO-TEX certified, meaning it's free from harmful chemicals and safe to use. 

Brooklyn Bedding offers a 3-year warranty covering defects in the material, which is much longer than what most brands offer for mattress toppers. 
Best Down Mattress Topper for Side Sleepers
Brooklinen Down Mattress Topper
White Duck Down-Filled Top

White Duck Feather-Filled Base

Three Sizes Available

365-Night Trial
Side sleepers struggling with pressure build-up should find relief in softer toppers like this Brooklinen down-filled model. This mattress topper features a white duck down-filled top and a white duck feather-filled base to create a plush and comfortable feel.
The topper has a 100 percent cotton casing that allows maximum breathability and additional comfort for side sleepers who sleep hot. Plus, cotton makes it easy to spot-clean using warm water and soap. Brooklinen recommends you avoid machine-washing, although it's okay to place the topper in the dryer on a cool or low heat setting. This should help the topper stay lofty and soft enough for dedicated side sleepers. 
What makes it special?
What stands out the most is the 365-night trial, giving you the option to sleep on this topper for a full year before committing to a purchase. However, it has to be in good condition for you to receive a refund. 
Best Flippable Mattress Topper for Side Sleepers
Coop Home Goods Flip Mattress Topper
CertiPUR-US® Certified

Waterproof

Dual-Sided

Hypoallergenic
This dual-sided 4-inch mattress topper has a soft and firm side, allowing sleepers to choose based on their needs at the time. Side sleepers usually benefit from the soft side as it helps them add softness to their mattress. As a result, the bed should offer more comfort, pressure relief, and responsiveness. 
Because it's flippable, this Coop Home Goods mattress topper should last longer than most standard toppers. Flipping it ensures even wearing regardless of your sleeping habits. In addition, it's easy to clean with a mild detergent and a sponge. Machine washing and drying aren't recommended as they can damage the foam. 
Why do we like it?
Coop Home Goods included its Ultra Luxe Waterproof Mattress Protector, designed to keep out bacteria, liquids, and allergens. 

The topper features a CertiPUR-US® certification, meaning it doesn't contain harmful chemicals, toxins, or heavy metals. 
Best Cooling Mattress Topper for Side Sleepers
Tempur-Pedic TEMPUR-Adapt® Topper
Removable and Washable Cover

3 Inches Tall

Six Sizes Available
The TEMPUR-Adapt® Topper features the brand's proprietary TEMPUR® material that responds to your shape and temperature. As a result, the topper pulls your body heat away, helping you cool throughout the night. Plus, it adapts to your body in different positions, including side sleeping, which requires maximum pressure relief. 
This model features a removable and washable cover that makes maintenance a breeze. The topper is resistant to allergens, mold, and dust mite dander, so it's a good choice for allergy-prone people. Tempur-Pedic offers six standard sizes, so it should fit most mattresses. 
What stands out?
The

TEMPUR-Adapt® Topper is made from the brand's proprietary foam that's dense but breathable. This allows better airflow to keep sleepers cool even during the hottest nights.

Shoppers can upgrade to the special cooling cover for an additional 60 dollars, a great option for people who sleep extra-hot at night.
Why Should Side Sleepers Use a Mattress Topper for their Bed?
Have you ever tried lying on your side on a hardwood floor or a slab of concrete? It's uncomfortable, right?
There's a reason it's so uncomfortable, and it has to do with something called pressure points.
The two main pressure points for side sleepers are the shoulders and hips, although the torso shouldn't be neglected either. What happens is that side sleepers concentrate most of their weight on these areas. It's a simple law of gravity.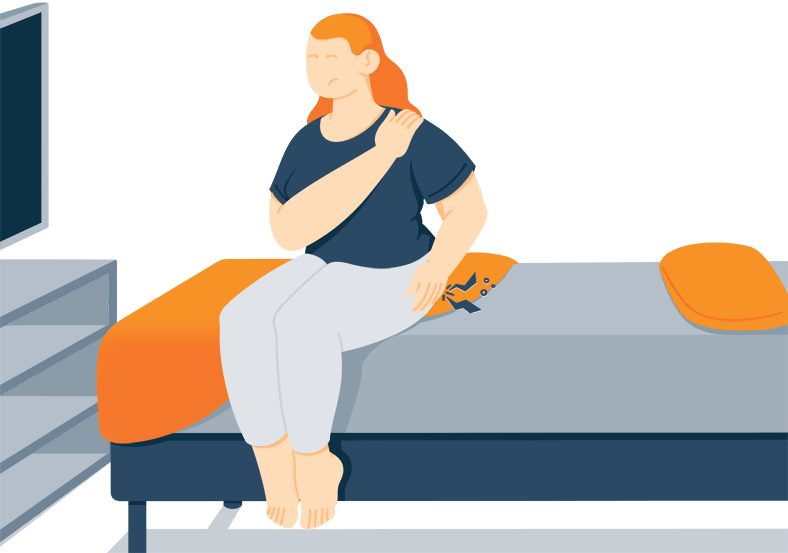 Ideally, when you lie on your side, your body should maintain a neutral spinal alignment. Parts of your body will sink, and others will stay flat, and this allows your spine to look like a straight line when you view it from the side.
The problem occurs when a mattress surface is either too hard or too soft. If it's too hard, then these concentrated weight areas can't sink enough to allow for a neutral spine. If the bed is too soft, then the body will sink too much.
Either scenario is a recipe for sleepless nights and back pain.
Because of this situation, side sleepers have to take extra care when they're buying mattresses, toppers, and pads. They need a sleeping surface that accommodates their uneven weight distribution, and not just any topper will do.
A mattress topper is a good solution for side sleepers with a bed that doesn't meet their needs. If your bed is too firm, a softer mattress topper should provide a healthier and more comfortable sleep environment. It should allow gentle cradling and help relieve pressure in sensitive areas. 
Mattress toppers feature different materials to deliver various firmness levels. However, side sleepers should benefit from softer toppers as these are designed to relieve pressure and respond to the shape of your body. 
Learn More: How to Properly Sleep on Your Side
What to Look for When Buying a Mattress Topper for Side Sleepers
If you're new to mattress toppers, it's vital to know what to look for as this will give you a better likelihood of finding the right model for your unique needs and preferences. 
Thickness
When it comes to thickness, sometimes the thicker, the better. A thin surface can wear out faster and provide less support. However, a dense surface is likely to last longer while giving you the support you need.
Memory foam with a thickness of two to three inches works well for many people. Two or two-and-a-half-inch pads are also a viable option, as long as the material is high-quality. You can find great quality, thinner options, but if you want more cushion for this position, a thicker option may work best.
Read More: How Thick Should a Mattress Topper Be?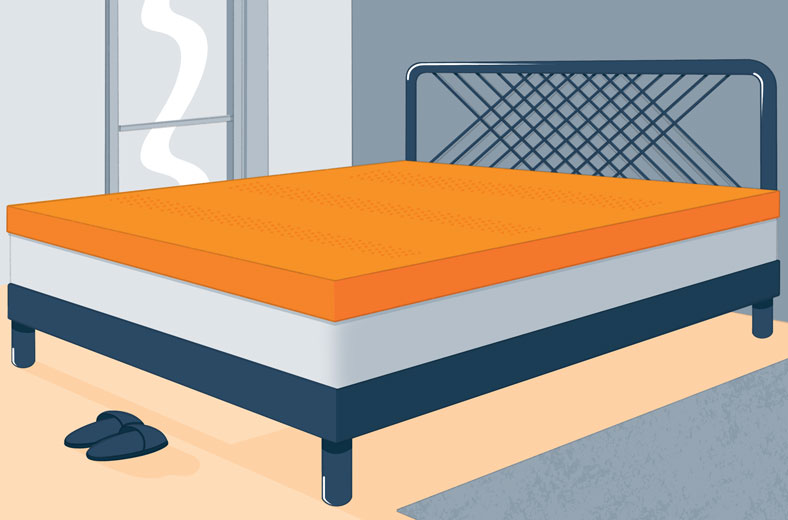 Pressure Relief
We've talked a lot about pressure relief, and we cannot emphasize enough how important this feature is for side sleepers. No matter what position you sleep in, pressure relief is critical. However, if you're a side sleeper, then adequate pressure relief is a must.
If you're sinking too deeply into your bed, or your shoulders and hips are at an awkward angle, it's a recipe for discomfort and damage.
Material
There are several types of materials to choose from, including memory foam, latex, wool, and alternative down.
Memory foam is the most common option due to its density, motion isolation, and comfort. Softer memory foam toppers are an excellent choice for side sleepers because they adapt to your body's curves, providing pressure relief in the shoulders, knees, and hips. However, this foam can be hot unless it's infused with gel or another cooling feature. 
Latex is an eco-friendly alternative to memory foam that's recyclable and biodegradable. This natural material lasts long and is easy to maintain. On the other hand, latex toppers are heavy and may be tricky to move around without someone's help. 
Wool mattress toppers are soft and comfortable, making them a great choice for side sleepers. These are good for those who sleep hot since wool stays cool in the summer and warm in winter. The material is durable and naturally hypoallergenic, but it can be expensive. Plus, wool toppers also have a weird odor when new. 
Down alternative is a synthetic polyester material designed to mimic down's softness. This option is popular for side sleepers because it remains soft with occasional fluffing. However, down alternative warms up easily, so it may not be the best for hot sleepers. 
Density
Something to keep in mind is the topper's density. A material that is too low-density won't last long, and it could become uncomfortable to sleep on in a matter of months. A density that's too high might seem too firm at first, but it might be the best choice if you're looking for longevity.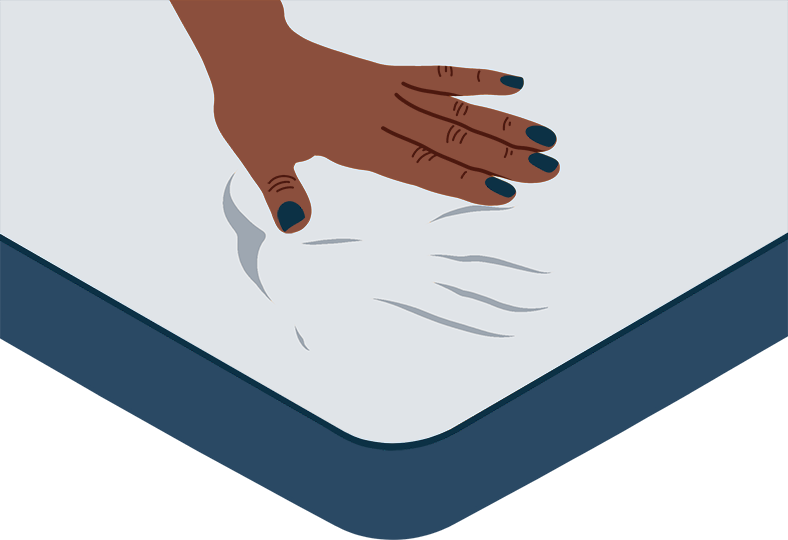 Firmness
This measurement is highly subjective, but in general, you should seek out a pad that has an ideal blend of firmness and support.
Again, we'll stress the idea of pressure points. You should feel well-supported when you lie down. However, you don't want a firm topper that's too hard for your body frame. The same goes for the other end of the spectrum.
A soft topper may cause you to bottom out, but it depends on the materials and your size. Typically, heavier sleepers enjoy firmer materials while lightweight sleepers opt for softer products.
Odor
When items come from the factory, they may have an initial smell. This odor is often referred to as off-gassing, and it occurs when the bedding's volatile organic compounds begin to break down.
Fortunately, this odor has been deemed harmless, and it usually dissipated within a couple of days. If you have a concern about the scent and its safety, look for certifications like CertiPUR to ensure that the company is using materials that won't harm you.
Durability
Mattress toppers and pads can last from one to five or more years. It's all about finding a quality product at a reasonable price point.
One thing that will harm the product's durability is staining and misuse. To get the most life out of your new purchase, follow the cleaning instructions. Many say to spot clean only since you typically can't put the pad in the washing machine.
Make sure the brand of topper you buy has a washable cover. If it doesn't, then you may want to invest in one.
Read Our Guide: How to Properly Store a Mattress Topper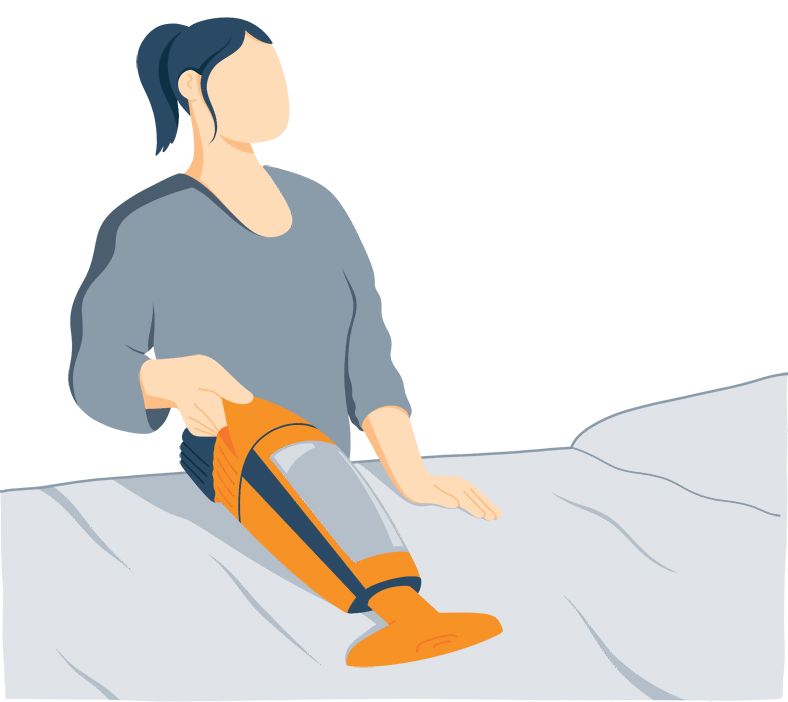 Pricing
Often, you get what you pay for, but there's so much variation and disruption in the bedding space, that we've found that price isn't always the best indicator of quality. The most important thing to consider is comfort and spinal health. Getting a full night of rest is priceless, and something to consider when buying.
What is Pelvic Rotation?
Side sleepers have a tendency to over-rotate their legs and upper body. The result is that one knee drops, and it's no longer in line with the other leg. While this isn't life-threatening, if it's not handled, it could lead to back pain and other issues with the spinal cord.
If you are experiencing pelvic rotation, you can try placing a pillow between your knees to keep your legs in line.
Frequently Asked Questions
Does it help those with back, hip, and shoulder pain?
Yes, many people report that the pain went away after purchasing a mattress topper. By putting your spine in proper alignment, especially when you sleep on your side, you're relieving pressure and allowing healing to happen.
Read More: Top 5 Memory Foam Bed Toppers
Are they suitable for heavy people?
Many are, but not all. Look for high-density materials or memory foam that's thicker than two inches can help. A high-density topper should provide the necessary support, so you don't sink into the mattress. Heavy people should also consider their topper's durability and resilience as it's supposed to withstand more weight and strain. Memory foam toppers are better for heavy people than down or down alternative because they provide more support.
Are bamboo bed toppers the best for side sleepers?
Bamboo can be one of the top choices, especially for side sleepers. Bamboo has the advantage that it resists both sagging and mildew. The material is also known for offering an incredibly soft and silky-smooth surface, which can make you feel pampered and at ease.
What is the best mattress topper for side sleepers with lower back pain?
Memory foam and latex mattress toppers are the best for side sleepers who struggle with lower back pain. These help cradle your body, adapting to its curves as you move from one side to the other. However, side sleepers should consider firmness, choosing toppers that prevent pressure build-up in the shoulders, hips, and lower back while maintaining good alignment. 
What's the best mattress topper for side sleepers who sleep hot?
Side sleepers who sleep hot should focus on cooling properties when buying a mattress topper. Memory foam toppers usually have gel, copper, or graphite infusions to provide additional cooling for hot sleepers. Latex is also a good option as it's naturally breathable and doesn't retain much heat. Hot sleepers should also consider the cover, focusing primarily on organic materials like cotton to provide breathability and cooling. Cooling toppers are a great way to help regulate your bed's temperature.
What is the best bed for side sleepers?
In general, a top-rated bed for side sleepers will be a mattress that has an ideal blend of firm support and plush comfort. It's not always easy to find that balance. Another thing that complicates the issue is that everyone has different preferences as well as interpretations of what constitutes soft and firm.
Conclusion
Beds can be expensive, but mattress toppers are often much more economical. However, buying a pad to extend the life of your mattress isn't the only reason to get one. Many people find that they fall out of love with their new bed after a short time, but they don't want to go through the hassle of a return. For a couple of hundred dollars or less, you'll be able to experience a significant improvement without having to incur the expense of a new bed.
Our team covers as many areas of expertise as we do time zones, but none of us started here as a so-called expert on sleep. What we do share is a willingness to ask questions (lots of them), seek experts, and dig deep into conventional wisdom to see if maybe there might be a better path towards healthy living. We apply what we learn not only to our company culture, but also how we deliver information to our over 12.7M readers.
Sleep research is changing all the time, and we are 100% dedicated to keeping up with breakthroughs and innovations. You live better if you sleep better. Whatever has brought you here, we wish you luck on your journey towards better rest.