Transparency Disclosure – We may receive a referral fee for products purchased through the links on our site...

Read More

.
Memory foam mattress toppers or latex products could be game-changers when building a comfortable bed. If you store your mattress topper, it's crucial to do so with care. Due to their delicate fabric, you need to know how to store it properly to avoid permanent damage.
Whether you're moving and need to put your mattress toppers in storage or only bring them out for overnight guests, you'll want to research how to store a mattress topper carefully in a bag.
With years of sleep experience under our belt and research on dozens of mattresses, we're well equipped at Sleep Advisor to guide you in the right direction. Read on for step by step tips on mattress topper storage.
Clean the Mattress Topper
Knowing how to store a mattress topper in a bag is key for lasting comfort. The best way to keep the topper clean is to minimize any potential damage due to dirt or mold and mildew. You don't want to be using saran wrap in place of a vacuum seal job. When you're storing a memory foam mattress topper or latex topper in a bag, you must know how to store memory foam and latex toppers properly in a vacuum bag.
How to Clean a Mattress Topper
Strip the sheets before storing the topper; you want the topper to be as aired out as possible. Don't forget any sheets or mattress protectors.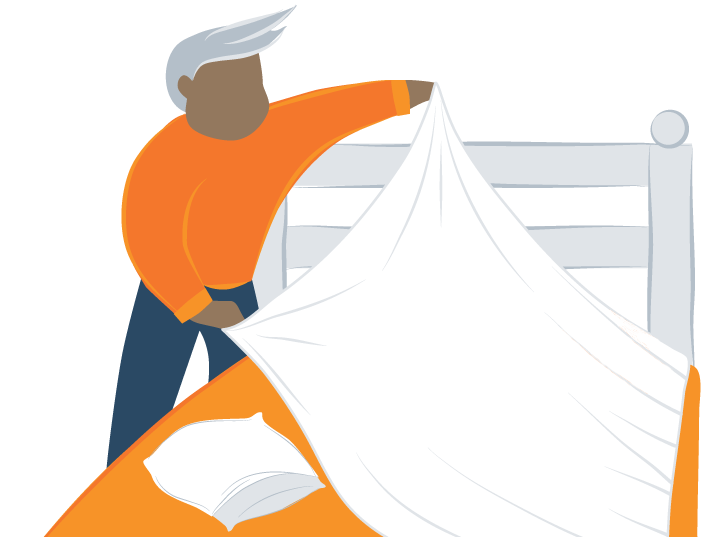 You'll want to clean your mattress with a vacuum cleaner. Use your vacuum hose attachment to suck up any lurking dirt, dust, or other undesirable things hiding in your product.
If there are stains on your mattress topper, take the time to remove the stains beforehand, otherwise, bacteria could grow while you're store it.
Many mattress toppers gradually collect bodily odors after prolonged use— which is entirely normal. We all sweat and emit natural scents. Getting rid of odors will make it easier to keep your topper fresh while in its storage unit.
Baking soda is naturally odor absorbing, which you can sprinkle over the top. For particularly stubborn stains, the best way to remove them without chemicals is to make a paste with baking soda and water and gently rub the area.
After you treat your memory foam mattress topper with baking soda, make sure you allow it time to dry if you've used any liquids. Folding or rolling the product up before it's completely dry could create a hotbed of bacteria, or mold and mildew, that could potentially ruin it.
Want to learn more? See how to clean foam mattress topper in 3 easy steps.
Roll It Up
To prevent long-term damage, be sure to roll your topper gently. You want to avoid folding your cushion because creasing it could lead to permanent wrinkles, creases, or even cracks when not unfolded for a prolonged period. Tightly rolling it will also allow it to be stored in shallow or narrow spaces, like a closet or under a bed.
Place the Topper in a Storage Bag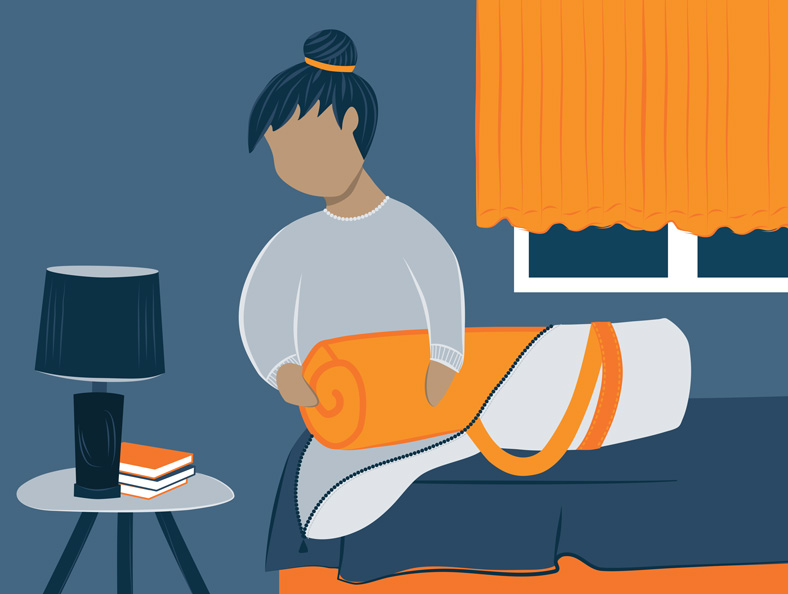 Your mattress topper likely came with an original bag for storage, and if you've since misplaced the storage bags away, you'll know for next time. If your topper came with a bag, roll it up carefully for proper storage so there are no creases.
Some products may not come with a bag, or you may have thrown the bag away due to poor bag size. You can use a large plastic mattress bag to protect the mattress pad from dust and dirt and wrap it in ratchet straps.
Seal or Vacuum It
After you've wrapped up your topper in a plastic bag, you'll want to follow a careful storage process and be sure it's vacuum-sealed to prevent air or harmful elements from damaging your cushion. The last thing you'd want is to unpack your topper only to realize it's been damaged by dust mites or ruined by mold and mildew.
Often, the original bag toppers come in include a plastic vacuum seal. If yours did not, you could vacuum seal the plastic bag by using a vacuum cleaner. If you don't plan on sealing the mattress bag, wrap the ends securely using duct tape to protect the foam from dust.
Find a Good Storage Space
Climate controlled spaces are ideal, but you can be creative when finding space to store foam toppers, but you want to be sure it's a dry place. Basements and attics are often full of damp air, humidity, or mold and mildew, which can damage your high-quality foam product.
Climate-controlled places like storage units should store your memory foam mattress topper or latex pad properly without developing mold or harmful effects. You could tuck away your foam topper in a bedroom closet, under your bed, or a hall cupboard. Remember, resist folding your topper, roll it in a vacuum-sealed bag and place the product in a dry space.
Frequently Asked Questions
How long can you store a mattress topper?
A memory foam mattress topper or excellent latex mattress topper of high quality should last around three to five years. Keep in mind the level of use involved will be different for everyone. Those who sleep eight hours may need to replace their mattress toppers a bit earlier than people who only sleep five hours a night, as less use could result in a longer lasting topper.
As long as your mattress pad is stored properly, it should keep for a considerable amount of time. When you store it long-term in a vacuum storage bag, keep in mind that it may have a slight curve after being rolled up that way for a lengthy period.
Is it better to fold or to roll the topper up?
You don't want to fold your mattress topper. These mattress pads are designed to be laid flat, so crunching it up in a way it's not intended to could result in damage. If you fold your topper, you may unwrap it to find cracks in the material or permanent creases, creating an uncomfortable mattress pad, ruining your mattress accessory.
When you store it, store the topper lengthwise or upright, and roll it up tightly in a vacuum-sealed bag, securing it with ratchet straps or a secure tape to preserve the material and protect it from the elements.
When is it time to simply buy a new mattress topper?
Mattress toppers should last about three to five years. They won't last as long as a regular mattress because they're so thin and only meant to provide comfort, not so much support or pressure relief.
Over time it'll naturally wear down slightly. If your mattress topper is no longer adding any benefit, it's probably past its wear. Additionally, odors will naturally gather on your topper as well, and after some time, it may become more difficult to remove the smells. If this is the case, it's time to invest in a new product.
Interested in exploring further? Check out our best mattress toppers guide here.
Conclusion
We believe the first step of investing in better sleep, whether that be new mattresses, softer sheets, or a lovely topper, is worth the cost. However, being the sleep nerds we are at the Sleep Advisor website, we may be biased.
If you're tired, your performance and patience are often hindered as a result. Getting quality rest on a soft air or foam topper is paramount to living a healthy and happy life.
Be sure to store your mattress topper wisely. Investing in a quality mattress topper is the first step towards many years of comfort. Following our tips on how to protect it could have you enjoying years of restful sleep.
Rachael is a content writer for Sleep Advisor who loves combining her enthusiasm for writing and wellness. She's had a passion for writing since she was a kid when she wrote awful poetry. She's honed her craft quite a bit since then and considers herself a lucky duck to get paid to do what she loves.
Embracing the remote work life, she occasionally takes her work on the road and lives out her travel writer pipe dream.
In her free time, she attempts to meditate regularly, rides her bike to Trader Joe's, and enjoys trying every type of food that she can get her hands on.