What better way to improve your mattress than adding a topper? A mattress topper is a budget-friendly way to adjust the feel of your mattress without investing in a new bed altogether.
Latex is a standout material in the bedding industry. It's hypoallergenic, durable, and naturally breathable, so it's a good choice for a variety of sleepers. Plus, latex toppers come in many sizes, thicknesses, and firmness options to accommodate everyone.
We'll guide you through our favorite latex mattress toppers as well as everything you need to know about this premium material and how it could enhance your bed space.
Our 6 Best Latex Mattress Topper Picks
Sleep Advisor's Testing Methodology
At Sleep Advisor, our product reviews are based on findings from in-person tests that allow us to have a genuine understanding of how the product feels and performs.
For this roundup, we prioritized features that are especially important for latex mattress toppers. We paid special attention to components such as topper thickness, support elements, motion transfer, and cooling features.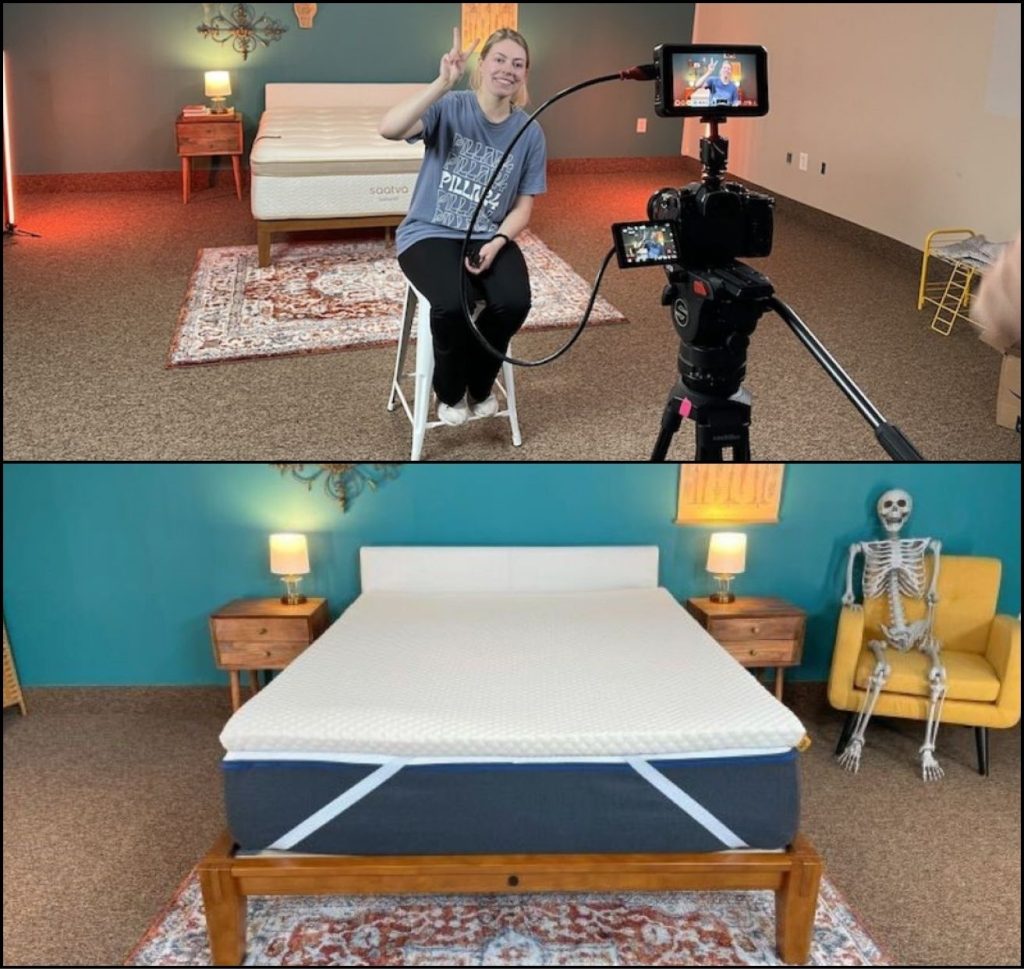 Expert Tested Best Latex Mattress Toppers 2023
Editor's Choice
Saatva Natural Latex Mattress Topper
A responsive mattress topper providing support for sleepers with hip and back pain.
Read Full Review
Saatva designed this topper to elevate your sleeping experience, especially if you usually sleep hot. Hot sleepers know the struggle of hot flashes and overheating, so having a cooling sleeping surface should help. This Saatva topper works with all mattress brands and sizes, so it'll likely fit on your bed. In addition, it'll help prolong the life of your mattress.
The Saatva Latex Mattress Topper is 1.5 inches tall, hypoallergenic, and buoyant, offering maximum comfort in all sleeping positions. The topper features a naturally breathable organic cotton cover that's also moisture-wicking. Plus, it has elastic anchor bands to secure it in place.
What makes it unique?
Many like the neutral colors and seamless look of this Saatva topper. This design helps Saatva to blend with your existing mattress, more so if you have a Saatva bed.
You can return the topper before the 180-night trial if it's not the right fit for you.
Most Breathable Latex Mattress Topper
Brooklyn Bedding Talalay Latex Topper
Brooklyn Bedding's Talalay Latex mattress topper is a natural, cooling mattress topper. Talalay Latex, which is the interior material in this topper, is an Oeko-Tex certified material, meaning that it is free of harmful chemicals, and it's naturally bouncy, durable, and cooling.
Sleep Advisor Score
4.50 / 5
The Mattress Topper Talalay Latex Topper comes from Brooklyn Bedding, a well-established family business in the bedding industry. The topper is available in a 3-inch thickness, a universal height that should appeal to most sleepers.
This latex topper is made from the Talalay production method, providing a bouncier feel that should help with changing positions and getting in and out of bed. The topper's standard cover is made from organic cotton, a naturally breathable fabric. However, hot sleepers who want extra cooling can opt to pay slightly more for the Luxury Cooling cover. This cover is designed to feel smooth and to deliver advanced cooling upon contact.
What stands out?
You can select from three firmness choices to find your perfect feel, including Soft, Medium, and Firm.
This mattress topper is Oeko-Tex Standard 100 certified, which means the latex is free of harmful chemicals.
Most Comfortable Latex Mattress Topper
PlushBeds Natural Latex Mattress Topper
Made of natural latex and extremely customizable.
Sleep Advisor Score
4.90 / 5
The PlushBeds Latex Topper is USA-made using 100 percent natural latex. The topper also has a GOTS-certified organic cotton cover, enhancing the comfort and luxurious feel. The PlushBeds is available in five firmness options and two heights, so it should fit a range of mattresses and sleeping needs. Plus, the topper is Oeko-Tex Standard 100 and GREENGUARD Gold certified.
Sleepers can choose among Soft, Medium-Soft, Medium, Medium-Firm, and Extra-Firm, depending on their preferred sleeping position. Softer models are more suitable for side sleepers, while medium and firm toppers are better for back and stomach sleepers.
Why we like it
With ventilated latex, this temperature does a great job at temperature control while allowing continuous breathability.
You can choose between 2-inch and 3-inch models, depending on your mattress. Both heights are good for altering the feel of your bed regardless of how old and saggy it is.
Best Latex Mattress Topper with Multi-Firmness Options
Avocado Organic Latex Mattress Topper
Excellent for pressure relief and joint support, this hypoallergenic topper has two firmness options.
Sleep Advisor Score
4.60 / 5
If you're looking for a more customized topper, then you'll enjoy the Avocado. This organic latex topper is available in either a Plush or Firm option. If you require more pressure relief and cushioning for your bed, consider the Plush version. Conversely, those seeking more support may enjoy the Firm.
Avocado's topper is also an excellent environmentally-friendly choice. This bed boasts multiple eco-friendly certifications, such as GOLS, GOTS, Greenguard Gold, and more. The latex used is certified organic by GOLS, while the wool and cotton in it are certified organic through GOTS.
Why did we pick it?
When you buy the Avocado Organic Latex Topper, you get a year-long trial along with a 10-year warranty.
The two different firmness options ensure you find something that's a closer fit to what you actually need.
Best Latex Mattress Topper for Pressure Relief
Naturepedic Organic Latex Mattress Topper
Sleep Advisor Score
4.60 / 5
Many people seek out toppers because their current mattress doesn't provide enough pressure relief. Whether it's the firmness of your bed or the materials used in it, uncomfortable pressure can make it difficult to wake up refreshed.
Naturepedic's Adagio Mattress Topper should provide excellent pressure relief to those who need it. This topper stands two inches high and is made with certified organic latex and cotton. The latex should help alleviate achy pressure points, and the cotton cover should feel breathable and soft to the touch.
What stands out?
The Naturepedic topper comes with a 100-night trial and a 10-year warranty on the product. With 100 nights to test out the topper at home, this gives you plenty of time to decide if it's right for you.
Latex is a temperature-neutral material, so hot sleepers should love the added cooling it provides.
Best Latex Mattress Topper for Side Sleepers
Latex for Less Mattress Topper
Sleep Advisor Score
4.90 / 5
Side sleepers can benefit greatly from latex, a durable material that can provide both pressure relief and support. That being said, side sleepers of varying sizes have different needs. Latex for Less has created an option for all kinds of side sleepers with their latex topper.
The Latex for Less Topper is available in multiple thicknesses and firmness levels. For thickness, the topper comes in either a 2-inch or 3-inch option, and for firmness, shoppers can select from a Soft, Medium, or Medium-Firm feel.
Why should you consider it?
The topper comes with a 5-year warranty.
This product has been awarded certifications from GOLS, GOTS, and Eco-Institut. These verify the latex and cotton used in the topper are certified organic.
The multiple customization options are excellent for shoppers seeking a topper that better meets their preferences and body type.
Buyer's Guide – How to Choose a Latex Mattress Topper
What is a Latex Mattress Topper?
A latex mattress topper is a bedding accessory you can place on top of your mattress to improve or alter its firmness, support level, and overall feel. Latex toppers are made from synthetic or natural latex using the Dunlop or Talalay method.
Talalay latex mattress toppers are softer and bouncier, while Dunlop toppers are firmer and longer-lasting. Although you can find both types, most toppers are made from Talalay latex.
Who Should Use It?
Latex mattress toppers are meant for anyone who wants to alter or improve the feel of their mattress. If your existing bed is too firm, too soft, or has started to sag, adding a mattress topper could fix how it feels. This saves you from having to buy an entirely new mattress.
People struggling with allergies should consider using a latex topper. Latex is naturally hypoallergenic and resistant to bacteria, mold, dust mites, and other irritants that can trigger allergies. First, however, you should ensure you don't have a latex allergy.
If you sleep hot and struggle to stay asleep due to overheating and sweating, a latex topper could prevent that from happening. Latex is cooler than classic memory foam, which should help hot sleepers achieve a better night's sleep. For more information, see our article on Memory Foam vs Latex.
These toppers can be used on any type of mattress, including the best latex mattresses. Additionally, people may opt to place a latex topper on their memory foam mattress to provide more bounce.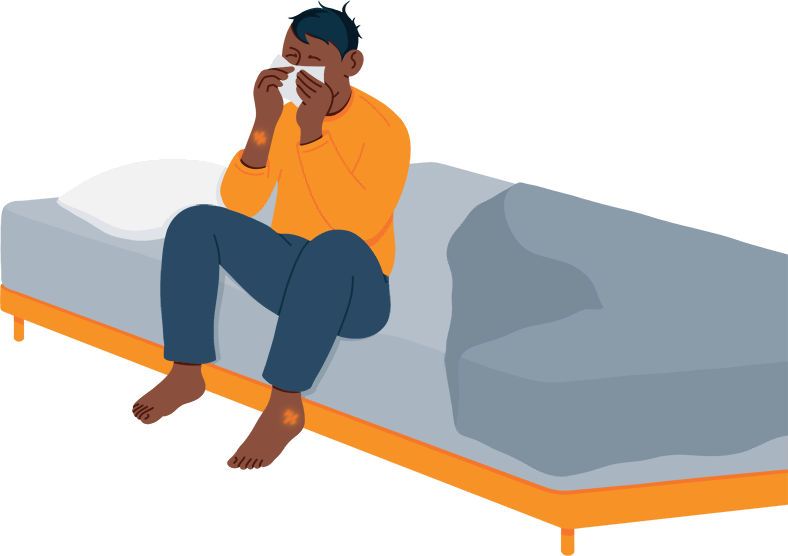 Benefits of Using a Latex Topper
Latex toppers bring many benefits with them, including mattress protection, durability, comfort, and sustainability.
Protection
If you want to protect your new mattress from wear and tear, adding a topper may help. A mattress topper should keep your bed from wearing out as quickly. Toppers also provide a thicker barrier in the event of accidents or spills that may otherwise negatively affect the condition of your mattress.
Lifespan
Latex is a durable material, so these toppers often last long. You can increase their lifespan by flipping and rotating them once a week. This way, the topper wears out evenly instead of only on one side. However, this is only possible with some toppers because not all are designed to be flipped. Although they can last for years, you should buy a new one as soon as you notice signs of flaking and discoloration.
Comfort
You should feel increased comfort by utilizing a latex mattress topper. Not only can this enhance a new bed but it can also make an older mattress feel new again. Another way latex promotes comfort is through cooling. Unlike classic memory foam, latex makes for some of the best cooling toppers because they remain temperature-neutral even after lying on them. Keep in mind that between the Talalay and Dunlop manufacturing methods, Talalay latex allows better airflow.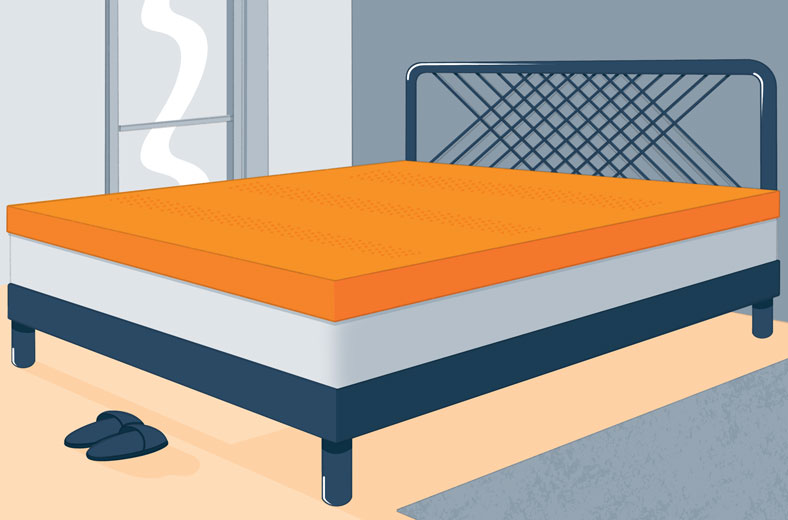 It's Eco-Friendly
Latex mattress toppers made with natural latex are more eco-friendly since they're derived from more sustainable sources. In addition, many natural latex bedding products are certified free of chemicals and toxins, meaning they're better for you and the planet.
What to Consider When Buying a Latex Mattress Topper
When purchasing a latex topper, you'll need to look for specific qualities to ensure you're selecting a product that will work for your needs.
Quality of Material
Material quality not only affects the immediate performance of a product but also how long you can expect it to last. Most brands list the materials in their topper. Look for good-quality latex that's also higher in density. Low-density latex will wear out faster, so it's better to avoid it if you need long-lasting use. In addition, remember that natural latex is more durable than synthetic. You can learn more about latex quality in our Latex Density Guide.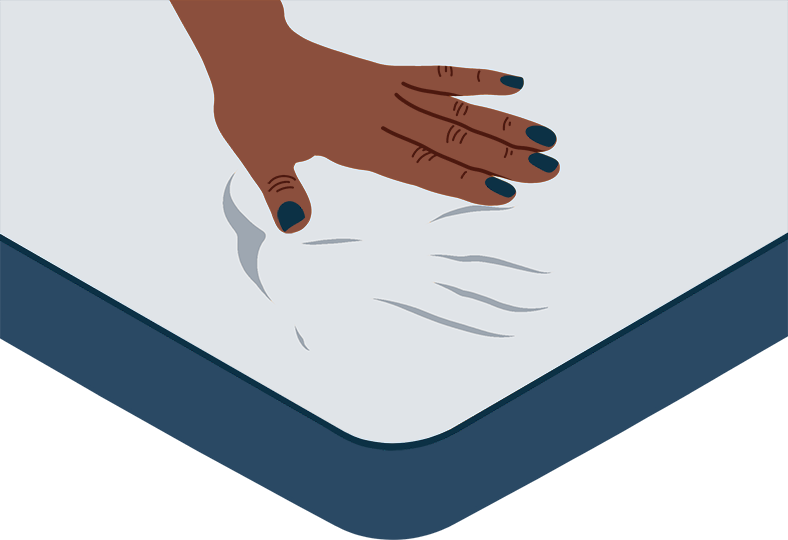 Type of Latex
As said, there are two manufacturing processes for latex: Talalay and Dunlop. Both processes involve pouring synthetic or natural liquid latex into a mold. However, the Dunlop method consists in running the latex mixture to the top of the mold. In contrast, the Talalay method involves pouring the latex so that the mold is only partially filled. Any air left in the mold is then extracted. Dunlop generates producer firmer, dense latex, while Talalay produces softer, cooler latex.
You can also choose between natural and synthetic latex. Natural is more durable but also more expensive. On the other hand, synthetic is more affordable but may have a pungent smell when new.
Firmness
The firmness of your mattress topper will determine how it feels and performs. Soft toppers are cushy, while firmer ones provide more support. A soft mattress topper is good for people under 130 pounds. Those between 130 and 230 pounds should be good with medium firmness, whereas those over 230 pounds may want one of the best firm mattress toppers. Which firmness you'll choose depends on your preferred sleeping position, weight, and the feel you're trying to achieve.
Thickness
Latex toppers are often between 1 and 4 inches. A thin topper is meant to cushion your mattress, whereas a thick one can provide added support, pressure relief, and contouring. Most people stick to a 2-inch mattress topper thickness as it's the ideal middle.
If you're looking more for a mattress, make sure to check out our Best Latex Mattress page.
Pressure Relief
Adding a latex topper is an excellent way of improving the pressure-relieving capabilities of your mattress. If your bed is too firm and you struggle with pressure build-up, a softer topper can help ease the pain. Plus, latex is generally bouncy and cushioning, meaning that it's good at relieving pressure regardless of the firmness you go for.
Size
You should always consider the exact size of your mattress before buying a latex topper. Most toppers come in standard mattress sizes, but it helps to measure everything. This way, you're sure the two will fit so that nothing sticks out, causing an uneven surface.
Your Sleeping Position
Your sleeping position will likely be a factor in the firmness you choose. For example, if you prefer sleeping on the side, it's best to focus on softer toppers that can relieve pressure on the shoulders, knees, and hips. However, if you're a back sleeper, you need a firmer topper to support the hips and lower back. Stomach sleepers need the firmest models to prevent the hips from sinking into the mattress in order to prevent back pain.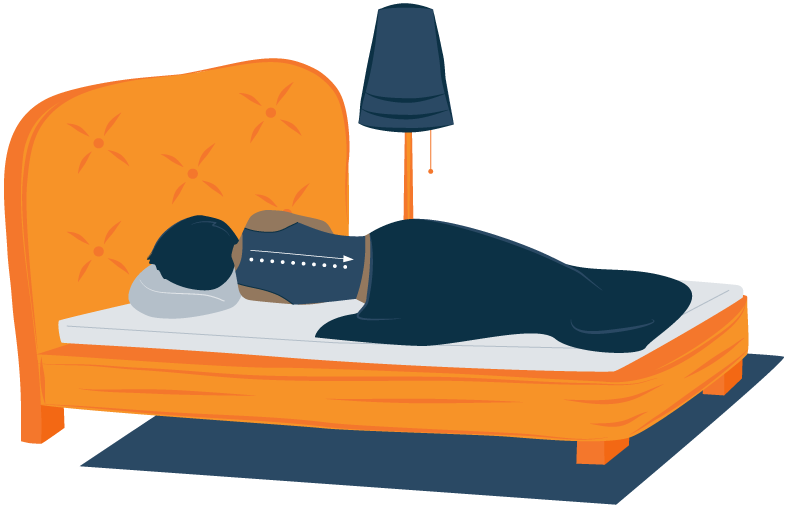 Cost
The price of latex mattress toppers varies depending on the firmness, thickness, and type of latex. Whether your topper comes with a cover may also affect the price. In addition, natural latex toppers are more costly than synthetic ones due to the raw and organic materials used in the manufacturing process. Although a latex mattress topper is a valuable investment, it may be worth deciding on a budget before starting the process of buying one. For great budget options, see our roundup for the best cheap mattress toppers.
Frequently Asked Questions
How do you clean a latex mattress topper?
Most latex mattress toppers aren't machine-washable and using this method could ruin your new topper. However, many do have covers that are removable and machine washable. That being said, we recommend checking the label for instructions from the manufacturer before you start washing. Some may recommend spot-cleaning the topper using warm water and a mild detergent instead.
How do you store a latex topper?
Most latex mattress toppers can be rolled up and stored away when they're not in use. You can use the original bag it came in for storage if you still have it. If not, just cover it so that it doesn't get dusty. You should also store it away from direct sunlight and water. To learn more, see our article on How to Store a Mattress Topper.
How long will it last?
Most toppers last about four years, but those made from latex are expected to last longer due to the natural durability of latex. That being said, how you use and maintain your mattress topper should affect its longevity. Proper care could extend the product's lifespan, while poor care could shorten it.
How thick should a latex topper be?
Latex toppers are generally 1 to 4 inches thick, making your bed softer or firmer depending on the type you choose. There are no rules on how thick a latex topper should be since you can go for any thickness you find the most suitable for your needs. That being said, many people find that a 2-inch thick topper is a great middle-ground feel.
Do latex toppers make you hot?
Latex is naturally breathable and cooling, so it's unlikely to make you hot. Therefore, these are often a great choice for hot sleepers since memory foam toppers may trap heat if they're not infused with cooling gels.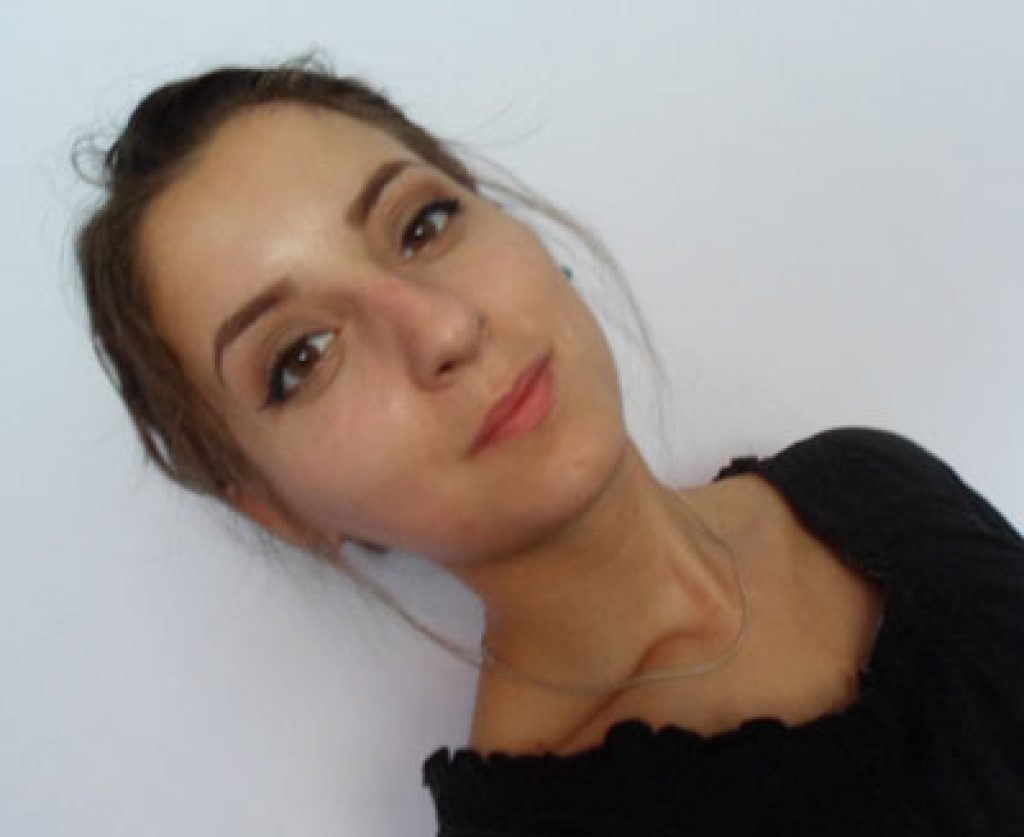 Olivera Jancikin
Content Writer
About Author
Olivera is a content writer for Sleep Advisor and is enthusiastic about sleep. She firmly believes in the benefits of daytime naps on top of getting a full 8-hour sleep at night.