Transparency Disclosure – We may receive a referral fee for products purchased through the links on our site...

Read More

.
Disclaimer - Nothing on this website is intended to be a substitute for professional medical advice, diagnosis, or treatment...

Read More Here

.
A proper mattress topper is a good alternative and can be more than enough for the overall orthopedic condition of your entire body, including your hips and shoulders.
We've compiled a list of things to account for when purchasing a great mattress pad for your hip pain. We will also review some products which perform well on this issue. So, without any further ado, let's go right ahead and take a look.
Our Best Toppers for Hip Pain
Editor's Choice
Nolah Mattress Topper
A 2-inch mattress topper offering excellent cooling and pressure relief.
Sleep Advisor Score
4.90 / 5
Read Full Review
The Nolah Mattress Topper elevates itself above other hip-friendly mattress pads with its unique AirFoam™ technology. According to the brand, this proprietary foam outperforms memory foam in several key areas, including durability and cooling. It especially excels at pressure relief: Nolah claims that it places up to four times less pressure on the hips than memory foam.
The AirFoam™ might be the main attraction, but this topper comes with many convenient touches. One is an organic cotton cover that adds even more cooling power to the topper's design; another is the elastic bands on each corner that keep the topper secure.
What else stood out about this top pick?
AirFoam™ is CertiPUR-US® certified, so you can be confident that it follows the same safety standards as the highest-quality foams on the market.
Free shipping and a 10-year warranty add to the ease of incorporating this topper into your sleep setup.
Best Mattress Topper for Combination Sleepers with Hip Pain
Birch Plush Organic Mattress Topper
Made with natural latex, cotton, and wool, this topper offers luxurious cushioning.
Sleep Advisor Score
4.70 / 5
When you shift positions throughout the night, a responsive topper is essential. When you have hip pain to boot, you'll want enough contouring and plushness to counteract pressure on your joints. Combination sleepers with hip pain will find all of these qualities in the Plush Organic Mattress Topper from Birch.
This topper marries the natural bounce of latex with the elasticity and comfort of wool, all ensconced in an organic cotton cover. Certifications from GOTS, GREENGUARD Gold, and eco-INSTITUT ensure that the topper's components are organic, sustainably made, and ethically sourced.
Where else does this topper shine?
Birch is so devoted to monitoring the practices behind its products that it can follow the wool in each topper back to the individual farm that supplied it.
The soft, natural latex foam and cotton cover are innately breathable, so you won't add overheating to your list of sleeping concerns.
Best Mattress Topper for Hip and Back Pain
Saatva Natural Latex Mattress Topper
A responsive mattress topper providing support for sleepers with hip and back pain.
Read Full Review
Latex mattress toppers provide a singular feel that's recommended for sleepers with hip and back pain. They combine cushioning with a sense of buoyancy and responsiveness, so you shouldn't feel stuck or unsupported even as your achy parts are cozily cradled.
Saatva's Natural Latex Mattress Topper is no exception, but it adds impressive credentials to the above benefits, including certifications from eco-INSTITUT® and the Forest Stewardship Council. These organizations ensure that certified materials are free from harmful substances and produced in line with high standards for sustainability.
What else makes this a great topper for hip pain?
Saatva makes their toppers with perforated, natural latex that allows for notable airflow and cooling. The organic cotton cover also wicks away moisture to help keep you at a comfortable temperature throughout the night.
A 180-night sleep trial enables you to try this topper out at home for multiple months.
Best Mattress Topper for Side Sleepers with Hip Pain
TEMPUR-Adapt Mattress Topper
Offers 3 inches of support for superior pressure relief.
Sleep Advisor Score
4.50 / 5
Read Full Review
The TEMPUR-Adapt® Topper contours to the key pressure points that side sleepers should monitor, namely the hips and shoulders. Side sleepers with hip pain should feel just the right amount of contouring and support from the topper's TEMPUR® Material. This specialized foam is the same substance found in Tempur-Pedic® mattresses, and embodies the results of more than two decades of pressure-relief research.
At 3 inches thick, the topper has a luxurious depth to it. That thickness doesn't mean extra heat, though—the TEMPUR® Material has advantages over traditional memory foam, including a longer lifespan and better temperature regulation.
What else is notable?
The Staytight™ corner straps on the topper will keep it stable on beds that are up to 13 inches tall.
This topper has an allergen-resistant cover that you can remove and throw in the washing machine for easy cleaning as needed.
Best Latex Mattress Topper for Hip Pain
Plushbeds Natural Latex Mattress Topper
A 100% natural latex topper with cooling properties.
The PlushBeds 100% Natural Latex Mattress Topper soothes sore hips with its mix of pillowy pressure relief and elasticity. You can personalize your topper to suit the severity of your hip pain: choose a 2-inch version if you want an added support layer, and the 3-inch version if you're looking for palpable softness. From there, you can pick your preferred firmness from five available levels, ranging from soft to extra-firm.
PlushBeds promises consumers that their Talalay latex is 100% natural, and they back it up with certifications from organizations such as GOLS (Global Organic Latex Standard) and a mindful production process. They don't add any dyes, synthetic fillers, or harmful chemicals to their toppers.
What else is notable?
PlushBeds clocks the lifespan of these toppers at an impressive 20 years, assuming they're cared for properly.
There shouldn't be any off-gassing or noticeable odors when you unpack this topper, due to the brand's Fresh Foam Technology.
Best Memory Foam Mattress Topper for Hip Pain
Saatva Graphite Mattress Topper
A luxurious topper with contouring support from its graphite infusion.
Sleep Advisor Score
4.80 / 5
Read Full Review
Saatva brings their expertise in luxury to this memory foam topper, which can help with hip pain while simultaneously keeping sleepers cool. Its 3-inch height allows for substantial pressure relief and a delightful, cushiony feel around sore hips. As a bonus, it also notably reduces motion transfer, making this topper an enticing pick for couples.
The graphite within the foam works to keep too much heat from building up, cancelling out the chief drawback of classic memory foam. The organic cotton cover rounds out the topper's cooling features with refreshing breathability.
Why did we choose this topper?
Saatva specifies that this topper can work with all sleeping positions, but side sleepers and those with hip pain should be especially fond of its hug-like feel.
The topper's memory foam is CertiPUR-US® certified, so you don't have to worry about certain potentially harmful chemicals and emissions.
How to Choose the Right Mattress Topper for Hip Pain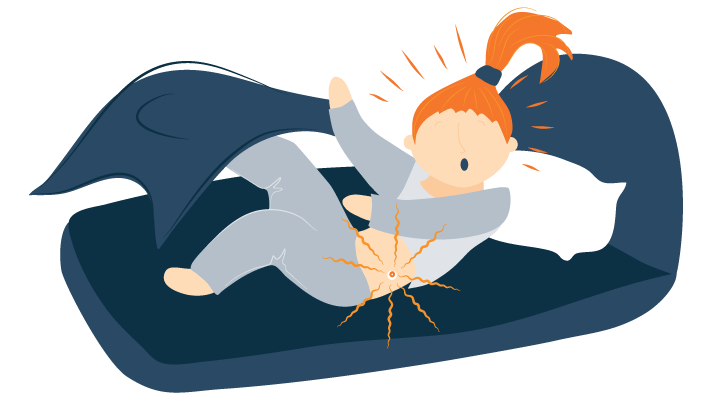 Material
Memory Foam – Memory foam is a well-known material that's often used in sleep products, including mattresses and toppers. The material can be great for hip pain since it's made to contour your body and as a result, relieve uncomfortable pressure.
Check out our guide to the Best Memory Foam Toppers
Pillow Top – Pillow top mattress toppers can bring additional softness to a mattress that could be highly beneficial to someone navigating hip pain. Many of these toppers feature baffle-box stitching as well. This style of topper could be good for someone whose mattress is too firm against their hips.
Latex – Latex can offer exceptional support for people with hip pain. Latex toppers can be synthetic, natural, or blended, and you can choose between firm and soft support. Latex also brings added buoyancy, which could help with mobility.
Check out our favorite latex mattress toppers
Bamboo – Along with natural latex, bamboo is another eco-friendly material used in mattress toppers and pads. Bamboo toppers are often softer and can provide added plushness to a bed that's too firm.
Price
Most consumers will have to factor in the actual cost of the product, even if their budgets vary. The advantage of toppers, though, is that they're much more economical than buying a new mattress altogether. You can find great budget mattress toppers as low as 100 dollars to more high-end selections close to 500 dollars, depending on the materials used and the size of the topper.
Pressure Relief
For someone with hip pain, a topper that delivers pressure relief can be a significant help in sleeping more comfortably and preventing pain from worsening. Memory foam is often a favorite material for this, and many people also consider latex to be a great material for relieving pressure points as well. Pressure relief is valuable because according to the Mayo Clinic[1], you should avoid "direct pressure on the hip."
Thickness
Most mattress toppers are between 2 and 4 inches thick, and while this may not seem like a major difference, it can impact how the topper feels. Thinner toppers could provide some extra support but won't make as much of a difference as something that's thicker. A 3-inch topper is a great middle-ground option, particularly if you're new to using these products, whereas a thicker, 4-inch topper could be great for extra pressure relief, support, and overall comfort.
Learn more: How Thick Should a Mattress Topper Be?
Firmness
Mattress toppers come in varying firmness levels, including soft, medium, and firm. The right firmness is subjective because it is based on the individual sleeper's needs and the current state of their mattress. While a firm topper could make a soft mattress firmer to keep the hips from dipping too much, a softer topper could cushion the hips against a firmer mattress. Medium toppers often provide a nice balance of support and softness.
Size
When browsing for toppers, you'll notice they come in sizes aligned with mattress sizes. This is because you'll want a topper that lines up exactly with your mattress. A smaller topper might be cheaper, but if it doesn't cover your entire mattress, it could create an uncomfortable gap around the edges.
While most mattresses and toppers come in standard sizes, we recommend double-checking the exact dimensions of your mattress and the topper you're interested in so they will be perfectly flush with each other.
Body Weight
As with mattresses, you should consider your body weight when selecting an appropriate topper. For example, a thinner topper may not provide as much support to a heavier sleeper, who could be better off with something thicker that they won't sink as much into.
Also, a topper will often feel firmer to a lightweight person than it would a heavyweight individual because the heavier person will sink into the layers more. Therefore, many petite sleepers could find that softer mattress toppers are ideal, especially for hip pain.
Sleep Position
Side Sleepers – Even if you're not sleeping on the side with hip pain, side sleepers need to pay attention to pressure relief since it's easier to develop in this position. This is because more weight is concentrated in a smaller area. Side sleepers may find that soft or medium toppers with great pressure-relieving materials like memory foam or latex feel most comfortable.
Back Sleepers – As mentioned, medium-firm toppers typically provide a mix of pressure relief and support, which could be good for back sleepers. However, this will vary according to the sleeper's mattress and what they need. People looking for a topper for back pain, for example, may prefer a slightly firmer topper that helps them remain more supported in the lower back.
Stomach Sleepers – Stomach sleepers typically enjoy firmer, highly-supportive surfaces that keep their hips level so that their lower back doesn't dip too far into the bed. If you have hip pain, though, you may find that a medium-firm mattress topper could provide the right amount of support without creating extra pressure against the hips. However, if your mattress is too soft, a firmer, thicker topper might be best. Again, you'll need to take your body weight into consideration as well.
Check out our list of the best mattress toppers for stomach sleepers
Cooling
Cooling features may not be directly related to hip pain, but if you're also someone who is prone to overheating at night, these features could help you rest easier. Cooling mattress toppers are designed to prevent heat from building up, either through the specific materials used or special additions.
For example, many brands infused gel into memory foam toppers or mattresses to prevent this material from retaining heat. Latex, on the other hand, is naturally temperature-neutral so it usually doesn't need additional cooling features.
Trial and Warranty
The trial is the amount of time you have to test out the product and still qualify for a return if it doesn't work out, whereas a warranty typically covers manufacturer defects. Not only are these helpful for the consumer, but they also signal that the company stands behind their product. If you're getting a new mattress topper or have never used one before, it's a good idea to go with something that has some sort of trial period so you can try the item risk-free.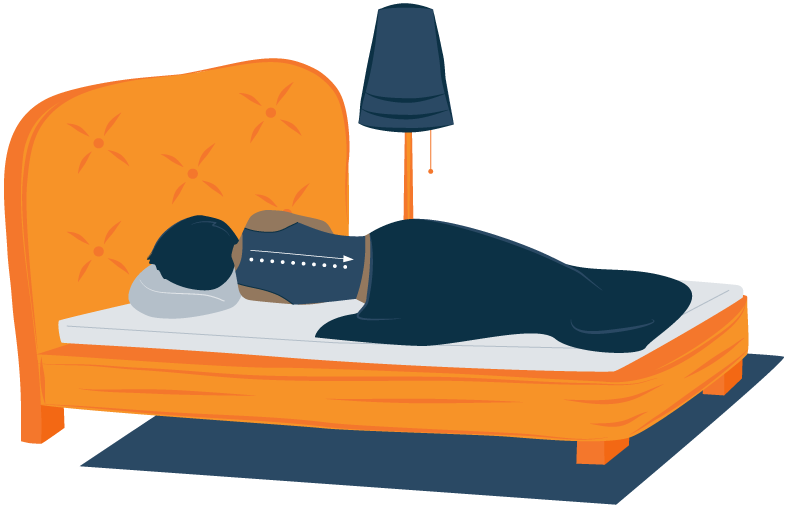 What Causes Hip Pain?
Different factors can lead to hip pain throughout the night. With this said, pinning the reason for the discomfort is usually dependent on being able to tell where and how often the pain occurs. Three common conditions that can cause hip pain include sciatica, bursitis, and arthritis.
Sciatica
The sciatic nerve travels throughout your entire spine, and this nerve could become irritated because of a herniated disc or bone overgrowth[2], also known as bone spurs. Additional causes of sciatic hip pain[3] can include a sports injury, sitting too much, wearing tight pants that cut off circulation, weight gain, and even wearing high-heeled shoes.
Check out our top picks for the best mattresses for sciatica
Bursitis
Bursitis[4] is a condition that stems from the inflammation of your bursae, which are fluid-filled sacs that serve as cushioning for your bones, tendons, and muscles near the joints. Along with the hips, bursitis often occurs near the shoulders, elbows, and other body parts that frequently engage in repetitive movements.
People with bursitis can experience pain and stiffness, and in some cases, the affected area may become swollen or red. Additionally, placing pressure on the affected area could cause more discomfort.
Arthritis
Osteo and rheumatoid arthritis are frequent causes of arthritis-related hip pain[5]. Osteoarthritis is a condition that causes inflammation and damage to joint tissues, and rheumatoid arthritis is a chronic disease that causes the body to essentially attack its own tissues, including the joints. Both conditions can result in pain and stiffness.
Explore our top picks for the best mattresses for arthritis.
Frequently Asked Questions About Mattress Toppers for Hip Pain
What kind of mattress topper is best for hip pain?
The best kind of mattress topper for hip pain will be one that helps alleviate pressure on the hips, as this is a vital component for navigating hip pain. Mattress toppers made of memory foam are especially great for pressure relief, and latex options can also be good for this. Additionally, the topper should be compatible with your sleep position and body type.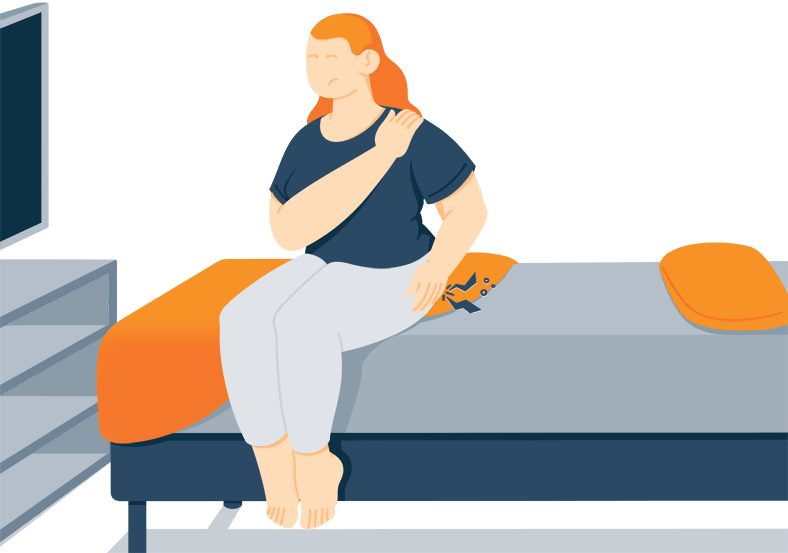 How do I stop my hip from hurting when I sleep?
Your sleeping position and mattress could easily aggravate hip pain. Side sleepers are most at-risk for hip pain for the simple reason that more pressure gathers in a smaller area in this position. Furthermore, if your mattress is too firm, it could exacerbate the buildup of pressure on both the hips and shoulders, worsening your discomfort.
Therefore, one way to stop your hip from hurting is to change your position to either the other side or rotate onto your back or stomach. However, rolling over to the other side won't be much help if your mattress is too firm for side sleeping since you could wind up creating pain on this side too. This is where a pressure-relieving mattress topper or a mattress better suited for side sleeping could help.
Read More: Best Sleeping Position for Any Condition
Do I need a firm or soft mattress for hip pain?
This will depend on the type of mattress that you have. A softer mattress topper is usually going to let you sink in more, and, as such, you would need a tougher and firmer mattress to compensate so that your spine doesn't fall out of alignment. On the other hand, if your mattress is too soft, a firm mattress topper could provide you with extra support so that you don't sink too much, as this could also exacerbate pain.
Do I need a new mattress for my hip pain?
While a new topper can certainly help with pain, there are times when you have to bite the bullet and purchase a new bed altogether, especially if it's older and has begun to sag. The right mattress could help cushion pain points and hold your body in a neutral alignment so you don't feel stress on your joints come morning.
View Our Full Guide: Best Beds for Hip and Shoulder Pain