Disclaimer - Nothing on this website is intended to be a substitute for professional medical advice, diagnosis, or treatment...
Read More Here
.
Rest plays a substantial role in our physical and mental well-being, which is why it is necessary to get quality sleep. You may not have paid much attention to how you snooze, but your sleeping position can impact how well-rested you feel. This is particularly true for those with certain health conditions, including sleep disorders.
While one posture could improve symptoms, another posture could worsen them. Furthermore, your ideal sleep position is going to be individual, meaning what works for some people, may not be beneficial to others. This article will help you discover the best sleeping position for you.
On Your Back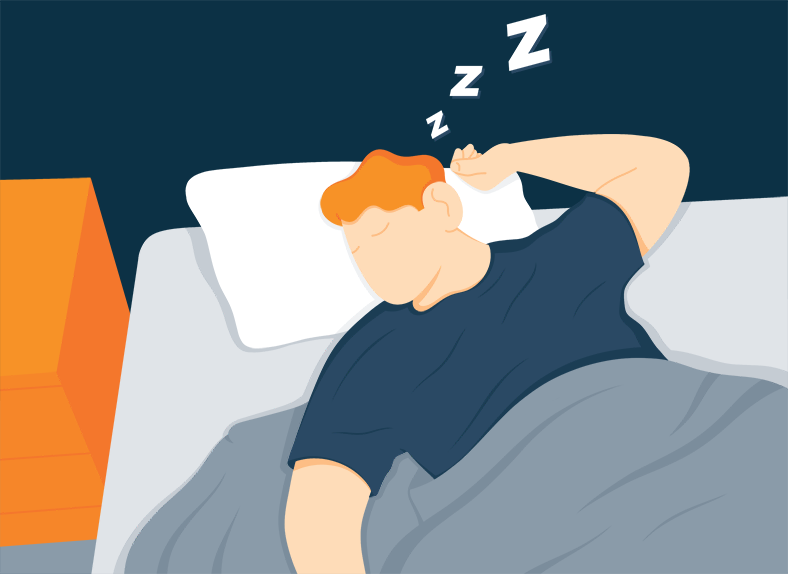 Who Shouldn't Sleep on Their Back?
Who Should Sleep on Their Back?
Tips for Back Sleepers
On Your Stomach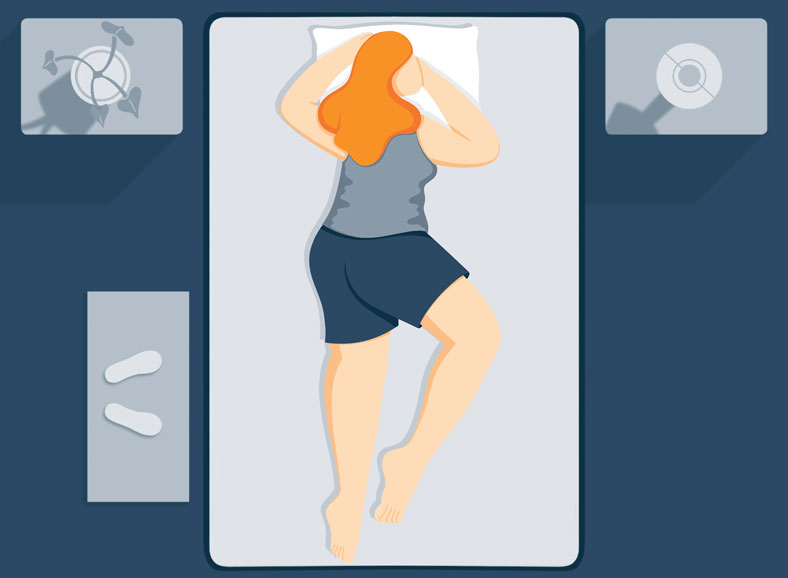 Many people prefer a stomach sleeping position. Who doesn't love to cuddle into their mattress after a long day? However, in this position, your head is forced to rest to one side while the rest of your body lies flat on the mattress. Cleveland Clinic officials say this strain could eventually cause neck pain7 from the poor spinal alignment.
Another challenge with snoozing on your stomach is the position it forces your spine to take. While comfortable for many people, this often places unnatural pressure on the lower back, leaving it vulnerable to strain or discomfort[7]. Remember, you ideally want the spine to be in a neutral position so as not to over-extend it.
Given the length of time we spend in bed, it's wise to be sensitive to any back pain and adjust accordingly if necessary.
Who Shouldn't Sleep on Their Stomach?
People prone to back pain – Sleeping on your stomach allows your torso to sink deep into the mattress due to the weight. This may result in an arched back and stretched spine that's no longer in proper alignment, which almost always leads to back pain.
People with hip pain – Your midsection and hip area carry the most weight while lying down, and when you're in the prone position, the pressure from your body weight can push your hips into the mattress. As a result, this could exacerbate any hip pain you might have, particularly if your mattress is firmer. 
Those struggling with neck and shoulder pain – Stomach sleeping is likely to increase the risk of shoulder and neck pain. You'll have to turn your head to one side, twist your neck, and move it out of alignment. This also leads to arm and shoulder pain.
People with sensitive skin – Stomach sleepers press their face into the pillow. This can often lead to stretching, pulling, and compressing of the skin, causing premature wrinkles and other conditions.
Elderly people – Since stomach sleeping is generally considered to be the hardest on the body, people who are elderly should avoid this position. 
Who Should Sleep on Their Stomach?
As we covered, stomach sleeping is not recommended often. For one group of people, though, stomach sleeping is one of the best positions. 
People with sleep apnea – When someone has sleep apnea, their airways collapse and become restricted while they're asleep. This causes pauses in breathing, which could lead to disruptive noises such as gasping for air or snoring. According to Johns Hopkins Medicine[8] frequent snorers or those with sleep apnea should rest on their side or stomach to help the airways stay more open.
Tips for Stomach Sleepers
Stomach sleepers should find the position more comfortable after implementing a few tips.
Use a thin pillow

– Stomach sleepers should try sleeping with a thin pillow or no pillow at all. Thick pillows strain your neck while sleeping with no pillow helps keep the spine aligned. In addition, you can also add a pillow beneath your pelvis to prevent the hips from sinking into the mattress.

Try a firmer mattress

– If you like sleeping on your stomach but experience

lower back pain

upon waking up, it may be time to invest in a firmer bed. Medium to firm firmness rating works the best, supporting the body and preventing it from sinking in.
Discover our top picks for the best mattresses for stomach sleepers.
On Your Side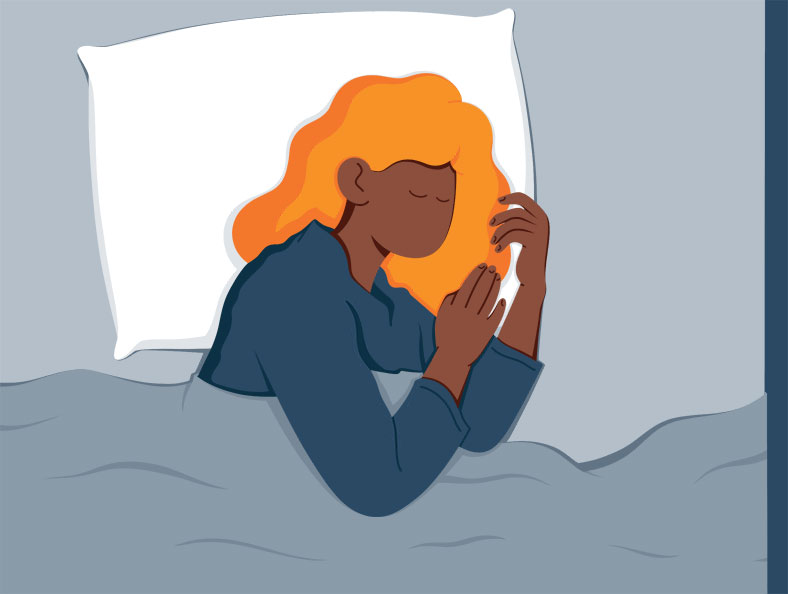 Who Shouldn't Sleep on Their Side?
Who Should Sleep on Their Side?
Tips for Side Sleepers
Frequently Asked Questions
How should I sleep to avoid wrinkles?
You probably wouldn't assume that the way you're sleeping could affect your appearance. However, research published in the Aesthetic Surgery Journal[16] indicates that side and stomach sleepers are placing excess pressure on the skin near their face, which can result in lines around the eyes and mouth (so-called "sleep wrinkles").
Sleeping on your stomach may feel comfy, but according to Johns Hopkins Medicine, both this position and side sleeping can cause your skin to wrinkle or break out[17].
How can I train myself to sleep on my back?
Whether you're concerned about your complexion or want to improve your physical health, there are ways you can adapt to sleeping on your back.
Consider investing in a bed that's well-made for back support to help you feel more comfortable if you're not used to this position. Next, you can try placing pillows in areas such as under your knees or lower back to help support you if you're feeling discomfort.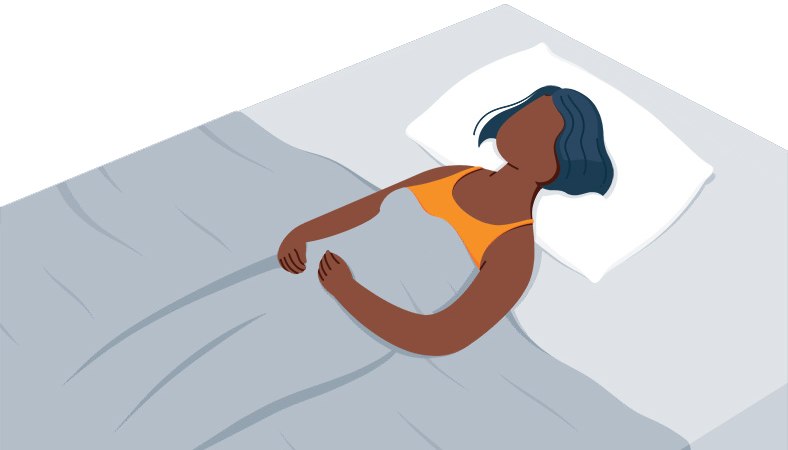 Ensuring you're tired before attempting to sleep is also key to changing positions since the more awake you are, the more likely you'll notice discomfort and go back to your previous method. To help you feel sleepy, try out calming nighttime routines such as a hot bath, drinking tea, or reading a book.
Most importantly, though, you must be persistent and understand that it will take you some time to get used to a new sleep position, but once you do, you'll be able to reap the benefits.
What is the best cuddling position for sleeping?
Spooning is one of the most popular positions for cuddling. This is when both partners face the same way, but one is hugging the other from behind. Half-spooning is when one partner is on their back while the other is on their side. This is an excellent cuddling position if one partner is a side sleeper and the other is a back sleeper.
Summary
The best sleeping positions aren't the same for everyone. If you are pregnant or have back issues or any other number of things, your best sleeping position will be different from someone else's. 
The important thing is finding out which sleeping position works best, not just for your comfort, but for your health. If you are sleeping in a position that isn't doing you any favors, you can always change it up, over time and with patience. If all else fails, you can always try upgrading your mattress and pillow game, too.
Our Best Sleep Positions Infographic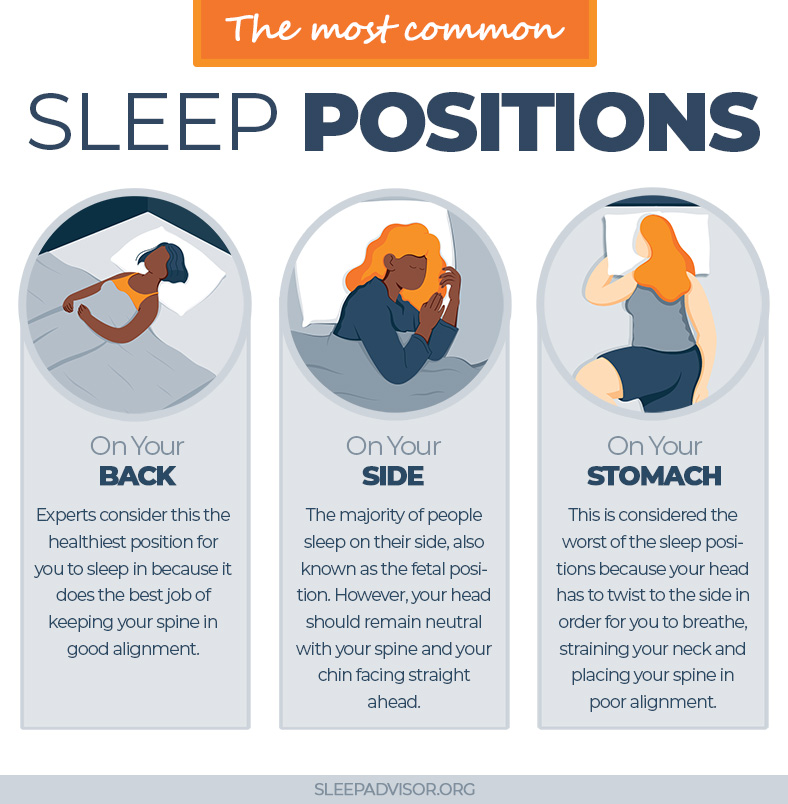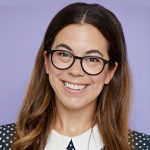 Jill Zwarensteyn is the editor for Sleep Advisor and a certified sleep science coach. She is enthusiastic about providing helpful and engaging information on all things sleep and wellness.
Based in Los Angeles, she is an experienced writer and journalist who enjoys spending her free time at the beach, hiking, reading, or exploring new places around town.
She's also an avid traveler who has a personal goal of being able to successfully sleep on an airplane someday.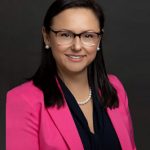 Dr. Theresa Marko is an Orthopaedic Physical Therapist and Certified Early Intervention Specialist. She is the owner of Marko Physical Therapy, a private practice in New York City specializing in spine, orthopedics, adolescents, and pediatrics.
She has helped thousands of people to overcome injuries, optimize their movement, and return them to work and sports pain-free and stronger than ever.
Dr. Marko has shared her expertise as an adjunct faculty professor at Stony Brook University and through speaking engagements at Columbia and Duke Universities. She has been featured in The Washington Post, The Wall Street Journal, and Business Insider.