Transparency Disclosure – We may receive a referral fee for products purchased through the links on our site...

Read More

.
If you're a Canadian looking to find yourself a new mattress but don't know who ships to your country, you've come to the right place.
Not only is the bed-in-a-box trend sweeping the United States, but the convenient mattress shipping technique has crossed the border into Canada, too.
This guide should help you find the top-rated Canadian mattress brands and some U.S. businesses that ship to Canada.
Our Best Mattresses for Canadians
What Are You Looking For?
We want to help you find the best product for your needs.
Click on your preferred option below and it'll lead you to our picks for a selected category.
Below you'll find a breakdown of each mattress and the reasons it's made our best list. We'll let you know the main features of each model and who they should work for.
By highlighting key aspects and pointing out what makes each product unique, you should find an excellent product no matter what your needs are.
Read on to chase after the best sleep of your life.
Shopping Recommendation:
Are you confident that a mattress from Canada is the perfect option for you? If so, continue exploring this page!
If you're unsure or want to learn about more great mattress options available then we recommend you check out our best-rated mattress picks. It is a great starting place for most mattress shoppers because it includes a diverse list of mattress picks based on various preferences, styles, and needs. It also includes links to an additional 60+ best mattress pages from Sleep Advisor (example: best mattress for stomach sleepers).
10 Top Rated Mattresses in Canada Reviewed
Best Overall Canadian Mattress
Endy
Foam Mattress

Great for Side Sleepers

Firmness Level: 4.5-5/10

100-Night Sleep Trial

15-Year Warranty
Endy keeps sleepers' needs in mind with their all-foam mattress. The bed's 2-inch comfort layer is a soft proprietary polyfoam known as Endy Comfort Foam. Endy Foam has an open-cell design for breathability. Additionally, the polyblend cover is made to promote cooling, and since the cover's top half is removable, it is easily washable in a machine. 
Below Endy's initial comfort foam is a responsive transition layer for easier repositioning, and it gives the sleeper a nice adjustment into the dense support base. The final layer of the Endy is a 5-inch thick support core to bear the sleeper's weight and promote good body alignment. Endy has a total profile of 10 inches, and with its slightly softer firmness, this should be a great match for side sleepers. 
What are the key features?
The Endy boasts two certifications: CertiPUR-US® and GREENGUARD Gold.

The Canadian Chiropractic Association has endorsed the Endy, making it Canada's only chiropractor-approved mattress.
Best Canadian Hybrid Mattress
Silk and Snow Hybrid
Hybrid Mattress

Best for Back and Stomach Sleepers

Firmness Level: 7.5/10

100-Night Trial

15-Year Warranty
The Silk and Snow is a fantastic deal if you're in the market for a great Canadian hybrid bed. This hybrid mattress has a firmer rating of 7.5, making it an ideal product for most back and stomach sleepers. The firmer support should ensure proper spine alignment, an important feature in preventing back pain.
The top of the Silk and Snow hybrid is a 1-inch polyester and spandex cover with memory foam quilted in, offering a nice initial cushion as you lie down. Additionally, silver is infused into the cover material to ward off bacteria growth. Below the cover is two inches of gel memory foam to ease pressure buildup and keep you cool. The pocketed coil unit is six inches thick and gives the bed bounce and ample support.
Why we love it
The firmer feel should be a great fit for stomach and back sleepers, offering plenty of sturdy support.
Best Canadian Mattress for the Money
Douglas
Foam Mattress
Great For Back And Stomach Sleepers
Firmness Level: 7/10
120-Night Sleep Trial
15-Year Warranty
By Canadians, for Canadians — that's the Douglas motto. This company offers a mattress made in Ontario that is designed to cater specifically to their local market. Douglas also works to address environmental concerns by working with sustainable materials.
Sleepers are likely to sink slightly into the upper foam, resting in a deeper cradle as the latex prevents shoppers from sinking through the comfort materials. Cooling gel infused into the foam ensure sleepers don't overheat as they snuggle into the bed.
What are the highlights?
The Douglas mattress could be an excellent bang for your buck, making it a fantastic choice for those looking to go easy on their wallets while still enjoying high-quality features.
Motion isolation promises a restful night as the materials absorb vibrations, and the medium comfort level lends itself to most position preferences, making this a good option for couples.
Best Canadian Pillow-Top Mattress
Logan & Cove
Hybrid Mattress

Great for All Sleep Positions

Firmness Level: 5/10 (Medium Plush), 7/10 (Luxury Firm)

120-Night Sleep Trial

15-Year Warranty
Novosbed started as a small family business but eventually became a well-known Canadian mattress brand serving local Canadian consumers. The company runs five product lines, including the affordable luxury brand Logan & Cove.
The Logan and Cove's standout feature is the pillow top. The cover material is made with Eucalyptus fibers for moisture absorbency, while the inside of the pillowtop is filled with blended silk for a smooth and soft feel.
The coil layer offers personalized pressure relief and support as the springs react independently. The coils should also add additional airflow.
Why is it on the list?
This brand works hard to offer a plush, luxurious feel to its customers regardless of their budget.
The ability to choose from multiple comfort options makes this a great choice for any kind of sleeper, and the springs allow for airflow and enhanced support and comfort.
Best Latex Canadian Mattress
Silk and Snow Organic
Latex Hybrid 

Best for Back Sleepers

Firmness Level: 6.5/10

100-Night Trial

15-Year Warranty
Latex mattresses can offer a lot of advantages to sleepers. Not only are latex beds some of the most sustainable models, but they also offer natural temperature regulation, durability, and buoyancy. Eco-conscious shoppers looking for a great latex hybrid should find their match with Silk and Snow's Organic Mattress. 
The organic cotton cover is GOTS-certified should promote breathability right from the top. This is followed by a layer of wool quilting that serves as a natural fire barrier. Below the wool is is 2.5 inches of 100 percent organic Dunlop latex. The coil unit is the bed's primary support base, which also includes zoned support for added comfort and sturdy edge support that allows you to spread out. 
Why we picked it
We think this mattress is an ideal match for many types of sleepers, including eco-conscious shoppers, back sleepers, combination sleepers, and hot sleepers.

The medium-firm feel should accommodate most body types.
Best Canadian Mattress for Back Pain
Polysleep Original
Foam Mattress

Best for All Sleep Positions

Firmness Level: 5-6/10

100-Night Trial

10-Year Warranty
The key to dealing with back pain while sleeping is to lie on a mattress that keeps your spine well-aligned. The mattress should be firm enough to keep your heavier parts from sinking more, as this can throw off spine alignment. The Polysleep Original should deliver sufficient support while also retaining important pressure-relieving qualities.
Polysleep's mid-firm feel should work well for most sleepers. However, individuals who carry significantly more weight may enjoy a firmer model.
At the top of the Polysleep is the Viscoelastic Hybrid Foam, followed by a transitional layer of Soft Support Foam. The base of the bed is a highly-dense foam that gives the mattress a stable foundation and acts as the main support unit.
Why should you choose it?
The Polysleep's Viscoelastic Hybrid Foam on top is ventilated to help you stay cool throughout the night. This foam is also antimicrobial, which is a benefit for those with allergies.
Best Canadian Memory Foam Mattress
Novosbed
Memory Foam Mattress
Best for All Types Of Sleepers
Multiple Firmness Options
120-Night Sleep Trial
15-Year Warranty
Novosbed believes in giving back to the community through mattress donations, using healthy materials, and listening to their customers to ensure their line of products suits their needs and preferences.
Shoppers should experience a deep hug as they sink into the dense memory foam. The material is designed to absorb motion, reducing disturbances from restless partners during the night. This item is available in soft, firm, or medium-firm options so that shoppers can decide which comfort level will suit their sleep position the best.
What makes this product stand out?
Enhanced motion control is a big plus and is typically found in quality memory foam products, as is an abundance of pressure relief.
Multiple comfort options promise an ideal experience for most shoppers, allowing everyone to choose a feel that meets their needs.
Want to know more? See our full Novosbed bed review.
Best Canadian Mattress for Back Sleepers
Brunswick Spring Mattress
Hybrid Mattress

Best for Back Sleepers

Firmness Level: 6.5/10

120-Night Trial

15-Year Warranty
Back sleepers are sure to love the Brunswick Spring Mattress. This hybrid bed features a 12-inch profile and a 6.5 firmness rating, making it firm enough to support the back without sacrificing softer pressure relief.
The Brunswick is a hybrid, which means it combines foam and coils. This mattress has a luxurious 2.75-inch thick pillowtop that contains three layers of memory foam. You should notice the memory foam as it works to ease pressure buildup in sensitive areas like the shoulders. The coils are the bed's primary support mechanism. The springs are also pocketed, which helps curb motion transfer, a benefit for folks who share a bed.
Why we picked it
While the softer foams cradle you, you should feel the durable coils curb additional sinkage in order to keep the spine well-aligned. This allows you to feel on top of the bed as opposed to in it.
Best Canadian Mattress for Combo Sleepers
Recore Performance Latex Mattress
Latex Mattress

Best for Combination Sleepers

Firmness Level: 6/10

120-Night Trial

15-Year Warranty
Combination sleepers are usually a great match with mattresses built to be highly responsive. This is because the materials in responsive beds make with easier for combination sleepers to change positions. The Recore is made with graphite latex, a bouncier material that helped this mattress earn its spot as our Canadian pick for combo sleepers.
Along with bounce, the latex in this mattress helps the sleeper maintain a comfortable core temperature by drawing heat away from the body. Further working to keep sleepers cool is the breathable foam underneath made with  Vortex™ gel technology.
Why should you buy it?
The buoyancy of the latex combined with its cooling capabilities should foster a more relaxing sleep experience for folks who rotate between positions.
The Recore's mid-firm feel should work for different sleep positions, but either way, the company gives you 120 nights risk-free to test out the bed for yourself.
Best Canadian Mattress for Couples
Leesa Original
Foam Mattress

Best for Back Sleepers

Firmness Level: 5.5/10

100-Night Trial

10-Year Warranty
Shoppers should sink into the Leesa Original mattress nicely, enjoying a deeper cradle that contours to the body to promote soothing pressure relief. With a true medium-firm score, this model should feel comfortable to most sleepers because it provides quality pressure relief without skimping on support to ensure the spine stays in good alignment. Lots of bounce and airflow help ensure people do not feel "stuck" or overly hot inside the foam. This universal feel is great for couples since it's the most accommodating to different sleep types. 
What's the draw?
This all-foam bed does an excellent job of reducing motion transfer, so couples are less likely to wake each other up if they move around.

The Avena® foam layer gives the bed a small amount of bounce. This should make adjusting easier, an added benefit for those with limited mobility

or who rotate between different sleep positions.
Why You Should Trust Us
The Sleep Advisor team reviews each mattress in person so we have a genuine understanding of how the mattress feels and performs. To begin, we unbox the mattress and place it onto a bedframe. We first asses the cover, looking for features like cooling, softness, and cushioning. The next step is to evaluate how the bed performs under pressure, first by applying pressure with our hands and then in each sleep position. Lying in different positions lets us know how supportive the bed is and if it's good at relieving pressure. After that, we'll perform a series of tests for additional features, such as bounce, motion isolation, and edge support. The final testing portion is to determine if there are any new mattress smells present, which is known as off-gassing. These smells usually go away within a day or two, but it's helpful to know if you can expect any right away, particularly if you're sensitive to odors. We then take all the information we've gathered to rate the bed in individual categories as well as how it stacks up overall. This gives us a thorough idea of who we would recommend this product to, helping our readers find the right mattress for their needs.
Canadian Mattress Buyer's Guide
The bed-in-a-box market is only just beginning to take a foothold in Canada. Naturally, this leaves many shoppers wondering where on earth to begin choosing their new mattress.
We'll walk you through the online mattress shopping process, what to look for, and how to determine which brand is right for you.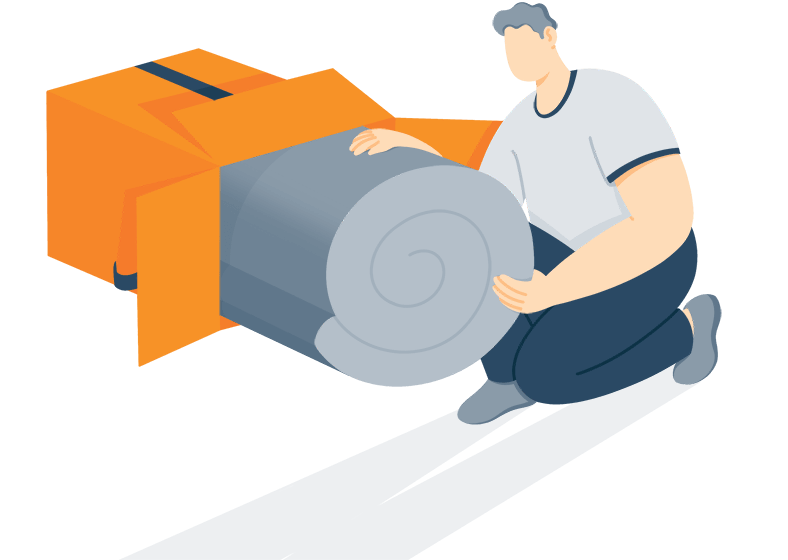 Factor in Costs and Set the Budget When Buying a Canadian Mattress
The price of your new bed may vary depending on the materials and construction used, shipping methods, and extra features. The size of the bed also plays a part — many brands will see a $200-$500 jump in price between each size.
Most mattress companies will offer a trial period, so if you choose the wrong product at first, you can try again. But determining ahead of time the amount you are willing to spend for the features you need is always advisable.
Taxes
Taxes in Canada are different from province to province, some have very low tax rates, while others hover around 8-10 percent. Canada employs a goods and services tax of 5 percent. Also keep in mind that the tax rate may depend on where items are shipped to, rather than where they are bought or manufactured.
Shipping
Thankfully, shipping is often free when ordering a mattress from a Canadian company. If you are trying to ship from an American company or are shipping to a very remote area, however, there may be a shipping fee. Be sure to look into the shipping details and ask the company's representatives for help when factoring this into your cost.
Potential Return Fees
Some brands will let you return a bed for free and may even let exchange it for a different model. Others might require a fee to return the mattress. Check the guidelines of the trial period to make sure you are comfortable with the policy when buying.
Add-ons (Pillows, Toppers, Sheets)
Are you going to need some extra cushioning and want to add a topper to your mattress? Are you getting a new bed size and need matching sheets and blankets to go with it? Are your pillows also in dire need of replacement?
Sometimes buying a bed means more than just getting yourself a new mattress. Be sure to work your other bedroom needs into your budget so you'll know how much you can spare in each area.
Keep an eye out for bundles or sales that might knock a few dollars off your sales price … or even the occasional offer of free accessories with your mattress purchase! Deals like these can maximize your spending power, allowing you to fully makeover your entire bedroom.
If you would rather avoid these costs altogether, make sure to purchase a mattress with similar dimensions to your current bed so that you can reuse the items you already own.
Determine Your Needs When Buying Canadian Mattress
Every shopper's needs will be different. Maybe you require a mattress with a higher weight limit or superior motion isolation because you sleep with a partner. Maybe you put an emphasis on easy mobility or temperature control.
Keep your sleeping position preferences and sleep habits in mind and check for mattress features that cater to these factors. Allergies, skin sensitivities, and medical issues may all be key considerations when choosing a mattress, as well.
It is important to determine what your needs are before shopping so you can ensure your new bed will meet those criteria and provide restful sleep. Many mattress companies offer guides and quizzes to help you choose between their models. If you are still lost, most brands will also have representatives on hand to chat with you and help you reach a decision.
Firmness Level

One of the most important factors in choosing a new bed is firmness level. Different positions often require different levels of comfort. Side sleepers tend to enjoy softer mattresses that allow for compression in the hips and shoulders, while stomach sleepers usually prefer firmer mattresses that provide enhanced support for the hips.
Co-sleepers may also want to consider a dual-sided product or a mattress with split comfort options that cater to both shoppers' individual needs.
Get More Info: Mattress Firmness Chart
Consider the Material Types Available When Buying Canadian Mattress

Memory Foam
Innerspring
Hybrid
Latex
Canadian Mattress Additional Considerations
Let's take a look at a few of the things that could pop up as you go on your mattress search that could help the decision process.
Indentation Load Deflection (ILD)
ILD is a reflection of how firm or soft the product is likely to be. The metric derives its name from the method used to determine density, which measures how much pressure it takes to create a 1-inch indention into a 4-inch piece of foam. Higher ILD numbers tend to indicate a firmer foam, while lower numbers would represent a softer material.
Read More: Indentation Load Deflection
Height and Thickness
Bear in mind the desired (or required) thickness you will need. Some bed frames, especially bunk beds, might require a thinner model. Adjustable frames may have suggestions on mattress height, as well.
Shoppers might also want to consider their personal needs. A thicker option might be required for people worried about bottoming out. While shorter folks need a thinner, lower profile bed.
Fit with Frame
You'll want to determine the size of the frame and what size bed it will hold and adjust your mattress size accordingly.
Trial Period
Most bed-in-a-box companies offer trial periods that will allow buyers to adjust to their product inside their own homes. Many will offer a full month, or even three. Some brands are willing to provide extended trial periods that last up to a full year.
Warranty Period
Many of these products come with a warranty that lasts between 10-15 years. Some companies back up their items for the entire time that you own them, though there may be some limitations to what's covered. Along with replacing defective merchandise, some brands will provide replacements for comfort materials, ensuring a "new bed" feel for years to come.
Benefits of Buying a Mattress in Canada Online

Buying a mattress online can be one of the quickest and most convenient shopping methods. Many sites will provide comparison tools or quizzes and guides so that you can see how their product stacks up to the rest of the market or so you can choose between their products based on your individual needs.
Many brands offer matching accessories that can be purchased alongside the mattress. Bedding sets, pillows, toppers, and frames might all be available to bundle with your order. Extended sleep trials for in-home product testing, free (sometimes, check with the brand) delivery and the option to have the mattress company set up your new bed are all big pluses in the online buying column, as well.
Consider Sales – Pros & Cons of Canadian Mattresses
Since so many American brands ship to Canada, you might want to keep an eye out for great deals so you can maximize your budget when you buy. Be careful to make sure the prices weren't raised and then lowered just a smidge in time for the big event.
Even if a sale is truly great, don't feel as though you have to rush out and spend your paycheck on a pricey product if you aren't financially ready. Many brands offer sales and coupons all year, or if they sell online they may have more affordable prices in general.
For more information, check out our mattress coupons page.
Understand the Manufacturer's Customer Service When Buying a Mattress from Canada
Shopping online can be scary, especially for major purchases. What if you end up with the wrong thing? How will you know what works without looking at it?
Most bed-in-a-box brands offer representatives that you can chat with, email, or call to learn more about the product. They can provide answers to questions that are not addressed on the product page, or walk you through your decision to help you choose the item that should suit you best.
Occasionally, companies will provide interactive features like quizzes that will point you in the direction of your ultimate comfort feel.
Conclusion
As you can see, there are plenty of options for people in Canada to find a model with all the bells and whistles they want in the price range they have set.
Whether you're ordering locally or having your new mattress shipped from the States, you'll have your pick from a variety of brands and styles, each with a specific purpose and type of sleeper in mind.
Rachael is a content writer for Sleep Advisor who loves combining her enthusiasm for writing and wellness. She's had a passion for writing since she was a kid when she wrote awful poetry. She's honed her craft quite a bit since then and considers herself a lucky duck to get paid to do what she loves.
Embracing the remote work life, she occasionally takes her work on the road and lives out her travel writer pipe dream.
In her free time, she attempts to meditate regularly, rides her bike to Trader Joe's, and enjoys trying every type of food that she can get her hands on.