Transparency Disclosure – We may receive a referral fee for products purchased through the links on our site...

Read More

.
Disclaimer - Nothing on this website is intended to be a substitute for professional medical advice, diagnosis, or treatment...

Read More Here

.
If you sleep on your stomach each night, you may feel that it's difficult to find the right stomach pillow for your needs. So, then, what's the best pillow for stomach sleepers?
Some chiropractors don't advise sleeping on your stomach. However, it's often comfortable for many individuals, and in some cases, could help alleviate snoring and sleep apnea symptoms.
A thick, firm pillow won't work, as your head will be propped up too high. At the same time, you need some kind of support, since letting your head fall onto the mattress itself isn't particularly comfortable, either. The trick is to find that happy medium.
We're here to help you out by carefully selecting a list of top pillows specifically for this sleep position. By referencing this guide, you'll be able to find your ideal stomach sleeping pillow without wasting countless hours searching online.
Top 8 Stomach Sleeper Pillows
Stomach Sleeper Pillow Reviews
Below you will find reviews for ten of the best pillows for front sleepers. To learn more about any of these products, please follow the included.
Editor's Pick – Saatva Latex Pillow
The Saatva Latex Pillow is an excellent choice for stomach sleepers as it has an adjustable plush fill. The cover is made of organic cotton and is soft and breathable. In addition, the cover is designed to wick away moisture, allowing hot sleepers to cool without having to flip the pillow.
The inner pillow is removable, which allows you to adjust the height and feel. This makes it easy to use the pillow for other sleeping positions as well. The core is made from naturally shredded natural latex recommended by orthopedists and chiropractors. The fill is hypoallergenic, responsive, and more breathable than synthetic foam.
Why we picked it
Saatva puts their natural latex through a thorough washing process that helps remove all allergy-causing proteins. This way, the latex is hypoallergenic and safe for allergy-prone people.

Saatva offers a 1-year warranty and a 45-day trial for customers to test the pillow before purchasing.
Lagoon Chinchilla Pillow – Best Microfiber Pillow for Stomach Sleepers
The microfibers inside the Lagoon Chinchilla are aptly named 'Softy' down alternative fibers. They're exquisitely plush and airy so that stomach sleepers can rest their heads with maximum comfort. If you want to adjust the amount of fill, you can simply remove handfuls of microfiber at any time.
The Chinchilla's softness extends to its bamboo and cotton lining, as well as its bamboo and polyester cover. These surfaces are all machine washable and hypoallergenic for prolonged freshness.
What else stands out?
Lagoon's 100-night trial and 5-year warranty speak to their faith in their pillows. You can try the Chinchilla for a few months before deciding whether or not it's right for you.
The entire pillow is machine washable, though Lagoon recommends only washing the inner lining and fill once a year or less. Putting the pillow in the drier can also help to fluff it up.
Best Pillow for Stomach Sleepers Who Sleep with an Arm Under the Pillow – Tempur-Pedic TEMPUR-Cloud
The TEMPUR-Cloud® features the TEMPUR® material that compresses easily, making it a great choice for stomach sleepers who like having their arms under the pillow. If this is how you sleep, you probably know how quickly your arm can go numb. Tempur-Pedic found a way to avoid this by using the TEMPUR® material that adapts to your neck, head, and arm.
The material is uniquely responsive, making it easy to pack this pillow if you want to carry it on a trip. Regardless of how you fold or roll it, the TEMPUR-Cloud® will return to its original shape within seconds. In addition, the cover is easy to remove via zipper and machine-washable for easy maintenance.
What's worth mentioning?
Although the TEMPUR-Cloud® pillow fits stomach sleepers the best, those who occasionally sleep on their back should like it just as much.

The pillow comes with a 5-year warranty, but there is no trial period.
Best Silk Pillow for Stomach Sleepers – Cozy Earth Silk Pillow
This Cozy Earth model is an excellent choice for stomach sleepers interested in a silk pillow. The filling is soft, gentle, and luxurious, helping create a more comfortable sleeping environment. Plus, silk is moldable, so it fits other sleeping positions equally well.
Stomach sleepers who struggle with hot flashes should like a temperature regulating cover made with viscose from bamboo. The material reduces humidity and helps the pillow stay cool, so there's little chance of overheating. In addition, the filling stays consistent even if you toss and turn, adapting to the shape of your neck, head, and arm if you like to hug the pillow as you sleep.
What should you know?
Cozy Earth offers a 10-year warranty and a 100-night trial for consumers to test how the pillow suits their sleeping habits.

The pillow is machine-washable, but avoid using the spin cycle. Instead, use the rinse cycle only.
Best Down Pillow for Stomach Sleepers – Brooklinen Down Pillow
The Brooklinen Down Pillow is available in three versions: Plush, Mid-Plush, and Firm. Stomach sleepers tend to prefer the Plush option, as it's the softest of the three. Whereas the other two variants are filled with a mix of feathers of down clusters, the Plush is filled with down clusters exclusively, giving it the huggable, cushiony feel that many stomach sleepers need.
All of the down inside this pillow comes from Canada's Hutterite Farms, and is contained within a 100% cotton sateen shell. Frequent fluffing should help it retain its shape.
Other key facts
This pillow has been treated with antimicrobials to keep germs and irritants at bay.
You can order this pillow in a standard or king size, depending on how much space you'd like to cover.
Best Pillow for Side and Stomach Sleepers – Coop Sleep Goods Original
Stomach sleepers who also like sleeping on their side should enjoy this Coop Sleep Goods Original pillow. The product is an excellent choice for restless sleepers as the medium-firm memory foam and microfiber foster healthy spine alignment. As a result, the pillow helps with falling asleep faster and waking up well-rested.
The fill is a proprietary blend of microfiber and memory foam that you can adjust using the interlocking dual-case system. In addition, the company provides a half-pound of extra fill should you need a higher loft. The Coop Sleep Goods Original pillow features a machine-washable Lulltra™ cover that's gentle on the skin and easy to maintain.
What makes it valuable?
The materials in this pillow are hypoallergenic, making it a great choice for allergy-prone side and stomach sleepers. Plus, the pillow is resistant to dust and mold.

The Coop Sleep Goods Original pillow is available in two sizes: King and Queen.
Best Plush Pillow for Stomach Sleepers – Layla Kapok
Stomach sleepers usually look for a plush yet supportive pillow, and this Layla model fits the description. The design delivers a soft and plush feel while supporting the neck and head. The mix of Kapok fibers and memory foam makes the pillow moldable and adaptive. The material holds its shape throughout the night, returning to its original state when you get up.
Layla included a soft cover made from polyester and viscose blend. The cover has hexagon stitching that adds to its comfortable feel while also making it look more luxurious.
What stands out about it?
Kapok fibers are airier and softer than wool or cotton, so the loft is longer-lasting and more comfortable. Plus, the pillow features open-cell memory foam to enhance neck and head cradling.

This pillow comes overstuffed so that customers can adjust it to their preferences.
Best Cooling Pillow for Stomach Sleepers – Nectar Graphite Pillow
Hot sleepers who lie on their stomachs usually struggle to fall and stay asleep. You may generate even more heat while sleeping like this, regardless of the room temperature. The Nectar Graphite Pillow is a unique pillow with graphite fibers and polyethylene yarns that help regulate body temperature.
Graphite-infused foam transfers the heat from your body to keep you cool throughout the night. On top of that, Nectar added carbon fiber cool-tech that works with the anti-microbial technology in the cover. The combination allows for a comfortable, clean, and cool sleep. Plus, stomach sleepers should appreciate the support and softness cradling the neck and head in this position.
What makes it special?
Nectar offers a 50-day trial for stomach sleepers to test the pillow before deciding if it's the right choice.

The Nectar Cooling Graphite pillow is easy to spot-clean with water and mild soap. This product doesn't require machine washing.
The Stomach Sleeping Pillow Buyer's Guide
A pillow can have all the great reviews in the world, but that doesn't mean it will be right for your needs. Before you place an order, be sure you know exactly what you are looking for in terms of performance characteristics. The following points are vital for stomach sleepers hoping to purchase the perfect pillow.
Thin to Win
For a stomach sleeper, a slimmer pillow is the ideal choice. Though the loftier ones are an excellent pick for back or side sleepers, they're not suitable for those who land on their belly.
If you are lying on your stomach using a thick pillow, your head is going to be forced up at an awkward angle. For most people, it would be difficult to fall asleep in this uncomfortable position.
Furthermore, if you do manage to fall asleep, there is a good chance you will wake up with significant neck pain. Therefore, when it comes to stomach pillows, flatter is better.
Consider Temperature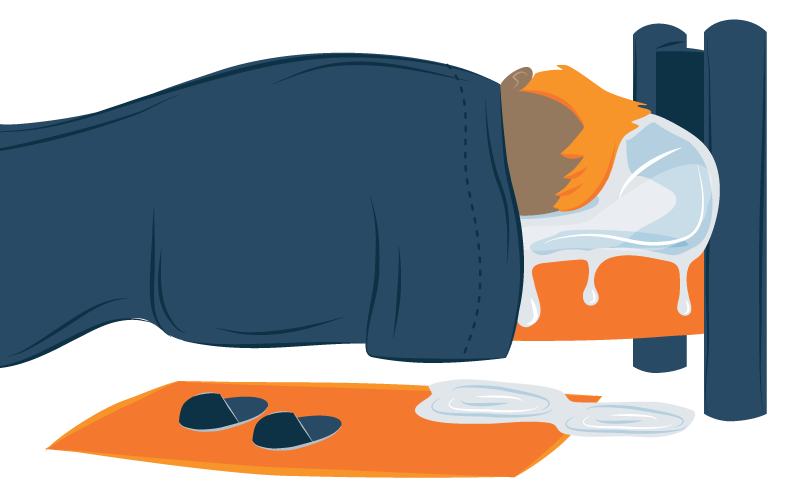 If you're a stomach sleeper who also runs hot, having a cooler pillow to place against your face could help you sleep more comfortably. In that case, look for a pillow that uses some form of cooling technology. This can come in the form of a specific material used for the fill, or in the design of the cover of the pillow.
There are many different pillows on the market designed to help you stay cool while you sleep, so looking into those options makes sense if temperature tends to be a problem.
View Our Guide: Top Rated Cooling Pillows
The Cost of the Pillow
Before you start shopping for your new pillow, be sure to set a budget for yourself. Flat pillows designed for front sleepers can get surprisingly expensive, and you don't want to wind up spending more than you can afford because you fall in love with a specific model.
Investing in a quality pillow is a choice that you can benefit from night after night, but that investment still needs to fit your budget. The good news is that the online, direct-to-consumer sales model cuts middlemen costs, bringing down prices for shoppers on quality bedding products.
Pillow Materials
Pillows for stomach sleepers are made from different materials, but down, down-alternative, and latex are the most popular choices. Memory foam is also an option, but this depends on the pillow since the material is often too dense for stomach sleepers.
Down

– Down pillows have real feathers, usually from geese or ducks. These are excellent for stomach sleepers because they're fluffy and easy to compress into a low loft. However, down pillows are typically expensive and not the best option for allergy-prone people.

Down-Alternative

– Down-alternative pillows feel like real down. However, these don't include any animal products. Instead, down-alternative pillows have polyester fills or natural tree fibers offering the same fluff and softness. In addition, these are more affordable than real down pillows and more suitable for allergy-prone stomach sleepers.

Latex

– Latex pillows are made of either Talalay or Dunlop latex. Both are natural materials offering buoyant support and a soft feel. Stomach sleepers who prefer a somewhat firmer feel should prefer latex pillows. Shredded latex is also an option, although it's often blended with down-alternative.
Benefits of Thin Pillows for Stomach Sleepers
The biggest benefit thin pillows provide stomach sleepers is better spine alignment. By keeping the neck well-aligned with the rest of the body, stomach sleepers can get great rest and reduce their risk of neck pain issues.
Many people struggle with neck pain associated with a poor sleeping position, and this can have a negative influence on their ability to enjoy and partake in daily activities.
Need help? Check out our top-rated pillows for neck pain here.
Where to Put Your Pillow When Stomach Sleeping
Stomach sleepers should focus on buying a quality pillow that fits this sleeping position. However, it's equally important to consider where to put the pillow for the most comfortable sleeping.
The pillow you put under your head should be thin yet supportive. A lower loft is recommended so your head isn't too high. The pillow should offer a bit of cradling to relieve tension in the neck and head. The pillow should also be supportive, preventing you from sinking in.
Stomach sleepers should also consider adding another pillow under the pelvis to support the hips and promote better spine alignment. If you like sleeping on your stomach, try placing a pillow on your lower abdomen for a more comfortable sleeping experience.
Conclusion
We hope the content above has focused your search on some of the best stomach sleeper pillows on the market today. Owning the right front sleeping pillow is something that can improve your life every day.
With a thin, supportive pillow on your bed, you might find that you start looking forward to bedtime more than ever before.
If you find yourself wanting to upgrade your mattress to one of the best mattresses for stomach sleepers, check out our article to guide your search!
Resources: