What's the best pillow for stomach sleepers? If you settle in on your stomach when you lay down to sleep each night, you already know that it can be difficult to find the right stomach pillow for your needs. Many people even ask themselves if sleeping on their stomach is a bad thing.
A thick, firm pillow really won't work, as your head will be forced awkwardly up off the mattress. At the same time, you do need some kind of support, as letting your head fall all the way to the mattress itself isn't particularly comfortable, either. There is a happy medium in there somewhere, but it can be difficult to find.
It is this challenge to find the right belly stomach sleeper pillow that has inspired this buying guide. To help you find the best rated stomach sleeping pillow, we have searched the market to track down many of the best options available today.
Besides, we have also compiled some content to help you determine exactly what you should be looking for as your shop. In the end, we hope the information below will lead you directly to the perfect pillow to allow you to sleep comfortably on your stomach all night long.
Quick note: Check our yearly roundup and what we think are the top pillow picks overall.
Thank you for taking time to visit, and let's get started!
Top 5 Stomach Sleeper Pillows
The Front Sleepers Buyer's Guide
When you set out to buy a new front sleeping pillow, you can't simply check to see which are the best rated before placing your order. A pillow can have all the great reviews in the world, but that doesn't necessarily mean it is going to be right for your needs. What if all of those reviews came from people who sleep on their sides, or their back? Either way, their reviews would not be relevant to you as a stomach sleeper.
Before you place an order for a new front sleeper pillow, be sure you know exactly what you are looking for in terms of performance characteristics. The following points are key for stomach sleepers hoping to purchase the perfect pillow (and read these tips!).
This might be an obvious point, but it is the only place to start with this list. For a stomach sleeper, a slim pillow (and firm) is almost sure to be the right choice. This is a difficult point for some to accept at first, as the pillows that look the most comfortable are those which are stuffed completely full. Those lofty pillows are a great pick for back or side sleepers, but not those who land on their belly.
It all comes down to anatomy. If you are laying on your stomach while using a thick pillow, your head is going to be forced up into the air at an awkward angle – there is just no way around it. For most people, it will be difficult to fall asleep in this uncomfortable position. And, if you do manage to fall asleep, there is a good chance you will wake up with a serious neck ache. Do yourself a favor – consider only flat pillows as you shop, and you will be far more likely to wind up with a great firm pillow.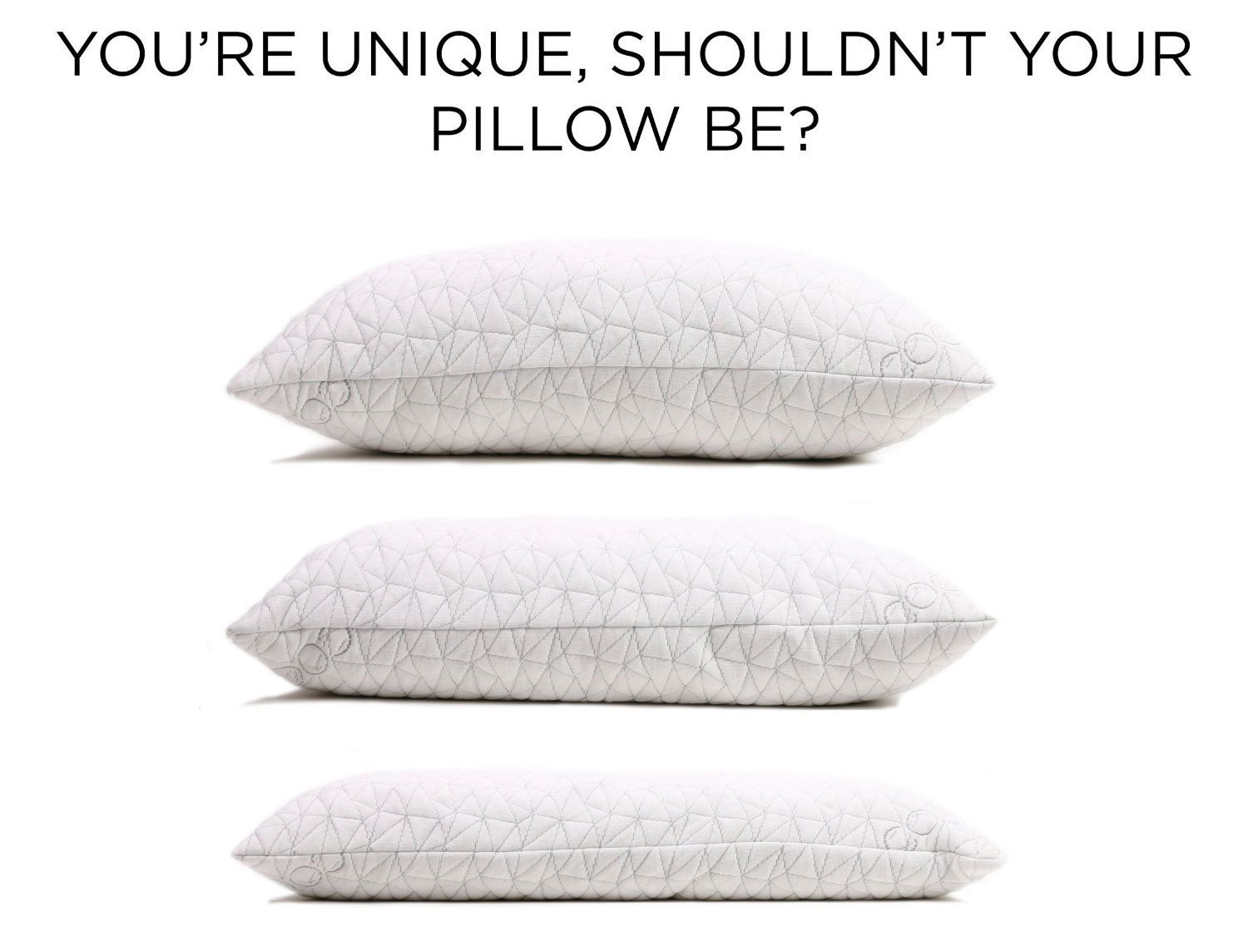 It is easy to get rather warm when sleeping on your stomach. If that is a problem that you deal with regularly, look for a pillow which uses some form of cooling technology. This can come in the form of a specific material which is used for fill, or in the design of the cover of the pillow. There are many different pillows on the market today which claim to help you stay cool while you sleep, so looking into those options makes sense if temperature tends to be a problem.
Okay – so this isn't technically a performance element, but it is important anyway. Before you start shopping for your new pillow, be sure to set a budget for yourself for this purchase. Flat pillows designed for front sleepers can get surprisingly expensive, and you don't want to wind up spending more than you can afford because you fall in love with a specific model. Investing in a quality pillow is a choice that you can benefit from night after night, but that investment still needs to fit with your personal budget.
Thin Stomach Pillow Benefits
A great night of sleep is going to be the leading advantage of owning a pillow designed with stomach sleepers in mind. Using a pillow which has been created with a side or back sleeper in mind is never going to be ideal, and it is going to make it difficult to get the sleep you need. Quality sleep is associated with all kinds of health benefits, so don't overlook how important it is to pay attention to this aspect of your life. Spending a bit of time to seek out the right pillow for a stomach sleeper is a choice that should continue to pay dividends for years to come.
In addition to the great sleep you may receive, buying a stomach sleeper pillow should also help you wake up without neck problems in the morning. Countless people struggle with neck pain associated with a poor sleeping position. It is hard to enjoy life when your neck hurts, as even turning slightly from side to side can become a painful process. With the right pillow under your head, neck pain should be a thing of the past and your day to day life should suddenly start to look up.
Stomach Sleeper Pillow Reviews
Below you will find a quick review of five of the best pillows for front sleepers. To learn more about any of these products, please follow the included link to view the Amazon product page.
Elite Rest Ultra Slim Sleeper
Right there in the title, you see one of the main selling points for this pillow – it's ultra slim design. Indeed, this pillow is only 2.5'' thick, making it one of the thinnest pillows on the market today. This is the kind of slim design we were talking about above, meaning this model should be a good pick for almost any stomach sleeper.
The inside of the pillow is made from memory foam, and one side is flat to keep it in place nicely as you sleep. You aren't going to find any fancy features with this pillow, but that is part of what makes it such a nice product. It is simply a quality pillow with a design that is perfectly suited for front sleeping.
Those who have used and reviewed this pillow almost universally agree with the conclusion that it is a good option for stomach sleepers. There are very few complaints overall about this product, as its design and quality are appreciated by most owners.
Comments can be found with regard to how this pillow has helped with neck pain, so keep that in mind if you have struggled with other pillows causing pain during the night. Simply put, this is one of the best options on the market for stomach sleepers, and it deserves a place right at the top of your shopping list.
Coop Home Goods Shredded Memory Foam
Rather than a solid piece of memory foam making up the fill of this pillow, it instead uses shredded memory foam to keep your head up off the mattress. Using shredded memory foam allows the user to adjust the pillow as needed to position it just right for a great night of sleep.
The memory foam is encased in a cover which is 40% bamboo, and the product is made in the USA. You can return this pillow within 30 days of your purchase, and it is even backed by a five-year warranty.
You will find that previous buyers of this pillow generally love the performance that it provides. Again here, complaints or criticisms are hard to find. Simply put, many say it's the most comfortable pillow for a belly sleeper.
This pillow does not have the same thin profile as some of the others on our list, but the adjustability of the shredded foam should allow you to mold it into just the right position for a night of sleep. If you are not completely sold on the idea of a single piece of memory foam for your pillow fill, this shredded foam design is one you should carefully consider.
Want to learn more about this product? Read the full review here.
The Pancake Pillow
This next item on our list is rather interesting, as it includes multiple layers which can be removed and added to meet with your preferences. Rather than trying to create a pillow which would suit the needs of each individual buyer, Pancake Pillow has created this layered design which can be easily customized.
There is a total of six stackable inner pillow layers included with this product, and those layers are placed inside of a 300 thread count case. Both Queen and King-sized pillows are available.
It should be noted that this is a pillow which carries a rather significant price tag – it is one of the most expensive on our list. However, it does have plenty of great comments from previous buyers to back up that price.
The vast majority of past buyers are happy with this product, as users tend to appreciate the innovative design that makes this pillow nicely adjustable. Even among belly sleepers there is sure to be some variation in what feels comfortable from person to person, so the Pancake Pillow is a great way to serve the needs of any sleeper.
Elite Rest Slim Sleeper Memory Foam
Slightly thicker than the Ultra Slim Sleeper from DC Labs, this model is 3'' thick. This is still a slim pillow, and it is also made from a single piece of memory foam.
The cotton cover that comes with this pillow is machine washable, and this is a model that is likely to work for back sleepers as well as stomach sleepers.For a simple, straightforward memory foam pillow with a low profile, it will be hard to beat this product.
A reduction in neck pain is cited as one of the best features of this pillow. Many have stated that their neck pain was either reduced or eliminated once they started using this product, which is high praise to be sure.
Some feel that the foam is a bit too far on the firm side, but that is usually a good thing when it comes to getting comfortable as a stomach sleeper. Considering the moderate price tag attached to this pillow, it is one that makes a strong selection.
Extra Soft Down Filled Pillow
At this point in the list, we are going in a bit of a different direction. Rather than looking only for thin pillows, you could choose to look at thicker pillows which have plenty of 'give' when you lay down at night. That is exactly what you will find with this down pillow.
Yes, this is far thicker than what you have seen on the rest of the list, but that thickness is quickly going to fall once your head hits the pillow. The softness of down will allow your head to settle in nicely for a comfortable sleep. Not all stomach sleepers will like this approach to pillow selection, but it will be the perfect pick for some.
As you would expect from a down pillow, it is the softness of this product which is praised over and over again by previous buyers. The reviews for this product overall are very strong, which should give you confidence if you decide that down is the way to go. A down pillow is never going to be the most affordable option on the market, but investing in your sleep just might be worth it. With great comments from past users and the time-tested performance of down as a fill material, it will be hard to go wrong when you opt for this choice.
Conclusion
---
We hope the content above has focused your search on some of the best stomach sleeper pillows on the market today. Whether you ultimately find the right pillow for your needs on this list or somewhere else, the important thing is that you will have thought through this buying decision. Owning the right front sleeping pillow is something that can improve your life each and every day – and there are very few products that can legitimately make that claim.
With a relatively thin, supportive, well-made firm pillow on your bed, you might find that you start looking forward to bed time more than ever before.
Thank you for taking the time to visit our site, and we wish you the best of luck as you shop!
Author:
Sarah Cummings
I think we're all nerds, but I'm probably the biggest nerd in the group. When we were in college, Mike and Jill would always be the first to fall asleep during our study nights.
As you can tell by my picture, I have a book in my hand almost around the clock. So yes, I'm a nerd just like Sheldon Cooper!
My hope is that everyone who visits our site will walk away with a fresh perspective. I think too many people in society downplay the importance of sleep. In my opinion, it's the difference between an average life and an amazing one.