Transparency Disclosure – We may receive a referral fee for products purchased through the links on our site...

Read More

.
The Layla brand is all about giving their customers options. Their memory mattress is a double-sided bed offering a Firm and Soft feel. The new Layla Pillow is stuffed with shredded materials and can be unzipped so sleepers can remove materials to get their desired feel.
This is a soft pressure relieving option for shoppers looking for something that meets the modern age of comfortable and supportive sleep
Our in-depth review of the Layla Pillow takes a look at the premium features this brand offers. We'll take you through construction, feel, and other important details you won't want to miss. Or if you're short on time you can skip to the end by clicking here.
Layla Kapok Pillow
The shredded inner materials of the pillow effectively reduce heat during the night.
Sleep Advisor Score
4.50 / 5
Read Full Review
You will love the Layla Pillow you:
Are looking for a down alternative – If shoppers love the feel of feathers and are allergic or prefer more eco-friendly and sustainable materials, this mix of Kapok and a shredded foam is a really nice alternative.
Sleep hot – Though memory foam has a reputation for trapping in the heat, its shredded structure lets air flow. More importantly, heat retention is mitigated by the use of copper in both the memory foam and cover.
Need adjustability –You can get practically any height on this product if you're willing to play around with it. It unzips super easily and materials can be added or subtracted to suit your needs.
You might not like the Layla Pillow if you:
Need to adjust on the go – This has a lot of loose materials. Adjusting can take a few minutes and if you spill the fluff, it could make a difficult mess to clean up. The benefit is you can keep the loose foam and fibers to re-stuff the mattress at a later date.
If you want, you might want to take a look at our top pillow picks for this year.
Video Review
Construction (Materials & Quality)
The cover is furnished with the same hexagon design Layla uses on all their products. It is a thick material, using a quilted blend of polyester, viscose, and lycra that has been designed to be stretchy but durable.
The threads of the cover are infused with copper, a natural heat conductor that helps regulate the surface temperature. It's also naturally antimicrobial and helps reduce odor.
Layla's filled their product with a mix of shredded memory foam and an all-natural and sustainable material called Kapok, which is a fiber inside of seed pods from Kapok trees in rainforests. The Kapok is fluffy and has feel similar to down.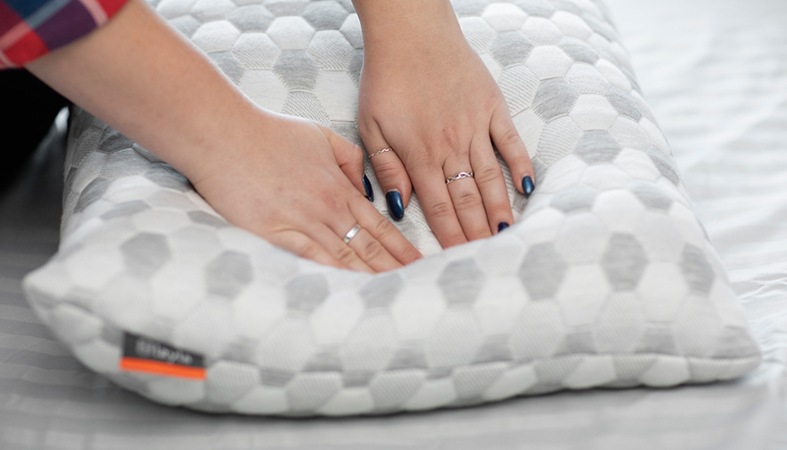 Firmness (Support & Feel)
This product is about 6.5 inches tall on its own but compresses when sleepers lay their head on it. The material was designed to be springy, so it should retain its original shape.
Clinical research suggests that the loft of your cushion should keep your head somewhere around 4 inches off the mattress in order to relieve pressure in your spine and neck muscles.
There isn't a definitive approach to how you achieve that level, though, and a lot of a pillow's success depends on the weight of your head, sleeping position, and the cushioning depth of your mattress.
Having loose materials, like in the Layla pillow, rather than a block of foam benefits sleepers because they can easily adjust the height. The versatility of this type of design means it usually works well for multiple sleep positions.
Most back sleepers will find that the 6.5 loft is too high for their liking, they will likely need to adjust it down a few inches to get their desired feel. When that is done, sleepers should feel that this supports their head in a comfortable position that also helps to open up their airway, making it easier to breathe.
Side sleepers with wider shoulders might enjoy this product at its full 6.5-inch loft. Other sleepers may need to remove just a bit of the fluff to get their desired feel but overall the versatility of this should help most sleepers get the right fit. This position typically requires the most loft because there is a greater distance between your head and the bed.
Stomach sleepers like a pillow that is closer to the bed. Their loft preference will often be lower than side and back sleepers. This product will likely need quite an adjustment, but stomach sleepers should be able to find the feel that works for them.
The versatility of this pillow should make it a great choice for the majority of people and will work well with most mattress types. Folks with bigger shoulders and heads should enjoy the loft this offers, but smaller folks might need to take a bit out.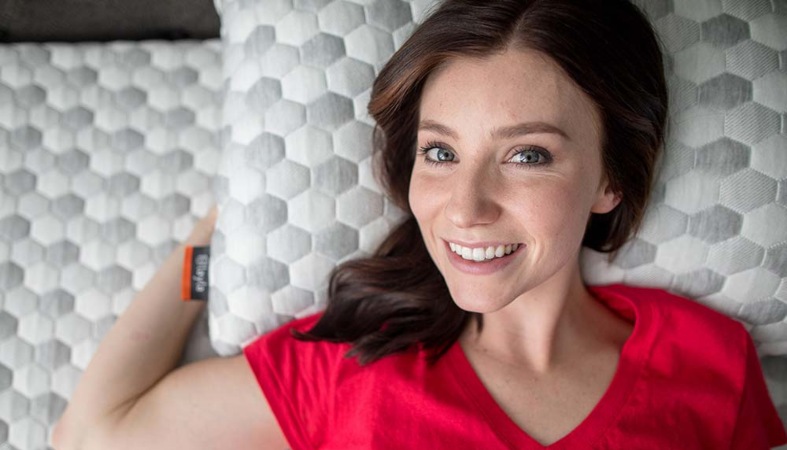 Temperature Regulation
When you go to rest your head after a long day, the last thing you need is something that feels like a foamy furnace against your face. Flipping the pillow to get to the "cool side" should be a worry of the past with this Layla product. The copper in both the cover and shredded foam helps keep heat away from your head and neck, keeping you cool on that pillow all night long.
Noise & Smell
Some combinations of fabrics and materials can make a lot of noise when you move around on them, but the softness of the materials both on the inside and the outside were designed to keep the noise down.
Off-gassing is something people sometimes complain about when getting a boxed bedding product. Customers should experience little to no off-gassing when opening up this up.
Other Considerations
Trial – Sleepers have 120 nights to try out this out and if it does not work out they can process a return for a refund.
Warranty – Customers have a 5-year warranty with this product.
Shipping – This pillow is shipped to your door for free within the contiguous United States.
CertiPUR-US® Certified – The foams in this Layla product have passed rigorous third-party tests that authorize them as safe to use.
Made in the USA
| Size | Dimensions (inches) | Price (w/o discount) |
| --- | --- | --- |
| Queen | 18.5″ x 28.5″ x 6.5" | $99 |
| King | 18.5″ x 36″ x 6.5" | $119 |
Final Thoughts
---
Amazing
Customers find supportive comfort and customization with Layla's updated kapok and shredded memory foam pillow!
This product is a great down alternative and may be especially appealing to sleepers who love memory foam. The kapok and shredded memory foam combo make for a comfortable night's rest that sleepers are not soon to forget.
Layla provides some of the best memory products on the online and their pillow is no exception of this expertise. If you think you will love this pillow, be sure to check out Layla's other great bedding products.
Layla Kapok Pillow
The shredded inner materials of the pillow effectively reduce heat during the night.
Sleep Advisor Score
4.50 / 5
Read Full Review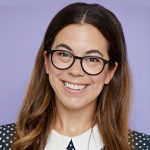 Jill Zwarensteyn is the editor for Sleep Advisor and a certified sleep science coach. She is enthusiastic about providing helpful and engaging information on all things sleep and wellness.
Based in Los Angeles, she is an experienced writer and journalist who enjoys spending her free time at the beach, hiking, reading, or exploring new places around town.
She's also an avid traveler who has a personal goal of being able to successfully sleep on an airplane someday.