Updated February 8th, 2018 – We've updated the list of our top product choices – Hope you like it!
Do you like sleeping on your stomach? If so, you are one of many who prefers this as the best sleeping position. If there's one thing that you need to feel like sleeping on a cloud, though, that's the mattress made exactly for stomach sleepers.
Finding one, however, is not a walk in the park. There are quite a lot of things that you ought to take into consideration in terms of specifications.
Density, thickness, materials and a myriad of other characteristics will start popping out of the blue as you start your quest for finding the best solution.
This is where things get slightly overwhelming. When you add to this the abundance of options on the market, you can easily find out that this is no regular quest – it's a challenging task which requires time, effort and, most importantly – some knowledge.
Let's face it, the regular shopper, just like you, has no business being able to tell the difference between latex and memory foam filling, right? What you need is a comprehensive guide which would walk you through all of these specifications in a quick and easy to understand manner. That's what we are here for.
We've taken the liberty to present you with the most important things you ought to know about the best beds made for stomach sleepers, so you don't have to wander around aimlessly. Additionally, we will present you with a few of the best options on the market that the majority of customers find comfortable, appealing and incredibly appropriate. So, without any further ado, let's give it a go.
Choosing The Right Front Sleeper Bed
The truth is that stomach sleepers go to bed every single night in what seems to be one of the worst sleeping positions for your body. With this in mind, you should know that the proper mattress as well as a comfortable pillow could make a tremendous difference to seriously overcome the overall negative effects that stomach sleeping can cause on your body.
Proper back support, a feel which is medium to slightly firmer and taking advantage of the most appropriate and comfortable pillow are essential if you want to get a proper rest while sleeping on your belly.
Adequate support might as well be the number one priority that you ought to be looking out for when picking up a bed. This is because your mid-section carries a significant amount of pressure as well as weight throughout the entire day. When you are sleeping on your stomach through the night, the pressure will go on building up in the torso.
This could lead to restless sleep during the night and also to serious back pain. Proper support plays a huge role in preventing this from happening. This being said, you can take a look at different foam mattresses as they are known to provide firm and consistent support. This is thanks to the numerous layers of pressure relieving and responsive foam. It conforms to the natural curves of our bodies and makes the overall sensation a lot better.
Ideal Firmness Range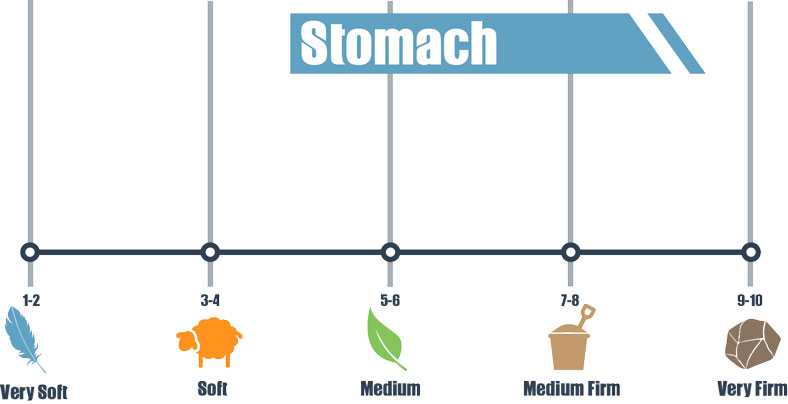 A few things need to be accounted for here. Right off the bat, front sleepers tend to keep a very flat sleeping profile. This results in a lot fewer gaps between your body and the mattress. Therefore, the best mattress for this type of sleeping should be on the medium to slightly firmer side. This makes it about 4 to 7 inches on the firmness scale if we assume that 10 is the most firm.
This firmness will keep your back from arching and also from causing stiffness. If you compare it to a mattress which is too soft, your pelvis is going to start sinking down. This is going to lead to spine misalignment which is undoubtedly something that you want to avoid.
The right level of firmness will attribute to proper support of your mattress, and this is, as we already mentioned above, amongst the most critical things to consider.
5 Belly Sleeper Bed Reviews
Leesa Mattress
When it comes to the freefaller sleeping position, this particular Leesa mattress is the #1 choice for a direct-to-consumer bed in the entire USA. Even though it comes with a universal feel which is intended to adapt to different shapes, sizes and body weights and sleeping styles, its firmness and enhanced support make it the perfect fit for stomach sleepers.
The product is 100% American made, and it takes advantage of the most exclusive as well as premium materials on the market. This includes high-end memory foam and Avena which would bring additional support and a cool sleeping sensation.
Avena is a next-generation material designated to enhance comfort and support. Unlike memory foam, which is usually used for cushioning instead of support, Avena comes with unique properties in terms of self-adjusting to the contours of your body and the way it sinks into the foam.
PROS
High-end premium materials
Combination of memory foam and Avena for enhanced support
Ideal thickness for belly sleepers
It's quite affordable
CONS
There is an initial smell which is rather unpleasant
It takes some time for your body to adjust to the bed's structure
The Purple Bed
The Purple Bed is a mattress which is by far the perfect choice if you are tired of worrying about making a compromise between soft and firm. The product is soft where you want it to be soft and firm exactly where it needs to be. You wouldn't have to worry about balancing these two characteristics due to your odd sleeping position.
Additionally, it gets rid of the pressure thanks to the convenient memory foam filling. An added benefit of the comprehensive mattress construction is the fact that it delivers a great sleeping temperature, guaranteeing that you won't be too hot, too cold or anything in between – you'd be perfectly comfortable.
What is more, The Purple Bed is green! That's right – all of the products which are used to build this mattress are recycled, hence eliminating all the harmful waste. They are non-toxic, recyclable and absolutely harmless.
PROS
It's environmentally friendly
It provides an ideal firmness for the freefaller sleeping position
The support is on point
CONS
It takes a lot of time for the mattress to break in
The lower back support is lacking
Brooklyn Bedding Latex
Despite of the bulky appeal of this particular mattress, the latex feel allows it to be compressed and rolled into an insignificant 19 x 19 x 45 inches box, hence making it easily delivered directly to your doorstep. You needn't worry about transportation one bit.
Now, straight to the point – this bed is available in three different comfort levels, hence allowing people with various sleeping styles to get the best of it. Stomach sleepers rest assured that it provides the necessary level of comfort, support, and thickness to ensure that you experience no lower back pain.
The mattress is made out of two layers of high-end latex. The first layer consists of 2 inches of comfortably Talalay Latex which is certified by Oeko-Tex back in 2015. The second layer, which acts as the perfect transitional one is made out of Dunlop Latex and it is 2-inches thick.
The entire thing is conveniently made in the USA, guaranteeing the high quality of the materials and the performance of the bed.
PROS
Double-layer construction offering superior back support
High-end Latex used to ensure conformity
It's relatively affordable
CONS
Longevity is somewhat undermined
The mattress feels too soft for certain stomach sleepers
Tuft & Needle
This is a bed worthy of your attention. Not only does it resonate well within the community but it's undoubtedly one of the most popular products in this category for the last year.
Right off the bat, it's made out of T&N adaptive foam which is designated to ensure a bouncy yet incredibly supportive sensation. This is generally regarded as a great characteristic for the majority of sleeping positions, and it's certainly good for the freefaller sleeping position. It offers a great localized bounce which is not going to disturb your partner when sleeping right next to each other.
The foam is adaptive, as we mentioned above. This is a contemporary and advanced material which is supposed to seriously outperform outdated memory foam and latex. This is not going to cause the common "feeling stuck" sensation, and it's also going to regulate the overall temperature of the mattress to ensure comfortable sleeping.
The entire thing is made in the USA, and it is known to be of high-end materials, designated to deliver on the promised commercial claims.
PROS
Contemporary T&N Adaptive foam
Full refund within 100 nights of sleep and 10-year warranty
In-sourced, using high-end materials
CONS
The middle section of the mattress is a bit too soft
The edges are a bit rounded and not perfectly square
Serta Perfect Sleeper
This is a multi-layer bed which is intended to significantly enhance the overall sensation that stomach sleepers experience. Thanks to the super pillow top feature, the mattress will relieve the pressure on your lower back and provide you with splendid comfort and support.
This is also attributed to the extra deep layer of soft foam which is not also quite supportive. It is designated to cradle the body in a gentle manner to additionally relieve the pressure and bring the necessary comfort right at the sleeping surface.
The mattress is built from Cool Gel Foam and innerspring, making it a reliable yet particularly comfortable hybrid with all the right features.
PROS
Fire-blocker fiber pillow as top upholstery
Multiple layers and hybrid construction for additional comfort
Extra deep supportive layer of Cool Gel Foam
CONS
It doesn't isolate movements well, hence you feel everything your partner does
It's not as firm as needed for front sleepers
What is the Best Type and Material?
This is undoubtedly amongst the most common types of materials used for different beds. It takes advantage of high-density polyurethane foam which functions as the main support system.
It is usually placed in the upholstery layer, even though newer solutions feature a deeper layer of memory foam as well. The main characteristic of this material is that it contours very closely to your shape and adjusts to your sleeping position.
PROS
---
It contours closely to your body's shape
It will adjust accordingly to your sleeping position
CONS
---
Might sag over time and deform depending on your sleeping position
Not as firm as it needs to be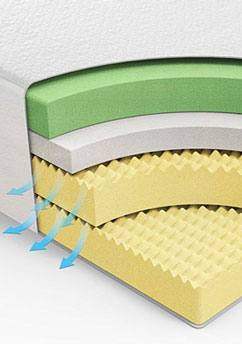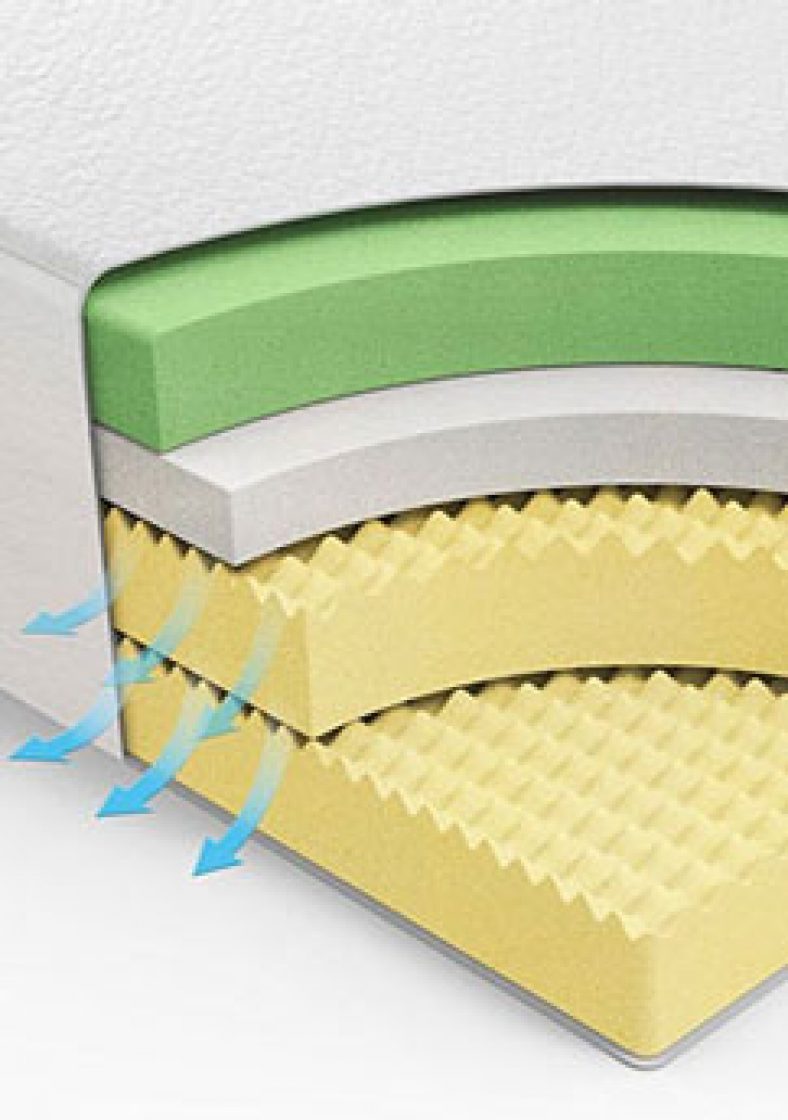 Unlike the memory foam mattresses, latex ones are usually made out of the plant- or petroleum-based materials. The latex could also be situated in the upholstery level or, as exemplified above, in a deeper, core level of the bed.
PROS
---
They are very comfortable
Conformity is guaranteed
Prices are generally affordable
CONS
---
It may not last for as long
It may feel a bit softer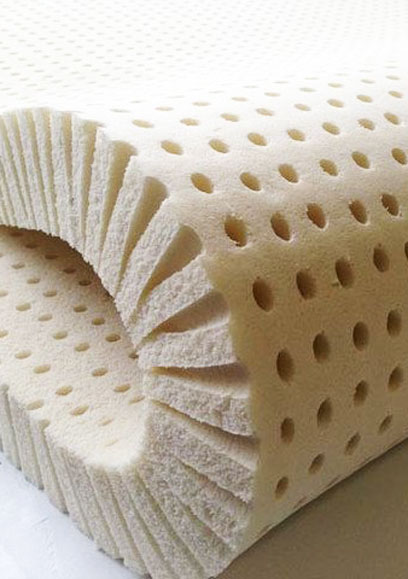 Generally speaking, an innerspring mattress will use a system which is built of steel coils to support your body weight. There are a few different types that you could take a look at. All of them vary based on the manufacturer as well as the preference of the client.
PROS
---
Very durable
Unlikely to ever sag
Affordable
CONS
---
Might start to feel uncomfortable with time
It could deform at places
Could exert pressure on your lower back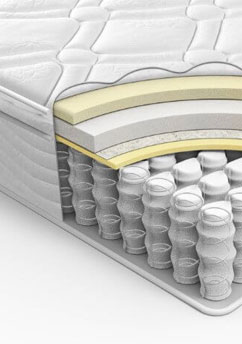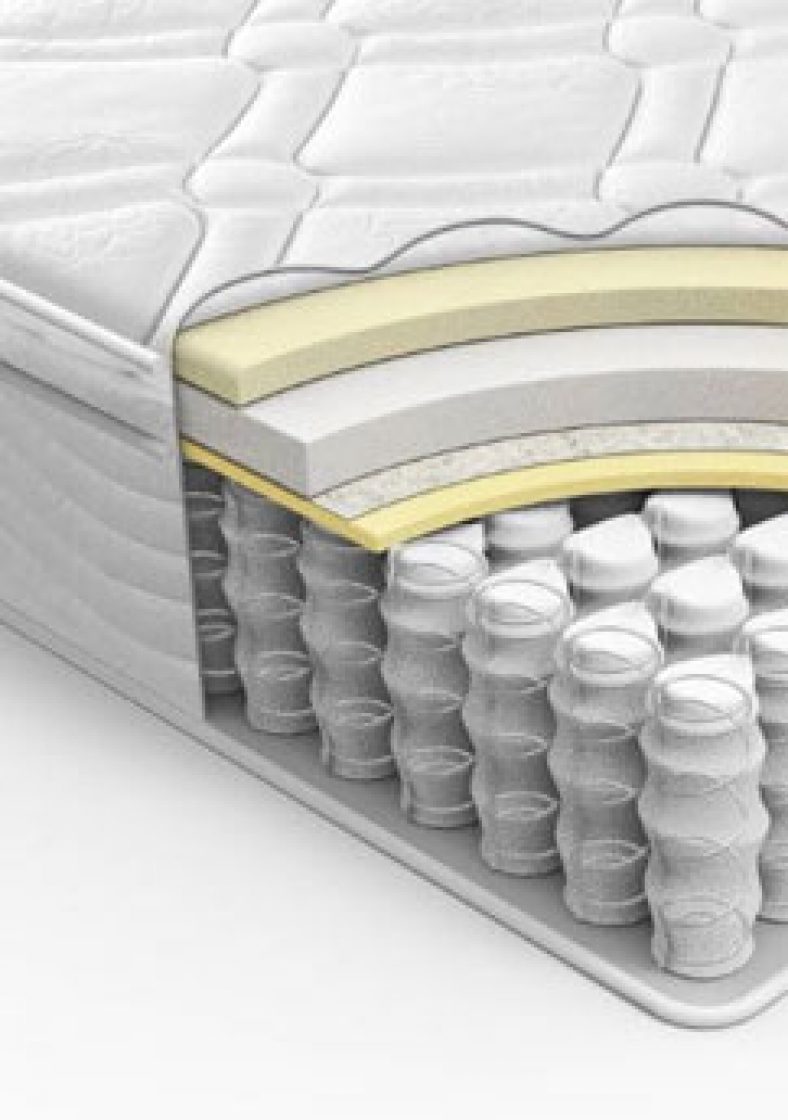 A foam/spring hybrid mattress will have the aforementioned innerspring construction as its core and would be padded with memory foam on top. This is something that you ought to account for. It combines the benefits of those types, and it's usually a great solution.
PROS
---
It is perfectly supportive
Conforms to the contours of your body
Used for different body types and sleeping styles
CONS
---
The technology is more expensive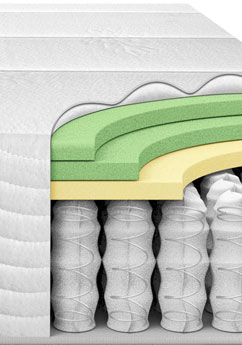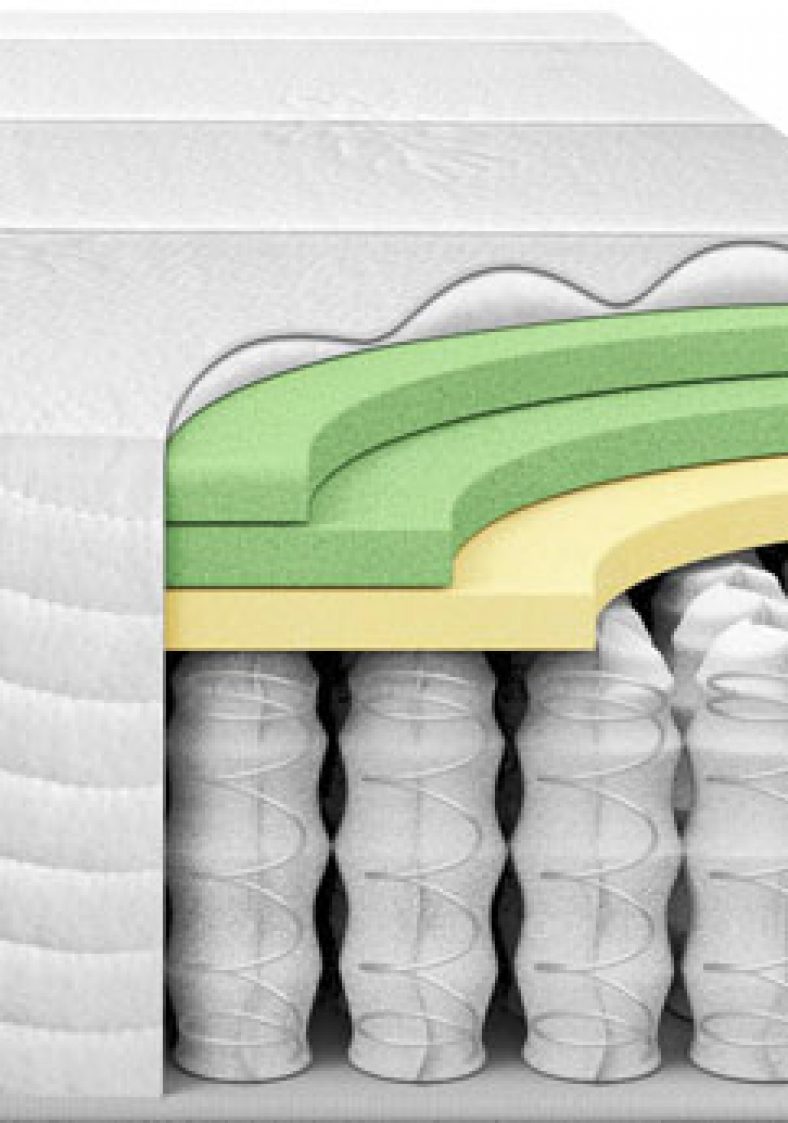 What Kind of Pillow Should You Use?
If you're going to put a lot of effort into choosing the best mattress for sleeping on the stomach , you might as well do the same when picking your pillow because it's just as important.
With this in mind, if you have an overstuffed pillow, this will likely elevate your head excessively, causing additional pressure points or potentially spine misalignment right to your neck. The truth is that there is no middle ground or a one-off solution when it comes to the pillow for the freefaller sleeping position because it would be heavily dependent on your body's parameters.
You might need an elevated or a lowered pillow, depending on your body type. Make sure that your neck is aligned with your spine when you lay on your stomach and you place your head on the pillow – that's what's important. Of course, additional factors include huggability, moldability, and cooling – all of these are quite important.
Our Final Thoughts
---
If you are a stomach sleeper, you've probably had troubles finding the right sleeping solutions. Some mattresses tend to feel too soft, while others – rock solid. It's advisable that you pay attention to the firmness of the mattress in order to ensure that it will provide you with the necessary back support. Get that right, and you're good to go.
Even though all 5 of the products that we've reviewed above are worthwhile, if pressed, we'd have to give a slight edge to the first one. The queen-sized Leesa Mattress truly encompasses the majority of characteristics required in a great stomach sleeper mattress. And, on top of it all, it comes at an affordable price.
In any case, make sure to take a look at the things you ought to account for when shopping for your mattress and you'll quickly find out that this is not as challenging as it may seem.
Author:
Jill Thompson
I've been married for 8 years to my loving husband Mike. We have two boys that keep us busy with sports. Having kids has definitely made sleep an even more important element in our lives. Now, our sleep quality not only affects me and my husband, but our two boys. Poor sleeping habits might lead us to poor parenting decisions.
When I'm not obsessing about sleep you can find me playing tennis or golf.
I love talking about sleep and hope your sleep quality improves after stopping by our site.