Transparency Disclosure – We may receive a referral fee for products purchased through the links on our site...

Read More

.
Memory foam enthusiasts often love the comfort and contouring the material provides yet crave the bounce and cooling that coils or latex brings. Recent updates in mattress technology have yielded hybrid models, offering consumers a solution, combining the best of both worlds. This clever combination lets you drift off atop the comfort of memory foam without overheating or bottoming out.
The big question most people ask is: Are hybrid mattresses worth the extra cost?
Which Feature Are You Looking For?
We want to help you find the best product for your needs.
Click on your preferred option below and it'll lead you to our picks for a selected category.
The truth is, they tend to be great for people that like the best of each type of mattress but haven't quite found what they're looking for. Our goal is to help you identify your ideal hybrid bed so that you can buy it with confidence even if you can't try it for yourself first.
Shopping Recommendation:
Are you confident that a hybrid mattress is the perfect option for you? If so, continue exploring this page!
If you're unsure or want to learn about more great mattress options available then check out our best-rated mattress choices page for 2022. It is a great starting place for most mattress shoppers because it includes a diverse list of mattress picks based on various preferences, styles, and needs. It also includes links to an additional 60+ best mattress pages from Sleep Advisor (example: best mattress for side sleepers).
Our 9 Hybrid Mattresses Reviewed
WinkBed
Hybrid Bed
Best for Back, Stomach, and Side Sleepers
Firmness Level: 6.5/10 (Luxury Firm)
120-Night Trial
Lifetime Warranty
The WinkBed is handcrafted using top-quality materials for a luxury feel. Its layers include 8-inch pocketed coils and different types of foam for both pressure relief and support. The overall effect is a bed that looks and feels as luxurious as it sounds.
The Tencel cover is soft and wicks moisture away quickly, helping foster a dry sleeping environment. The coil unit helps move air through the bed and the gel foam inside the EuroTop is yet another cooling measure.
What makes it special?
Each WinkBed is constructed by hand using innovative and eco-friendly materials from the USA. From the Eucalyptus derived TENCEL cover to the innerspring unit with zone and edge support, you'll find excellent quality in every layer.
The WinkBed has four firmness options – Softer, Luxury Firm, Firmer, and Plush. The company's most popular selection is their Luxury Firm model, that offers the best balance of contouring comfort and pushback support.
Best Hybrid Mattress for Side Sleepers
Helix Midnight
Hybrid Mattress
Best for Side Sleepers
Firmness Level: 6-7/10
100-Night Trial
10-Year Warranty
The Helix Midnight is a hybrid that side sleepers should love. Built with a memory foam comfort layer, you should feel pressure disperse while lying on the Helix Midnight. Sitting below the memory foam is a high-grade poly foam for added pressure relief and a cozy transition between the softer memory foam and the dense coils below. Helix adds their DuraDense foam at the base to keep the mattress stable.
The Midnight performs well for edge support and temperature regulation. Edge support means couples and solo sleepers can spread out, while temperature-regulating features help prevent overheating during the night.
Why we picked it
Helix's use of memory foam in their Midnight model is highly beneficial for those who lie on their side. Memory foam is celebrated for its ability to melt away pressure, which can quickly accumulate when resting on your side.
Want more details? Check out our full Helix Midnight mattress review.
Best Value Hybrid Mattress
DreamCloud Luxury Hybrid
Hybrid Mattress
Best for Back and Side Sleepers
Firmness Level: 5.5/10
365-Night Trial
Forever Warranty
DreamCloud brings luxury at a price your wallet will love. Their Luxury Hybrid is rated at a 5.5 on our firmness scale, a mid-range feel that should complement most back and side sleepers.
DreamCloud's luxurious design starts at the top with a cashmere-blend pillow top cover. Just below the pillowtop is memory foam infused with gel. While the memory material alleviates pressure, the gel keeps the foam from overheating, which can often happen with memory foam. DreamCloud features two poly foam layers; one is a transitional layer, while the other provides added support and durability at the base. The primary support unit is the pocketed coils.
What makes this bed stand out?
DreamCloud designs and manufacturers their mattresses in the United States, an added value for shoppers seeking locally-made products
The company believes in their product enough to offer a highly-valuable 365-night trial and a forever warranty.
Best Cooling Hybrid Mattress
Bear Hybrid
Bear Hybrid
Best for Back, Stomach, and Side Sleepers
Firmness Level: 6/10
365-Night Trial
Lifetime Warranty
Bear Hybrid stands out with eco-friendly materials and emerging technologies. The mattress is 14 inches tall, featuring five layers and a hand-quilted fiber cover with Celliant®. Celliant® is a performance textile that converts kinetic energy from your body into infrared light. The technology improves the oxygen in your blood flow and helps reduce inflammation. The first layer is the 2-inch tall layer of gel foam for additional cooling effect. The next is comfort foam, followed by a transitional layer that helps with airflow and pressure relief.
Bear Hybrid mattress has an 8-inch tall coil system that provides good alignment and support in all sleeping positions. Under the coil system is the 1-inch base made from high-density foam. The bed is rated 6/10 on our firmness scale, so it should be good for combination sleepers. The coil system gives enough responsiveness in all sleeping positions.
Why makes this bed stand out?
The Bear Hybrid has a Greenguard Gold certification, which means the bed produces low emissions and is eco-friendly.
Best Hybrid Mattress for Combination Sleepers
Casper Wave Hybrid
Hybrid Mattress
Best for Side, Stomach, and Back Sleepers
Firmness Level: 6/10
100-Night Trial
10-Year Warranty
Casper Wave Hybrid mattress has five layers and a cover made from recycled polyester, rayon, upcycled cotton, and lycra. All layers of the Casper Wave Hybrid are aligned to provide support and comfort combination sleepers should appreciate. The first layer below the cover is the 1-inch AirScape™ polyfoam with a thin gel layer to keep hot sleepers cool. The second layer is the AirScape™ latex foam, while the third is AirScape™ memory foam with three areas of Zoned Support™ Max. The fourth layer is polyfoam and has gel pods for added cooling effect.
Casper Wave Hybrid has a 7-inch foundation of pocket coil springs. The springs provide airflow and support throughout the bed. The perimeter has enhanced edge support for people who like sleeping near the edge of the bed.
Why makes this bed stand out?
Casper Wave Hybrid mattress has two eco-friendly certifications. The cover is certified by OEKO-TEX®, while the foams are CertiPUR-US® certified.
Best Hybrid for Heavy People
Brooklyn Bedding Titan
Hybrid Mattress
Best for Side, Back, and Stomach Sleepers
Firmness Level: 6.5-7/10
120-Night Trial
10-Year Warranty
The Brooklyn Bedding Titan is a hybrid for heavy people who love sleeping in all positions. The mattress is 11 inches tall, featuring a cotton cover quilted to a 1-inch gel memory foam layer. Below the cotton cover is the company's TitanFlex™ foam providing pressure relief to the shoulders, hips, and knees. The foam is responsive for easy repositioning.
The Brooklyn Bedding Titan mattress features industrial-strength TitanCaliber™ coils. The coils are 6 inches tall and individually packed for motion isolation and spine alignment. The best of the Titan is a 2-inch high-density foam that supports the other layers. The construction is breathable and cooling thanks to the cotton cover and gel in the top memory foam layer.
Why we picked it
Brooklyn Bedding Titan hybrid mattress is rated 6.5-7/10 on our firmness scale. The bed has good edge support and a sturdy coil system that prevents heavy people from sinking into the mattress over time.
For more details: View our Titan bed guide.
Best Soft Hybrid Mattress
Puffy Lux Hybrid
Hybrid Mattress
Best for Side Sleepers
Firmness Level: 4.5/10
101-Night Trial
Lifetime Warranty
Puffy Lux Hybrid is 12 inches tall and rated 4.5/10, which is soft medium on our firmness scale. Lightweight sleepers should enjoy the soft feel, pushback support, and pressure relief. The mattress is good for side sleepers, but people with a heavier frame may prefer a firmer model.
Puffy Lux Hybrid mattress has a company's patented stain-resistant cloud cover. The cover is Oeko-Tex® Standard 100 certified and hypoallergenic. Below the cover is the Cooling Cloud™ foam gel-infused for temperature regulation. Next are the Plush Dual Cloud Foam and a 2-inch layer of Climate Comfort™ foam that wicks away moisture. The 7-inch layer of high-density foam contains pocketed coils that provide stability and motion isolation.
Why we picked it
Puffy Lux Hybrid mattress is designed specifically for hot sleepers who like a soft bed. The foams wick away moisture to provide uninterrupted sleep.
Best Hybrid Mattress for Stomach Sleepers
Leesa Hybrid
Hybrid Mattress
Best for Stomach Sleepers
Firmness Level: 6.5/10
100-Night Trial
10-Year Warranty
Leesa Hybrid mattress should be comfortable for stomach sleepers because it prevents the hips from sinking too deep. Stomach sleepers often have problems with spine alignment when sleeping on a bed that's too soft. Leesa Hybrid mattress should work well for heavier adults thanks to its firmness and edge support.
Lessa Hybrid bed has an individually pocketed coil system wrapped in a 1-inch stabilizing foam layer. The combination provides support and motion isolation because the coils move independently. Leesa Hybrid three layers of foam on top of the coil system to contour to the sleeper's curves. This makes Lessa good for sleepers looking for pressure-relieving comfort.
Why we picked it:
Leesa Hybrid mattress contains foams that have been evaluated for levels of heavy metals, harmful chemicals, and ozone depleters. The mattress is made in the United States.
Best Hybrid Mattress for Couples
Layla Hybrid
Hybrid Mattress
Best for Stomach, Back, and Side Sleepers
Firmness Level: 4/10 (Soft), 6/10 (Firm)
120-Night Trial
10-Year Warranty
Layla Hybrid is a versatile mattress that should appeal to couples with different sleeping preferences. The bed has thicker coils around the perimeter, allowing the sleepers to use the entire surface of the mattress. Layla Hybrid has good motion isolation, which is another thing couples should benefit from.
The first layer of the Layla Hybrid mattress is the 2.5-inch copper-gel memory foam layer. Cooper is good for hot sleepers because it improves breathability and maintains a comfortable temperature. The second layer is the Max Airflow support foam with zoned surface modification technology. The coil unit contains 6-inch 14-gauge individually-pocketed coils, followed by a 1.5-inch transitional layer and another copper-infused memory foam layer.
Why we picked it:
Layla Hybrid mattress is designed for couples who sleep in different sleeping positions. The bed has excellent edge support thanks to the double row of 16-gauge coils in the perimeter. Sleepers can also choose between two firmness options.
What is a Hybrid Mattress?
The first thing we want to do is to shed a little light on the matter. Before you go ahead and choose a hybrid mattress, you'd want to be aware of its benefits and the considerations you'd have to account for.
It's a type of bed which is made of using at least two (but could be more) different types of unique materials, and are typically made out of a layer of coils, another word for innersprings.
This mix of materials allows the user to capitalize on the advantages of the components which are used. There are a few popular examples that have been very sought after in recent years – the combination of memory foam and latex and the combination of memory foam, latex, and innerspring/coils altogether. Both of these types have a compound of benefits.
Let's take the first example. If you bought a bed that's foam-based and latex-based, you'd be able to experience the contouring capabilities of the foam and the responsiveness and breathability of latex. This allows the user to get a great sleeping sensation altogether, which is the primary purpose of this type of bed.
Hybrid vs. Memory Foam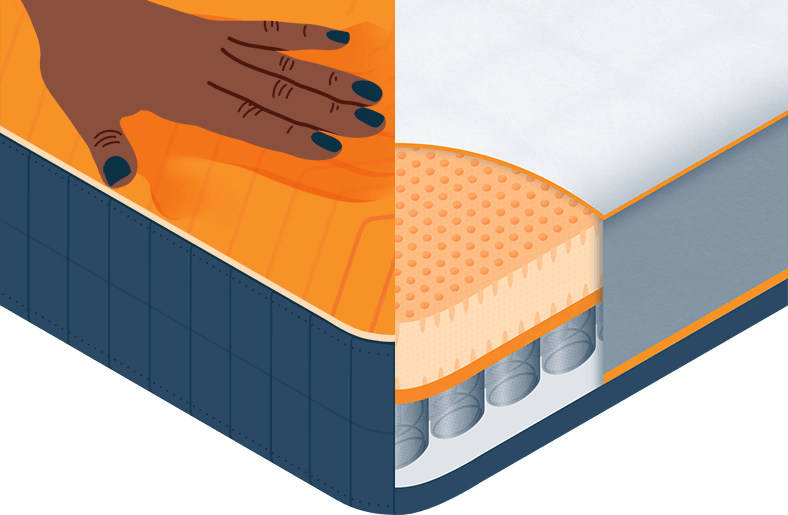 The main thing here, and the reason that a lot of people go with the former is that memory foam on its own is not very responsive and the traditional kind can be quite hot to sleep on – it is known for retaining a lot of heat. A hybrid, on the other hand, helps addresses these issues with airflow while maintaining the excellent contouring properties of the foam.
Hybrid vs. Innerspring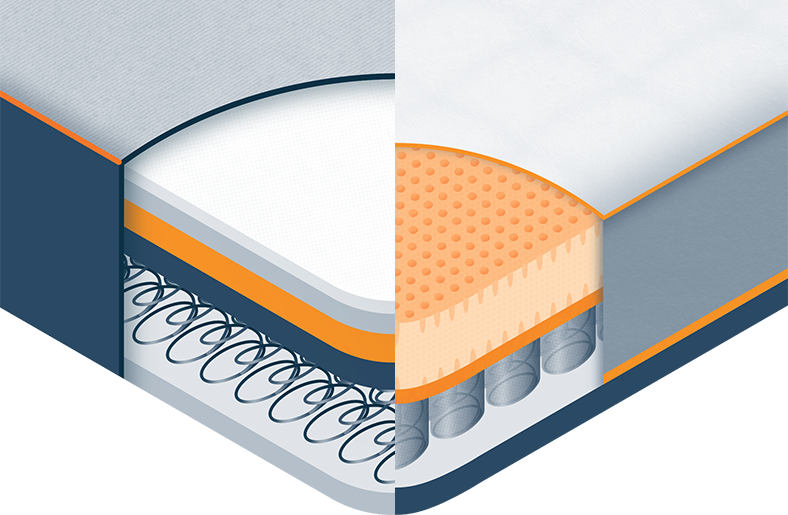 While these two terms can be synonymous, the main issue with strictly innerspring models is that they tend to feel exceptionally bouncy (which not everyone is a fan of) and the coils may poke through a cheap model. By using additional layers of foam or latex, depending on the hybrid, this issue is easily resolved as the mattress itself should have the excellent coil foundation and the comforting layers atop.
Foam Hybrids
We would be remiss if we did not bring up the hybrids made from foam. Mixing layers of different materials (such as latex, memory foam, and polyurethane) can provide many advantages, from added cooling to exceptional pressure relief, as well as low bounce for those who prefer that style.
Although coils are a popular base material for most products in this space, mixing and matching foam has become very popular in recent years and is something to consider on your search. It can help combat some of the issues faced with traditional memory foam products.
Why Choose it Over Single Material?
Combining the Best Qualities
That's just it – a hybrid mattress combines the benefits of the core materials. A foam-based bedding system could become responsive and breathable if you combine it with a top layer of latex, for instance. An innerspring mattress could become soft and supportive if you put a top layer of memory foam on top of the foundation of coils.
Coil-based beds tend to have faster response, cooling, and bounce. Their main advantages hide behind the solid foundation which delivers a nice push-back as you lay down. This helps in the areas of proper spinal alignment and enhanced support.
Of course, on the flip side, they can also have increased motion transfer, making it likely to feel some movement your sleeping partner makes.
The goal of foam-based mattresses is notably different. They typically intend to allow the sleeper to go ahead and sink deeper into the bed. They focus on enhanced contouring, pressure relief, and deep-compression support.
They are particularly silent, and they have very little motion transfer. In other words – you can move as much as you want and this shouldn't wake your partner up. With this said, they are not typically as responsive, and they are usually hot to sleep on (if using traditional types without gels, etc.) as the heat retention can be significant.
Gel has revolutionized once traditional material in the industry. By injecting or infusing it into memory or other foams, heat retention has been cut, which means more enjoyment for those who love to sink deep into their beds since they run much less of a chance of becoming uncomfortable from the heat.
Great for Motion Transfer
If you're looking for a mattress which is incredible for dampening motion transfer yet, it provides the appropriate amount of bounce and support, combining both of the above materials would be a great call.
The result should be a supportive, reliable foundation covered with body-contouring and soft comforter layer that makes you feel as if you are sleeping on a cloud but with enhanced back support.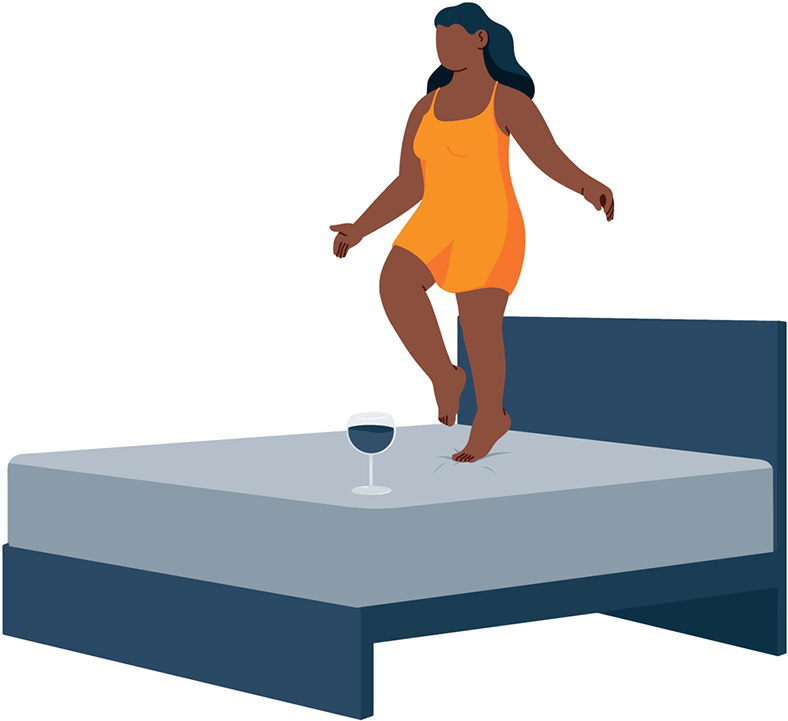 Hybrid Mattress Comparisons
Now that we've seen some of the best options on the market, let's see how the hybrid beds compare to other popular types.
Latex
The latex mattress is great if you are looking for something responsive and cool. This is a material that breathes a lot, and it helps to prevent heat retention.
At the same time, it's not always contouring enough for some folks. Foam-based hybrids can provide you with the same capabilities but also enhance the molding and contouring that you might require.
For More Info: Best Latex Mattress Guide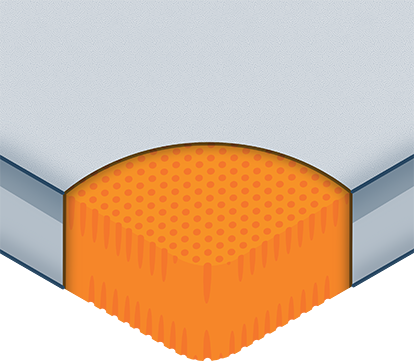 Innerspring
Beds with springs in them are great as they provide a solid push-back as you lie down on them initially. This is definitely something that many people appreciate.
However, they do tend to make lighter sleepers feel as if they are floating on top. If you add a top layer of latex or memory foam, this sensation can be lessened. It's a matter of preference and individual alignment needs.
View Our Full Guide: Best Innerspring Mattresses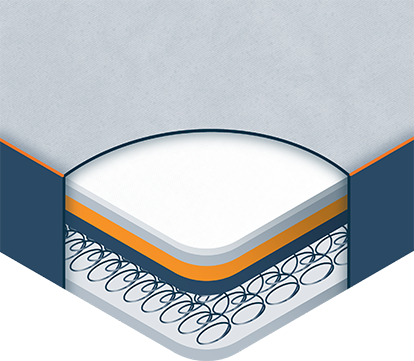 Foam
The main disadvantage of traditional foam mattresses is that they might lack the necessary support and retain heat quite a lot, though not if you go with a modern design. At the same time, they are usually fantastic for pressure relief, comfort, and contouring. Combining them with both latex and coils could be an excellent solution as it takes away the downside while retaining the advantages.
Find Out More: Best Memory Foam Bed Guide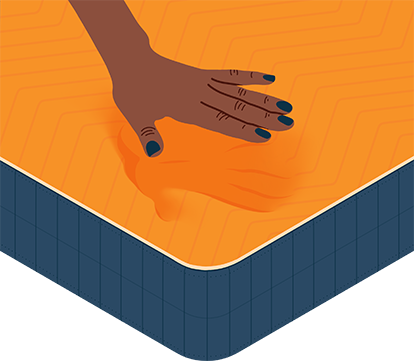 Buyer's Guide for Hybrid Mattress
Let's take a look at some of the features we look at while analyzing individual mattresses.
Firmness
The firmness remains one of the most important things to consider when you're getting a mattress, even if it is a hybrid one. It is estimated that roughly 80% of the people prefer medium-firm beds. At the same time, the firmness of a mattress is determined by your specific requirements and preferences regarding sleeping patterns, as well as your physical characteristics.
For instance, heavier sleepers might want to go for a firmer mattress as a softer one could sink a lot, making them come in touch with the base layer which has the potential to create more pressure points.
Need help? Check out our full mattress firmness guide.
Sleeping Position
Sleeping position can play a serious role when it comes to choosing a hybrid mattress, just as it is with any other bed out there.
If you prefer to sleep on your back, you should be looking for a bed that's going to provide you with the necessary support and spinal alignment. This usually means that you'd want a top layer of conforming foam in order to ensure that you are comfortable and well-supported. At the same time, combining the foam with a spring construction should provide a nice and expressed push-back for enhanced support.
Read Our Full Guide: Best Bed for Back Sleepers
Stomach snoozers can also consider a hybrid mattress that's supportive yet comfortable enough to deliver a nice sleeping sensation. If you are lighter, you can try a lot of combinations, like combining memory foam and latex. If you are heavier, you might consider combining foam, latex, and coils for the enhanced push-back and support.
Learn More: Top Rated Beds for Stomach Sleepers
It's known that side-sleeping positions tend to put the most pressure on your joints. As such, you need to focus on something that can adhere to the shapes of your body and provide you with solid support.
Be careful if you pick a coil-based model that it gives you the proper sinkage. You can also go for a foam-based and latex-based bed as it should be responsive enough and supportive to your spine while giving you a cradle.
Read More: Top Beds for Side Sleepers
Will I Stay Cool?
If you get a properly combined hybrid bed, you should stay cool. An abundance of people want to sleep on nice and contouring memory foam mattress, but the traditional stuff has a serious heat retention issue – it doesn't allow a lot of air to pass through it and, as such, it is common to wake up sweating through the middle of the night. A combination of foam and coils or foam and latex should help to make you sleep cooler than the majority of pure foam beds.
Get More Info: Highest Rated Cooling Mattresses

Value
Hybrid mattresses provide great value for your money. That's why you see that some of the best brands out there take advantage of this combinative technology. Most of the well-known names use combinations of the core materials in order to draw the maximum benefits of them all and deliver the ultimate sleeping sensation for the user at an affordable cost.
Durability
Hybrids are viewed as more reliable and durable than single-material units. For example, if you take an innerspring mattress, you may feel the springs poking through in a year or two. If you cover the coils with foam or latex, however, this should not be the case.
Boxed Mattresses
Boxed mattresses can represent substantial cost-savings compared to those available in retail stores because they reduce the costly supply chain and deliver directly to their consumers. This is definitely something to consider when shopping for a hybrid because more complex support systems can often cost you a lot more inside a retail store.
Hybrids that come packed into boxes may be rolled and compressed, or they might not be. This can influence the materials that are used, as bed-in-a-box brands must choose from materials that can be more easily compressed. This could potentially affect features like edge support and firmness that may be priorities of yours, so it is important to consider these details when evaluating these brands.
View Our Guide: Best Bed-in-a-Box
You shouldn't assume that all online brands are delivered this way, however. Some have chosen to forego the compression process, often claiming that they can use firmer materials. Especially with luxury brands, companies are able to offer free professional delivery to accompany their product into your home.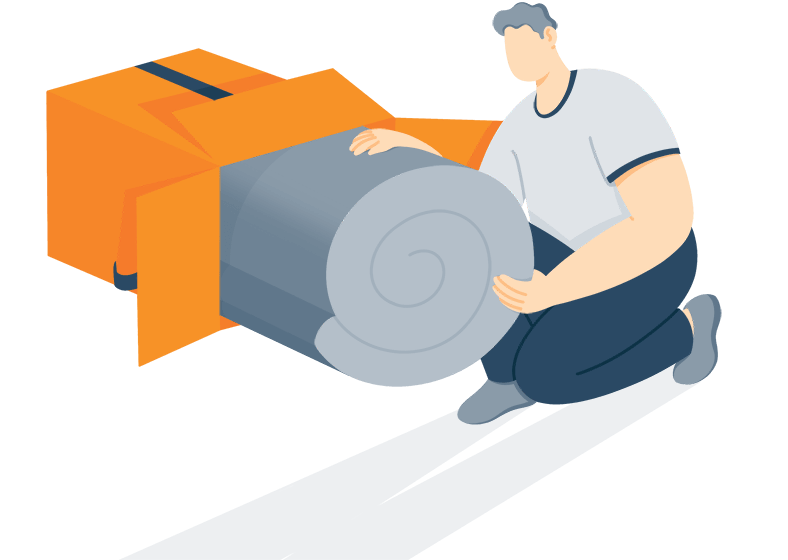 Conclusion
There is quite a lot of merit in picking a hybrid mattress. However, there are a lot of things for shoppers to consider.
We hope that you found what you're looking for in this piece. Additionally, the choices that we've presented to you as options of hybrid beds are amongst the most popular on the market. They combine extraordinary features and offer them at affordable, competitive prices.
Katie is a content writer and serial hobby collector who enjoys naps almost as much as her pets do. When she isn't writing, she likes to ride her motorcycle, catch Pokemon with her hubby, and practice yoga with her dog.