Disclaimer – Nothing on this website is intended to be a substitute for professional medical advice, diagnosis, or treatment…
Read More Here
.
Lower back pain may be causing you to lose valuable sleep, leaving you feeling sluggish by the time morning rolls around. Back pain affects people of all ages, but there are definitive steps you can take to stave off that pain and feel better.
One of the best ways to reduce back pain is to make sure your bedding provides you with adequate support while you sleep. If it's not, adding the right mattress topper may help. In this guide, I'll walk you through the best mattress toppers for back pain, including the reasons why we love them and the features that make each one unique.
The Best Mattress Toppers for Back Pain
My Video Review of The Best Mattress Toppers for Back Pain
Sleep Advisor's Testing Methodology
At Sleep Advisor, our product reviews are based on findings from in-person tests that allow us to have a genuine understanding of how the product feels and performs.
For this roundup, we prioritized features that are especially important for mattress toppers for back pain. We paid special attention to components such as topper thickness, support elements, motion transfer, and cooling features.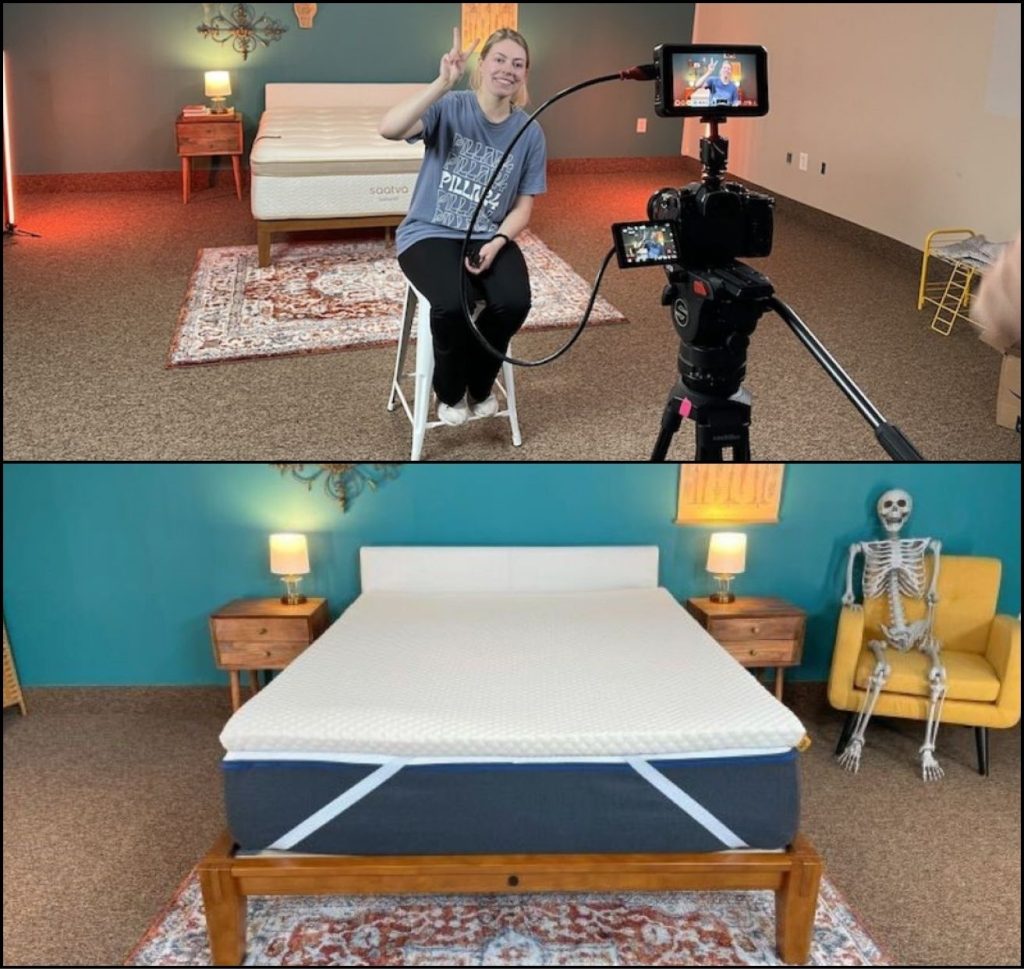 Our Top 10 Mattress Toppers for Back Pain, Reviewed
Editor's Pick
Saatva Graphite Mattress Topper
A luxurious topper with contouring support from its graphite infusion.
Sleep Advisor Score
4.80 / 5
Read Full Review
The Graphite Memory Foam Mattress Topper from Saatva has earned the top spot on this list for its conscientious design, which can provide cool, cozy relief to sleepers with back pain. The memory foam in this topper reliably molds to the body's curves, helping to remove pressure from the back and shoulders.
The same properties that allow the material to "hug" you also make it adept at motion isolation, so you're less likely to disturb any sleeping partners. Lastly, the infused graphite counteracts heat retention, so you're less likely to wake up feeling too warm.

Why else did this topper come in first?
Even the little touches on this topper have been thoroughly considered. For example, its organic cotton cover works with the graphite in the foam to keep sleepers cool throughout the night.
Saatva recommends using this topper on an old or a new bed—it's a versatile upgrade that can help you combat soreness whether or not you need a total bedroom overhaul.
Best Mattress Topper for Back and Hip Pain
Nolah Mattress Topper
A 2-inch mattress topper offering excellent cooling and pressure relief.
Sleep Advisor Score
4.90 / 5
Read Full Review
If traditional memory foam doesn't seem cutting-edge enough for your back and hip pain, consider trying the proprietary AirFoam™ that distinguishes the Nolah Mattress Topper. Nolah attests that it can provide up to four times more pressure relief than memory foam—an appealing statistic if you're experiencing soreness in multiple places.
AirFoam™ also allegedly stays cooler and lasts longer than memory foam. It's the same material that Nolah uses in their luxury mattresses but packaged in an easy-to-move topper that fits any mattress between 10 and 15 inches in height.

What else did we notice?
AirFoam™ is CertiPUR-US® certified, which means it doesn't contain a laundry list of potentially harmful chemicals and passes strict emission tests.
The organic, moisture-wicking cotton cover adds to the cooling power of this topper, which claims to vent away heat 20 percent faster than memory foam.
Best Mattress Topper for Lower Back Pain
TEMPUR-Adapt Mattress Topper
Offers 3 inches of support for superior pressure relief.
Sleep Advisor Score
4.50 / 5
Read Full Review
The Tempur-Pedic® brand is synonymous with superior pressure relief, and the contouring powers of the TEMPUR-Adapt® Topper should help sleepers with troublesome lower back pain. The topper boasts 3 solid inches of TEMPUR® Material, a proprietary foam that changes shape around your body to support the zones that need it most.
As the foam supports and cradles your lower back, it also helps keep you cool. Its temperature-regulation properties exceed those of classic memory foam, and a breathable, washable cover helps to further banish uncomfortable warmth.

What else stands out?
In addition to promoting airflow and wicking away moisture, this topper's cover helps protect you from dust mites and allergens.
Staytight™ Straps prevent the topper from sliding on the surface of your mattress.
Best Firm Mattress Topper for Back Pain
PlushBeds Natural Latex Mattress Topper
Made of natural latex and extremely customizable.
Sleep Advisor Score
4.90 / 5
Although it may seem counterintuitive, sometimes the best thing for back pain is a firm, supportive surface. Thankfully, the PlushBeds 100% Natural Latex Mattress Topper is available in five separate firmness levels, topping out at extra-firm. The responsive Talalay latex creates an ideal foundation for sore backs, and makes it easier for you to change positions throughout the night without feeling stuck.
PlushBeds goes to great lengths to ensure their latex is both natural and organic. This topper comes with a certification from GOLS (Global Organic Latex Standard) and is made without common additives and dyes.

What else do we love about it?
You can pick between a 2-inch and 3-inch version of this topper. The 2-inch model tends to feel less plush, and may be the best option for those seeking an extra-firm mattress topper for back pain.
Best Cooling Mattress Topper for Back Pain
Brooklyn Bedding TitanFlex Topper
A responsive and cooling mattress topper.
Sleep Advisor Score
4.20 / 5
The Titanflex™ material that makes up this topper combines the cooling abilities and responsiveness of latex with the pressure-relief of memory foam. The result is a proprietary foam that can ease back pain without overheating.
The topper owes its temperature-regulation powers to its open-cell structure, which features air pockets in the body of the foam. It's also wrapped in a hypoallergenic cotton cover.
However, you can swap that out for a Luxury Cooling cover with a knit design that's even more breathable.

What caught our attention?
The Titanflex™ foam reportedly outperforms memory foam in multiple cooling areas, including moisture-wicking and water absorption.
If your back pain requires a firmer surface, you can select the "Medium" or "Firm" version of this topper.
Best Soft Mattress Topper for Back Pain
Birch Plush Organic Mattress Topper
Made with natural latex, cotton, and wool, this topper offers luxurious cushioning.
Sleep Advisor Score
4.70 / 5
Supported by customer reviews that emphasize its plushness—even comparing it to the feel of a hotel mattress—the Birch Plush Organic Mattress Topper combats back pain with luxurious cushioning. Its soft, padded surface benefits from layers of natural materials such as latex, wool, and cotton.
The latex gives this topper responsiveness in addition to softness, and the high-density wool layer serves as an eco-friendly fire retardant. An organic cotton cover help keep allergens at bay while encouraging a breezy, cool night's sleep.

What else is notable?
In line with Birch's overall devotion to organic materials, this topper has certifications from organizations such as GOTS1, GREENGUARD Gold2, and eco-INSTITUT3.
Just because this topper is plush doesn't mean its Talalay latex won't also offer support—this elastic material both conforms to and buoys the body.
Best Memory Foam Mattress Topper for Back Pain
Layla Mattress Topper
This copper-infused mattress topper will keep you cool at night.
Sleep Advisor Score
4.20 / 5
Read Full Review
By adapting to and gently cradling the pressure points around your back, neck, and shoulders, memory foam can help to mitigate and prevent back pain. The best memory foam toppers can also keep you cool, which the Layla Memory Foam Topper accomplishes with the help of copper gel.
The gel draws body heat toward them instead of letting it build up around you. Additionally, they're antimicrobial, so they fend off germs that might otherwise take up residence in your bed.

What other features did we appreciate?
Layla's memory foam is CertiPUR-US® certified4, so you don't have to be concerned about the worrisome ingredients that can be found in lower-quality foams.
This 2-inch topper adds palpable softness to your mattress and can reduce uncomfortable firmness if your bed feels too hard.
Want more information? Check out our full review of the Layla® memory foam topper.
Best 4-Inch Mattress Topper for Back Pain
ViscoSoft Select High Density Mattress Topper
A high-density memory foam topper available in 3 or 4-inch thickness.
Sleep Advisor Score
4.50 / 5
If you're a larger person or just want the maximum amount of padding for your back pain, the ViscoSoft Select High-Density Mattress Topper should be at the top of your list. The 4-inch model of this foam topper allows for extraordinary pressure relief around the back, shoulders, and neck.
Although this topper is thicker than most, it's designed to stay comfortably cool with a breathable cover, ventilated core, and gel-infused memory foam. It should also stay firmly in place — its adjustable straps and slip-resistant mesh see to that.

Why else do we endorse it?
The King-size version of this topper weighs a striking 40 pounds, which speaks to its superior density. However, the topper can be easy to transport and place on your mattress.
The cover is removable and washable for added convenience.
Best Latex Mattress Topper for Back Pain
Avocado Organic Latex Mattress Topper
Excellent for pressure relief and joint support, this hypoallergenic topper has two firmness options.
Sleep Advisor Score
4.60 / 5
The Dunlop latex in the Avocado Eco Organic Mattress Topper has just the right blend of cushioning, support, and responsiveness to soothe sleepers with back pain. But that's the only "blend" you'll find—their latex is both natural and organic, with none of the blends or synthetic components you'll see in less green competitors.
Each of Avocado's latex toppers can be traced back to one of their rubber tree farms in India or Guatemala. The brand's devotion to sustainable, eco-friendly practices stays strong throughout the manufacturing process, which culminates in its Los Angeles-based factory.

What makes this topper special?
It has certifications from all the most reputable players in the eco-friendly and organic field, including GOLS, GOTS, GREENGUARD Gold, and MADE SAFE®
Dunlop latex requires less processing than Talalay latex. Consequently, these toppers have no seams and better durability than their Talalay counterparts.
Best Mattress Topper for Side Sleepers with Back Pain
Saatva Natural Latex Mattress Topper
A responsive mattress topper providing support for sleepers with hip and back pain.
Read Full Review
The Saatva Natural Latex Mattress Topper's mix of softness, responsiveness, and support may benefit side sleepers with back pain, who tend to do well with that exact combination of features. The natural latex sinks slightly beneath the body and helps take the strain off the back and shoulders, but its springy feel also conveys a pleasurable sensation of weightlessness.
Latex is already a naturally breathable material, but Saatva perforates its toppers for even more cooling. They also wrap the topper in a moisture-wicking cotton cover, complete with four elastic bands, for a secure fit around your mattress's corners.

What else should you know?
You'll have 180 nights to sleep on this topper before committing to your purchase—an especially generous trial period.
Sleepers with allergies should appreciate the hypoallergenic properties of latex. Saatva even washes their latex prior to sale to remove lingering proteins that may exacerbate allergies.
What Should You Consider Before Buying a Mattress Topper for Back Pain?
Sleeping Position
Back Sleepers
Back sleepers typically benefit from a relatively firm surface that keeps the spine in a neutral alignment all night. Take comfort in the fact that sleeping on your back promotes the best position for your spine, according to experts. Just make sure that you have robust enough support from both your topper and your bed.
Stomach Sleepers
Stomach sleeping isn't good for back pain5 because your midsection could sink into the mattress, causing your back to arch and possibly resulting in lower back discomfort. If you absolutely must sleep on your belly, we recommend finding a mattress topper that adds firmness and support rather than comfort and plushness. You can also try using a thin pillow meant for stomach sleepers to help avoid putting any further strain on your head and neck.
Side Sleepers
Unlike stomach and back sleepers, side sleepers may like a topper with some more give so that the shoulders and hips can still feel cushioned while the body remains supported.
In addition to a topper, you might also try using a body pillow. Hold the pillow in your arms and between your knees while you're at rest, sort of like you're cuddling a giant teddy bear. This posture helps to keep your spine, hips, and shoulders in alignment.
Combination Sleepers
If you switch sleeping positions throughout the night, then a medium-firm mattress topper is a safe bet to help address your back pain. You'll want to consider a middle-of-the-road option that can accommodate all of the sleeping positions described above.
The topper shouldn't be too soft, or it could cause your body to slip out of alignment when you're on your back and stomach. Additionally, it shouldn't be too firm, or your shoulders and hips might feel more pressure when you're on your side. Try toppers that advertise both their support features and their comfortable feel.
Firmness
If you go for a softer solution, it might not be as good for your back. The alignment of your spine could become compromised, increasing the pain in your lower back area.
A medium-firm mattress topper is usually the preferred solution as it provides comfort and promotes proper spine alignment. However, the right firmness also depends on the feel of your mattress itself. For example, if your mattress is extra-soft, you could pair it with a firmer pad to give you added lifting that you may not be getting from your mattress.
Get More Info: Best Firm Mattress Toppers
How Hip Pain Affects Your Decision
While a firmer mattress topper can be great for keeping your spine neutral, it could also exacerbate hip pain, particularly for those who sleep on their side since more pressure is concentrated in the hip and shoulder areas.

Experts say that people with hip pain should avoid putting direct pressure6 on their hips. Several ways to do this include investing in a pressure-relieving mattress topper and, if you're a side sleeper, not sleeping on the side with the discomfort. We mentioned earlier that back sleeping is great for the spine, and it doesn't put direct pressure on the hip like side sleeping can, making it a potential option for people experiencing both hip and back pain.
We recommend looking for a mattress topper that can do a good job of balancing support and pressure relief, such as latex or memory foam toppers that are just medium-firm rather than firm, as these should give enough cushioning without sacrificing vital back support.
Learn more: What are the best mattress toppers for hip pain?
Your Weight
Your weight will also have a critical role when choosing your topper. If you are a plus-size sleeper, which usually means that you weigh more than 230 pounds, a medium-level firmness is unlikely to provide you with enough support to help your back pain issues. In other words, a bed pad capable of withstanding your overall weight without bottoming out might be a better choice.
The best topper should handle the additional compression generated by the higher weight of your body. Therefore, in this particular example, a mattress pad with a thickness of more than 4 inches and a density larger than 5 pounds per cubic foot is among the most optimal choices.
On the other hand, if you are lighter, a medium-firm mattress topper might be the best call, as it's going to provide you with proper spine alignment while keeping your bed comfortable. You want to avoid using overly soft mattress toppers as they are unlikely to provide your back with the necessary support, regardless of your weight or the location of your back pain.
Thickness
The thickness of your topper is another essential factor, especially for back sleepers. This is a metric that contributes to the firmness of the pad as well as the overall level of support that it could offer.
A topper designed for back pain relief can have a medium thickness that's able to deliver a proper balance between conformability and balance, perfectly intended for managing your back pain issues. Anything more than 4 inches or less than 2 inches might have a questionable effect, so aim for a pad ranging in this particular thickness range.
Need more info? Learn how to choose the right thickness of a mattress topper.
Density
The density is also going to determine the overall effectiveness of the topper. The density of different pads starts as low as about 2 pounds per cubic foot (PCF). The most common options on the market provide densities between 2 and 3 PCF.
However, like thickness, you should aim for the golden middle ground. Toppers with medium-level densities are good when it comes to back pain, regardless of its location and intensity. Pads with densities between 3 and 5 pounds per cubic foot are what you should be looking for.
This density range offers a balance of spinal support, comfort, and durability. What is more, this type of density can best properly distribute the entire weight of your body, hence relieving pressure points like your hips.
Size
When choosing the best topper for back pain, it's best to make sure that it fits your mattress perfectly. Therefore, making the necessary measurements in advance is helpful. Keep in mind that pads come in a range of different sizes, so it shouldn't be too hard to find the right fit.
If you are shopping online, though, we also encourage you to check out customer reviews to find out whether other customers had any issues with the product sizing. This would quickly enable you to determine whether or not it's the right call.
Contouring and Pressure Relief
If you have back pain, you also want to be on the lookout for words like "contouring" and "pressure relief" when shopping for a mattress topper. A contouring mattress topper will mold itself to the shape of your body.
Memory foam mattress toppers are famous for doing this, giving sleepers that classic "hug-like" feeling. In this way, your spine is more likely to find proper alignment– as in, about the same position it is in when you're standing up straight– and your hips and shoulders may feel better supported and cushioned.
A too-firm or even too-soft mattress can wind up creating extra pressure. Therefore, adding a mattress topper that is contouring may help relieve some of this pressure and ultimately, relieve some of your back pain.
Price
Luckily, buying a mattress topper for back pain is typically less expensive than replacing your mattress. The mattress toppers we've reviewed are mostly in the 100-200 dollar range, but a latex mattress topper might cost you a bit more.
This is something to keep in mind if you're on a specific budget. Foam mattress toppers tend to be more economical and cushioning, whereas latex mattress toppers might be more expensive and give a little more bounce.
Take a look at our picks for the best budget-friendly mattress toppers
Material Quality
We've included mattress toppers with high-quality materials. Not all mattress topper materials are created equal, though, and you'll want to keep this in mind during your search.
For example, a lot of memory foam mattress toppers will provide the contouring you need for a painful back, but they might also overheat you at night since memory foam — unless it's specifically designed to regulate temperature — can be hot.
Poly foam is another material that you'll likely come across. This foam is more budget-friendly, but it also may not last you as long as a higher quality material like memory foam or latex.

For quality materials, you might end up paying a bit more upfront, but it might save you money and (actual) pain down the line. Mattress toppers made from high-quality materials typically last you longer and offer more support to a painful back.
What's the Best Type of Mattress Topper for Back Pain?
Memory Foam
This is a material specially designated to help with the cushioning of your mattress. When it comes to thickness, memory foam bed toppers typically come in three different sizes: 2, 3, and 4 inches. Memory foam has the convenient ability to adjust to your body's shape, allowing for a snug fit to help with back pain.
People weighing over 230 pounds might consider the thickest options while others might find it more suitable and comfortable to go for 2 or 3-inch pads.
Gel memory foam is a commonly used topper material that makes memory foam even more comfortable because it helps prevent the material from overheating. If you're a hot sleeper and want a memory foam topper, look for cooling features like gel.
Read Our Full Guide: Best Memory Foam Bed Toppers
Latex
Latex toppers can provide good support to your back, keeping your body neutral to help prevent back pain from worsening. They are also known for being highly responsive, which means they better respond to your movements to prevent even the slightest sleep disturbances. Latex is temperature-neutral, so you'll have less concern about becoming too warm at night because of your topper.
The quality of these mattress toppers is substantially high. Though they are on the pricier side, their durability gives them exceptional value.
Read Our In-Depth Guide: Best Latex Mattress Toppers
Poly Foam
Poly foam is a synthetic material made from petroleum. Though it is similar to memory foam in makeup, poly foam doesn't have the added chemicals that give memory foam that distinct "melting" feeling.
This commonly-used foam is often sold as a cheaper alternative to memory foam. Poly foam does offer pressure relief and cushioning, but it won't last you as long as memory foam.
Down
Down mattress toppers are luxurious, super-soft, and tend to be more expensive. They are made from the softest down feathers from geese, ducks, and swans, which allows them to feel fluffy and cushioning.
These types of mattress toppers may not contour to the body and redistribute weight as a latex or foam mattress topper will. Rather, they'll mostly just provide cushioning. Therefore, they're not ideal for those with back problems or pain.
Down Alternative
Down alternative mattress toppers are similar to down mattress toppers in that they provide a lot of cushioning and plushness but not a lot of contouring and support. They are made to feel soft like down feathers but are made from synthetic polyester materials.

They are a less expensive option than a down mattress topper. Again, though, they may not provide a lot of support for those with back pain.
Feather
Feather mattress toppers are similar to down. In fact, these feathers come from the same place – a goose, duck, or swan. Whereas down is made from the birds' soft, almost fur-like insulation feathers, feather mattress toppers will be made from the birds' wing and back feathers.
Feather mattress toppers will feel plush and likely heavier than down or down alternative toppers. They might not provide much additional support or contouring but can add a softness that might flatten out during the night.
Feather mattress toppers are usually less expensive than down, though they come with the risk of the feathers' quills poking you.
What Causes Back Pain?
Back pain can radiate throughout your entire back area, regardless of whether its source is in your lower, mid, or upper back. Of all the parts of your back, though, lower back pain is the most common7. Risk factors for low back pain include age, weight, and structural problems such as scoliosis that affect spine alignment.
Lower back pain is also common with certain occupations and lifestyles. After all, this part of the spine is doing a lot of work, keeping you balanced and receiving the force of impact when you lift heavy objects, jump, run, or even sit, and the lumbar discs can wear down over time. After years of wear and tear on these discs, they may no longer do their job of providing cushioning between the bones of your spine, which can cause a herniated or "slipped" disc.

Aside from wear and tear or an acute injury, back pain can be caused by muscle strain, arthritis, depression, and anxiety, sleeping on the wrong mattress, or lying in an unsupportive position.
According to the University of Rochester Medical Center8, putting a small pillow underneath the back of your knees while sleeping on your back will support the natural curve of your back.
For stomach sleepers, they recommend placing a flat pillow underneath the stomach and pelvis area, as well as using a flat/low-loft pillow beneath the head.

If you sleep on your side, placing a firm pillow between your knees should help your upper leg from pulling your spine out of alignment. You can fill in the gaps between your body and the mattress topper, too, to help keep your spine in alignment. Though, of course, buying a mattress topper that contours well to your body can have the same effect.

We mentioned above that sleeping on the wrong mattress could cause back strain and included in this is the mattress' firmness. A study9 found that people who slept on medium-firm mattresses had better outcomes for their back pain, not just while sleeping but throughout the day as well.

Looking for more solutions? Find our top picks for the best mattresses for back pain.
Frequently Asked Questions
Can a mattress topper relieve back pain?
Yes, sleeping on a bed that is medium-firm, rather than soft or firm, has been proven9 to help relieve back pain. Getting a mattress topper that makes your bed medium-firm (adds cushioning to a too-firm mattress or adds firmness to a too-soft mattress) can help relieve back pain due to the wrong mattress.
Is a mattress topper different from a mattress pad?
A mattress topper and a mattress pad serve two different functions. A topper is meant to noticeably change the firmness level of a mattress. They can be anywhere from 1 to 4 inches thick and are made from a variety of materials like memory foam, latex, feather, down, or down alternative.
A mattress pad, on the other hand, will provide a slight change to the feel of your bed. They are usually only 1 or 2 inches thick at most and aren't designed to noticeably change the feel of the mattress.
Read more about the differences between mattress topper and mattress pad.
Is a latex or memory foam topper better for back pain?
Both memory foam and latex are great mattress topper materials for those with back pain. However, they have their own unique attributes that may affect your decision.

Memory foam typically provides more of a "hug" feel than latex, and if it doesn't have cooling features, it can run hot. Latex, on the other hand, is highly durable and responsive, so it could last you longer and be easier to move around on you have limited mobility from back pain.
What mattress topper should I get for pain in the lower back and hips?
If you have lower back and hip pain, it might be because your mattress is too firm or soft for you. Look for a medium-firm mattress topper made of latex or memory foam that will alleviate pressure on the hips but remain supportive enough for the lower back.
Can a mattress topper cause back pain?
Yes, buying the wrong mattress or mattress topper for your body and sleeping position may trigger back pain. If you buy a mattress topper that adds too much softness or firmness, you might exacerbate existing back pain.

The key is finding a mattress topper that is around medium-firm and keeps your spine in proper alignment. This means, your spine should be as straight as it is when you are standing, whether you sleep on your back, stomach, or side. Back and stomach sleepers can sleep on firmer mattress toppers, whereas side sleepers might want to get a mattress topper that is slightly softer and more contouring to cushion their hips and shoulders.
What mattress topper thickness is best for back pain?
If you have back pain, you might like a mattress topper with a medium thickness so that it won't sink in too much and will provide the pressure relief and support that your back needs. Aim for a mattress topper somewhere between 2 and 4 inches.
Julia Forbes
Lead Product Tester
About Author
Julia is the Lead Reviewer at Sleep Advisor, specializing in testing out mattresses and sleep accessories – she's in the right line of work, because she loves to sleep.