Transparency Disclosure – We may receive a referral fee for products purchased through the links on our site...

Read More

.
Soft mattress toppers often get all the acclaim, but with so many plush options available, quality firm toppers can become overshadowed. However, depending on your body type and sleeping position, firm mattress toppers can provide much-needed comfort and support for a good night's sleep.
Back issues are a common issue, particularly as you get older. A firmer mattress pad could be the perfect addition to stiffen up a soft surface or reinvigorate an old mattress, offering more support and stability for folks with special posture needs. If you sleep on your stomach or back, having robust support is essential for spinal health, and a firm topper could help combat these issues.
Waking up with an achy lower back can be terrible for long-term health. Read on for the top-rated firm mattress toppers available to help ease your pain.
5 Best Firm Mattress Toppers
My Video Review of The Best Firm Mattress Toppers
5 Top Rated Firm Mattress Toppers
Editor's Choice
PlushBeds Natural Latex Mattress Topper
Made of natural latex and extremely customizable.
Sleep Advisor Score
4.90 / 5
Plushbeds aims for quality support without compromising plush comfort. The brand uses latex harvested from 100% organic, naturally grown rubber trees, letting you sleep in peace knowing you're resting on a natural and well-made product.
The latex used in this product has been aerated to help it sleep cool and includes 2 inches of Talalay manufactured latex foam to provide evenly distributed pressure. PlushBeds' topper comes in two thickness options and four firmness choices for ultimate comfort and customization. This topper is manufactured locally in the United States, adhering to strict manufacturing guidelines, regulations, and labor laws, letting your rest easy.

Why did it make the list?
Plushbeds designed this top to be hypoallergenic and antimicrobial, making it easier for sensitive sleepers to ward off allergies, dust mites, and mildew; this should allow sleepers to have a more comfortable, healthier night's rest.
Boasting certifications by OEKO-TEX Standard 100 and GreenGuard Gold, the topper provides the highest safety and manufacturing standards for safe sleeping.
Best Luxury Firm Mattress Topper
Nolah Mattress Topper
A 2-inch mattress topper offering excellent cooling and pressure relief.
Sleep Advisor Score
4.90 / 5
Read Full Review
The Nolah Luxury Firm mattress topper is made in the USA using the same technology Nolah uses with its mattresses. This topper fits beds 10 to 15 inches tall, and you can choose among six standard sizes.
The topper transforms any bed by adding more support and comfort regardless of your preferred sleeping position. Made of Nolah AirFoam™, the topper contours to your body and distributes your weight equally. It also dissipates heat 20 percent faster than other materials, including memory foam. This Nolah topper is wrapped in a breathable organic cotton cover to keep you cool and dry by wicking away moisture. Plus, the foam is CertiPUR-US® certified as free of chemicals, heavy metals, and other harmful substances.

Why does it stand out?
This Nolah topper is luxury firm, but you can also get it in a plush firmness if you need more pressure relief and cradling.
Nolah offers a 10-year warranty and a 30-day trial period for you to test the topper.
Best Cooling Firm Mattress Topper
TEMPUR-Adapt Mattress Topper
Offers 3 inches of support for superior pressure relief.
Sleep Advisor Score
4.50 / 5
Read Full Review
This Tempur-Pedic mattress topper is made with 3 inches of Tempur® material you can find in the brand's mattresses. The material responds to your movement and adapts to your body, providing more comfort regardless of your sleeping position.
Tempur-Pedic gives you an option to upgrade the topper by adding a cool-to-the-touch cover. This is beneficial for hot sleepers as it helps them cool by dissipating heat and pulling it away from the body. Tempur-Pedic claims the Tempur® material is more durable than memory foam, meaning that this topper should last long even with frequent use. In addition, the cover is resistant to dust mites and allergens, and you can remove it for easy washing.

What's worth noting?
This Tempur-Pedic topper is thicker than most toppers, so it's a good option for upgrading your old mattress. I would recommend this topper for side and back sleepers specifically.
Best Hypoallergenic
Avocado Latex Mattress Topper
This Avocado mattress topper is an excellent option for allergy-prone people. The topper has GOLS organic-certified latex and GOTS-certified wool to prevent bacteria and mold from building up.
The GOLS organic-certified latex rubber foam is made sustainably from the brand's rubber tree farm. It's a high-performance material that helps with pressure relief, motion isolation, and support in the shoulders, hips, and knees. Plus, latex rubber makes the topper resilient and durable enough to resist wear and tear even with frequent use. Wool in the topper wicks away moisture and acts as a natural fire barrier. This Avocado topper has an organic cotton cover for added breathability and comfort regardless of your preferred sleeping position.

What makes it stand out?
The Avocado topper is available in two firmness options, allowing you to make your mattress softer or firmer. This should help make it more suitable for your sleeping position.
Best Value Firm Mattress Topper

Brooklyn Bedding TitanFlex Topper
A responsive and cooling mattress topper.
Sleep Advisor Score
4.20 / 5
The Brooklyn Bedding 3″ TitanFlex™ topper features the brand's unique TitanFlex™ material designed to contour the body. The material is similar to memory foam but with higher responsiveness and pressure relief.
This mattress topper is available in three firmness options, but the firm is the most popular for support and spine alignment. Soft and medium toppers are more suitable for side sleepers in need of pressure relief and cradling. Sleepers can also choose among two cover options: high-end organic cotton or a premium circular knit cover. The latter is made for cooling as it allows more breathability and airflow to keep you cool throughout the night.

What's unique about it?
TitanFlex™ foam has excellent moisture-wicking and water absorption abilities. This is because it has an open-cell structure that also helps with cooling.
The topper works for all mattresses as it comes in seven standard sizes. It's 3 inches thick to make your old bed firmer and more supportive.
Firm Mattress Topper Buyer's Guide
What is a Hard Topper / Pad?
A firm topper is going to provide extra stability for a bed that is starting to feel too soft. They can be a great resource for folks who are sleeping on a lumpy, sagging, or otherwise uncomfortable mattress. These products help by giving proper support to the hips, keeping them elevated and lined up with the rest of the body.
A firmer top also provides an easier surface to move around on, making these a good option for combination sleepers who reposition at night.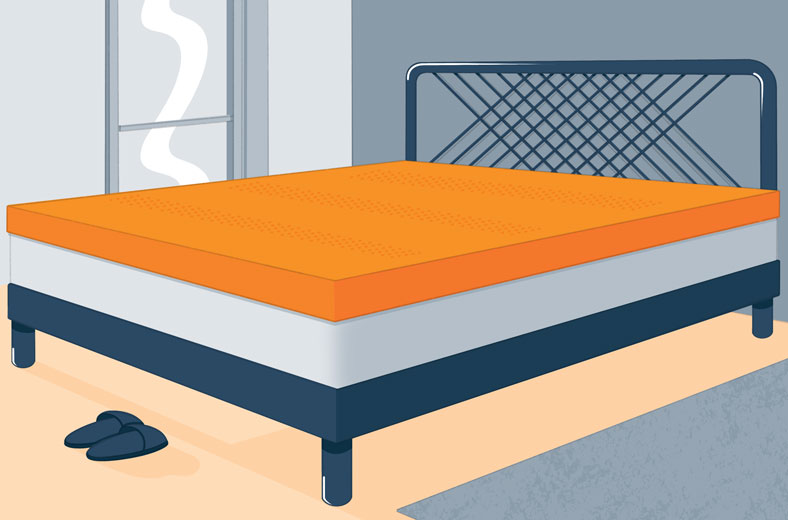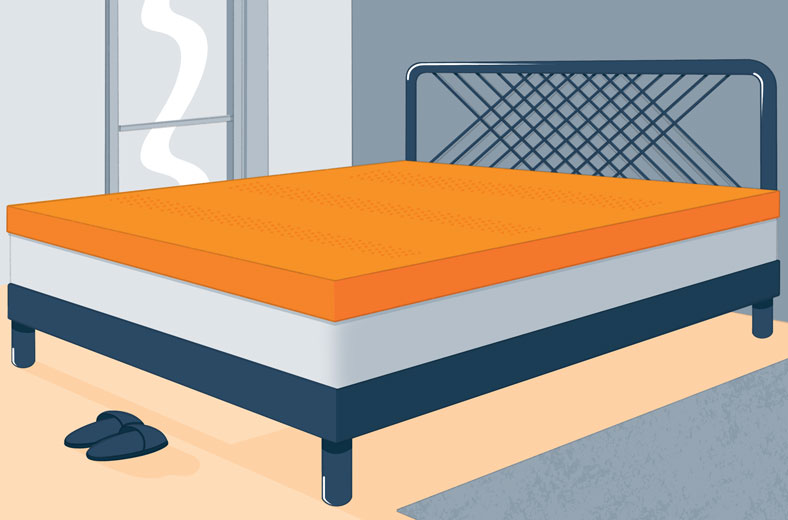 Different Material Types Available
Toppers are made from a variety of materials that should offer slightly different feels and firmness options.
Latex
Latex most commonly comes in two forms, Dunlop and Talalay. Both types are made from the rubber tree, though synthetic and blended latex materials are also available. Dunlop and Talalay refer to two different manufacturing methods. While Dunlop latex is dense and more firm, Talalay provides a softer feel.

Latex has a springy sensation that is usually quite responsive and the density can vary, with some being ultra plush and others being exceptionally firm. These materials are often a more natural and healthy option, though people with latex allergies should exercise caution.
Memory Foam
Also called viscoelastic foam or temper-material, this is a type of poly foam that is known for its conforming properties that leave sleepers in a "hug-like" cradle. This material was designed to distribute weight evenly over the surface of the bed, alleviating pressure in areas like the hips and shoulders.

Memory foam is the most common type of topper being used today. There are thousands of products online and in retail stores across the country selling these. Memory foam mattress toppers are considerably popular, but the feel will likely vary from brand to brand.
Other
There are also a handful of additional materials being used to make these types of pads. This includes materials like bamboo, down, feather, and polyfoam.
Each type is going to have its own unique feel. A down top will typically provide a more plush experience, while a bamboo product will likely have a firmer feel that the shoppers reading this guide may prefer.
What to Consider When Buying a Firm Mattress Topper
To find the right topper for you, you'll need to weigh certain characteristics about the products you're considering, as not all are created equal or workable for everyone.
Sleeping Position
The position in which you sleep will impact whether you'd be better off with a firm topper. In most cases, side sleepers prefer softer toppers to enhance pressure relief. However, if you're a side sleeper whose mattress is too plush, a firmer topper could balance things out so that you have more support. Back and stomach sleepers seeking improved support from their bed space will likely be the best match for firm toppers.
Breathability
Do you tend to wake up hot and sweaty during the night? If so, you should consider looking at toppers built with cooling features. Memory foam fans will want to seek out toppers with gel added to the foam or an open-cell design, as both of these will help enhance breathability. Another option for hot sleepers is latex, a temperature-neutral material that's also durable and eco-friendly.
Firmness
Of course, firmness is also vital to finding the appropriate topper, and if you're reading this article, you probably have your eye on firm toppers already. Selecting a firmness will be dependent upon the condition of your current mattress, as well as your sleep position and body weight. A softer topper can enhance pressure relief by providing more contouring on your bed's surface while a firm topper can help you feel more lifted and supported if your current bed is starting to sag a bit.
Thickness
Topper thickness typically ranges between 2 and 4 inches. Toppers that are 2 inches thick could help improve support, but since these are on the thinner side of the spectrum, they won't have as much of an effect. 3-inch toppers are usually a great option for first-time users since they're a middle-ground feel and are often popular among shoppers. Last, 4-inch toppers should provide the most noticeable adjustment with more support and cushioning.
Quality of the Material
The quality of the materials in a mattress topper can affect everything from breathability, support, and pressure relief to how long the product will last. Toppers made with durable, high-quality materials will help you get the most out of your investment because they're more likely to last longer and provide you with better comfort.
Pressure Relief
Many people seek out toppers to give them the pressure relief that their current mattress lacks. Toppers that can contour the sleeper's shape minimize pressure buildup, reducing your chances of waking up with achy joints and muscles. Memory foam is considered a top option for pressure relief, with many toppers being made from this material. However, latex is also a viable choice that sleeps cooler than traditional memory foam and is more sustainable.
Cost
Toppers are useful because they cost significantly less than buying a new bed altogether. That being said, there is price variance among these products themselves. Memory and latex are common materials used in toppers, with latex usually being the pricier option between the two.
A high-quality topper equipped with cooling features, premium materials, and a thicker design may cost you more, but if it can significantly improve the quality of your sleep, it's a smart investment in your hea
To find the right topper for you, you'll need to weigh certain characteristics about the products you're considering, as not all are created equal or workable for everyone.
Who Should Buy a Firm Mattress Topper?
Anyone Who Needs to Adjust the Feel of Their Mattress
If your current mattress isn't cutting it and you want to enhance how it feels, then you might consider getting a topper. A firm topper can help balance out a softer mattress, particularly one that's beginning to show signs of sagging and reduced support. Keep in mind that a topper won't provide the same effect as a new mattress, but it could help enough that you get extra use out of your current mattress for a few more years.
People Who Want More Longevity Out of Their Mattress
Toppers do more than adjust the feel; they protect the bed as well. Mattress toppers serve as a protective barrier to safeguard your mattress against early wear and tear, accidents, and spills. As a result, this can extend your bed's lifespan.
Hot Sleepers
Another useful way toppers can improve your sleep is by providing additional cooling to your bed space. Many toppers are made with cooling features, such as gels, open-cell foams, or breathable materials like latex or cotton. Plus, a firm topper can help you feel more on top of your bed rather than in it, which could leave you less hot at night.
Budget Shoppers
Mattress toppers are a useful way of improving your bed's feel without investing in a new mattress, making them great for shoppers on a tight budget. Maybe you don't have 1,000 dollars to spend on a new mattress right now, but a 100 or 200-dollar topper is more feasible.
Potential Pros and Cons of Using a Firm Mattress Topper
There are going to be some benefits of a hard topper, but there are also some considerations to keep in mind as well.
Pros
Can Provide Additional Support
As was stated before, adding this type of topper can give sleepers extra stability due to using firmer materials. This should be a great option for people who are sleeping on an unsupportive mattress. Having that extra support on top can help solve a handful of sleep-related problems.
Plan on visiting your chiropractor less after you find proper sleeping support. A firm top portion of the bed can give sleepers the alignment they need. Having proper support helps keep the body straight and your back healthy.
Check Out Our Full Guide: Top Mattress Pads for Back Pain
There are far more soft toppers being sold than there are firm ones, so finding the right pick for you might require a little more diligent searching. A firm option is often a good choice for stomach sleepers, as they generally require more support for their hips.
Get More Info: How to Make a Mattress Firmer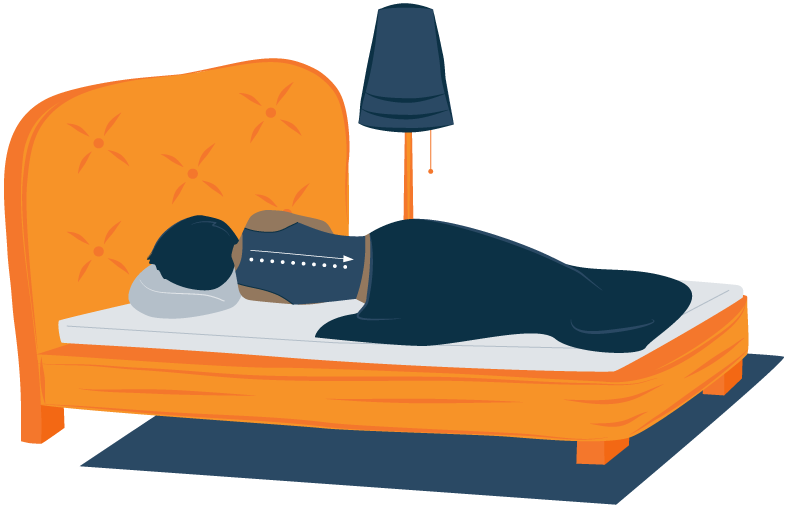 Cons
Can Be Too Hard for Side Sleepers
While a firm option might be good for stomach sleepers, side sleepers typically require the opposite feel. These folks often like a softer surface that can alleviate pain in their shoulders and hips. Some side sleepers might like a firm feel, but if you are in doubt it may be best to stay away.
Learn More: Best Bed Topper for Side Sleepers
While a firm pad may help with back pain in some folks, it can make it worse in others. It is important to know your body type as this will generally affect how the bed feels. Lighter individuals may like something a little softer, while heavier people might enjoy the firmer feel.
Frequently Asked Questions about Firm Mattress Toppers
What sizes are available?
The following are the standard product sizes and their correlating dimensions:
Twin: 38 inches wide by 75 inches long


---

Twin XL: 38 inches wide by 80 inches long


---

Full: 53 inches wide by 75 inches long


---

Queen: 60 inches wide and 80 inches long


---

King: 76 inches wide by 80 inches long


---

California King: 72 inches wide by 84 long
How do you make a mattress firmer?
You can make a mattress firmer by using a firm mattress topper to adjust the bed's feel. Another way to help could be to utilize firm pillows to help keep your body elevated in certain areas prone to sinking more. You can also try replacing the surface the mattress lies on, either by putting it directly on the floor or a slatted base. That being said, if these suggestions don't provide sufficient firmness, we recommend looking into a new firm mattress.
Will a mattress topper make a mattress firmer?
Yes, a mattress topper can help make a mattress firmer. However, the effectiveness of the topper will depend on the quality and type of materials and the condition of your current mattress. If the topper's materials aren't as high-quality or dense, it may not provide sufficient firmness, and if your mattress severely sags and is too old, a topper may not be enough. In this case, you'd be better off investing in a new, firm mattress.
Conclusion
Whatever your reason may be for needing a more supportive top, one of the options listed above will likely get the job done. If none of these options fit your needs, know that there are many other options listed online and a ton of resources to help you get there.

If you need to do more research on toppers be sure to check out our top-rated mattress toppers list for this year or some of our other pages that have in-depth product reviews and guides to specific materials.

Your best night's sleep could be just a few clicks away. Happy shopping!