Transparency Disclosure – We may receive a referral fee for products purchased through the links on our site...

Read More

.
Rest is critical to brain function, and in turn, our overall well-being. If you regularly have trouble sleeping or you wake up sweaty, bamboo sheets can offer significant advances to mitigate these issues.
They not only have strong antifungal and antibacterial properties, but they are also perfect for regulating body temperature. Their built-in resistance to mildew and mold seems to be one of the main things which manage to catch people's attention. In this guide, we take a deep dive into our favorite bamboo sheet sets, as well as share what you should look for in a set.
Our 9 Top-Rated Bamboo Sheets
Best Luxury Bamboo Sheets
Cozy Earth Bamboo Sheets
Sheets that get softer with every wash. Also great for hot sleepers.
Sleep Advisor Score
4.90 / 5
Cozy Earth offers shoppers a highly luxurious selection with their Bamboo Sheet Set. These sheets are made of 100 percent viscose from bamboo for exceptional cooling, comfort, and style. Plus, the soft sateen finish gives off a luxurious feel, even after washing it multiple times.
Each Cozy Earth set includes a flat sheet, a fitted sheet, and two pillowcases. The Split-King size, however, comes with a flat sheet, two Twin XL fitted sheets, and two King-size pillowcases.
Why should you consider it?
Perhaps the most impressive quality of the Cozy Earth Bamboo Sheets is that they can fit with mattresses that have a profile as high as 20 inches. This means you shouldn't have to worry whether the fitted sheet will fit over each corner since there's enough give to cover them well.

Bamboo is a naturally cool material, which means it should be a big help to hot sleepers or someone experiencing hot flashes or night sweats.
Best Non-Slip Bamboo Sheets
Tempur-Pedic TEMPUR-Rayon Bamboo Sheet Set
Moisture-winking sheets made with rayon from bamboo.
If you've been frustrated with previous sheets slipping and sliding all the time, we think you'll want to consider this set from popular bedding brand Tempur-Pedic. They feature a Staytight™ corner strap design that keeps the sheets in place by creating a non-slip fit.
These sheets are made of 100 percent rayon from bamboo, and you should notice the soft jersey knit. The fabric is moisture-wicking, which is highly advantageous for hot sleepers or individuals who are going through menopause.
What should you know about this product?
The company offers customers free shipping and a year-long warranty for the Tempur-Pedic TEMPUR Rayon sheets. However, they don't provide a trial period, which could be a downside for some.

These sheets come in eight sizes, and you can choose from five colors to match your style preferences. A standard sets include one fitted sheet, one flat sheet, and two pillowcases.
Best Cooling Bamboo Sheets
Luxome Luxury Sheet Set
Soft 400-thread count luxury sheets.
Sleep Advisor Score
4.90 / 5
Overheating can make it nearly impossible to get a night of peaceful rest, which is where sheets with cooling capabilities can come in handy. Bamboo is a naturally moisture-wicking fabric, which means it can help keep you cool and dry through warm nights. The Luxome Luxury Sheet Set is made from 100 percent bamboo viscose and has a 400 tread count.
With this fabric, you should expect sufficient cooling, durability, and softness. Plus, they have deep pockets that can accommodate mattresses up to 17 inches thick.
What should you know?
The biggest thing to note with maintaining these sheets is to not wash them with other fabrics. Other than that, you can wash them in a machine using cold water and a gentle cycle. For drying, you'll want to tumble dry on low.

Luxome offers as many as nine color schemes for these sheets to fit a wide variety of decor styles.
Best Soft Bamboo Sheets
Plushbeds Bamboo Sheet Set
There's nothing quite like sleeping against super soft sheets, which is why we think this set from PlushBeds is a great find. The PlushBeds Ultra Soft Bamboo Sheet Set features a twill weave that's soft and supple, which also makes this product suitable for people with sensitive skin.
These sheets are made from 100 percent bamboo rayon, which means they're also ideal for hot sleepers struggling with hot flashes and overheating. Plus, they're suitable for allergy-prone people as they're hypoallergenic, antibacterial, and resistant to odors.
What should you know?
Although these sheets are cool to the touch, they do a good job of adapting to different temperatures. In other words, the sheets should keep you warm in the winter and cool in the summer.

These sheets are covered by a 5-year warranty. However, the sheets are only returnable if they haven't been opened.
Best Organic Bamboo Sheets
Sweet Zzz Organic Bamboo Sheets
Breathable sheets made from 100% viscose sourced from organic bamboo trees.
More and more people are prioritizing products that are made more sustainably. The Sweet Zzz Bamboo Sheets are made from 100 percent viscose sourced from organically grown bamboo trees, making this an excellent option if you're in the market for organic sheets. The 400-thread count sateen weave should feel soft to the touch and be a great fit for anyone with sensitive skin.
Another advantage of bamboo viscose is that it's cool when you're hot and warm when you're cold, which means these sheets can be used year-round.
What's worth mentioning?
The fitted sheet in this set has deep pockets for mattresses up to 15 inches tall and an elastic band. The elastic band makes it easier to fit this sheet on mattresses of all different heights. This means the same sheet will fit a 6-inch bed and a 15-inch bed.
Best Deep Pocket Bamboo Sheets
Brooklyn Bedding Deep Pocket Bamboo Cotton Sheets
Sleep Advisor Score
4.80 / 5
Purchasing a set of sheets with deep pockets helps ensure they won't fold up at the corners of your bed. If you're looking for a set that comes with extra-deep pockets to fit most mattresses, look no further than this set from Brooklyn Bedding. This bamboo sheet set can work with mattresses up to 17 inches in height, which means it should be a match with most beds.
Of course, that's not the only reason to consider this product. Along with the deep pockets, bamboo cotton offers both breathability and moisture resistance, which is helpful if you struggle to stay cool at night. Plus, these are hypoallergenic, so those with allergies should be able to sleep well on these.
What's worth mentioning?
Shoppers can choose from three color selections, including White, Khaki, and Silver. Though the color options are limited compared to other products on our list, their neutral design should work with many styles.
Best Value Bamboo Sheets
Layla Bamboo Sheets
Sleep Advisor Score
4.50 / 5
When you invest in a new pair of sheets, you want to make sure you're getting a lot of value for your purchase. This bamboo sheet set from Layla offers exceptional value to customers, not only with the quality of the material and price but also because of their generous warranty and return policies.
This Layla set is made from 100 percent viscose from bamboo, with hypoallergenic and thermo-regulating properties to ensure optimal comfort. Additionally, the deep pockets on these should work with most beds.
Why did we pick it?
Layla offers one of the best return policies and warranty deals out there for sheets. First, if you don't love this product, you can return it within 120 days of purchase for a full refund. Secondly, the sheets are covered by a 5-year warranty. Add to that a competitive price point, and you've found a great bargain.
Best Stretch Bamboo Sheets
If you like your sheets to have some stretch to them, you should consider the Purple SoftStretch Sheet Set. As the name suggests, the sheets are designed for maximum stretching while maintaining a smooth feel that should feel cozy for sleeping. These sheets are made from a bamboo blend that also wicks away moisture for those who sleep hot.
You can choose from six different color options, including True White, Stormy Grey, Deep Purple, Morning Mist, Natural Oat, and Soft Lilac.
What's worth noting?
A Purple SoftStretch Sheet Set comes with a 1-year warranty deal and a 30-day return policy.

Upon purchasing your new sheets, they'll be delivered to you free of charge, saving you even more money in the process.

If you're a fan of the Purple mattress, the company says these sheets should complement the adaptability of their famous GelFlex Grid.
Best Bamboo Sheets for Sensitive Skin
If you have sensitive skin, we think you should consider the Nest Bamboo Luxury Sheet Set. Made from a 300-thread count natural bamboo rayon that has antimicrobial properties, these sheets shouldn't irritate the skin and instead provide you with plenty of softness.
Maintenance should be a breeze with this product, as they can be machine-washed and tumble-dried on low heat. However, the company recommends first washing your sheets when they arrive at your home.
What should you know?
The company offers free shipping so you don't have to worry about any added-on costs. However, there are additional shipping fees for those living in Canada, Alaska, or Hawaii.

The company offers this product in five color choices: Slate, Indigo, Dusk, White, and Pewter.

These Nest sheets have certifications from both the Forest Stewardship Council and OEKO-TEX®, ensuring they are a quality product.
Why Choose Bamboo Sheets
There are a lot of good reasons to consider bamboo bed linen. Right off the bat, they are, as we've mentioned, antifungal and antibacterial. Another word for that is hypoallergenic – in other words, bacteria can't thrive in them thanks to the properties and natural characteristics of the fabric. You can rest assured that catching a contagious cold through bamboo linen is not something that would happen.
At the same time, bamboo bedding allows you to achieve an environment where proper care is not compromised thanks to the soft and comfortable materials that make up these sheets.
Additionally, the fabric itself is particularly comfortable and therefore can be directly attributed to a proper night of sleep. They are also quite affordable compared to other high-end types of bed linen, and that's another check in the pros column.
Interested in exploring further? Check out our top-rated sheets here.
How to Choose Bamboo Fiber Linen
Size
There are quite a few different things you'd have to take into account when it comes to picking the perfect bamboo sheet set, and the size comes first. You need to make sure that your sheets fit your bed in a snuggly manner which is quite easy to put on and take away.
With this said, the sizes of the sheets are usually the same as the bed – there are king-size, queen-size and so forth – you just need to pick the one that would fit your bed. The more important thing to consider here is the depth of the mattress. If you have a higher bed make sure that the sheets have properly sized deeper pockets to fit it.
Get More Info: Best Deep Pocket Sheets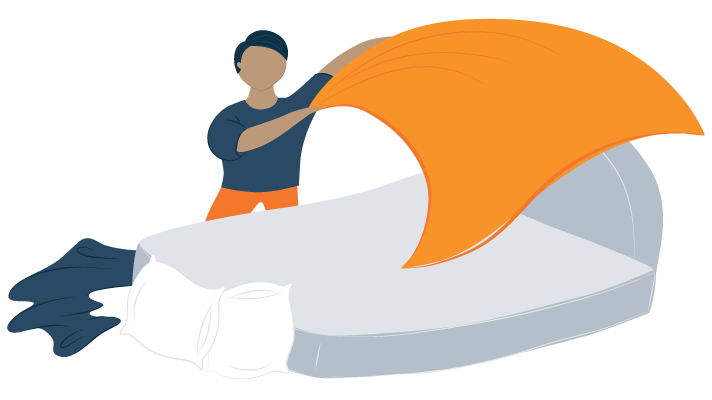 Softness
Softness is subjective and different people have various individual preferences. Bamboo sheets are usually characterized by the fact that they are truly soft and if the thread count is higher, they can be softer than cotton sheets, cashmere, and silk.
Make sure to pick something that's comfortable to you – in other words, if you prefer a sateen-like sleeping sensation, you might want to look for a weave of this kind.
Thread Count
Thread count represents the overall amount of vertical and horizontal threads which are found on one square inch of your bedding. With this said, the higher it is, the softer they are going to feel. The better sheets would start with a thread count of about 150 and would go to as much as over 1,000.
However, keep in mind that this should not be a defining characteristic, but one of the many you take to pick your bed linen as the final sleeping sensation is always going to be a combination of different characteristics.
How to Care for Your Bamboo Bed Sheets
If you want to make sure that your bamboo bed sheets last you for a longer period, you must take proper care of them. Almost all bamboo bedding must be washed with cold water. If you are using a machine washer, you ought to make sure that you are using a gentle cycle. You shouldn't use any harsh bleach or fabric softeners as well.
Bamboo sheets are quite prone to wrinkles, and to prevent them from getting them, you have to remove them immediately from the dryer and make sure to place them on the bed as soon as you can. In certain situations, though, you might have to iron your bed linen.
Get More Info: How Often Should You Wash Your Sheets?
Frequently Asked Questions about Bamboo Sheets
Where can I buy bamboo sheets?
The best thing to do is to find direct e-commerce online stores of the manufacturers themselves. This is going to ensure that you get the best prices as there are no in-between parties.
What is Rayon from Bamboo?
Rayon is a fiber made from regenerated cellulose, meaning that the raw organic material is converted using a specific, chemical process. Therefore, it's hard to say that bamboo sheets are 100% organic – there are synthetics in them.
Learn More: Rayon vs. Viscose
Are all bamboo sheets organic?
Most affordable bamboo bedding is not entirely organic – there are synthetics in them because of the conversion process.
Does bamboo linen keep you cool?
Naturally, the bamboo bed sheet is likely to keep you cool. This is mainly because of its moisture-wicking capabilities as well as its breathability.
Conclusion
As you can see, there are different things that you want to keep in mind when it comes to purchasing a set of nice bamboo sheets. In any case, this is not a task that you should take lightly in case you want to get a nice set of soft bedding that's going to last you for a longer period.
There are a lot of factors that go into that choice, and it is quite critical that you take a good look at the specifications if you want to make sure that you are making a good choice. Hopefully, the aforementioned tips and tricks make the task easier. You can also look at the few different options we've synthesized – they are currently amongst the best bamboo sheets on the market.
Resources: