Transparency Disclosure – We may receive a referral fee for products purchased through the links on our site...

Read More

.
We spend almost one third of our lives in bed, so creating a cozy, comfortable space is essential for a high quality of sleep. Rest is critical to brain function, and in turn, our overall well being. If you regularly have trouble sleeping, falling asleep, or wake up sweaty, bamboo sheets can offer significant advances to mitigate these issues.
Are you using regular cotton bedding? There are numerous fabrics which promise abundant advantages, and we are here to take a closer look at best bamboo sheets.
They not only have strong antifungal and antibacterial properties, but they are also perfect for regulating body temperature. Their built-in resistance to mildew and mold seems to be one of the main things which manage to catch people's attention.
Although, there are more specifications to consider, so we have taken the liberty of walking you through the process.  We hope that once you are done reading, you will have made up your mind when it comes to getting the perfect bamboo bed sheet set.
Luxurious

Cariloha

Key Features: Sateen finish, box-stitch seams and eco-friendly material

CLICK HERE FOR PRICE

Hypoallergenic

Linenspa

Key Features: Silky, hypoallergenic, moisture-wicking material

CLICK HERE FOR PRICE

Highest Industry Standards

MALOUF

Key Features: Silky, odor resistant, hypoallergenic material

CLICK HERE FOR PRICE

Regulate the Temperature

Bed Voyage

Key Features: Odor-resisting, hypoallergenic, high thread count material

CLICK HERE FOR PRICE

Thermal Regulation

Royal Hotel

Key Features: Silky, hypoallergenic, high thread count material

CLICK HERE FOR PRICE

Not a Burden to Use

Brielle

Key Features: 300-thread count, hypoallergenic, great temperature control

CLICK HERE FOR PRICE

Hypoallergenic

Clara Clark

Key Features: Hypoallergenic, 100% microfiber bamboo, sateen weave, wick moisture

CLICK HERE FOR PRICE
Why Choose Bamboo Sheets
There are a lot of good reasons to consider bamboo bed linen. Right off the bat, they are, as we've mentioned, antifungal and antibacterial. Another word for that is hypoallergenic – in other words, bacteria can't thrive in them thanks to the properties and natural characteristics of the fabric. You can rest assured that catching a contagious cold through bamboo linen is not something that would happen.
At the same time, bamboo bedding allows you to achieve an environment where proper care is not compromised thanks to the soft and comfortable materials that make up these sheets.
Additionally, the fabric itself is particularly comfortable, and therefore can be directly attributed to a proper night of sleep. They are also quite affordable compared to other high-end types of bed linen, and that's another check in the pros column.
Interested in exploring further? Check out our top rated sheets here.

Top 7 Bamboo Sheets Reviews
Eight color options
Fits mattresses up to 18 inches deep
Box-stitched seams
400 thread count
Cariloha brings quite a lot of unique perks on the table. Cariloha Resort bamboo sheets are luxurious, and they have a very nice and gentle sateen finish which is going to provide a sleeping environment which is far softer than the regular, smooth feel.
They offer extra deep pockets as well as an advanced box-stitch seam construction which makes them more durable.
They manage to prevent body heat retention, and so your sleep will be very cool – typically, they maintain a temperature which is about three degrees cooler compared to their cotton counterparts.
This guarantees that you will feel very comfortable throughout the entire year. All the pieces in the bed sheet set are environmentally friendly as they are created in a manner which saves more trees. There are no herbicides and pesticides, or any other types of harmful chemicals used in the entire process.
Want to know more? Read our complete Cariloha Resort bamboo sheets review.
Linenspa –
Thermal Regulation
Two color options
Fits mattresses up to 14 inches deep
250 thread count
This set is made 100% of rayon from bamboo which is going to deliver a super soft, silky-like sleeping experience. The fabric itself is naturally breathable which prevents heat retention and allows you to sleep cooler throughout the entire year.
The set is hypoallergenic and very smooth which makes it quite suitable for people who have sensitive skin. At the same time, the fabric is moisture-wicking while it regulates the temperature in a splendid manner, offering a great night of sleep.
They are fitted which means that they will fit on your bed snug with an almost seamless quality. It fits beds which are up to 14 inches high, which is quite significant when it comes to overall coverage.
Looking to learn more? Check out our full Linenspa bamboo sheets review here.
Seven color options
10 size options
Fits mattresses up to 22 inches thick
The bedding from MALOUF is always up to the highest industry standards and these bamboo sheets make absolutely no exception.
The fabric is made of rayon from bamboo, making it incredibly soft as well as silky. Naturally, the entire piece is resistant to odors, and it is also hypoallergenic – this allows it to be used by people who have overly sensitive skin.
They are fully-elasticized, and they come with deeper pockets to secure a proper fit on beds of up to 22 inches high. There are a few different colors that you can pick from, and various sizes available, also. The entire set comes with a flat and a fitted sheet and two pillowcases.
Need more details? View our full Malouf bamboo sheets review.
11 color options
Fits mattresses up to 18 inches thick
1000 thread count
The very first thing to consider about this bamboo sheet set is that the fabric is made with a higher thread count and it has great odor-resisting capabilities.
It is also going to regulate the temperature perfectly to prevent any uncomfortableness that can cause wake-ups in the middle of the night – this is something that many people can appreciate. At the same time, the fabric is made of 100% rayon from bamboo, and it comes in a variety of colors.
The fabric is, of course, hypoallergenic, which means that even those with the most sensitive skin won't experience any irritations or issues. They are particularly soft, and the pockets are quite deep, guaranteeing that they will fit a bed of 18-inches height.
Queen White Silky Soft by Royal Hotel –
Luxurious
14 color options
Fits mattresses up to 18 inches thick
300 thread count
This bedding set is made entirely out of rayon from bamboo. The thread count is high, and this is why the fabric is silky soft. The truth is that this one is far softer when you compare it to cotton. They are very comfortable, and they are offering splendid thermal regulation to guarantee that everything is handled perfectly.
The soft fabric is also hypoallergenic which makes it perfect for people who have certain skin allergies and irritations. You can rest assured that the set is machine washable, but you need to use only cold water. This is pretty much the only specification.
Brielle –
Prevent Wrinkling
Six color options
Fits mattresses up to 18 inches thick
300 thread count
This particular set comes with sheets made entirely out of bamboo viscose. The 300-thread count makes sure that the overall sleeping sensation is quite comfortable and the sateen weave further attributes to this feature.
They are hypoallergenic and very easy to put on and remove from your bed. This makes them quite convenient and, unlike a lot of others on the market – not a burden to use.
This is something that most people look for. They also prevent wrinkles from forming which is particularly important in your overall appearance. The sheets are very enjoyable, and they offer awesome temperature control and are therefore in use year-round.
Clara Clark Premier 1800 Collection –
Hypoallergenic
Microfiber bamboo material
Fits mattresses up to 18 inches thick
Embossed bamboo design
These are 100% microfiber bamboo sheets which come with a very convenient sateen weave for enhanced sleeping sensation. Unlike sateen fabric, though, these are not slipper but rather comfortable. They are fade-resistant and won't wrinkle as much.
You can rest assured that they wick moisture perfectly and there's nothing additional for you to be worried about. The sheets must be washed with cold water, and they dry out quite quickly, making them very easy to maintain – there's hardly anything to be worried about.
How to Choose Bamboo Fiber Linen
Size
There are quite a few different things you'd have to take into account when it comes to picking the perfect bamboo sheet set, and the size comes first. You need to make sure that your sheets fit your bed in a snuggly manner which is quite easy to put on and take away.
With this said, the sizes of the sheets are usually the same as the bed – there are king-size, queen-size and so forth – you just need to pick the one that would fit your bed. The more important thing to consider here is the depth of the mattress. If you have a higher bed make sure that the sheets have properly sized deeper pockets to fit it.
Get More Info: Best Deep Pocket Sheets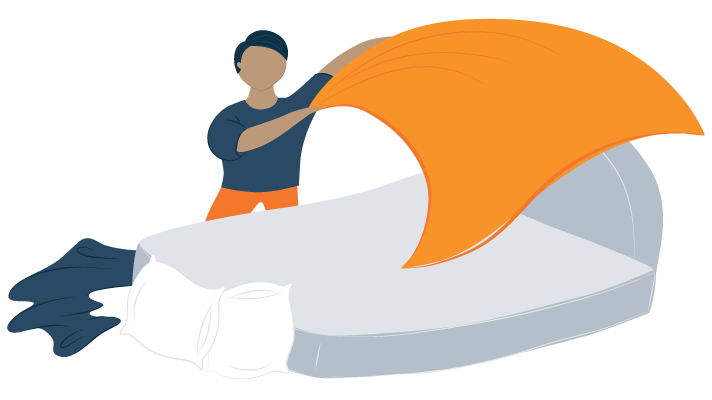 Softness
The softness is quite subjective and different people have various individual preferences. Bamboo sheets are usually characterized by the fact that they are truly soft and if the thread count is higher, they can be softer than cotton sheets, cashmere, and silk.
Make sure to pick something that's comfortable to you – in other words, if you prefer a sateen-like sleeping sensation, you might want to look for a weave of this kind.
Thread Count
Thread count represents the overall amount of vertical and horizontal threads which are found on one square inch of your bedding. With this said, the higher it is, the softer they are going to feel. The better sheets would start with a thread count of about 150 and would go to as much as over 1,000.
However, keep in mind that this should not be a defining characteristic, but one of the many you take to pick your bed linen as the final sleeping sensation is always going to be a combination of different characteristics.
How to Care for Your Bamboo Bed Sheets
If you want to make sure that your bamboo bed sheets last you for a longer period, you must take proper care of it. Almost all bamboo bedding must be washed with cold water. If you are using a machine washer, you ought to make sure that you are using a gentle cycle. You shouldn't use any harsh bleach or fabric softeners as well.
Bamboo sheets are quite prone to wrinkles, and to prevent them from getting them, you have to remove them immediately out of the dryer and make sure to place them on the bed as soon as you can. In certain situations, though, you might have to iron your bed linen.
Get More Info: How Often Should You Wash Your Sheets?
Frequently Asked Questions about Bamboo Sheets
Where can I buy bamboo sheets?
The best thing to do is to find direct e-commerce online stores of the manufacturers themselves. This is going to ensure that you get the best prices as there are no in-between parties.
What is Rayon from Bamboo?
Rayon is a fiber made from regenerated cellulose, meaning that the raw organic material is converted using a specific, chemical process. Therefore, it's hard to say that bamboo sheets are 100% organic – there are synthetics in them.
Learn More: Rayon vs. Viscose
Are all bamboo sheets organic?
Most of affordable bamboo bedding is not entirely organic – there are synthetics in them because of the conversion process.
Does bamboo linen keep you cool?
Naturally, the bamboo bed sheet is likely to keep you cool. This is mainly because of its moisture-wicking capabilities as well as its breathability.
Conclusion
As you can see, there are quite a few different things that you might want to keep in mind when it comes to purchasing a set of nice bamboo sheets. In any case, this is not a task that you should take lightly in case you want to get a nice set of soft bedding that's going to last you for a longer period.
There are a lot of factors that go into that choice, and it is quite critical that you take a good look at the specifications if you want to make sure that you are making a good choice. Hopefully, the afore mentioned tips and tricks make the task easier. You can also look at the few different options we've synthesized – they are currently amongst the best bamboo sheets on the market.
Our team covers as many areas of expertise as we do time zones, but none of us started here as a so-called expert on sleep. What we do share is a willingness to ask questions (lots of them), seek experts, and dig deep into conventional wisdom to see if maybe there might be a better path towards healthy living. We apply what we learn not only to our company culture, but also how we deliver information to our over 12.7M readers.
Sleep research is changing all the time, and we are 100% dedicated to keeping up with breakthroughs and innovations. You live better if you sleep better. Whatever has brought you here, we wish you luck on your journey towards better rest.