What are your prerequisites when purchasing homeware? If it is to match luxury with responsible living, Nest Bedding bed sheets should impress you.
This review of the Nest Bedding bamboo sheets shows you how the brand uses natural materials to create luxury bedding. We'll also show you how the product's features cater to the needs of sleepers who worry about common problems such as dust mites or overheating.
Nest Bedding is known for a wide variety of bedroom items such as mattresses and pillows too. To provide quality products, they must research what their clients want and understand how to meet their preferences.
Nest Bedding's bamboo sheets represent a commitment to meeting those bedding preferences. So, let's find out if you'll love it as much as their many clients do.
Nest Bedding Bamboo Sheets – Key Features
These sheets are made with 100 percent natural bamboo.
A luxury product with eco-friendly materials.
Antimicrobial properties.
The average set includes:

One top sheet
One bottom (fitted) sheet
One, two, or four pillowcases, depending on the set you pick. The pillowcases are 21×31 in Twin through Queen sets and 21×41 in King and Cali-King sets.

Available in two colors, white or slate.
All standard sizes are available.
Fits mattresses up to 15 inches thick.
Pros and Cons
Pros
Antimicrobial properties for those with allergies or sensitive skin
Luxurious look
Cool feel
Soft to the touch
Lighter and softer than traditional cotton sheets
Moisture-wicking for good temperature control
Solid colors should complement most bedroom aesthetics
Machine washable and dryer friendly
Aesthetically pleasing wrapping makes it ideal as a gift
Cons
More expensive
Limited color options
Gentle care needed in washer and dryer
Material/Style
Nest Bedding is bringing luxury to your sleep space with their 100 percent bamboo bedding sheets. The product is available in either a plain white color or the dark blue-gray slate option.
The company uses natural bamboo to make a 300 count rayon fabric for the product. While the price may be higher, the material offers a luxurious, softer feeling than regular cotton sheets.
Shoppers can choose among three set options. The first is the sheets and pillowcases set. Second, for extra pillowcases, you can purchase a set of those on their own. Thirdly, you may opt for the duvet and shams package.
Build Quality
Bamboo's antimicrobial properties, which help kill the spread of bacteria and other microorganisms, are advantageous for customers with sensitive skin or allergies. Furthermore, the moisture-wicking capabilities can help keep a neutral temperature, preventing the sleeper from becoming too hot while they sleep.
The fitted sheet has a deep pocket length that stretches up to 15 inches. The extra length is excellent for those who enjoy thicker beds but worry their sheet will not fit.
Durability
What do you value most in your sheets?
Color vibrancy
Whether they're washable
Whether they show wear and tear quickly
The Nest Bedding sheets should perform well in these areas if you follow the proper care instructions listed on the company's website. For example, the company suggests washing the sheets immediately after you get them. When washing your sheets, keep the settings on cold and use a mild detergent. For drying, tumble dry on low heat and immediately remove them once they're done.
Weight
As the company claims on their site, you may find yourself "sleeping in and waking up surprisingly refreshed."
Nest Bedding uses bamboo to create a lightweight bedding product that should not be heavy or weighted down.
Feel & Comfort
Nest Bedding's bamboo sheets are designed to feel luxurious and cool when you touch them. Additionally, the sheet set is a 300 Thread Count product. Although this may make the sheets feel slightly stiff initially, you can quickly change this by washing the sheets.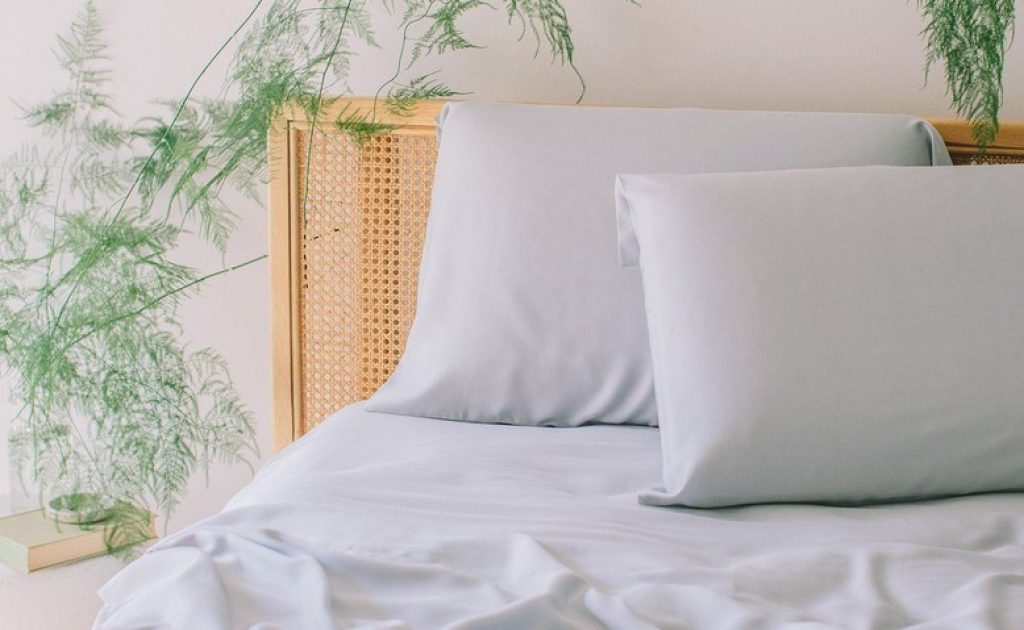 Price/Value
The sheets' features focus on issues people struggle with most in bedding, including dust mites, overheating, and the right feel.
They're extremely valuable to people with allergies because their antimicrobial properties will help eliminate microorganisms that can cause flare-ups. Furthermore, these anti-microbes are beneficial for folks struggling with skin or sinus problems.
With better breathing, you should sleep better. In turn, quality sleep can improve your overall health.
You should also find relief that your bedsheets are better equipped to protect you from frustrating skin irritations.
Is this a smart purchase? We think so, thanks to the combination of quality materials and consumer-focused features.
Who Should Buy Nest Bedding Sheets?
Bamboo bedding provides excellent advantages for shoppers who want to spruce up their bedroom.:
They provide cool sleeping for people who sweat a lot.
The bamboo rayon is lightweight, making it perfect for individuals who easily feel claustrophobic.
Bamboo is a durable material, which means it should last longer. A longer-lasting product is excellent for people with limited budgets since they won't need to replace them quickly.
If you need your room to look luxurious, you will likely appreciate the high-quality material in two chic, classic color patterns.
If you're struggling to sleep well, a change of bedding may be your solution.
Who Shouldn't Buy Nest Bedding Sheets?
However, certain consumers have strict preferences. Even quality products can't impress you if you're used to a certain product.
For instance, if you love silk, these sheets will probably not suit you. Bamboo is very soft but different from silk.
You should also consider your budget when deciding on this product. The upfront cost may be higher than you are used to, but if the item lasts longer than cheaper products, this could save you more money in the long run.
Conclusion
Nest Bedding succeeds in creating a new level of luxury with the bamboo sheets. These are a step up in softness from cotton for a more incredible sleep experience.
You will have to pay slightly more for these sheets. However, they should last you longer, as bamboo is known for its durability.
We think you will enjoy this product, particularly if you're looking for something softer for sleeping. Add to that important cooling and anti-bacteria features, and you have an excellent new bedding item worth your consideration.
Related Articles:
Jill Zwarensteyn
Editor
About Author
Jill Zwarensteyn is the Editor for Sleep Advisor and a Certified Sleep Science Coach. She is enthusiastic about providing helpful and engaging information on all things sleep and wellness.