Transparency Disclosure – We may receive a referral fee for products purchased through the links on our site...

Read More

.
Finding the perfect pillow might be the most satisfying feeling, but getting there is truly challenging. After all, there is a tremendous abundance and going through this vast majority is overwhelming even for people who know what they want.
We want to extend a helping hand by reviewing one of the popular choices on the market right now – the Nest Bedding Easy Breather Memory Foam Pillow. So let's have a look and see if this product is something you might like.
Want more options? Here are our top rated pillows for 2021.
We would recommend the pillow to people who:
Are looking for a solution made of memory foam – Memory foam is highly contouring, so you'd be able to mold it according to your preferences.
Are looking for a pillow that tolerates adjustments – You have the chance to add or get rid of as much stuffing as you'd like to. The adjustability is a benefit worth considering, especially if you struggle to identify a solution that hits the sweet spot in terms of support.
Are looking for a softer pillow – The materials used in this model are  Tencel® and memory foam. In other words – it's a soft one. However, this doesn't mean that the support is jeopardized.
Are allergic to latex – The Easy Breather is a convenient alternative for those allergic to latex.
At the same time, you might be better off with something else if:
You don't want to spend a lot – The pillow may be more expensive than you would like to pay.
You are not a fan of off-gassing – Unfortunately, this is a problem that almost all products that contain memory foam face. The off-gassing smell is unpleasant, but it goes away within the first 24 hours.
Now, once we've identified the formalities, let's dig a little deeper and find out the specifications of the pillow. Why is it special?
The Construction
This model is made of memory foam fill and is the alternative to their other solution filled with latex. The fill also features temperature-regulating materials for folks concerned about sleeping hot. Of course, the response time is naturally slower, but that's something you are probably expecting anyways.
There is a zipper at one of the ends of the cover, allowing you to unzip it and get rid of as much memory foam as you want to achieve the perfect level. Inside the pillow is a breathable cotton pouch to hold the fill in place. Customers can choose among different styles and sizes for this pouch.
When you're looking for a pillow, you should consider the materials used in it, especially regarding how safe they are. More specifically, you should ensure that there are no chemicals or lead in the product you rest on it every night. The good news is the Easy Breather doesn't contain harmful materials.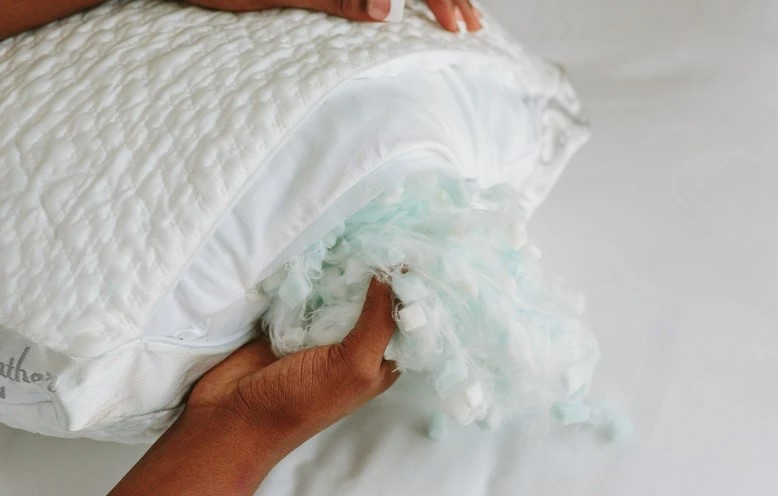 What about the Cover?
As we mentioned above, the pillow combines memory foam fill with a Tencel® blended cover. Tencel® is an eco-friendly material that is also temperature-regulating. Furthermore, the foam is CertiPUR-US® certified for added safety. A CertiPUR-US® certification shows that the product is made without harmful materials and has strictly low VOC emissions.
The cover comes with a very durable zipper which eliminates one of the most annoying problems in low-cost solutions – faulty zippers. The zipper is very durable and reliable,  something you ought to take into account.
How Does it Feel?
The feel of this product is impressive. With the ability to remove and add memory foam, you can modulate the pillow to the perfect sleeping solution.
You should also know that there is a slight difference in the feel between the latex pillow and the one made of memory foam. The latter is far more adaptive to your head and neck, but it is less responsive than latex will be.
Your sleeping preferences are going to determine the overall feel that you desire. However, these preferences can also change from time to time, which is another reason why you will likely appreciate this pillow's ability to adapt to your preferences.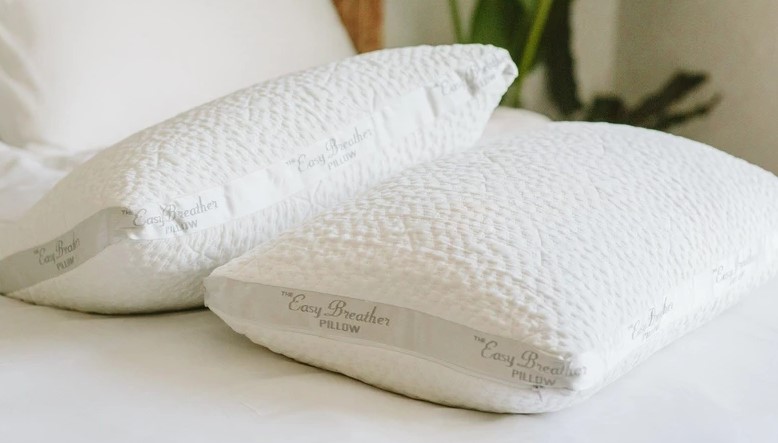 Is it Cool?
The easy breather is a cool pillow – literally. The Easy Breather sleeps cool thanks to the plant-based  Tencel® cover material and temperature-regulating materials in the fill. Specifically, the product manages to dissipate the heat from the surface of the pillow, making sure you don't have to suffer through the night.
Remember how you were always flipping your cheap and old pillow through the middle of the night in an attempt to get a temporary coolness during the hot summer night? Well, with the Easy Breather, as the name suggests, you wouldn't have to worry about it. It promotes proper airflow, which enables it to stay cool and to prevent heat retention. If you pack it with a nice silk or cashmere pillowcase, you'd be experiencing no issues whatsoever.
Other Considerations
While there are more pricey options on the market, we can't say that this is an affordable option as it costs a lot more than what you'd pay for a regular model. However, this is far from being your regular pillow. In the sleeping market, you get what you pay for, which is reflected across the board.
The pillow is going to arrive compressed in a box. While this will keep the spending on shipping in check, it will also require you to allow it some time to decompress properly. Furthermore, there might be a slight off-gassing smell, which is important to know if you are particularly sensitive to smells. In any case, allow it a few hours in an aerated space, and there no should be no more smell lingering.
Another impressive thing is that it's entirely made in the U.S., which means it abides by stringent quality control protocols. Those guidelines ensure that all of the materials are of the highest quality.
Lastly, you can conveniently wash your pillow in a washing machine at home. To prevent any damage to the pillow, the company provides specific guidelines for washing your pillow on their website.
To Conclude
---
The Easy Breather is a pillow that we'd recommend. The standard version is slightly less expensive, and it's a great choice for those of you who look forward to the traditional memory foam experience. The pillow is also a great solution for individuals allergic to latex looking for a luxurious option.
The major concern with memory foam is heat buildup, but the company has handled it by incorporating cooling materials into the fill and cover.
If you are looking for a great memory foam solution and are willing to pay the extra bucks for high-end quality, this is a great choice.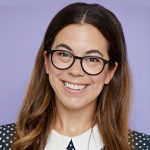 Jill Zwarensteyn is the editor for Sleep Advisor and a certified sleep science coach. She is enthusiastic about providing helpful and engaging information on all things sleep and wellness.
Based in Los Angeles, she is an experienced writer and journalist who enjoys spending her free time at the beach, hiking, reading, or exploring new places around town.
She's also an avid traveler who has a personal goal of being able to successfully sleep on an airplane someday.