Transparency Disclosure – We may receive a referral fee for products purchased through the links on our site...

Read More

.
Finding the perfect pillow might be the most satisfying feeling, but getting there can be challenging. After all, there is an abundance of options, and going through them may feel overwhelming, even for people who know what they want. We want to extend a helping hand by reviewing one of the popular choices on the market right now – the Nest Bedding Easy Breather pillow.
The Easy Breather is produced by Nest Bedding, one of the pioneers of the bed-in-a-box concept. In addition to their online presence, they now have retail stores and partner showrooms so that you can test out their products first-hand before buying. The company prides itself on offering organic and natural products that are responsibly crafted.
With that being said, let's have a look and see if this product is something you might like.
Nest Easy Breather Side Sleeper Pillow
A shredded memory foam pillow with cooling fabric.
Sleep Advisor Score
4.50 / 5
Read Full Review
Who Is the Nest Easy Breather Pillow Best for?
Pros: Who Might Like the Nest Easy Breather Pillow:
Memory foam fans – The Nest Easy Breather is made from memory foam, which is highly contouring. Therefore, when sleeping on this pillow, you should be able to mold it according to your preferences.


---

Those who want a versatile pillow – This pillow allows you to add or subtract its shredded memory foam filling. This means that the loft can be adjusted to make this idea for a variety of different sleep positions.


---

Hot sleepers – The cover is cool to the touch, and the shredded memory foam allows air to flow freely through the core.
Cons: Who Might Not Like the Nest Easy Breather Pillow:
Budget shoppers – Nest Bedding uses quality natural materials, and produces luxurious products. As such, their goods may not be the best fit for those who are looking for an affordable pillow.


---

Eco-conscious consumers – Although Nest Bedding uses many natural and organic materials in their products, the Easy Breather is not a shining example of their overall eco-friendly mantra.


---

Those who want a long sleep trial – Those who want plenty of time to make up their mind about a pillow may be disappointed that this one only has a 30-night trial.
Sleep Advisor's Testing Methodology
Consistently getting restorative sleep is paramount to healthy living. Our bedroom setting, which includes pillows, needs to meet our individual sleep needs. Therefore, to ensure that you're making the best decisions for what you bring into your bedroom, Sleep Advisor conducts a variety of tests and then evaluates the results on areas such as the construction, the feel, and how the pillow performed in a variety of sleep positions.
What is the Nest Easy Breather Pillow Made of?
Cover
To add elements of softness and coolness to the Easy Breather, the cover is made with a blend of Icecore™, polyester, and spandex. Under the cover, there is another breathable knit cotton fill bag that contains the memory foam. Additionally, the cover has a small but durable zipper that allows for easy access to the memory foam, which you can take out or add back in to achieve the ideal loft for your preferred sleeping position.
Core
High-quality, non-toxic shredded memory foam and polyester fiber make up the core of this pillow. These materials can be taken out and added back in to accommodate a variety of preferred sleep positions.
The core foam is slow moving and takes a bit to respond, but this is to be expected with memory foam. In addition to the cooling surface of the cover, the shredded fill is good for hot sleepers because it allows for airflow.
Nest Easy Breather Pillow Firmness & Feel
Firmness
The firmness, or how hard or soft a pillow feels, is an important aspect to consider because different sleep positions tend to have different firmness needs. Stomach sleepers typically need a soft pillow, while back sleepers often prefer a medium-firmness, and side sleepers gravitate towards firmer pillows.
The Easy Breather has a medium firmness that offers ample support. The memory foam is slow-moving, and the shredded nature of the fill allows you to sink into the pillow a pit more than solid foam.
Feel
From your initial touch of the cover, you will likely notice that this pillow is incredibly soft and even cool on your hand. The shredded memory foam is responsive and offers gentle contouring to the head and neck. Further, the ability to remove and add memory foam can help you modulate the loft so that it can fit your preferred sleeping positions.
Loft
Upon arriving, the Easy Breather will be overstuffed with shredded memory foam. This will create a very high loft that may vary slightly from pillow to pillow. Side sleepers tend to do best with higher-loft pillows, but considering that the fill is adjustable, the loft of the Easy Breather can theoretically be molded to fit all preferred sleeping styles.
Weight (Density of the Pillow)
The Easy Breather is available in four models: Standard, Queen, King, and a fourth model specifically for side sleepers. The Standard weighs 4 pounds, the Queen and Side Sleeper models tip the scale at 5 pounds, and the King comes in at 6 pounds.
Sleeping on the Nest Easy Breather Pillow
The adjustable fill of this pillow is a unique touch that should allow it to fit most sleeping positions. Additionally, we appreciated that even though it uses memory foam, a material not normally known for its temperature-regulating properties, it still sleeps cool because of the breathable cover and the shredded foam pieces that promote air circulation.
| Side Sleepers | Back Sleepers | Stomach Sleepers |
| --- | --- | --- |
| ★★★ | ★★★ | ★☆☆ |
Side Sleepers
Side sleepers typically sleep best on pillows with a higher loft because it helps keep their head and spine aligned. When the Easy Breather is completely full, it will likely even be too high for most side sleepers. However, by removing some of the shredded memory foam, this pillow should serve this group well.
For More Information: Best Pillows for Side Sleepers
Back Sleepers
Peoplewho prefer to sleep on their backs should also enjoy this pillow. The medium firmness and adjustable fill make it great for keeping these sleepers' spines well-aligned.
For More Information: Best Pillows for Back Sleepers
Stomach Sleepers
Stomach sleepers typically sleep best with lower, flatter pillows. Although you can remove as much fill as you like, the memory foam core is likely still too supportive for these folks. Plus, many stomach sleepers may not appreciate a pillow that they have to remove almost all of the filling from to make it suitable for them.
For More Information: Best Pillows for Stomach Sleepers
Nest Easy Breather Pillow Sizing Options & Pricing
| Size | Dimensions | Price w/o Discount |
| --- | --- | --- |
| Standard | 16" x 24" | $107 |
| Queen | 18"x 28" | $119 |
| King | 18" x 34" | $131 |
| Side Sleeper | 17"x 29" | $119 |
Nest Easy Breather Side Sleeper Pillow
A shredded memory foam pillow with cooling fabric.
Sleep Advisor Score
4.50 / 5
Read Full Review
Sleep Advisor's Performance Ratings for the Nest Easy Breather Pillow
The Easy Breather is a cool pillow – literally. The Easy Breather sleeps cool thanks to a cover that is made, in part, by Nest Bedding's proprietary Icecore™ material. This fabric disperses heat and wicks away moisture so that sleepers stay cool and dry. Additionally, by shredding the memory foam that is used in the fill, allows air to flow more easily.
The memory foam that is used in the core of this pillow makes it very supportive. This will provide most sleepers with a soft but supportive fill that should help keep their heads and necks elevated for proper spinal alignment.
By using high-quality materials from the cover to the zipper, we feel Nest Bedding has produced a long-lasting pillow. More specifically, the pillow's cover contains both spandex and polyester, which means it should be able to handle a good bit of wear and tear without losing its shape. Further, the pillow's core is made up of shredded memory foam,a product known for its longevity.
With solid support and gentle contouring, this pillow offers ample overall comfort. Additionally, by incorporating cooling and moisture-wicking properties into the Easy Breather, Nest Bedding has taken extra steps to provide a pleasant sleep experience for its users. The adjustable loft allows users to find the height that works best for their preferred sleep positions.
Although memory foam can often have a strong chemical smell known as off-gassing, we found that the Easy Breather has little to no smell when you remove it from the packaging. This is due in large part because Nest Bedding uses CertiPUR-US® certified foams that don't have a strong odor.
Memory foam is a great anti-allergen material in general, and this pillow is made with materials that meet high-quality standards. Furthermore, the cover is washable, which can help keep down dust and other allergens that may collect on your pillow.
The Easy Breather has a removable cover that is machine washable. It is recommended that you wash the cover in cold water on a delicate cycle. Use a mild detergent and avoid fabric softeners and bleach to obtain optimal results.
You will have 30 nights to sleep on the Easy Breather before you have to decide if it is the pillow for you. If you do keep it, you will have a two-year warranty.
Nest Easy Breather Side Sleeper Pillow
A shredded memory foam pillow with cooling fabric.
Sleep Advisor Score
4.50 / 5
Read Full Review
Nest Easy Breather Pillow Frequently Asked Questions
Does the Nest Easy Breather ship for free?
Yes, the Nest Easy Breather will ship for free within the contiguous United States. It can be shipped to Alaska, Hawaii, and Canada for an additional fee.
Do I need a pillowcase with the Nest Easy Breather?
This is a personal preference. The Nest Easy Breather has a knitted cover that is soft to the touch and is machine washable. However, pillowcases may add an extra level of comfort and protection.
Where can I purchase the Easy Breather pillow?
You can purchase the Easy Breather online and have it shipped to your home. Those who live in the contiguous United States will receive free shipping. Nest also has their own showrooms in California and Arizona, as well as other partner showrooms in other locations listed on their website.
How Does the Nest Easy Breather Pillow Compare to Other Pillows?
Nest Easy Breather Pillow vs Saatva Latex Pillow
Saatva Latex Pillow
A pressure-relieving pillow made with natural latex.
Sleep Advisor Score
4.80 / 5
Read Full Review
Who Should Get the Nest Easy Breather Pillow?
People who want a variety of size options
Folks who prefer an adjustable pillow
Those who want a machine washable cover
Who Should Get the Saatva Latex Pillow?
Those looking for a fluffy, hotel-style pillow
Hot sleepers
People who experience neck pain
For more on Saatva's pillow, visit our Saatva Latex pillow review.
Nest Easy Breather Pillow vs Nectar Graphite Pillow
Nectar Graphite Pillow
Sleep Advisor Score
3.70 / 5
Who Should Get the Nest Easy Breather Pillow?
People with allergies
Memory foam fans
Side sleepers
Who Should Get the Nectar Graphite Pillow?
Those who want a cool-to-the-touch pillow
Shoppers who want a longer warranty
Back and side sleepers looking for good spinal support
For more on Nectar's pillow, visit our Nectar Graphite pillow review.
Our Final Thoughts on the Nest Easy Breather Pillow
The Easy Breather is a pillow that we'd recommend, particularly for those who like the idea of an adjustable pillow. The Standard size is slightly less expensive, and it's a great choice for those of you who look forward to the traditional memory foam experience. The pillow is also a great solution for individuals allergic to latex looking for a luxurious option.
The major concern with memory foam is heat buildup, but the company has handled it by incorporating cooling materials into the fill and cover. If you are looking for a great memory foam pillow and are willing to pay the extra bucks for high-end quality, this is a great choice. Our overall score for this product is 4.7 out of 5.
Nest Easy Breather Side Sleeper Pillow
A shredded memory foam pillow with cooling fabric.
Sleep Advisor Score
4.50 / 5
Read Full Review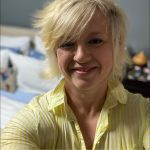 Sosha Lewis is a staff writer for Sleep Advisor.  Lewis is happy that she is able to combine her love of sleep with her love of writing. Lewis also has had articles featured in The Washington Post, Huffington Post, MUTHA Magazine, Charlotte Magazine, and The Charlotte Observer. Her weekly column, Soshally Awkward, is featured on the nationally-syndicated radio show, Bob & Sheri.
She lives in Charlotte, NC with her husband, daughter, and lovable trash-panda of a dog, Olive.