Transparency Disclosure – We may receive a referral fee (at no additional cost to the buyer) for products purchased through the links on our site or other applicable pages. To learn more, please read our full disclosure page here. We also encourage you to read about how we may research and/or test Products here.
Imagine you're in your coziest pajamas, you dive into your clean, soft sheets, and you rest your head on the pillow, ready for an excellent night of sleep, and – it's just not right. The pillow is too hard or lumpy, or it's flat on the bed.
If you've experienced anything like this, you know how important a good, soft pillow is. The right pillow could be the thing that takes your sleep from an 8 to a 10.
So we've put together a list of the 10 best soft pillows, plus plenty of information on how to choose the right pillow for you.
The Best Soft Pillows for Sleeping
Editor's Choice
Cozy Earth Silk Pillow
The pillow has a premium bamboo viscose shell that's naturally breathable and has temperature-regulating properties.
Sleep Advisor Score
4.90 / 5
Cozy Earth is becoming more and more popular, and this pillow is a good example of why. This product offers a soft, supple, and luxurious feel. The inside is made with 100 percent mulberry silk, giving it an almost cloud-like level of softness. The filling stays consistent throughout the night, so you won't need to readjust. The outside of the pillow is made of soft, premium bamboo fabric. Both of these materials are not only durable but eco-friendly and natural.
The pillow is oversized to fit all sleepers, so you won't have to fret about which size to get. Plus, if you tend to sleep hot, this combination of silk and bamboo might be perfect for you as it is temperature-regulating.
What stands out about it?
The mulberry silk filling stays consistent throughout the night

The materials are natural and eco-friendly
Best Soft Adjustable Pillow
The Lagoon Chinchilla pillow is soft and breathable, but its adjustable fill is really where it shines. Thanks to its adjustable loft and firmness, this pillow should work for many sleeping positions. Simply add or remove the fill to make the height suit your preferred sleeping position.
Cozy and luxurious, the Chinchilla pillow has a microfiber fill and a bamboo and polyester cover. You can wash the entire pillow with cold water, just be sure to use a gentle cycle to prevent any damage.
What you should know:
The bamboo and polyester blend cover is smooth and soft on your skin, so you shouldn't have to worry about irritation if you have sensitive skin.
This pillow is fully adjustable, including the firmness level and loft.
Best Soft Down Pillow
Brooklinen Down Pillow
The Brooklinen Down pillow is available in three firmness levels, making it versatile for a variety of sleepers.
Sleep Advisor Score
4.30 / 5
Down is one of the top materials for fluffy pillows, but many people may shy away from it because it's made from the undercoat of birds like geese and ducks. However, Brooklinen ethically sources their down from Canadian-based Hutterite Farms, making this a more sustainable option.
This Brooklinen pillow comes in two sizes, Standard and King, which should accommodate most bed spaces. Adding to this product's appeal is the fact that it's available in three different support options, including Plush, Mid-Plush, and Firm. However, if you're interested in something softer, you'll want to go with the Plush or Mid-Plush.
Why did it make the list?
The pillow's soft fill is wrapped inside a 100 percent cotton sateen shell.

Ethically sourcing their material makes this product stand out among other down options.

By getting to choose from three support levels, the company offers great customization with this pillow.
Best Soft Hypoallergenic Pillow
Saatva Down Alternative Pillow
If you love the feeling of a soft down pillow, but you happen to have allergies or don't want a pillow filled with actual feathers, this might be the perfect solution for you.
The Saatva Down Alternative Pillow feels like a regular down pillow in that plush-yet-supportive way, but it is not filled with feathers; instead, it is filled with hypoallergenic down alternative fibers. The outer pillow contains a proprietary down alternative and the core of the pillow is made from shredded latex, which creates a fluffy but buoyant feel.
You can even remove the middle insert of the pillow for a lower-loft pillow. This is especially useful for those stomach-sleepers out there who need less incline on their necks.
Why should you consider it?
The outer shell is breathable and 100 percent organic.

This product is great for those with allergies and combination sleepers.
Best Soft Pillow for Back Sleepers
TEMPUR-Cloud Pillow
Sleep Advisor Score
4.50 / 5
We love this pillow because it is still soft while maintaining all of the important elevation and support that back-sleepers need. When you're sleeping on your back, you'll need your neck to be elevated to a certain degree to maintain proper spinal alignment. This pillow's loft is five inches – a comfortable and supportive elevation for back sleepers.
Just like other Tempur-Pedic products, this pillow is made from the brand's proprietary memory foam. This means it is deeply contouring, so it will shape itself to your unique body and position, and it is deeply supportive, all while still feeling soft.
The only drawback is that it's not the most breathable material, so for those who sleep hot, you might find it a bit warm for your liking.
Why did it make the list?
This pillow should provide great support, contouring, and elevation for those who sleep on their backs, while still feeling soft and cloud-like.
Best Soft Pillow for Side Sleepers
Eli & Elm Side-Sleeper Pillow
A contoured designed pillow for side and back sleepers.
Sleep Advisor Score
4.30 / 5
If you sleep on your side regularly, you probably know all about the discomfort this can cause on your shoulder and neck. This is because most pillows aren't created to leave space for your shoulder, so you'll end up putting more pressure there.
This Eli and Elm pillow was created specifically for side sleepers. The pillow's unique U-shape leaves space for your shoulder and supports your neck while sleeping on your side. Therefore, it should create proper spinal alignment and alleviate shoulder discomfort that can often come with a regular pillow.
The only downside is that regular pillowcases will not fit on this uniquely-shaped pillow.
What's worth noting?
The pillow is made for side sleepers

The fill in this product is adjustable, so if it feels too firm initially, unzip the pillow and remove some of the unwanted fill for a softer feel.
Best Soft Durable Pillow
If you imagine any movie scene with a pillow fight, there are almost always feathers flying everywhere, right? That's because down and feather pillows aren't always the most durable. Helix, however, aims to provide more softness and durability with their Down and Feather Pillow.
The down and feathers used in this pillow are resilient and the pillow features a reinforced double stitched edge. This strong German piping creates a durable seam – no feathers flying in this pillow fight.
The Helix pillow also features a unique 3-chamber design. This means it has an inner core with a feather and down blend to provide stable support, plus two outer cores of white down for an added feel of plush comfort.
What are the key features?
The 3-chamber design provides support for the head and neck while also feeling fluffy.

This product is quality-made and more long-lasting than other pillows.

You can try it for 100 nights.
Best Soft Organic Pillow
Sweet Zzz Plant-Based Pillow
A plant-based down fill pillow with pressure relief and support for side sleepers.
Here is a pillow you can feel good sleeping on, and feel good about. The Sweet Zzz is 100 percent plant-based, sustainable, and certified for babies and those with sensitive skin.
The pillow is made up of three parts: the inner layer, the outer layer, and the cover. The inner layer is filled with natural, plant-based down that is firmer to the touch for neck and shoulder support. The outer layer is also made of natural, plant-based down, but it is much softer. The mix of these two layers should give you that soft, down feel without your head sinking too far into the pillow. The pillow's cover is made of 100 percent cotton for breathability.
Why we love it
The two layers of plant-based down offer a combination of support and softness.

All of the materials used in this pillow are sustainable, plant-based, and hypoallergenic.
Best Soft Memory Foam Pillow
Nectar Pillow
A memory foam pillow with adjustable firmness levels.
Sleep Advisor Score
4.80 / 5
Read Full Review
The reason we love this pillow so much is its innovative, pillow-in-pillow design. Not only is the pillow itself made of memory foam, but the outer shell is also made of memory foam. This makes for an incredibly soft but supportive memory foam pillow.
Usually, memory foam can feel warm, which is not ideal for those who get hot during the night. However, the Resident is three steps ahead of this problem, as the cover fabric of the pillow is made from a blend of polyester and Tencel, a fabric known for its smooth and breathable feel.
This pillow will arrive overstuffed, so you can adjust the firmness to your preference. You can save the extra filling in case you want a firmer pillow in the future.
Why did we pick it?
The Resident has an inner and outer layer of memory foam, making for a supremely supportive and soft pillow.

The pillow is adjustable and sleeps cool.
Best Soft Pillow for Stomach Sleepers
If you sleep on your stomach, you might have a hard time finding a pillow that feels supportive, soft, and doesn't crick your neck. That's because most pillows are going to be too high or too firm for stomach sleepers, making your neck lie at an awkward and uncomfortable level. This pillow, though, is designed specifically for stomach sleepers, so it has a uniquely low profile of 2.5 inches.
Rather than using memory foam, which tends to trap heat, the Belly Sleeper uses polyurethane foam infused with cooling gel particles to prevent overheating at night. The Belly Sleeper's low profile makes it perfect for stomach sleepers, but it likely won't provide the support needed for back or side sleepers.
Why did we choose it?
This pillow is uniquely designed to support spinal alignment in stomach-sleepers.

The Belly Sleeper is contouring, soft, and hypoallergenic.

The pillow comes with a removable, washable cover.
What to Consider When Buying a Soft Pillow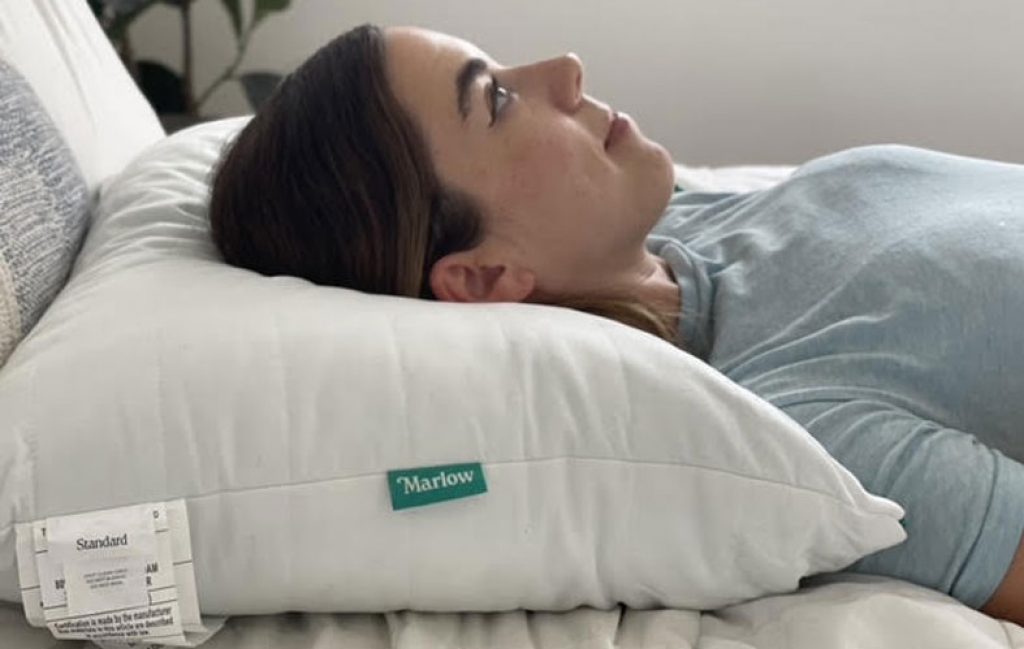 Price
Depending on the material, size, and other factors, prices for pillows will vary widely. On this list, pillows start at about 40 dollars (for the Belly Sleeper Pillow) and go up to 223 dollars (for the Cozy Earth silk pillow). If you are looking for a pillow on the lower end of the price spectrum, you might want to avoid materials like silk or expensive down.
Size
Depending on what size bed you have, your pillow will either be larger or smaller. Usually, you can order pillows in the following sizes: Standard, Queen, or King. A Standard pillow measures 20 x 26 inches, a Queen is 20 x 30 inches, and a King is 20 x 36 inches. Sometimes manufacturers get even more specific than this, though, and you can order pillows in these additional sizes: Super Standard (20 x 28 inches), Euro (16 x 16 to 26 x 26 inches), Body (48 x 20 or 54 x 20 inches), or for your little ones, Toddler (14 x 20 inches).
Materials and Quality
When it comes to the inside of pillows, there is a wide range of materials and quality of materials. For example, polyester fiberfill pillow stuffing is on the lower end of the spectrum when it comes to quality. On the higher end, there are materials like down, feathers, memory foam, and latex. Lower quality pillows will typically cost less, but may not last as long or be as supportive for your neck, shoulders, and spine. Also, not many lower-quality pillows are hypoallergenic, an important factor to consider if you have allergies.
Sleep Position
Which pillow you choose might also depend on your sleep position. If you are a side sleeper, you'll want a pillow that will relieve pain in your shoulder while still supporting your neck and spine. The U-shape of the Eli and Elm Side Sleeper pillow is the best choice for that. If you sleep on your stomach, you'll want a pillow that is lower to not cramp your neck, such as the Belly Sleep Pillow. People who sleep on their backs have more options, but the Tempur Pedic Cloud pillow is our recommendation for its spinal support and soft, cloud-like feel.
Pillow Loft
Pillow loft is the compressed height of the pillow when your head is resting on it – not when the pillow is just lying on the bed. This is important because it measures how far off the bed your head is while you're sleeping. This plays a big role in your spine's proper alignment.
Depending on your preference and sleeping position, you can choose a low (less than three inches), medium (three to five inches), or high (more than five inches) pillow loft. Back and side sleepers should go with a medium or high loft, whereas stomach sleepers should choose a low loft.
Support
Even if you love a good, soft pillow, it's important that it still supports your neck. This is why a purely down or feather pillow with no layers is probably not the best choice for support, no matter how soft and comfortable it feels. We've only listed options with support layers here. When shopping for a pillow, make sure your neck feels supported. You should feel the pillow higher under your neck than under your head so that your head lies flat. This should give you proper spinal alignment. If your pillow is not supporting your neck, you'll likely feel it as neck, back, or shoulder pain.
Firmness
Some pillows are firmer while others are more plush. Typically, firm pillows offer great support for the neck and head, but they might feel too rigid or uncomfortable for some people. In this case, a medium-firm or soft pillow would be a better choice. Likewise, a softer pillow might not feel comfortable for some sleepers who are better off with a firmer, more rigid-feeling pillow.
For those who like a variety of firmness options or are combination sleepers, a pillow with adjustable firmness might be the solution.
Pressure Relief
Pressure relief is about evenly distributing weight. If you sleep on your side, you should look for a pillow that removes the pressure from your shoulder on the mattress by evenly distributing your weight. If you sleep on your back or stomach, you'll want a pillow that relieves the pressure from the neck and back.
Finding a pillow with the right amount of support is key. Many people love memory foam for its ability to contour the body and relieve pressure in sensitive areas.
Pillow Shape
Unless you're shopping for something decorative, pillows for sleeping on your bed will typically come in one shape: rectangular. There are some exceptions to this rule, though, like the U-shaped Eli and Elm Side Sleeper Pillow, specifically shaped to accommodate side sleepers.
More commonly, different types of pillows have varying fill shapes. For example, there are three typical shapes of foam pillows: shredded, molded, and noodle. Each of these contours the neck and shoulders differently for support. Furthermore, this could affect breathability, with shredded foam providing more airflow than solid foam. If you're buying a foam pillow, test out several options and find the right feel for your body.
Cooling
Certain types of pillows tend to sleep hotter than others. Memory foam, for example, tends to be dense and traps heat without cooling features added. If you are a hot sleeper, you'll need to keep this in mind since much of your heat escapes through your feet, hands, and head.
Companies are now using specific materials to keep pillows cooler, such as gel memory foam, latex, cotton, bamboo, and linen. These will all help manage heat distribution in the body by keeping your head cooler.
Trial and Warranty
Many quality pillow companies offer trial periods or warranties. A trial period might be anywhere from 30 to 100 nights. Usually, you'll be able to send the pillow back at no shipping charge if you don't like it.
Warranties can last anywhere from one year to five years or "forever," in the case of the Belly Sleep Pillow. They generally ensure that the company will replace or repair your pillow if it is defective at the company's fault, but warranties are typically specific to the product or company.
Therefore, be sure you're checking the website and reading the fine print when it comes to the trial period and the warranty. See if there are any conditions, hidden fees associated with returning the pillow, or fine print about refunds or exchanges. If you have questions, contact someone at the company via Support.
Types of Pillows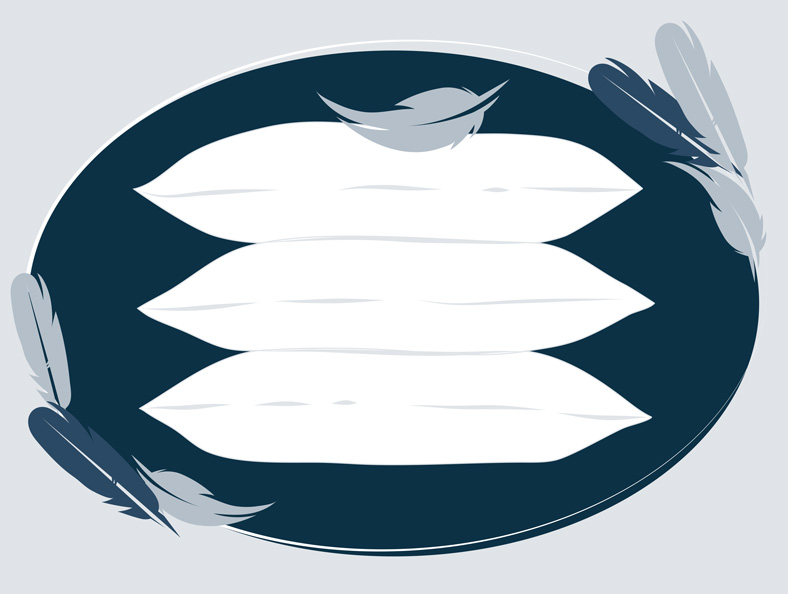 Foam
Foam pillows come in two main varieties: polyfoam and memory foam.
Polyfoam – Polyfoam is a synthetic alternative made from petroleum. Though similar to memory foam, it lacks the added chemicals that give memory foam that distinct "sinking" feel. Polyfoam is usually the least expensive type of foam and often sleeps cooler than memory foam. However, it may come with a strong smell when you first unpack it.
Memory foam – Memory foam, also known as viscoelastic polyurethane foam, is distinctly known for its "sinking in" feeling. This foam has a slow response time, which means it contours to the head and neck like a good hug. Memory foam pillow is good for relieving pressure points and providing support. This material tends to retain more heat than other types of pillows, but buying a memory foam pillow with cooling gel can help this.
Down
Down pillows are made from the insulating under-feathers of ducks, geese, and swans. Goose down tends to be the more luxurious and expensive option, as goose down usually has larger tufts so these pillows have a higher loft and better insulation.
Down pillows feel incredibly soft, fluffy, and light. Since they are filled with soft feathers, they don't provide as much support or retain their shape as well as other types of pillows and may need to be re-fluffed throughout the night. Therefore, they're not the best option for side sleepers who need some extra loft in their pillow but might work well for stomach sleepers.
Down Alternative
Down alternative pillows have a similar feel to down pillows but are filled with synthetic down or polyester fibers. These are a great option for those who love the feel of down but are allergic, are on a tighter budget, or are looking for a vegan / animal-free option.
Like down, down alternative pillows will flatten over time and need to be fluffed. When looking for a down alternative pillow, keep an eye out for its "fill powers," meaning, the amount of filling it has. Typically this ranges between 550 – 800. Generally, the higher the fill power, the better quality the pillow.
Latex
Latex pillows are made from the sap of rubber trees, a more natural alternative to some other materials. Latex pillows tend to feel bouncier than memory foam and not quite as contouring. They also don't retain heat and are naturally resistant to dust mites and mold, making them a good option for those with allergies. Latex tends to be one of the more expensive materials for pillows, but their durability means they should last a long time.
Feather
Whereas down pillows are made from the quill-less, softer feathers from the chest and underbelly of birds, feather pillows are made from the quilled feathers from their wings and backs. They tend to be less expensive than down pillows but can also have some drawbacks. Feather pillows tend to flatten more quickly, and since these feathers have quills, they might poke you through the pillow.
Buckwheat
Buckwheat pillows are packed with buckwheat hulls and tend to have a high firmness level. They are often seen as an alternative to memory foam, as they provide a lot of contouring support but don't have the drawbacks of off-gassing or heat retention.
Their height and level of support can be adjusted by adding or removing husks from the pillow, and they are hypoallergenic. The downside is, these pillows tend to be noisy (imagine a beanbag), so these may not be the best option for you if you change your position a lot at night.
Read More: Best Buckwheat Pillows
Wool
Wool pillows are made from the wool of sheep and are generally thought of as environmentally and animal-friendly since the sheep aren't harmed in this process. They tend to be heavier, flatter, and firmer than other types of pillows but hold their shape relatively well. Counterintuitively, they are a good choice for those who sleep hot at night because their natural fibers tend to wick away moisture. They're also ideal for those who have allergies — unless you happen to be allergic to wool.
Water
Water pillows have a water-filled base layer that supports an outer polyester layer, surrounded by a cotton case. They are highly adjustable – you just add or remove water from the pouch to change the loft and level of firmness of the pillow.
The water-filled base responds well to your movements throughout the night, so these pillows are a good solution for those who move around during their sleep. Just make sure not to let in any air bubbles when filling the base or else you might hear a sloshing noise when you move.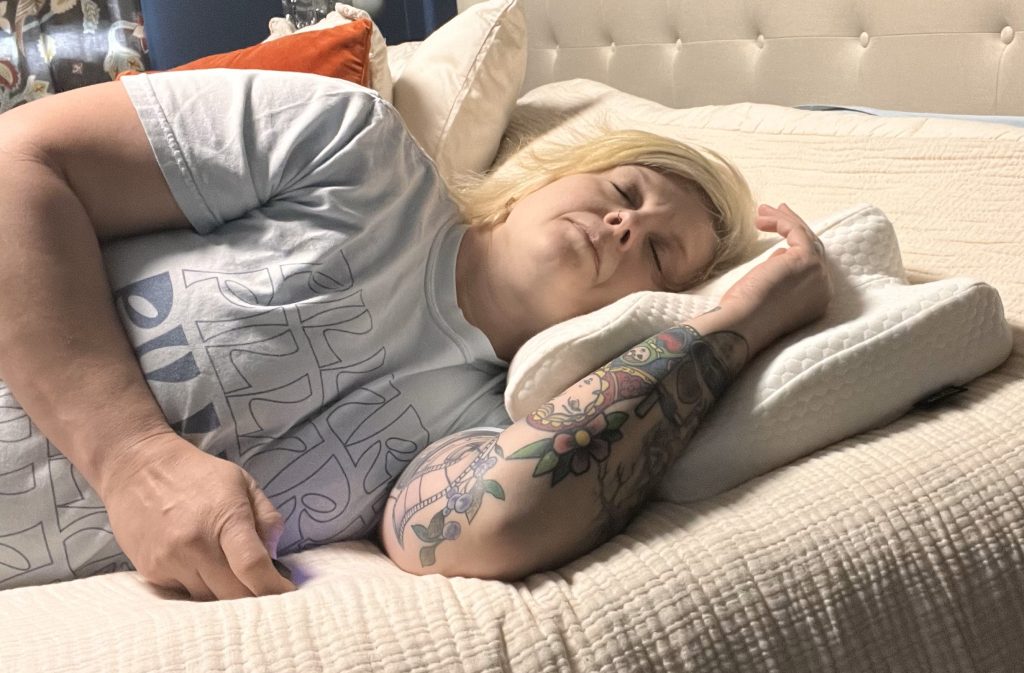 What Pillow Firmness is Best?
Choosing a pillow often comes down to choosing a firmness level, and the firmness level is all about your sleeping position. Depending on whether you're a side, back, stomach, or combination sleeper, you'll need a different level of firmness and support.
Side Sleepers
Side sleepers need a pillow that will fill the space from their neck to the edge of their shoulders in order to keep their neck in a neutral position. Typically, a pillow with a medium-firm or firm level of support will work well here, since a too-soft pillow will cause your head to gradually sink. This will throw your spine out of neutral alignment and likely cause you neck pain in the morning.
Learn More: Best Pillows for Side Sleepers
Back Sleepers
Back sleepers will want to look for all things medium – a medium loft and a medium firmness. This will keep your head supported enough for proper spinal alignment. The pillow won't be so soft that it will lose its shape underneath your head, and it won't be so firm that it doesn't yield to the pressure of your head, which would feel uncomfortable.
Read More: Best Pillows for Back Sleepers
Stomach Sleepers
The firmer the pillow, the greater the odds your neck will be lifted, and if you're on your stomach, this means the neck could be lifted out of alignment with the rest of your spine. Therefore, stomach sleepers should choose a softer pillow with a lower firmness and loft.
For More Information: Best Pillows for Stomach Sleepers
Combination Sleepers
Combination sleepers should go for a medium firmness and loft, or better still, find an adjustable pillow. This way, you can customize your pillow's firmness so that it feels the most comfortable for your unique sleeping habits.
What is the Loft?
The loft is the compressed height of the pillow when your head is lying on it. Typically, the loft of the pillow will be low (less than three inches), medium (three to five inches), or high (more than five inches). Choosing the loft that works well for you will depend on your personal preference and sleeping position. Side sleepers, for example, will need a medium or high loft. Back sleepers will need a medium loft. Stomach sleepers will need a low loft.
Pillow Sizes
When you're shopping for new pillows, you'll want to find the right size for your bed space. The following list shows the standard dimensions of each commonly-discussed pillow size.
Standard – 20″ x 26″
Super Standard – 20″ x 28″
Queen

– 20″ x 30″

King – 20″ x 36″
Euro –

26″ x 26″

24″ x 24″

22″ x 22″

20″ x 20″

18″ x 18″

16″ x 16″

Body –
Toddler – 14″ x 20″
Frequently Asked Questions
What is the best pillow to sleep on?
The best pillow for you depends on your unique preferences and sleeping positions. If you are a side sleeper, you'll want a firmer pillow or one that is uniquely shaped for side sleepers. If you sleep on your stomach, you'll want a softer pillow that's lower in height, and if you sleep on your back, you'll want a medium pillow that contours to support your head and neck. You'll also need to take into account other features such as cooling and natural or hypoallergenic materials.
Are firm or soft pillows better for side sleepers?
In order to keep the spine properly aligned, side sleepers typically do better with firmer pillows. A pillow that's too soft will cause the head to sink, leading to pressure in the shoulder and neck. That being said, you can find a pillow that has a supportive interior but still feels soft on the outside if that's your preference.
How much does a soft pillow cost?
Depending on the quality of materials used, soft pillows can cost anywhere from 20 dollars to over 200 dollars. Soft materials like polyester fiberfill will cost less than down, memory foam, or latex, but these will also be less durable.
When should I replace my pillow?
The general rule is that you should replace your pillow every one or two years. This does vary depending on what type of pillow you have, though. Memory foam, for example, will tend to sag after about one year. Latex, on the other hand, is a more durable material and doesn't need replacing until about two years.
Which pillows are the softest?
Down, silk, down alternative, and some types of memory foam tend to be the softest pillows, though this will vary depending on the pillow's fill and construction.
Is it good to sleep on a soft pillow?
Soft pillows can be a great option, especially for stomach sleepers. You'll just want to make sure that even though your pillow feels soft, it still provides enough support for your neck and head to maintain proper spinal alignment throughout the night.
How plush should my pillow be?
How plush or soft your pillow should be will depend a lot on you. What position do you sleep in? What is your comfort preference? If you tend to sleep on your back, you'll want a pillow with more medium firmness. If you are a side sleeper, you'll want something on the medium to firm side of things, and if you are a stomach sleeper, you might do well with something on the softer side. Again, it comes down to personal preference and spinal alignment, so be sure to test out pillows in the soft, medium, and firm categories and see what works for you. Many companies allow for a free trial period with their pillows.