Are you in the market for a new pillow but feel a little lost by all of the choices? If you're looking for a blend of comfort, support, and natural materials, latex may be right for you.
Made from the sap of the rubber tree, this all-natural material is faster responding than memory foam and poly foams but without all the chemicals. When it comes to eco-friendly bedding, latex shines.
If you're curious about what this "green" material offers, we've got you covered. Keep reading for our top eight picks for the highest-rated latex pillow and the full scoop on how it's made, the different types, and more.
Our 2023 Best Latex Pillow Picks
Sleep Advisor's Testing Methodology
At Sleep Advisor, our product reviews are based on findings from in-person tests that allow us to have a genuine understanding of how the mattress feels and performs.
For this roundup, we prioritized features that are especially important for latex pillows. We paid special attention to components such as pillow thickness, support elements, material, and cooling features.
7 Top Rated Latex Pillow Reviews
Editor's Choice
Saatva Latex Pillow
A pressure-relieving pillow made with natural latex.
Sleep Advisor Score
4.80 / 5
Read Full Review
This organic Saatva pillow is made from shredded natural latex. The pillow is available in King and Queen sizes, so it's a good match for most beds. In addition, the pillow comes with a 100 percent organic cotton cover, but you can also get a sateen pillowcase for a more gentle feel. Both pillowcases are machine-washable for easy maintenance.
The original cotton cover is moisture-wicking and breathable, while the gusseted sides have contrast welting to keep the shape.
This Saatva pillow has a shredded latex core and an inner pillow filled with microdenier fiber similar to down. The inner pillow is removable, allowing sleepers to adjust the loft and density to suit their specific needs. The fill is breathable and hypoallergenic, allowing a more comfortable and restful sleep regardless of your preferred sleeping position.
What's worth mentioning?
The latex core is recommended by orthopedists and chiropractors as it's responsive, supportive, and resistant to dust mites and mildew.
Best Latex Pillow for Neck Support
Avocado Mini Molded Latex Pillow
A pillow designed for support, comfort, and cooling.
Sleep Advisor Score
4.50 / 5
If neck support is your primary concern, you may want to consider the Avocado Molded Latex Pillow. The pillow is designed for back and side sleepers looking for firm support. What stands out most is the charcoal-infused latex core that helps with temperature regulation and moisture-wicking. The core also eliminates odors, so the pillow is unlikely to develop any smell after extended use.
This Avocado pillow has a GOTS organic certified cotton cover you can remove for easy washing. The cover is light and soft, helping to keep you cool and comfortable throughout the night.
Why we think you'll love it
Because it's molded, the core adapts to the shape of your head and neck. This should help ease neck pain while preventing the pressure from building up even more. In addition, the charcoal-infused latex helps keep you cool while distributing weight evenly to provide consistent neck support.
Best Cooling Latex Pillow
Brooklyn Bedding Talalay Latex Pillow
A sustainably sourced latex pillow with cooling properties.
Sleep Advisor Score
4.70 / 5
Our pick for Best Cooling Latex Pillow is the Talalay Latex Pillow by Brooklyn Bedding. This popular company is well-known for its luxury mattresses, and now you can have that same high-quality experience in a pillow. The sustainably sourced Talalay is derived from the sap of the Hevea brasiliensis (rubber) tree so you know you're getting natural materials.
This hyper-responsive foam is constructed using eco-friendly manufacturing methods that are better for the environment. You should achieve a healthier night's sleep with the hypoallergenic material designed to be gentle on the skin. An antimicrobial, organic cotton cover is included that is removable for easy washing.
This premium foam is crafted to offer contouring support for the head and neck, relieving pressure and promoting optimal spinal alignment.
Why we picked it
Talalay is inherently more breathable than other foams, so you shouldn't have to worry about

overheating.
Best Adjustable Latex Pillow
Naturalpedic Organic Adjustable Latex Pillow
A pillow offering 2 sides for different preferences.
The Naturepedic 2-in-1 pillow has two sides offering different feels. This allows sleepers to pick a side depending on what feels best. Another quality that stands out is the adjustable shredded latex fill, allowing you to adjust the firmness by adding or removing the filling. In addition, the interior is easy to access via a zip on the side. The fill is inside an extra compartment separate from the outer layer for easy washing.
Why did it make the list?
The pillow is adjustable with two main components. The first features an organic shredded latex core and an adjustable fill, while the second is the outer encasement. The encasement features a stretch-knit side and a luxury quilted side giving two unique textures. The smooth side stretches to adapt to your head and neck, while the quilted side is more fluffy. The quilting has dual-action compression, made from latex and PLA fiber.
Best Latex Pillow for Side Sleepers
Eli & Elm Side-Sleeper Pillow
A contoured designed pillow for side and back sleepers.
Sleep Advisor Score
4.30 / 5
If you're a side sleeper, you probably know the struggle of finding the perfect position on your pillow. Dedicated side sleepers usually deal with pressure build-up in the shoulder, and this Eli & Elm pillow is designed to prevent that. The pillow is made specifically for side sleepers, featuring a unique shape that should alleviate shoulder pain.
The pillow conforms to your neck and head, supporting and holding your head up to avoid chronic neck pain. The unique U-Shape design alleviates neck pain by promoting a healthy spinal alignment and a more comfortable sleeping experience. In addition, the pillow retains its shape, so it's unlikely to end up flat by morning.
What stands out?
You can adjust the height and support level by removing or adding polyester and latex filling. Then, all you have to do is unzip the pillow to access the core, making it easy to adjust depending on whether you want softer or firmer support.
Best Latex Pillow for Pressure Relief
PlushBeds Organic Solid Latex Pillow
A breathable and temperature-regulating latex pillow.
This PlushBeds latex pillow has the softness of a traditional pillow, but it's more resilient and bouncy, thanks to its latex core. The pillow is designed to relieve pressure on the shoulders and neck as it's soft and pliable, adapting to your body and conforming to different shapes.
The filling is made from shredded latex that's springy but firm, allowing moderate to firm support to prevent the pillow from flattening. In addition, shredded latex gives this pillow a consistent loft and fast recovery so it should bounce back into shape without you having to do anything.
What's worth mentioning?
This PlushBeds latex pillow is breathable and cooling thanks to latex's natural temperature regulating properties. Plus, shredded latex provides plenty of airflow between the shreds, which keeps the pillow fresh and cool.

The pillow comes with a breathable organic cotton cover that enhances comfort and cooling for a healthier and more comfortable sleeping experience.
Best Organic Latex Pillow
Birch Organic Pillow
A latex-core pillow that effectively supports the neck and head.
Sleep Advisor Score
4.10 / 5
This Birch model is one of the best options if you're looking for an organic latex pillow. Birch uses organic and natural materials and puts them through rigorous testing to ensure maximum quality.
The Birch pillow features eco-friendly and organic materials that are ethically and sustainably sourced, which include natural Talalay latex and organic cotton. The combination of materials should deliver the highest levels of comfort, allowing the pillow to adapt to your body and bounce back into shape.
Why should you consider it?
The pillow has a Talalay latex core that supports the head and neck in all sleeping positions. The core is wrapped in organic wool for additional moisture-wicking and breathability, making this a good option for hot sleepers. Finally, everything is wrapped in an organic cotton cover that enhances comfort and plushness.

The pillow is free of harsh chemicals and polyurethane-based foams, so it's eco-friendly, featuring GOTS and GREENGUARD Gold certifications.
Latex Pillow – Buyer's Guide
Confused by all the terms and what they mean? Not all latex is created equal. Let's explore how it's made, the different types, and what to look for based on your sleep needs.
What is Latex?
Natural latex comes from the sap of the rubber tree that is carefully extracted without harming the tree. This liquid sap is molded into a solid foam using a process called vulcanization. This involves cross-linking latex particles with sulfur using high heat and accelerators like zinc oxide.
The two main types of latex foam are Dunlop and Talalay, and their difference comes down to manufacturing. Dunlop uses a more energy-efficient vulcanization method, creating a single dense piece of foam. With Talalay, the foam is expanded using a vacuum, then frozen and turned into a gel by adding carbon dioxide gas before undergoing vulcanization.
Natural latex can be expensive, so many companies offer synthetic versions produced using petrochemicals. Pure and synthetic latex look the same from the outside, but if you want to avoid chemicals, 100 percent natural is the way to go. Blends use a mix of natural and synthetic materials for a high-quality feel at a fraction
Understanding the Different Types
Talalay: This material is vacuum-expanded to be lighter and fluffier with a more consistent cell structure. Advocates of Talalay say it has a cushiony feel that is bouncy and highly responsive. This style is also more breathable and tends to be better for temperature regulation.


---

Dunlop: This denser version is considered more environmentally friendly since it requires less processing. Dunlop production causes more latex to settle at the bottom for a firm, supportive base and a softer, pressure-relieving top layer. This combination works well for side sleepers.


---

Synthetic: This man-made material is manufactured from petrochemicals like butadiene and styrene, then treated with emulsifying agents to reduce the surface tension. Synthetic latex offers less conforming and is more likely to sag over time. Many people find it generates heat, similar to sleeping on memory foam.


---

Blended: Blended latex is made from a mix of natural and synthetic materials. Some blended versions also contain polyfoam or other materials that mimic the properties and feel of the natural form. Blended pillows are more affordable and are less likely to cause symptoms if you have an allergy.
Natural vs. Organic
In an eco-conscious world, navigating the terminology and claims can be confusing. "Natural" means that the materials are made from rubber tree sap, but they can still contain fillers and chemicals.
"Organic" means the product is free from all man-made materials and chemicals. While every organic pillow is natural, not every natural pillow is organic.
Shredded vs Solid Latex Pillows
Another choice you may have to make is between shredded and solid latex. The difference between the two determines pillow density and overall airflow. A pillow made from solid latex is denser, whereas shredded latex is soft and more breathable. As a result, shredded latex allows more air to pass through the pillow, delivering better cooling. Pillows made from shredded latex are also adjustable, as you can add or remove material to customize the loft and shape.
Pros of Using Latex Pillows
Sleeps Cooler: Compared to memory foam, latex is naturally cooler thanks to its open-cell structure. Shredded materials are even more cooling by allowing for greater airflow throughout the shreds, thus making cooling pillows that fit anyone who sleeps hot.


---

Good Support: Some people love the sinking feeling of sleeping on memory foam, but this can be a downside for those looking for greater support. Latex is a dense material, providing a firm base that contours closely to the head and neck and promotes optimal spinal alignment.


---

Helps Relieve Pressure: This soft and bouncy material helps to alleviate pressure from the head, neck, and shoulders. As a result, you're less likely to wake up with a sore neck.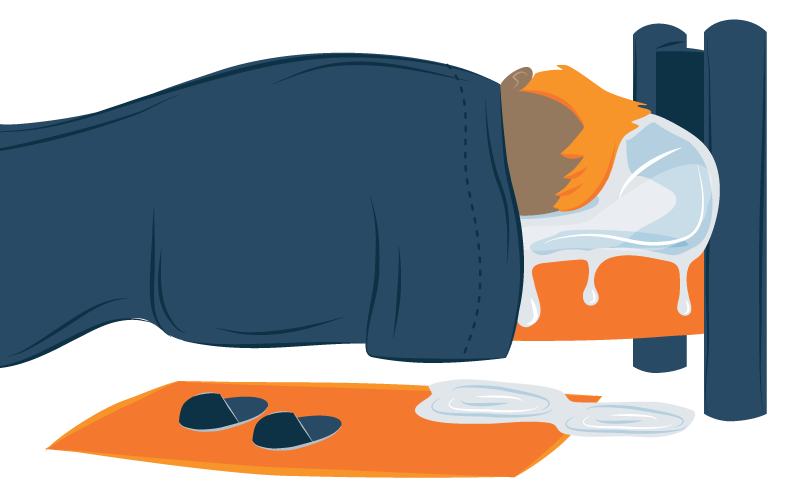 Cons of Using Latex Pillows
Latex Allergy: While this material is hypoallergenic and a great option for people who have sensitivities to mold and dust mites, it can cause serious and potentially life-threatening allergies in people who are allergic to latex. In that case, you might want to take a look at our top pillow picks for this year.


---

Potential Smell: Brand new latex pillows may have a rubber-like odor that some people are bothered by. Airing it out can help the smell to dissipate more quickly.


---

Doesn't Sink Like Memory Foam: If you love the sinking feeling of sleeping on memory foam, this type of material may not be right for you. While it is a foam, latex is more responsive and bouncy than memory foam.
Who Will Find These Pillows To Be Most Comfortable?
Side Sleepers
Side sleepers should like how latex adapts to the head and neck. The material supports the head, allowing it to stay in a neutral position with the spine.
Back Sleepers
Back sleepers can benefit from this material because it gives the right level of support and contouring. A latex pillow follows the sleeper's shape to help eliminate pressure build-up for those sleeping on the back.
Hot Sleepers
Hot sleepers should like the temperature regulation latex provides. Latex is a material with a natural cooling effect. Shredded latex is even more breathable and cooling than solid latex, making these pillows an excellent option for those who sleep hot.
Sleepers with Neck Pain Problems
Sleepers with neck pain should find relief in a latex pillow as the material provides adequate support and fosters proper alignment to alleviate pain, stiffness, and pressure.
What to Consider When Buying a Latex Pillow
Latex pillows aren't as readily available as other options, but they are growing in popularity. Companies that have noticed the growing eco-friendly trend are using this material to manufacture natural latex mattresses, organic beds, and bedding. If you're thinking about switching to a latex pillow, there are a few important considerations to keep in mind.
Size
Standard
This is the most common size and works well for most sleepers. Being shorter and more compact means it is also the most affordable option.
Queen
Adding four inches to the standard size makes this a better option for those who need additional space. This size also works well for those with Queen size beds.
King
This size is ten inches longer than the standard size, providing extra room for sleepers who like to move around a lot during the night. This size is also great for use as a backrest while watching television or reading in bed.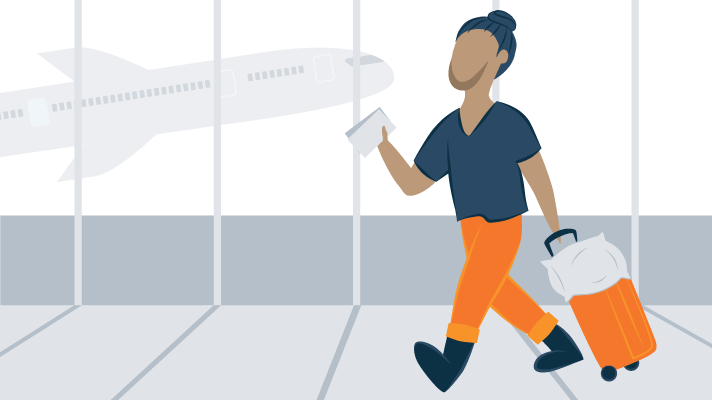 Travel
Travel pillows are small and lightweight, designed to be packed in a carry-on or suitcase. These make great options for use on a plane, train, or while on a camping trip.
Body
Body pillows are wider and longer than standard sizes. These cushions are ideal for sleepers who like to hug something or need extra support between the knees.
Cost/Budget
Purchasing a natural pillow is an investment, but latex is a long-lasting material that should stay consistent over time. If you are looking for a more budget-friendly option, try synthetic and blended versions.
How the price compares to other types
Most latex pillows cost between 40 and 90 dollars depending on things like organic certification and size. This is very similar to what you can expect to pay for pillows made from buckwheat and memory foam. Down and organic certified pillows tend to be much pricier, whereas polyester, feather, and synthetic alternatives are usually cheaper.
Proper Support
Latex is highly conforming, molding to your shape for the right amount of support. This dense material also works well for keeping your head and spine aligned.
Firmness
Just like most pillows, latex is available in a wide range of firmness selections depending on your individual preferences and needs. Talalay tends to be lighter while Dunlop is heavier.
Loft
Most latex pillows are in the medium-high loft range, making them ideal for back and side sleepers. Some allow you to adjust the loft by removing a portion of the material.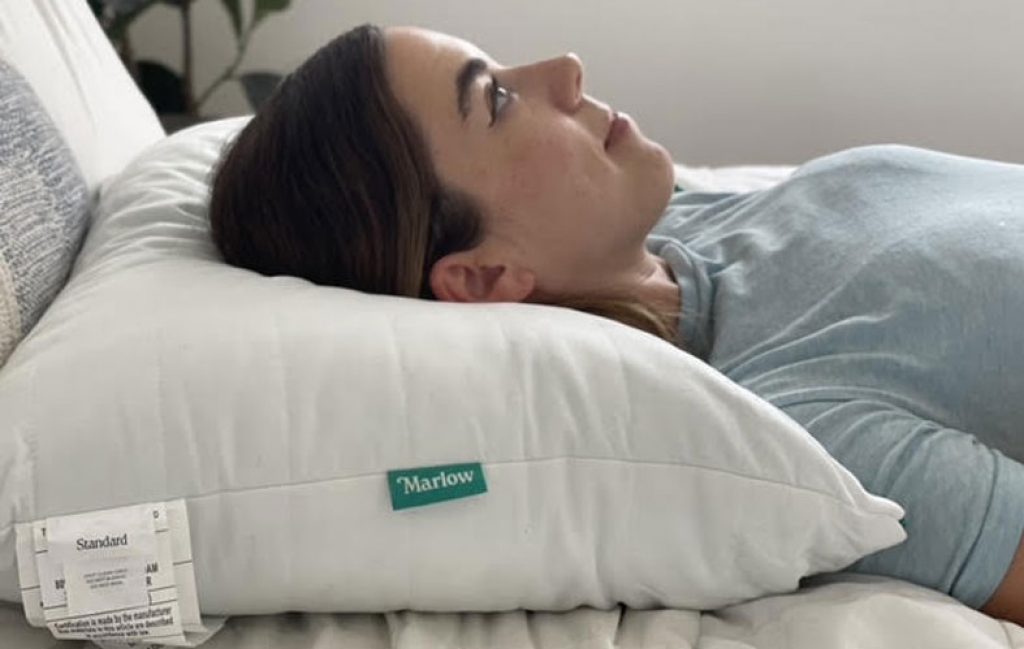 Adjustability
One of the benefits of shredded latex is that you can remove some of the foam if desired. This gives sleepers the option to add or remove material to create their ideal shape and loft.
Durability
Latex is known for being a durable, long-lasting material. Unlike other options, these pillows should retain their shape for a long time before needing to be replaced.
Comfort
This natural foam is soft and known for being exceptionally comfortable. Many people say this material makes you feel like you are sleeping on a cloud.
Weight
Latex is a dense material, so it's naturally heavy. This can be great for some people who want a pillow that won't move around a lot, but it may be less convenient to transport around.
Eco-Friendly
100 percent latex pillows are environmentally-friendly thanks to their natural materials and processing methods. If you are looking to reduce your carbon footprint, this is an easy way to do it!
Organic and Textile Certifications
Third-party certifications can bring peace of mind to shoppers. If you want to guarantee that your bedding is safe and contains the best materials and manufacturing standards, look for labels like CertiPUR-US, OEKO-Tex, GOTS, and GOLS.
Lifespan
Latex is known for being a highly durable substance, retaining its shape and properties for many years. Sleepers can expect these pillows to last for a long time without sagging or becoming flat.
Memory Foam vs Latex Pillows
Memory foam and latex behave similarly, as both materials return to their original shape once you get up. In addition, they are each durable, resistant to dust mites, and contouring, offering more support than down and other similar pillows. However, the two materials have crucial differences. For example, memory foam is known for overheating, whereas latex is cool and breathable. Second, latex is more responsive and won't provide as much slow sinkage as memory foam.
Frequently Asked Questions
How do you clean a latex pillow?
First, you should remember that latex shouldn't be cleaned in a washing machine. Tumble drying is also not recommended. Soaking your latex pillow in water would ruin it, so it's better to stick to spot-cleaning. Start by removing the pillowcase for separate washing. Next, make a mixture of warm water and mild detergent to spot-clean the pillow with a cloth. Once you're done with blotting, you should remove excess moisture from the pillow using dry towels. Finally, leave it out to air-dry away from direct sunlight for at least 24 hours before putting the pillowcase back.
How Often Should You Change Your Pillow?
Latex is a natural material that's made to last a long time, even with regular use. In most cases, a solid latex pillow should last two to four years before you need to get a new one. However, the longevity of your pillow depends on how you use and maintain it. The better you maintain the product, the longer it will last.
Are Latex Pillows Good for Side Sleepers?
Latex pillows usually provide medium to firm support, which should be good for side sleepers. This firmness level helps keep your neck supported, preventing your head from collapsing into the pillow. As a result, side sleepers should find latex pillows comfortable.
Do Latex Pillows Flatten?
Latex returns to its original shape rather quickly once you get up because they don't collapse under your head as much as softer pillows do. For this reason, it's unlikely a latex pillow will flatten, even if it's made from shredded latex.
Conclusion
Latex is a natural, more eco-friendly foam that is well-loved for being a healthier alternative to memory foam that doesn't generate heat. Furthermore, latex's durability allows it to stand the test of time, making it a valuable product. While you may pay more initially, the product should perform well over the years, giving you an excellent return on your investment.
If you're looking to reduce your carbon footprint without compromising on comfort or support, latex is the way to go. With so many options to choose from including customizable shapes and sizes, you should have no problem finding the pillow of your dreams.
More Reading: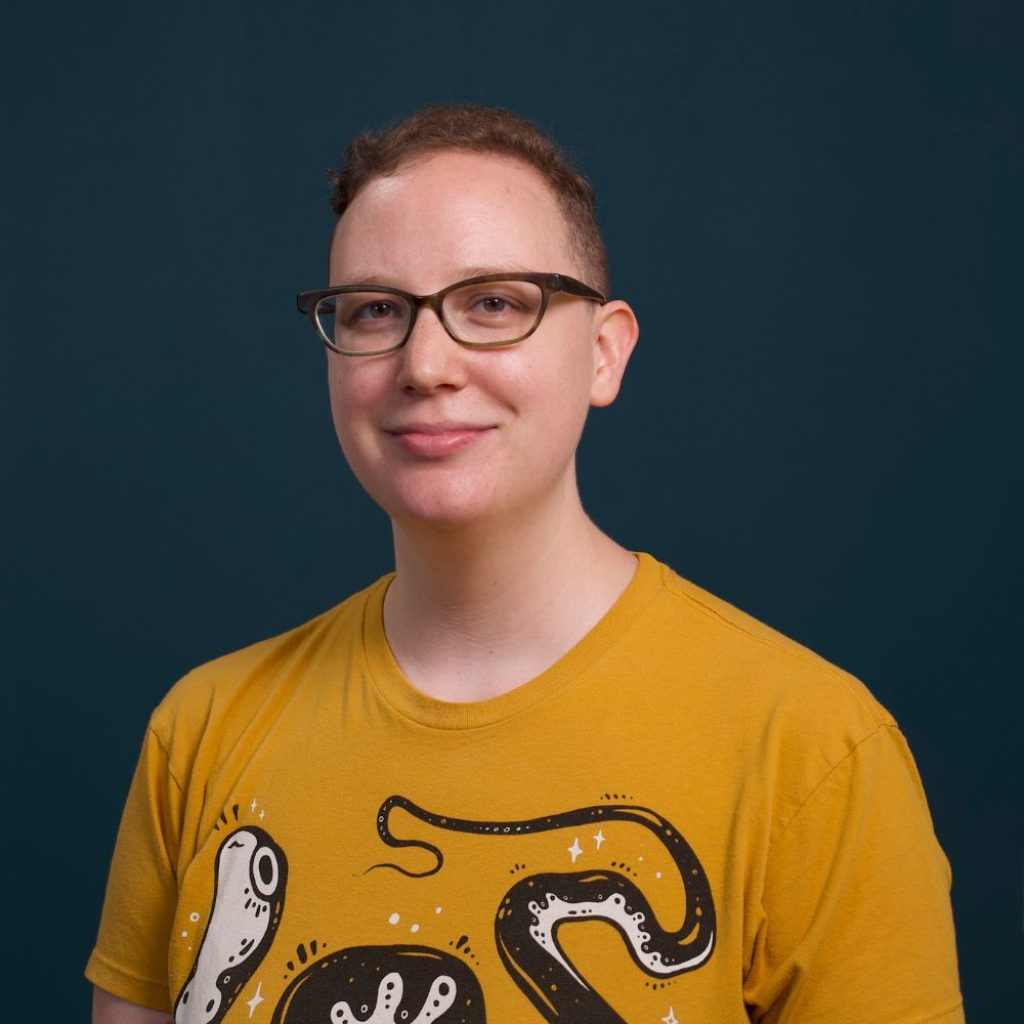 Melanie Kassel
Performance Editor
About Author
As Sleep Advisor's Performance Editor, Melanie writes and edits content throughout the site to ensure it's accurate, engaging, and up-to-date.