Transparency Disclosure – We may receive a referral fee for products purchased through the links on our site...

Read More

.
Whether you have allergies, are environmentally conscious, or just prefer products where you can pronounce the ingredients and fillers, we feel you and want to help you rest easier. From the best materials and stuffing to the safest manufacturing, we've researched the best organic pillows for your head, your bed, and your budget.
The good news is you shouldn't have to sacrifice variety for the products you want. There are organic options in down fibers, wool, cotton, and more materials. We'll guide you through each to help you find out what is right for you.
8 Top-Rated Natural and Organic Pillow Reviews
Beans72 –
Best Organic Buckwheat Pillow
100% natural materials
Hypoallergenic
Temperature regulating
Adjustable loft
Buckwheat should be a great alternative to foam because it allows you to shape the material according to your needs and can be made with 100 percent natural fibers. With dried buckwheat as a filler and a 100 percent natural, unbleached cotton cover, this cushion should contain no foams or hazardous chemicals. You could even add essential oils for a soothing fragrance.
This material should offer superior support, as it doesn't collapse like foam but rather conforms to the shape you create. These are great for travel and camping where extra support could be necessary. If you tend to sleep warm, the moving buckwheat should allow for proper ventilation, remaining cool throughout the night.
These pillows usually weigh four to five pounds, but if this is a little too much filling for your preference, you could always open up the case and remove some of the buckwheat kernels.
OrganicTextiles Natural Latex –
Best Ergonomic Design
Organic Dunlop Latex
Sustainable
Biodegradable
No off-gassing
Ergonomic design
Shopping for non-toxic materials shouldn't mean sacrificing your spinal health, which is why we recommend considering OrganicTextiles' Natural Latex pillow. Derived from eco-harvested rubber trees, the Dunlop latex used in this product is GOLS-certified organic and sustainable, meaning less environmental harm and safer substances in your household.
Unlike foams, latex shouldn't create off-gassing and should be safe to sleep on right away. If that weren't enough, the cotton pillowcase is also GOTS-certified organic according to the manufacturer, which means that it meets global standards for cotton and shouldn't contain harmful chemicals or additives. As a bonus, the entire product should be completely biodegradable once you are through with it.
With an ergonomic design for proper neck support and convenient holes for ventilation, we're pretty sure that won't be anytime soon. This cushion should be both comfortable and guilt-free.
Magnolia Organics –
Best Organic Cotton
Made with organic cotton
Hypoallergenic
Toxic-free
Made in the USA
Firm support
3 sizes available
This pillow is not only wrapped in an organic cotton cover, but it's also stuffed with a dense GOTS-certified organic cotton fluff. Grown without pesticides, herbicides, or heavy metals, you can rest assured knowing exactly what you lay your head on. As this product is assembled right in Connecticut, you also shouldn't need to worry about the fair wages and working conditions of those who created this product.
Organic cotton is hypoallergenic, so those who struggle with allergies should do fine with this product, though it's always a good idea to regularly wash the case. Reviewers say this pillow offers firm support without feeling rock hard, as the cotton is dense but soft enough to still feel comfortable. Available in three sizes to ensure it fits your bedding, this product should be a match for everyone who wants one.
OrganicTextiles Wool –
Best Natural Wool
Organic cotton
Australian wool
No added chemicals
Adjustable loft
Hypoallergenic
Moisture-wicking and breathable
If you tend to sleep warm, have allergies, or are literally looking for a safe place to lay your head, this pillow should be a great option. Stuffed with natural Australian wool with a GOTS-certified organic cotton cover, these materials are hypoallergenic and should be moisture-wicking and breathable. Because wool is naturally fire retardant, there are no toxic flame retardant chemicals added or any additional fragrances or treatments—just natural wool and cotton.
This product should be relatively soft while providing just enough support to keep you aligned, but you can add or remove wool according to your loft-height preference. If you prefer more support, just fluff the cushion, and you're good to go. According to reviewers, it is easily customizable.
If after a few nights you find the filler lumpy, simply stretch it out and let it sit in the sun for a like-new, fluffy pillow.
OrganicTextiles Cotton –
Best Adjustable Loft
Adjustable loft
3 sizes available (including child)
Machine washable
Hypoallergenic
When it comes to loft and neck support, no two sleepers ever want the same thing. Despite what we know is good for us, many of us still engage in questionable sleeping habits, like laying on our stomachs, hugging our pillows, or whatever other weird sleep things we do. That's why OrganicTextiles' cotton option comes in handy—you can remove or add fluff depending on your preference.
While you can change the loft via an easy-close zipper, the pillow is also available in three sizes to fit standard sheet sizes. There is even a child option if you want to keep your little one free of harmful chemicals. According to reviewers, this filling should be machine washable but could require a little stretching after it dries to return to its original shape.
Odor-free and hypoallergenic, this brand should be a great choice for those who like to customize their sleep space.
OrganicTextiles –
Best Down Filled
Down-filled
Organic materials
Hypoallergenic
No feather quills
Down fibers are popular for a reason; they're insulative, springy, and generally long-lasting, but it can be difficult to find them without including lots of chemicals for cleaning and bleaching them. That's where OrganicTextiles comes in. For those who prefer the traditional down feel but want a pesticide and chemical-free option, this is a soft and fluffy pillow without chemical cleaners, softening agents, or other additives.
With voluminous support and double-washed fibers, the material should be fresh, natural, and dust and allergen free. Because there are no quills in the feathers, you shouldn't need to worry about being poked in your sleep, and as the cover is made with a thick, GOTS-certified organic cotton, it should keep feathers from escaping no matter how much reshaping you do. According to reviewers, this pillow should be both supportive and soft with just enough fill to maintain its shape.
EastWarmth –
Best Feather Filled
All-natural materials
Organic cotton cover
Goose down feathers
Lightweight and soft
Affordable
If you prefer a down pillow but wish they had more support, a feather-filled option may be what you're looking for. With all the benefits of down with a little extra spring, EastWarmth has created a warm and soft alternative made with all-natural materials.
The cover is made from 100 percent organic cotton fabric and is filled with natural goose down feathers and white goose feathers. The fibers should be lightweight, durable, and warm. It probably won't perform like foam, however, so it's probably best for those who prefer a lightweight, soft pillow that allows the head to sink toward the bed.
According to reviewers, the pillow has just enough filling to offer neck support without feeling too hard. For a lower than average price, we say it's at least worth trying it out, especially if you love the soft feel of feathers.
John N Tree –
Best for Baby
Organic cotton
Double-sided
Many styles to choose from
Breathable
Hypoallergenic
While infants don't need pillows to sleep comfortably, Jon N Tree aims to help babies avoid flat head syndrome by creating a supportive, donut-shaped cushion. The material is soft organic cotton without any harsh bleaches or dyes and could be used for toddlers as well. Available in a variety of styles from a sweet, little lamb to a rocking horse, the double-sided pillows are designed to be breathable and hypoallergenic, meaning it shouldn't irritate the baby's sensitive skin.
Reviewers say these cushions both helped protect the shape of their babies' heads, and, in some cases, the babies slept better. Keep in mind that it's probably not a good idea to use a pillow with newborns, and with older babies, it's still important to keep an eye on them when using the product in case they roll to one side.
Organic Pillow Buyer's Guide
Organic vs "Natural"
Organic and natural aren't the same thing. While cotton is not synthetic, it may not be free of chemicals. Certified organic cotton should have a GOTS seal showing that it was grown without pesticides, herbicides, or synthetic fertilizers. While natural may be good, organic is generally better for you and the environment.
Pros of Going Organic
Going organic isn't always easy, but making the change should come with plenty of rewards for your hard work.
Good for Your Health
When you choose certified organic materials, you can rest assured that for the most part, you aren't exposing yourself to harmful chemicals. When it comes to bedding, this is especially important because we spend a good portion of our lives breathing in whatever exists in our sheets, pillows, and mattresses.

---

Non-Toxic
Many natural materials are also non-toxic, meaning they aren't correlated with risk for cancer or other diseases that stem from certain materials.

---

Hypoallergenic
Organic materials are often naturally hypoallergenic, meaning they should repel dust mites, dirt, dander, and are generally less likely to cause an allergic reaction. Some materials like wool are also naturally antimicrobial, so the cushion could stay cleaner for longer. This could make a big difference for those with sensitive skin, indoor allergies, and pets.

---

Eco-friendly
Farming without pesticides, herbicides, and synthetic fertilizers may mean better products for you, but it's also better for the environment. In many cases, organic companies create less pollution and generally use a more sustainable process, creating less environmental impact.

---

Temperature Regulation Capabilities
Not every fabric is created equal, but one thing is for sure: the more you wear down materials with chemicals, the more difficult it is for them to do their jobs. So breathable cotton should be more breathable without built-in fire retardants, dyes, and bleaches getting in the way. Likewise, down may be more heat retentive.

---

Good Durability and Longevity
Just as natural materials are better with temperature regulation, they should also last longer and be more durable because the fibers have remained relatively untouched throughout manufacturing. As a bonus, when you can go longer without replacing your products, it's better for your wallet and the environment.
Cons of Going Organic
Choosing to buy natural products isn't always the cheapest way to go, and in many cases, they are more expensive. It can cost more time and money to grow materials without the aid of pesticides, herbicides, and other farming chemicals.
Organic and Natural Casing and Fill Materials
Cotton is one of the most common casing materials for pillows, and in many products, it's advertised as natural, which isn't the same thing as organic. We recommend keeping an eye out for that GOTS stamp of approval just to be sure.
There is a wide variety of natural and non-toxic bedding materials, so we decided to bring the most important information to you.
Undyed or unbleached wool can be a great material for wicking away moisture in a long-lasting pillow that's naturally antimicrobial and hypoallergenic. It may create a softer feel, but in many products, you can remove or add fill to your desired firmness.
Kapok is a dense plant fiber similar to cotton in feel. It tends to be soft and silky, and since it comes from a tree, you can be sure it is cruelty-free. Depending on the manufacturer, kapok is usually free of harsh chemicals and could be a great choice for a non-toxic pillow.
Dried buckwheat is an ideal filler for those looking for a dense pillow that they can easily manipulate to get the support they want. Usually surrounded by a cotton shell, buckwheat is a natural and eco-friendly material. In most cases, you can even customize how much filling you use.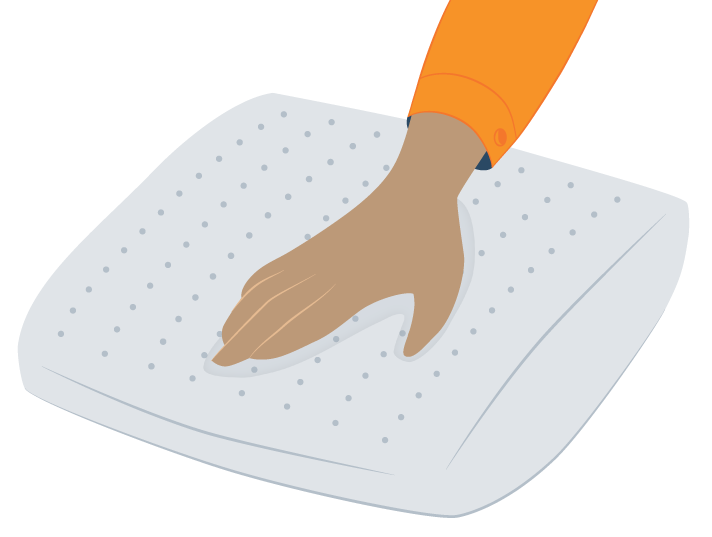 Made from rubber trees, latex is a common choice for natural bedding because it is lightweight, springy, and holds its shape well. If you prefer the feel of foam to natural fibers, this could be a great way to get the best of both worlds.
Certifications
The Global Organic Textile Standard is a trusted judge of textile standards worldwide, setting regulations regarding ecological and social criteria for any textile claiming to be organic. So whether it's wool, cotton, or buckwheat, if you see this seal, it's a safe bet the product is the real deal.
A small step down from GOTS, the Organic Content Standard usually certifies that a product uses at least 95 percent organic materials. This standard is commonly used throughout the supply chain between vendors, so buyers can trust the quality of materials they purchase.
The Global Organic Latex Standard is used to regulate the quality of latex. To get the certification, the latex must be from a certified plantation and meet safety and manufacturing guidelines to ensure they don't include any chemical additives.
GREENGUARD is a third-party certification that tests for over 10,000 chemicals to ensure a product doesn't emit large amounts of VOCs into the air. Products that have been tested and received a GREENGUARD or GREENGUARD Gold certificate should meet emissions standards for indoor air quality
Buying Tips
Choosing non-toxic and eco-friendly materials is becoming more popular, which is a good thing, but unfortunately, many companies are aware of this and want to take advantage of the trend without making any real changes. That's why it's so important to be wary and look for trusted certifications while shopping. Keep in mind that just because a cotton pillowcase is 100 percent organic, doesn't mean the cotton filling is.
To save yourself the hassle, make sure to read the fine print.
Frequently Asked Questions about Organic Pillows
Is it recommended for side and stomach sleepers?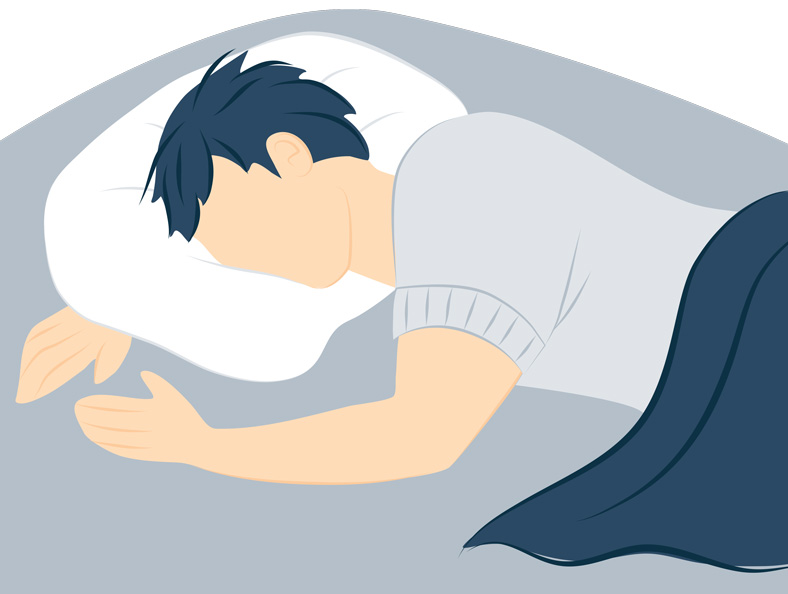 While you want to shop for natural materials, you also want what's best for your sleeping position. If you're a side sleeper, you'll probably want a denser pillow for more neck support, while a stomach sleeper may want a softer option. The good news is that many options are customizable.
Can neck pain sufferers use an organic pillow?
Neck pain isn't the same for everyone, so we'd recommend asking your doctor what they recommend, but there are plenty of ergonomically shaped latex pillows for those who prioritize proper spine alignment.
Will it retain its shape over time?
Natural fibers may compress over time, but many options like cotton and wool filling can be stretched and left in the sun to become more fluffed over time. Some are even safe to put into the dryer to be refluffed.
Can kids/toddlers use them?
When it comes to small children, it's always a good idea to supervise them when using a pillow, especially if they aren't strong enough to lift themselves. However, eco-friendly materials should ideally be safer than other products because you can be certain they are free of harmful chemicals.
Conclusion
Choosing to shop organic may seem daunting, but it doesn't have to be with the help of worldwide certifications and a variety of safe products available online. We did our best to bring you a range of non-toxic pillows that should be safe to bring into your home. Whether you prefer a firm pillow or want a "barely there" cushion, there should be an option for you on our list.
Best of all, you should be able to enjoy the peace of mind knowing that you can breathe easy all night long.