Transparency Disclosure – We may receive a referral fee for products purchased through the links on our site...

Read More

.
WinkBeds is the first mattress company to create a luxury bed specifically designed for people over 300 pounds.
The WinkBed Plus is a hybrid mattress that contains six layers of foams, latex, and individually-wrapped coils. In other words, this mattress was made to offer the exact type of support heavyweight sleepers need.
Who else is this mattress a good fit for, though? We peel back the layers of this hybrid mattress in our in-depth review of WinkBed Plus. We'll examine how it performed in categories like cooling, pressure relief, and more so you can determine whether this mattress is right for you.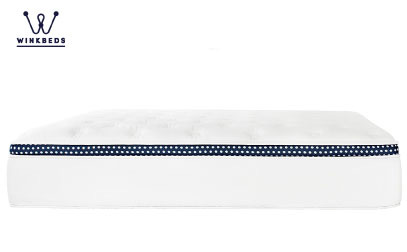 Get the Winkbed Plus Mattress
WinkBed's high-quality design and reinforced support system make the Plus especially suited for heavier folks.
Click the button below to get Winkbed Plus Mattress.
Watch Our WinkBed Plus Video Review
Who We Recommend The WinkBed Plus For:
Individuals over 300 pounds – The WinkBed Plus mattress is tailor-made for heavier sleepers, from its high-density foam to its Extra-Edge™ Support System. This makes it unlikely to sag over time.


---

Folks looking for a balance of pressure relief and support – While many brands cater to either pressure relief or support, this bed does both with its hybrid design. The WinkBed Plus has six layers made from a variety of materials (foam, latex, coils, and zoned support) for added comfort and support.


---

Hot sleepers – This mattress features WinkBeds' Triple Layer Heat Disperse™ technology, which is a 3-layered system of cooling that helps wick away body heat. In addition, this mattress uses a breathable Tencel® cover, gel-infused foam, and coils for additional cooling.
Who We Don't Recommend The WinkBed Plus For:
Lightweight side sleepers – Since it's designed specifically for heavy people, the WinkBed Plus shouldn't be a good fit for side sleepers who weigh 130 pounds. While lightweight stomach sleepers may enjoy its firmer feel, those who prefer sleeping on their side may want a softer mattress for deeper pressure relief.


---

Budget shoppers – The WinkBed Plus is more expensive than the standard WinkBeds mattress, which may be a concern for those on a tighter budget. Although it offers a great value for the price, this mattress starts at 1,999 dollars for a Queen-size.
First Impressions: Firmness & Feel
Firmness Scale: 6.5/10
Please remember that firmness is a subjective characteristic and your shape will dictate how you experience a bed. A heavier person whose weight can more easily push through softer comfort and support layers may experience a bed as softer than a lightweight person. The way you are shaped could also play a role here. Consider your weight, shape, and size when evaluating firmness scores.

Mattress firmness is an important factor because it affects the comfort and feel of your bed. We rate mattresses on a scale of one to ten, where one is the softest and ten is the firmest. The WinkBed Plus falls at a 6.5 on our firmness scale, which makes it medium-firm.
This firmness is versatile and should fit most people and sleeping positions, depending on the sleeper's weight. For example, heavy side sleepers should benefit from a bit of sinkage and heavy-duty support, while those who weigh under 130 pounds may experience the bed as even firmer since they're unable to activate the upper comfort layers.
How Does It Feel?
The crisp, white pillowtop is offset by a navy blue polka-dotted finishing. The Tencel® cover has button tufting across the surface which gives it a soft and silky feel.
When we tested out this mattress, the surface felt cool-to-the-touch thanks to the gel-infused foam underneath. The hybrid construction should help most sleepers – but particularly heavier sleepers – feel well-supported without sacrificing pressure relief. The Euro top combined with the foam layers underneath help relieve muscle tension and pressure.
What We Like About the WinkBed Plus
The cooling features – This mattress is packed with cooling features that help provide a more comfortable sleeping environment. Everything starts with its Tencel® cover and gel-infused Euro top which prevent heat from building up on the mattress surface. In addition, the coils promote plenty of airflow to keep the rest of the construction cool.


---

Luxurious Euro top – The WinkBed Plus has a Euro top sewn into its cover which may help relieve pressure in sensitive areas such as the hips, knees, and shoulders. This feature is also what gives the mattress a luxurious feel, all while soothing pressure points.


---

Excellent edge support – This mattress uses the WinkBeds' proprietary Extra-Edge™ Anti-Sag System which uses higher-gauge coils in the perimeter. This allows you to sit and sleep near the edge without feeling like you could roll off.
Our WinkBed Plus Complaints
It's on the firmer side – While this mattress is specifically made for folks with larger frames, some average-weight to lighter-weight individuals may find this bed too firm. However, WinkBeds offers this mattress in three other firmness levels: Softer, Luxury Firm, and Firmer, so these sleepers have other options if they find the Plus too firm.


---

It's thicker – At 13.5 inches tall, the WinkBed Plus is going to put you well above the ground compared to other models that may be closer to 10 inches high. If you're used to slightly thinner beds, you may just need a little extra time to adjust. Plus, the added layers make it heavier, so you may need some help carrying it from your doorstep to the bedroom.
Testing the WinkBed Plus Mattress: How it Performed
We put the WinkBed Plus mattress to the test to evaluate how well it performs in different sleeping positions. The mattress is made for heavy people, so lighter-weight sleepers may feel more "on" the top of this bed. Lightweight sleepers may also not experience the bed's comfort layers since they probably won't sink in enough to activate these upper layers.
We also tested for pressure relief, support, motion isolation, bounce, and other preference-based features to help you figure out if this mattress can fit your needs.
Sleeping Positions for Different Body Types
The WinkBed Plus can support up to 900 pounds, making it an excellent choice for heavy people. Each side can carry up to 450 pounds, which is much more than the regular WinkBeds mattress.
This weight limit should work well for most people, but especially heavy individuals and couples. However, one thing to keep in mind: Bodyweight directly affects how firm or soft a mattress feels to you. People over 300 pounds may experience mattress firmness differently, so they may find the Plus feels softer than those who weigh around 170 pounds.
| Weight | Side Sleepers | Back Sleepers | Stomach Sleepers |
| --- | --- | --- | --- |
| Lightweight Sleepers (-130 lbs) | ★☆☆ | ★★★ | ★★☆ |
| Average-Weight Sleepers (130-230 lbs) | ★★☆ | ★★★ | ★★☆ |
| Heavyweight Sleepers (+230 lbs) | ★★★ | ★★★ | ★☆☆ |
Side Sleepers
Lightweight Sleepers – Side sleepers under 130 pounds may have trouble getting the best of the WinkBed Plus. The Euro top should provide enough cushioning, but they're unlikely to sink into the foam layer underneath to achieve adequate pressure relief.
Average-weight Sleepers – Average-weight side sleepers should get more sinkage, reaching the gel foam and natural Dunlop latex layer. However, those closer to 130 pounds may get a firmer, less cushioning feel.
Heavyweight Sleepers – Heavyweight people sleeping on their side should find a balance of pressure relief and support thanks to this bed's high-density foam layers, coils, and higher firmness level.
Back Sleepers
Lightweight Sleepers – Lightweight back sleepers may find this mattress feels rather firm, but most should still like the support it provides. Those in need of more pressure relief in the lumbar area may want a softer mattress entirely.
Average-Weight Sleepers – Back sleepers who weigh between 130 and 230 pounds should experience enough sinkage, getting the most from the bed's comfort layer. In addition, they'll feel plenty of support thanks to the Dunlop latex layer which contains zoned support.
Heavyweight Sleepers – Heavy back sleepers should also benefit from the latex layer and its seven support zones which help prevent the hips from sinking. The LumbarLayer also helps support spine alignment for those over 230 pounds.
Stomach Sleepers
Lightweight Sleepers – Lightweight stomach sleepers should like the firm feel and support that keeps the hips from sinking in. However, some may still find it too firm, especially in the shoulder area.
Average-Weight Sleepers – Average-weight stomach sleepers should benefit from the heavy-duty coils combined with multiple foam layers. This hybrid design helps keep the spine aligned while also relieving the pressure in the hips and lower back.
Heavyweight Sleepers – This mattress should feel supportive, comfortable, and pressure-relieving to most heavyweight stomach sleepers. Its higher firmness level keeps the hips raised and spine aligned, while the foam and Euro top cushion the chest and shoulders.
Pressure Relief & Pain
Firmer beds can easily create more pressure build-up, but Winkbeds took this into consideration as they designed the tailored features for the Plus model. They included high-density, anti-sag gel foams on top. These foams, which are denser than other comfort foams, should provide pressure relief without compromising spine alignment. The foams are also quilted into the cover for a comfy Euro top to further promote pressure relief.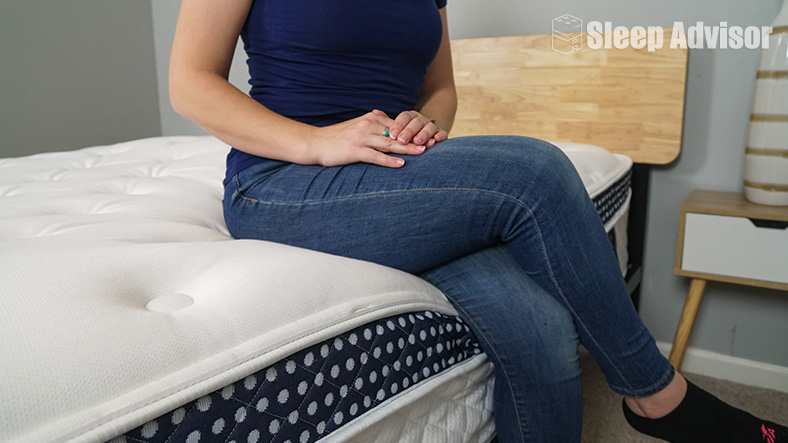 Back Pain – People with back pain should like the WinkBeds' firmer feel and high-density foam layers that keep them "on" the mattress more than "in" it while still allowing enough relief in the lumbar area. In addition, the bed's LumbarLayer promotes healthy spine alignment, which helps prevent pressure in the lower back.
Hip Pain – Those with hip pain need to be careful about their sleeping position. Those on their side should get enough cushioning and pain relief if they weigh over 230. The tension in the hips should dissipate thanks to the high-density comfort layer and Dunlop latex in the transition layer.
Shoulder Pain – Shoulder pain is uncomfortable to sleep with, especially if you're a side sleeper. Those who weigh more than 230 pounds should get enough relief from the bed's foam layers because the more you weigh, the more you'll sink into the foam.
Support
Support is equally important for heavier folks since they often sink through standard mattresses, causing malalignment of the spine and joints. This can reduce the quality of sleep and lead to chronic aches and pains. The Plus is equipped with a 7-Zoned Latex Support Layer in addition to the LumbarLayer for extra support in the lumbar region.
The main source of support comes from the 5-Zone EliteEdge individually-wrapped coil unit which was specifically designed to meet the needs of larger frames with increased durability. These coils work by pushing back in areas of greater pressure and giving in areas of lighter pressure.
Motion Transfer
Motion isolation is always important for couples but also single sleepers who share their bed with kids or pets. Movement on one side of the bed can easily transfer to the other side unless your mattress absorbs that motion and isolates it.
The WinkBed Plus does a good job of isolating motion so partners with different sleeping schedules don't have to worry about disturbing one another. It uses WinkBeds' proprietary SleepCalm™ Motion Isolation Technology to stabilize the mattress and reduce motion transfer. In addition, the coils are individually-wrapped, which means they move independently, so you're unlikely to feel so much of your partner's tossing and turning.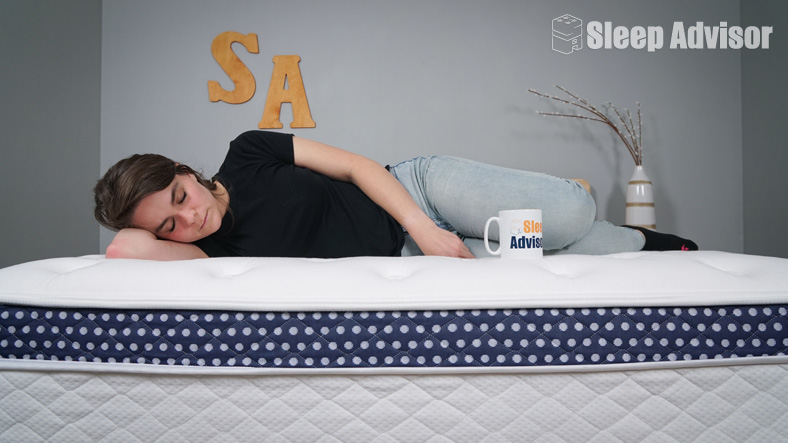 Temperature Regulation / Cooling
The WinkBed Plus mattress is a hybrid, which makes it naturally more cooling than all-foam beds. The coil layer allows plenty of airflow to prevent the entire bed from overheating. However, WinkBeds went the extra mile in the cooling department, adding an inch of gel-infused poly foam under the cover.
The transition layer is also made from Dunlop latex which helps with moisture-wicking and cooling. On top of that, the cover is made from Tencel® fabric which is cooler than linen and also more breathable – all of which should be a major plus for hot sleepers.
Performance for Couples
Couples should appreciate the WinkBeds' versatility as it offers a ton of support and durability. The bed has a weight limit of 900 pounds, so it's also suitable for heavier couples. In addition, the latex and coil construction promote plenty of bounciness, which sexually-active couples should appreciate. The WinkBed Plus also has reinforced edges, featuring the brand's Extra-Edge™ Support System that allows sleepers to use the entire surface of the bed.
Many couples should also like the bed's motion-isolating capabilities, especially if one partner is a restless sleeper or has different sleeping habits.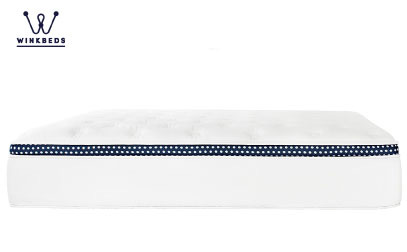 Get the Winkbed Plus Mattress
WinkBed's high-quality design and reinforced support system make the Plus especially suited for heavier folks.
Click the button below to get Winkbed Plus Mattress.
Preference-based Features
Multiple Firmness Options
The WinkBed Plus is available in four firmness options: Softer, Luxury Firm, Firmer, and Plus. The Plus model does have some slight variations that make it unique to the needs of heavier individuals.
Bed-in-a-box
This company recently updated its shipping process – now, all mattresses arrive compressed and rolled into a box and require no assembly. This makes it easy to move from your door to the bedroom.
Euro Top
This hybrid's Euro top is designed with pressure-relieving capabilities that most innerspring models lack. The bed provides a more luxurious feel and helps to soothe pressure points, thanks to the extra cushioning.
Eco-Conscious Materials
WinkBeds is devoted to using eco-friendly materials in all of its products. By using sustainably-sourced materials and 10 to 20 times less water in manufacturing, the company is constantly looking for new ways to lower its carbon footprint.
Adjustable Base Compatible
This bed is compatible with nearly every type of frame, including adjustable bases.
Handcrafted in the USA
Construction: What's Inside the WinkBed Plus?
Totaling 13.5 inches in height, the WinkBed Plus is significantly thicker than most beds sold online. Made entirely in the USA, it features an enhanced construction compared to the standard WinkBed model. The materials used in this bed include gel-infused poly foam, Dunlop latex, dense support foams, pocketed coils, and Tencel®.
Below the cover is 1 inch of gel-infused hypersoft foam. This foam has a higher density of 1.8 pounds per cubic foot which creates an anti-sag effect.
The comfort layer is made of an additional inch of dense foam to further minimize sagging.
The transition layer features a 2.5-inch, all-natural Dunlop latex support pad. This layer comes with seven support zones to give you added support in the areas you need it most. On top of that, it also has an open-cell design, which should wick away heat from your body to keep you cool at night. According to the company, using latex may promote greater durability for heavier individuals.
The Lumbar Layer is made from high-density foam. This layer prevents the lower back from sagging and promotes spinal alignment.
The support layer is an individually-wrapped coil system. This layer is specifically designed to support heavier individuals, but it should also help with durability. The coils along the perimeter feature the Extra-Edge™ Support System for added edge support.
The base layer is an inch of support foam for stability.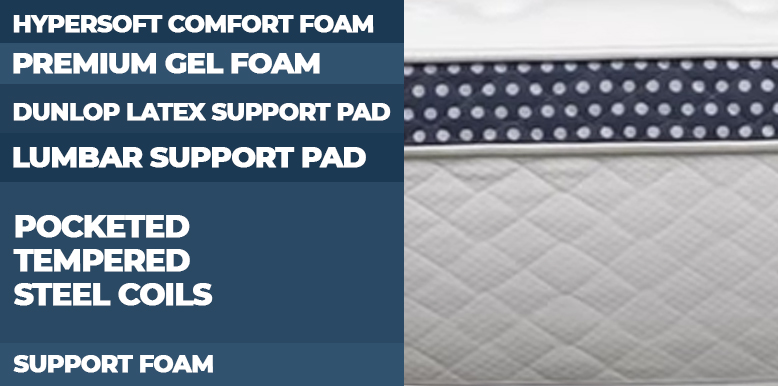 Unboxing & Off-Gassing
The Winkbed Plus arrives at your doorstep compressed in a box. When your new mattress arrives, simply take it out of the box and place it on your bed frame. Remember to remove the plastic wrapping, then watch as it takes shape.
WinkBeds has even taken extra measures to ensure minimal off-gassing, so you don't have to worry about unpleasant odors sticking around for too long. This means you can sleep on the bed as soon as it decompresses and expands to its full size, which should take about 24 to 48 hours.
Certifications
Eco-Friendly Certifications – The bed's foam layers meet the CertiPUR-US® standard, meaning that their manufacturing process avoids harmful materials such as lead, mercury, and formaldehyde. Additionally, the Tencel cover is OEKO-TEX® Standard 100, Class 1 certified. This means the cover has been evaluated and deemed safe for use in sleeping products and those used for children.
Coupons, Trials, Warranties, and Shipping
Shipping – Shoppers in the continental U.S. can order the bed with free shipping and returns. There's an extra fee for shipping to Alaska, but the company doesn't ship to Hawaii.
Trial – The WinkBed Plus comes with a 120-night risk-free trial. If you return or exchange the mattress, you will no longer be eligible for additional 120-night trials as it's limited to one mattress per customer. However, you will receive a 60-night trial on the second mattress.
Warranty – The WinkBed Plus comes with a Lifetime Limited Warranty. It's limited to one replacement per mattress purchased.
Return Policy – If you decide that the WinkBed Plus isn't for you, you can return it for free within the trial period.
Sizes & Prices
| Size | Dimensions (inches)* | Price (w/o discount) |
| --- | --- | --- |
| Twin | 38" x 75" x 13.5" | $1,149 |
| Twin XL | 38" x 80" x 13.5" | $1,249 |
| Full | 54" x 75" x 13.5" | $1,499 |
| Queen | 60" x 80" x 13.5" | $1,799 |
| King | 76" x 80" x 13.5" | $1,999 |
| Cal King | 72" x 84" x 13.5" | $2,049 |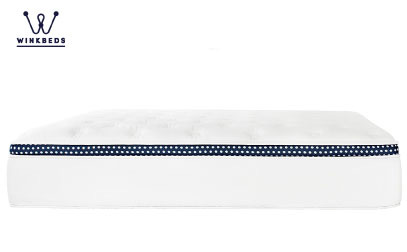 Get the Winkbed Plus Mattress
WinkBed's high-quality design and reinforced support system make the Plus especially suited for heavier folks.
Click the button below to get Winkbed Plus Mattress.
Frequently Asked Questions
How Thick is the WinkBed Plus Mattress?
The WinkBed Plus mattress is 13.5 inches tall, which makes it one of the tallest mattresses. The height also makes the mattress look substantial and bulky, so make sure to have a durable bed foundation that can support all the layers as well as your own body weight.
How Heavy is the WinkBed Plus Mattress?
The Twin and Twin XL sizes weigh 75 and 85 pounds, respectively. The other four sizes weigh more than 100 pounds, with the King and California King sizes weighing in as the heaviest at 145 pounds.
How Long Does the WinkBed Plus Last?
All WinkBeds mattresses are designed to last seven to ten years with proper use. Remember that the way you take care of the mattress directly affects its lifespan, i.e. no jumping. Also, you can rotate this mattress every once in a while to ensure it wears out evenly.
WinkBed Plus vs. Other Brands
WinkBed Plus vs. Brooklyn Bedding Titan Plus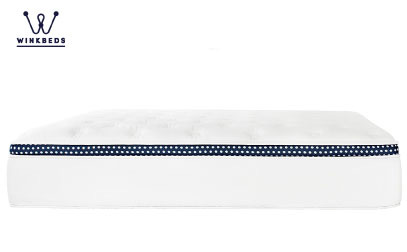 Check pricing and availability by clicking the button below
13.5-inch profile
Traditional hybrid design
Medium-firm feel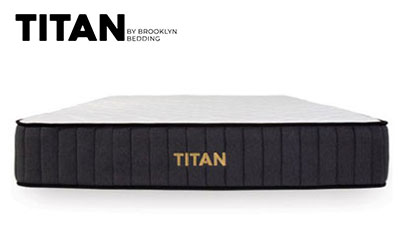 Check pricing and availability by clicking the button below
TitanCaliber™ coils
Optional GlacioTex cover
Firm feel
Who We Recommend the WinkBed Plus For
Heavyweight side sleepers
Couples
People looking for a taller mattress
Who We Recommend the Titan Plus For
Hot sleepers
Heavy couples
Budget shoppers
Interested? Read our full Titan Plus Mattress Review.
WinkBed Plus vs. DreamCloud Premier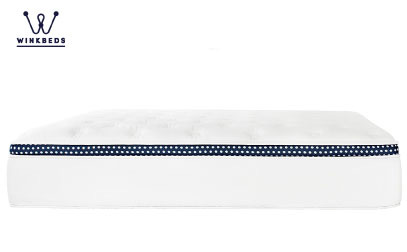 Check pricing and availability by clicking the button below
Excellent edge support
Cooling gel
Dunlop latex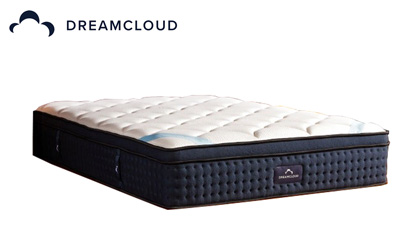 Check pricing and availability by clicking the button below
Luxury design
14 inches tall
Contouring foam
Who We Recommend the WinkBed Plus For
People looking for affordable luxury
Sleepers with back pain
Back and stomach sleepers
Who We Recommend the DreamCloud Premier For
Luxury shoppers
Average-weight sleepers
People looking for more contouring
Check out our full DreamCloud Premier Mattress Review.
WinkBed Plus vs. Other WinkBeds Models
WinkBed Plus vs. The WinkBed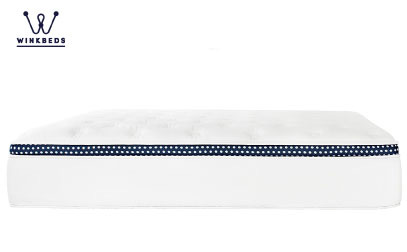 Check pricing and availability by clicking the button below
Euro top
Tencel® cover
Zoned latex support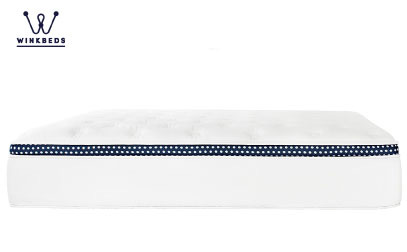 Check pricing and availability by clicking the button below
Three firmness levels
SleepCalm™ technology
Easy firmness exchanges
Who We Recommend the WinkBed Plus For
Heavy people
Couples looking for extra support
Average-weight to heavyweight back and stomach sleepers
Who We Recommend the WinkBed For
People who prefer having multiple firmness options
Lightweight sleepers
Side sleepers
Explore our WinkBed Mattress Review.
WinkBed Plus vs. The Gravity Lux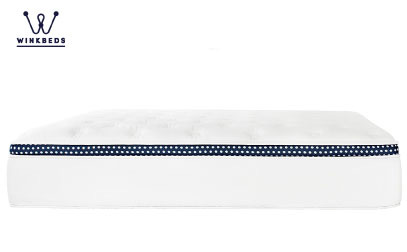 Check pricing and availability by clicking the button below
Responsive coils
Moisture-wicking cover
Excellent pushback support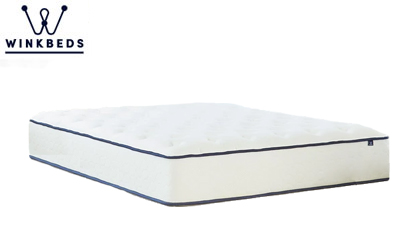 Check pricing and availability by clicking the button below
AirCell™ foam
Dynamic pressure-point relief
Tufted gel foam quilt
Who We Recommend the WinkBed Plus For
People who want a hybrid mattress
Sleepers who weigh over 300 pounds
Those with hip pain
Who We Recommend the Gravity Lux For
People with lumbar pain
Back sleepers
Sleepers looking for an all-foam bed
Read more in our GravityLux Mattress Review.
Overall Summary
The WinkBed Plus hybrid design and reinforced support system make it an exceptional option for heavier folks. Its variety of materials and proprietary technology helps provide sleepers with excellent edge support, cooling, and comfort in multiple sleeping positions.


Side sleepers need to have a mattress that can accommodate condensed pressure in smaller areas. The top layers of the WinkBed Plus mattress should provide a good level of pressure relief so that side sleepers can stay comfortable throughout the night.


Back sleepers should benefit from the firm support of the pocketed coils, and they shouldn't feel completely enveloped in the bed or fall out of alignment. Additionally, the LumarLayer should also offer plenty of back support.


Most stomach sleepers should find the support they need to keep their hips from sinking too deep. However, heavier stomach sleepers looking for a little more firmness may want to think about an even firmer option.


Sleepers who frequently change positions should never feel stuck, thanks to the responsive foams and pocketed coils. Likewise, the versatility of this hybrid design should be a good fit for combination sleepers who need a balance of pressure relief and support.


Couples who want an option that can meet both of their needs should be very pleased with this model. With great motion isolation, edge support, bounce, and versatility, couples shouldn't have to compromise on the mattress features that matter most.


Designed to meet the unique needs of heavy and plus-size folks, the WinkBed Plus is a welcomed find. With impression-proof foams, extra support, reinforced coils, latex, and cooling features, this mattress has been highly rated for individuals in heavier weight brackets.


This bed was designed for heavier folks so it's likely to feel too firm to sleepers below 130 pounds. Lightweight sleepers may struggle to activate the foams and coils.


Average-weight sleepers should like how the WinkBed Plus feels, especially the Euro top and comfort layer underneath it. Although the bed is on the firmer side, average-weight people who weigh closer to 130 pounds may experience it as even firmer. For this reason, those closer to the 150-200 weight range are the best fit for this mattress.
The WinkBed Plus presents an exceptional value for heavy sleepers who need a high-quality mattress that's going to give them the support they need. The WinkBeds brand offers a slightly longer trial period combined with a generous lifetime limited warranty on the product. Plus, the mattress is constructed with premium materials for longevity and comfort.
Our Verdict
The WinkBed Plus is a unique mattress designed specifically for heavy people. After testing the bed, we understand that may also work well for some average-weight sleepers depending on their preferred sleeping position.
The WinkBed Plus' use of premium materials and high-quality design also make this mattress a match for hot sleepers and couples. Hot sleepers should appreciate the inclusion of temperature-regulating materials, such as Tencel®, gel, and coils. Married couples should enjoy the Extra-Edge™ Support System the pocketed coils which limit motion transfer.
That being said, it's not the best fit for budget-friendly shoppers or lightweight sleepers – particularly side sleepers – who need deeper pressure relief.
* * * AirTable Block – ADD_HERE * * *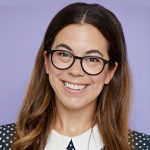 Jill Zwarensteyn is the editor for Sleep Advisor and a certified sleep science coach. She is enthusiastic about providing helpful and engaging information on all things sleep and wellness.
Based in Los Angeles, she is an experienced writer and journalist who enjoys spending her free time at the beach, hiking, reading, or exploring new places around town.
She's also an avid traveler who has a personal goal of being able to successfully sleep on an airplane someday.