Transparency Disclosure – We may receive a referral fee for products purchased through the links on our site...

Read More

.
Adjustable beds offer a simple solution for a variety of problems, and you don't need to have a hospital stay to enjoy their benefits. People experiencing acid reflux, snoring, or back issues could all get some relief with the use of an adjustable bed, helping you get a good night's rest.
Some of our favorite bed frame options are electric beds. With a best adjustable bed, all you need to do is to click the remote and it will adjust itself – no mess, no fuss. Do you want to sit up and read in bed for a while? Click the button and raise the head of the adjustable mattress. When you are tired, you can put it back in the correct position again.
To save you time in the research process, we put in the work to make your choice simpler. The following is our list of adjustable bases for a variety of conditions and needs.
Top 8 Adjustable Bed Reviews
Leggett & Platt Prodigy 2.0
Split King option
App and remote control
Eight USB ports
Programmable positions
This adjustable bed is a very popular option from a well-established brand, and it's easy to see why.
The manufacturers have put a lot of thought into the design and added features that are useful – like a dual setting so that you and your partner can choose different settings.
There is also a snore function, a massage and wave function, a remote control, backlighting, a control function through an app on your phone, and even built-in USB ports so you can keep all your important devices plugged in and charged.
Buyers loved the different settings that were available and felt that this was an excellent choice.
Some sleepers felt it would be better if the remote were able to control more of the specialized settings, but also felt that once you got used to using the app in conjunction with the remote, this adjustable bed performed well.
Reverie 7S Adjustable Bed
Five size options
Programmable positions
Massage settings
Under-bed night light
Another popular option, this adjustable mattress might not have all the bells and whistles like a flush connection to the wall or dual adjustment settings, but the price point is significantly lower than many other options.
You can adjust it to suit almost any position you like – raise the foot or raise the head, or raise both for good measure. It's up to you. You can control this adjustable bed using the remote or an app on your phone.
Users commented that the best feature of this product was the different massage functions – you can have a head massage, foot massage or full body massage.
One or two users did say that they felt that the night light was too bright, but this is an easy fix – you can either opt to set it to "Dim" or switch it off entirely.
Leggett & Platt S-Cape 2.0
Three size options
Programmable positions
Adjustable legs
Under-bed lighting
If you like the Leggett and Platt brand but your budget just doesn't quite allow you to get the Prodigy 2.0, this is an excellent alternative.
This adjustable bed doesn't quite have all the same features of the more expensive options, but it still has the features you really need.
You are not able to adjust each side of the bed individually, but you can program it for a dual massage. With a wireless remote, the adjustable bed can be backlit, and the system is capable of lifting up to 850 pounds.
People were especially pleased with how easy it was to get the bed set up but did remark on the weight of the adjustable bed and said that two people were needed to carry it in. This is a general issue when it comes to any adjustable base set, and if it is something that is of concern to you, you can opt for white glove delivery.
Adjustable Motion Essential III by Serta
Three size options
Wireless remote
Programmable positions
Can sync two bases to one remote
Serta has become a trusted name in the mattress world, and this product shows the same kind of care and consideration you would expect the company to deliver in each of their mattresses.
The adjustable bed is easily raised with a zero-gravity setting at just one touch. You can also flatten it with a single touch. The motor should be very quiet.
Shoppers found this bed to be a very comfortable option and loved the price – which is a great value for the number of features it provides.
This adjustable bed does not have a whole range of specialized features such as various massage functions, but that is understandable considering the low price point.
Ease Adjustable Base by Sealy
Zero Gravity preset
Wireless remote
Programmable positions
Sealy is a well-established brand, known for creating quality products that are also affordable. This adjustable frame is no exception.
Easy to set up and adjust, this adjustable bed operates through a wireless remote. People said they loved the ease of operation and how reasonable the price is.
The main drawback to this bed is that the base is heavy and you'll likely need two people to help you get it into your home.
To avoid this problem you can choose white glove delivery or just make sure that you have someone at home with you when it arrives.
Classic Brands
Five size options
Programmable positions
Massage settings
Adjustable legs
USB charging ports
This is one of the lowest priced adjustable beds that we looked at without sacrificing the important features shoppers are looking for.
It includes the standard options to elevate the head or the feet and sleepers can also choose a head or foot massage. You can also set the adjustable bed to the optimal position for watching television or working on your laptop.
A customer favorite is the zero-gravity position. With USB ports built into the sides of the bed, you can charge your phone and a wireless remote as well.
Shoppers mentioned they loved the features of this adjustable bed, especially considering the low price. For most people, the quiet motor was what they liked the most about the model.
Like most adjustable beds, this model is heavy, but again, you would expect that from this type of furniture. Just be sure to prepare for delivery with help from a few people – once it is set up, you shouldn't need to move it very often.
LUCID L300
Five size options
Wireless remote
Programmable settings
USB charging ports
This is the option for you if you are looking for an affordable and streamlined way to elevate your bed. it doesn't include massage features or special backlighting, but it gets the job done.
People love the price of this adjustable bed and how easy it is to put together. This bed is also among the simplest to operate – you don't need to have graduated from the Star Trek Academy to be able to use it.
Comfortable, modest, and affordable, this adjustable bed is a great choice for those who are looking for a simple fix that is easy to set up and use.
Hofish
2 height adjustable bed legs
Four USB ports
Programmable positions
Wireless remote
This adjustable bed was created with an eye for durability and producing a quality product, from the German technology used in the motor, to the removable pockets that you can store the remote in.
Users have commented that the construction on this bed is solid and high quality. Many also said that the customer service from the company is outstanding. It is compatible with a wide variety of mattress types, and the leg height on the frame is adjustable, making it easier for those with disabilities to get in and out of the bed.
With USB ports and a non-slip fabric to keep the mattress in place, this bed offers a number of benefits for a lower than average price.
Buyer's Guide – Best Adjustable Electric Beds
Size
Size is an important consideration when upgrading anything in your bedroom. These adjustable mattresses come in sizes that range from Twin all the way through to Cal King. It really just depends on what you are looking for.
It is advisable to measure out the space that you have and also check the measurements for each one you look at the different brands of adjustable beds. While sizes are likely to be uniform within the brand, they might be as uniform across several brands.
When considering the size, it is also necessary to consider the base of the mattress. Some are made to fit a split king, while others can only fit standard sizes. Check the dimensions carefully before making your purchase.
If so, it is essential that it fits.
Need help? Check out our mattress size chart here.
Weight Capacity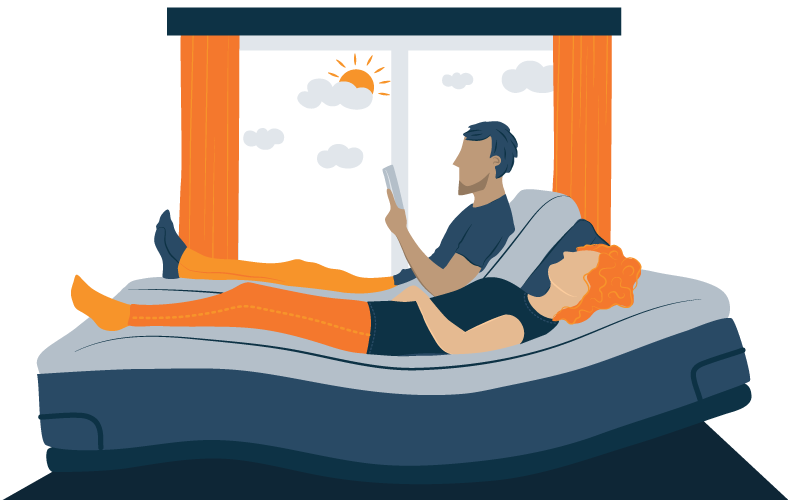 When you are looking through the options, you do need to check what the weight capacity is. That is, how much it can lift and consequently hold in position.
You don't want to end up in a situation where you have to get out of bed so that the position can be adjusted, or where the adjustable bed fails because the weight placed on it was too high.
The manufacturers will provide the weight capacity of the bed. In some cases above, for example, it is around 750 pounds. Now, that does sound like a lot, but you also need to remember that your mattress is also counted in that.
Accessories Included
Each of the options uses an electric motor to either raise or lower sections of the adjustable bed so each will come with a remote. Wireless remotes are more popular and more useful because they can be used from either side of the bed.
It is worth looking at how much you can do using the remote. In some cases, the remote operates only the most basic functions, and you need to use an app for the rest.
It is worth seeing if the manufacturer has made an app that you can use to control the adjustable bed from your phone. This would be more convenient than always using the remote.
Wallhugger Engineering
This is a feature that generally comes with higher-end adjustable beds. If you don't have this on your bed, the upper body is lifted up. This has the effect of basically pushing you forward in the bed.
This is not much of an issue, but it can be annoying because it could make it harder to access your nightstand.
Wallhugger engineering came about in response to this issue. What happens is that as the adjustable bed is coming into the upright position, it also moves back so that you are able to more easily reach your nightstand.
Type of Mattress
These adjustable bases do not come with mattresses normally, so you'll need to make sure the mattress you have is adjustable base compatible. If it isn't, we recommend looking for a new bed to sit on top of your adjustable frame.
A spring mattress, for example, is not always ideal because some springs can make it too rigid. Air mattresses are a no-go because they are meant to be kept flat.
Memory foam mattress is often a top option because it can be moved quickly and will flatten just as easily.
It also pays to see what the manufacturer recommends that you use. If they do also sell the mattresses, see if you can get a better deal by buying the two together.
Read Our Full Guide: Best Mattress For Adjustable Beds
Pricing
Adjustable beds are not inexpensive, and you are looking at around $400 on the lower end. Still, considering the other benefits and being able to adjust your bed automatically, it can absolutely be worth it, and it's worth mentioning that these adjustable bases often come with exceptional warranties.
There is a wide range of price points so there should be one to fit every budget.
Another thing to factor in is the cost of maintenance later. Like with anything else in life, the more moving parts there are, the more maintenance will be needed later on. These will also not always fall under warranty, so be sure to read all the fine print.
Some companies are willing to meet you halfway – you pay for the transport costs, and they will replace the parts. As the bed ages, the liability for damages falls more onto you.
Warranty And Return Policy
This is extremely important to check. Frames are meant to last longer than mattresses in most cases. However, there is also more that can go wrong. Having a year-long warranty in place is great, but in most cases, your frame won't malfunction in such a short period. It is better to look for a company that offers at least a ten-year guarantee, even if it is a limited guarantee.
The next thing to look at is how the company handles returns – do you have a trial period to get used to it? Can you return it no questions asked within a specified period? And, most importantly, who pays for the returns?
Get More Info: How to Return a Mattress
Benefits Of Using An Adjustable Bed
Raising the Head
Have you ever tried to sit up in bed to read or work on your laptop? Ordinarily, this would mean piling up enough pillows to give yourself some semblance of support and still battling with keeping your back straight. Or, more annoyingly, if you get up, your meticulous tower of pillows falls.
Perhaps you have a condition like acid reflux that is improved by sleeping in a more upright position. This is where the adjustability becomes key.
Want to know more? Check out the main benefits of sleeping with the head elevated.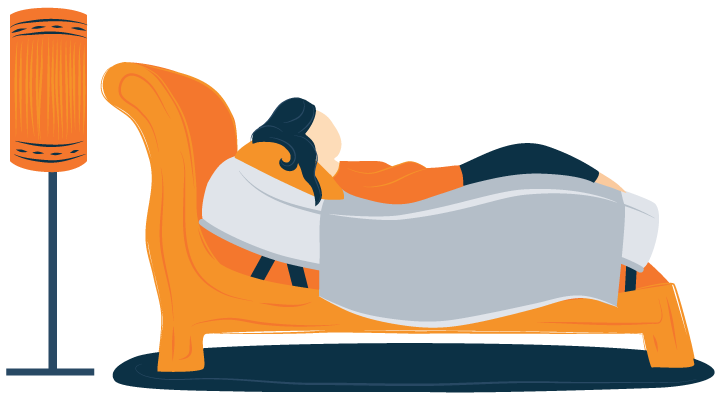 Raising The Foot
You have heard the term zero gravity talked about in this post. You probably though that it meant that you would start lifting off your bed. Unfortunately, it's not quite as cool as all that.
What it actually means, in this sense, is that adjustments made in the person's position relieve pressure on certain parts of the body. Sleeping with your legs elevated, for example, can help to relieve hip pain.
Get More Info: Zero Gravity Sleep Position Benefits
Reasons Against A Remote Control Frame
These frames come with a lot of benefits, but it would be remiss not to go through some of the less favorable aspects as well.
Price: They are going to cost more, and there is also a maintenance cost to consider.


---

Looks: An adjustable bed might not fit your chosen aesthetic – however the models we chose are modern and discrete, not at all reminiscent of a hospital bed.


---

Mechanics: If something breaks down, you need to get someone in to fix it. Depending on how long you've had it for, you may need to pay to get it done.
Adjustable Beds – Frequently Asked Questions
Are reclining beds suitable for the elderly and seniors?
Can a motion bed help relieve back pain?
How can an electric bed help people with disabilities?
Can 'remote control mattresses' help with sleep & snoring problems?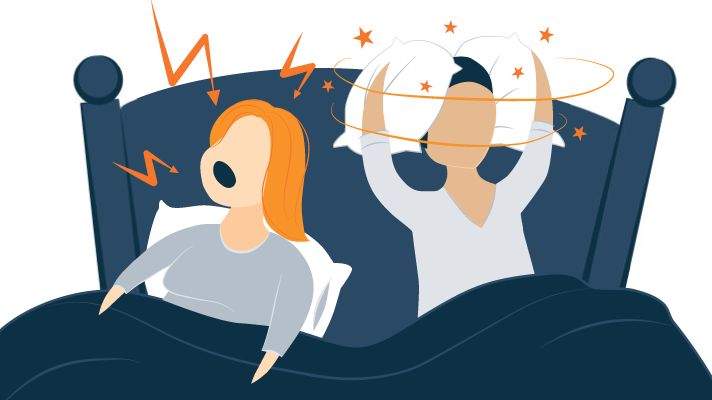 Conclusion – Summarize:
When it comes to comfort, so many people just cannot beat an adjustable frame. You will be able to sit up comfortably, and binge watch Netflix without developing a nasty crick in your neck. You'll be able to reduce the pressure on your lower body with the click of a button.
The key is to choose an adjustable bed that is well-made, has a good guarantee in place, and that offers you features that you will use.
Whether you have the money to invest or are looking for something more tailored to your individual budget needs, there is a choice for you–though some may have a few more bells and whistles than others. Make a list of dealbreakers before you start shopping so you know for sure you're getting what you need with a dash of what you want for a few extra bucks.
Sources and References:
Our team covers as many areas of expertise as we do time zones, but none of us started here as a so-called expert on sleep. What we do share is a willingness to ask questions (lots of them), seek experts, and dig deep into conventional wisdom to see if maybe there might be a better path towards healthy living. We apply what we learn not only to our company culture, but also how we deliver information to our over 12.7M readers.
Sleep research is changing all the time, and we are 100% dedicated to keeping up with breakthroughs and innovations. You live better if you sleep better. Whatever has brought you here, we wish you luck on your journey towards better rest.