Transparency Disclosure – We may receive a referral fee for products purchased through the links on our site...

Read More

.
Disclaimer - Nothing on this website is intended to be a substitute for professional medical advice, diagnosis, or treatment...

Read More Here

.
An adjustable bed frame allows you to elevate or lower certain segments of your mattress into postures that feel supremely comfortable. It can be a fun luxury, a helpful sleep aid, a part of a medical treatment plan—or all three at once.
The best adjustable bed frames are both durable and modern, with a variety of available postures and technical features. Many have built-in USB ports, massage settings, and pre-set postures that have been proven to curb snoring.
If you think your bedroom could benefit from an adjustable base, this roundup is for you. Read on to see our favorite adjustable beds and the reasoning behind our picks.
The Best Adjustable Bed Frames
My Video Review of The Best Adjustable Bases
Editor's Choice
Saatva Adjustable Base Plus
The Saatva Adjustable Base Plus has almost every base covered (pun intended) with its array of features, including under-bed lighting, adjustable legs, and more.
Sleep Advisor Score
5.00 / 5
This base from Saatva epitomizes the word "adjustable." As the upgraded version of their standard base, it has deluxe add-ons that account for almost any comfort setup you could imagine.
Its wireless remote control enables you to elevate the head and foot of the bed as you find your perfect posture. Once you've established the right angles for sleeping, reading, and other activities, you can store them in the remote's memory to recreate them in the future with one touch.
The base also has a preset meant to prevent snoring by tilting the head seven degrees, and a zero-gravity preset to simulate the feeling of cozy weightlessness. This posture can have myriad health benefits, from diminishing the symptoms of acid reflux to relieving muscle tension. The base's massage capabilities are likewise customizable: You can enjoy a timed head, leg, or full-body massage at three different speeds.
The motor attached to this base is discretely positioned so as not to draw the eye. It also operates quietly, so you can change your posture at any time of night without concern.
Pros
The Saatva Adjustable Base Plus has almost every base covered (pun intended) with its array of features, including under-bed lighting, adjustable legs, and more.
The base is compatible with several Saatva mattresses, as well as other mattresses that work with adjustable foundations.
Saatva will deliver and set up this base in your bedroom for free.
Cons
This adjustable bed frame is not eligible for returns or exchanges.
There don't seem to be any charging or USB ports integrated into the frame's design.
Want to learn more? Read our full Saatva Adjustable Base Plus review.
Best Adjustable Bed for Snoring
Nectar Adjustable Base
The Nectar Adjustable Bed Frame has a wireless remote, tool-free assembly, and an anti-snore setting.
Sleep Advisor Score
4.70 / 5
Snoring can be a huge disruption to your sleep (or your partner's). Thankfully, sometimes the fix is a simple matter of positioning. The Nectar Adjustable Bed Frame has a built-in anti-snore setting on its wireless remote that elevates the head of your mattress to open your airway and quiet your nights.
The base's massage function, which has three separate modes and three intensity levels, is also engineered for quiet. But if you want to listen to something before you go to sleep, you can plug your phone into the USB ports on either side of the base and play whatever helps you drift into dreamland.
This adjustable bed can be controlled via an app as well as through its remote. You can test out its preset postures for snoring, zero-gravity, and watching television in addition to programming your own personalized settings into its memory.
Pros
Nectar allows you to test out this product for 50 nights, which is an exceptionally generous trial period for an adjustable base.
You don't need any tools to set up this base, and its legs can be adjusted to a 6-, 9-, or 12-inch height.
Cons
Like many adjustable bed frames, this one is not compatible with most traditional headboards.
This base does not feature "wall-hugging" technology—it won't slide back and forth when you elevate or lower the head portion.
Have questions? Dive into our full Nectar Adjustable Bed Frame review.
Best Adjustable Bed for Heavy People
Brooklyn Bedding Ascension Ultra Adjustable Power Base
Features include a no tool assembly, anti-snoring settings, and a 850-pound weight capacity.
The Brooklyn Bedding Ascension® Ultra Adjustable Power Base's comparatively high weight capacity and ergonomic design make it an attractive choice for larger people. It can hold up to 850 pounds total, including the weight of the mattress. Other adjustable beds in this roundup tend to have weight capacities around a hundred pounds lower (or even less).
This adjustable frame has preset positions meant to curb snoring and promote a zero-gravity posture, which takes pressure off of the back and can improve blood flow. The seat's fiction-reducing properties also keep your mattress from snagging or dragging against its surface.
The base's slim profile and easy assembly allow for convenient integration into your bedroom. According to the brand, it should take almost no time (around five minutes) and absolutely no tools to assemble. It's even energy-conscious, with a "power down battery box" that promotes efficient use of electricity.
Pros
Two USB ports as well as under-bed LED lighting bring tech-savvy flair to the base.
This base is also a great option for couples. If you buy two split bases, the remote sync function enables you to adjust them both at the same time.
Cons
This base isn't able to be returned or refunded once you buy it, though it does come with a 2-year limited parts warranty.
Although it has many bells and whistles, this adjustable frame does not feature wall-hugging capability.
Best Budget Adjustable Bed
Helix Adjustable Base
Offers massage features, zero-gravity settings, and a 20-year limited warranty.
The Helix Adjustable Base takes your mattress to the next level without burning a hole in your budget. A queen-size version of this adjustable frame can often be had for less than $1,000, and certain promotions during the year only increase potential savings.
The base boasts massage technology at the foot and head for when you need some serious stress relief—choose from three different intensity levels to personalize your relaxation.
Additionally, its zero-gravity posture setting brings your feet and knees just slightly above the level of your heart. This position encourages circulation and can even generate a feeling of weightlessness. You'll also be able to program your favorite postures into the remote control so you can enact them with a single button.
Priced affordably and shipped for free, the Helix Adjustable Base is also covered by a limited warranty that protects you from any manufacturing defects.
Pros
The base comes with adjustable legs set at their maximum 12-inch height. You can lower them to one of three other heights depending on your preference.
Want to build out the base with a headboard or other additions? The base's manufacturer makes a headboard bracket, surge protector, and t-bracket that you can buy from them directly.
Cons
If you must have a California king-size base, be aware that there's no "split" option—the head of the base will always move as one piece.
You'll likely need two or more people to help with putting this base together once it arrives.
Want to learn more? Read our Helix Adjustable Base review.
Best Adjustable Bed and Mattress Combo
Adjustable Winkbase 2.0™
Features a wireless remote, no-tool assembly, and four preset positions.
Although it's compatible with multiple mattresses, the Adjustable WinkBase 2.0™ has a designated partner in the 13.5-inch WinkBed hybrid. As the base changes position, this mattress bends along with it, all the while retaining its signature support and comfortable feel.
Because this base arrives in a deceptively small and convenient package, it's a cinch to order alongside a mattress. It assembles easily and without the help of tools. It also has a chic, distinctive look even when it's not in use, with six discrete segments that are able to manipulate the height and feel of your mattress.
Once it's ready, you can use the wireless remote to cycle through four preset positions—Flat, Anti-Snore, Zero Gravity, and Lounge—or play around to find a cozy, custom setting that's just right for you.
Pros
According to WinkBeds, the Adjustable WinkBase 2.0™ ships in an impressively compact package that's "up to 75% smaller" than those used by competitors.
This base leaves more than 8 inches of clearance under the bed, which allows for lots of storage. It also has a child lock function and emergency lowering function for added safety.
Cons
There's no trial period, refunds, or exchanges once you purchase this adjustable bed frame.
The Adjustable WinkBase 2.0™ does not "hug" the wall by moving backward when you elevate its head.
Best Adjustable Bed for Back Pain
TEMPUR-Ergo Power Base
Featuring in-home set up, USB ports, and zero gravity positions.
With its cutting-edge foams and pressure-relieving mattress designs, Tempur-Pedic® has already established itself as a brand that cares about back pain. Their TEMPUR-Ergo Power Base only bolsters this reputation.
In addition to a zero gravity position, its unique ergonomic features include PerfectSeat™—a setting that slightly lengthens a section of the base for an optimal seated posture—and Pillow Tilt, which targets strained necks with a subtle bend near the very head of the base.
It also has a segment for lumbar support that can raise up to six inches in height, lending a sense of comfort and anchorage to one of the most sensitive parts of the back.
This base soothes sore muscles with a zoned massage function and aims to reduce snoring with a position called QuietMode™.
Pros
Tempur-Pedic's® White Glove Delivery team will bring your base to your bedroom, get it ready, and even get rid of all the extraneous packaging after it's set up.
The TEMPUR-Ergo® Power Base has all the details you'd expect in a quality base, including USB ports on either side and under-bed lighting.
Cons
This base doesn't have all the features of Tempur-Pedic's® Smart Bases, so if you're looking for more app integration or sleep coaching, consider an upgraded model.
This adjustable bed frame does not have wall-hugging technology.
Best Split King Adjustable Bed
Layla Adjustable Base Plus
Highly customizable adjustable base with anti-snore function and compatible with smart devices.
If you share a bed, your mattress needs to accommodate two distinct sets of comfort preferences. The Layla® Adjustable Base Plus in the split king size is a highly customizable solution to this challenge. By placing two articulating bases beneath your split king, you can raise or lower your head and feet to your heart's content, without worrying that your preferred postures will disturb your partner.
If you're awake but your partner is sawing logs, you can even use the Layla® app to select the anti-snore posture for their side of the bed. And if you'd ever like to try certain positions together, the base arrives with a sync cable that will move the two sides simultaneously.
The Layla® Adjustable Base Plus also has dual massage zones at the head and foot of the base, underbed lighting, and an anti-skid texture that should keep your mattress secure on its surface.
Pros
The Layla® Adjustable Base Plus is ready for all of your technological needs. In addition to its own free app, it has USB charging ports and can pair with Amazon Echo or Google Home.
This base smoothly slides backward when the head is elevated to preserve your distance from the wall.
Cons
Some reviews mention that the parts of the Layla® Adjustable Base Plus are a bit heavy to move during setup, so you'll probably want a friend to help you with assembly.
The king-size version of this base, like the split king, consists of two halves held together by a clamp. If you want a king-size adjustable bed that's a single, solid piece, check out other contenders in this roundup.
Best Adjustable Bed for Seniors
Sealy Ease Power Base
Features free in-home set up, easy-to-use wireless remote, and adjustable height.
Sleep Advisor Score
4.70 / 5
The Sealy Ease® Power Base is a particularly user-friendly adjustable bed that's perfect for seniors or people with mobility issues. Its segmented legs allow you to change its height for an easy time getting in and out of bed.
As you relax, you can use the wireless remote to raise the head of the bed by up to 57 degrees, and the foot of the bed by up to 46 degrees. The brand notes that this enables you to experiment with hundreds of different postures to find ones that work for your favorite in-bed activities.
The remote has clear diagrams as labels for its four buttons, and its refreshingly simple design features both flat and zero-gravity presets. The folks who deliver it will also set it up in your bedroom free of charge.
Pros
If you want to keep using a bed frame you already own, you'll likely have no issue fitting the Ease® Power Base inside it.
A 25-year warranty protects your purchase for much longer than the warranties on many other adjustable bases.
Cons
This is a relatively basic adjustable bed frame with no massage or wall-hugging functionality.
The remote that comes with this base is geared toward simplicity, with no extra buttons for programming your own customized postures.
Best Eco-Friendly Adjustable Bed
Avocado Eco Plus Adjustable Base
Avocado complements their acclaimed lineup of organic mattresses with this uniquely eco-friendly adjustable base. It incorporates GOTS-certified organic cotton cover, rubberwood legs, and conscientiously sourced wool. A 20-year limited warranty provides peace of mind around the frame's craftsmanship.
Even the corner bars and the wireless remote reflect the brand's devotion to the environment: both are made from plant-based substances, including biodegradable bamboo fiber. You can adjust your position in bed through this remote or by using an app on your smartphone.
The Eco Plus is a more luxurious version of the standard Eco Adjustable Base, with impressive add-ons such as lumbar adjustment. This feature enables you to adjust a third, middle portion of the base to better suit the natural curvature of your spine.
Pros
Avocado's clean aesthetic comes through with the base's deck-on-deck design, which cleverly conceals its mechanical parts.
Wall-hugging technology, under-bed lighting, and three upper- and lower-body massage modes round out this adjustable bed's comprehensive list of features.
Cons
Given the quality of its organic materials, this adjustable bed frame is a bit pricier than others on our list.
If you want to use this adjustable bed with a bed frame you already own, you might find that the USB ports are blocked by the frame.
How to Choose the Right Adjustable Bed Frame
Adjustable beds offer a unique design compared to more traditional frames and foundations, and there's plenty of variation among different models and brands. To ensure you get the right adjustable bed, you'll want to know what factors you need to consider as you shop.
Size
Size is an important consideration when upgrading your bed space. Like mattresses, adjustable bases can range from Twin all the way through to California King.
We recommend first measuring the space you have available in your bedroom. Then, you should check the measurements of each adjustable frame you are interested in. While sizes are likely to be uniform within a brand, they can vary across brands.
When considering the size, it is also necessary to consider the base of the mattress. Some are made to fit a Split King, while others can only fit standard sizes. Check the dimensions carefully before making your purchase.
Need help? Check out our mattress size chart here.
Adjustable Bed Frame Weight Limits
As you browse through adjustable bases, you'll need to check what the weight limit is, which means how much it can lift and hold in position.
You don't want to end up in a situation in which you have to get out of bed so that the position can be adjusted or the adjustable bed fails because the weight placed on it was too high.
The manufacturers will provide the weight capacity of the bed. Keep in mind that the weight limit will include both the sleeper – or sleepers for couples – and the mattress.
The Remote
Adjustable bases use an electric motor to either raise or lower sections of the bed so they usually come with a remote. Some older models may come with a wired remote, while newer offerings have wireless remotes available for added convenience. Plus, wireless remotes can be used from either side of the bed.
It is worth looking at how much you can do using the remote. In some cases, the remote operates only the most basic functions, and you need to use an app for the rest. In some cases, the manufacturer has made an app that you can use to control the adjustable bed from your phone, which could be even more convenient than always using the remote.
Special Features of Adjustable Bed Frames
Wallhugger engineering – This is a feature that generally comes with higher-end adjustable beds to solve the issue of people being pushed forward whenever the head of their bed was lifted. How wallhugger engineering works is that as the adjustable bed is coming into the upright position, it also moves back, preventing the sleeper from moving forward in the first place.
Sleep tracking – Certain adjustable bases are equipped with sleep tracking, a form of smart technology that monitors your sleep habits. In some cases, the bed can respond to these habits to help you. For example, an adjustable bed with sleep tracking could detect if you start snoring and then elevate your upper body to minimize the snoring without you having to do any work.
Massage – Some adjustable beds include a massage feature, which some shoppers may love, and it could help them relax before bed.
LED lighting – Some bases feature LED lights so you avoid hitting the frame if you get in and out of bed at night.
Dual-sided controls – Just as there are Split King and Split California King mattresses, there are also split bases. Adjustable beds with a split base are unique because they can offer dual-sided controls for couples. This means that one partner can adjust their side without it affecting the other person's side.
Presets – Adjustable beds can come with preset features, such as anti-snoring, memory, and zero-gravity. Presets can make it even easier to get into your preferred position.
Upper and lower body adjustable – Some bases may only allow you to adjust the upper or lower body while others have the added benefit of letting you adjust both.
Customizable height – Certain frames let you adjust the legs so that the bed stands at the optimal height for you.
Wider range of motion – Some adjustable beds may offer a wider range of motion when adjusting positions, which some shoppers may prefer for added customization and comfort.
Mattress Compatibility
Adjustable bases don't usually come with a mattress, so you'll need to make sure the mattress you have is adjustable base compatible. If it isn't, we recommend looking for a new mattress to sit on top of your adjustable frame.
A traditional innerspring mattress, for example, is not always ideal because some springs can make it too rigid, and air mattresses are a no-go because they are meant to be kept flat. Memory foam mattresses are often a top option because they can be moved quickly and will flatten just as easily. However, many hybrid and latex beds are also compatible with adjustable bases.
We also advise you to check what the manufacturer recommends you use. If they also sell mattresses, see if you can get a better deal by buying the two together.
Read Our Full Guide: Best Mattress For Adjustable Beds
Pricing
An adjustable bed will be costly, and typically, the larger the size and the more features it has, the higher the price. Still, these frames can deliver excellent comfort and additional benefits that can make the extra investment worth it. Plus, most reputable brands will offer good warranty deals that back up the quality of the product.
The good news is that there's a wide range of price points for good mattresses, so there should be one to fit every budget.
However, you'll also want to factor in the cost of maintenance down the road. Like most things in life, the more moving parts there are, the more maintenance will be needed later on. Furthermore, these maintenance issues may not always fall under warranty, so be sure to read all the fine print.
Some companies are willing to meet you halfway – you pay for the transport costs, and they will replace the parts. As the bed ages, the liability for damages falls more onto you.
Trial, Warranty, and Return Policy
This is extremely important to check. Frames are meant to last longer than mattresses in most cases. However, there is also more that can go wrong.
Having a year-long warranty in place is great, but in most cases, your frame won't malfunction in such a short period. It is better to look for a company that offers at least a 10-year guarantee, even if it is a limited guarantee.
The next thing to look at is how the company handles returns – do you have a trial period to get used to it? Can you return it no questions asked within a specified period? Perhaps most importantly, though, who pays for the returns?
Get More Info: How to Return a Mattress
Delivery and Setup
The delivery and setup for your new adjustable bed are also important to consider. Does the company provide free shipping? In some cases, a brand may provide free shipping to the contiguous U.S. states, but those living in Alaska or Hawaii will have to pay extra for shipping.
Then, once you get your mattress, you'll need to know what the setup process is like. Maybe you've never set up an adjustable base before, and the process seems complicated. In this case, you might prefer a brand that offers an in-home setup deal so that you can leave it to the professionals to assemble the frame for you.
Benefits Of Using An Adjustable Bed Frame
Can Alleviate Snoring and Sleep Apnea Symptoms
People with sleep apnea are often found snoring or gasping for air during the night. Sleeping with the head raised can help open up the airways for better breathing, which in turn, could alleviate these sleep apnea symptoms.
Research backs this up, too. A 2022 study[1] in which habitual snorers used an adjustable bed to sleep at a 12-degree incline found that snoring duration dropped by 7 percent. The participants also woke up less frequently and spent more time in deep sleep.
Want to know more? Check out the main benefits of sleeping with the head elevated.
Pain and Pressure Relief
Adjustable beds are also useful for pain and pressure relief. Earlier we touched on some adjustable beds having a zero-gravity preset. Zero-gravity means that your head and legs are raised just above your heart and stomach, creating roughly a 120-degree angle.
The idea behind zero-gravity sleep is that it creates a posture in which there is minimal pressure on the body, which could be ideal for those with lower back pain or an injury.
Get More Info: Zero Gravity Sleep Position Benefits
Better Circulation
Not only can elevating your legs ease pressure, but it can also improve circulation. According to medical experts, raising the limbs[2] fosters better blood flow back to the heart, putting less stress on this vital organ. This should also help alleviate any swelling in the legs.
Can Help With Colds and Acid Reflux
Keeping your torso elevated on an adjustable bed could also help with specific conditions like the common cold or acid reflux. Sleeping more upright allows gravity to help relieve congestion by draining the sinuses, and in the case of GERD or acid reflux, it can help keep stomach acid from entering your esophagus.
More Customized Comfort
Of course, a big sell of adjustable beds is the customized comfort they provide. You can more easily adjust your sleep position to what feels best. Plus, for those couples who opt for split bases, each partner can pick how they want to lie on their side of the bed.
Adjustable Bed Frame Cons
These frames come with a lot of benefits, but it would be remiss not to go through some of the less favorable aspects as well.
Price: They are going to cost more, and there is also a maintenance cost to consider.


---

Weigh more: Along with a higher price, adjustable bases can weigh more and therefore, be harder to move without help.


---

Mechanical issues: If something breaks down, you need to get someone in to fix it. Depending on how long you've had it, you may need to pay to get it done.


---

Not compatible with all mattresses: While there are plenty of mattresses out there that are compatible with adjustable bases, there are some, such as traditional innerspring models, that might not work with these types of frames. This means you may have to invest in a new mattress as well if your current one isn't compatible.
Who Should Use an Adjustable Bed Frame?
Side and back sleepers – Side and back sleepers should be able to sleep comfortably on an adjustable base, but those who sleep on their stomach won't benefit from them.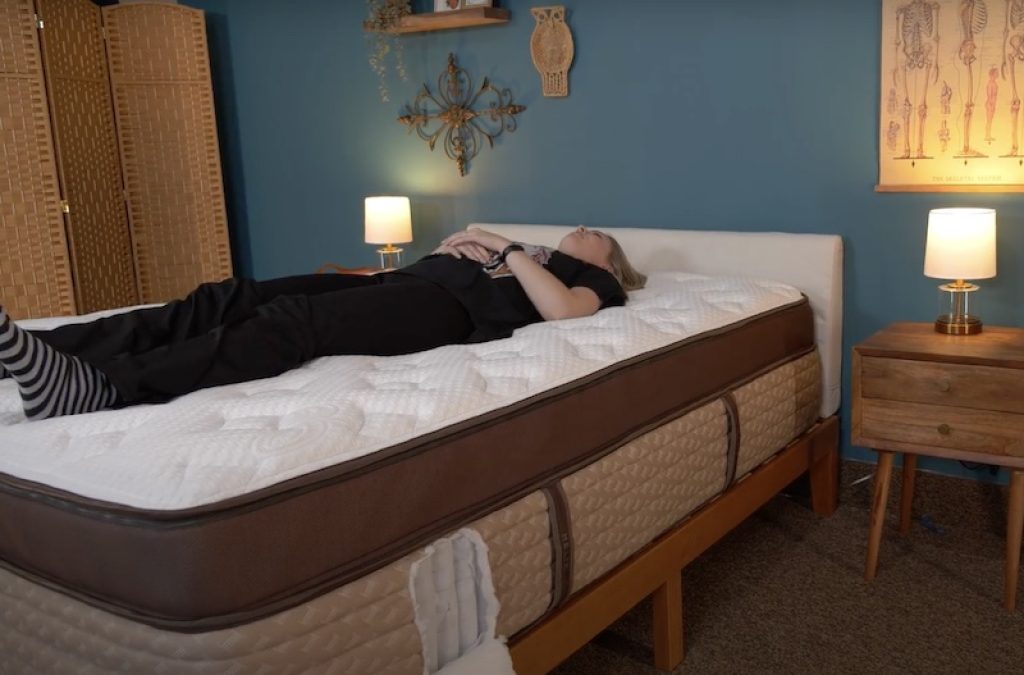 ---
People with limited mobility – Adjustable bases can be highly useful for those with limited mobility, such as older adults and people with injuries who need enhanced comfort and more ease to get in and out of bed. However, seniors should also look at the overall height. Is it going to be low enough so that they can get in and out quickly? As mentioned, some frames come with adjustable legs, making it easy to lower the bed to an appropriate height.
Find Out More: Best Mattress for Elderly
---
People with lower back pain – Sleeping on an adjustable bed, particularly in the zero-gravity position, helps ease pressure on the body, which can be great news for those with lower back pain.
Learn More: How an Adjustable Bed Alleviates Back Pain
---
People who snore or have sleep apnea – People who snore or have sleep apnea-related snoring can use an adjustable base to keep their heads elevated, which should allow for easier breathing and reduced snoring.
---
Those with acid reflux – If you frequently experience acid reflux, an adjustable base could help keep that stomach acid down for more restful sleep.
---
People with poor circulation – Anyone who has poor circulation, particularly in the legs, can use an adjustable bed to help keep their legs elevated and improve circulation.
---
Those who enjoy reading or watching television in bed – If you spend a lot of time reading or watching television in bed, you might want to consider an adjustable base for better back support as you sit up.
Adjustable Bed Frame FAQs
How long will an adjustable bed frame last?
The lifespan of an adjustable bed will depend on the quality of the model, but generally, they should last at least 10 years. The mattress you use on it may have to be replaced sooner, though, as most mattresses last 7-10 years. However, some high-quality latex models could last longer than this.
Learn More: Will an Adjustable Bed Wear Down Your Mattress?
Do doctors recommend adjustable beds?
Yes, some doctors may recommend adjustable beds, such as for those with back pain. However, this is also dependent upon the patient, so we advise that anyone looking to purchase an adjustable frame for a specific medical condition consult with their primary care physician first to ensure it's the right move.
Can you use a regular mattress on an adjustable frame?
Yes, many regular mattresses can be used on an adjustable frame, but you should check with the mattress manufacturer before making any purchases as some models aren't compatible with this type of frame.
How much does an adjustable bed frame cost?
The price of an adjustable bed will vary among brands and sizes, but most tend to fall between 1,000 and 3,000 dollars. Additionally, frames that have advanced features can also cost more.
Can an adjustable bed help with snoring?
Yes, an adjustable bed can help with snoring.
Elevating the sleeper helps keep the airways open, which in turn, should minimize snoring, including snoring caused by sleep apnea. Not only could this improve the sleep of the person snoring, but it's also good news for their partner, who should be able to sleep more soundly.
Want to see more? Visit our full guide to top mattresses for sleep apnea.
Is an adjustable base worth it?
Yes, an adjustable base is worth it if you have a need for one. Whether you have sleep apnea, low back pain, or simply want to be more comfortable when you read in bed, purchasing an adjustable frame could be the right move for you. However, they're a costly investment, so arming yourself with as much knowledge as possible to get the right one is also important.