Transparency Disclosure – We may receive a referral fee for products purchased through the links on our site...

Read More

.
Disclaimer - Nothing on this website is intended to be a substitute for professional medical advice, diagnosis, or treatment...

Read More Here

.
Over 18 million Americans suffer from sleep apnea, with many not realizing they suffer from this issue at all, as symptoms occur when you're asleep. The condition can be a serious health concern if it evolves into a more disruptive disorder.
Sleep apnea can cause your breathing to start and stop uncontrollably. As this happens during the night, it's common for the issue to go unnoticed and unresolved, which could be dangerous depending on the severity. Symptoms include daytime fatigue, snoring, and feeling tired even after a full night's rest.
8 Best Sleep Apnea Mattresses
One of the quickest ways to improve this issue is to make sure you're sleeping on a supportive mattress to foster easy breathing. Proper sleep is essential for your health and happiness, so we've gathered the best beds that could help you mitigate these conditions to help you sleep easily and live a full and restful life.
Shopping Recommendation:
Are you confident that a sleep apnea mattress is the perfect option for you? If so, continue exploring this page!
If you're unsure or want to learn about more great mattress options available then we recommend you check out our in-depth guide for best mattresses. It is a great starting place for most mattress shoppers because it includes a diverse list of mattress picks based on various preferences, styles, and needs. It also includes links to an additional 60+ best mattress pages from Sleep Advisor (example: best mattress for couples).
Top 8 Sleep Apnea Bed Options
Saatva Solaire
Latex and Memory Foam Mattress

Best for Side, Back, and Stomach Sleepers

Firmness Level: 4-7/10

365-Night Trial

Lifetime Warranty
An adjustable base is a helpful way to alleviate sleep apnea symptoms because it can elevate the head to keep the airways open for easier breathing. If you plan to use an adjustable base, you'll need the right mattress to go with it. Saatva's Solaire model features a unique design, most notably its 6-inch thick air chamber made from vulcanized latex. 
The air chamber allows the sleeper to adjust the bed's firmness through air pressure. Users can alter the pressure in this layer between 1 and 50 to reach their preferred firmness. This customized design means the Solaire is a viable mattress for all kinds of sleepers.
What makes it unique?
The Solaire has two layers with 5-zone support. The first is the Talalay latex that sits below the cover, and the second is the polyfoam under the air chamber.

The mattress has a moisture barrier to help curb bacteria growth and extend the bed's lifespan.
Interested in more details? Follow our full Saatva Solaire mattress review.
Best Mattress for Side Sleepers
Helix Midnight Luxe
Hybrid Mattress

Best for Side Sleepers

Firmness Level: 6-7/10

100-Night Trial

15-Year Warranty
If you have sleep apnea, resting your side is considered one of the best positions because it can help with symptoms like snoring. However, lying on your side means you're more susceptible to pressure buildup. The Midnight Luxe, a luxurious upgrade to Helix's Midnight model, features plush comfort layers that should ease pressure points so you can rest comfortably in this position.
The Midnight Luxe features a cozy pillow top made with Tencel so that you not only get an initial cushion as you lie down, but you'll also feel the cooling effects of the Tencel material. Below the pillow top is a layer of Memory Plush Foam. Memory foam is one of the best materials because it cradles the sleeper's body so well, melting away pressure in the process. 
Why should you consider it?
The HelixMidnight Luxe comes with a 15-year warranty, which is five years more coverage than the standard Midnight model. 
Best Mattress for Combination Sleepers
Bear Hybrid
Hybrid Mattress
Best for Combination Sleepers
Firmness Level: 6/10
120-Night Trial
Forever Warranty
Combination sleepers who struggle with sleep apnea may find it difficult to find a comfortable sleeping position. Sleep apnea can cause you to toss and turn, so it's important to have a comfortable mattress. The Bear Hybrid is rated 6/10 on our firmness scale, which should be a middle ground suitable for combination sleepers.
The Bear Hybrid's construction starts with a Celliant® cover, followed by a cooling layer of gel foam. Next is a 2-inch comfort foam, followed by an inch of transitional foam. Going deeper into the mattress is the 8-inch coil unit that supports the foam layers and gives the bed some bounce. The final layer is the base made of an inch of high-density foam.
Why did we pick it?
Combination sleepers should appreciate how the Bear Hybrid adapts regardless of the sleeping position. The mid-range firmness should fit combo sleepers as it supports the body and provides proper spine alignment.
Best Mattress for Light Sleepers
Nolah Original
Foam Mattress

Best for Side and Back Sleepers

Firmness Level: 5/10

120-Night Trial 

Lifetime Warranty
Lightweight sleepers typically enjoy the feel of more plush beds so that they don't feel as though they're sleeping on a rock. For someone with sleep apnea, finding a mattress that delivers optimal comfort for their body frame should help them get better rest. 
The Nolah Original has a medium comfort feel, which should be a good match for light sleepers. This all-foam mattress features proprietary Nolah AirFoam™, an exclusive material made to sleep cooler than regular memory foam while still delivering plush comfort. 
The bed's second layer is a latex-like foam that helps ease the sleeper into the dense foam base below. Nolah's bottom layer is a 7-inch thick high-density polyfoam designed to support the individual's weight and provide the mattress with structure.
What stands out?
Nolah's proprietary cooling foam is ideal if you tend to overheat at night. The cooling capabilities can further provide a comfortable environment for less interrupted rest.
Best Mattress for Heavy People
WinkBed Plus
Hybrid Mattress
Best for Heavier Sleepers
Firmness Level: 6.5/10
120-Night Trial
Lifetime Warranty
Sleep apnea is a common condition among heavier individuals, and mattresses that aren't built to accommodate and support additional weight may develop sags and dips that can exacerbate your condition. WinkBeds Plus, a reimagining of their flagship WinkBed mattress, was designed with the specific needs of heavier individuals that weigh over 300 pounds.
Why is it special?
This mattress was designed to deliver a versatile Medium-Firm feel for heavier sleepers. This versatility allows the bed to feel comfortable on your side, back, or stomach, depending on your personal preference. The top layers of gel foam and latex over a zoned support system should help your spine remain well aligned.
The WinkBeds company prides itself on its handcrafted design and tested durability. In the company's research, their beds only lost around 1% of loft during a simulation of 1 year of consistent use.
Interested in learning more? Head over to our complete guide for Winkbed mattress.
Best Memory Foam Mattress
Layla
Dual-Sided Memory Foam Mattress
Best for Side, Back, and Stomach Sleepers
Firmness Level: 4/10 (Soft) 7/10 (Firm)
120-Night Trial
Lifetime Warranty
If you like the idea of memory foam but aren't sure how deep you'd like your body to be cradled, you might consider a dual-sided choice like Layla so you can try them both and compare.
The softer side will offer a deeper hug with excellent pressure relief, while the firmer side provides more buoyant support. Both sides are designed to keep you cool and well-supported.
What makes it unique?
The Layla mattress helps with temperature control by incorporating an infusion of copper, which has excellent heat conduction capabilities and antimicrobial properties that may help you breathe and sleep easier.
The Layla's two firmness options in one make this mattress a highly convenient product for customization and should accommodate all sleep styles.
With the purchase of a Layla bed, you get 120 nights to try out the mattress in the comfort of your home before making a final decision on it.
Plank Firm
Foam Mattress
Best for Stomach Sleepers
Firmness Level: 7.5-8/10 (Firm side) 9/10 (Extra-Firm side)
120-Night Trial
10-Year Warranty
Stomach and side sleeping are often recommended for those with sleep apnea to help open up their airways. Whether you already lie on your stomach or are transitioning to this sleep style, a firmer mattress will be your best bet since most stomach sleepers enjoy harder beds that keep their hips and midsection level.
The Plank Firm is a flippable design that has two different firmness levels on each side, with one being Firm and the other Extra-Firm. This gives you the convenience of seeing which side you like best. Plank Firm is also an all-foam model, so you can expect good motion isolation from this mattress.
Why we love it
The Plank Firm is one of the hardest mattresses available. Plus, you get two different feels to pick from to find your perfect side.
Hot sleepers can elect to have the manufacturer put in an optional cooling panel when they order their bed.
Best Mattress for Couples
DreamCloud Original
Hybrid Mattress
Best for Side Sleepers
Firmness Level: 5.5/10
365-Night Trial
Forever Warranty
If you're trying to sleep on your side to reduce your sleep apnea symptoms, pressure build-up can easily become an issue. However, DreamCloud seeks to solve this dilemma with their Original model. The DreamCloud Original has a true medium firmness combined with memory foam in its construction that should complement anyone seeking pressure relief.
The DreamCloud is a hybrid mattress that is built with gel memory foam, polyfoams, and individually wrapped coils to help with motion isolation. Good motion isolation is helpful for couples because it reduces the chances of one partner disturbing the other with movements.
Why should you buy it?
This DreamCloud mattress comes with a forever warranty and a 365-night trial, allowing you enough time to test how you like the bed before committing to the purchase.
The medium firmness is versatile enough to work for most couples.
Sleep Apnea Mattress Buying Considerations
Construction & Build Material
If you're dealing with this condition on a nightly basis, you're probably wondering if there's a perfect mattress to ease your symptoms. The good news is that there are solutions that are more likely to help, no machinery required.
Before we get to that, let's quickly review the options available, and we'll discuss how each one might affect you.
Memory foam: This material is increasingly popular because of its superior pressure point relief. When you lie down, especially on your side, the weight of your shoulders and hips sink more deeply into the bed than your other body parts. Because of this, you need a bed that absorbs the weight and provides a comfort. Firm beds and innerspring mattresses tend to lack pressure relief, making them a less ideal choice for this purpose.

A word of caution about memory foam, though. It should be high-quality to prevent you some sagging into the surface of the bed. If you get a bargain bed at a rock bottom price, it'll likely start sagging within a year or two, throwing off your body's alignment and exacerbating your condition.
Want to know more? Check out our top memory foam beds here.
---
Latex: The top choice of many is latex, specifically the natural, not synthetic. The reason is that natural latex is made from the sap of a rubber tree, so it's all-natural. It's also hypoallergenic. Preventing allergies is crucial because it makes for easier breathing during the night. The reason some people avoid synthetic latex is that it's made from a petroleum base, and the chemical compounds can affect breathing.
Hybrid: These types of mattresses combine an innerspring base or core with a memory foam or latex surface. There are several top-quality beds in this category. In addition, if you want an adjustable bed, keep in mind that not all hybrids can be used on a frame that adjusts.

Natural & Organic Materials
If you've already got sleep related breathing issues, the last thing you need is a mattress that makes gives you allergies and makes breathing even more difficult. That's why we recommend natural and organic materials as opposed to synthetic varieties for that particular need.
Here's why: Synthetic mattresses often contain chemicals known as VOCs (volatile organic compounds). These release into the air and are linked to allergies, asthma, and respiratory conditions. If you've ever heard the term off-gassing, that's what happens when you buy a synthetic mattress and it releases these compounds into the air.
If organic is over your budget, check the product description for something that is hypoallergenic. There are several midrange foam mattresses that fit this category.
Other allergy sources hiding in your mattress include dust mite feces (gross, right?) and mold and mildew. While many foam and latex beds are naturally dust mite resistant, innerspring mattresses provide a favorable breeding ground for these creatures. Yet another reason to choose foam or latex!
Get More Info: Best Rated Organic Mattresses
Firmness
Most people with apnea sleep on their sides, especially if they have a CPAP machine. This position requires a mattress that offers ample support, but also enough contouring to relieve the pressure points at the hips and shoulders.
We typically recommend something right in the middle for firmness. The bed should be firm enough to cushion you and prevent you from sinking too deeply into the mattress, but soft enough to keep you comfortable and in proper alignment.
Need help? Check out our complete mattress firmness scale.

Sleep Apnea Sleep Tips
Use CPAP Therapy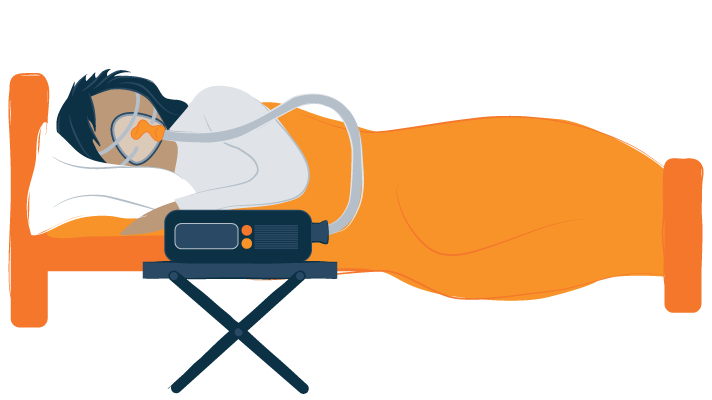 Use An Adjustable Bed Frame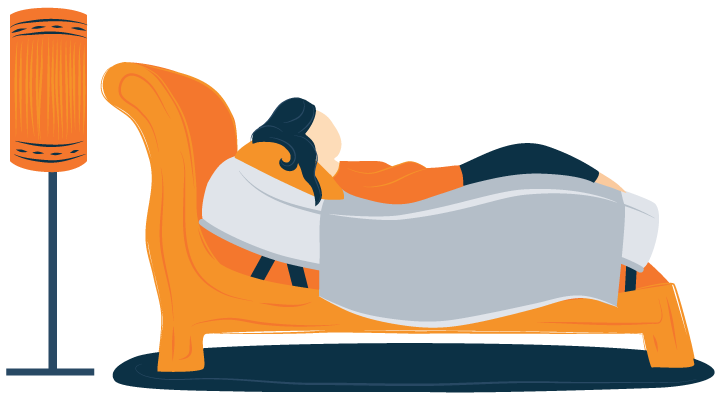 Sleep On Your Side
FAQ about Beds for Sleep Apnea Sufferers
Will an adjustable bed help with sleep apnea?
Yes, an adjustable bed can help because it keeps your upper body, head, and neck elevated. By having your upper body raised above your torso, it reduces the chances of your throat muscles relaxing and obstructing air flow.
Another benefit of an adjustable bed is that it can aid in digestion. If you're in the habit of going to bed shortly after dinner, then having a frame that adjusts can help put your body in an elevated position to encourage digestion and prevent heartburn and acid reflux.
If you decide to get an adjustable bed, make sure that the mattress and frame are compatible.
Follow Our Guide: Best Mattresses for Adjustable Beds
Is sleeping upright good for sleep apnea sufferers?
Yes! A study published on PubMed looked at the effect of mattress elevation at the head of the bed on obstructive sleep apnea. They found that there was significant improvement in the amount of oxygen saturation in the patients studied along with increased sleeping efficiency and a decrease in the number of apneas (pauses in breathing) in a given night.
Find Out More: Benefits of Sleeping Elevated
Should I pick a firm or soft mattress for sleep apnea?
We recommend something in between. If the mattress is too firm, it'll cause discomfort, especially when you lie on your side. But, if the surface is too soft, you'll sink in too deeply, and that will also negatively affect your sleep.
When you're shopping online and reading the product descriptions, look for a firmness level of about a 5.
View Our Comparison: Firm vs. Soft Mattress
Are there different types of sleep apnea?
Yes, there are three different types of sleep apnea:
Obstructive (OSA): The most common type, affecting 4% of men and 2% of women. It's characterized by the muscles in the throat relaxing to a point where it physically obstructs breathing.


---

Central (CSA): Instead of a physical or mechanical issue going on with the body, central has to do with your nervous system and it's the effect of the brain not signaling the body's muscles that control breath.


---

Mixed: This condition occurs when a patient has both types of apnea. Not a lot of research has been done to determine the cause, but there is a link between people who use CPAP machines and then go on to develop CSA. There are recommended settings that your doctor will discuss with you to ensure that your CPAP machine doesn't contribute to CSA.
Is insomnia connected?
Research calculations suggest that over 22 million Americans have sleep apnea, but 80 percent of these cases go undiagnosed, which can have serious consequences for sufferers. Though many of the symptoms of this condition occur while you're sleeping, one possible indicator is chronic insomnia, or consistent difficulty falling asleep at night.
Making small corrections to your sleeping space to best suit your body and condition can definitely go a long way towards alleviating the symptoms. Adjustable mattresses can hold your head up and make it less likely that a pause in your breathing wakes you up at night. Beds better able to accommodate side sleeping may also be a direction you might consider, as this position is supposed to help cut down on episodes and improve your rest.
For More Info: 8 Highest Rated Beds for Insomnia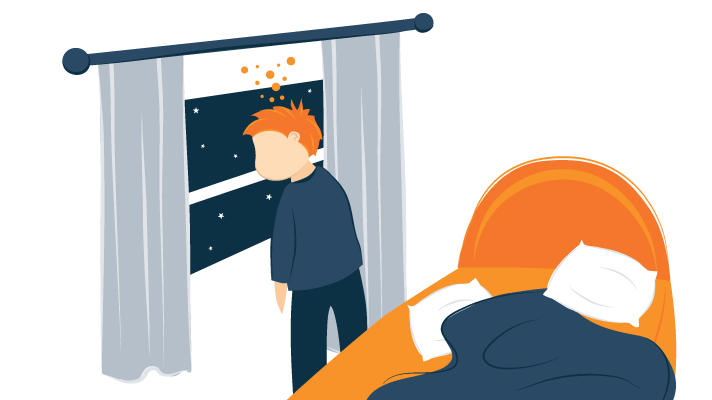 Can a herniated disc cause this condition?
There are two different kinds of sleep apnea, obstructive and central. The most common is the former, which is typically caused by muscles in the throat relaxing and blocking airways. The less common central sleep apnea is caused by nerve damage where the brain is not communicating properly with the muscles that manage breathing processes when you're asleep.
This nerve damage can have several different causes, and herniated discs are only one of them. Treatment of this condition or proper management of its symptoms can reduce the likelihood that you develop sleep apnea.
Find Out More: Top Rated Beds for Herniated Disc
Is snoring a potential symptom?
Do all snorers have sleep apnea? In short, no. Not all folks who snore suffer from this condition, but those that do almost always snore.
Research indicates that roughly half of snorers have a more serious condition that may require medical intervention. If your snoring is loud enough to disturb your partner's sleep, it may be indicative of a much larger problem, and you might want to speak with a healthcare provider to receive a more definitive diagnosis.
Need more details? Check out the most common signs of sleep apnea here.

Is sleep apnea connected to allergies?
When your nasal passages are inflamed during an allergic reaction, you may experience difficulty breathing naturally. If your breath is consistently and repeatedly obstructed while you sleep, this may be characterized as a condition called Sleep Apnea and this can be further aggravated by allergies. Research has established that there is a definite link between the two conditions, and that reducing inflammation in the nasal cavities can decrease your risk of developing OSA and experiencing day-time fatigue.
Conclusion
Scientists are in general agreement that sleep apnea is on the rise. Part of the increase is due to higher rates of obesity, but there are other contributing factors as well. For example, some dental conditions, like having a large overbite, can also cause this condition. There's also the belief that better screening tools have led to more people being diagnosed.
Left untreated, this condition can lead to heart disease, high blood pressure, strokes, and accidents due to sleepiness. Consult with your doctor if you suspect you have this disorder, and in the meantime, you might find some relief with the helpful tips outlined in this article.
Rachael is a content writer for Sleep Advisor who loves combining her enthusiasm for writing and wellness. She's had a passion for writing since she was a kid when she wrote awful poetry. She's honed her craft quite a bit since then and considers herself a lucky duck to get paid to do what she loves.
Embracing the remote work life, she occasionally takes her work on the road and lives out her travel writer pipe dream.
In her free time, she attempts to meditate regularly, rides her bike to Trader Joe's, and enjoys trying every type of food that she can get her hands on.