Transparency Disclosure – We may receive a referral fee (at no additional cost to the buyer) for products purchased through the links on our site or other applicable pages. To learn more, please read our full disclosure page here. We also encourage you to read about how we may research and/or test Products here.
They're not just for hospitals anymore.
Adjustable beds are making their way into the homes of millions of Americans, and not just for homecare. They've come a long way since the first simple hinged models appeared in 1874.
It wasn't long before the medical profession caught on to the benefits of sleeping on a frame that could be repositioned. The first adjustable frame was invented by Dr. Gatch during World War I to help soldiers recover from battle wounds and surgery.
The hospital industry caught on, and soon after Gatch's initial invention, the frames became fully electric.
Starting in the 1970s, these types have been found their place in America's bedrooms, but not just for health reasons and to care for the elderly. It turns out that being propped up in bed makes it easier and more comfortable to watch television.
The idea behind this invention hasn't changed much over the past 100 years, but the mattresses certainly have (have you seen our main guide and top picks?). In this article, we'll share some of our favorite mattresses for adjustable beds.
Top 7 Mattresses For Adjustable Beds/Frames
Nectar – Exceptional Value
Highlights:
CertiPUR-US® Certified
OEKO-TEX® Certified
365-Day Trial
Forever Warranty
Nectar set out to introduce a memory foam that improved on traditional designs while keeping all of the features people know and love about memory foam.
Their result is a bed built with cooling technology to offset temperature regulation issues and a strong support system that shouldn't make you feel trapped in foam or be resistant to an adjustable base.
The top comfort layers of Nectar are infused with cooling gel to mold to your body without letting heat built up next to you, and the breathable base foam lets air escape the mattress, which also helps to expel heat. The entire construction is wrapped in a luxuriously plush quilted cover made from a breathable and bug-resistant fabric called Tencel. To further enhance the bed's options, the company has recently designed a high-tech adjustable base to complement their design, though its construction should with most adjustable frames.
What makes it special? Nectar's made waves by breaking into the bed-in-a-box scene with a mattress that excels in quality while still keeping prices low. The relatively risk-free purchase, made possible by the generous 365-night sleep trial and warranty, also add to the mattress' exceptional value.
Read more: Our in-depth overview of the Nectar bed
Loom & Leaf – Premium Look & Feel
Highlights:
Certified Organic Cotton
CertiPUR-US® Certified
120-Day Trial
15-Year Warranty
Made in the USA
With its impressive 12-inch profile and exceptional support system, it's almost hard to believe that Saatva's luxury memory bed Loom & Leaf has the flexibility to pair with an adjustable base when it actually excels on this type of frame.
To prove their mattress' versatility, Saatva has recently introduced the Lineal, an adjustable base that works with their entire line of mattresses.
What stands out? Loom & Leaf is packed with premium materials that were designed to be more eco-friendly because their foams are made using a percentage of sustainable bio-based oils. The certified organic cotton cover that is quilted to foam feels lush and inviting, and the bed cuts a very tall and attractive silhouette, regardless of the frame you put it on.
Though some have concerns that memory foam lets their body overheat or sink down inside the mattress, Loom & Leaf confounds those expectations using several different cooling technologies to ventilate its foams and wick heat away with gels. Potential sinkage is offset by the stretched cover that cradles you gently closer to the bed's surface.
Read our full overview here if you'd like to know more.
Layla – Dual-Sided Memory Foam
Highlights:
Dual-sided Firmness
CertiPUR-US® Certified
120-Day Trial
Lifetime Warranty
Made in the USA
Not all memory foam feels are created the same, and Layla proves this with their dual-sided design that can deliver a firmer on-top-of-the-bed feel or a softer, deeper hug inside the mattress if you flip it over.
Both sides deliver enhanced cooling with technology that uses both gels and copper, as well as a flexibility that pairs well with an adjustable base.
What's its best feature? It can be hard to choose a firmness level before you make a purchase, especially with brands that are purchased online. With the opportunity to purchase both within the same design, you are increasing the likelihood that you'll find a fit that matches your needs, even if those needs change over time.
No matter which side you choose, Layla's memory foam experience offers premium pressure relief that should ease your sore joints as you drift off to sleep. If you pair it with an adjustable frame, you will only increase and enhance the versatility of this mattress.
To learn more about Layla, check out our full review here to find out all the details.
Zenhaven – Dual-Sided Latex
Highlights:
Dual-Sided
Certified Organic Cotton
OEKO-TEX® Certified
120-Day Trial
20-Year Warranty
Made in the USA
Latex's flexibility lends itself nicely to adjustable bases while still working to support your frame and ease your pressure.
Zenhaven's four layers of Talalay latex, which is a material processed using a high-end technique that produces premium consistency and a light feel, work well on any adjustable frame, but work especially well with the Saatva Company's Lineal base (which you can also see on their site).
What is special about it? Not only is the mattress dual-sided to enhance the mattress' versatility and your sleep options, they've also zoned the comfort layers on both sides by mapping the latex's ventilation holes. This should make the bed both softer and firmer where you need it to be to cradle your body, relieve its pressure, and hold it level—regardless of which position you select on your adjustable frame.
Another advantage of latex is that it is hypoallergenic and resistance to allergens such as molds, mites, and bacterias. Unlike other bedding materials, it is also temperature neutral, so you should not have to worry about this material retaining too much heat.
Saatva – Classic Innerspring Feel
Highlights:
Certified Organic Cotton
CertiPUR-US® Certified
120-Day Trial
15-Year Warranty
Charity Initiatives
Made in the USA
Saatva's innerspring mattress was the first of their three designs to be introduced in 2010, and it's coil-on-coil system delivers exceptional support for a wide range of body types and sizes.
Since the introduction of the Lineal, the company refined the design of their flagship bed so that it could be flexible enough to work with an adjustable frame.
What stands out? An innerspring feel is truly classic and many people might prefer the bounce and airflow of this design over all-foam alternatives, but it can be difficult to find a classic innerspring feel that is compatible with adjustable bed frames without sacrificing necessary support or durability. According to Saatva, their Custom Slim design makes no sacrifices in support and they back their claims with a 15-year warranty.
Saatva mattress has two coil units inside. The first is a layer of micro coils that supports your frame while it molds to your shape, and the second is an interconnected system of Bonnell coils that resists sag and should improve the mattress' longevity. Topped with Saatva's signature quilted certified organic cover, the bed should hold you in a gentle cradle and deliver a significant amount of bounce.
See more details of the Saatva in our full overview here.
Alexander Signature Hybrid – Balanced Feel
Highlights:
CertiPUR-US® Certified
100-Night Trial
Lifetime Comfort Guarantee
Lifetime Warranty
Made in the USA
Why decide between all of the advantages of foam and the potential assets of innersprings, when you can choose a hybrid that blends both of these feels together into one design?
Our choice for balanced feel comes from Nest Bedding, who offers the Alexander Signature Hybrid, a blend of 5 inches of performance foams with 8-inch coils, which works well on adjustable frames, including one designed by the brand called the Symmetry that you can also see on their site.
What's its best feature? The foams are enhanced with cooling technology and contain enough responsiveness help ease repositioning, and the Quantum Edge coils reinforce support from edge to edge and provide bounce. You can select from three different firmness levels: Plush, Medium, and Luxury Firm.
Nest Bedding is committed to providing a lifetime of comfort, and the company's policies for returns and exchanges greatly enhance this hybrid's value. If you are not pleased with the firmness you selected when ordering this hybrid, the company will exchange it for another feel or another model that might suit you better, for free within the trial period. Once the trial has ended, you may still make exchanges for a fraction of the cost of a new bed for as long as you own the product.
Want to know more about this bed? Make sure to check out our full review!
iPedic Sojourn 12″ Gel Memory Foam
Highlights:
CertiPUR-US® Certified
OEKO-TEX® Certified
120-Day Trial
10-Year Warranty
Made in the USA
iPedic Sojourn comes from manufacturers who believe that quality does not have to be expensive.
Dreamfoam builds their beds in their own manufacturing facility and sells exclusively online, two strategies that allow them to offer this quality memory bed at an exceptionally attractive price point.
The bed is built with a cotton cover and a streamlined construction using three foam layers. The mattress offers a versatile Medium-Firm feel that works well with most body shapes and sleep positions. All of the materials were tested to two separate emissions standards, that help ensure the company's commitment to consumer safety.
What makes it unique? Dreamfoam's cost savings from cutting out the middlemen are very generously passed directly to consumers, offering a fantastic sleep experience at a price that can fit a tighter budget. This could be beneficial for folks who want to try the benefits of an adjustable base but do not feel as if they can afford both a new base and a new mattress.
Learn more about this model in the full review.
What is an Adjustable Bed?
An adjustable bed has a frame that can be adjusted into different positions for both comfort and therapeutic benefits. Usually, the means of making these adjustments is through a hydraulic motor, so they tend to be electric.
Modern versions of this product allow for a variety of positions, including elevated, reclining, and even zero gravity. The "zero gravity" effect is achieved by slightly elevating both your upper and lower body, which relieves pressure and can assist people with back, neck, and hip pain.
Read more about top adjustable electric beds here.
Benefits
Being able to watch TV in bed without having to prop yourself up in a sea of pillows isn't the only benefit of a base that can be adjusted. Here are other top reasons to consider an electric model:
– Therapeutic
From acid reflux to severe back pain, having a frame that you can adjust into positions that allow for maximum comfort can mean the difference between a blissful night of sleep and another night of pain and insomnia. People report significant improvements for conditions like snoring, heartburn, sleep apnea, fibromyalgia, breathing difficulties, and more.
– Comfort
You know those nights where you can't get comfortable, no matter what you do? Maybe the problem is that you're lying flat and your body is telling you that it wants to be in a different position. Having the ability to switch sleeping positions is one of the biggest benefits.
– Control
Maybe you want a night where you remain lying flat. Or, perhaps you want to elevate your feet for a few hours and then switch to a zero gravity position. With an adjustable base, you make the call. You're not restricted to any one angle.
– Convenience
For those who need home care, an adjustable bed makes tasks like feeding, changing, and even getting up a whole lot easier. Also, if you're disabled, or caring for someone who is, it's much more difficult to rise from a flat position than a slightly angled one.
– Amenities like massages, Bluetooth, USB ports
Modern beds have a ton of bells and whistles like massages, Bluetooth controls, and USB ports so you can charge your devices without having to reach for a cord all the way across the room. If you choose one of these models, you may never have to get out of bed again.
Downsides
There are a couple of downsides, though we've found that in recent years brands have gone a long way toward improving any of the possible negatives.
– Price
Logically, these beds will be more expensive than ones that don't move or have electricity. However, we've noticed a considerable price drop in recent years, making this option more affordable.
– Noisy
The motors aren't exactly silent. But the loud motors of the 1980s are a thing of the past, and today's electric versions are significantly quieter.
– Heavy base
All of those moving parts can make these products hefty. Some brands weigh in at close to 300 pounds. If you're looking for something lightweight, there are a few companies that have been able to lose the weight.
– Ugly
Again, this product line has come a long way. While there are still massive behemoths that'll make your bedroom look like a hospital setting, there is also a wide selection of adjustable frames that look no different than a traditional, flat sleeping surface.
Best Types of Adjustable Mattresses
You have a lot of choices when it comes to fitting a mattress on to an adjustable bedframe. There are even some innerspring varieties that were made to work in this setting. However, before buying a mattress for this purpose, triple check the product specifications and warranty to make sure it's allowed.
Memory Foam
Memory foam is a popular choice for adjustable bases because it's flexible and excels at pressure relief. This type of mattress tends to have the highest customer satisfaction rate among people of all ages and health conditions, whether you're a millennial or a senior citizen.
Nearly all mattresses in this category will fit, but we do recommend you look for higher density foams because they'll be more durable. Most quality brands have multiple comfort layers.
For maximum durability, look for densities of 3.5 or higher for the top comfort layers, and at least 1.8 for the base foam. The reason that the upper layer needs to be higher density is because it's the portion that bears the brunt of your weight, so it's more prone to sagging.
Read more: Top Rated Memory Foam Picks
Latex
Latex is similar to memory foam, but with a couple of minor differences. First, it tends to be a greener, eco-friendlier alternative, as long as you stick with natural latex. It's also more durable than memory foam. Because latex is a natural material sourced from the sap of a rubber tree, it is, therefore, greener and heartier than something synthetic.
If you tend to sleep hot or you like a bit of bounce, you'll probably prefer latex. Memory foam is known for sleeping hot, while latex has a reputation for having an open cell, breathable structure.
While latex has plenty of properties to love, it also tends to be more expensive than other types of foam.
Learn more: Our Top Latex Beds and Review Guide
Innerspring
While innerspring mattresses receive top consumer ratings for initial comfort, many people report that they lose their comfort and support over time. If you're choosing an innerspring bed for your adjustable setup, look for one that has pocketed coils rather than continuous ones.
The reason is that the pocketed coils are individually wrapped to provide more targeted support for your pressure points.
You may find that an innerspring bed is cheaper initially, but if it's not as durable, then you could end up paying the same (or more) in the long run. Also, most brands in this category are not designed for adjustable frames, so if you're choosing this option, make sure it will be compatible.
Avoid a thick pillowtop. While pillowtops can feel heavenly, if they're too high-profile, they might impede your ability to find a comfortable angle.
See more: Our Innerspring Picks Reviewed
Hybrid
A hybrid mattress is a blend of materials, usually coils and either latex or foam. Hybrid beds can be advantageous because you get the springy bounce of an innerspring surface with the soft contouring of foam or latex.
They tend to be pricier, though they can also be more durable.
See more: Our Top Rated Hybrid Picks Reviewed
Air mattress
In most cases, you can use an air mattress, but if you're asking yourself if adjustable beds ruin mattresses, you should know that it's more likely to happen if you go with this option. Not only does the air bed lack the same conformity to the base as memory foam or latex, you run the risk of blocking the air chambers, inhibiting the ability to create the angle you'd like.
Read more: Our Top Rated Air Beds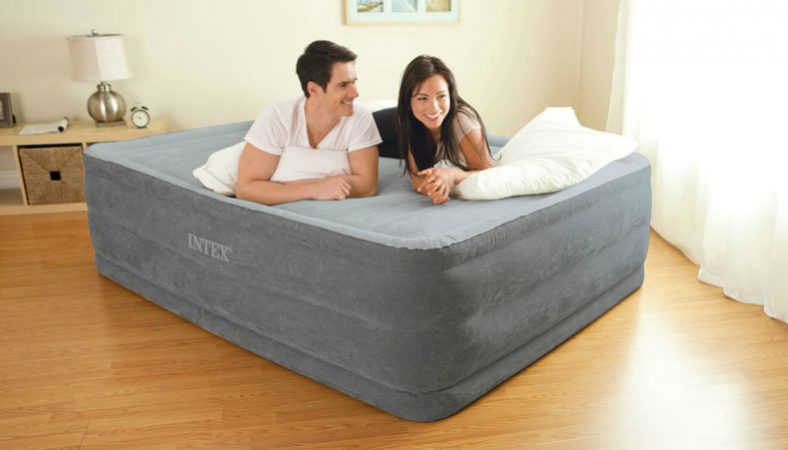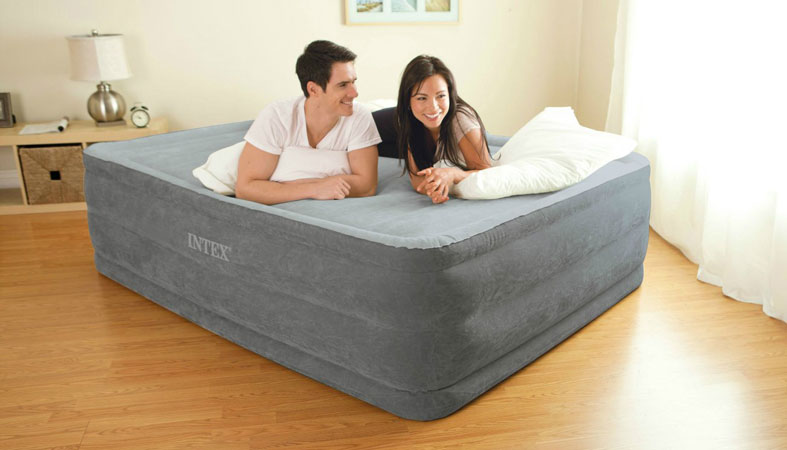 A Few Important Considerations Before You Buy
Thickness
The best mattress for this application tends to be in the range of eight to twelve inches. If you buy something thicker than that, it might not bend as well. Conversely, if it's too thin, it might not be as durable, and it might not be as comfortable, especially if you sleep on your side.
A rule of thumb to keep in mind when it comes to shopping for adjustable bedframes is that the heavier you are, the thicker your mattress should be. There are, of course, other considerations, but this can be an important factor if you're concerned about comfort and durability.
Warranty
We've said it before, and we'll repeat it for emphasis. Before putting a mattress on an adjustable bed base, make sure that this type of usage is covered by your warranty.
Not all products are designed for this type of use. The constant bending, flexing, and adjusting can cause excess wear and tear on a product that wasn't intended to move that way.
Size
Adjustable beds have slightly more variation in sizing, so if you're buying the electric base and the mattress separately, pay close attention to the measurements to ensure a proper fit.
If you sleep with a partner, you can look into the option of getting a split Queen, King, or California King. With this arrangement, you get two mattresses that rest side by side but work independently of each other when one of you makes an adjustment.
If you like to sit up in bed to watch television, but your partner prefers to lie flat, this arrangement should hels you both get what you want. No compromising required!
Frequently Asked Questions
Do adjustable beds ruin mattresses?
As long as you're using a mattress that's compatible, there's little risk of ruining it. However, you should be aware that it might wear out faster. The pressure and weight exerted on specific parts of it can cause quicker degradation.
Avoiding extreme angles and putting the mattress flat when not in use can prolong its life.
Can any mattress be used on adjustable beds?
Most mattresses can be used on an electric base, but there are a few exceptions. The following types either can't or shouldn't be paired with a base that can be adjusted:
Beds that have hard components built into them, including wires on the edges, hard foam panels or wood
Many innerspring and coil mattresses (check the manufacturer's product description)
Beds with air chambers that will be blocked off when the base bends
Waterbeds (haha, can you imagine?)
Products that explicitly state in the warranty that they can't be paired with an adjustable base
Should I pick a firm or soft mattress?
Medium firm is a solid choice. A surface that is too firm might not allow for settling into the base, especially at angles that have more curves. However, a product that is too soft is not likely to last as long.
Also, a too-soft surface might make you feel like you're sinking in too deeply, especially when you're at an angle like zero gravity. Softer surfaces can also cause the weight of your body to sink past the comfort layers and onto the harder surface, making for an uncomfortable sleeping experience.
Learn more: Our Firmness Scale and Rating System
Should I buy a base with an attached mattress or one sold separately?
While it might be tempting to buy a packaged deal because the upfront cost is lower, there are some compelling reasons for purchasing your base and mattress separately.
Here's why:
If you're shopping for a unit that has the bed and frame attached, you'll find that your selection is limited. These limitations apply to both the style of your frame and the firmness levels of the mattress.

If you want to replace it, you'll be able to do it if the two pieces are separate. If they're attached, and your mattress wears out, you may need to buy a whole new unit.
Conclusion
---
With conditions like sleep apnea and insomnia on the rise, many Americans are turning to adjustable beds to provide a more custom and therapeutic sleeping experience. And now that they blend in with modern décor, and the prices have come down, they can be a fantastic solution for anyone who's looking to take their sleep to another level.
Our team covers as many areas of expertise as we do time zones, but none of us started here as a so-called expert on sleep. What we do share is a willingness to ask questions (lots of them), seek experts, and dig deep into conventional wisdom to see if maybe there might be a better path towards healthy living. We apply what we learn not only to our company culture, but also how we deliver information to our over 12.7M readers.
Sleep research is changing all the time, and we are 100% dedicated to keeping up with breakthroughs and innovations. You live better if you sleep better. Whatever has brought you here, we wish you luck on your journey towards better rest.