Can you even remember when you last changed things up in bed?
I mean your mattress! What did you think I meant?
As you have started to think about this and shop around, you might have seen some options out there for changes. So, are you interested in finding the best latex mattress? When it comes to durability, you really cannot beat one. But you might have questions when it comes to replacing one of the most vital components of your old bed. Not to worry!
If any of your answers to these questions are yes, then a mattress composed of latex could represent an ideal solution. Of course, making a change can be concerning. After all, we are talking about where you sleep! You are going to spend approximately one third of your entire lifetime in bed. Why not make sure that time is as comfortable as possible? In addition, considering the durability issue, wouldn't it be great to not have to worry about replacing any part of your bed for a long time?
When we talk about latex foam benefits, we have got to talk about the material's resistance to mold, mildew, and dust mites. If you are a dust mite allergy sufferer, then keeping their population down is key. Do not give them a safe haven! Instead, foam made out of this material sends them packing.
Keeping the allergens out is going to help you have a more restful sleep as your airways are going to stay clearer. And – bonus! – It will also help anyone else in your bed have a more restful sleep.
You sneezing or coughing in the middle of the night will not wake them up, because you are not going to be coughing or sneezing. And that is going to be a lot more comfortable for everyone.
Or are you always hot at night? Whether that is due to hot flashes, or you are just plain warm at night, a latex-style foam can keep you a lot cooler.
And consider the issue of support. If you have joint pain, such as from arthritis, or maybe a bad back or knees, the last thing you want is for your bed to sink in too much. You need for it to hold you up.
However, at the same time, you also do not want to be sleeping on a board. Here is where this material can really shine, as it does double duty. It can support and cradle your form while, at the same time, it will give and mold and shape to your body. Say goodbye to nights where stiff joints are bent like a pretzel as you struggle to get comfortable.
Our Top 5 Latex Bed Reviews
I took a look at five top rated latex mattresses and compared them so you won't have to. And without further ado, here are the results of my investigations.
ZENHAVEN
Now this is one terrific mattress with a twenty year warranty! It is an all-natural latex model. ZENHAVEN is made from 100% organic fabrics and components. There are no synthetics whatsoever.
The flame-retardant barrier is made of a pure blend of nontoxic materials and 100% New Zealand wool. This barrier also organically serves to better regulate temperature.
You will get a cooler and drier night's sleep. The cover is rich, breathable 100% organic cotton.
This utterly green solution is free of lead, mercury, and other heavy metals. ZENHAVEN does not use any phthalates or formaldehyde.
There are no volatile organic compounds (VOCs), such as chlorofluorocarbons or benzene.
The company does not use ozone depleting substances in its manufacturing process, and it does not add any PBDE (polybrominated diphenyl ethers) flame retardants to this product.
This is important because the Centers for Disease Control and Prevention (CDC) list polybrominated diphenyl ethers as possible human carcinogens.
The company's commitment to ecological purity goes even deeper, as they strive to minimize their carbon footprint. This includes a process to convert raw latex using the Talalay method which actually absorbs harmful greenhouse gases.
The company's methodology is a thoroughly water-based process which does not produce any harmful or toxic byproducts. This makes for a finished product with no toxic or volatile outgassing compounds.
ZENHAVEN uses responsibly harvesting methods and is able to tap rubber from trees without harming them or reducing their 25-year average life expectancy.
All of the layers in ZENHAVEN are composed of 100% organic natural latex. However, after the latex harvest, a small amount of nontoxic, inorganic material has to be added in order to convert the natural latex from its liquid, tree-tapped form into a solid form.
Each support layer is composed of 100% natural latex. The flame-retardant layer contains natural, 100% New Zealand wool, and the cover is made of organic cotton.
However, the company does utilize a small amount of non-toxic, dermatological tested adhesive and synthetic reinforcement material. This is added in order to prevent the top layers from shifting.
Support System Specifications
---
First of all, is a Natural Latex Gentle Firm Comfort Layer: 1.5 inch layer of five-zone variable-density, Gentle Firm, 100% Talalay process latex (N2)
And then, Organic Latex Firm Base Layer: three inch layer of 100% Talalay latex (N4)
Then, a Natural Latex Plush Base Layer: three inch layer of 100% Talalay latex (N3)
And an Organic Latex Luxury Plush Comfort Layer: 1.5" layer of five-zone, variable-density, luxury-plush, 100% Talalay latex (N1)
PlushBeds Botanical Bliss
This mattress boasts it is a USDA organic certified latex mattress passing the GOLS (Global Organic Latex Standard).
Firmness options are firm or medium-firm only. Customers tend to see it as a good value and as a long-term investment in quality.
The top layer is an organic cotton cover intended to offer maximum relief from pressure. It has a fire barrier composed of pure New Zealand wool. This also acts as a temperature regulator to keep you cool and comfortable. The top layer is about one inch thick.
The middle layer is three inches of Talalay, to provide support and relieve pressure points.
The bottom layer is a six inch support foundation made of ARPICO organic latex. It provides back up support for the Talalay and, for heavy sleepers, it adds deep compression support.
PlushBeds Botanical Bliss is highly rated. Many buyers report that it has helped them with mild to moderate issues with back pain.
Sleep On Latex Pure Green
This mattress is composed of all natural latex with no synthetics or poly foam and no blended foam.
It is listed at medium firmness, with six inches of 34 ILD (density) Natural Latex Foam, two inches of 20 ILD Natural Latex Foam, and a one inch wool layer.
This product is GREENGUARD Gold Certified by Underwriters' Laboratory. However, there are no fire retardant chemicals or barrier cloths. However, American law requires flame retardant treatment for bedding, including pads so, by law, there is a degree of treatment. See: US Code § 1632.31.
Thickness goes from seven to nine inches.
The seven inch thickness variety is composed of a six inch base layer of 100% natural latex foam, and one inch of quilted wool atop it.
The nine inch thick variety has the same six inch thick base layer, a medium two inch soft layer of, again, 100% natural latex foam, and it is all topped with a one inch quilted wool layer. Hence the thicker version's sole difference is the addition of the two inch middle layer.
GhostBed 11-Inch
This one is a latex and memory foam hybrid product.
1.5 inches of premium latex naturally contours to your body and provides comfortable surface softness.
Then two inches of four pounds of gel infused memory foam is designed to minimize pressure while at the same time reducing nighttime movement.
Made in the USA, this product boasts a twenty year warranty. It also includes high styled smooth top cover with a quilted side and zipper for easy removal and care.
A 7.5 inches extra high density support core helps to create the ideal balance of comfort, support, and durability. This is an 11 inch profile mattress. A matching foundation is sold separately.
A few things to keep in mind
---
This product is a synthetic (which keeps the costs down)
The company is a startup, and some consumers have reported that the company's customer service experience was lacking
The company recommends purchasing the King size and the King sized wooden foundation for customers who weigh more than 300 pounds
The product is composed of an outer cover which is a blend of quality fabrics, intended to keep a sleeper cool throughout the night via wicking away heat and moisture.
Then the top comfort layer is manufactured from latex to provide a level of surface softness while absorbing pressure without any heat buildup.
The gel memory foam layer supplies a 100% pressure-relieving material embodied throughout with gel beads. The gel beads can absorb heat, keeping the sleeping environment comfortable.
Finally, the base foam layer provides support. All materials used are CertiPur-US approved.
It has been developed to be firm enough for good spinal alignment without creating an uncomfortably hard-feeling mattress. Consumers reported that it would feel soft to start and then firm once the sleeper settles in. Some customers reported that it took a few nights to get used to this product.
Note: There is no edge support for this item. Also, the company acknowledges there is an odor upon opening the package for the first time and, in cooler temperatures, the GhostBed can take as many as five days to fully decompress, expand, breathe and adjust to a room's temperature.
If the product has been sitting on a cold truck or in a cold warehouse, the temperature-sensitive materials will need addition time to take on their natural form.
Brooklyn Bedding
This one is the best latex alternative and has what is referred to as TitanFlex Foam. This is a synthetic type.
The 10 inch mattress layering consists of two inches of Talalay Latex as certified by Oeko-Tex 2015 and two inches of Dunlop Latex which serves as a transition from latex to the core layer, which is six inches of convoluted high density polyurethane foam called TitanFlex™ foam.
TitanFlex is a hyper-elastic HD foam with immediate response technology and increased durability. TitanFlex™ is supposed to be more durable than latex.
This product also features TitaniumGel™ which is claimed to be have been tested and proven to sleep cooler than latex.
Consumers reported that the firm was too firm for side sleepers. Customer service was reportedly very good and not pushy or high pressure.
The product decompressed quickly (only a few hours) and there was no outgassing although there was a slight latex smell upon initial unwrapping.
There were also some issues of heat retention although not as significant as with memory foam mattresses.
Natural vs. Synthetic vs. Blend
Latex dates back as far as the fourth century BC. But of course, that is the true article, the real deal. Synthetic rubber, in contrast, dates back to the early part of the last century. The demand for synthetics can be traced in a direct line to the rise of the automobile.
With a sudden skyrocketing increase in demand, natural sources could not keep up. The Bayer laboratory (the same people who worked on aspirin) succeeded in the polymerization of isoprene in 1909. When you are considering a high rated latex mattress, you might be thinking about the differences between synthetic and natural, or whether you should split the difference and go with a blend.
When we talk about latex, it is going to either be all-natural rubber, or a synthetic, or a mashup of those two types. When it comes to natural rubber, it is harvested by a method that is a lot like tapping and extracting sap for maple syrup. Synthetic rubber is, of course, a man-made creation. And as you might expect, a blend is just these two types put together.
The most significant upside to synthetics is the price. However, they can have a rather strong rubbery smell, particularly in the first few days, so keep that in mind. However, naturals are not going to have that problem. In addition, an organic commodity is, by definition, a greener and more ecologically friendly solution.  However, the price differential is a rather significant one. For a natural product, you are looking at a price point difference which could easily be close to twice that for a man-made item.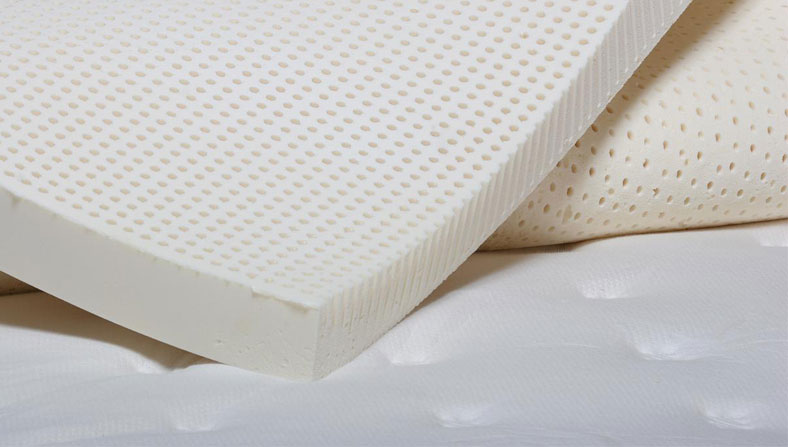 However, as with other commodities which are purchased and are intended to last for a meaningful amount of time, a natural polymer is going to stand you in good stead for many years to come.
An organic solution is also preferable when it comes to the possibility of customization. During manufacture, you can specify the firmness level, even for each side. Therefore, if your partner prefers more lumbar support, then he or she can get it – and you are not going to have to compromise if you do not need it. Without compromises, both of you can get a better night's sleep. And that is a recipe for a far better morning.
And be sure to keep in mind – it cannot be considered to be truly organic or natural unless it really is. Therefore, check the component materials closely. You do not want to be paying premium prices for a fully organic article when it turns out it is only partly organic!
In addition, it is not just the fact that it is organic that makes it a more eco-friendly solution. It is also natural rubber's not so secret weapon – durability. A lasting product of any sort is a direct counter to our often throwaway culture, and your bedding is no exception when it comes to trying to save the planet.
Hence if your organic purchase lasts as long as two or maybe even three iterations of a not-so organic version, that can only mean one thing: fewer materials ending up in landfills.
Talalay vs. Dunlop Latex
Synthetics can also be split into two species of polymer.
Dunlop – Dunlop came first, so let's look at it before we get to Talalay. In the Dunlop process, much like for any rubber manufacture, the first step is to tap rubber trees and gather liquid latex. The collected material is then whipped up and placed into a mold. After that, the contents of the mold are heated inside a hot oven.
When this part of the process is completed, the transformed latex is then cleaned.As a side benefit, any moisture within the material is released through the heating part of the process. The advantage to this process is that the mold is filled completely, thereby resulting in the creation of one larger, continuous piece. This causes some of the material to settle at the bottom of the mold. The advantage to that is the firmer feel on one side, while the disadvantage is nearly the same thing, that the firmness is inconsistent. Dunlop process material has a good bounce to it.
Talalay – Talalay differs from Dunlop in that only some latex is poured into the mold. This allows for expansion of the latex. The next step is to extract the air. This results in a configuration with an open-cell structure, and then small pathways have a cooling effect. Then the latex is flash-frozen and split into multiple sections.
These individual pieces are then glued together for the express purpose of making the final form.The Talalay process results in a bouncy product which stays cool. It responds well to pressure and the look, feel, and performance are all consistent. With this process, the rubber will re-form quickly once pressure is removed. That is, it will bounce back.
So, which process is better? Talalay can have seams. Dunlop can have inconsistencies. Dunlop tends to feel firmer, whereas Talalay tends to feel softer. As with many choices, it pays to experience both and see for yourself how you feel about them. Both are durable, and both can be made either completely naturally or synthetically or in a combination.
Latex vs. Memory Foam
You have, without a doubt, heard of memory foam (see our top picks) and you have very likely seen advertisements for it.
It seemed to have had great promise. But the truth is; this foam simply does not have the bounce and responsiveness that you can quite literally see and experience with this material. Its biggest positive is that it can conform well to your body. However, it conforms so well that it just does not spring back as fast as many of us would like.
Another big advantage to latex over memory foam is the smell situation. The properties of the former can offset and minimize offensive odors and off-gassing (sometimes called outgassing, off-gassing is when a trapped vapor is released from its confines, such as in bedding). As a result, organic latex can be a great option for sleepers sensitive to and bothered by strong aromas.
Memory foam is also a synthetic; there simply can't be an organic option there.
Pros and Cons of Latex
No solution can ever be 100% perfect, so let's look at some of the benefits and drawbacks to latex.
Probably the most compelling benefit is comfort. After all, that is why you are buying a mattress in the first place, now, isn't it? This type of mattress will conform well to your body's contours while, at the same time, bouncing back into shape once the pressure is off and you roll over or get up.
Another positive is the cooling effects of a mattress. If you wake up hot, or you are not able to get to sleep because you are too warm, a latex product will minimize that discomfort if not outright eliminate it.
A great plus to this material is also the fact that it is inhospitable to dust mites, mildew, and mold. If you have an allergy sufferer in the family, that will help them breathe easier and get a far better night's sleep.
A disadvantage – or, to be more precise, a tradeoff – comes down to synthetics and blends as opposed to natural materials. A natural product will be considerably more ecologically responsible. However, the costs are higher, and they can be prohibitively so for some households. As a result, you will need to choose between the cost of a synthetic (or blend) and the green quality of an organic.
A finally tradeoff when it comes to latex centers on aromas – a synthetic will have a stronger smell, particularly for the first few days, whereas a natural mattress will not. As a result, you will need to make a choice here, too.
Should I even consider this type of mattress?
As with many things in life, perform your own personal cost-benefit analysis. And that's not just with reference to price (although that should be a part of most people's decisions), but more regarding just what you really need in a bed.
If you sleep hot, then latex can truly help you with that problem. If you have a sleeping partner – and, in particular, the two of you have differing requirements – then the versatility and customization options with this bed type should be your deciding factors. Or maybe you have pressure point issues which cause you pain. If you do, then latex can be your solution.
And finally, if you are in the market for a green and ecologically responsible solution, latex is a no-brainer, particularly when compared to memory foam.
Now let's look at everything side by side and compare.
| IMAGE | FIRMNESS OPTIONS | ORGANIC? | WEIGHT | THICKNESS | SPECIAL CONSIDERATIONS | PRICES* |
| --- | --- | --- | --- | --- | --- | --- |
| ZENHAVEN | Luxury Plush (a bit less firm than average) or Gentle Firm (a bit more firm than the average) | Mostly, but not 100% | 184 pounds (Queen) | 9 inches | 120 day home trial | Second most expensive option |
| PlushBeds Botanical Bliss | Soft, Medium, Medium-Firm or Extra-Firm | Yes, 100% | 128 pounds (Queen) | Ranges from 9 to 13 inches | Fire barrier | Most expensive option |
| Sleep On Latex Pure Green | Soft, Medium only (but users report it is more like Firm) or Firm | Yes, 100% natural latex foam | Approximately 160 pounds (Queen) | Ranges from 7 to 9 inches | Made in America (Chicago) | Half the price of the most expensive option |
| GhostBed 11-Inch | There is only one option available; consumers reported it felt a little firmer than average | No; it is synthetic rubber latex | 89 pounds (Queen) | 11 inches for all sizes; other versions of the product have different thicknesses | Contains a gel memory foam layer | Second least expensive option |
| Brooklyn Bedding | Soft (reported to be more like Medium-Firm), Medium, and Firm | No; it is synthetic called TitanFlex Foam | 106 pounds (Queen) | 10 inches | Decompression occurs in a few hours | Least expensive option |
* Price comparisons were made on Queen models only. Costs can vary and, as with any major purchase, be sure to shop around and look for coupons and special deals before making an investment.
Conclusion
---
Sleep is important to your overall health and well-being. And top of the line latex mattresses are a big investment. Consider your options carefully and never be afraid to ask questions.
Author:
Jill Thompson
I've been married for 8 years to my loving husband Mike. We have two boys that keep us busy with sports. Having kids has definitely made sleep an even more important element in our lives. Now, our sleep quality not only affects me and my husband, but our two boys. Poor sleeping habits might lead us to poor parenting decisions.
When I'm not obsessing about sleep you can find me playing tennis or golf.
I love talking about sleep and hope your sleep quality improves after stopping by our site.