Updated January 8th, 2018 – We have updated this post to reflect our latest findings and research. We are testing new products this month so stay tuned for more updates.  
In today's world teenagers have it so much easier than we did. They have the latest phones, clothes, laptops and video games. So why are they still sleeping on last year's mattress?
I know what a struggle it can be to live with an adolescent, especially when they hit that point of exponential growth. You'll soon find they're in need of a new mattress so that finally they can get a good night's sleep, wake up in a better mood and hopefully pass those exams.
However, buying the right one isn't so simple. Not only do you have a fussy teenager to find the "perfect" bed for, but you more than likely have a budget. There's nothing worse than buying something that they'll outgrow in a week or that isn't comfortable.
Therefore, We've carried out some extensive research to create a guide that will solve your problem and show you how to choose and which is the best mattress for a teenager once and for all. I've scrolled through dozens of reviews from parents and teens alike so you can save time and money when buying a bed, skipping straight to the ones you need.
Mattress Considerations for Teenagers
Invariably you're going to need to consider 3 main things when deciding which mattress is best suited for your teenager.
Best Bed Size for Teenager
Whether they've shot up, grown sideways or suddenly developed a lot of muscle, chances are their old childhood mattress just isn't big enough any-more.
From an economic standpoint, you've probably already worked out that it's best to get a twin. But what's best for your wallet, unfortunately, might not be best for your teen, especially when their feet are hanging off the end of the bed each night!
If they've grown tall with no indication of slowing down anytime soon, you'd be best off looking at larger beds, maybe even a queen. Yes, it's going to cost more money up front, but it's a hell of a lot cheaper than replacing both a bad and mattress after future growth spurts.
This handy chart from shows just how different twin and queen sizes are:
| Size | Inches |
| --- | --- |
| Twin | 39 x 75 |
| Double | 54 x 75 |
| Queen | 60 x 80 |
| King | 76 x 80 |
Sleeping Position
From early on in life, we know which sleeping position works best for us. Therefore, to make the best choice you'll need to find a bed that supports your sleeping position, even as teenagers.
A standard position is one we have carried with us since birth, the fetal position. A bed needs to be relatively firm to support this position. Too soft and you may find yourself rolling onto your front.
Side sleepers – try out a memory foam type or others that are described as soft. This is the trickiest sleeper to find a mattress for because it comes down to personal preference. The arm tends to get in the way when sleeping sideways, so a soft bed will mold more to your shoulder/arm area. However, some side sleepers will still prefer a firmer innerspring bed.
Stomach sleepers – Sleeping on your front also requires reasonable firmness to ensure that you don't awaken because of sinking into the mattress and feeling as though you may suffocate. Choose a firm bed: avoid a foam one but don't go for a super hard innerspring one.
You need a bed that stops your spine curving too much as it causes lower back pain but also stops you sinking in too much at the chest. This will put pressure on the lungs and make it difficult to keep your head turned to the side.
Choose a mild or slightly soft innerspring, or perhaps a latex foam for both support and stability.
Back sleepers – This is the final and most common position. You can choose either firm or soft depending on your personal preference in this position. It all comes down to how much lumbar support is comfortable to get the best night's sleep. Make sure to check our recommended beds for back sleepers if your kid sleeps in that position 90% of the time.
Innerspring offers most support and keeps the spine nicely aligned. But this is not particularly good if you occasionally roll over onto side. Foam type is often the worst for sleeping on your back as they offer the least support.
Cost vs. Quality
The cheapest beds are usually innerspring types, just because they are the most common ones. Of course, there's still going to be a huge variation depending on brand, etc. If this is what your child is used to, then it's a good shout. You will find both high quality and poor-quality ones so be careful.
Memory foam products aren't as expensive as they used to be, so you may be able to find one for the same price as a good innerspring one. HOWEVER, you need to look at the quality of the cheap memory foam beds, there have been some scares in the past due to more affordable materials have more toxic components.
The most expensive products are usually made latex as they can last for over a decade, and consumers everywhere seem to rave about them. However they're hard to come by, you're unlikely to find one in your local store. You may have to order one specifically. Additionally, you should take into consideration that your teenager is probably going to out-grow it or perhaps want a bigger one. It really is important that if you decide it is worth buying, that you select one that will stay suitable for your teenager for years to come.
Water beds are comfortable but do have huge risk associated with them. It's no stretch of the imagination to realize they can be very messy. Teenagers tend not to be the most careful with their possessions, so the likelihood is; it will burst. The comfort isn't to everyone's taste, and the feeling can become unpleasant once the novelty has worn off making them poor long-term options and as a result, we have not included them on this list.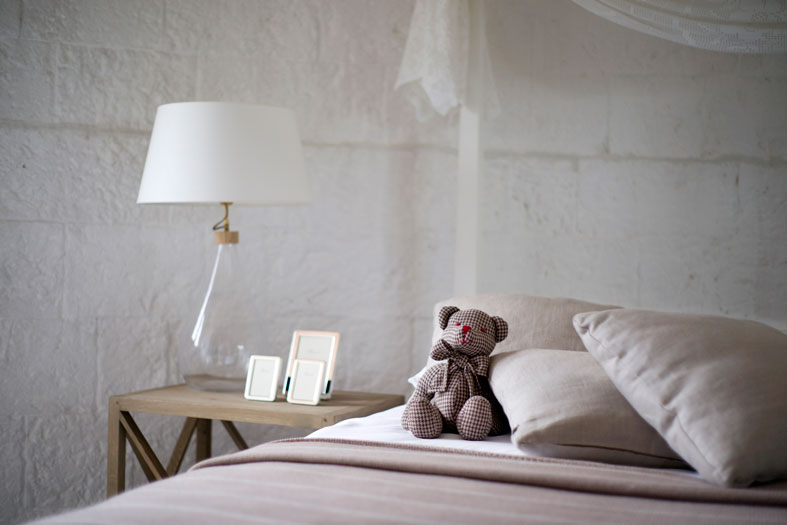 Which Type of Bed?
You're going to see the following three terms thrown around a lot when you're shopping about and you're going to want to know what these actually mean, they're not just marketing terms! Each mattress type will have different benefits for your teenager, so it's important to understand.
Don't worry, everything you need to know is here.
Memory Foam
It's important to remember that only the top couple inches are memory foam, below that it is generic foam. The optimal density is 4.0-5.3 lb. (per sq. ft.) Try to avoid anything below this as they may fall short on quality.
The foam supports the body well, is usually good for side sleepers and you can find both cheap and expensive ones. It also provides great middle of the road comfort (not too hard not too soft) making them ideal for sharing. When you sit on one side, it supports you, unlike some innerspring mattresses that push up the person on the other end. This is a pretty good benefit if your teenager plans to take this bed with them further through life.
Latex
These are made from foamed latex but don't confuse them with memory foam as they are quite different, especially when it comes to price.
Latex tends to have hypoallergenic properties (but always check individual product descriptions) and are durable compared to memory foam products. They're also the eco-friendliest of the 3 types we discuss. They provide the gentle support of a foam mattress without getting overly hot and sweaty.
Innerspring
The type we're most used to. If a bed is marketed as foam but has springs somewhere in it, you should technically classify it as an innerspring regardless of the foam.
This is the one we've all been conditioned with so they will feel quite natural. As you probably already know, they can take a while to break in at first, but once you've molded it to your sleeping position, nothing is quite like it. They are the firmest of all the bed types in this article and last several years, although unlikely to last 15 years plus like the other two. There is a vast variety of prices and firmness levels, and depending on quality there's an innerspring mattress for every budget.
Sleeping Challenges for Adolescents
Teenagers seem to have it tough, don't they? Or so they would have us believe. The truth is though that they do have a few challenges particular to them that should be considered when selecting the perfect mattress.
Rapidly Growing Body
Most growth spurts happen in early teenage years, so if you've made it through that stage with the same bed, that means one of 2 things: your bed is now probably no longer fit for purpose, or the growth spurt hasn't happened yet.
Either way, this is the opportune time to find a good bed to help the body relax and recover from growth spurts as they happen. Growing pains can be intense and keep us up at night. Foam and latex mattresses are reportedly much better for easing aches and pains compared to innerspring, so if growing pains or aches in general (maybe your kid is into sports) are a real problem, look at these types first.
Body's Circadian Rhythm Is Reset
The circadian rhythm is like the rhythm of life. It keeps our bodies in sync with the world around us, helps us wake up when the sun is up and makes us get tired when it gets dark. This is disrupted when we're around 14-15 years old, and it takes some time to adjust with puberty, and hence you'll find them getting up later than normal and not feeling tired in the evenings.
This is completely normal, while new bedding might not bring that rhythm into a good cycle, it's still going to ensure that whatever sleep they do get, even if it's very little, will be very restful and of good overall quality.
More Sleep Needed
Teenagers need 8 to 10 hours of sleep a night depending on which study you believe, but if the bed is uncomfortable and they've just got that new game on the Xbox, they're more likely to stay up late anyway. A good mattress is not only going to support their body and ensure any sleep they get is deep, but fingers crossed it will encourage them to settle down that little bit earlier too. If your kid is an athlete or simply active you might want to consider a product with celliant fiber material to give him or her that extra boost and chance to recover before the next day comes.
Top 5 Teenage Bed Reviews
Below are 5 of my favorite highest rated options as a good reference of what you should be looking for:
Tuft & Needle – Best Queen Size Option
100% Made in the USA.
This queen size one is very supportive like all memory foam, but without the heat retention.
Developed in Arizona by scientists, this bed ships across the states.
It was rated a Best Buy in 2016, and there are thousands of happy customers across the states already.
There's plenty of space on this bed for your growing kid, and you'll find it very supportive and comfy for easing those growing pains.
This is a mattress they can proudly take with them when they move out.
PROS
Crafted from high-quality T&N adaptive foam
Memory foam is firmer than other brands
Non-sweaty; foam that breathes and won't overheat
Other sizes available for smaller adolescents
100-night sleep trial just in case you're not happy with it (unlikely)
CONS
Costs more than the first options, but you're supporting a homegrown US business.
Best Price Mattress 10-Inch (Ideal Full-Size Option)
This is a fantastic full-size memory foam mattress.
It is designed with comfort and posture in mind to counter any abnormal sleeping positions and alleviate any pain by cushioning the joints and supporting them gently.
Your kid is likely to appreciate this after a football tournament or a dance rehearsal.
The brilliant 10-year warranty will see your child clearly through their teenage years and give you that extra piece of mind that you are really getting great value for money.
It boasts a pressure point system to ease tension across various locales on the body, which most buyers rave about.
PROS
Highly supportive
Full size for growing teens
Tension reducing pressure point system
Available in smaller sizes if needed
CONS
Some people find this too soft compared to other memory foams, but that's just down to personal preference
Not all sellers will deliver to every state so check around before buying
LinenSpa 8-Inch – Good Twin Size Option
The first hybrid on the list! This product is a combination of both innerspring and memory foam, so it really brings you the best of both worlds.
It has a medium firm feel that you get with innerspring with added support from the foam.
It even has a soft quilted top over the 1.5-inch foam layer.
This bed has been particularly popular with heavy and muscular sleepers.
It arrives rolled up, so simply unroll onto the bed and you're ready for a good night's sleep.
PROS
Perfect for back and side sleepers who move around
Twin size is great value for money
Super supportive while still feeling like a foam
Foam won't dent or condense under heavy weights due to springs
Quilted cover reduces foam heat retention
CONS
Quite thin compared to a true innerspring, but much softer too
Steel coils are bouncy – make sure your teen doesn't bounce and break the mattress, as fun as that is
Signature Sleep 12-Inch Memory Foam – Twin
This one is made from CertiPUR-US certified foam, so you know you can trust it.
The 12-inch signature model fits a twin size frame but may come up a bit higher than you're used to.
The first layer of foam is 3.5inches, but it's the under a layer of 8.5 inches of high-density foam that makes this unique.
It will distribute weight easily and stay firm no matter how much tossing and turning, meaning this is a good choice for stomach sleepers.
The people that love this mattress say it absorbs movement well, keeping you snug and supported all night through.
PROS
Easy to clean due to high-quality cover
2 layers of memory foam at different densities for luxurious support
Arrives compressed, rolled and vacuumed to keep delivery costs down (springs back up in no time, trust me)
Tried and tested – this memory foam is safe to sleep on
CONS
Some people find this quite firm for a memory foam because of the double layers, but that just makes it even more suitable when transitioning from an innerspring the first time
Englander Finale 10-Inch Innerspring – Twin
It may be the last on our list, but by no means is it the least impressive.
For a twin sized bed, this is the innerspring option.
If you're unsure if the foam is right for you, stick with this one as it's simply the best innerspring mattress option available for teenagers, adults and kids alike.
The manufacturers themselves say it's perfect for the spare room and can take a beating with ease, so when your child has outgrown it there's no need to throw it away; it will still be as good as new.
Almost all buyers agree this is fantastic value for money.
PROS
Firm and supportive, this is a strong mattress for those not keen on foam
Easy on your budget but still a huge, permanent mattress you can rely on
1 year's warranty included, just in case
Made in the USA with a plush quilted cover
CONS
This mattress might not be the comfiest, but the price is low and it's perfect for a teen that's just going to outgrow it next month anyway
Conclusion
---
So, as you've seen, there's a bit more to picking a mattress to suit those growing (and often moody) adolescent bodies than you first thought. If you're not keen on any of my top five or want to purchase something a little extra special, keep in mind a few things when shopping around:
Do you want a long-term bed or a short-term solution to a growth spurt?
How does your teen sleep?
Are they going to keep growing, thus meaning you'll need a new frame next year anyway?
And finally, your budget – are you more concerned with cost or quality? We wish you and your teenager(s) the best of luck on your mattress shopping journey. Don't hesitate to leave us a comment below!
Author:
Jill Thompson
I've been self-employed for almost four years and I would not change it for anything! I believe that anyone can achieve their goals with the right attitude and determination.
I'm an avid traveler (25+ countries and counting) that loves to meet new people doing amazing things.
When I'm not researching for the Sleep Advisor, you can find me reading, running, traveling, golfing, or meditating.
I wish you the very best on your journey!