Transparency Disclosure – We may receive a referral fee for products purchased through the links on our site...

Read More

.
Do you prefer to sleep more on the surface of your mattress and feel as if you're floating just above it?
The Plank Firm Mattress is the latest offering from established bed-in-a-box brand Brooklyn Bedding, which has borrowed from traditional sleeping habits and preferences of Eastern Asia with this dual-sided choice that is manufactured at its own facility in the United States.
Our in-depth review of the Plank Firm mattress will give you the skinny on what's to love about this brand that was designed with the lovers of firmer mattresses squarely in mind. We'll take you through support, motion transfer, and cooling.
If you're impatient for our verdict, go ahead and skip to the end. Otherwise, stick around for our layer-by-layer analysis.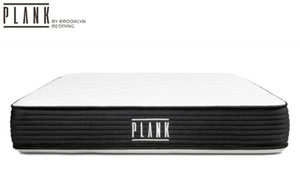 Get Plank Firm Mattress
Those in the market for a Firm bed now have a dual-sided choice to see what they require to sleep well-supported and comfortable in Plank Firm, a new product from Brooklyn Bedding.
Click the button below to get Plank Firm Mattress.
In this video review, the mattress is referred to as the Plank. The bed is now called the Plank Firm. The cover is also now made of cotton, not a cotton-blend.
Excellent Matches For the Plank Firm
Firmness Lovers – Harder sleeping surfaces typically offer enhanced support and minimal softness, which can be very appealing to a certain population of sleepers. This brand delivers by keeping its materials extra supportive while still providing enough comfort to very gently cradle your body.


---

Variety Shoppers – You may know you want a harder mattress but what degree of feel works best? The Plank Firm bed gives you two different feels on either side so you can choose between the Firm and Extra-Firm.


---

Hot Sleepers – The enhanced firmness will help you sleep more on top of the mattress surface as opposed to cradled in. This should allow for better airflow around you . In addition, the breathable foams should keep heat under control.
Possible Plank Firm Considerations:
It doesn't offer a lot of pressure relief. – There is a layer of softness that cradles your joints when lying on this mattress, and the feel offers exceptional support and spine alignment. However, those who require extra softness – like side sleepers or folks who weigh much lighter – may prefer the feel of a plusher mattress, like the Aurora or Signature from Brooklyn Bedding.


---

The cooling top panel is an additional charge. – The company offers the option to have a special cooling top panel sewn into each side. However, this does come at an additional charge of 100 dollars. Extra hot sleepers will likely find this a good investment, though.
Plank Firm on Our Best Lists
Construction: What's inside Plank?

The Plank Firm is a dual-sided mattress that offers two distinct feels for sleepers seeking a firm bedding option. On the firm side of the mattress, is a 1.5-inch quilted cover, and if you flip the bed to the extra-firm side, you'll find a .75-inch quilted top. The tops are purposely not quilted to foams inside the mattress so that they provide a more breathable surface.

The cover is made out of cotton and is soft to the touch. It's also securely quilted with continuous stitching to avoid unwanted loft. For an extra charge, you can add a cooling cover that uses phase-change technology to keep temperatures comfortably neutral.

Between the covers, there are two foam layers within the mattress, which stands at 11.25 inches in total. You can flip the product over for a harder experience, but this description will focus on Firm side up.

Below the pillow top is 2 inches of the company's patented TitanFlex™ comfort foam. This high-density foam layer is incredibly firm, offering deep compression support as you lie on the bed.
The second foam layer is 7 inches thick. This highly dense foam base serves as the bed's primary source of durability and stability.
The bottom is an additional .75-inch quilted pillow top, which can be flipped and used as the surface of the mattress when you decide you want a firmer feel.
First Impression: How Does It Feel?

The Plank Firm bed arrives at your door rolled up and bundled into a box, which is simple to carry to your room and install.

After unrolling, wait 3 to 5 hours to test your new bed out (although it may take 24 hours to regain its full shape).

The Plank Firm has charcoal paneling and a Euro top look. Lying on the Firm side, you should notice how the cover conforms for the gentlest of cradles while the support foam holds your body in alignment.
Firmness Scale: 7.5-8/10 (Firm side) 9/10 (Ultra-Firm side)
Pressure Relief

Beds that focus on pressure relief tend to use softer, plush materials that are designed to cradle the body's curves. This can alleviate excess force on heavier areas like the shoulders and hips, especially for sleepers who regularly lay on their sides.

But the downside to softness is sacrificed support for the spine, which is why many Asian cultures prefer a minimalist sleeping approach and often sleep on the floor or a firm surface.

The Plank Firm mattress was engineered to mimic this firm sleeping experience. The benefits to this bed design include improved blood flow, thanks to less pressure on the circulatory system and better lower back support. By focusing on adequate support for the spine, a firm bed should alleviate excess pressure on the shoulders, neck, and hips, promote good posture, and minimize the risk of developing chronic pain.
Support

By offering two distinct levels of firmness that are both on the firmer side, the Plank Firm really shines in the support department.

Firm mattresses can be a lifesaver for sleepers with upper or lower back pain. On the flip side, softer surfaces can exacerbate pain by allowing the body to sink in too deeply, increasing pressure on the joints.

The Plank Firm was engineered to keep the spine properly aligned, especially for stomach and back sleepers. Proper support for the lower spine allows you to take deeper breaths during sleep and increases overall oxygenation to the tissues and brain. The result is refreshing sleep and waking feeling energized and refreshed.
Preference-based Features

At-Home Customization

Firm or firmer? By offering this flippable design, Brooklyn Bedding gives you the freedom to explore just how hard you like your bed to be. You can test it out for a week or two on the ultra-firm side then flip it over if you feel like you need a tiny bit more cradling.

---

Bed-in-a-Box

The Plank Firm ships directly to your door, rolled and compressed in a box via contactless delivery. This gives you the freedom to set-up when it's convenient for you (although the company does recommend unboxing within the first three weeks to reduce the risk of slow expansion time).

---

Motion Isolation

Motion transfer is pretty exceptional in the all-foam Plank, which isolates motion at its source and prevents it from making the move across the bed to a sleeping partner. If you share your mattress and worry about being shaken awake, this is a great choice to help you avoid that.

---

Cooling

According to research, the ideal temperature for sleep for most adults is 60 to 72 degrees. If you're tired of waking up sweating, an optional top cooling panel is available on both sides, utilizing premium phase-change technology to stop heat in its tracks.

---

Exceptional Edge Support

Regarding its exceptional edge support, there is some slight compression when you are seated on the side, but you should be able to lie on the side normally without feeling insecure or as if you're about to roll off. This may not be your number one concern, but those who share their sleep space can increase their available sleep space with strong edges.

---

Adjustable Base Compatible

You can use Plank on a variety of flat surfaces, including slats or platforms, and even an adjustable base if you'd prefer. The brand manufactures its own line of foundations and adjustable bases to simplify your shopping experience.

---

Handcrafted in the USA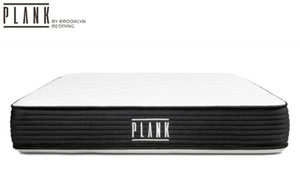 Get Plank Firm Mattress
Those in the market for a Firm bed now have a dual-sided choice to see what they require to sleep well-supported and comfortable in Plank Firm, a new product from Brooklyn Bedding.
Click the button below to get Plank Firm Mattress.
Certifications

Eco-Friendly Certifications

This product is CertiPUR-US certified, which signifies that the foams used in this product contain consumer tested safe levels of potentially dangerous VOCs, chemicals, and heavy metals.
Coupons, Trials, Warranties, and Shipping

Shipping - Shipping is free within the United States. Alaska, Hawaii, and Canada can also receive shipments for an additional fee.
Trial - Try the Plank Firm for 120 days, and if it's not a good fit, contact the company and arrange for a free return.
Warranty - The warranty on this product stays in place for 10 years.

| Size | Dimensions (inches) | Price (w/o discount) |
| --- | --- | --- |
| Twin | 38" x 75" x 11.25" | $799 |
| Twin XL | 38" x 80" x 11.25" | $899 |
| Full | 53" x 75" x 11.25" | $999 |
| Queen | 60" x 80" x 11.25" | $1,274 |
| King | 76" x 80" x 11.25" | $1,499 |
| Cali King | 72" x 84" x 11.25" | $1,499 |
| Split Cali King | 36" x 84" x 11.25" | $899 |
Overall Summary
Those in the market for a Firm bed now have a dual-sided choice to see what they require to sleep well-supported and comfortable in Plank, a new product from Brooklyn Bedding.


Side sleepers usually require extra pressure relief because more of their weight is concentrated on a narrower and curvier expanse of their body . While some heavier and average side sleepers may feel okay, the majority are likely to find this bed too firm. If you prefer something softer, consider Brooklyn's Bloom Hybrid.


Most back sleepers who prefer a firmer mattress will appreciate how one side can conform to their lumbar and hold their body in a well-supported cradle. If you're a back sleeper who prefers a more minimal cradling, you can easily flip it over for that experience.


Stomach sleepers should appreciate how hard this mattress is. The additional support should keep their hips, which typically are heavier, level with the rest of their body so that their spine remains aligned. Those with extra weight in their middle may even prefer the Ultra Firm for its enhanced support.


There is some bounce to this brand, and the foams are quick to respond to pressure, so combo sleepers shouldn't have any problem alternating between positions throughout the night. However, if you frequently end up on your side, you may find pressure points lead to more waking overnight.


The Plank Firm could be a good fit for heavier couples or pairs who both sleep on their backs or stomachs. With good motion isolation, optional cooling, and a slight bounce, this could cater to certain couple's needs. However, if one partner prefers softer beds or is a side sleeper, this likely won't be the best fit.


The manufacturer recommends a weight limit of 950 pounds for this mattress. By offering exceptional support, this mattress should be ideal for heavier sleepers in all sleeping positions. This firm support should keep the spine in neutral alignment and prevent that bottoming out experience softer beds can cause.


Most individuals weighing less than 130 pounds prefer softer surfaces that allow for body-conforming and pressure relief. Unfortunately, the Plank Firm is likely too firm for most lighter folks. If you're on the slender side, the brand recommends Brooklyn Signature for a soft, cradling experience.
The Plank Firm is a dual-sided mattress that lets you choose how firm you'd like your bed to be.
Plank's gentle cradle and breathable foams should keep you from sleeping too hot, and the quilted cover on each side should gently cradle your pressure points without making you feel lost in foam. Back and stomach sleepers in particular should enjoy this mattress.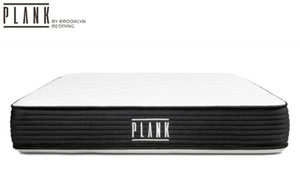 Get Plank Firm Mattress
Those in the market for a Firm bed now have a dual-sided choice to see what they require to sleep well-supported and comfortable in Plank Firm, a new product from Brooklyn Bedding.
Click the button below to get Plank Firm Mattress.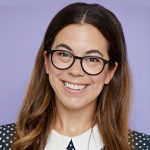 Jill Zwarensteyn is the editor for Sleep Advisor and a certified sleep science coach. She is enthusiastic about providing helpful and engaging information on all things sleep and wellness.
Based in Los Angeles, she is an experienced writer and journalist who enjoys spending her free time at the beach, hiking, reading, or exploring new places around town.
She's also an avid traveler who has a personal goal of being able to successfully sleep on an airplane someday.